These are old posts from the now defunct www.overland.kinja.com. Rescued by a good person before the ship went down.
I'm just posting them here for my own record…
Running Wirrabara Forest At Night. Hiking Mt Remarkable NP. Back Roads Exploring.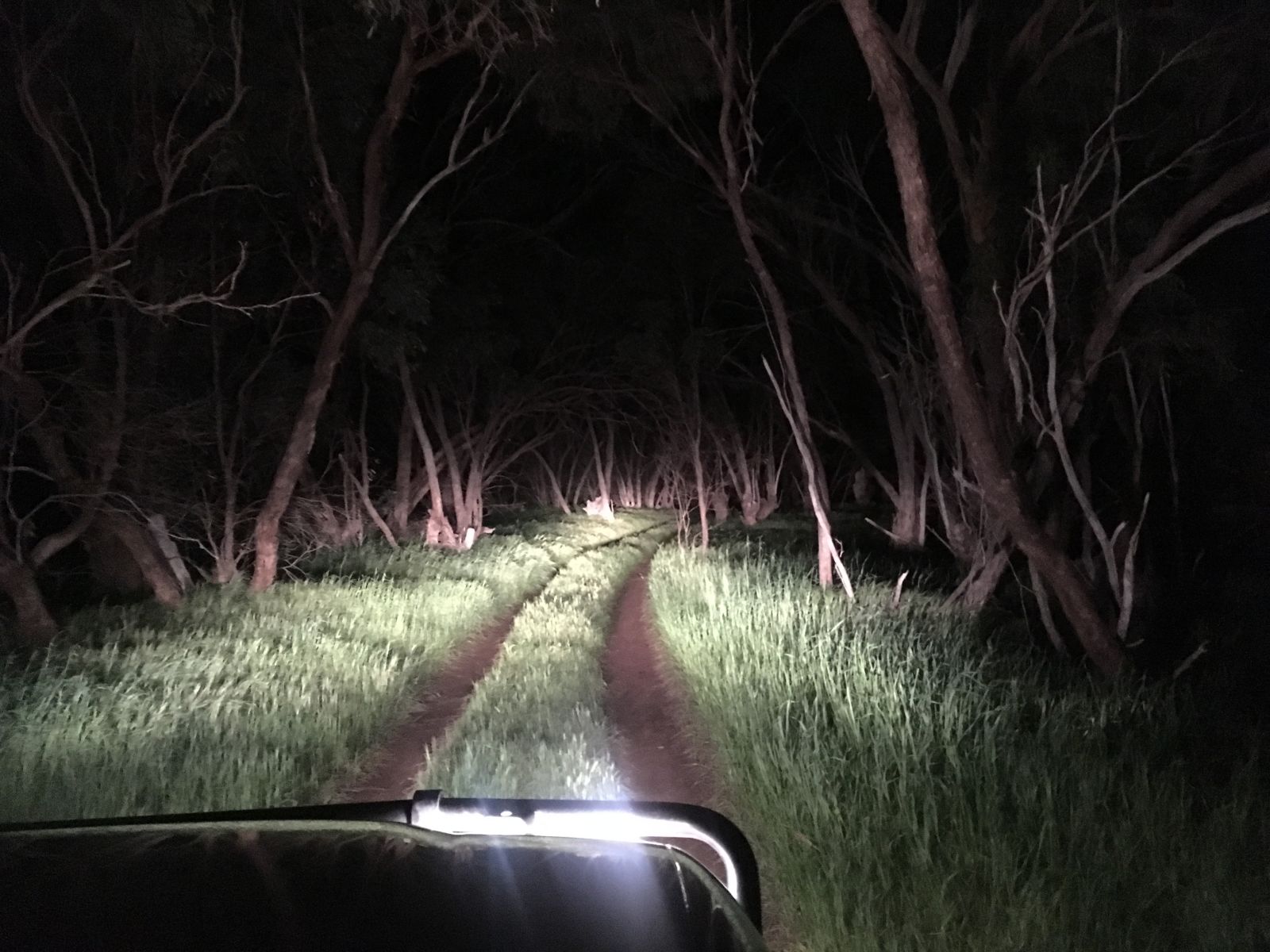 Unearthing the Southern Flinders Ranges, South Australia.
Having done a gentle camping trip to this area a few weeks ago, and knowing it well I decided that there was more to discover. Time for some solo exploration.
As regular readers will know, I am more than comfortable with my own company. I also felt I needed a physical challenge. 4×4 touring is awesome, but I just felt I had been a little within my own comfort zone for a while now. So I was going to do things a little differently this trip.
Work owed me more hours than I owed them, and so on Wednesday I knocked myself off early, plenty of time to get ready (trying to ignore the nagging fact I had not been feeling 100% this week). I was planning to set off late arvo, different to my usual early morning departure.
Night Moves.
The plan was to run some familiar trails on the way up, but at night. I don't do much 4×4 night driving, I'm usually nursing a beer and working on the night's feast by then. It would also mean I could wake up where I needed to be rather than have to drive the 300km beforehand.
Packed. Let's roll.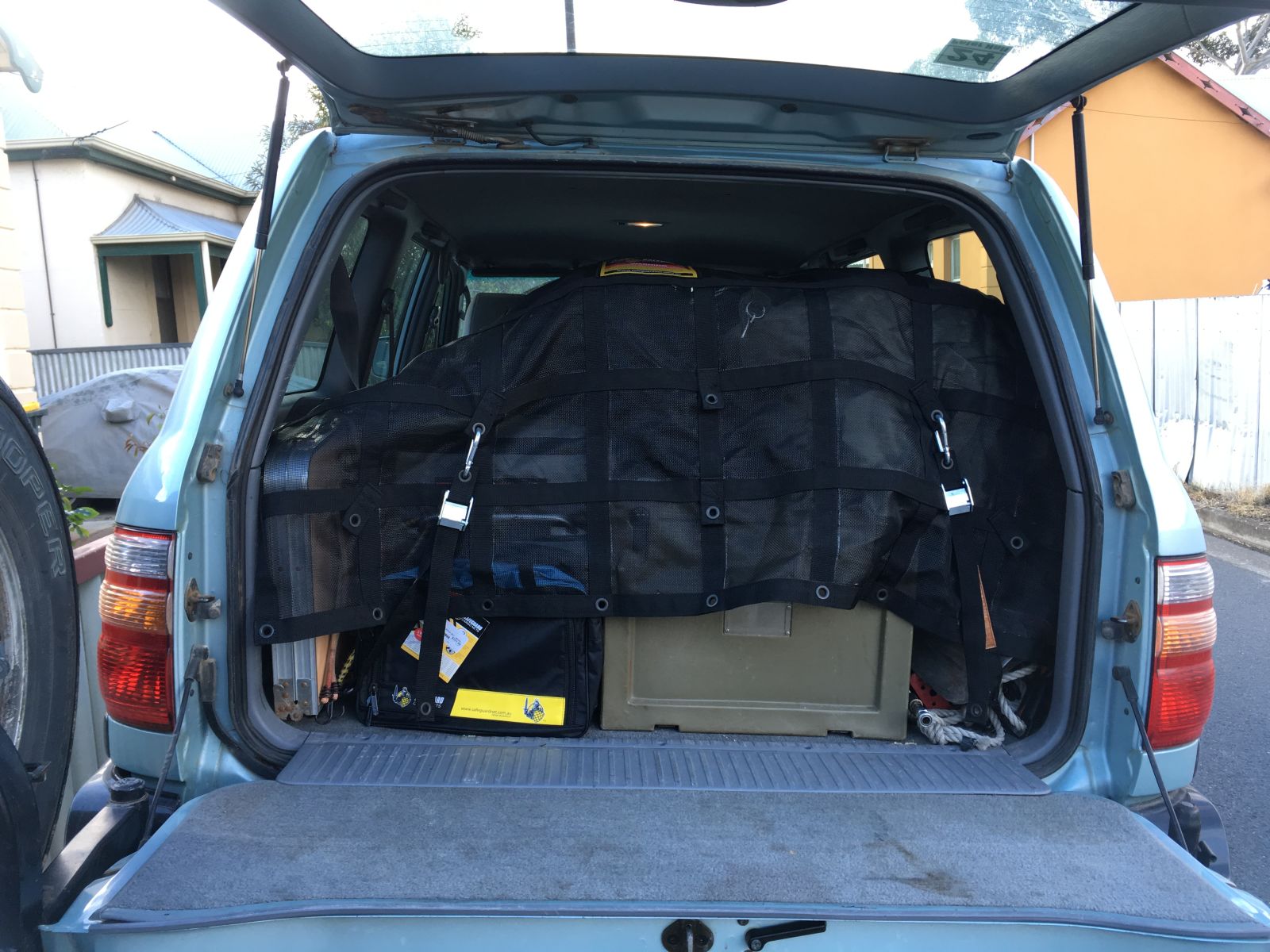 Leaving home to head out as everyone else was racing back from work felt a little strange but good, a little traffic on the way out.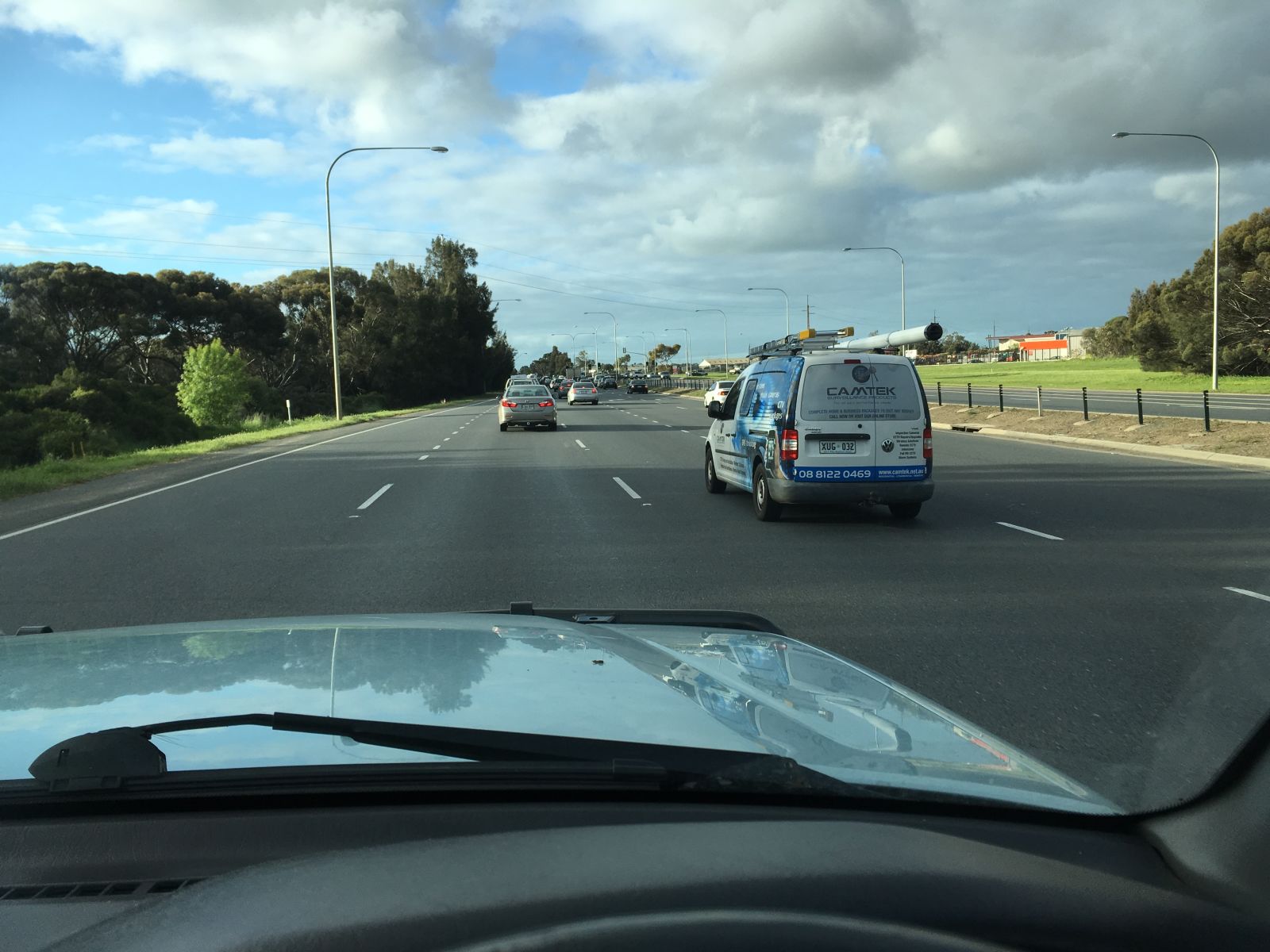 No worries, we would soon be free of this.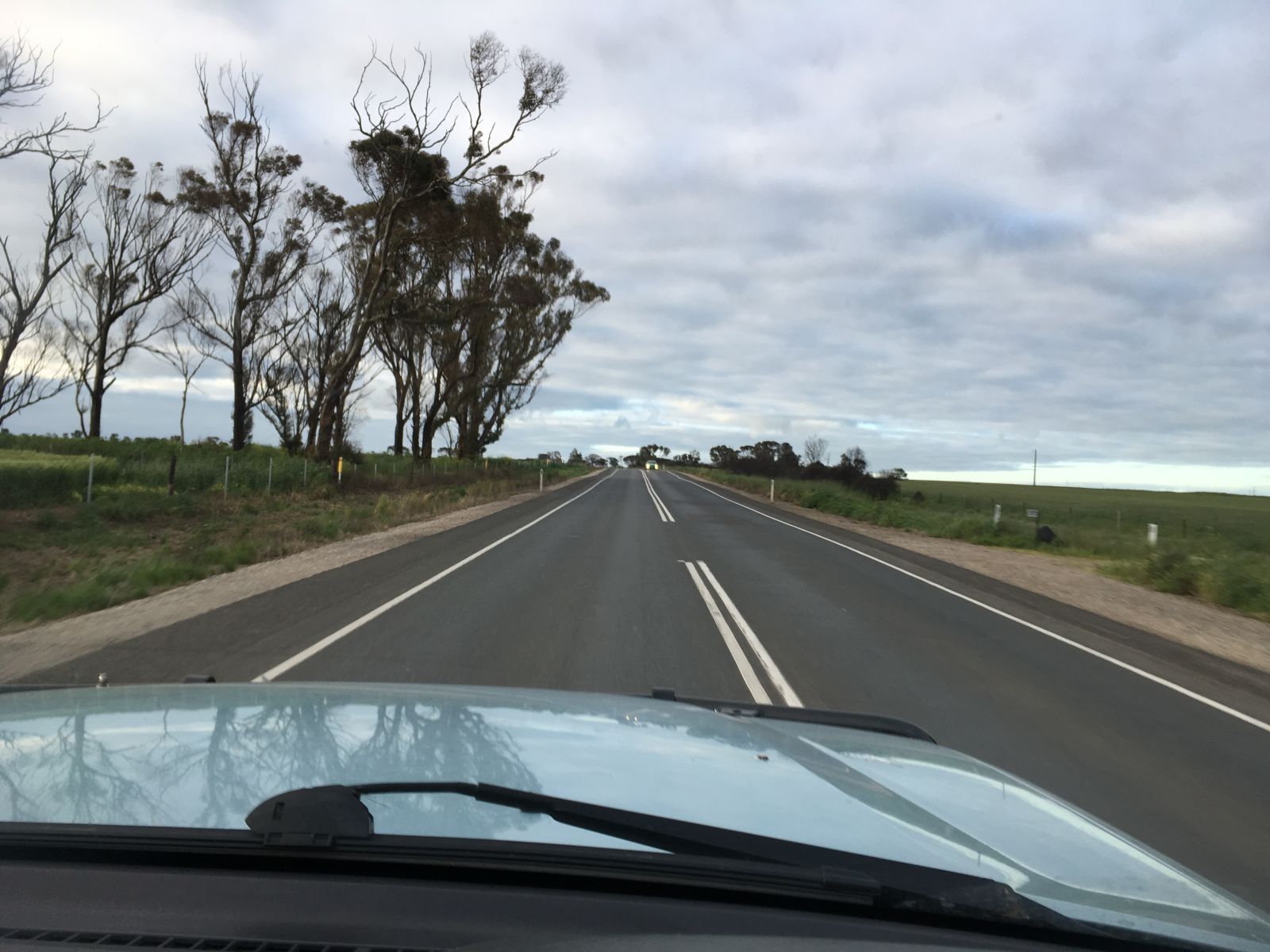 Empty roads leading us up towards the Clare Valley. You can see the new growth on the trees in the left of the above picture. These are native varieties recovering after the Pinery Fire ripped through here last summer
(I recently heard a couple of colleagues who were affected by this fire talking, they are concerened that with all the rain we have had and the explosion of new growth that we could see another fire here this summer).
The overcast skies meant night fell quickly.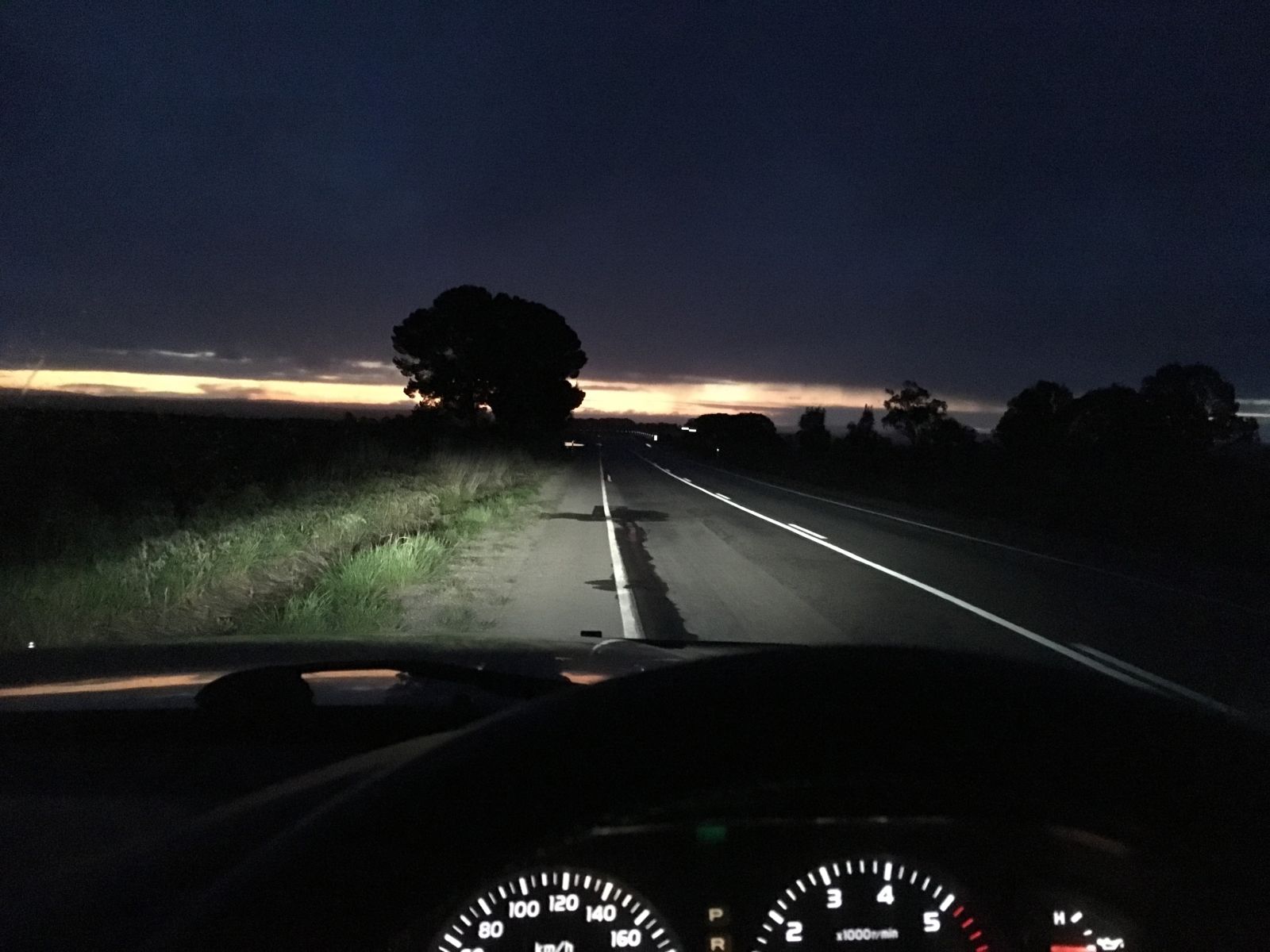 I pressed on through Clare and then a few of the semi-ghost towns of the mid north, many buildings un-inhabited in these towns. It has always been a tough place to make a living. I stopped in one of the more properous ones, Laura. Figuring this might be my last reliable internet. I booked a campsite at the bottom of the national park for two nights, as that is where the Land Cruiser would be staying. I noticed most of the other sites were booked, strange on a Wednesday night?
[the first map shows the Heysen Walking Trail, it gives some relation to Adelaide for the places I am writing about. More details of the area in the second map]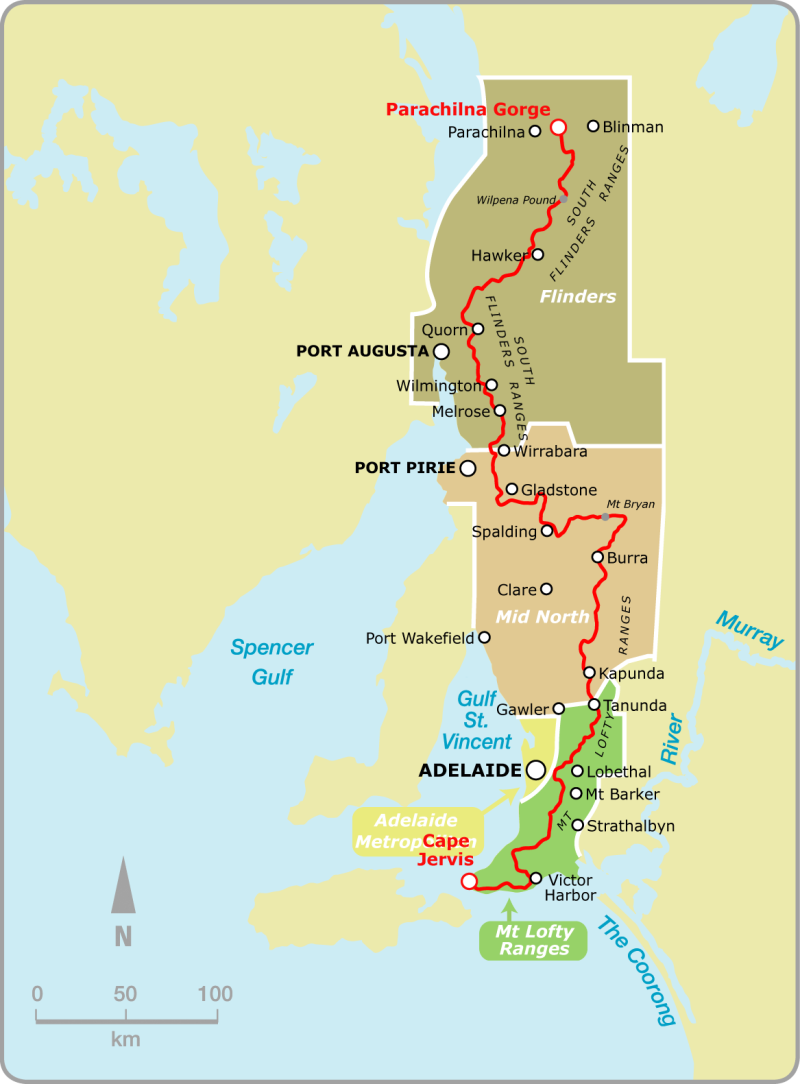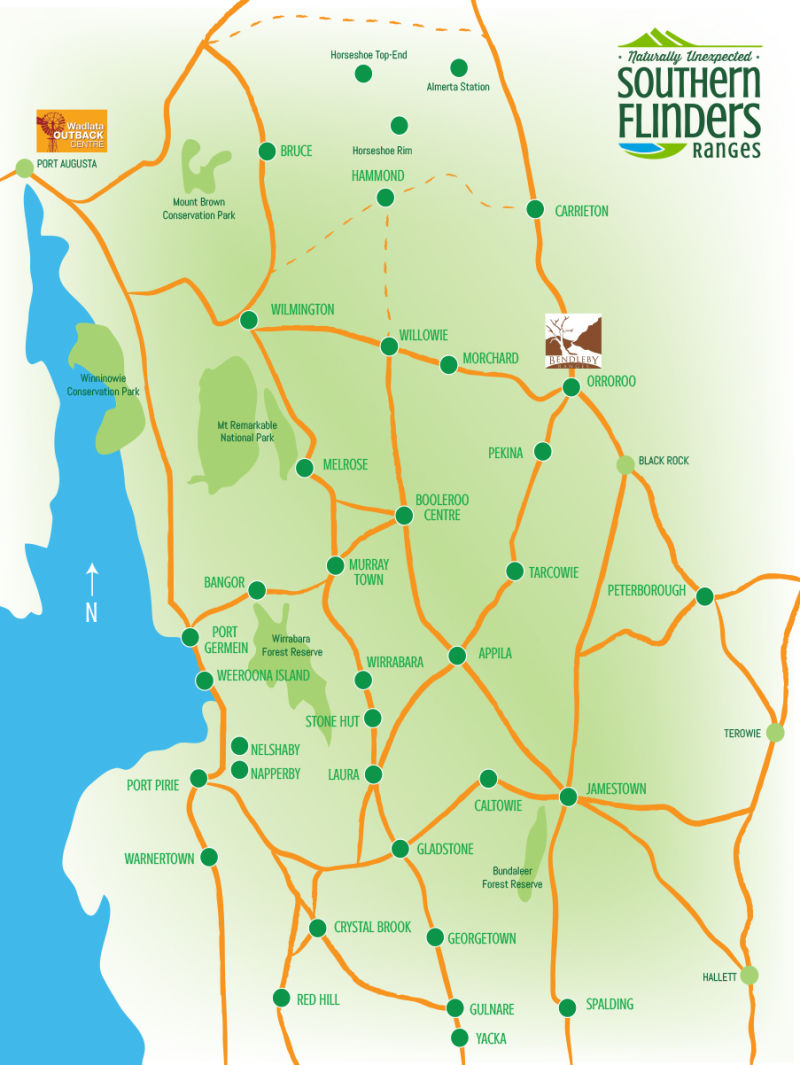 Just north of Laura you can turn off onto dirt roads (by the golf club if anyone local enough is reading) which then leads you to a 4wd track that runs up into Wirrabara Forest. We had run this track a few weeks ago, my mate making it through easily in his 2wd Mazda BT50, wary of taking it off-road beforehand, let's just say this has emboldened him somewhat…
However the large amount of surface water in the crossings and generally on the flat farm roads on the way in, made me think it might be a touch more soupy this time. Looks alright at the start though.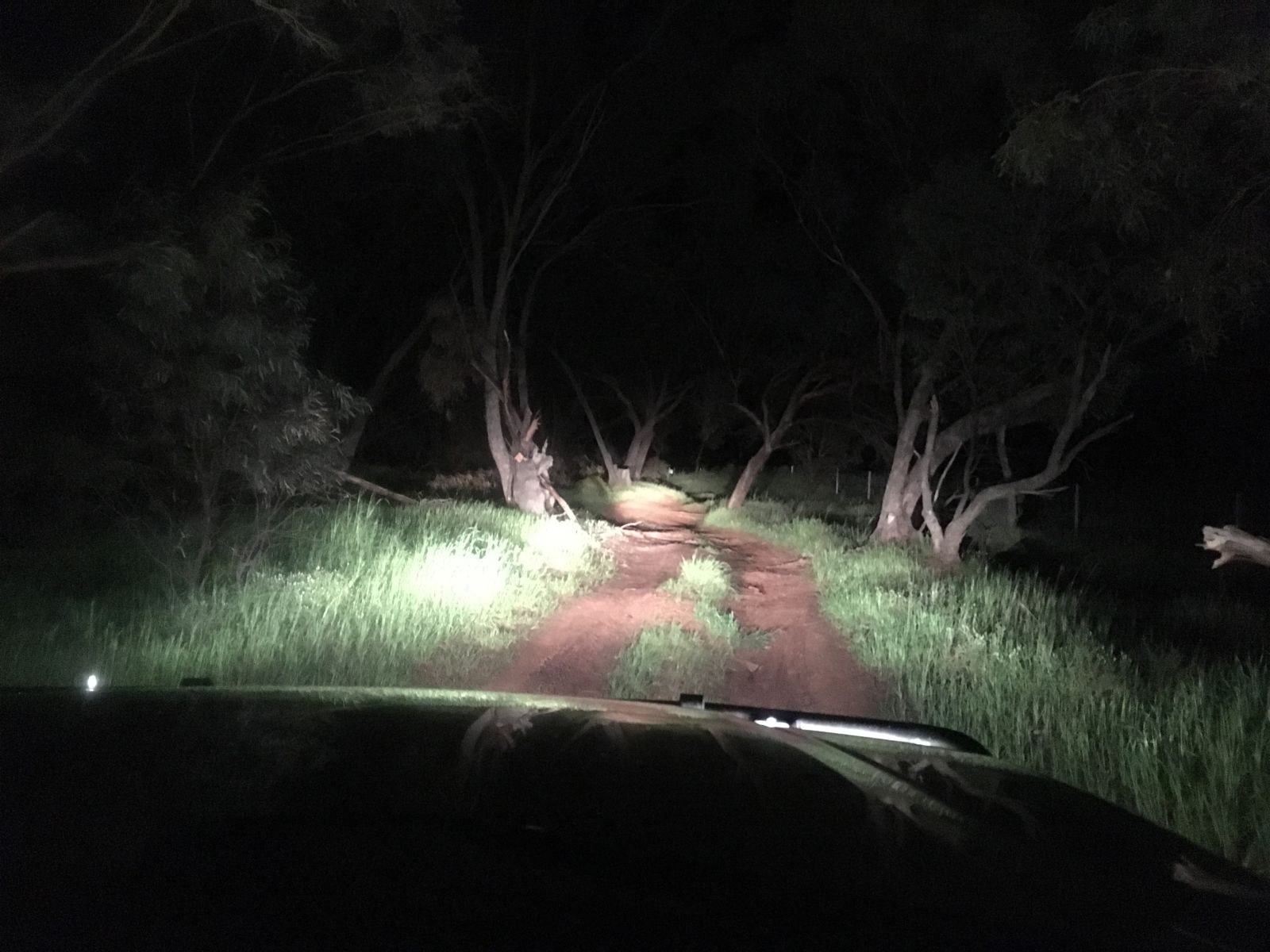 First puddle.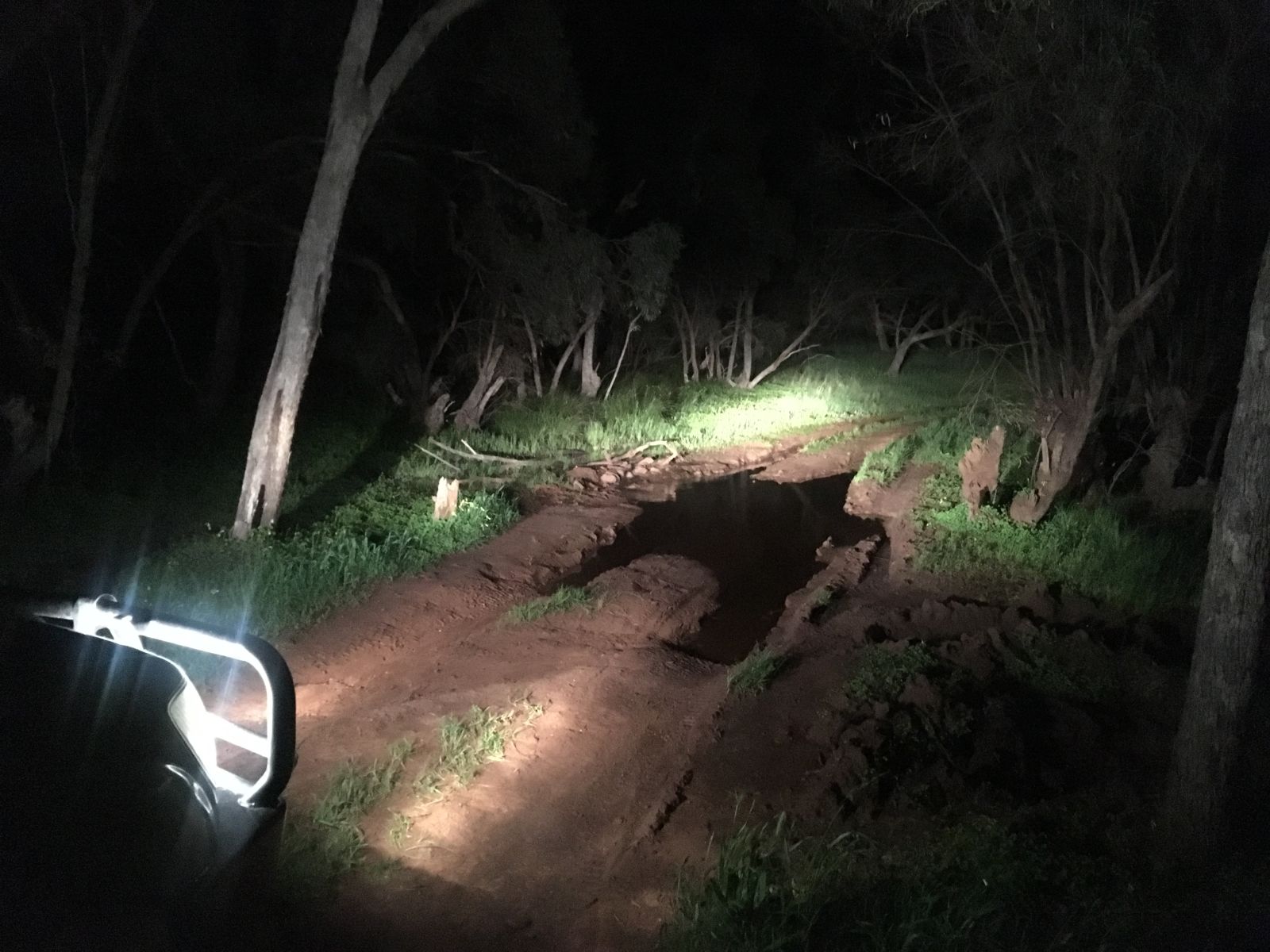 Longer now, and slippery out the other side.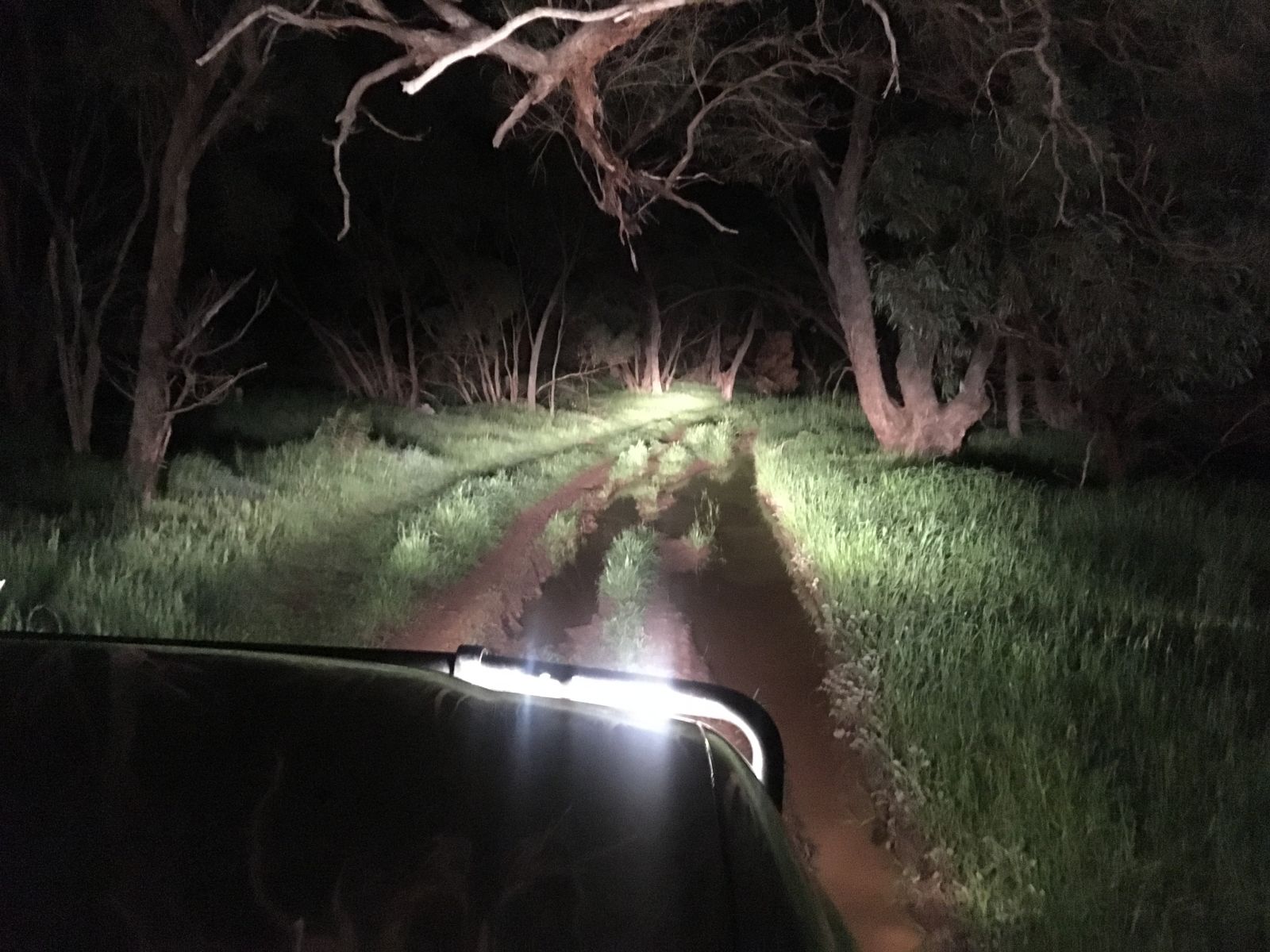 Ja, tyres are slicks now…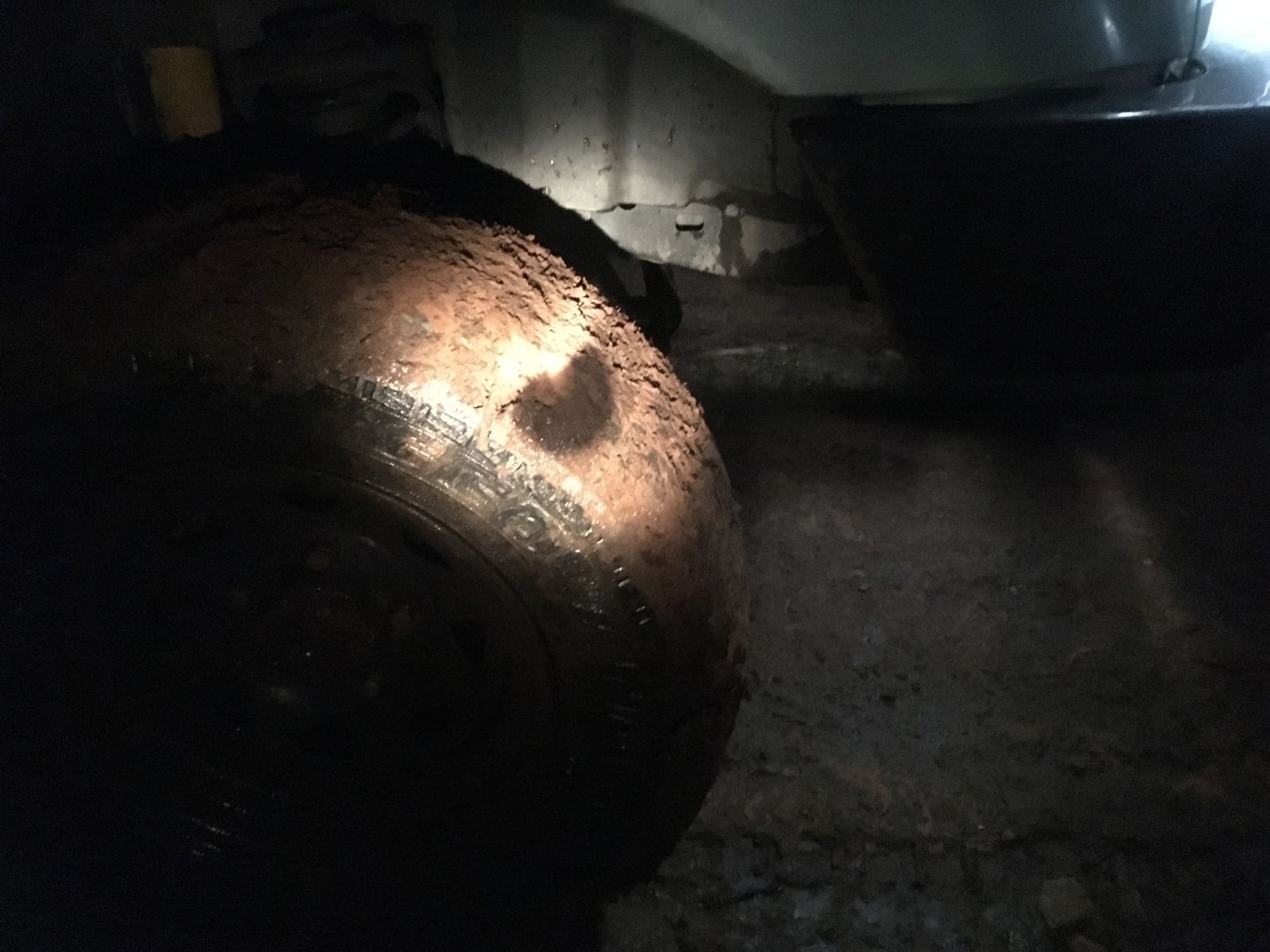 At this one I foolishly tried to go around the tree.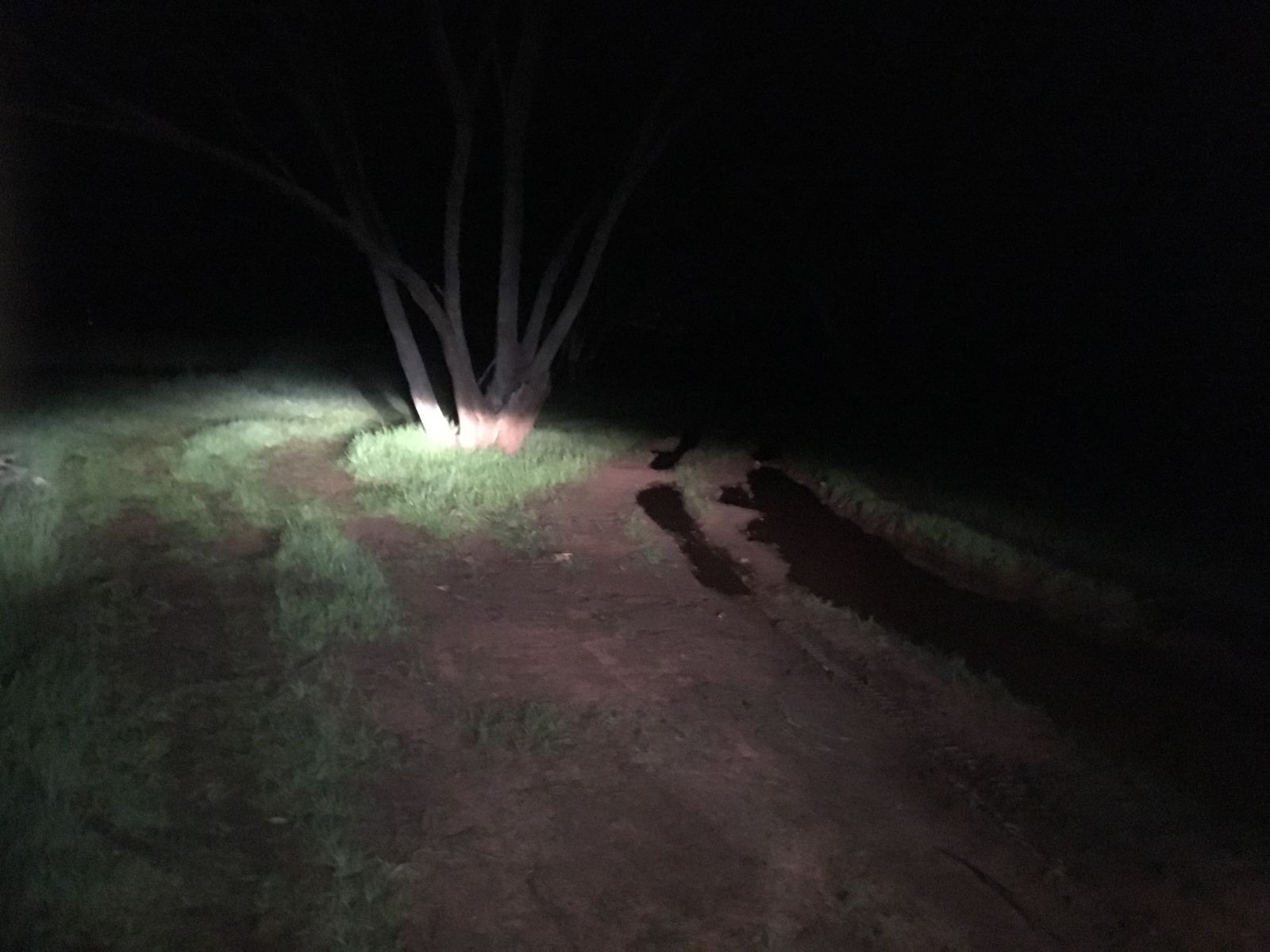 With the Land Cruiser getting so far and then wanting to slide down side on into the tree. Ok, back it up, re-assess. Last time we had sailed through here on road pressures, but the extra water had turned the surface around the water into clagging, claying slickness. 15 psi out of the tyres, locked centre diff and low range and doing what I should have done to start with, straight through the water. Through, although notiuceably deeper than last time.
Giving the FZ a big boot of throttle where I could, to try and fling some of that mud out of the tyres. Sounds good when provoked, that big six, hey?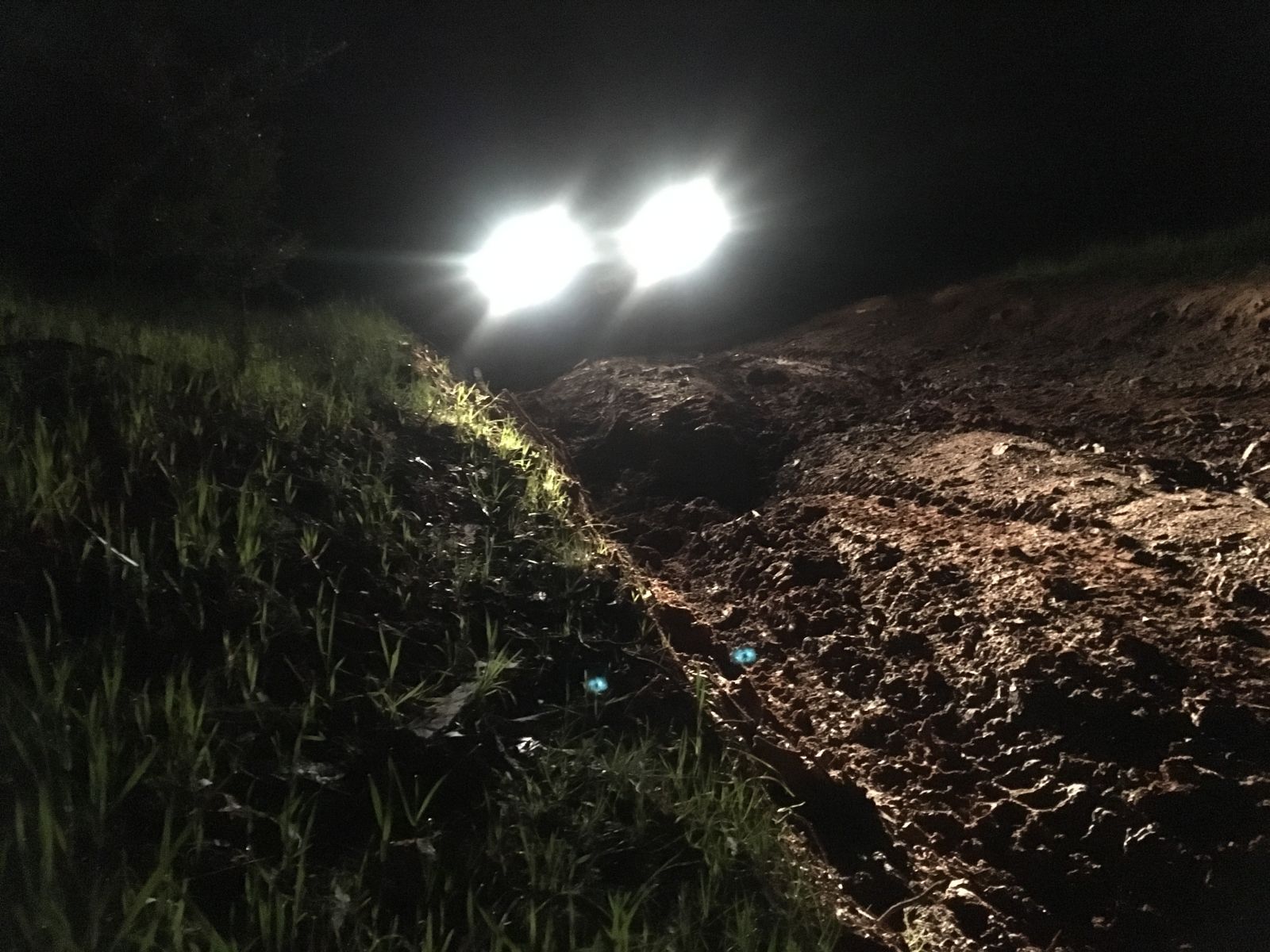 Last one.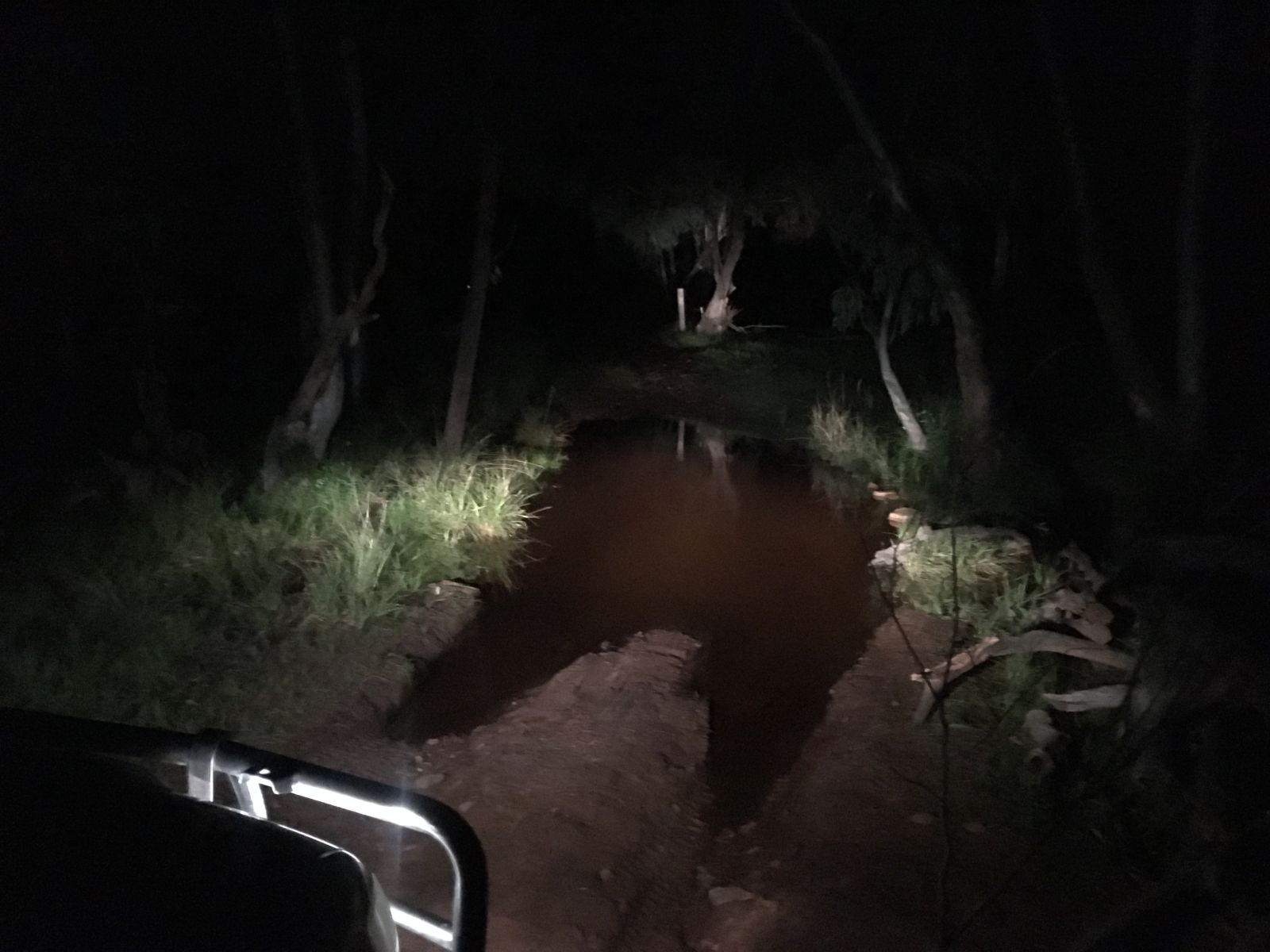 I knew from here the tracks were drier.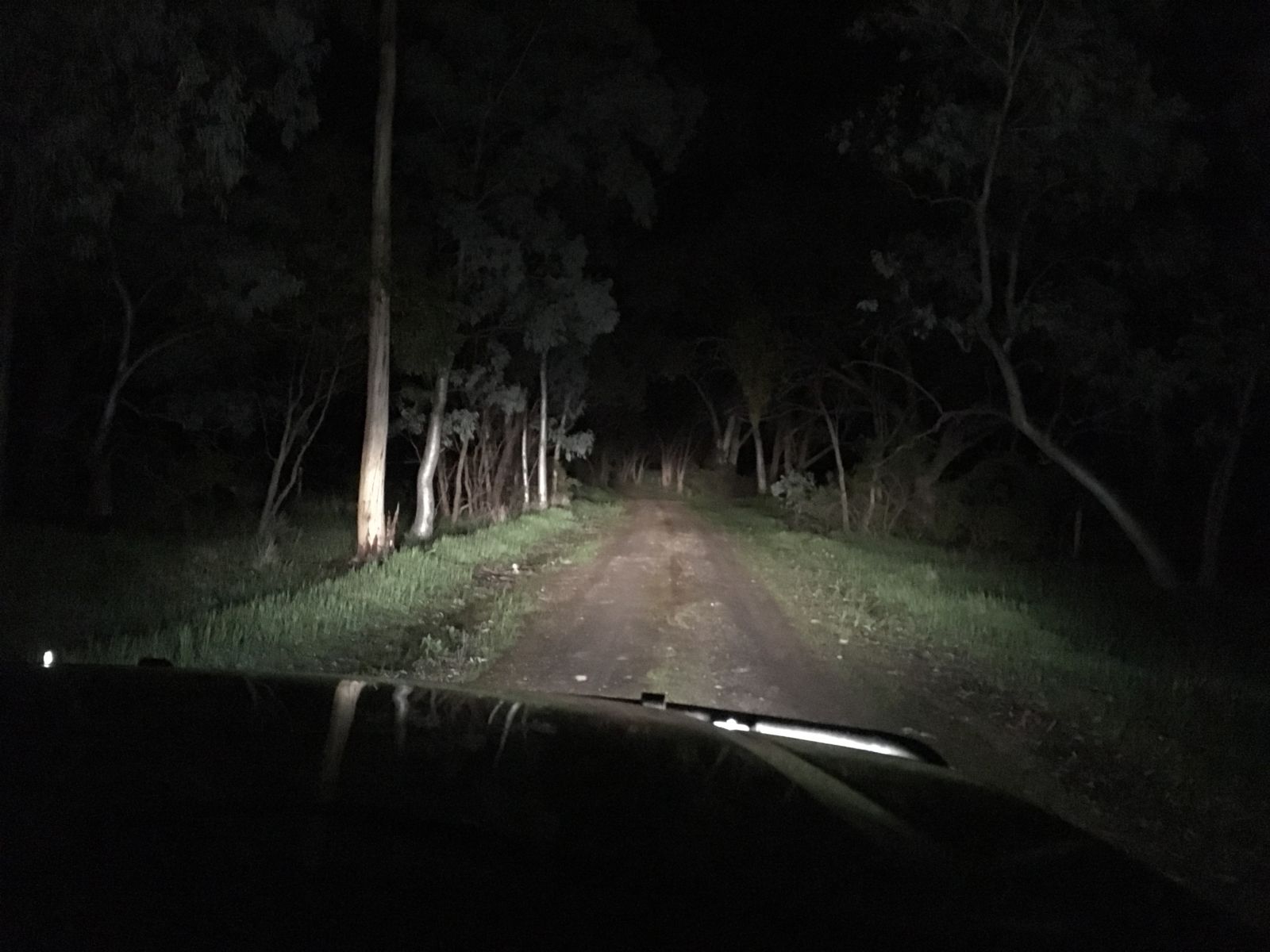 There was nothing illegal about what I was doing. This was all genuine access. However it certainly felt somewhat illicit being the only one out here running around at night. The tunnel of the headlights lent the place a certain mysterious feeling.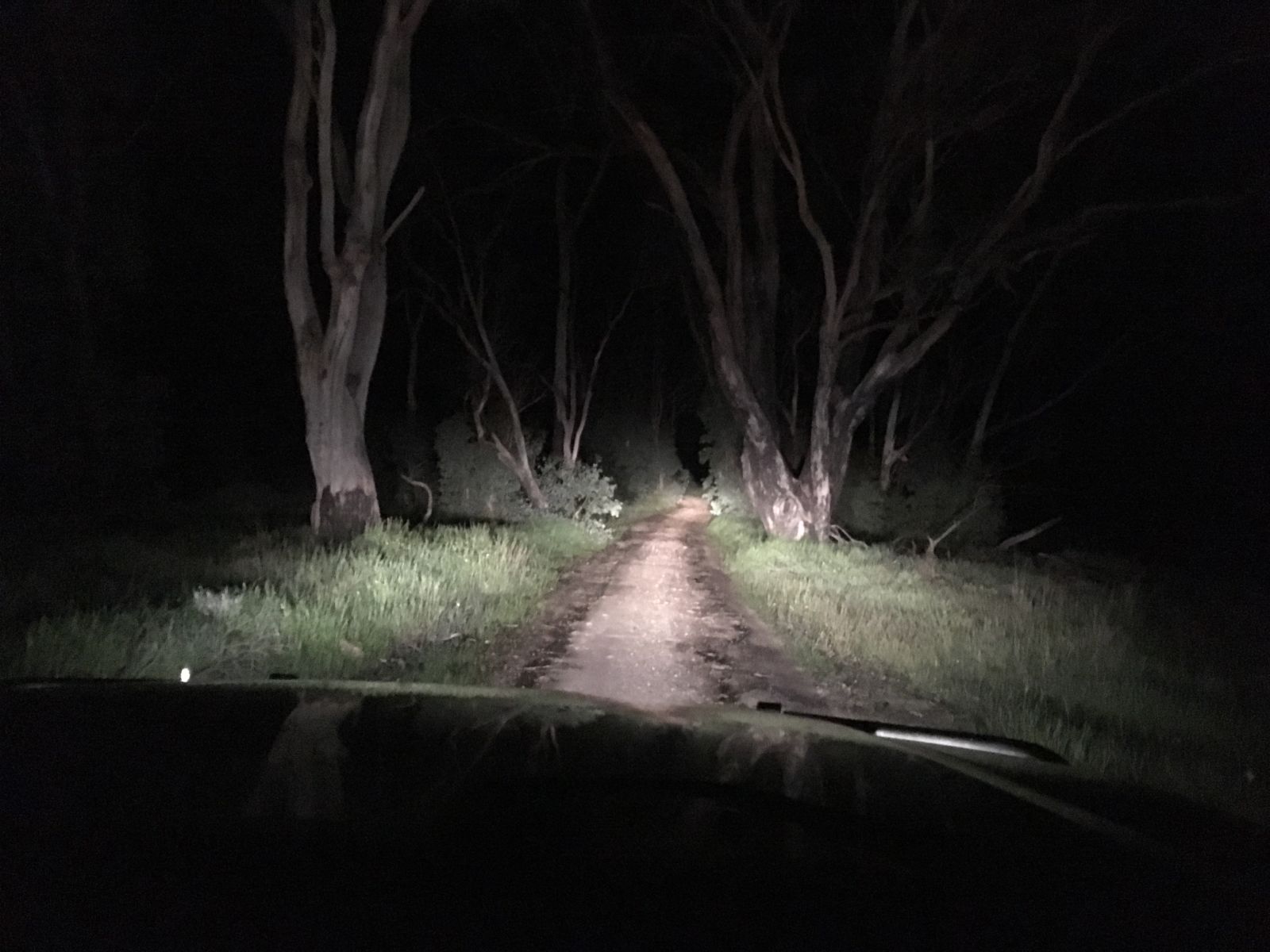 Strange creatures came out of the darkness.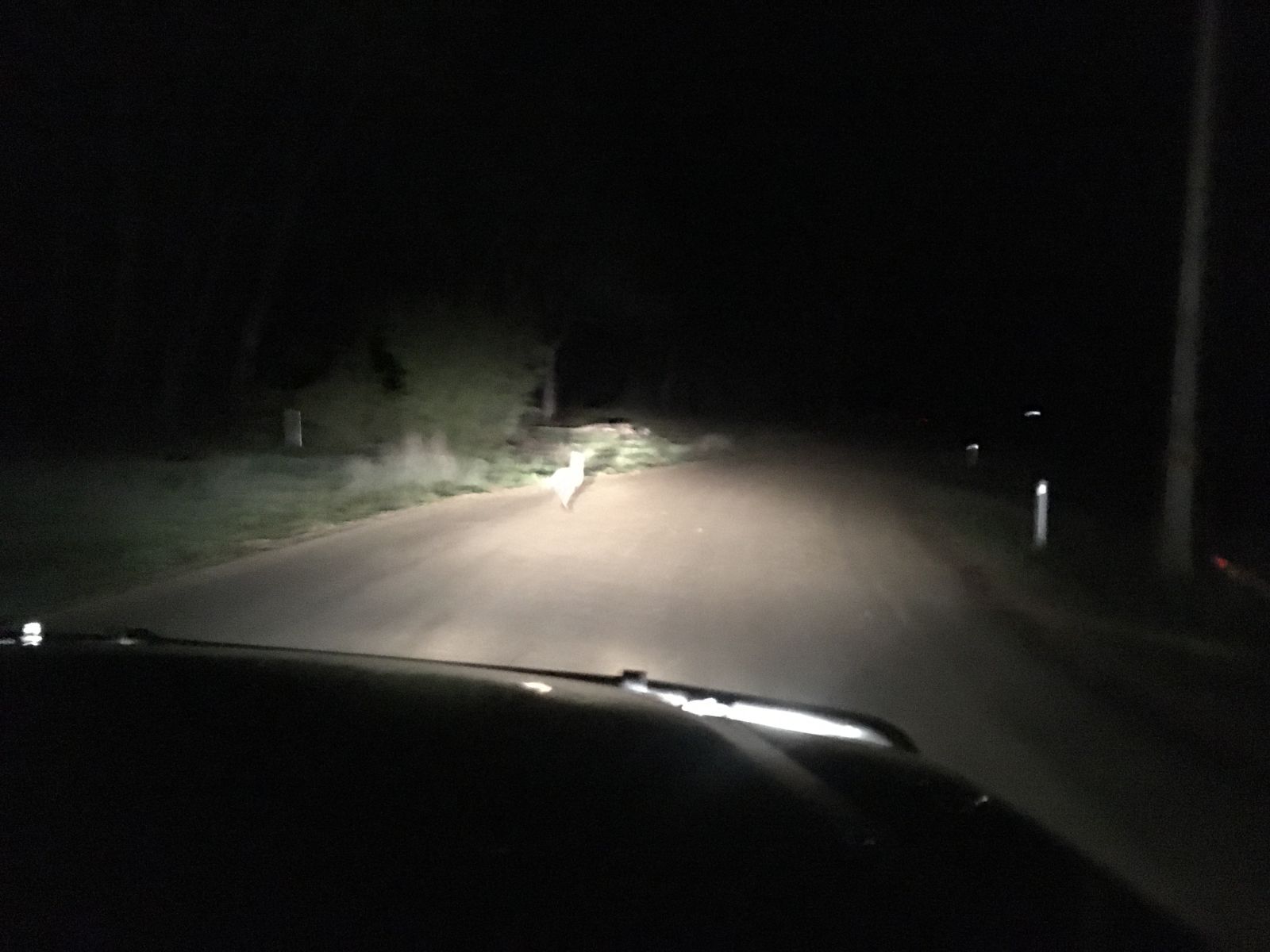 There was water everywhere. Most unusual for South Australia, driest state in the driest continent? Not here, not now.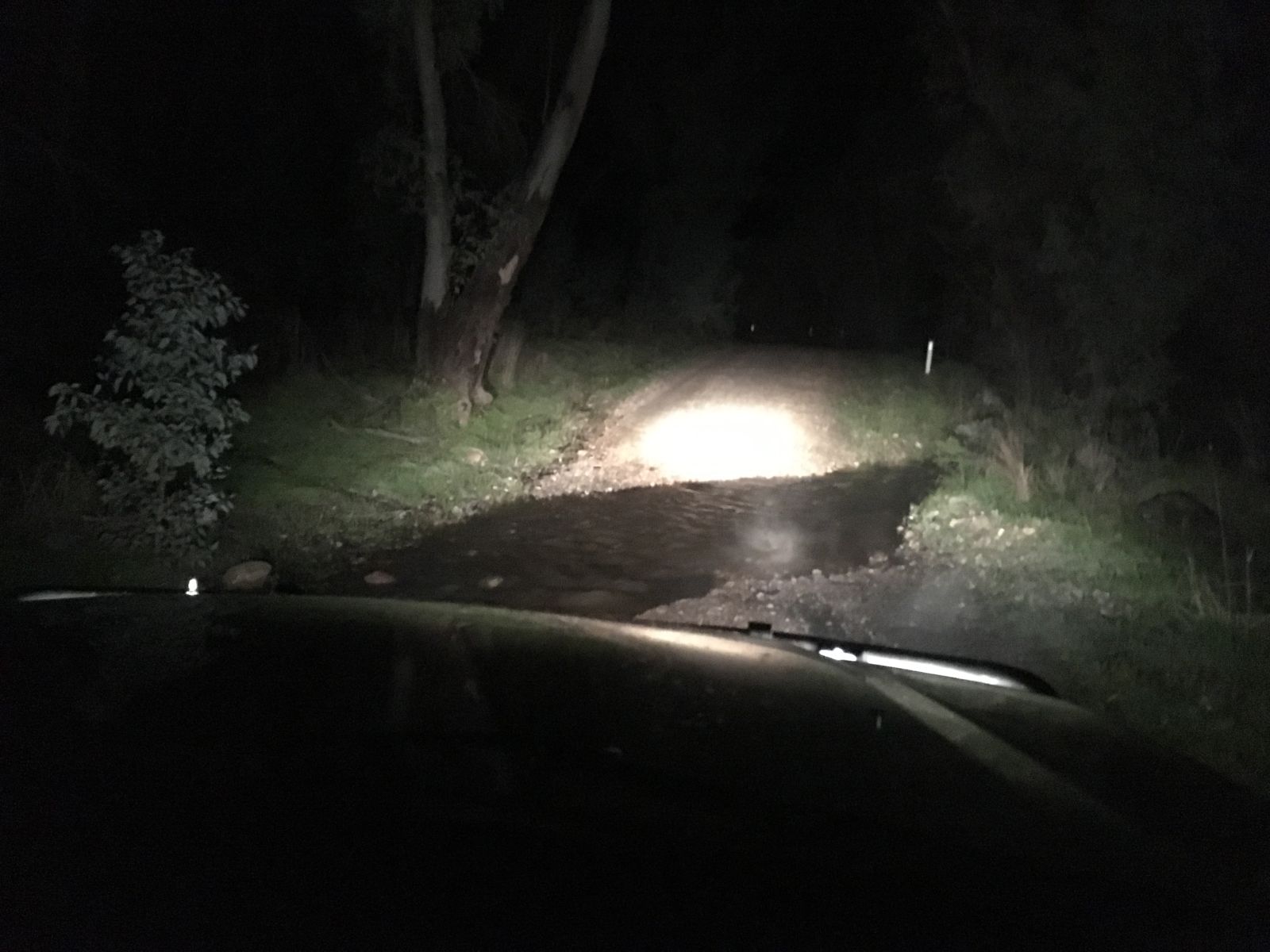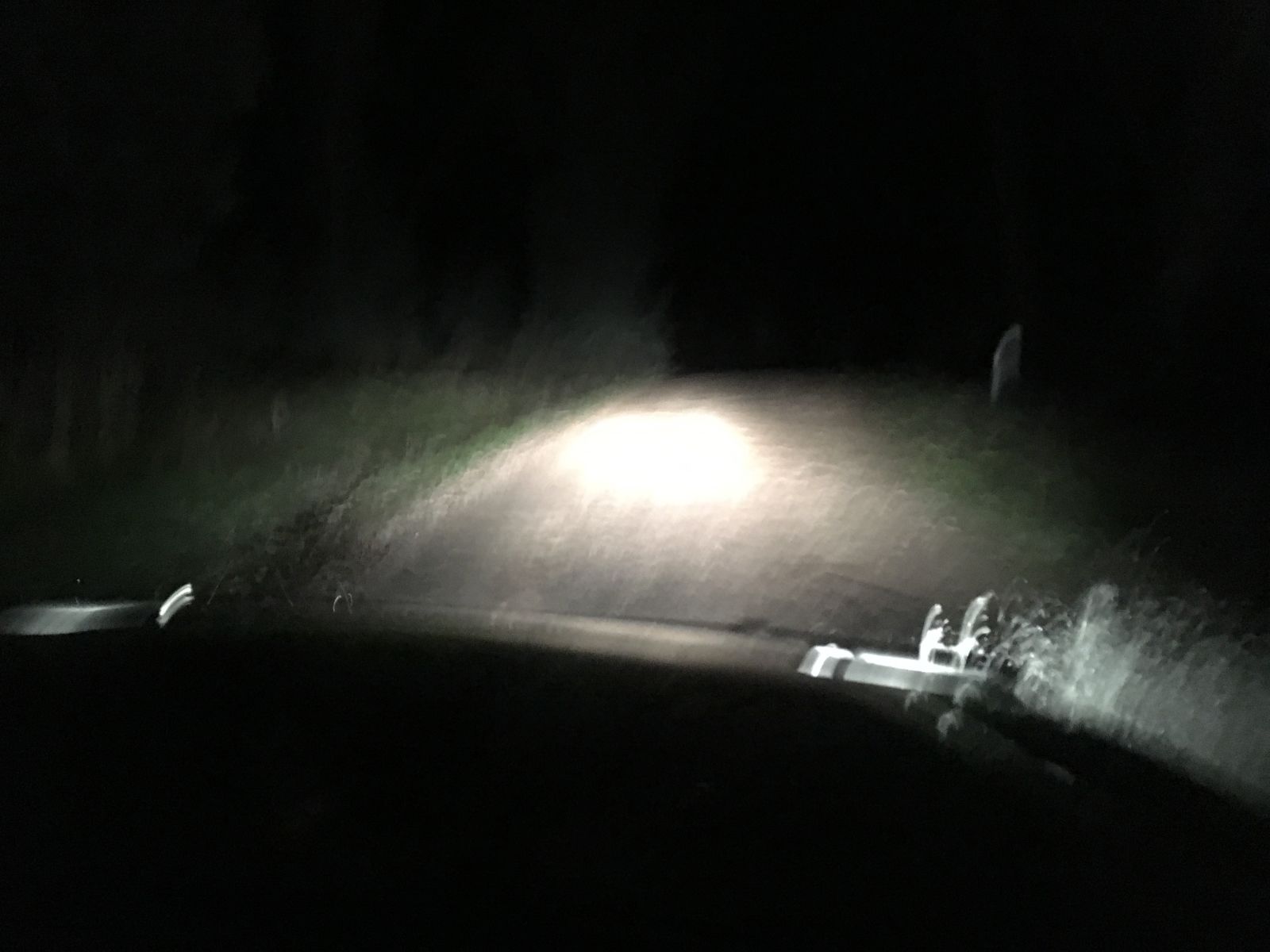 Forest fun done. Time to air back up before back on the bitumen. 28 psi front, 30 rear. I would be hopping on and off the bitumen and running fast on the dirt, these pressure seemed to work well for this truck, with this load, for this type of driving.
Picking up the fabulously twisty Germein Gorge road. Then keeping an eye out for the dirt track that would hopefully pop me out at the bottom of Mt Remarkable NP, where I needed to be.
Got it, 'Dry Weather Road Only' says the sign. Well it was dry on this side of the ranges, here at least.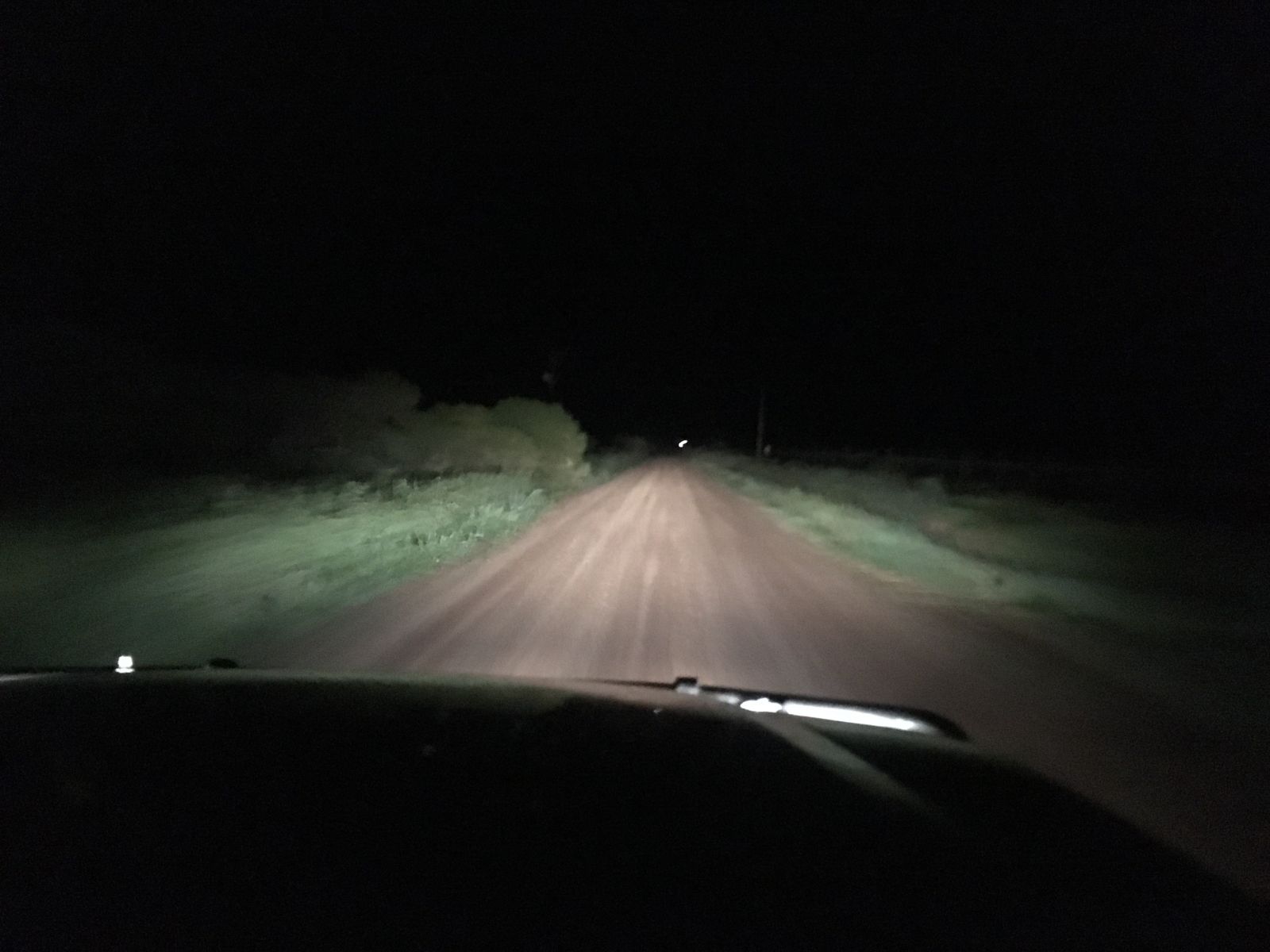 As we approached the end of this section. With an upcoming junction, I could see a slight obstacle upcoming, water, lots of it. I hit the brakes, with minimal effect, the tyres already clogged (being from the old school, I taught myself cadence braking before ABS was widespread, I still find myself doing this in extremis and it seemed to help a little here, maybe just rotating the tyre to a less clogged part of tread?), we are going in there at speed whether we like it or not. Ok, time to get right off the brakes, get some steering back. Big splash! The truck slews to the left, getting dragged to the really water logged section. I give it about 3/4 throttle and it pulls back on line and roars out the other side on half a turn of opposite lock. Well that was fun.
I took this photo from the other side looking back, as I was a bit y'know, busy on the approach. You can see the heavily water-logged section on the right now.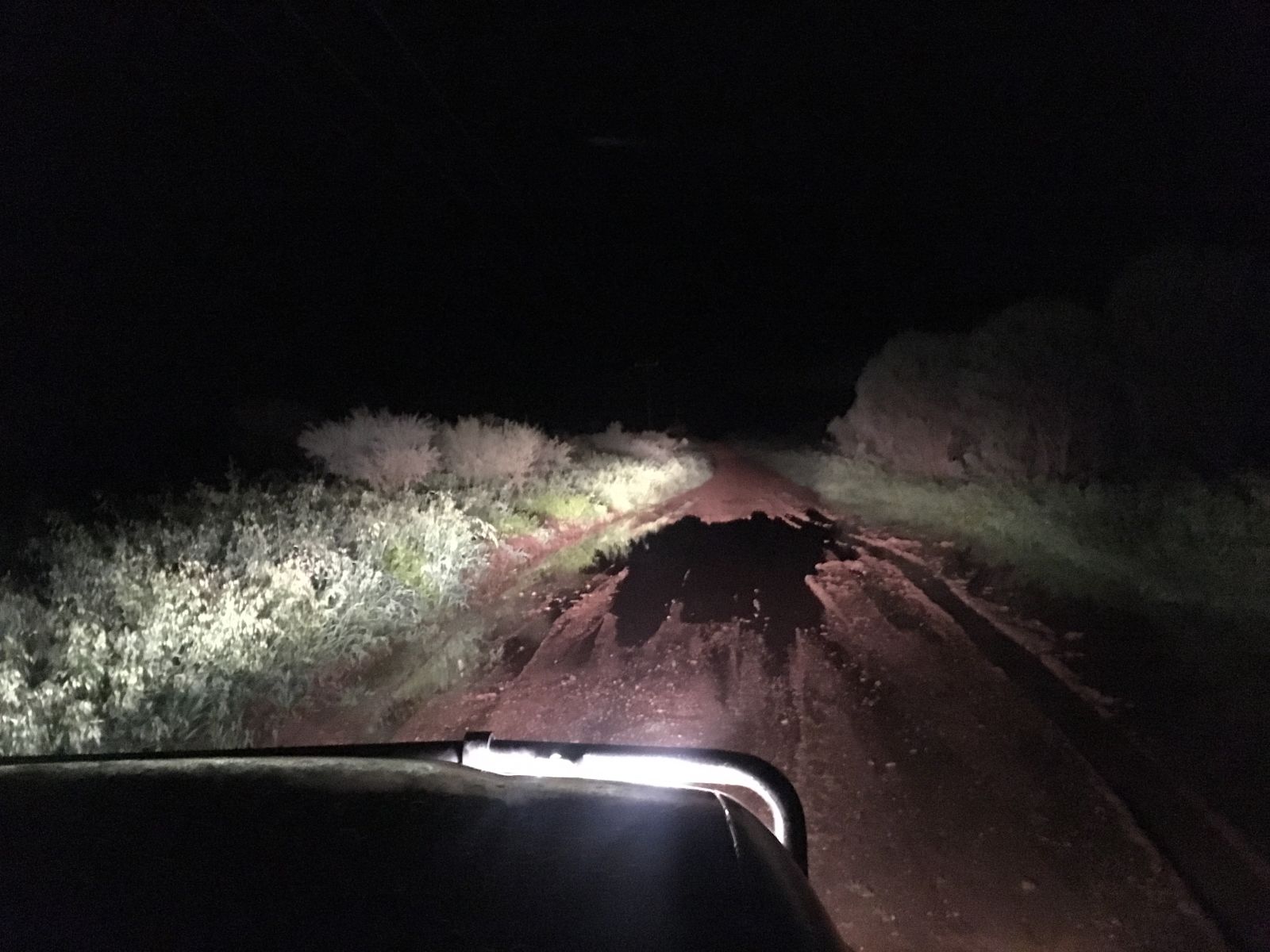 The deserted fast farm tracks continued for the next 10km or so. I was keyed into the surface now and could pick my braking more or less effectively for the corners. Not that there wasn't a bit more fun to be had, with most corners having a puddle on the inside. The ARB OME suspension once again doing a great job of soaking up the bump as the puddle swallows a wheel, while giving me great body control as I tidied up the ensuing slide. Anyway enough, what is this? The Rally Takeover!
Arriving at the campsite.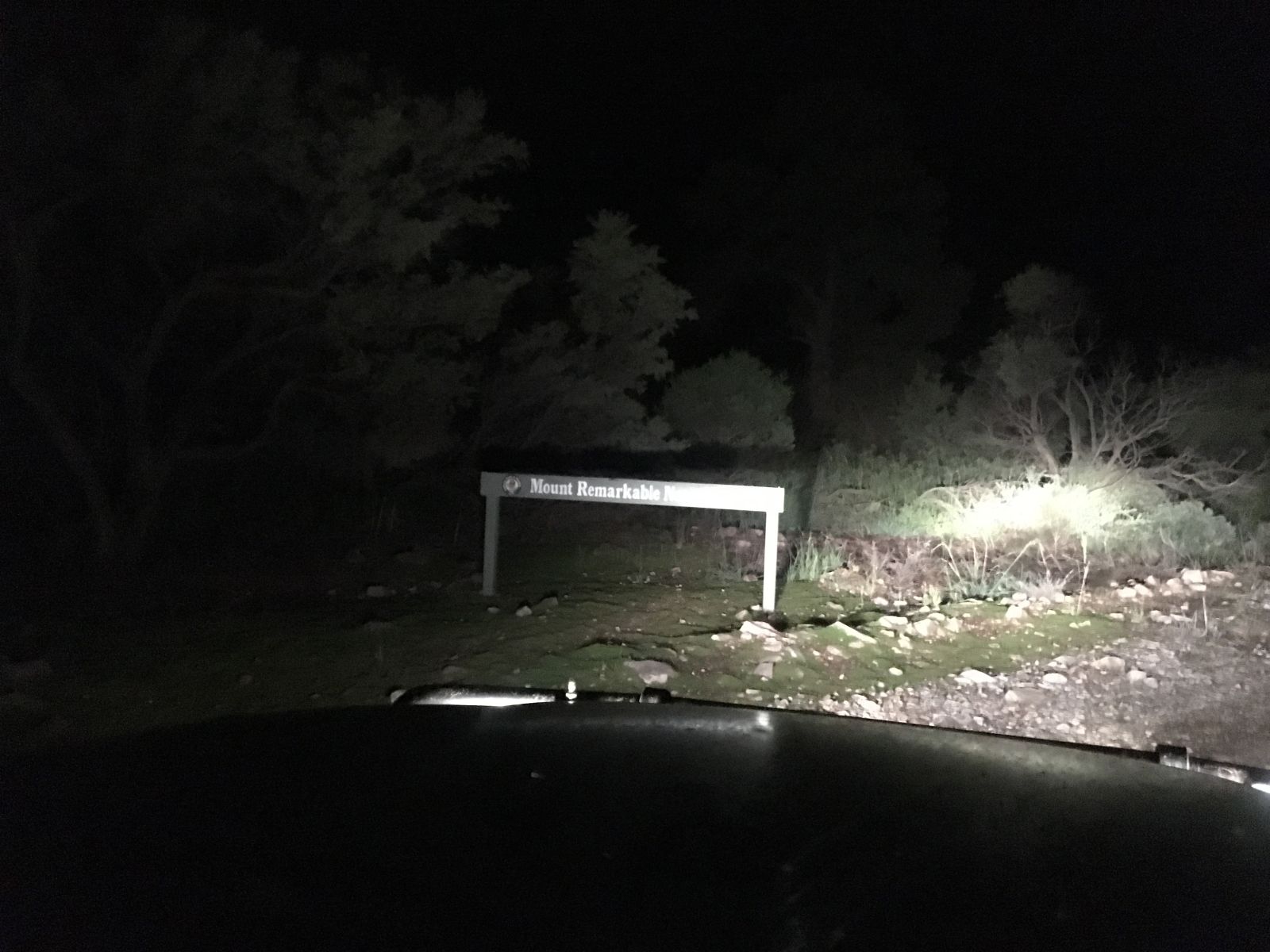 It was indeed full of trucks and caravans, and lots of little bikes. Ah, of course, school holidays. Not having kids these things tend to pass you by a bit. This was good, lots of people around allayed my fears about leaving the truck in this usually remote location unattended for a few days.
I rolled out the swag, no pegs, just strung off the Cruiser and a nearby bush, and collapsed into it.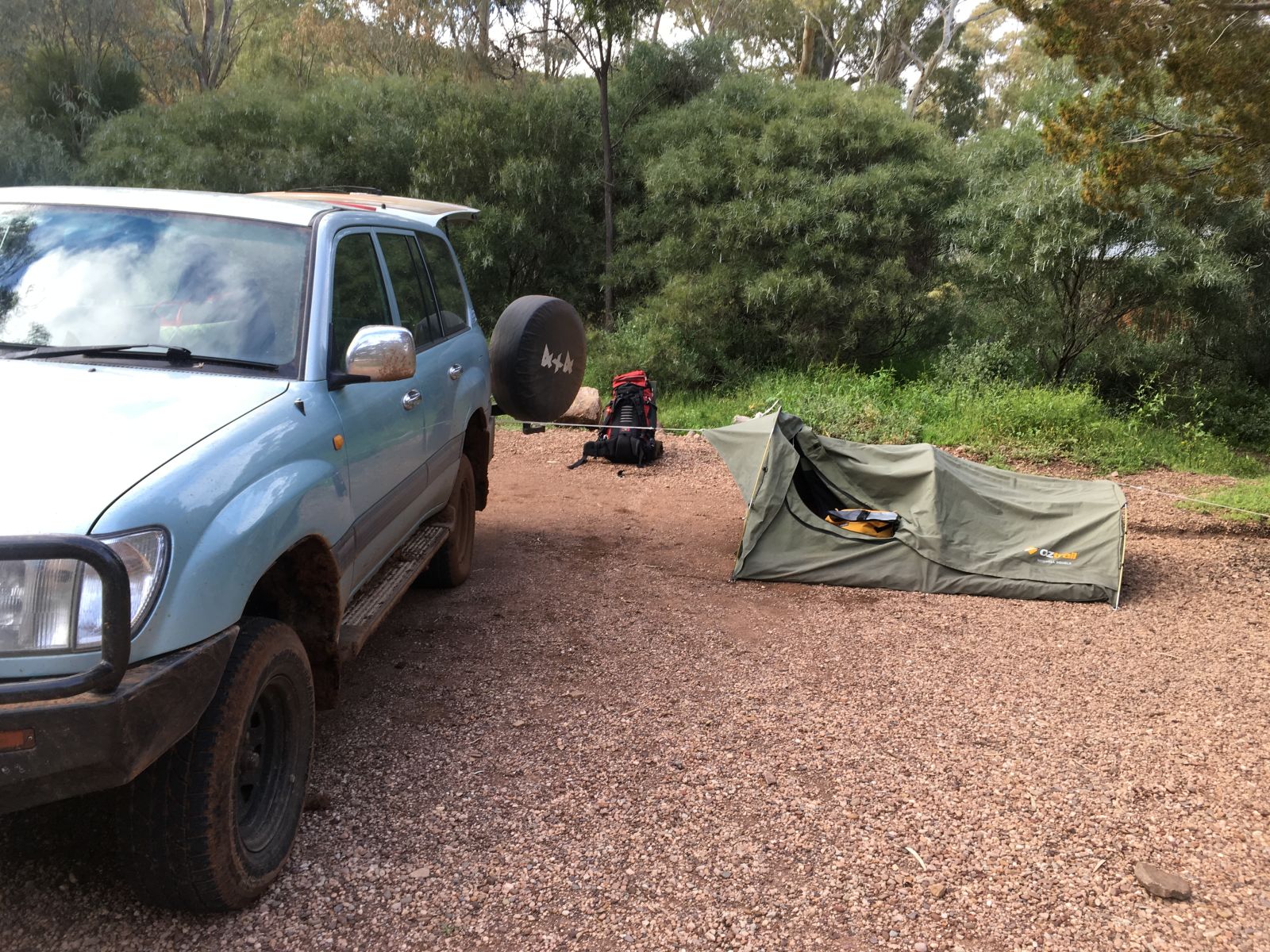 Tell tale signs of last night's, ahem, 'spirited driving'.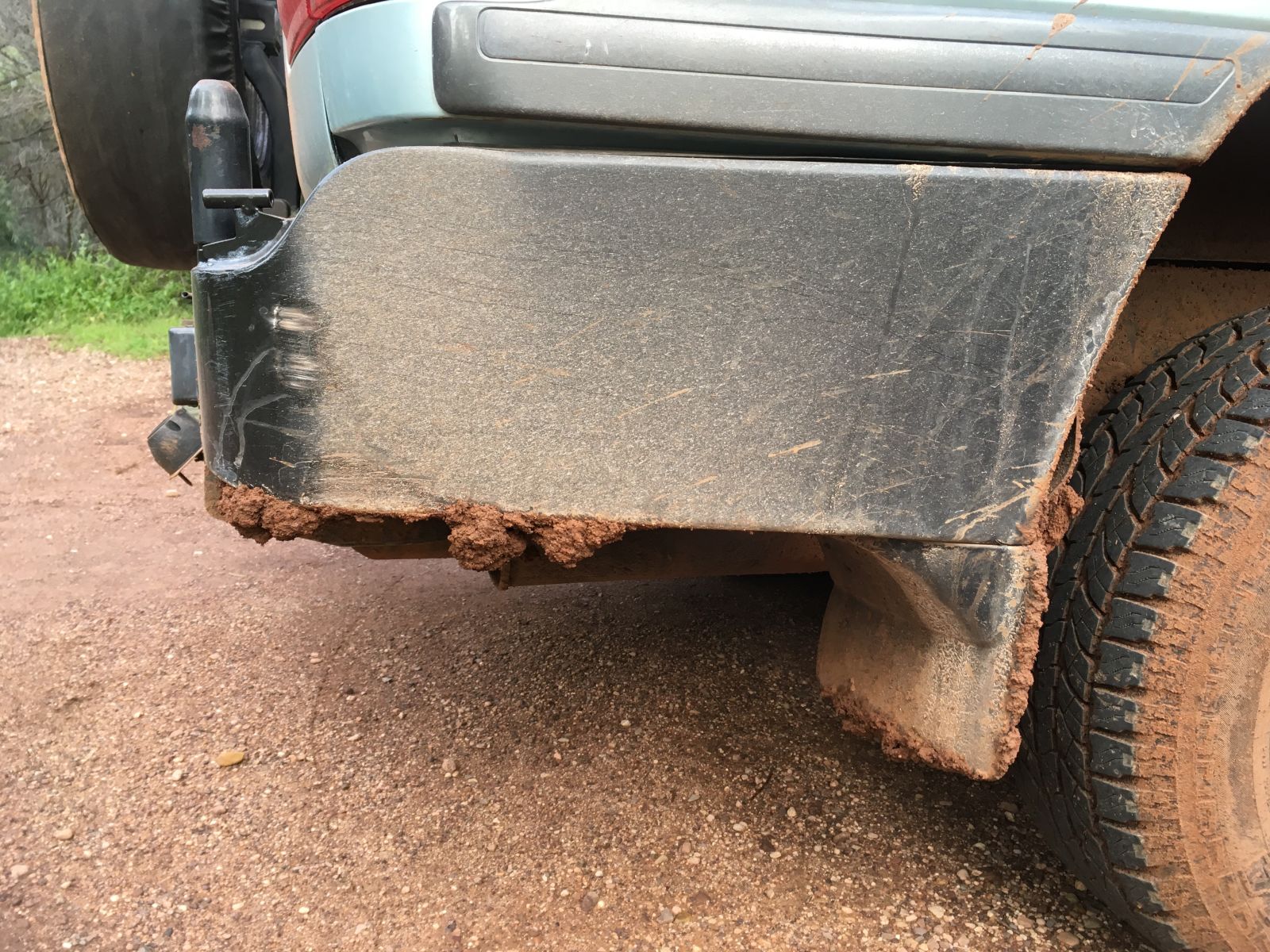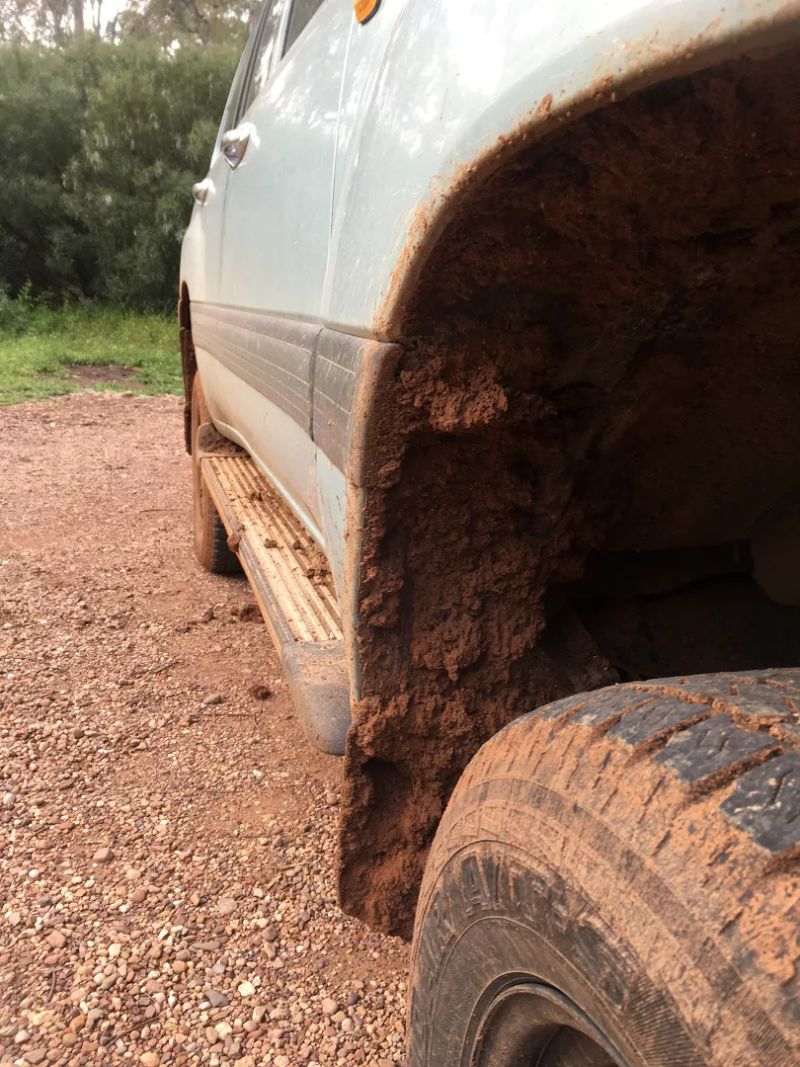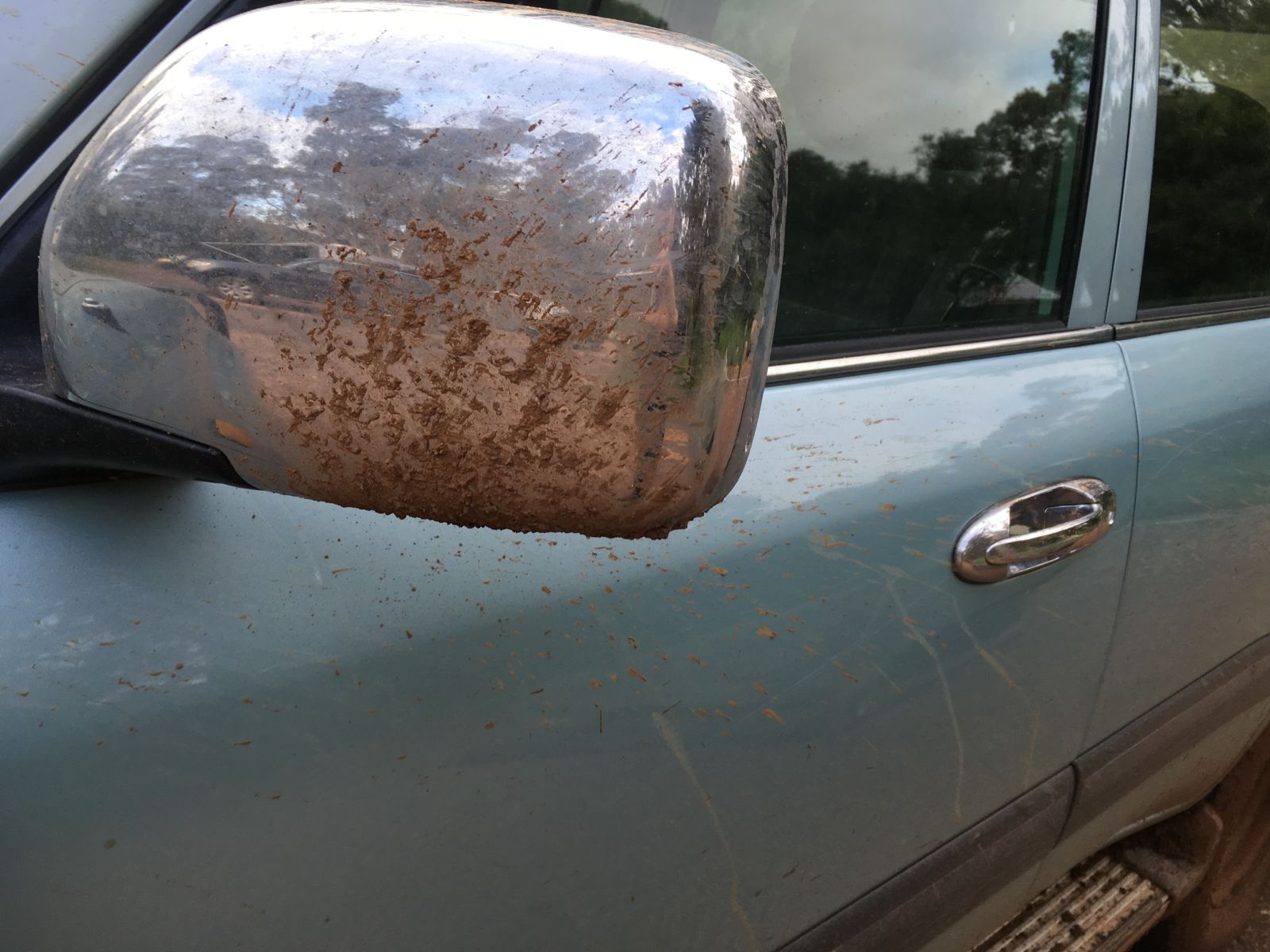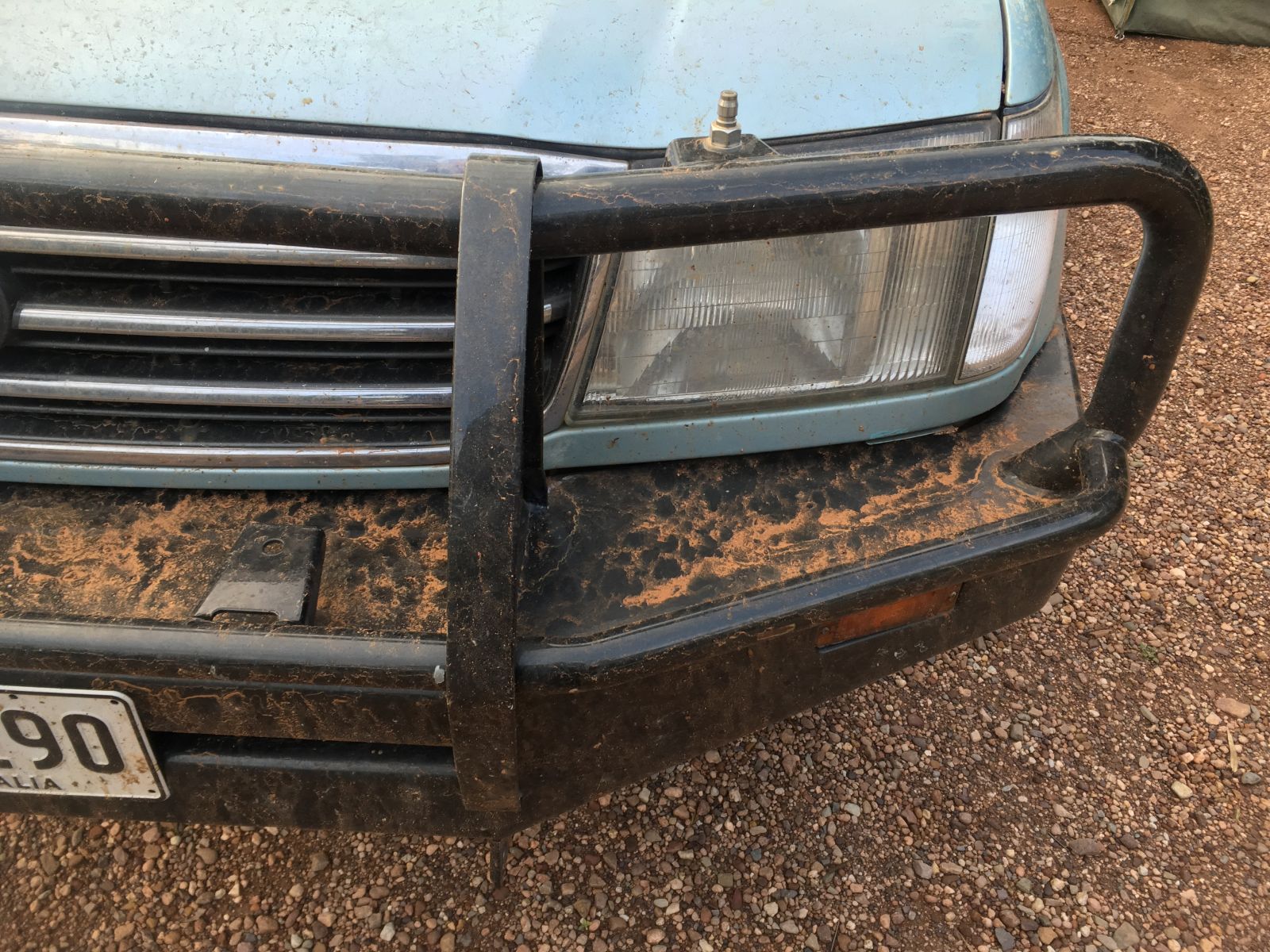 Hike Day 1: Setbacks, struggles and solitude.
The plan had been to hike from this southern end of the park to Alligator Gorge at the northern end, camp, hike back again a different route. Alligator Gorge is a picturesque red rock canyon, looking especially good at the moment, with water flowing and the associated greenery. Looking more like the Northen Territory than South Australia.
Here are a couple of The Accountant's photos from when we were there three weeks ago.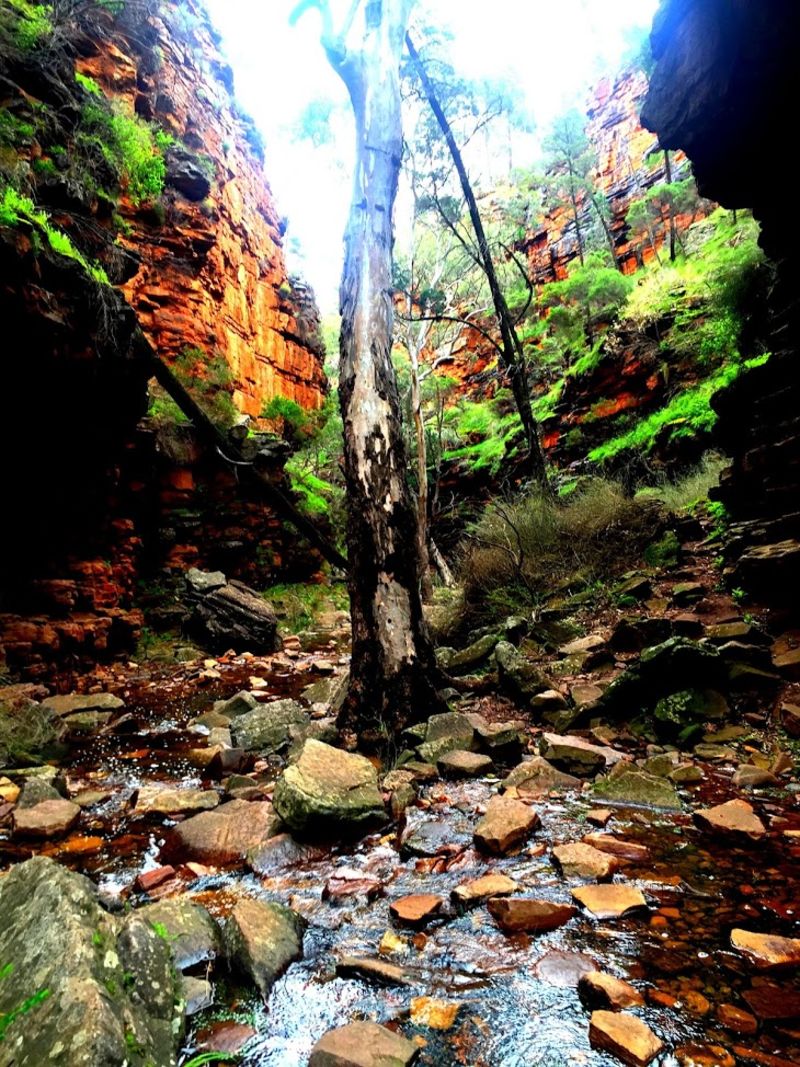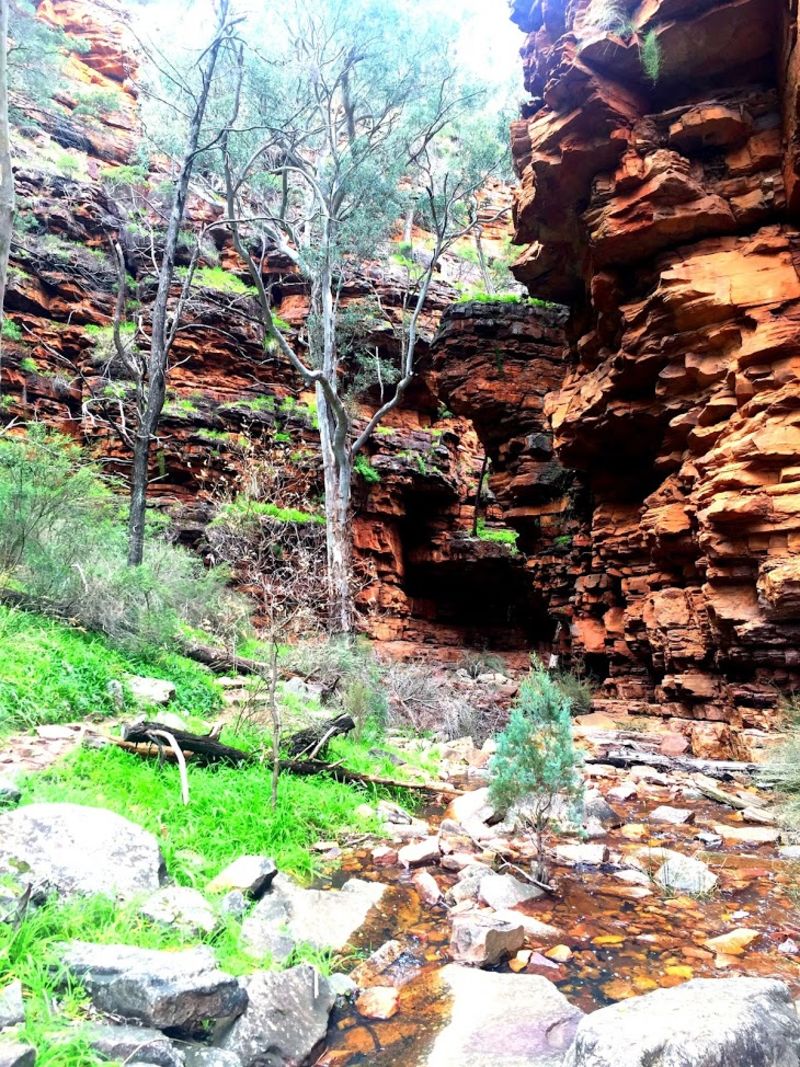 Except, as I had seen, there had been significant rainfall since then (on top of the unusually high fall for the season). How much? This was the 'creek' running alongside the camp.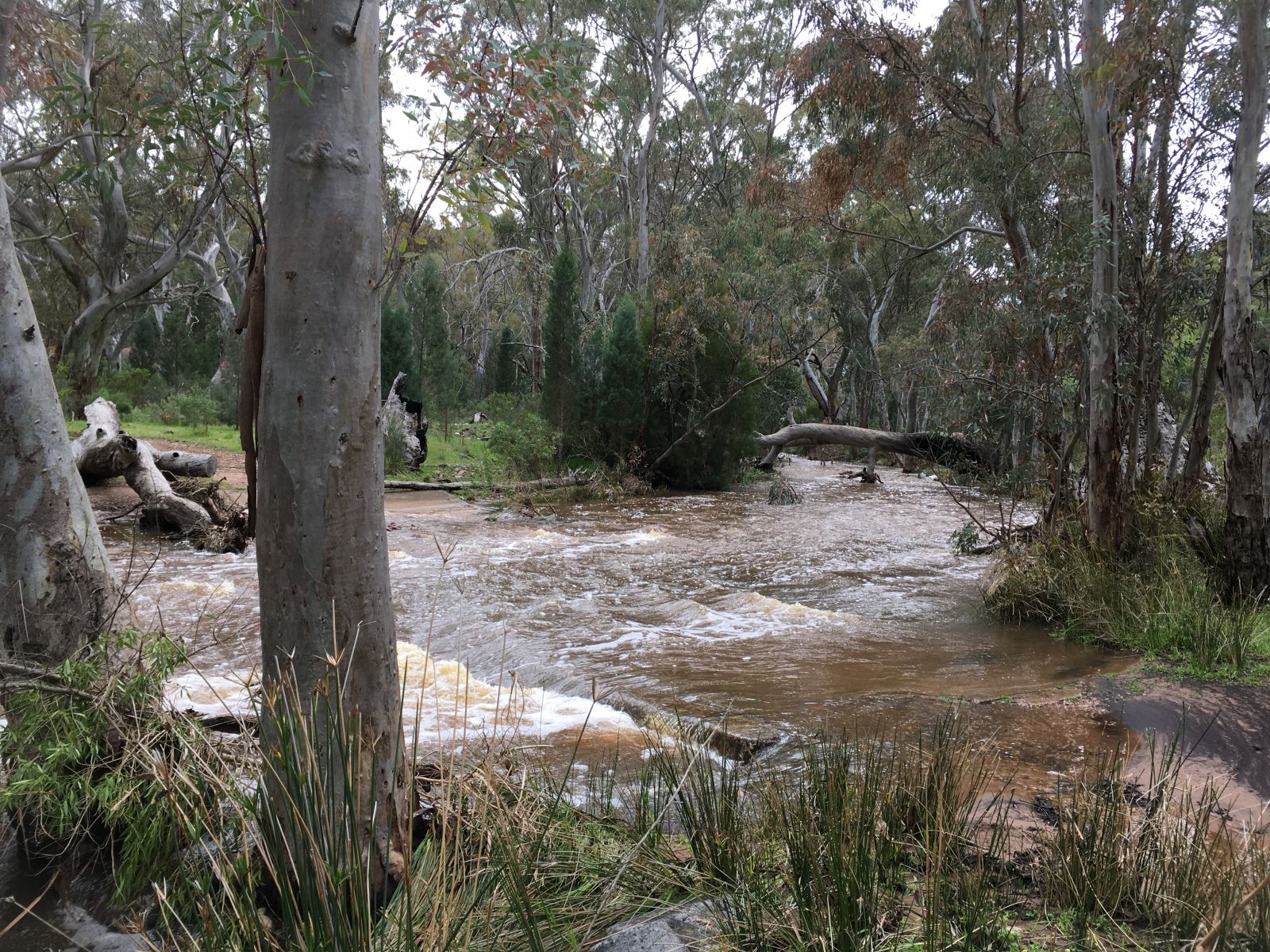 Other dangers too.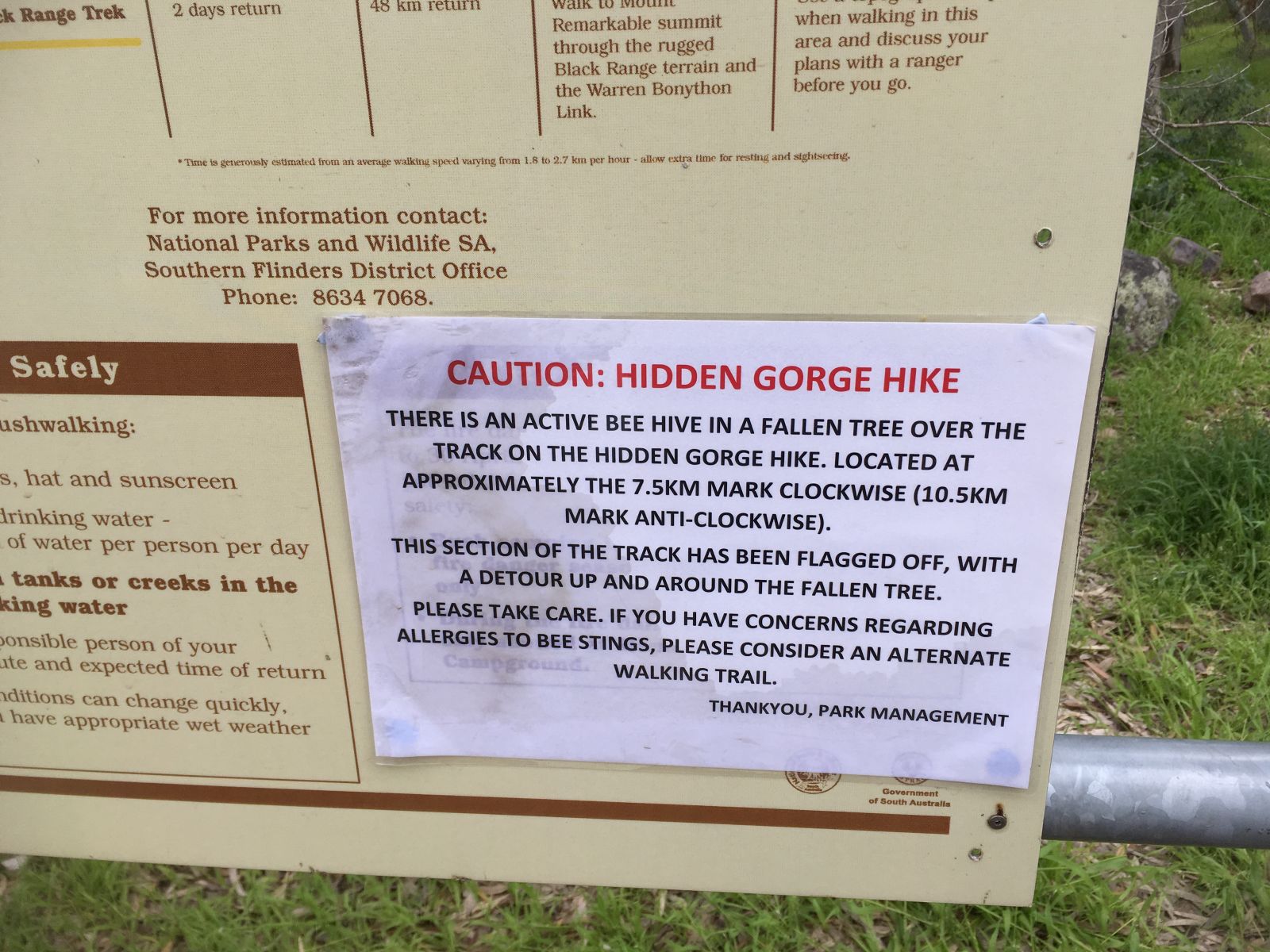 Roos and wildflowers were out in force.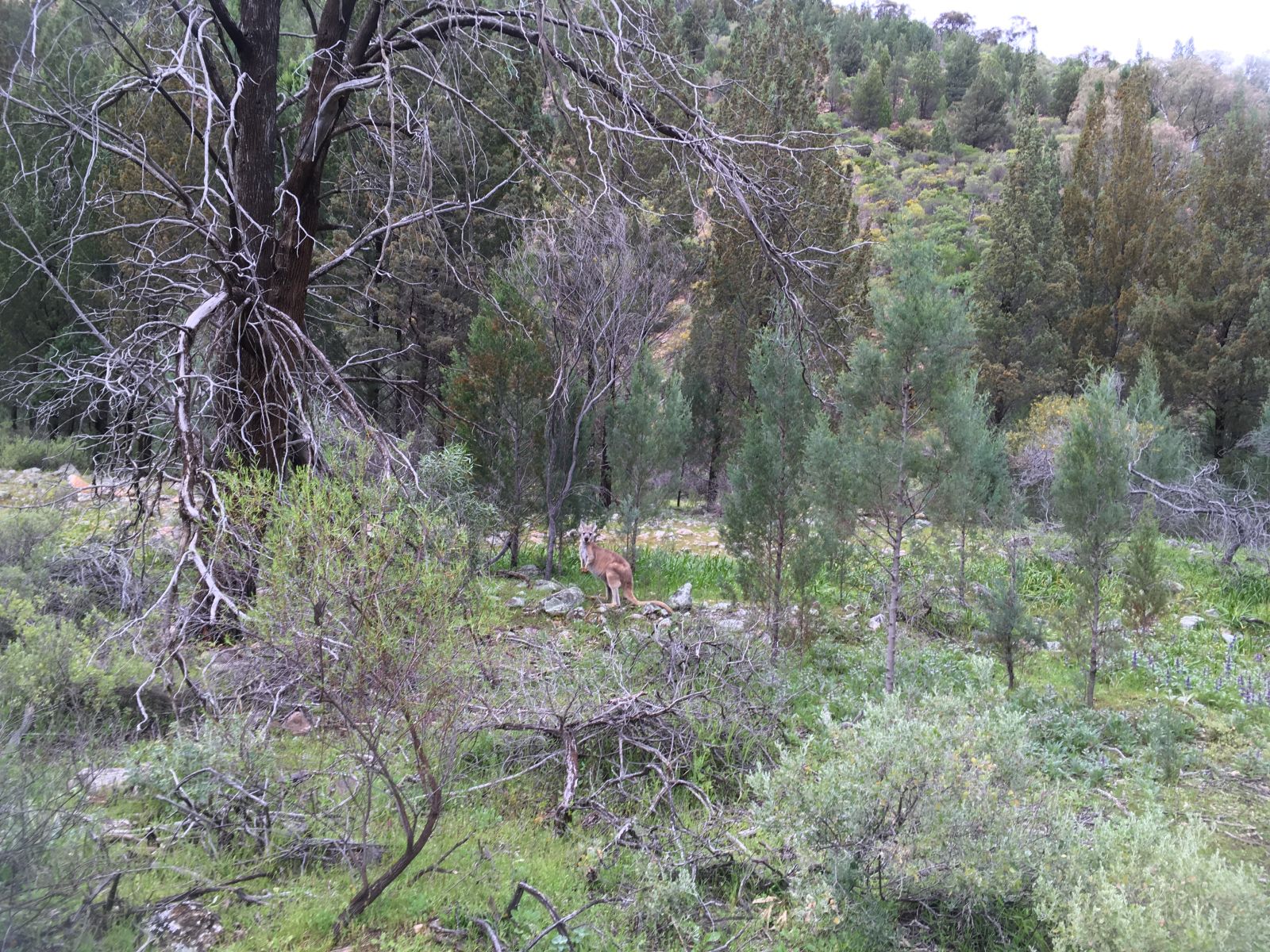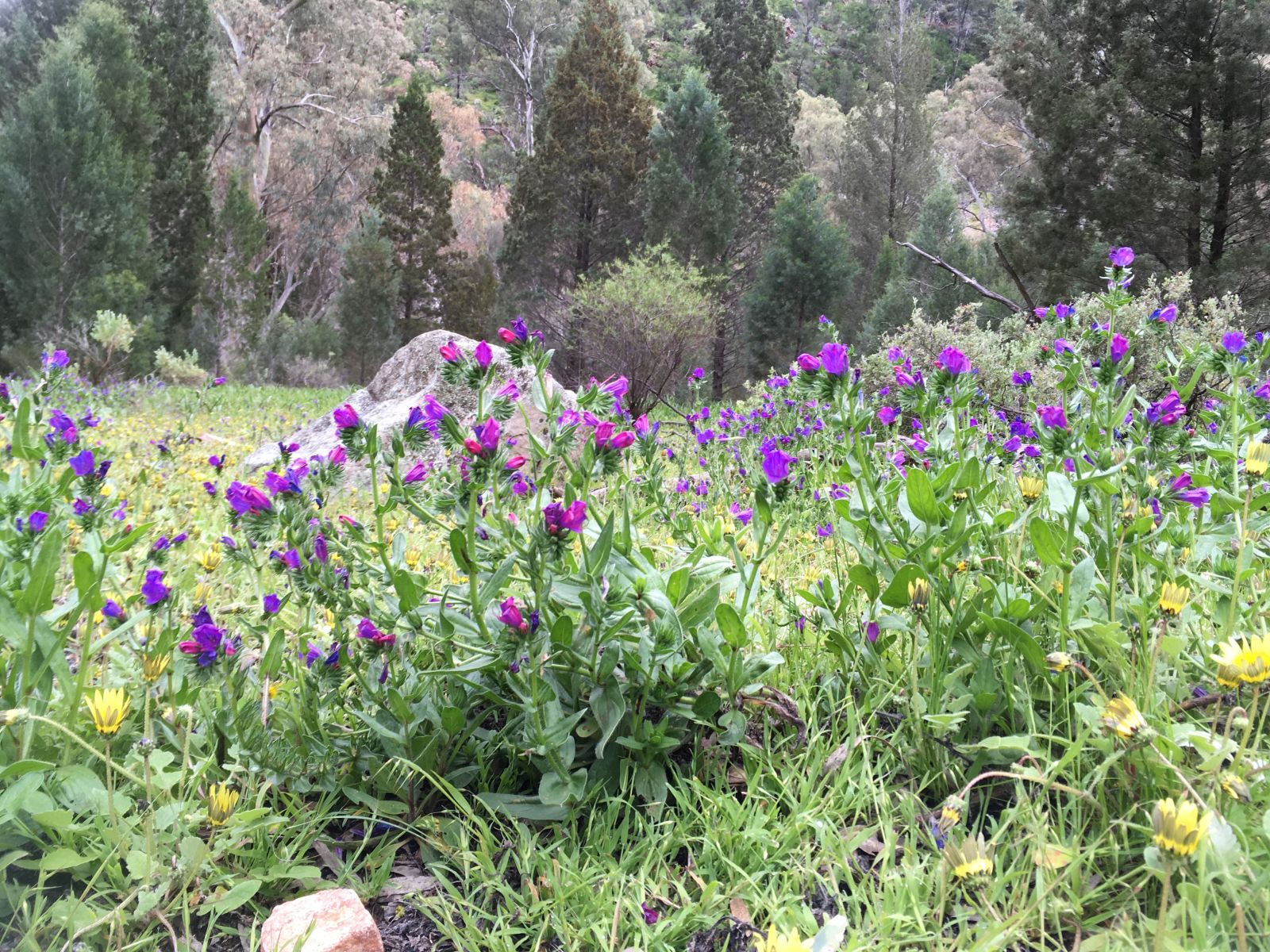 A few km up the trail I came across a family about to turn back at the first creek crossing. I could see if you followed the bank a short way up there was a downed tree to help across. I didn't fancy wet boots this early on. As I stepped onto the tree one of my water bottles jettisoned itself from my pack into the torret below, gone. Drat, I hate littering and that complicated my water situation unecessarily early on.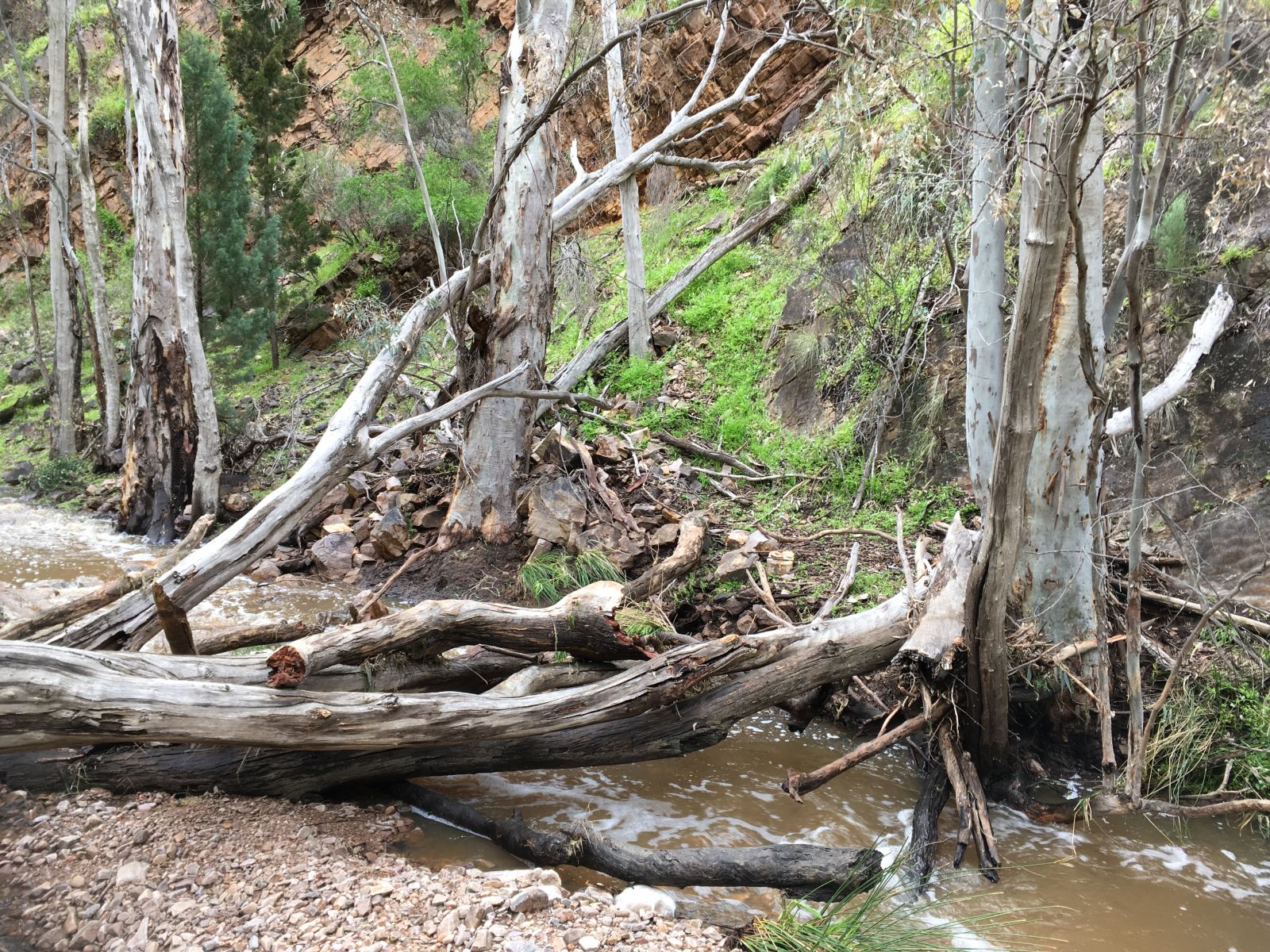 The family could see I was across. I told them it was do-able if a little sketchy.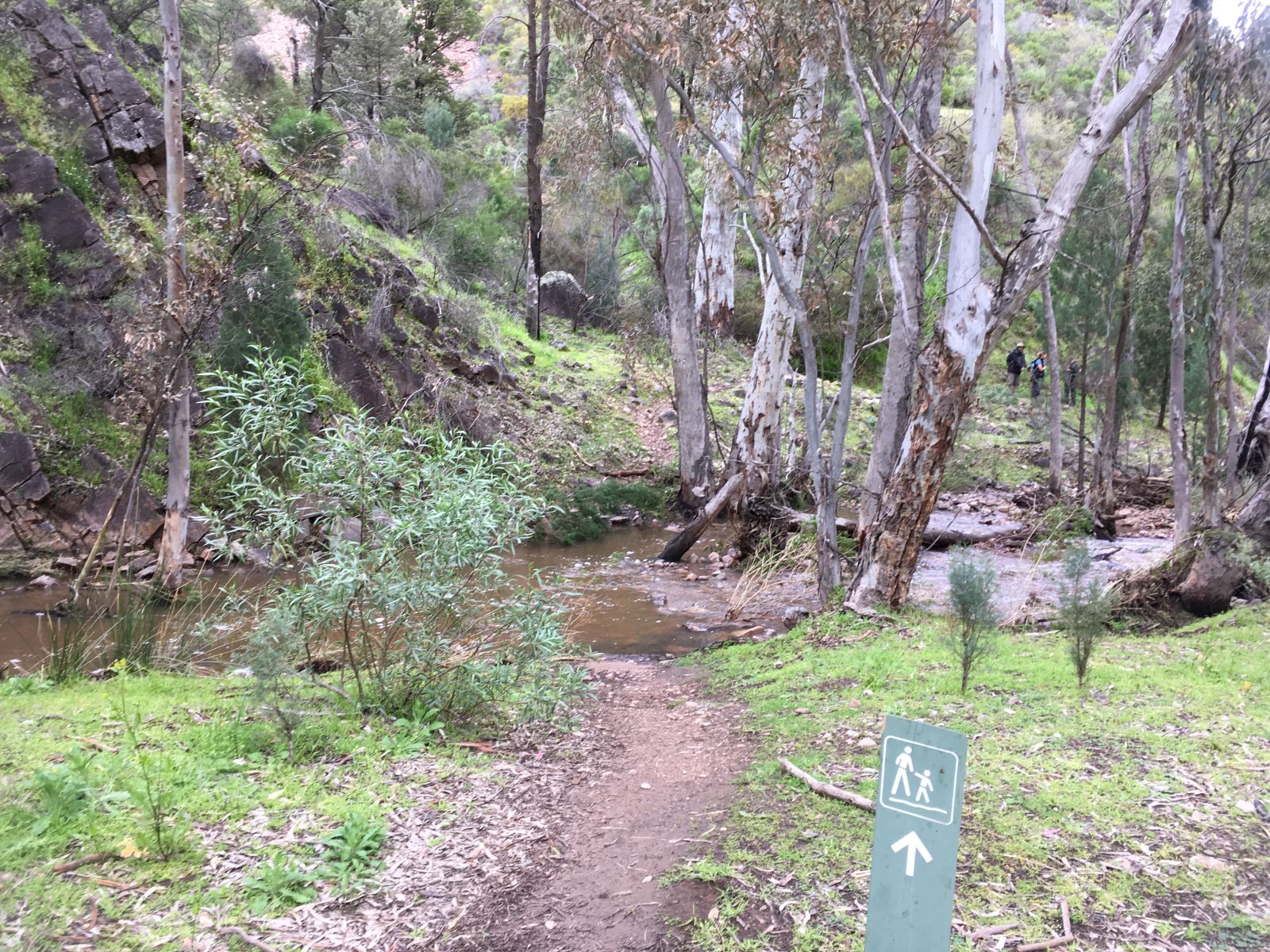 I cracked on. Right up until the next creek crossing anyway. No obvious way over this one. It would have to be boots off and bare feet.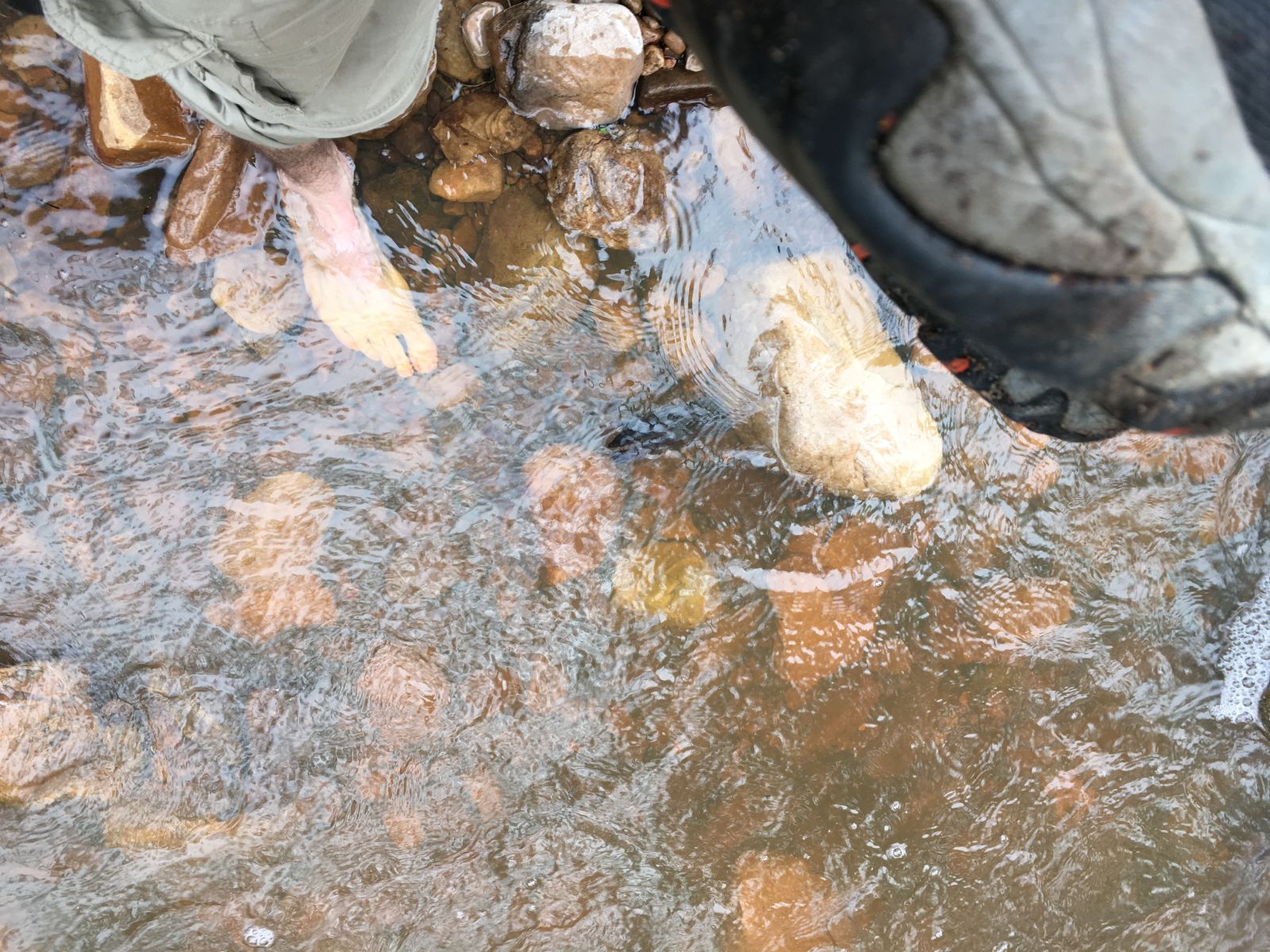 As I was drying my feet, the family had caught me. Mum in sandles, the lad excitedly telling me how he had made it across, while Dad had wet feet!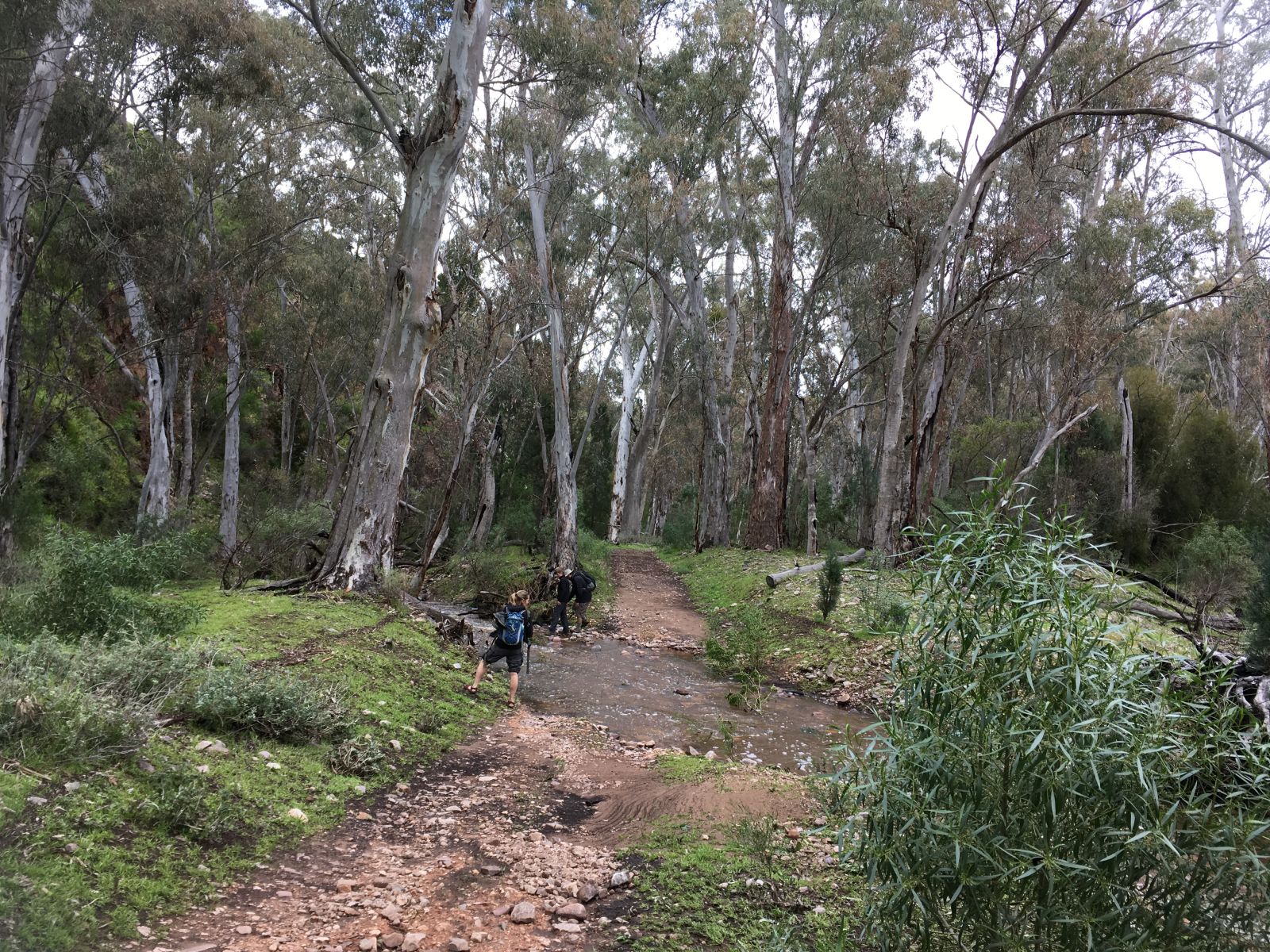 Feet sort of dry, socks in pocket and boots back on.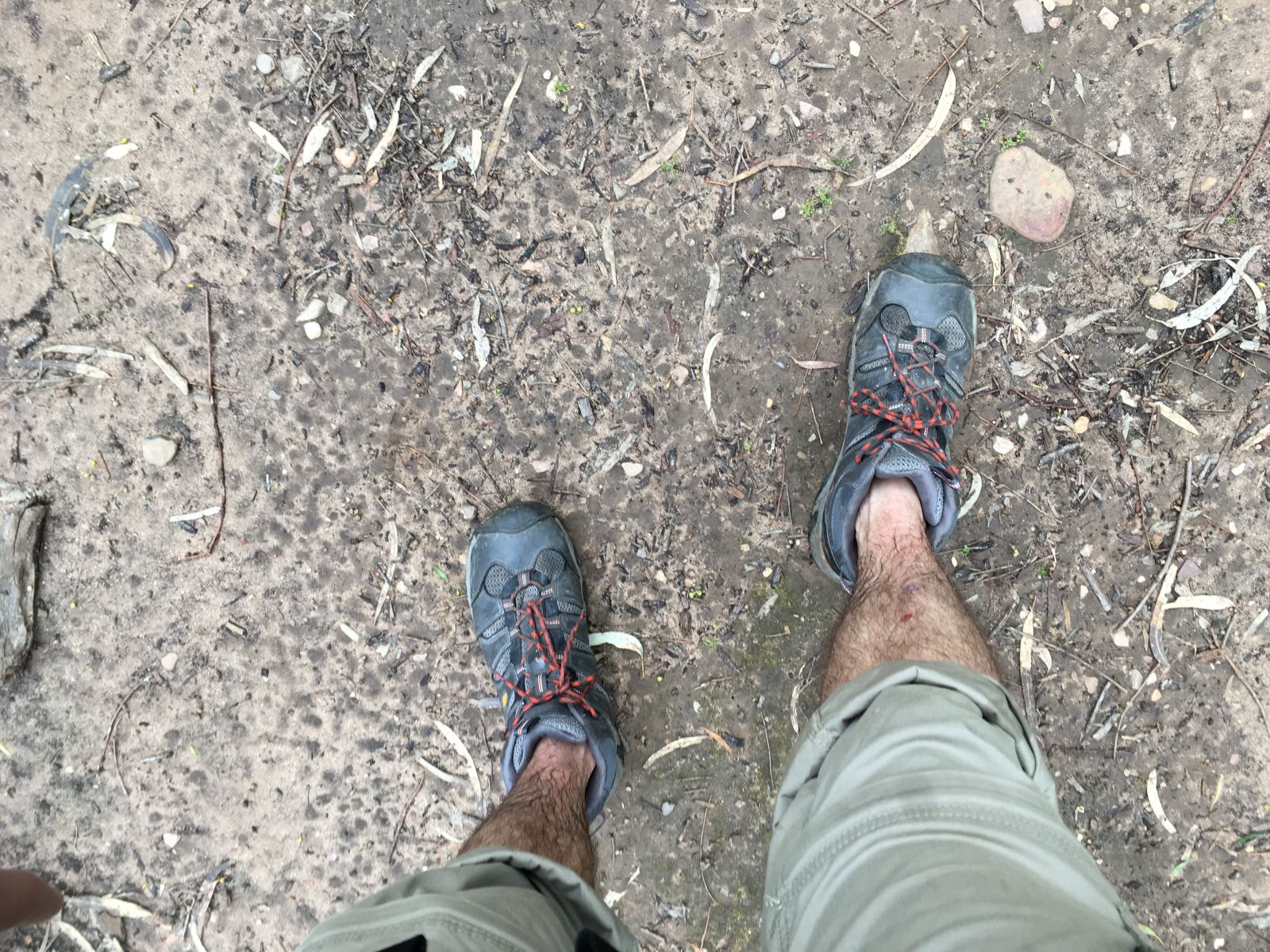 More friends, g'day fella.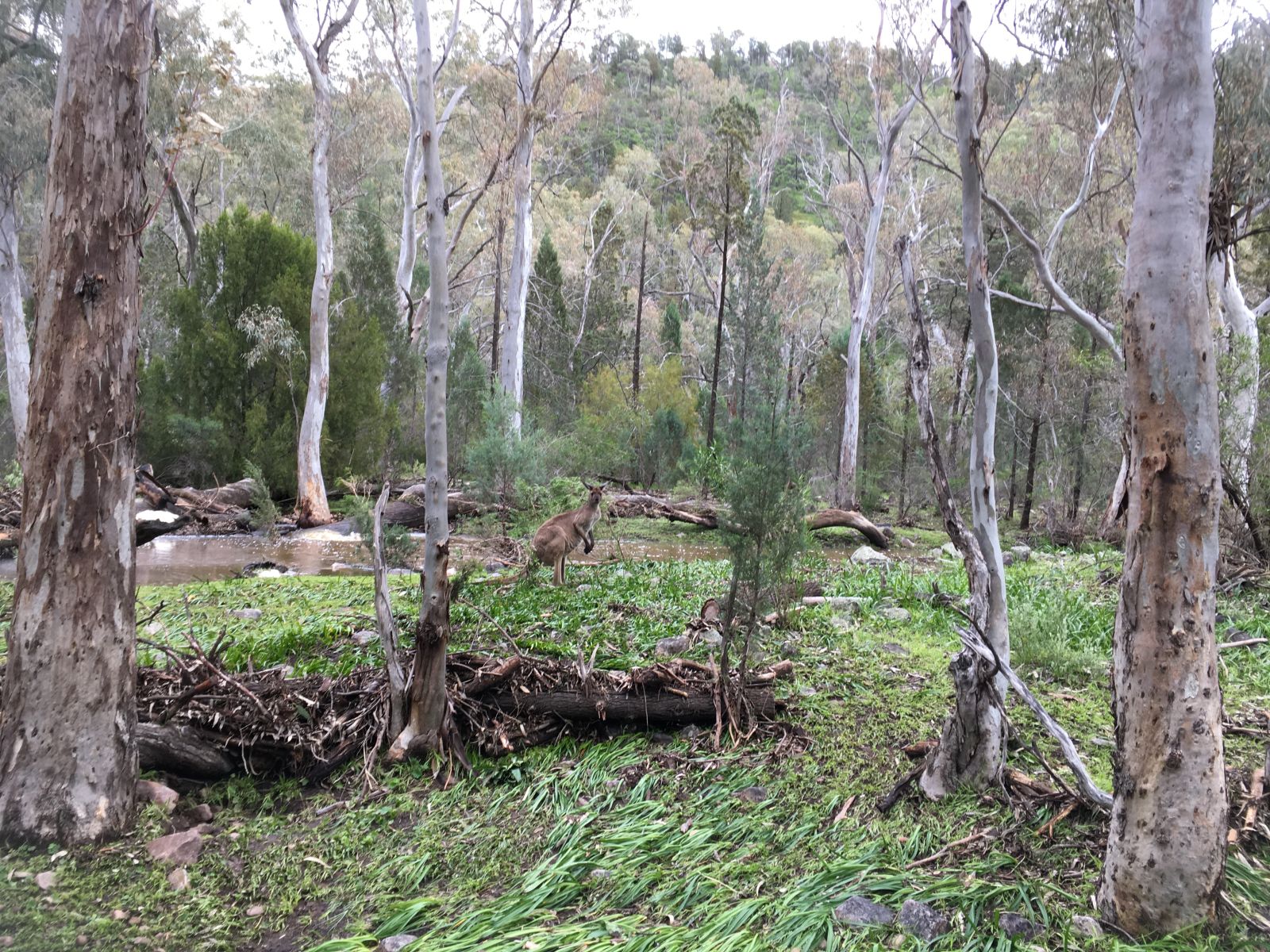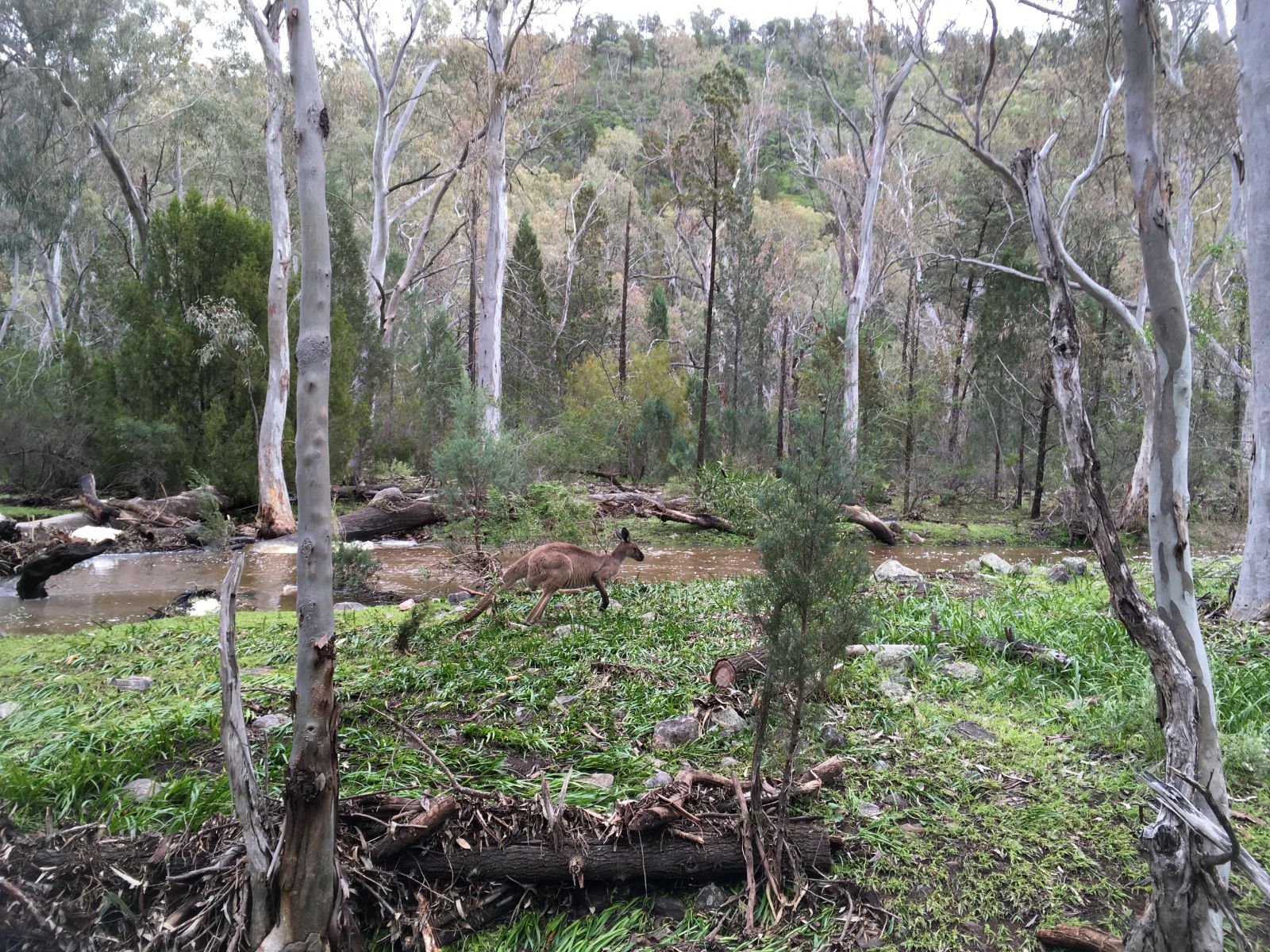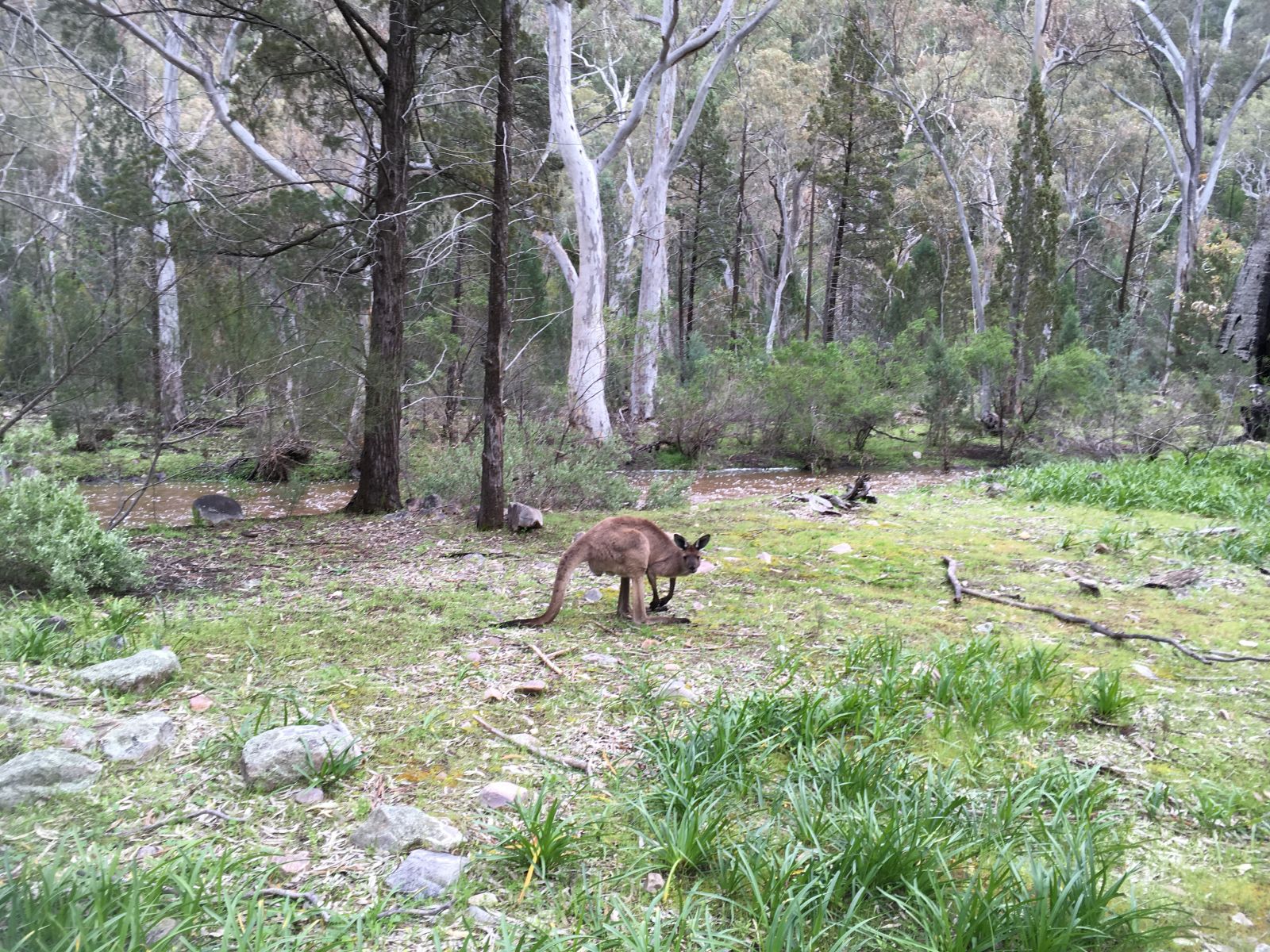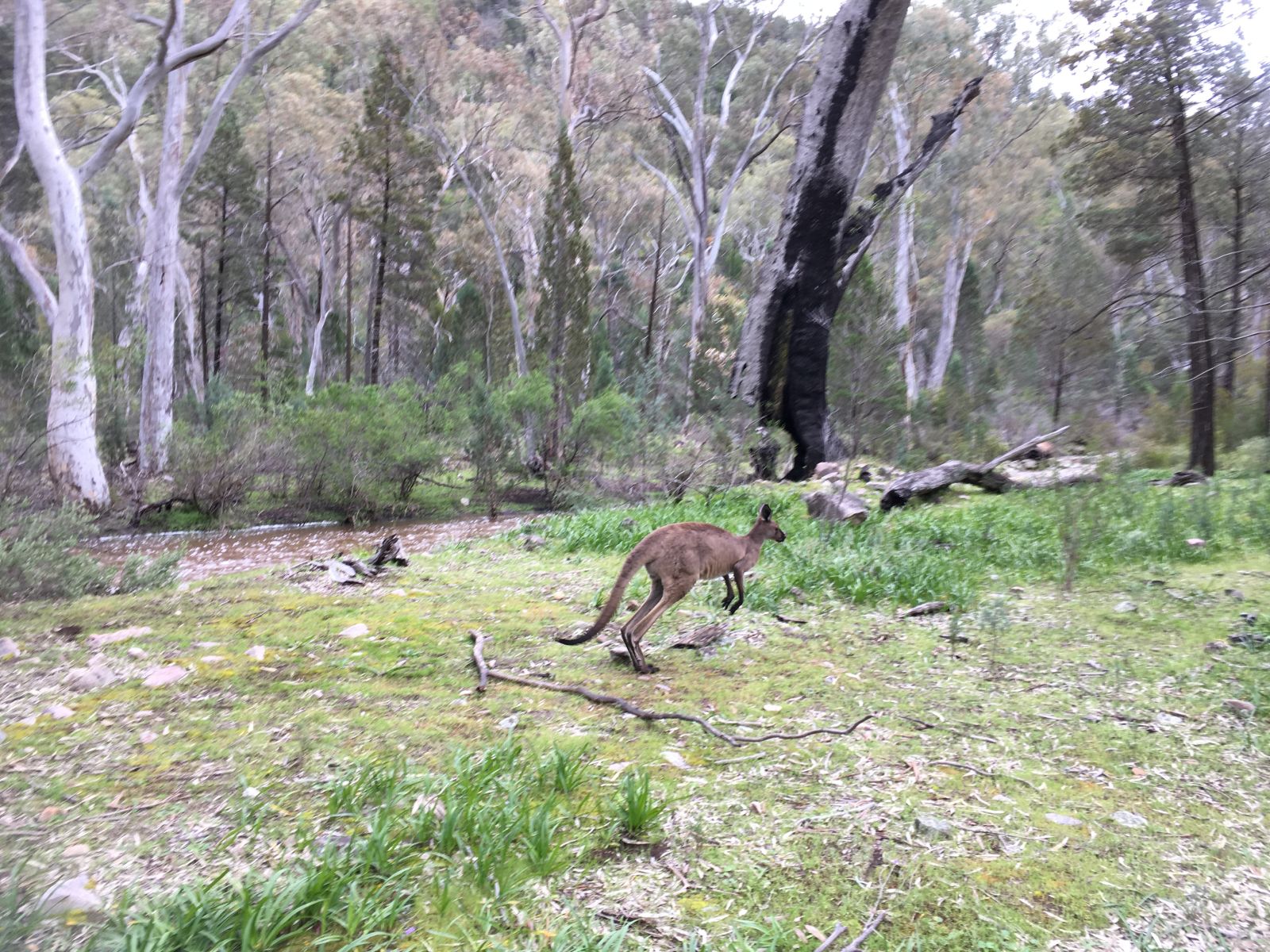 I have never seen this much water in the Flinders. I know it happens, I've crossed enough 100m wide dry creek beds with massive gums brought down in them. Never witnessed it in person though.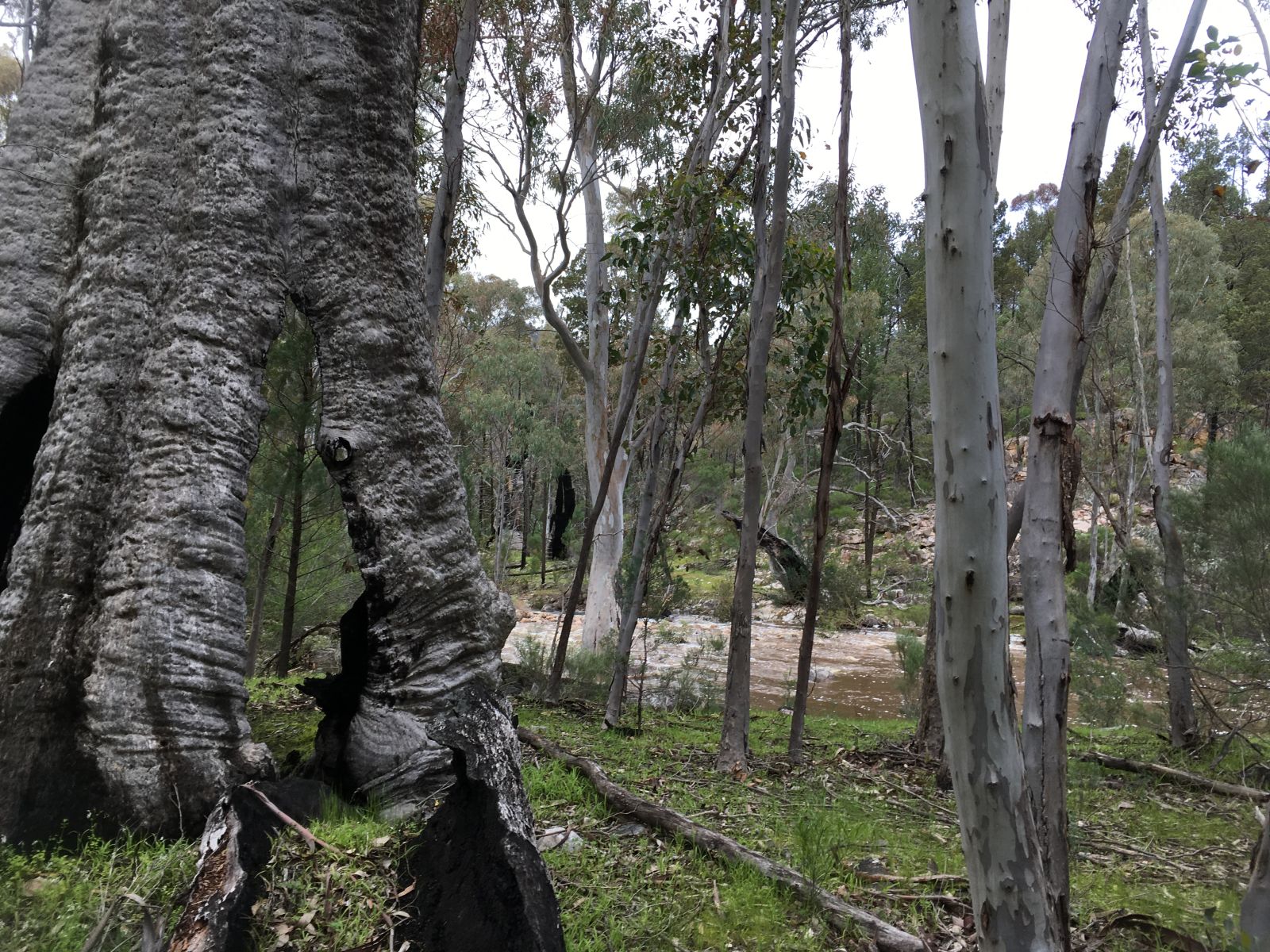 At the junction to turn off to Alligator Gorge we crossed another creek with the aid of a downed tree. About 1/2 km up the trail, another creek crossing. Hmmm this one was a bit more serious.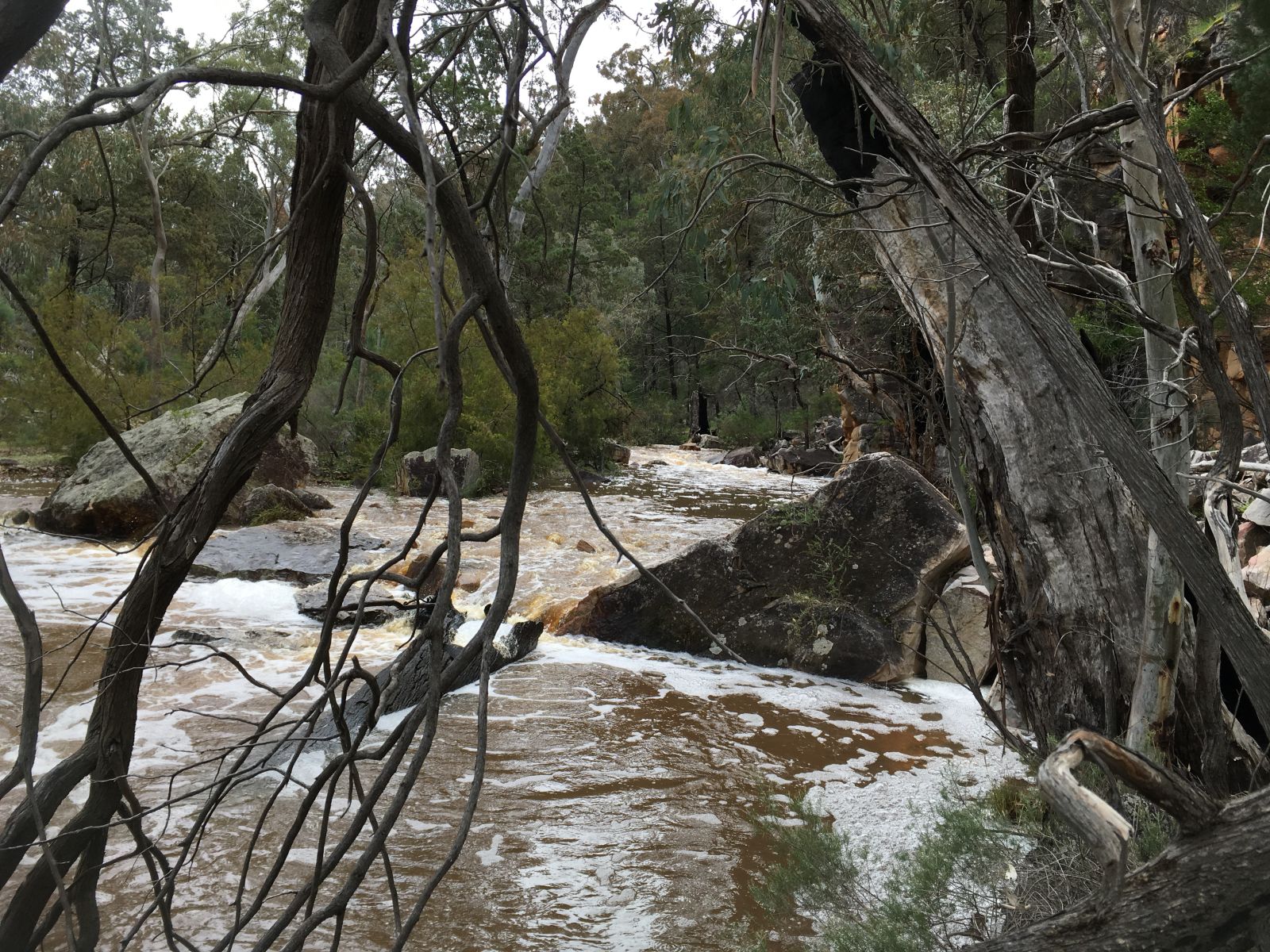 It appeared the trail would normally cross here and then cross back again, ending back on this side past the small cliffs ahead of us.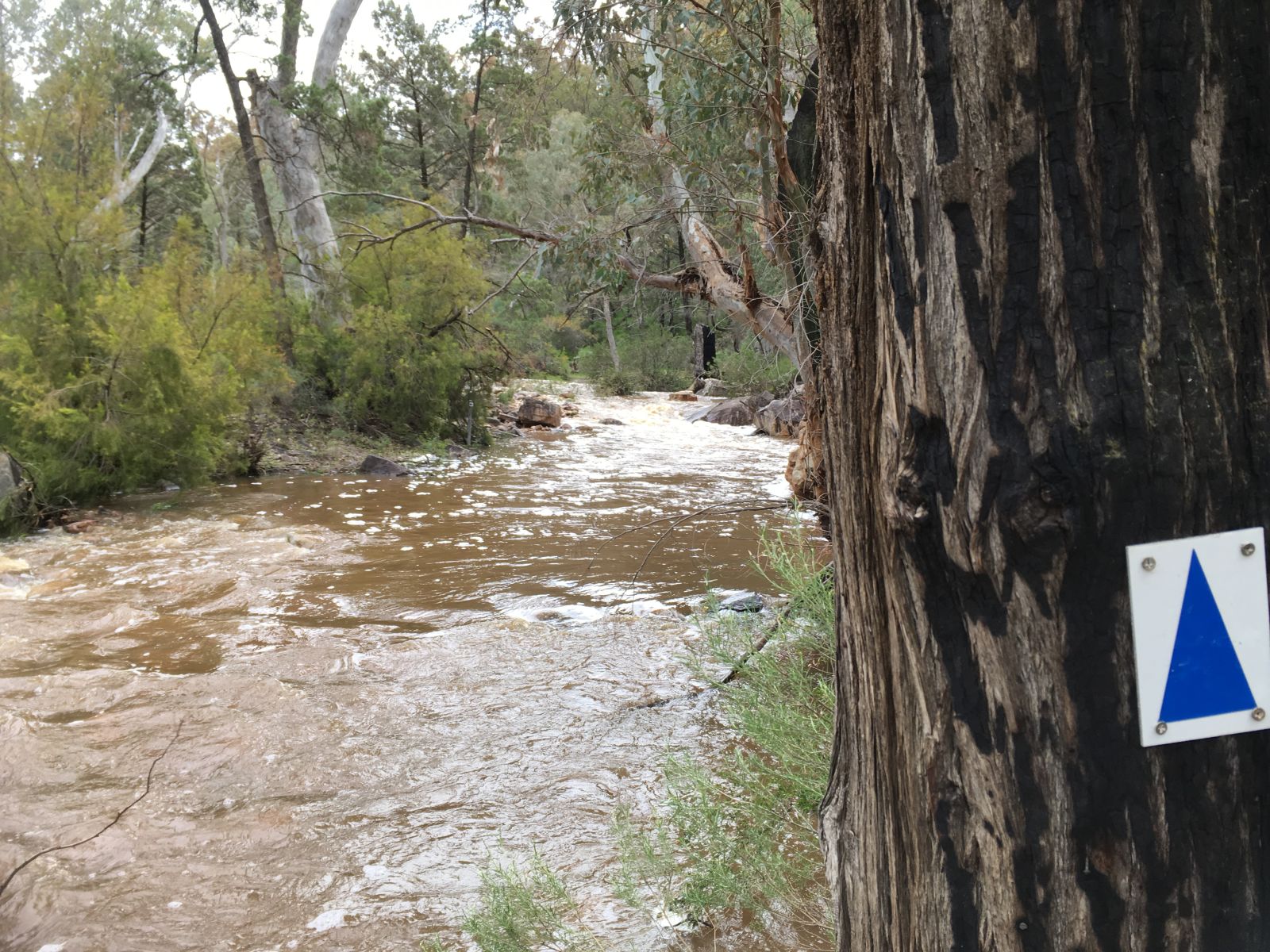 Remember these creeks normally have minimal or no water in them.
I unzipped my lower pant legs. Strapped my boots to my pack. I would try wading up the bank that we were on, see if I could pick up the trail. The water was mid-thigh deep on me (6'1) and reasonably strong current. I put my foot on a large rock that rolled out from under me, I got my foot out of the way, but it was enough to decide this was folly. My pack was nearly 20 years old, whatever water proof properties it had were long gone, not to mention you hit your head or something out here, help is at least an hour away. I was going to have to keep crossing this torrent all day. Time to find another hike.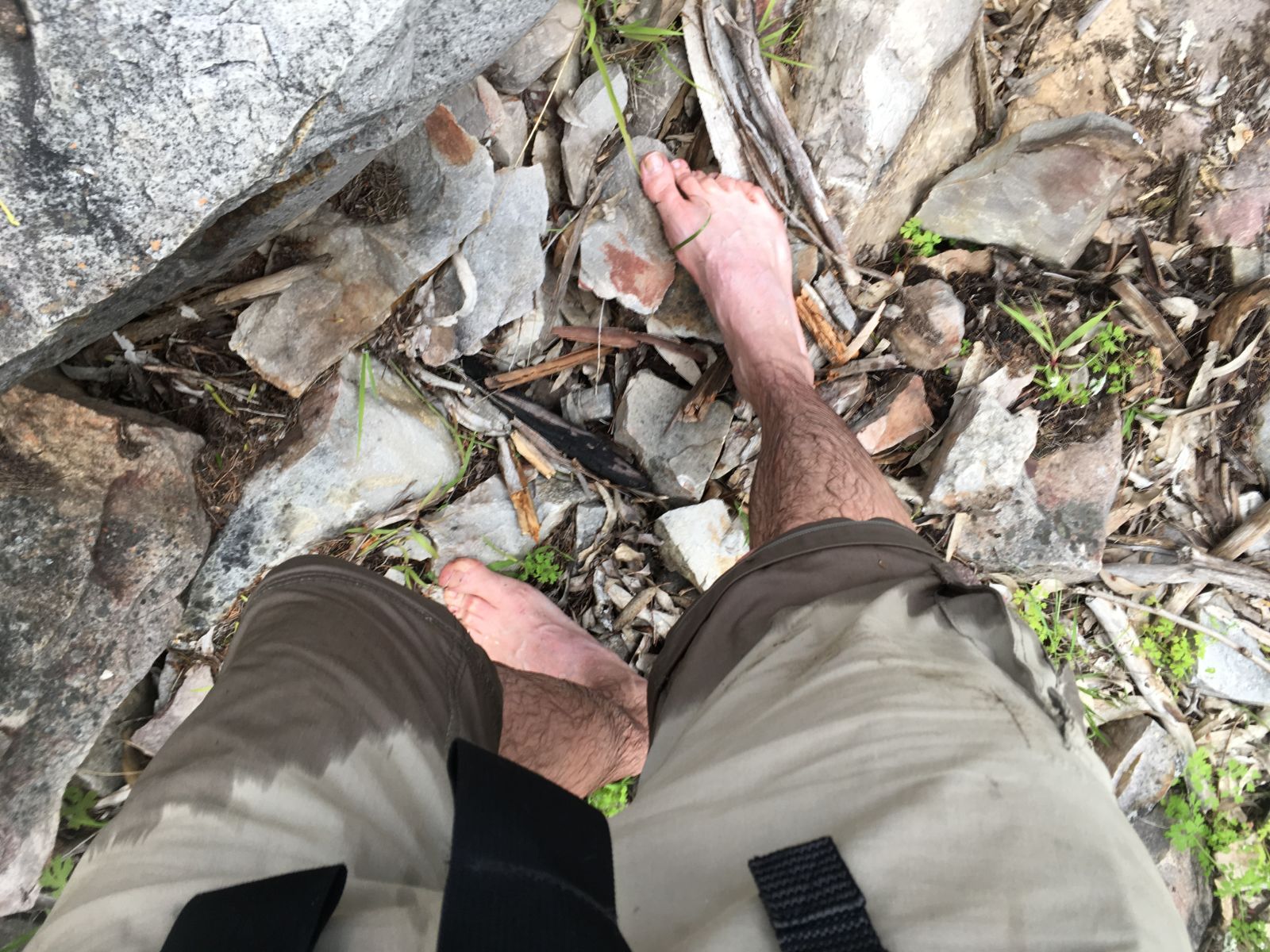 I was also aware that maybe following me was goading this family into doing things they might not normally do. Far be it from me to stop them from being adventurous, but I explained I was turning around and why (speaking to someone at the camp the next, it sounded like they had done the same thing).
Back to the juntion. I took the only other possibility, the Black Range Hike.
Another short crossing in bare feet and then the track started to head up. No more creek crossings I suppose. Who wouldn't want to be a Ranger?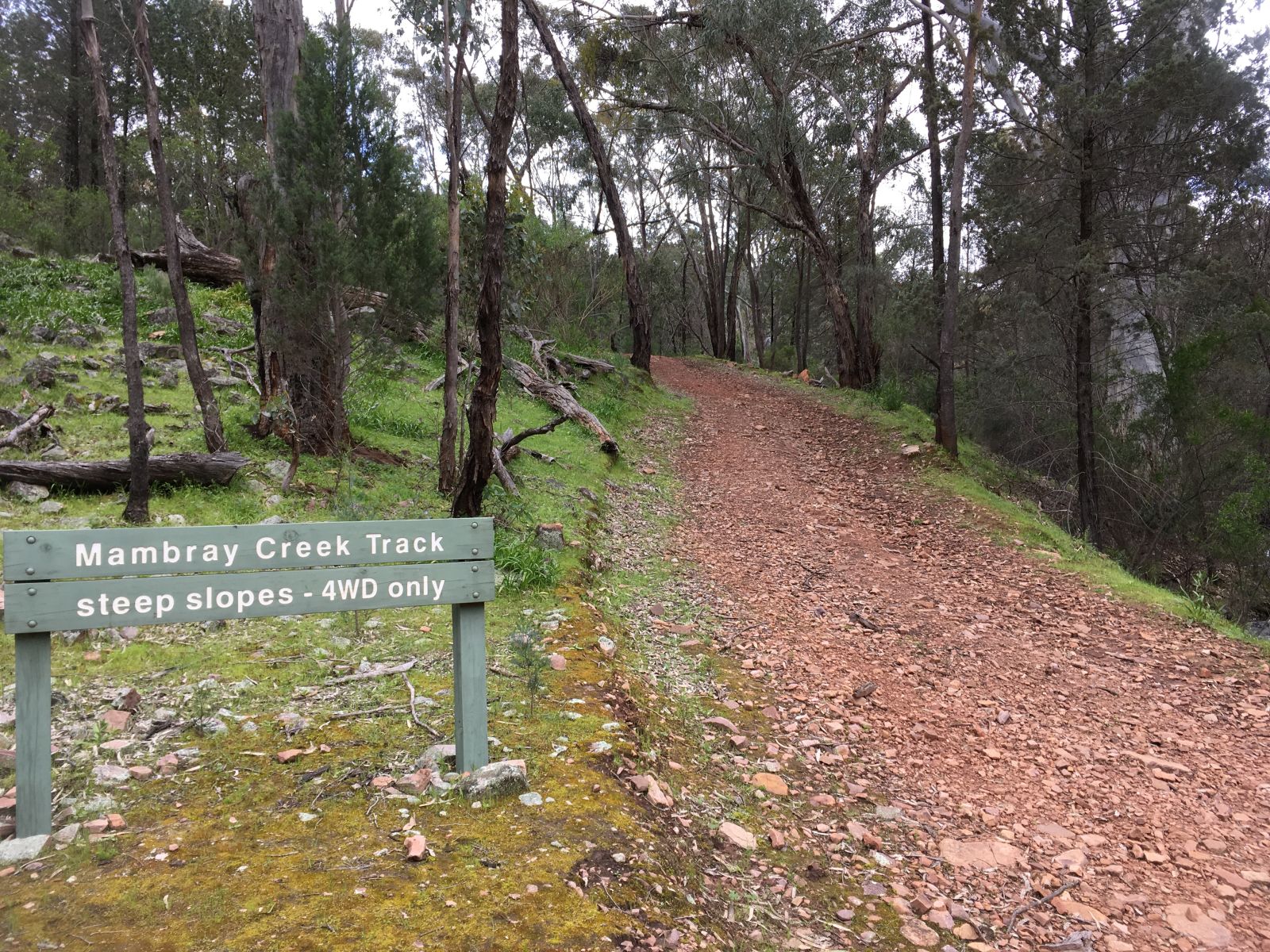 Bursts of colour on the way up.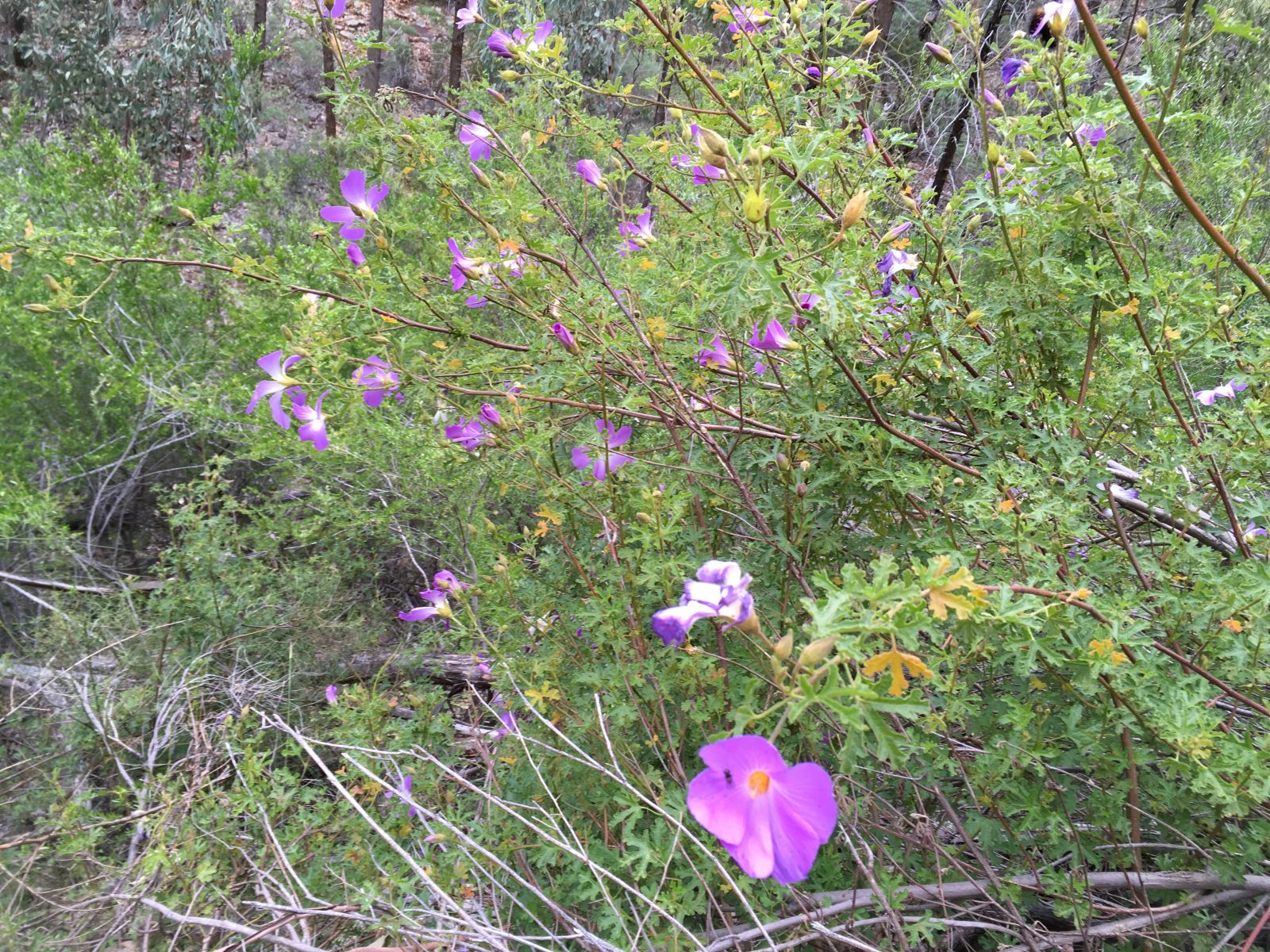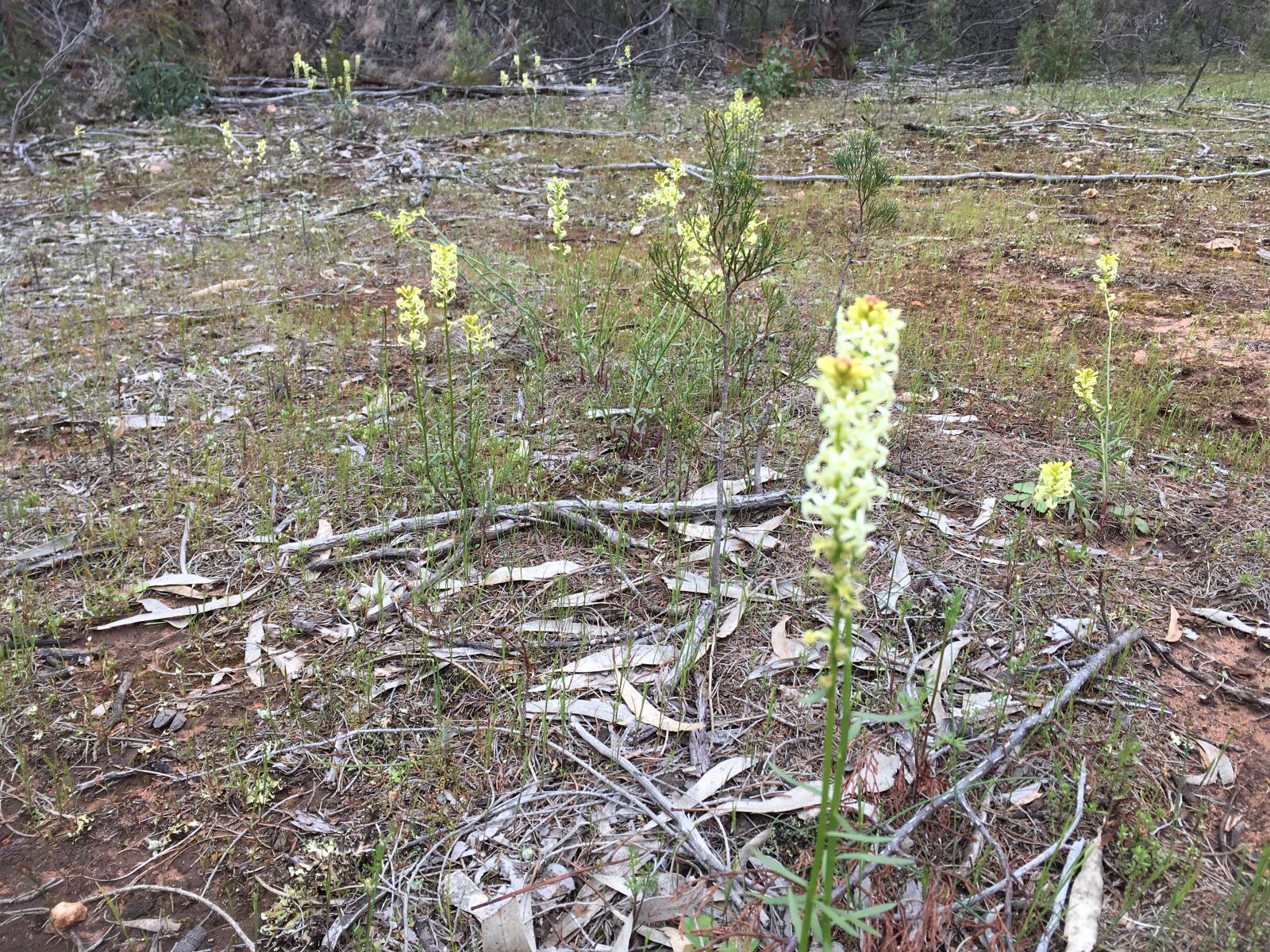 Sugar Gum lookout, looking across the valley I had just turned around in.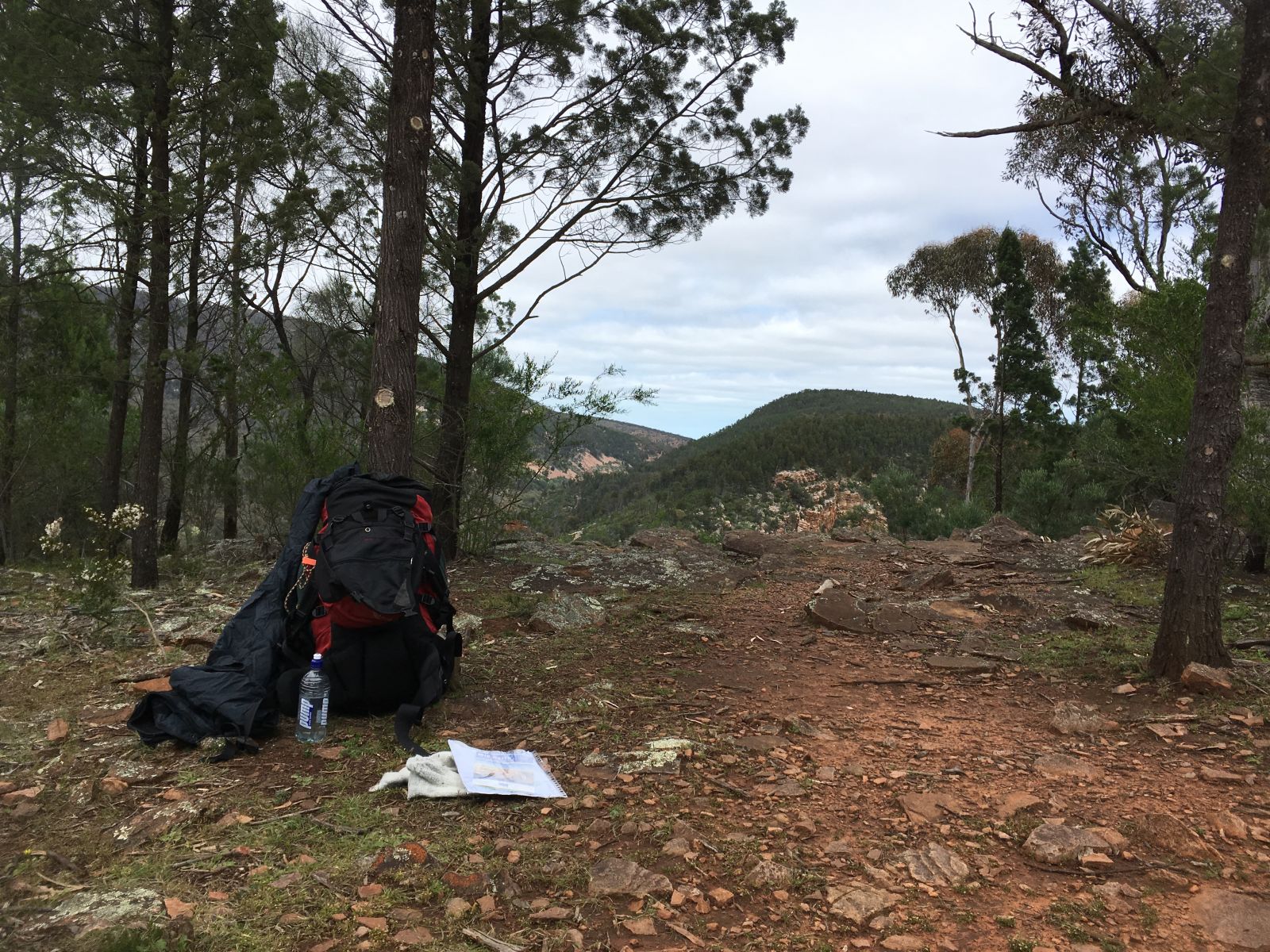 After the short steep climb to here the trail flattened out, then began a gradual climb.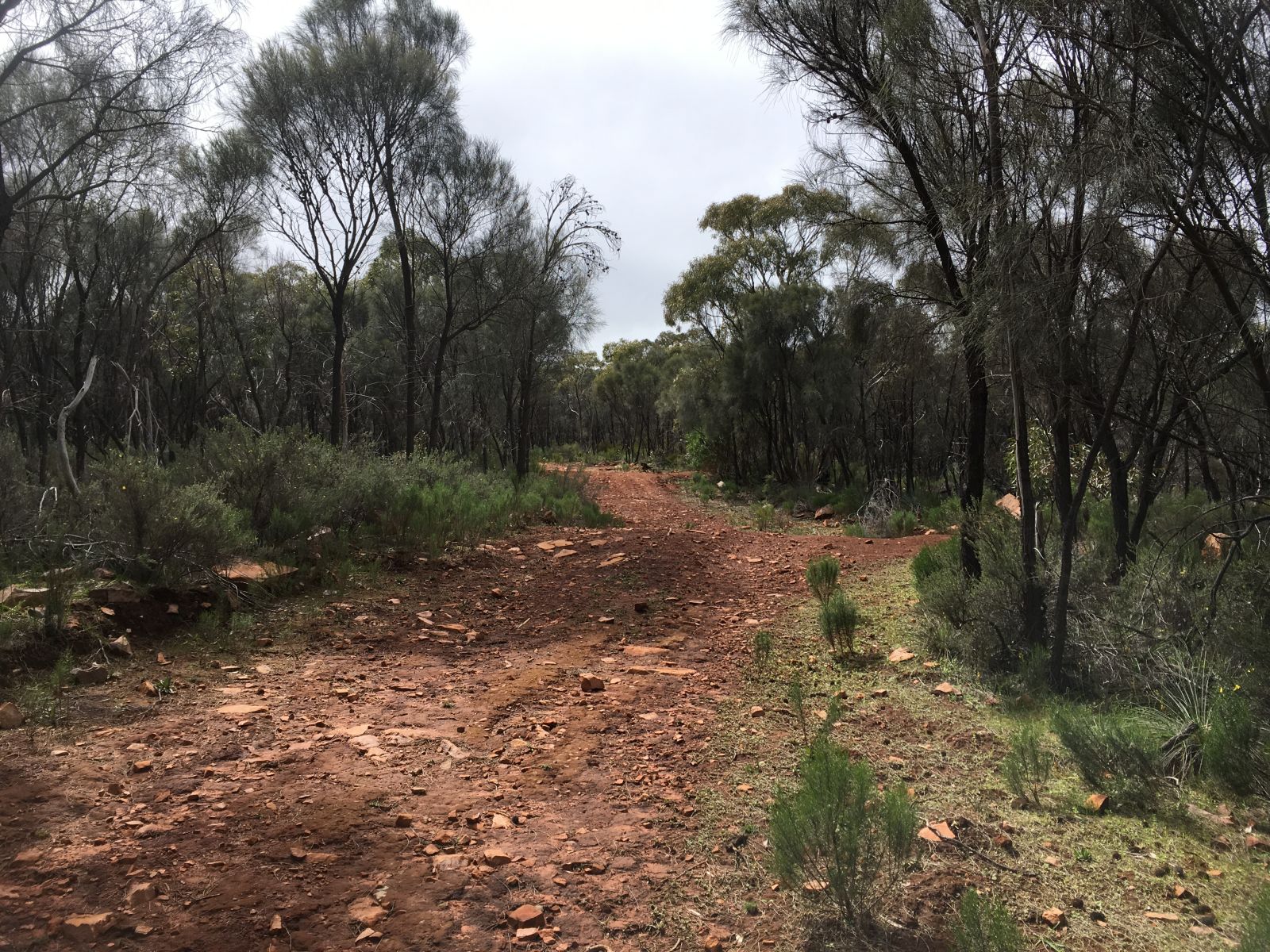 Gradually getting steeper, no summit in sight.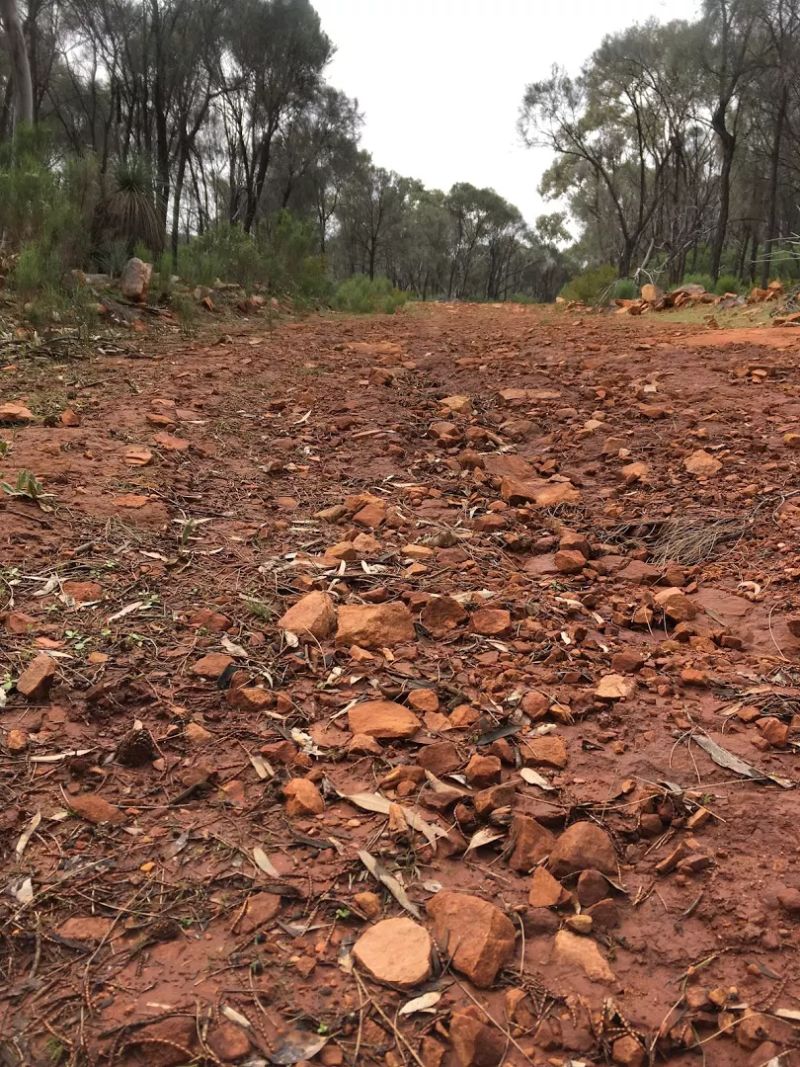 Drop the pack and take a break.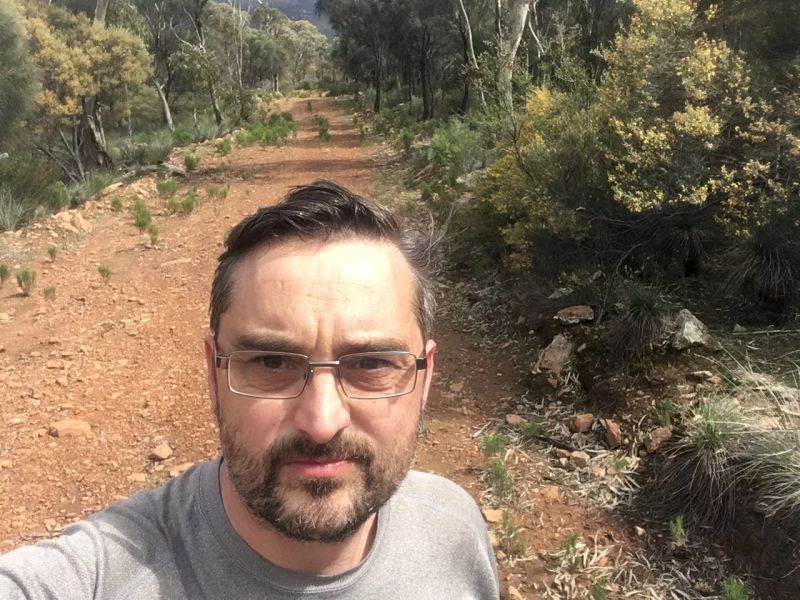 Still up. Steeper again. I know many 4wd tracks that are at the steepest near the top, I hope this is near the top!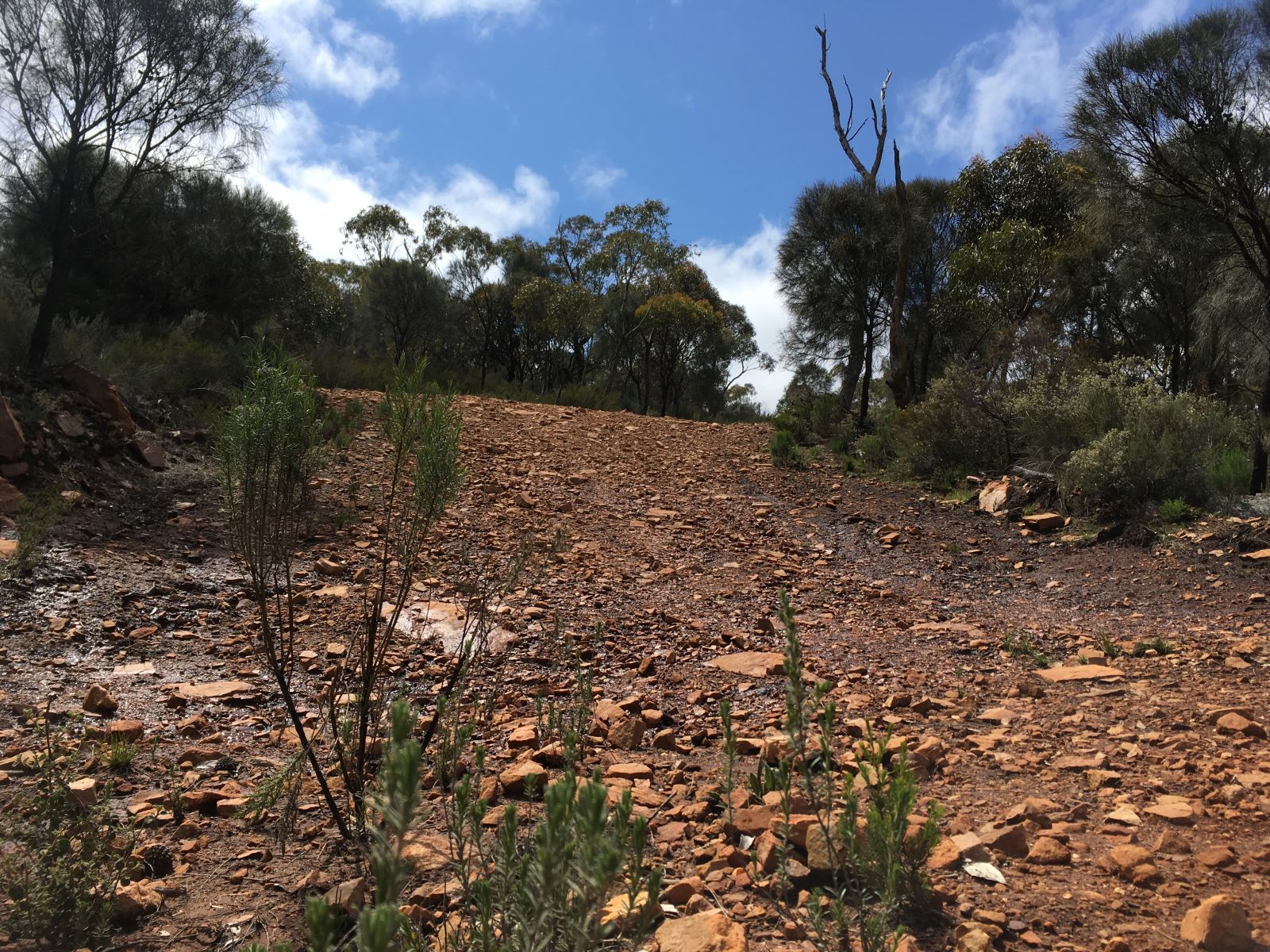 Stopping a lot now. As you can imagine I was pumping out the CO2, so every mozzie in a 100 metre radius was coming to see what the source was. Not hungry but trying to eat nuts, fruit and chocolate, knowing I must be smashing through the kilojoules. This natural seat is too tempting.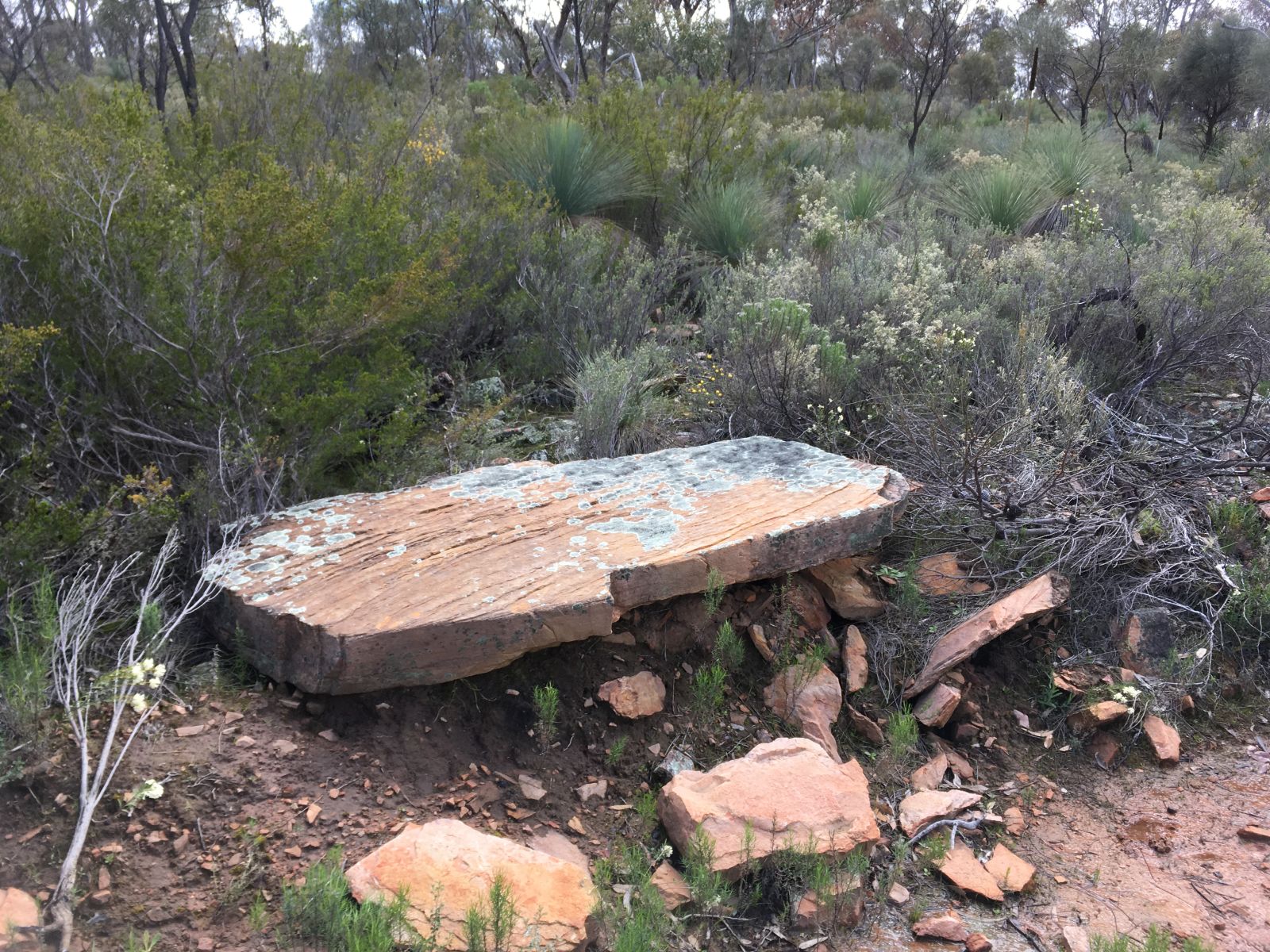 Slouched pack and all on the rock, glasses are smeared with sweat by now. Working hard. Silly old man.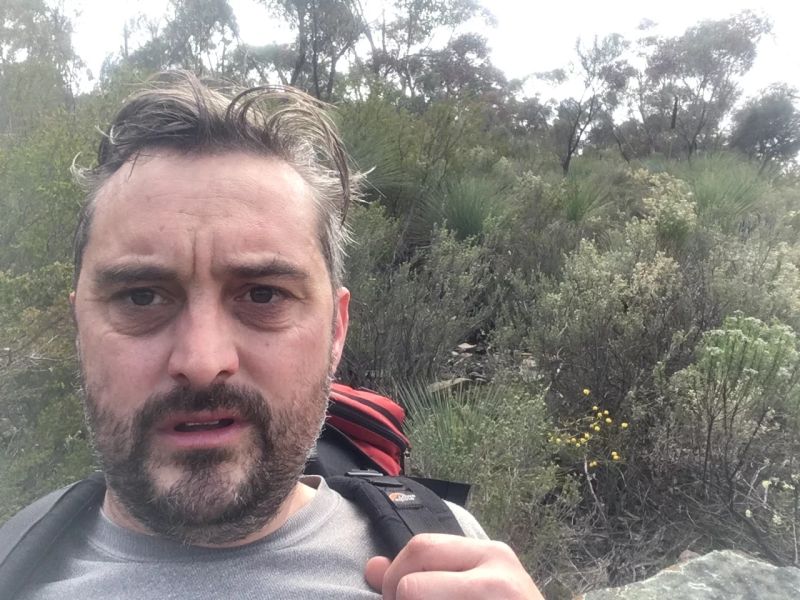 Long story short, it went up continously for about 8km, rising about 700m. Well you came for a physical challenge right? I don't mind admitting I wasn't really up to this, my practice hike along the beach with the pack didn't count for shit. I questioned if I should have tried harder at that creek crossing, but that was just my battered motivation talking.
I pushed on, the odd view through the trees somewhat reward.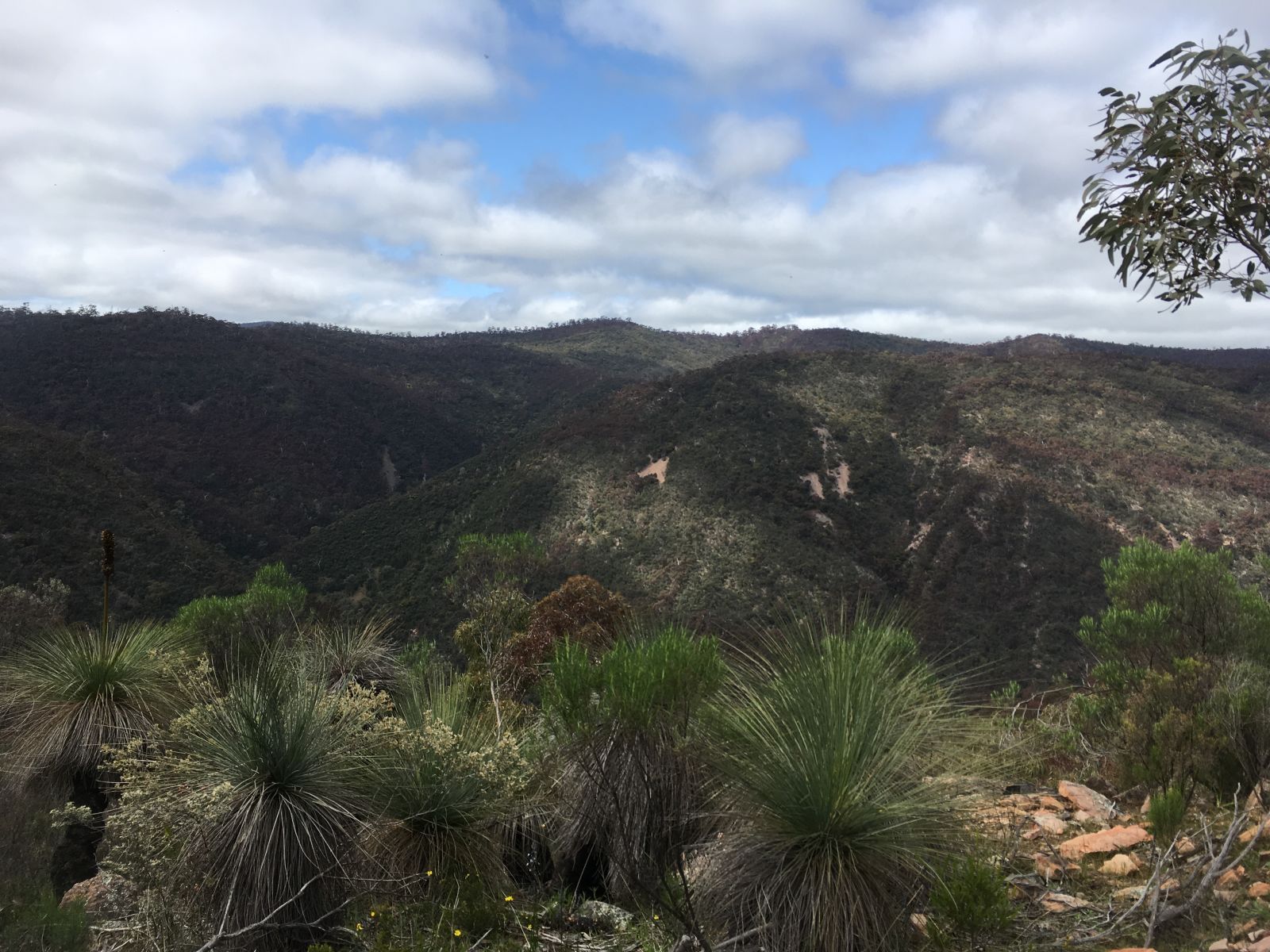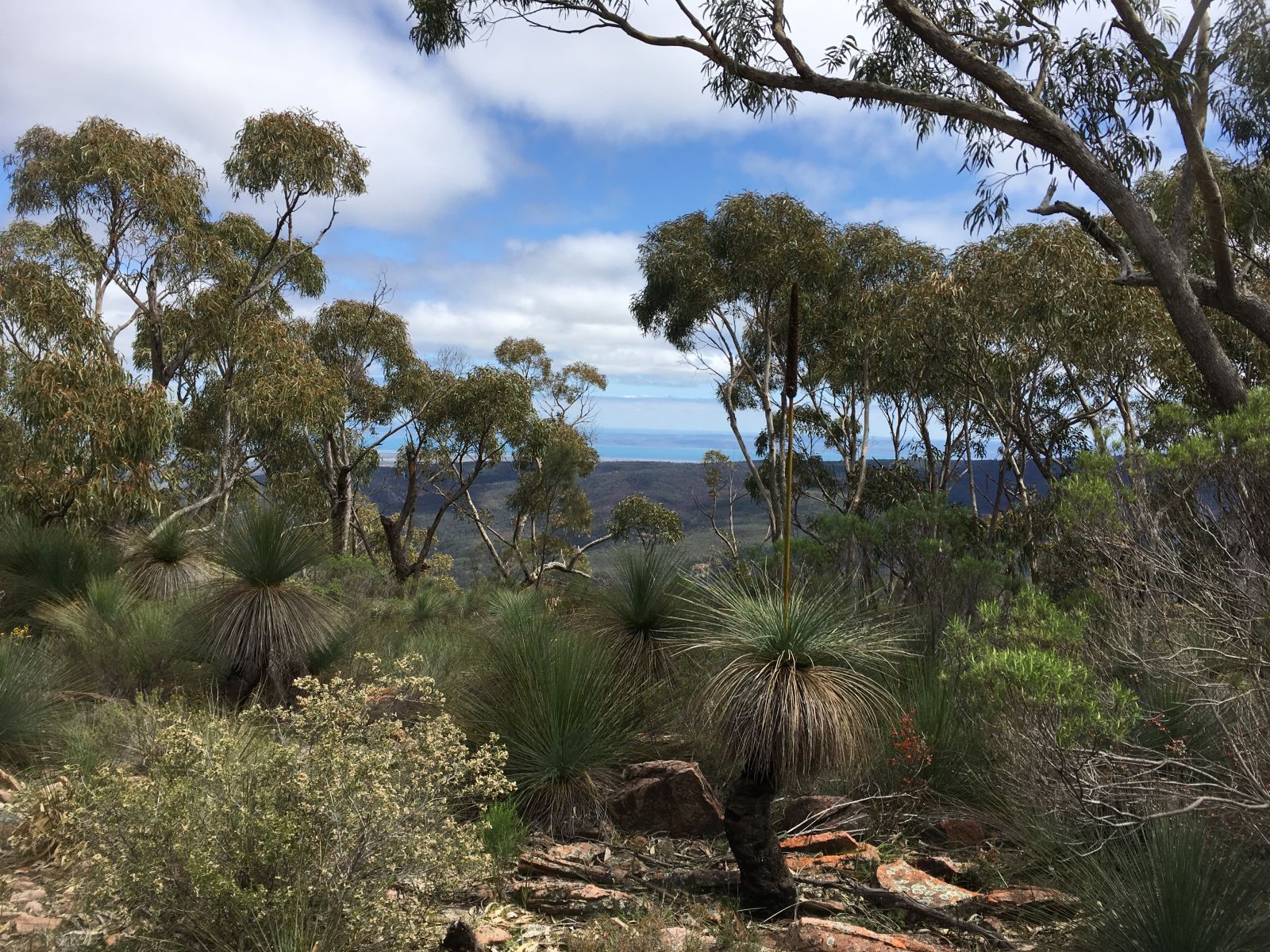 Beauty here too.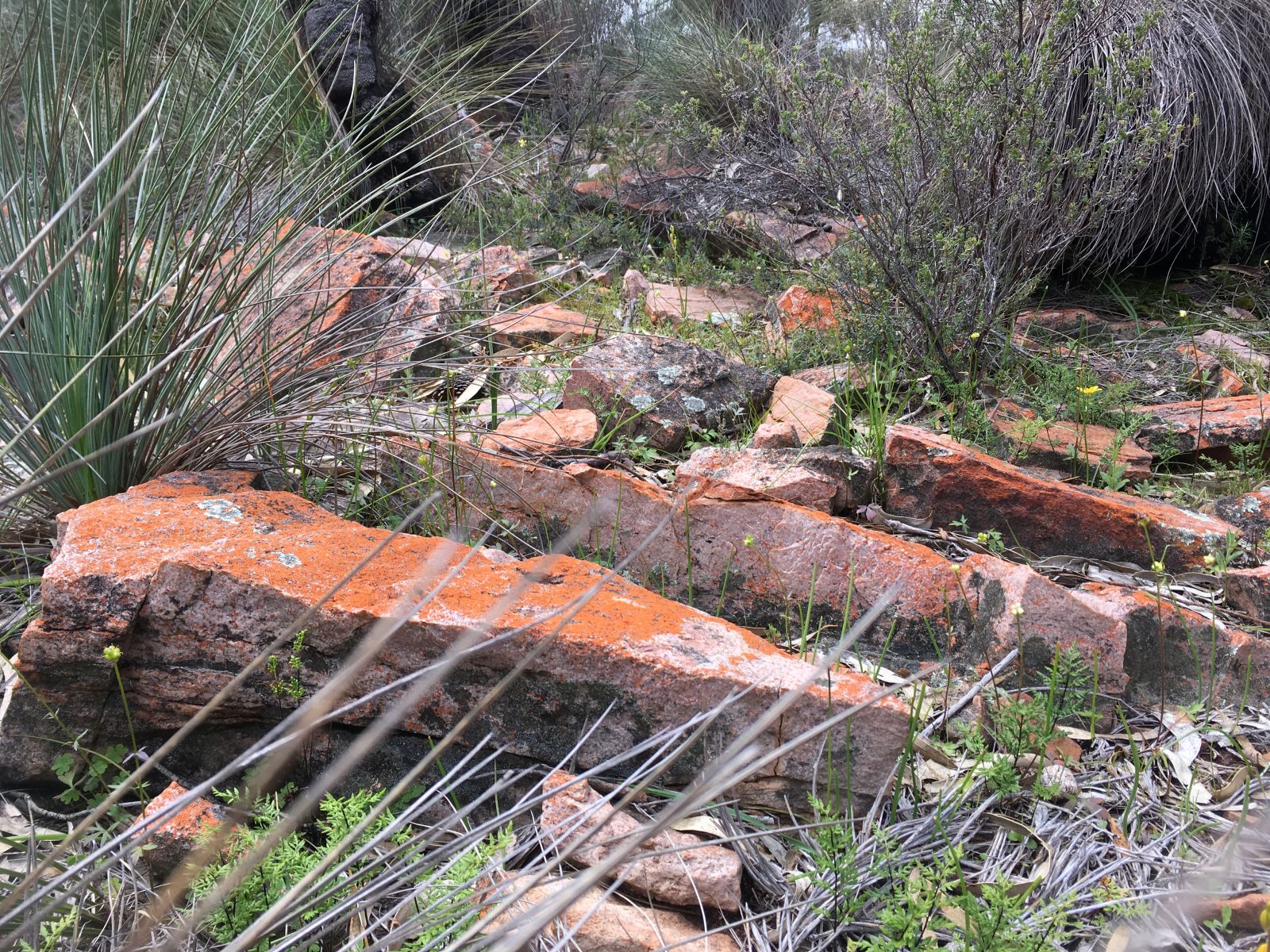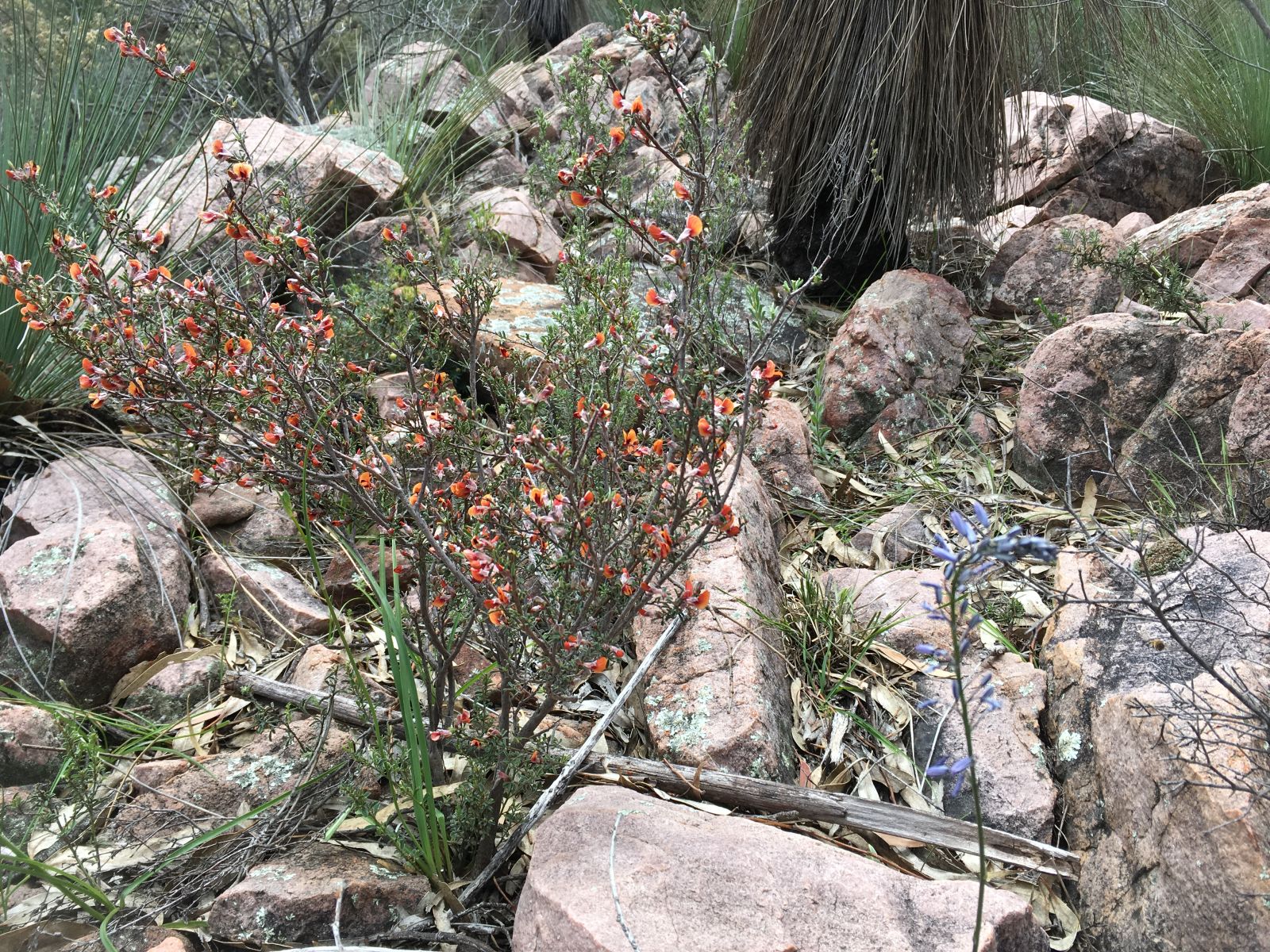 Finally the top. Sort of.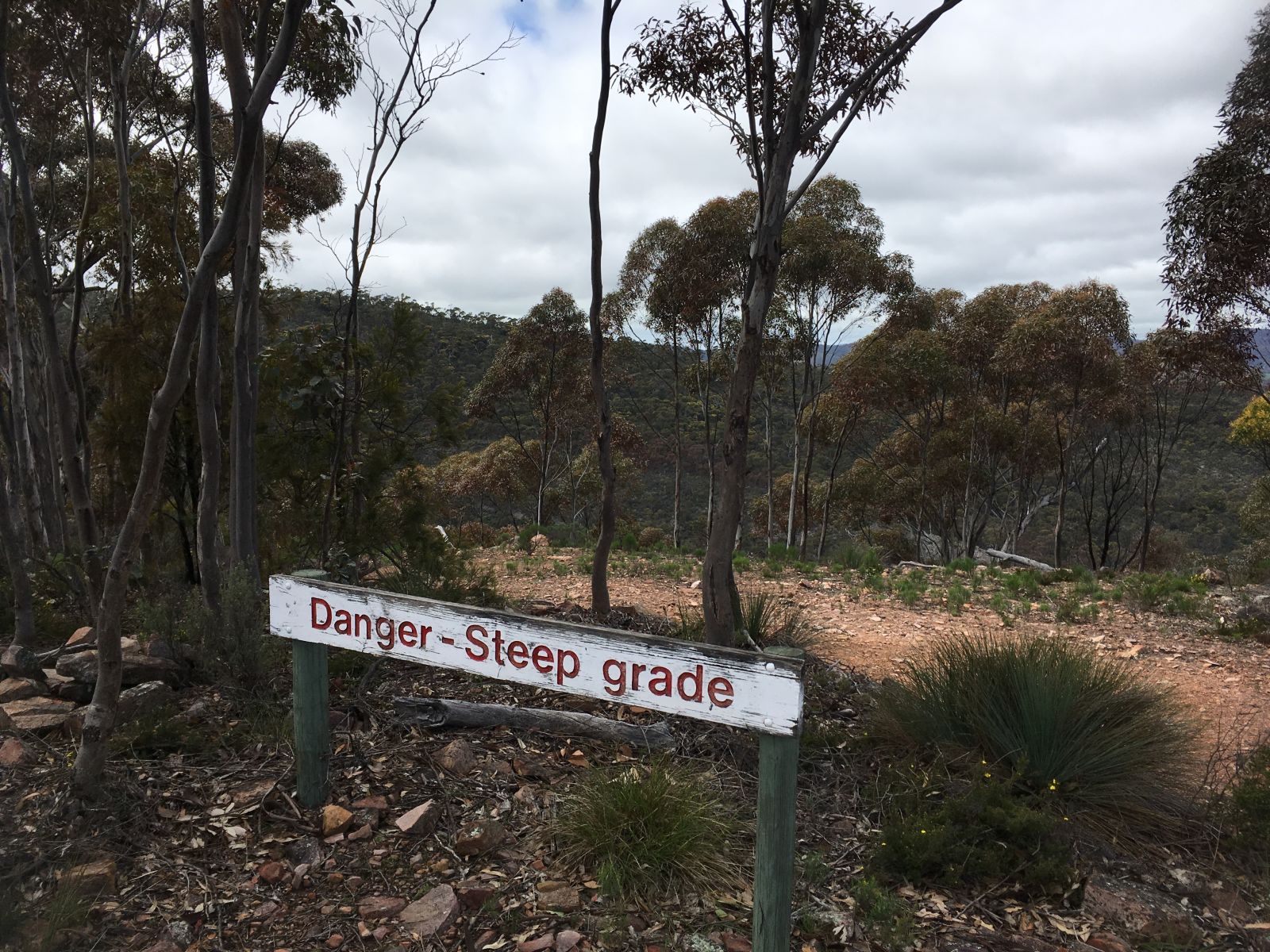 Not unexpectedly, but the track now did the last thing I wanted it to do, go straight down. My word this would make a good 4wd drive. Ranger led 4×4 tours here, licence to print money that would be.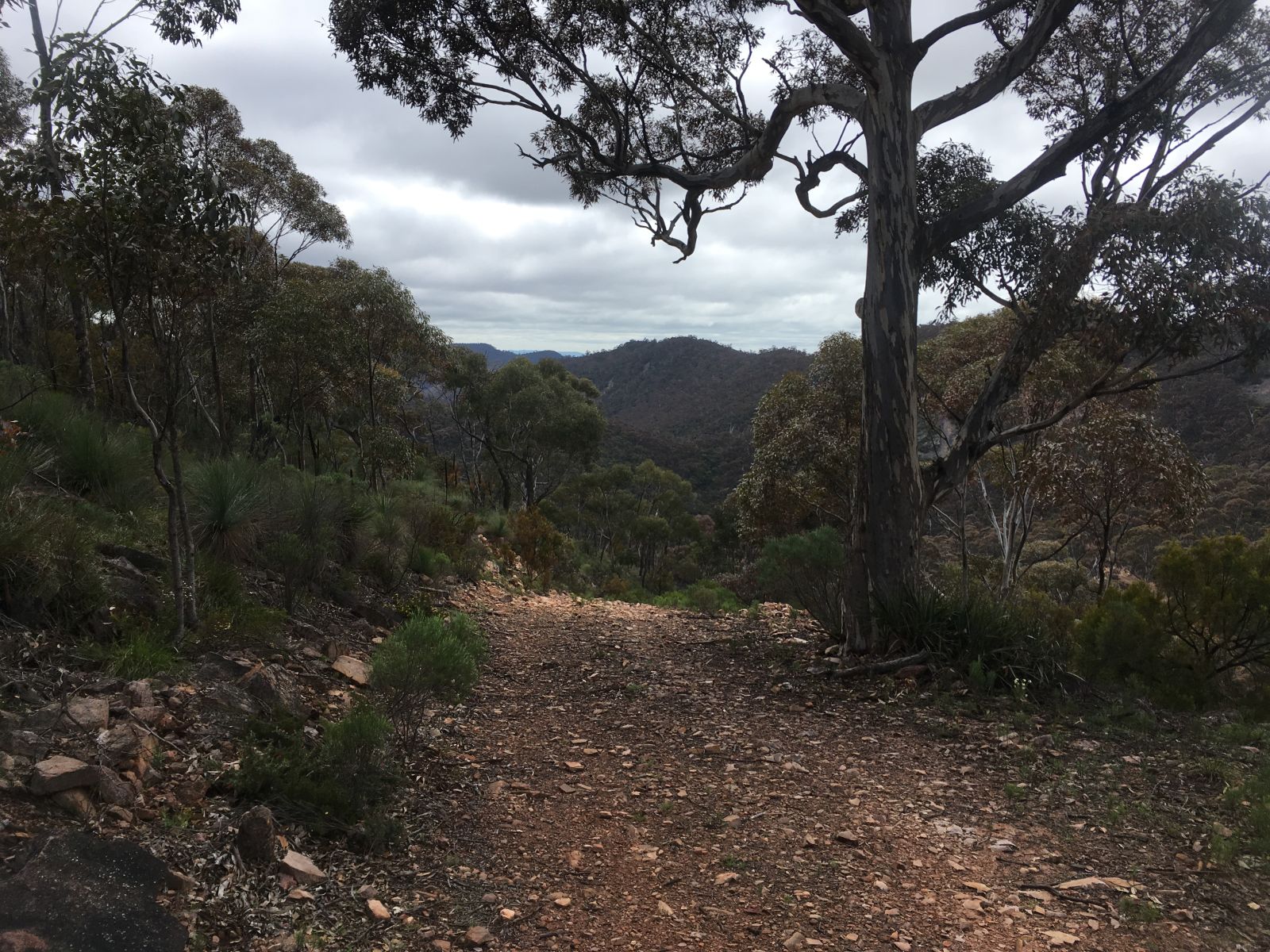 This steep downhill flattened out for a while. I stopped to eat and try to recover a bit. Despite the overcast skies, the views of this wild area were still good.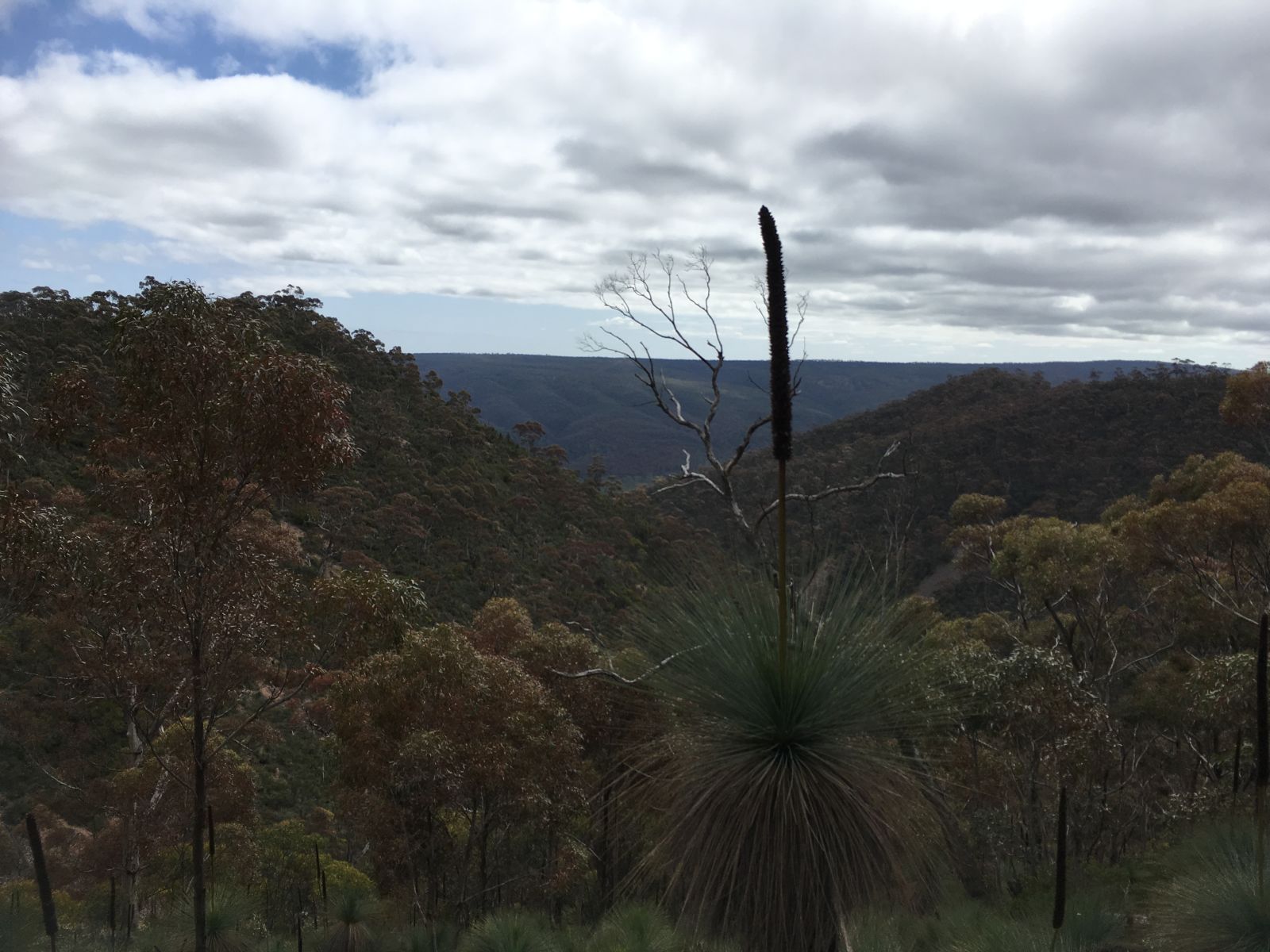 After lunch I trekked on, heading to Sugar Gum Dam Camp, where there was a rain water tank marked on my map, to replace my dwindling water supplies. Flat for a while, then, yep, you guessed it.
"Oh, for fucks sake!"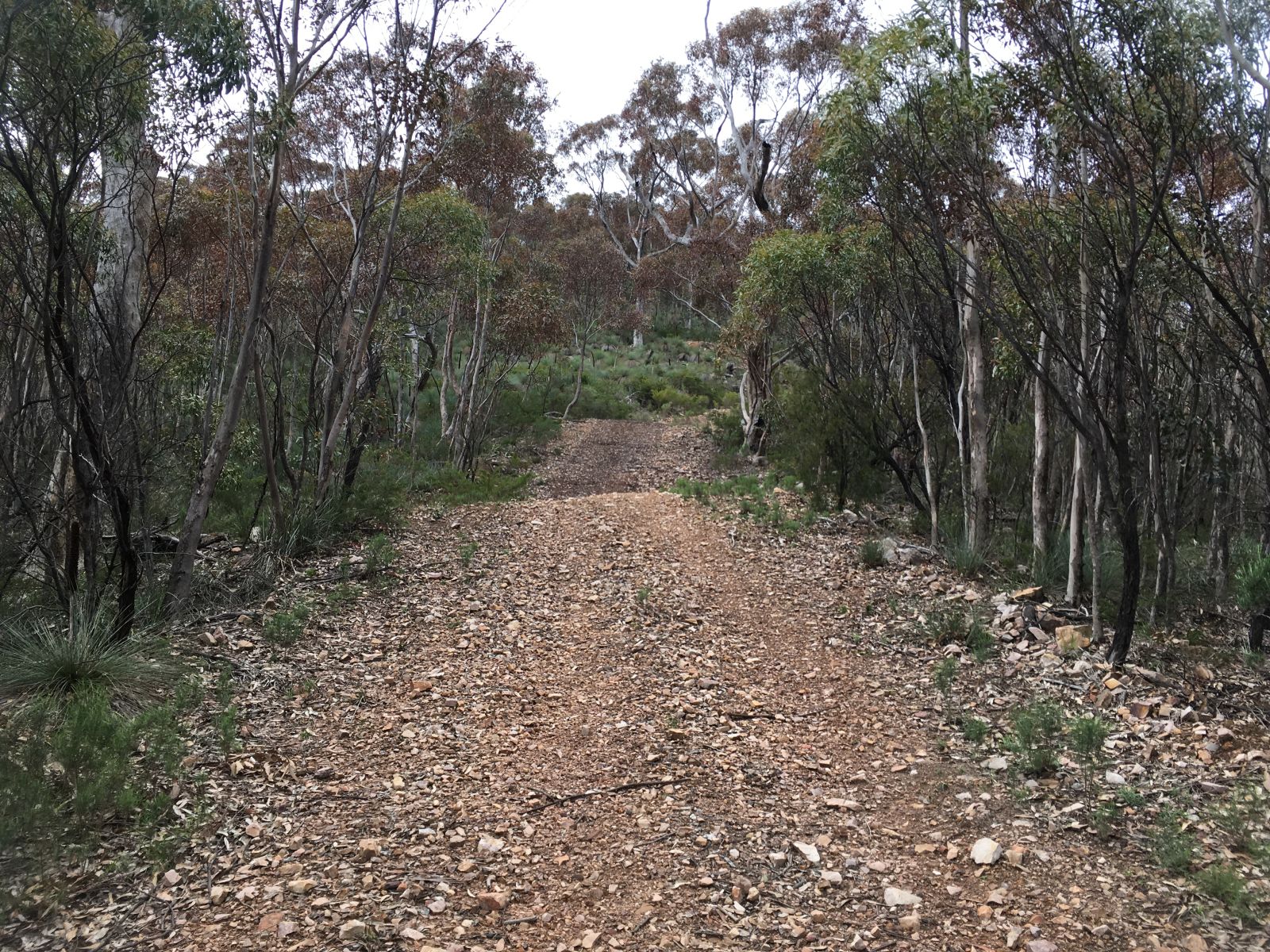 Not for the first time that day I contemplated turning around, or camping here. The camp wasn't that far away. Push on, baby steps.
Steep, but not so long.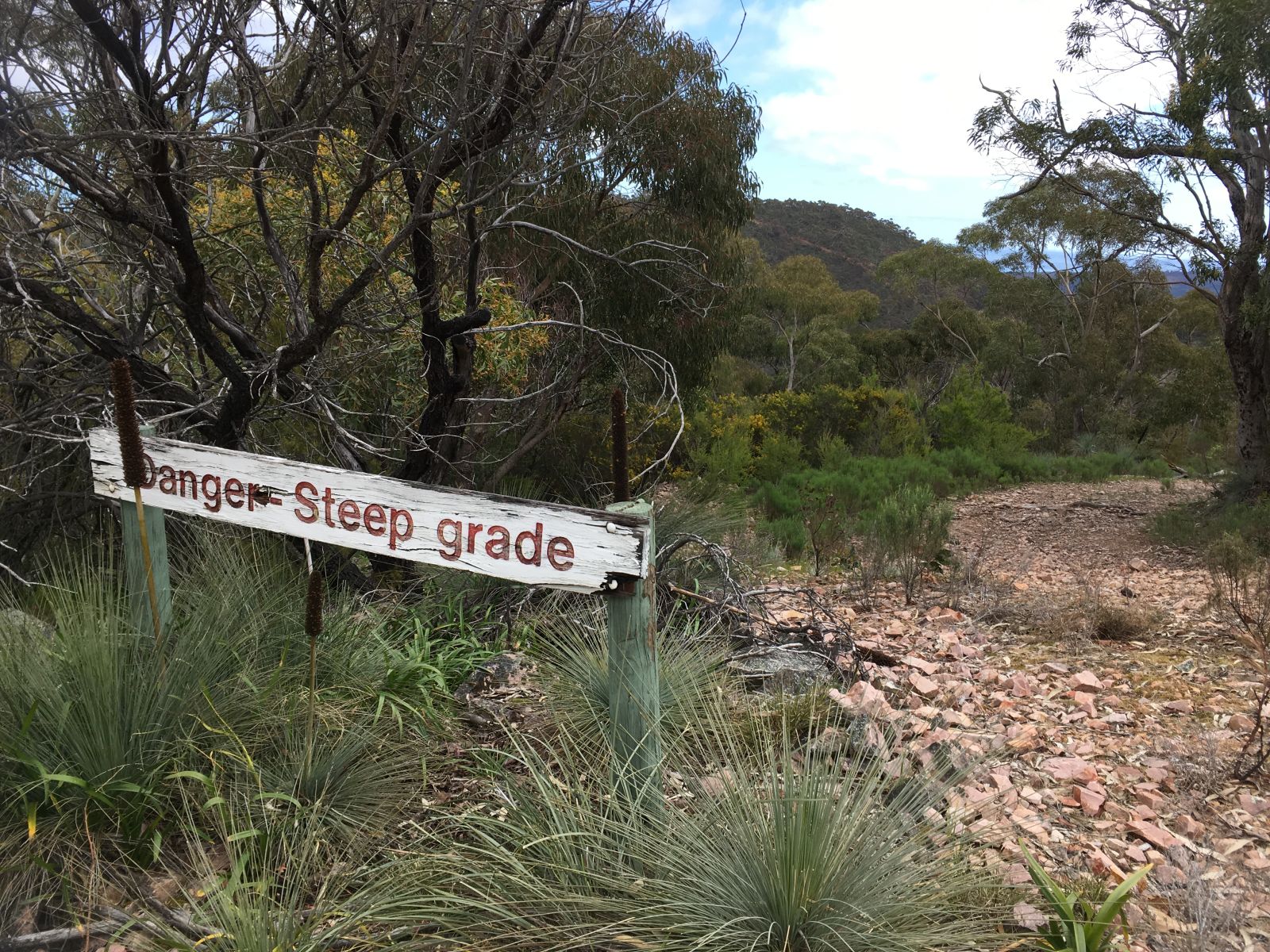 Views from here. Cleared green slopes in the distance here, farmland not so far away.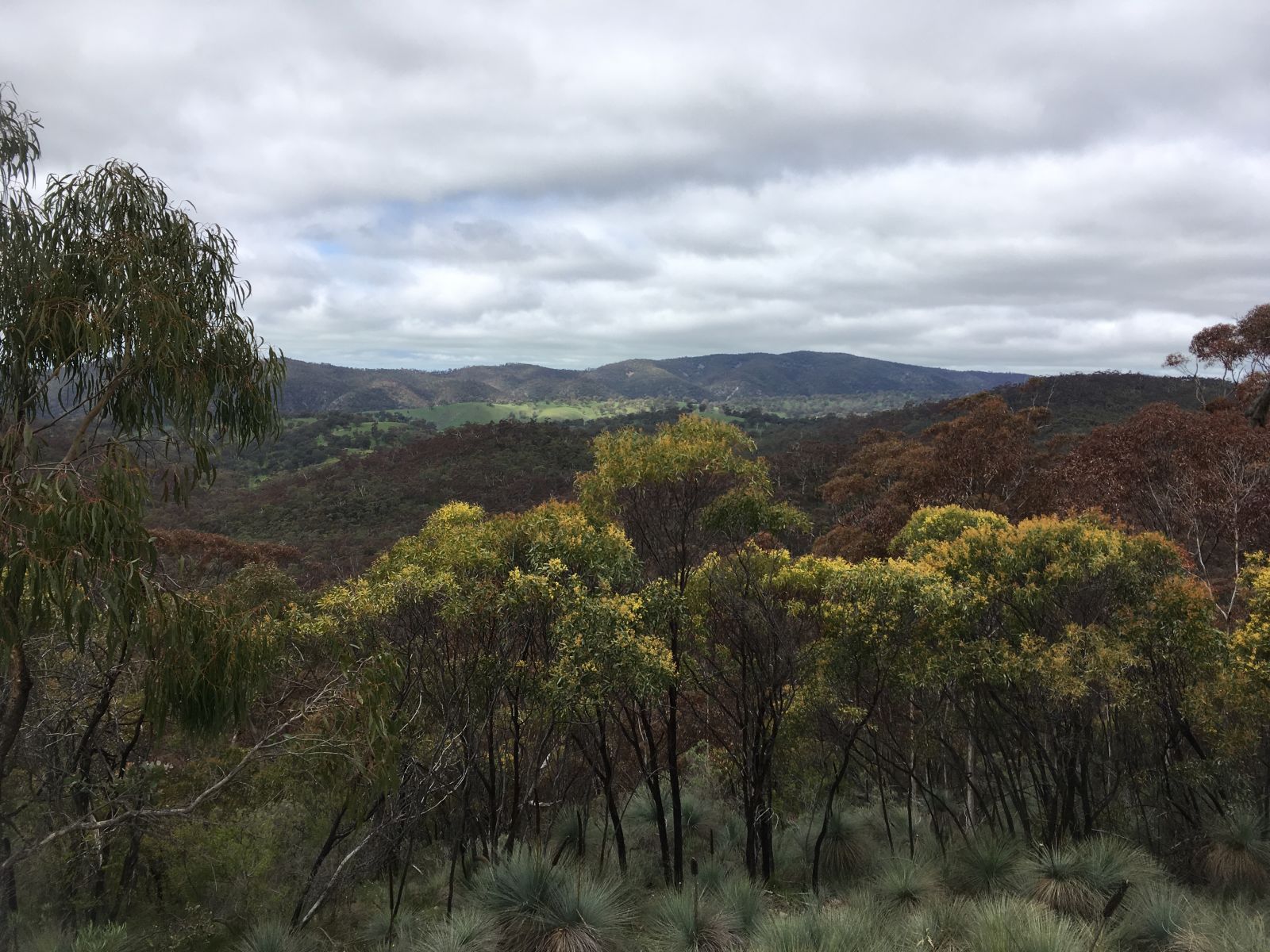 The sea just visible in the distance looking this way.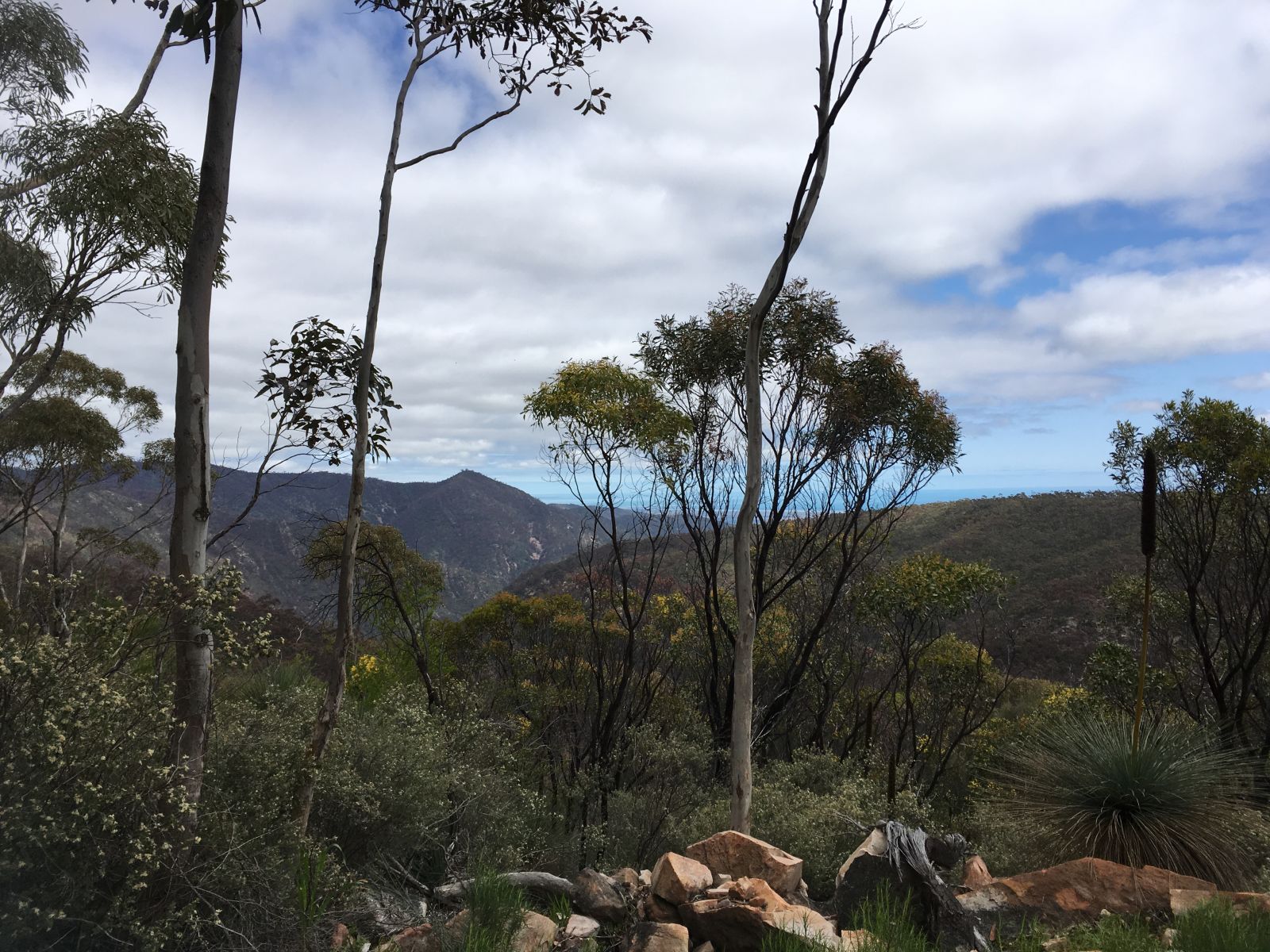 More down now, I didn't want. Knowing it would be climb tomorrow, but it is what it is. I knew my energy and morale were low compared to normal, and I wasn't being objective. Rest was what was required.
A few more kays and the welcome sight of a rainwater tank.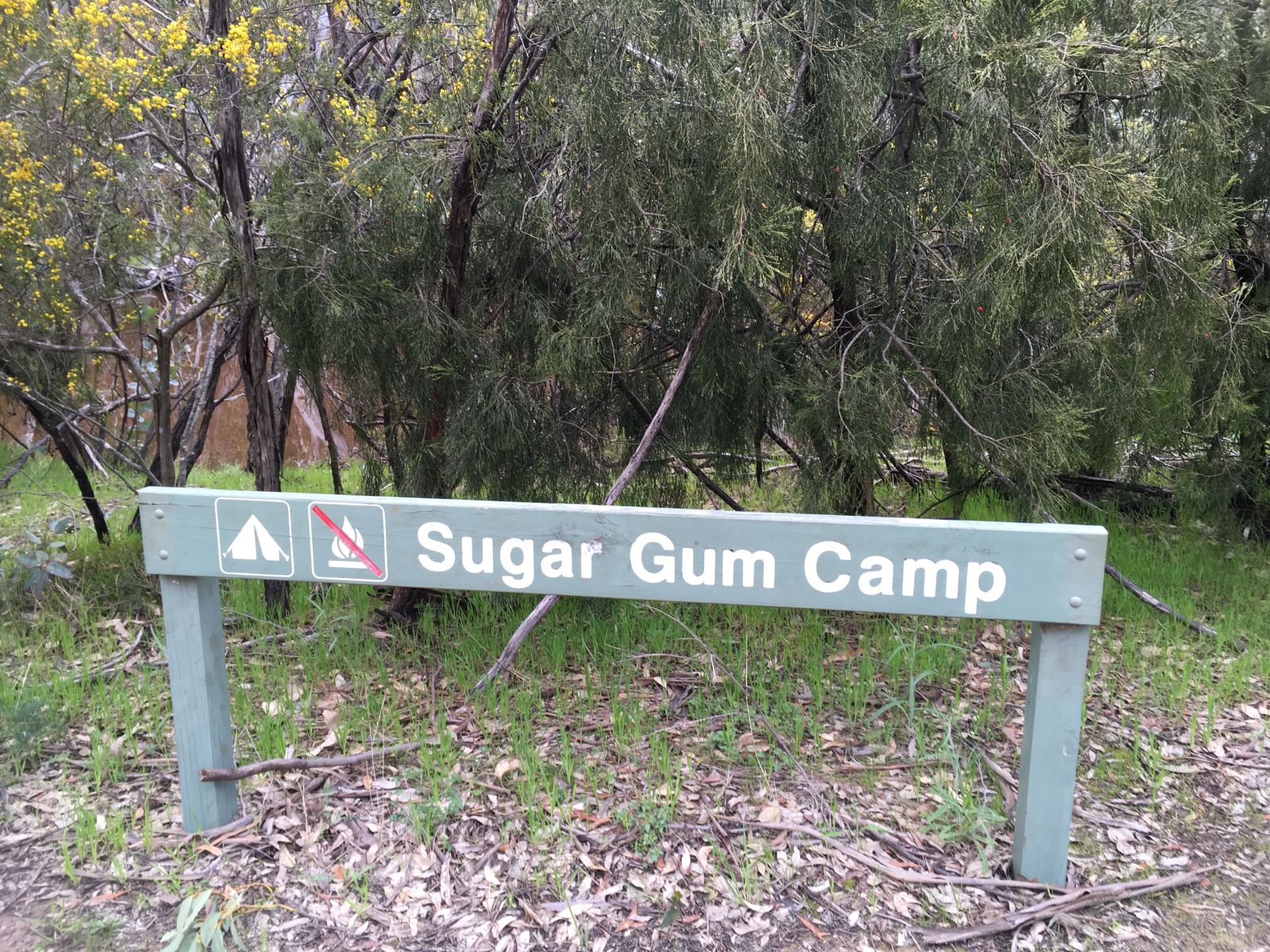 Mosquito Lake Camp more like.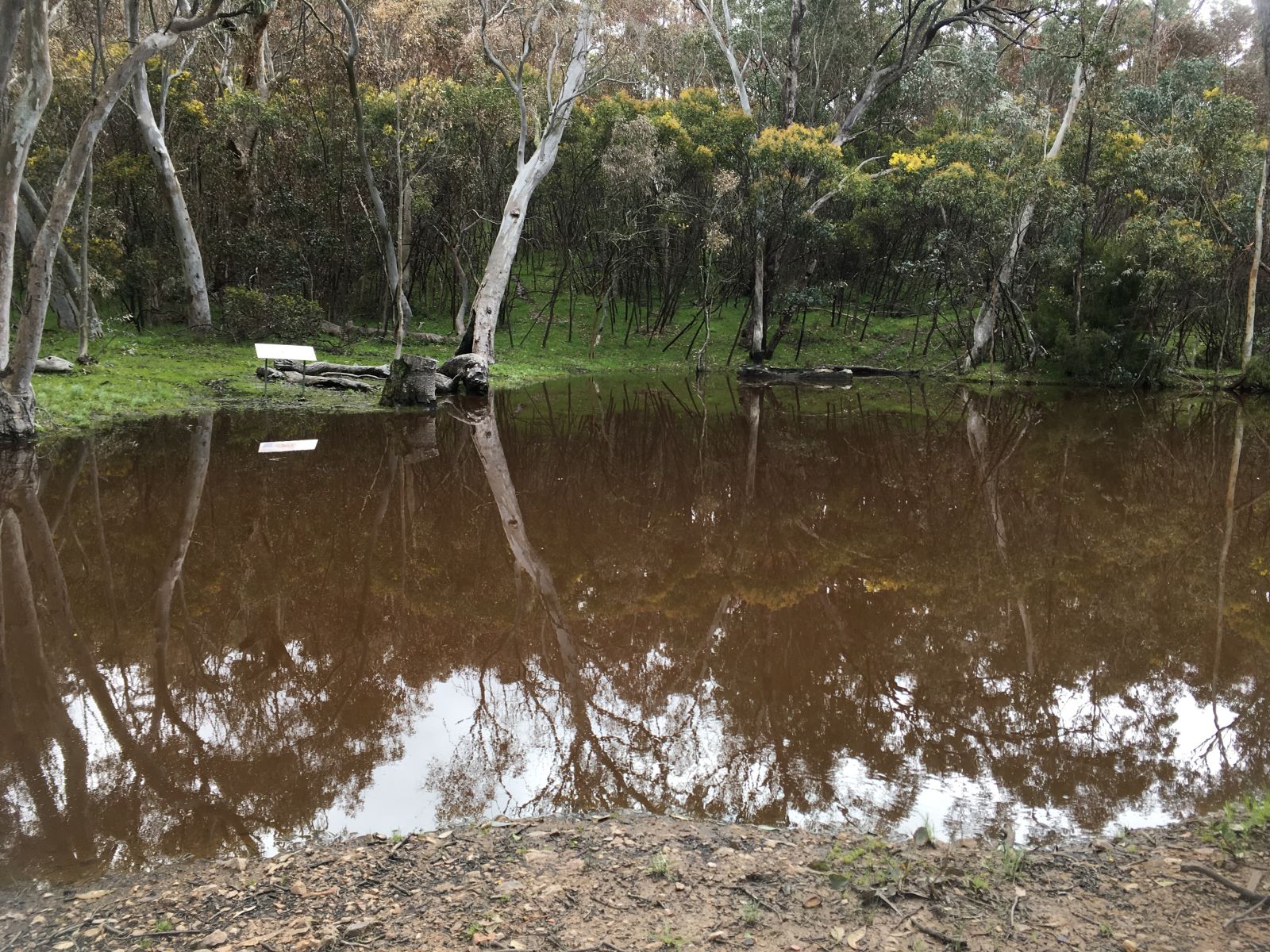 I found a drier patch higher up, threw up the tent, just quickly put 4 pegs in, blew up the thermarest and crawled inside.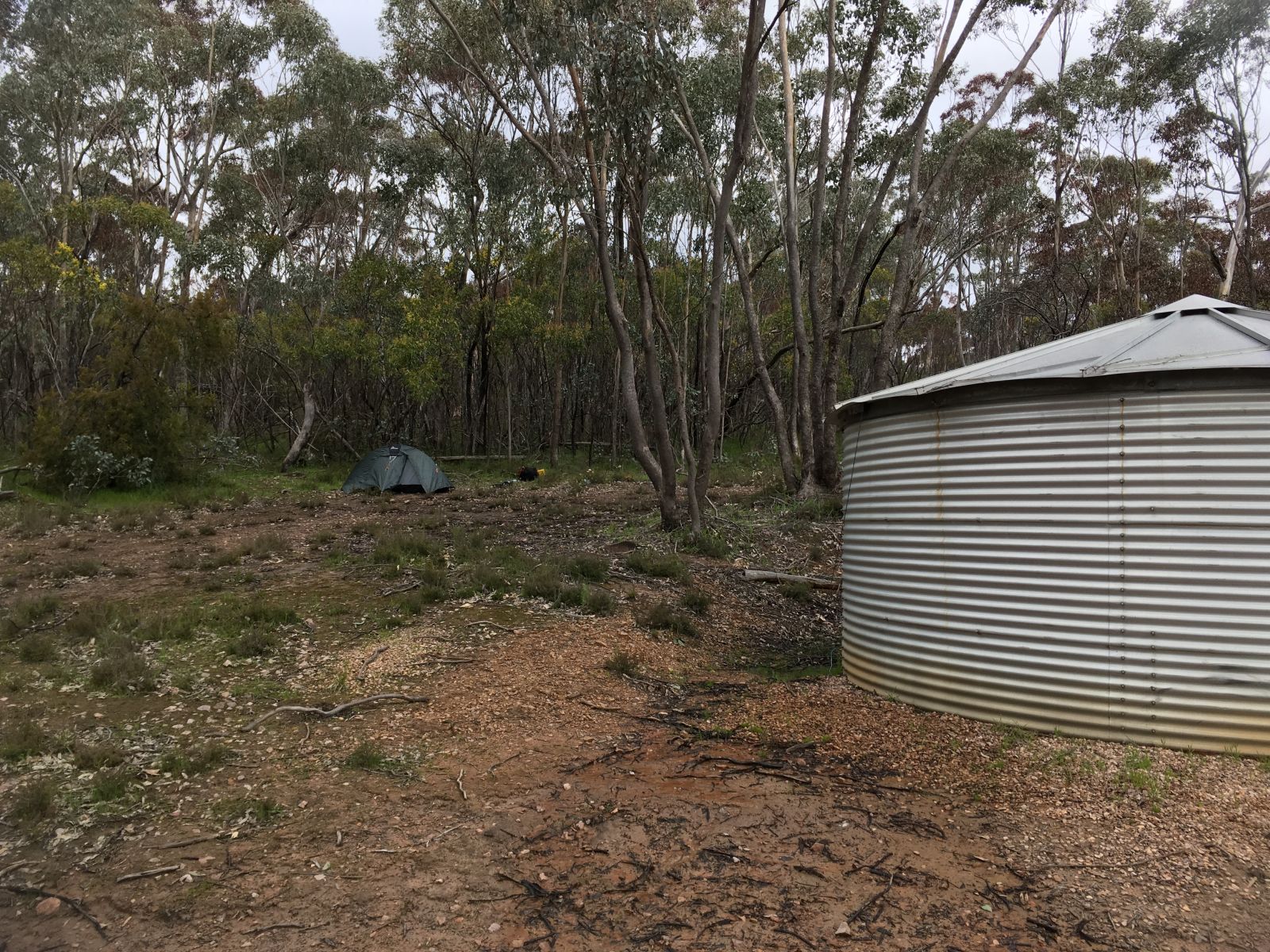 I awoke about 20 minutes later. Body still beaten but thinking clearer now. I zipped the trouser legs back on and put on my spare pair of dry socks, I can't tell you how good this felt.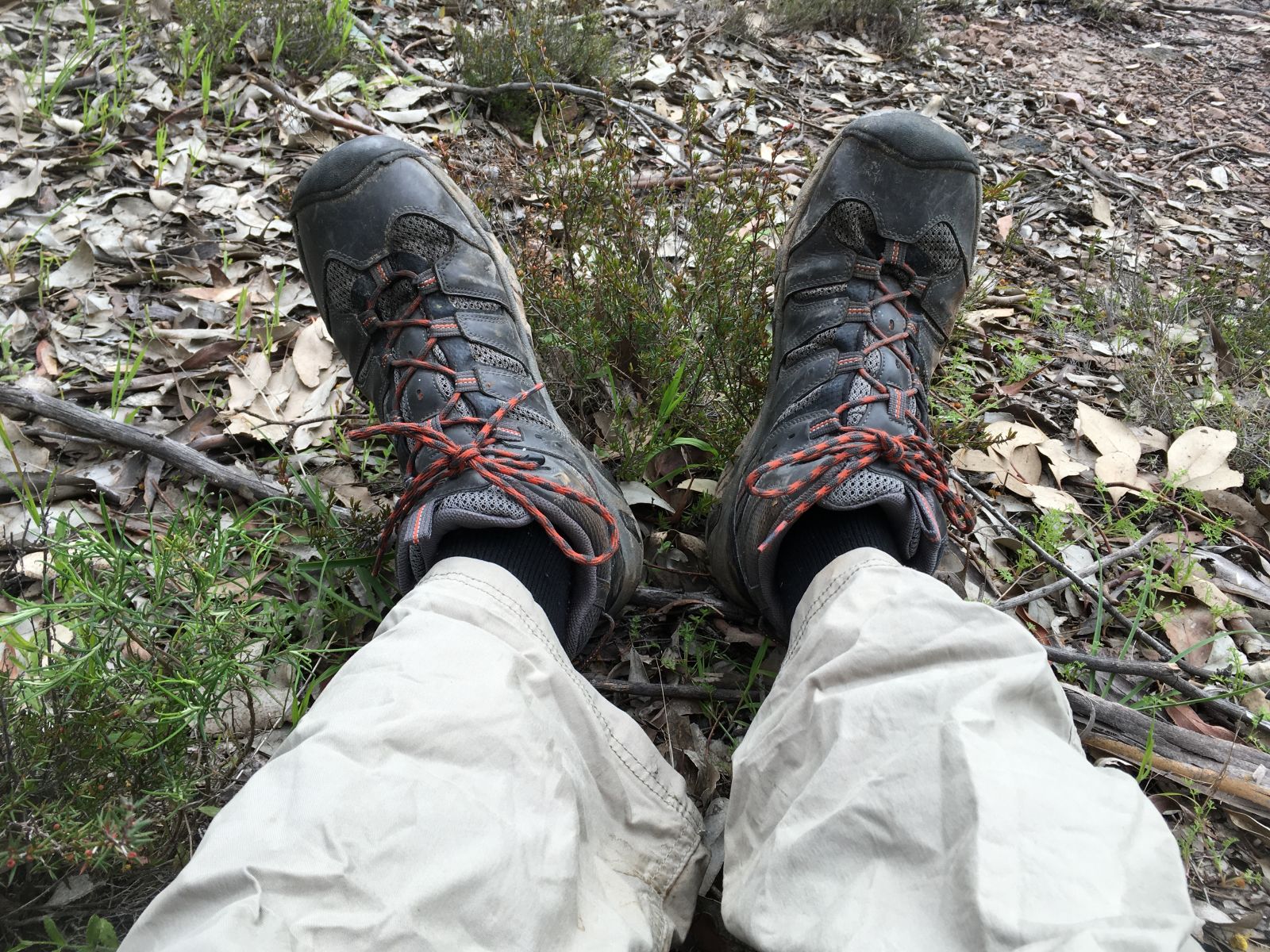 Face it, this is a shit campsite. The mosquitoes were bad and would only get worse, even though I was up high the ground was still soupy. What if it rains again?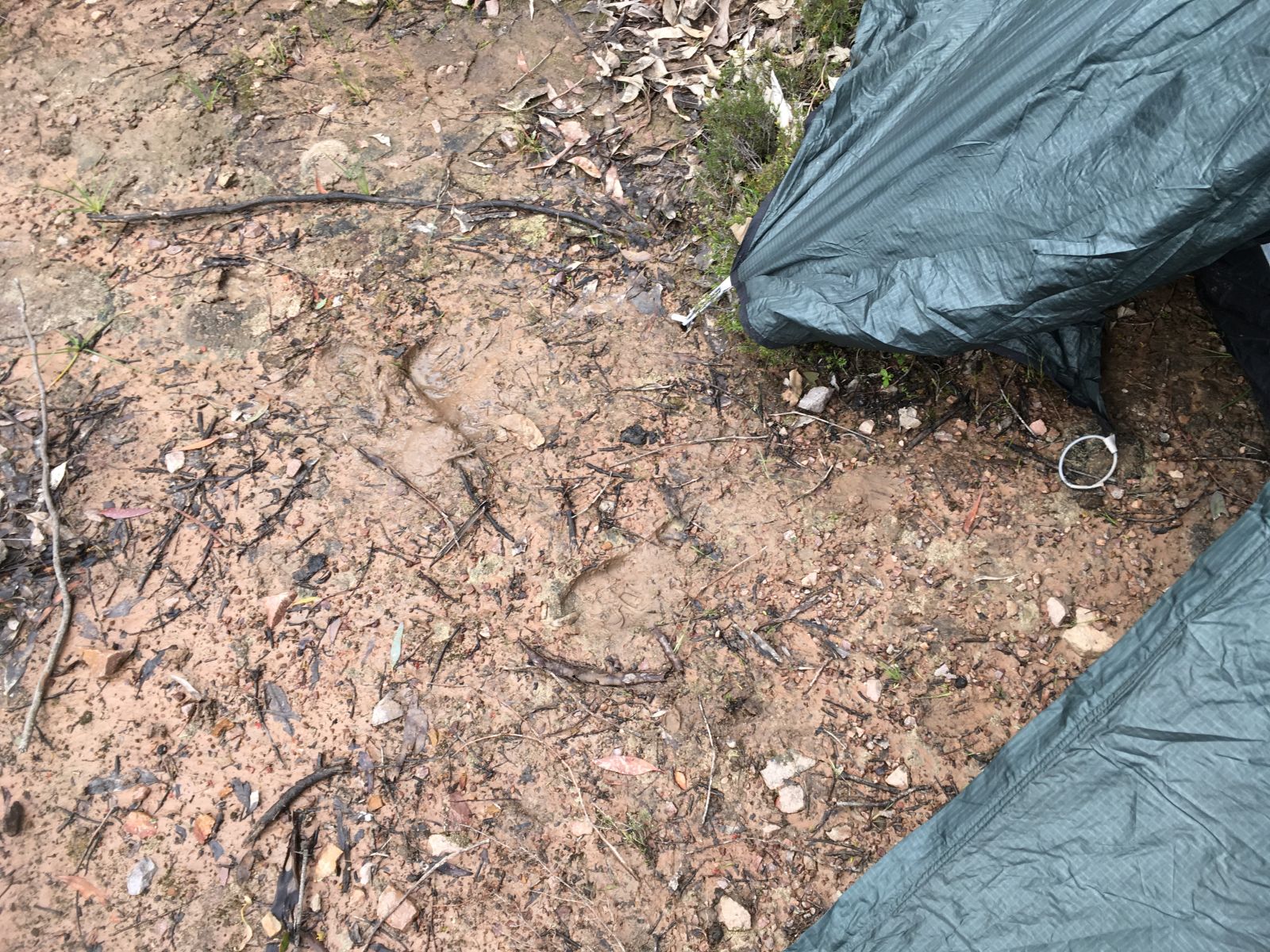 I was only here for the rain water. I had passed a good flat clearing a few hundred metres back up the track. Let's set the Trangia going to boil the water and go and investigate that.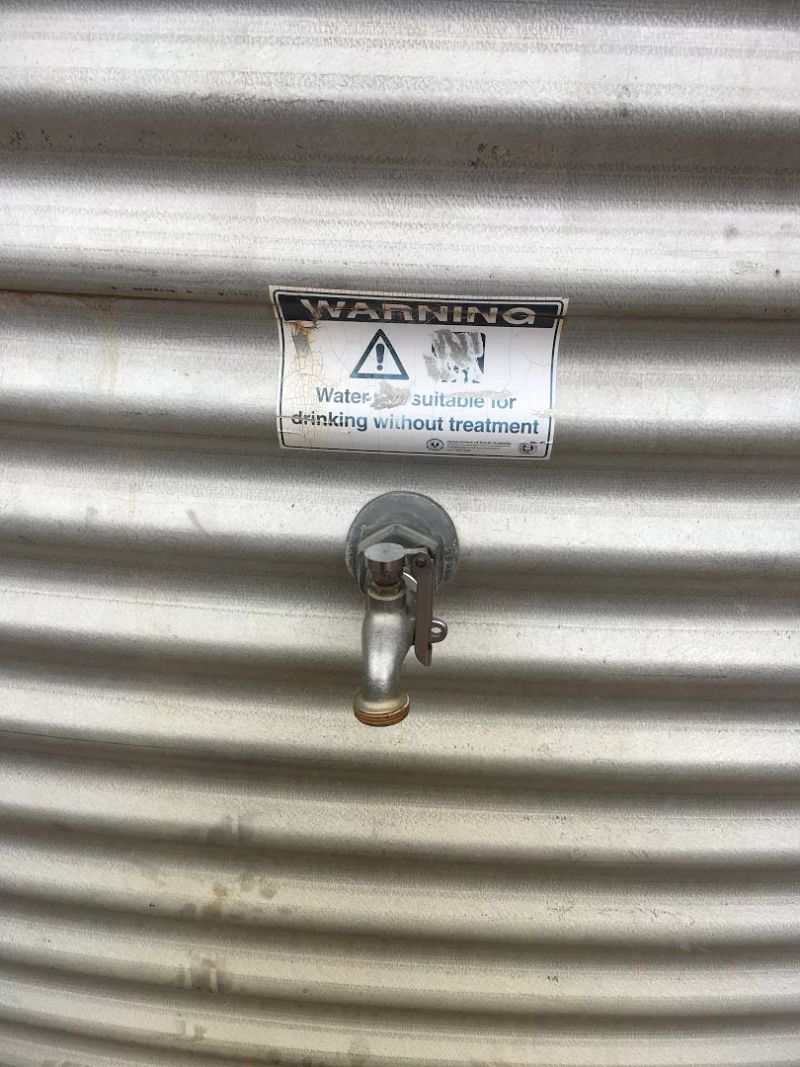 Yep, that was much better. I walked back and unpegged the tent and picked the whole thing up wholesale and carried it to the new camp. This is a 1-2 man hiking tent (it has sheltered 4 on occasion, N has slept in here with me, (with Alby, the smallest of our small dogs, when we first had him, he thought it was great!) you want to know your sleeping companion well, let's just leave it at that) made by New Zealand company Macpac. It seems they still make a version of it, I bought it when I did far more of this sort of stuff. It's held up well for something so light and still has that good quality 'technical' feel about it. A few more trips and the empty water bottles were refreshed should I need them (I would still use the Lifestraw to drink them though) and the new camp established.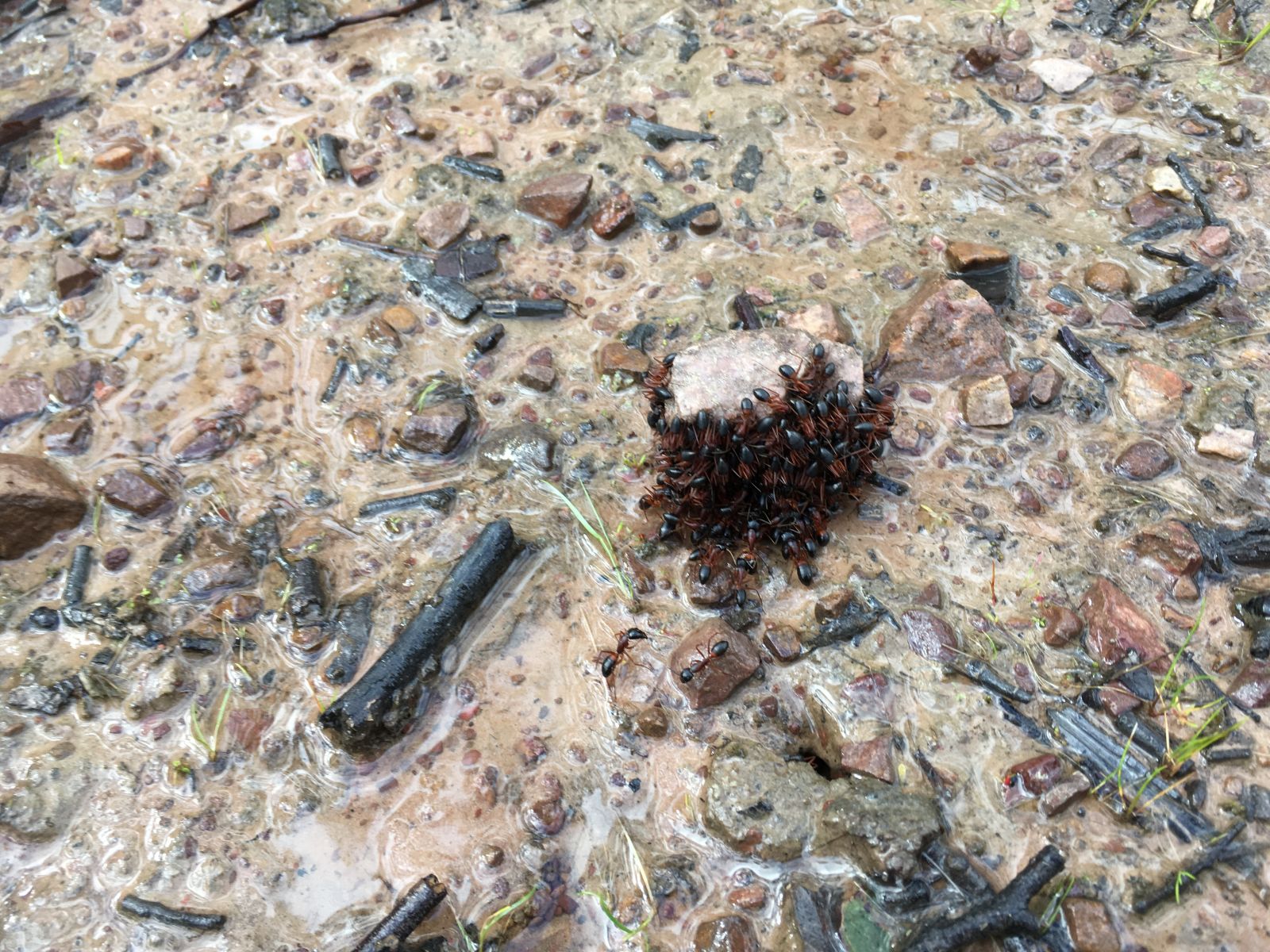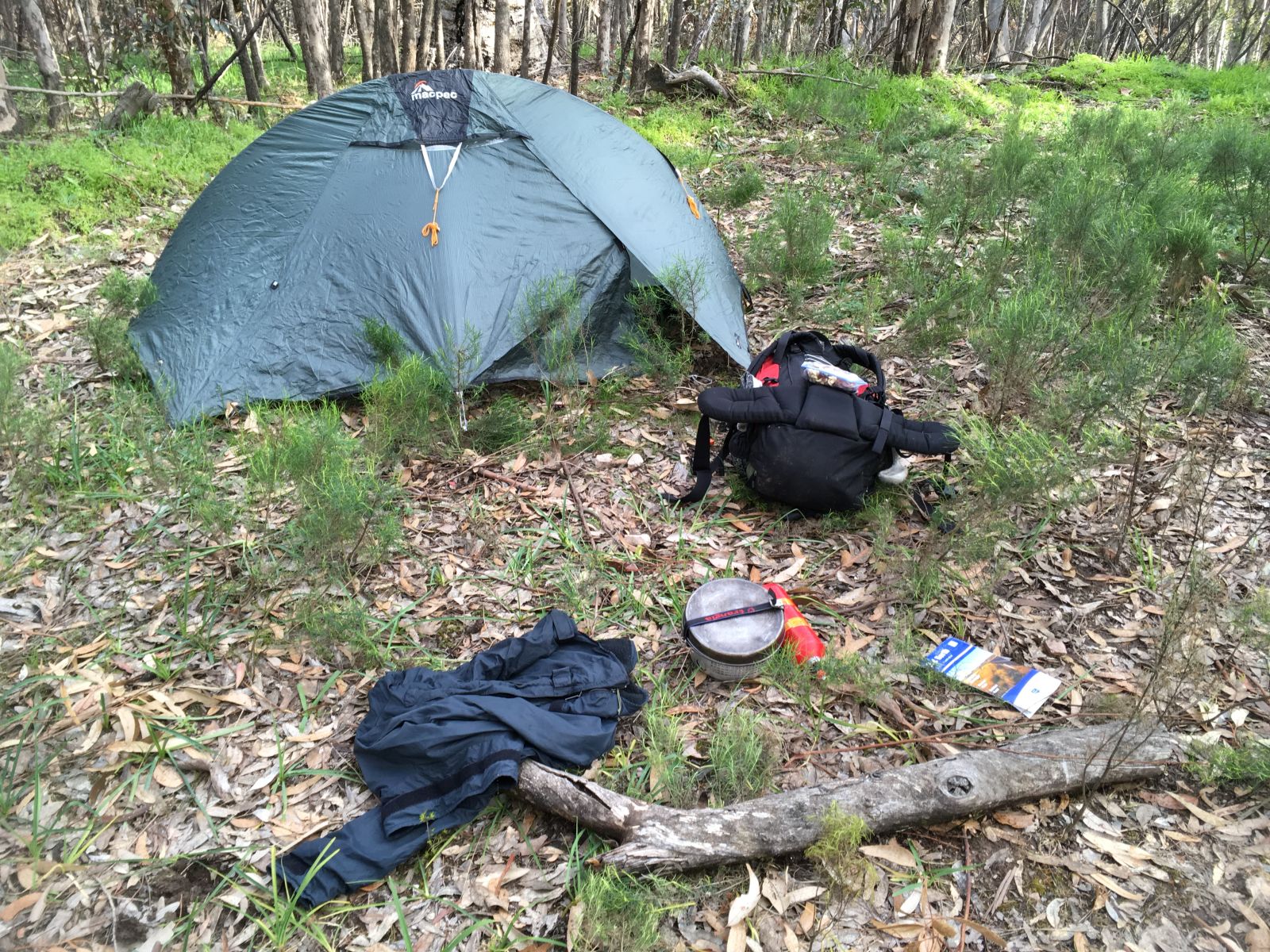 Right. Good positive decisions. Let's make another one. Time for some food. Been on bananas and stuff all day, time for some real food, man food. What can be more manly than steak?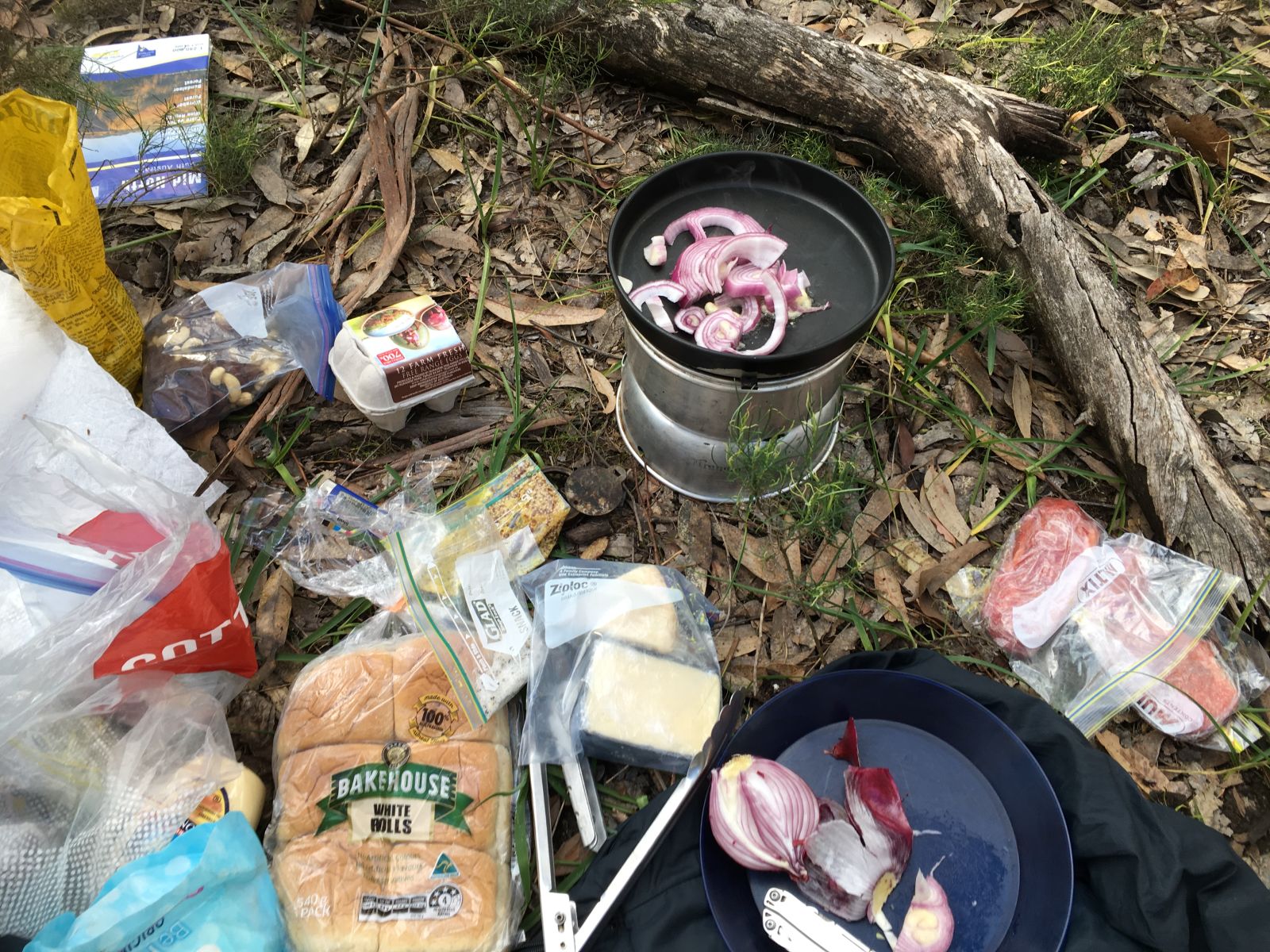 Easy, two steaks.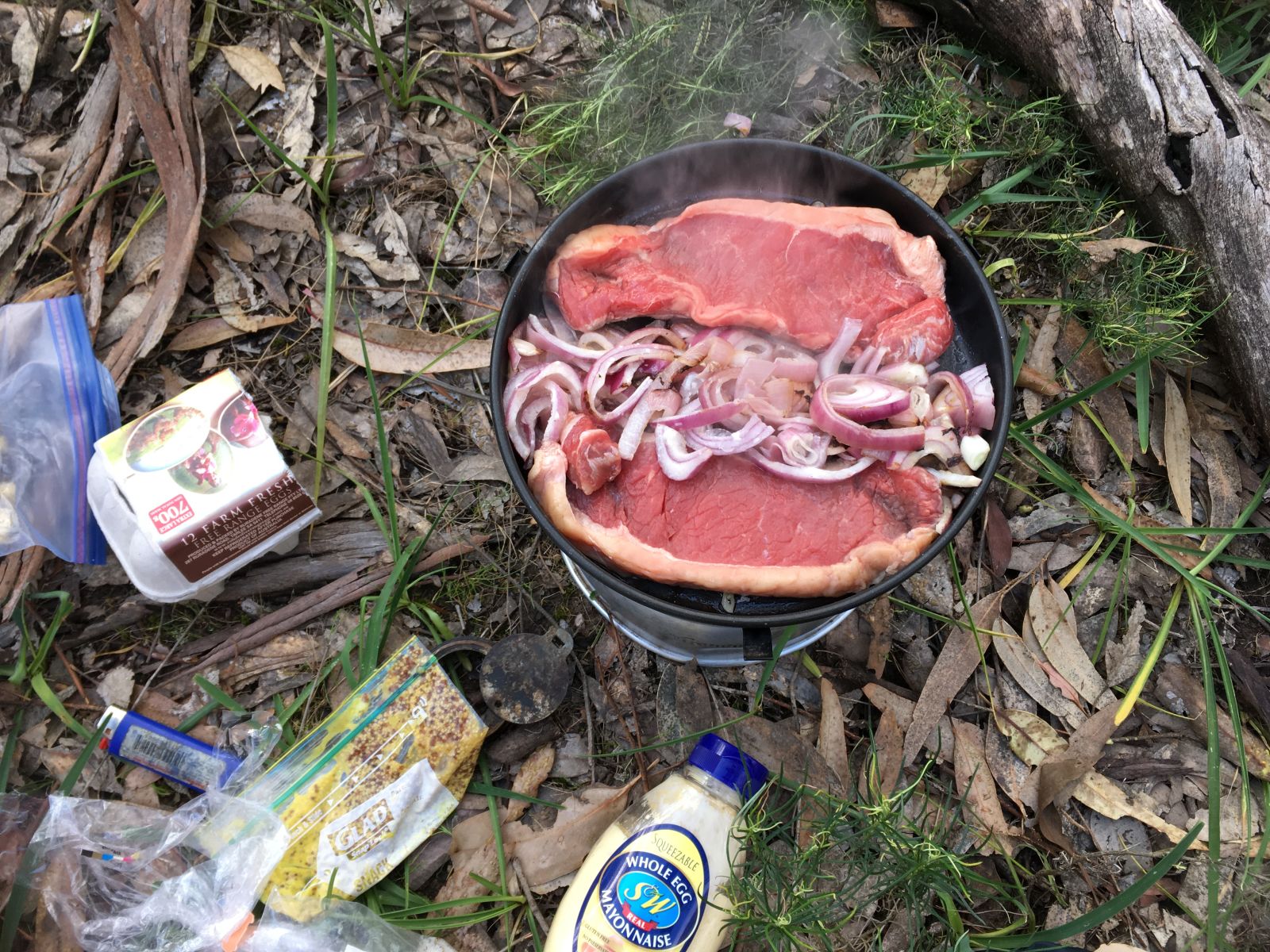 Anyway, it's sirloin you have to cut a 1/4 of it off, that's my excuse anyway.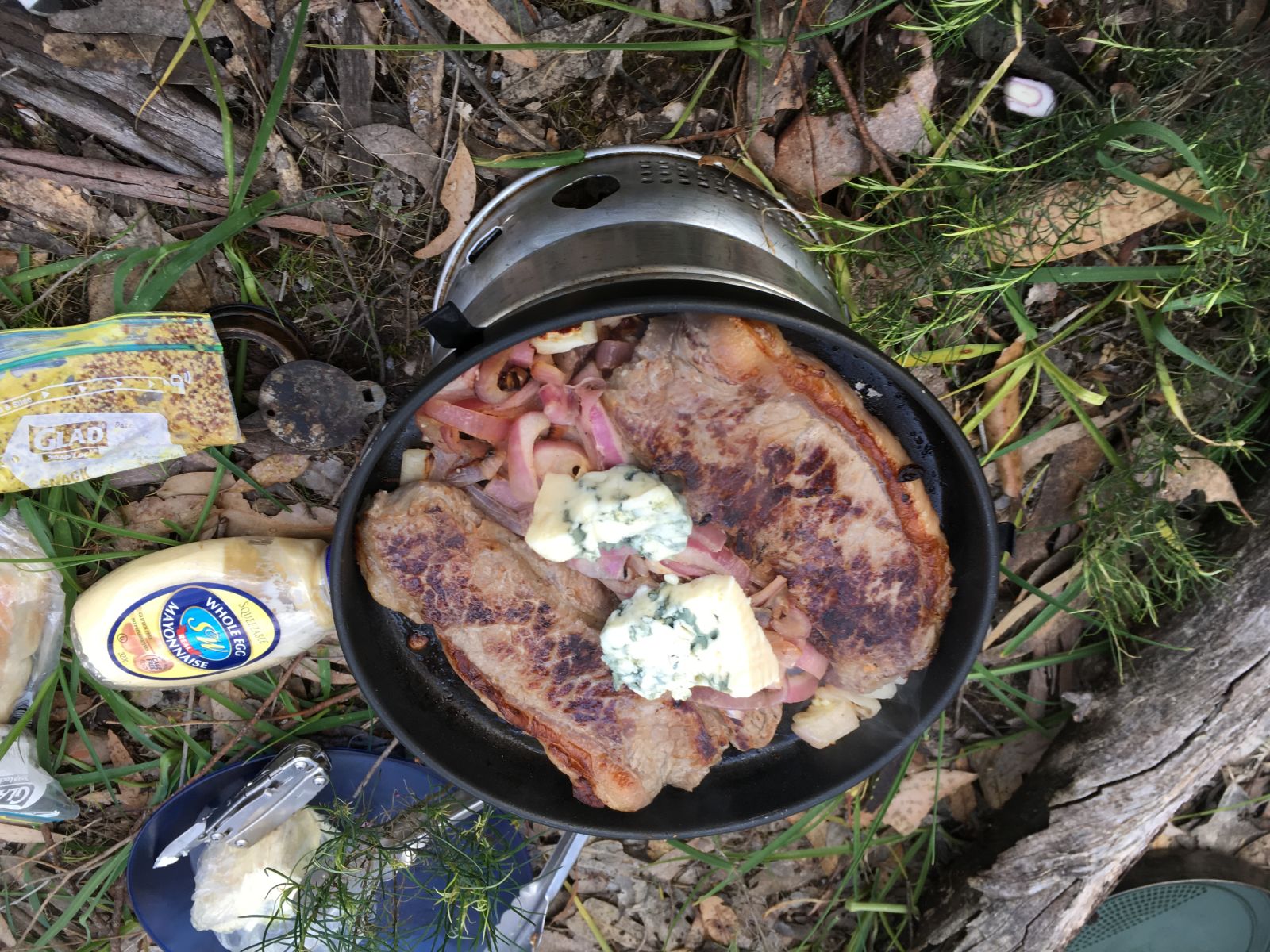 What? You didn't expect me to eat some of those de-hydrated packs did you? C'mon, seriously, we know each other better than that by now.
Some time looking at the topo map, planning out tomorrow, knowing I would be back at the truck earlier than expected. Been a while since I have spent a night properly alone in the bush, always an experience that gets you back to the basics. Makes you think about the indigenous people and the early explorers of this land. I slept well that night.
---
Hike Day 2: Redemption, sunrise and return.
After complaining to N about my thermarest not giving me much support last trip, I now knew it had a leak. So I woke a few times in the night to roll over and zip the down bag up a little more, it still offered noticeble insulation against the ground though (it's a 2/3 mat). I awoke just after 5, cold, but not quite the 2 degrees that had been predicted I feel. Enough light to get the camp packed up.
No suprise, I felt significantly better than yesterday. I could feel some soreness, but my mental state was chipper, which I would use to full effect this morning to smash out those short but brutal climbs that lay ahead before the long descent.
Just before sunrise, looking out to the sea.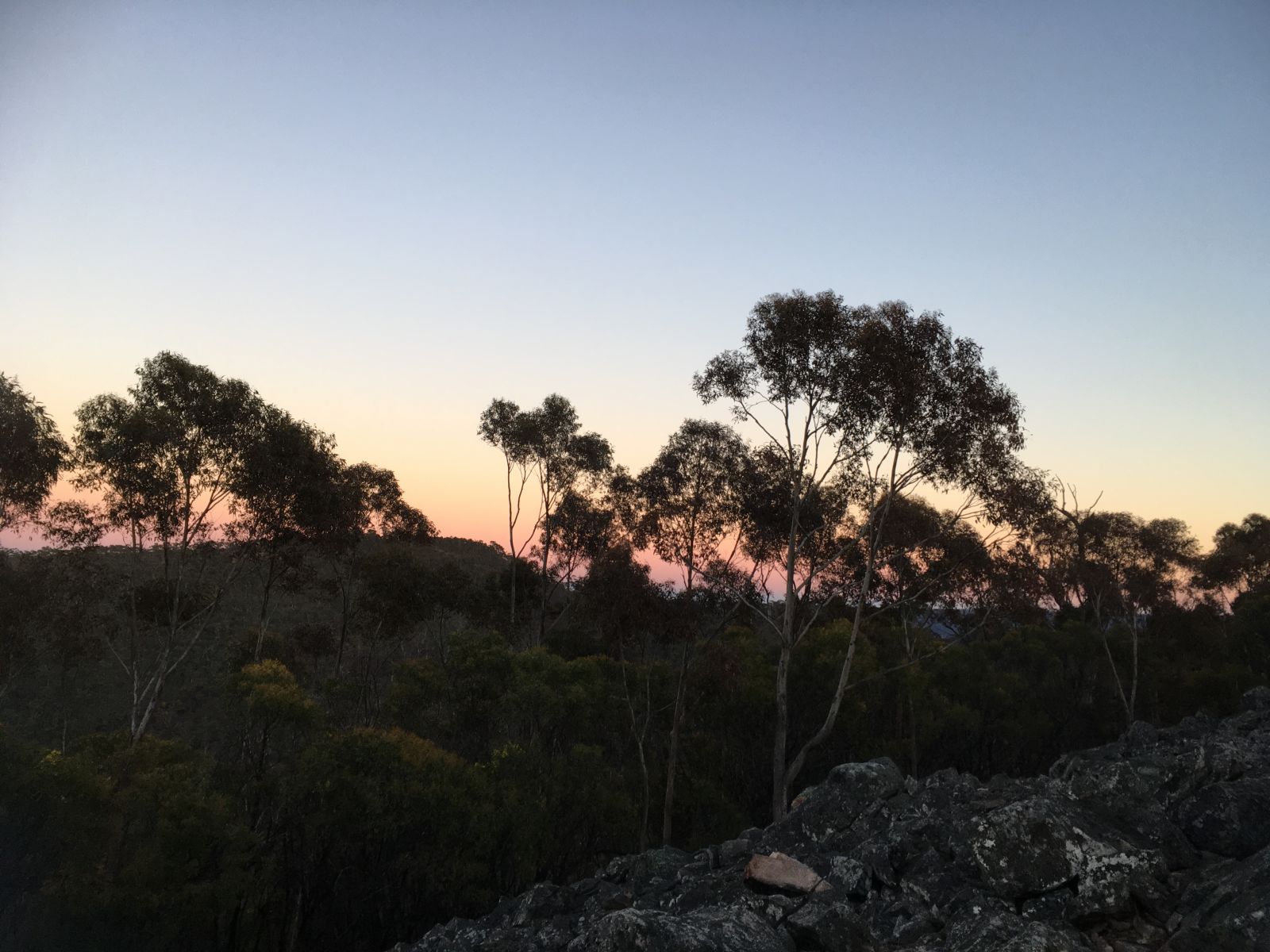 Here comes the sun.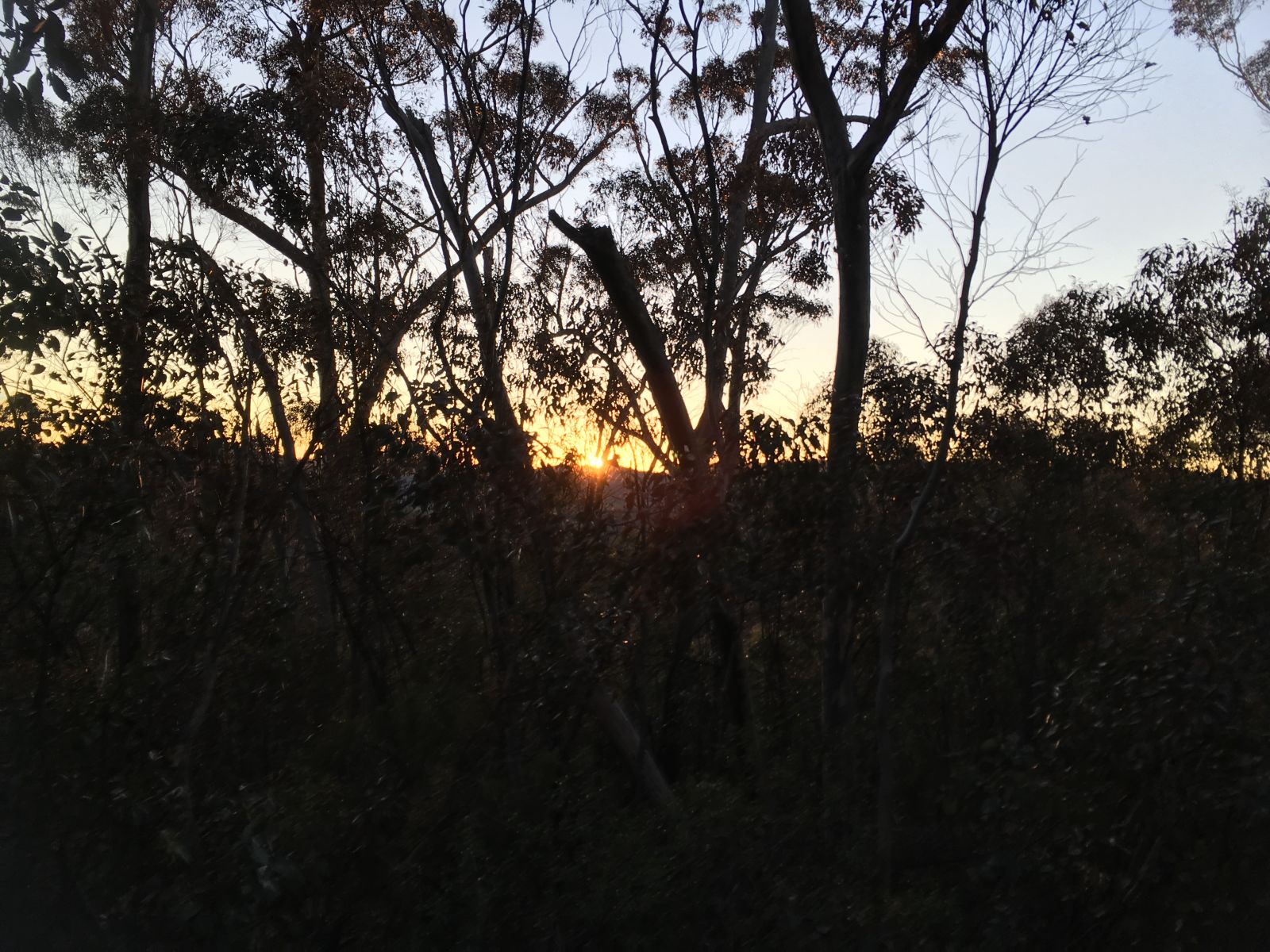 Good morning Australia!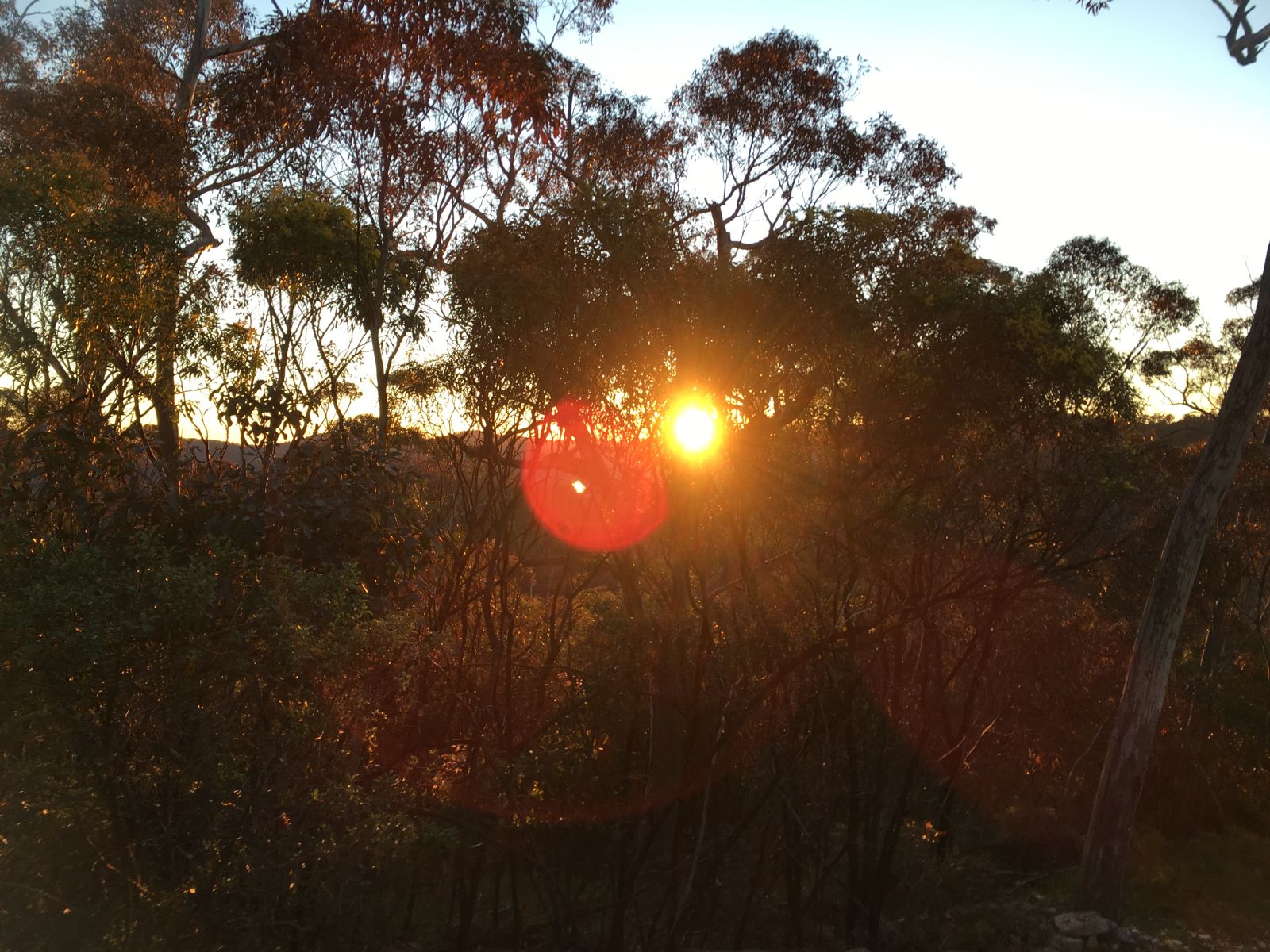 The light permeated everything, including my soul.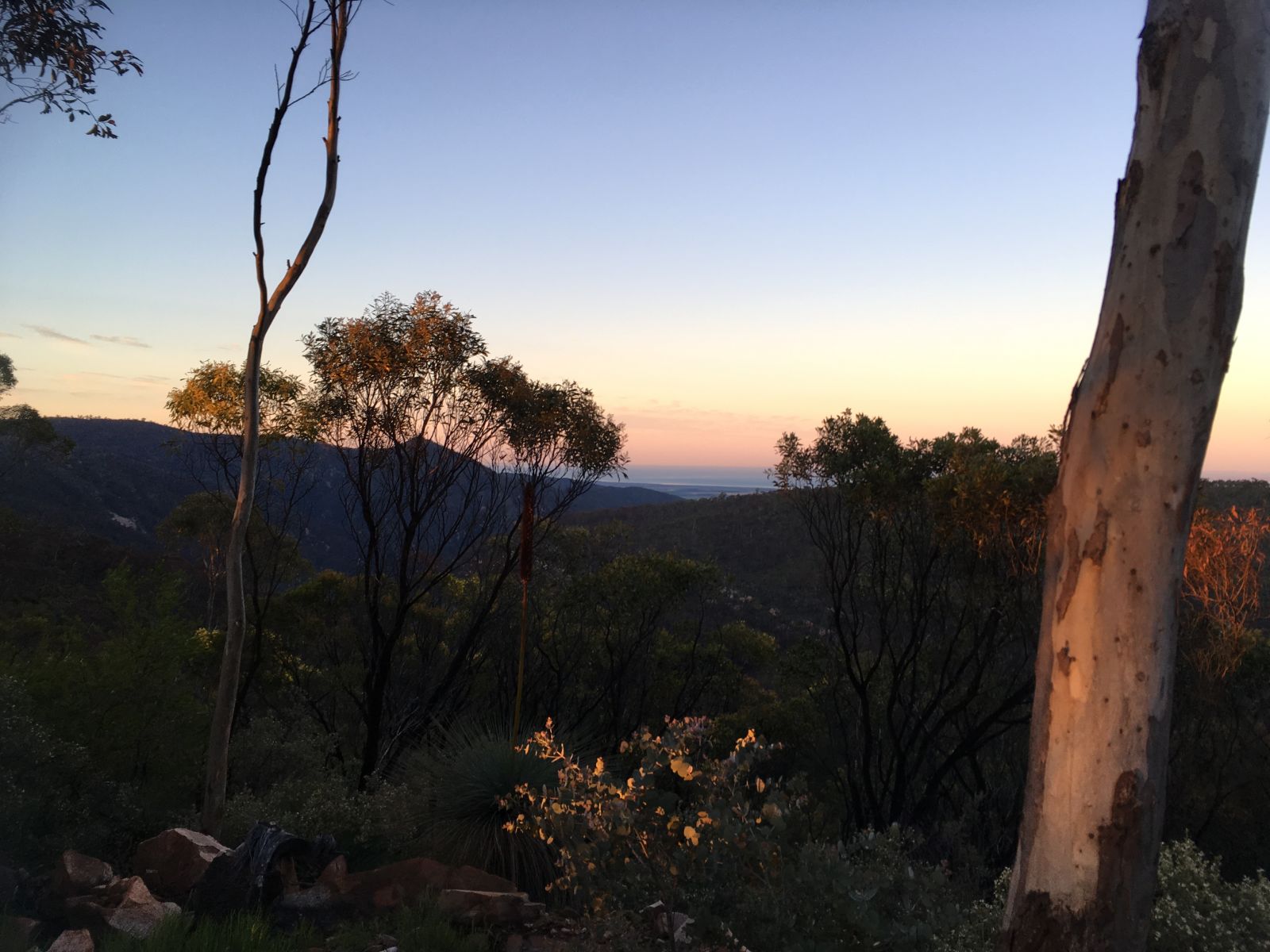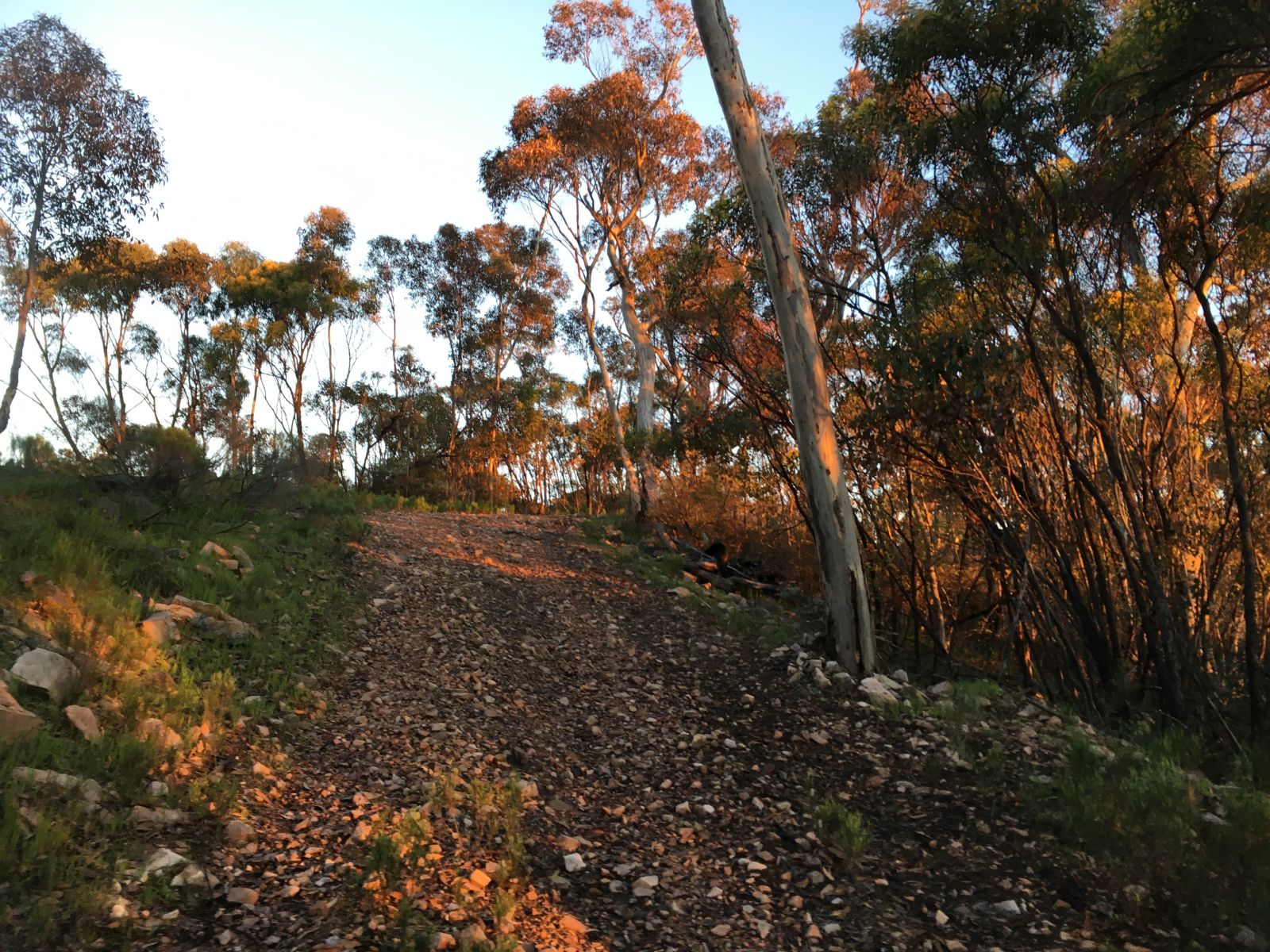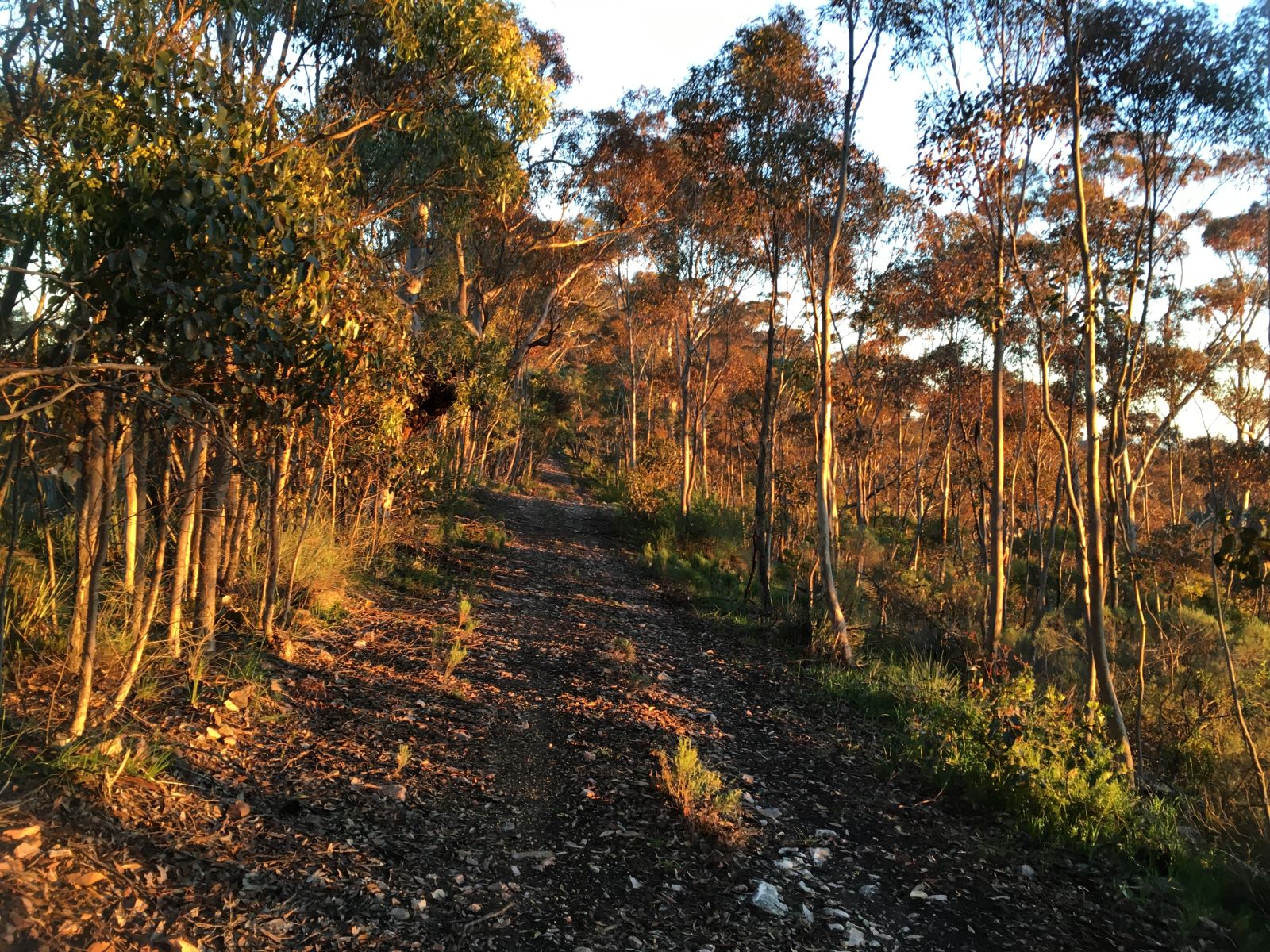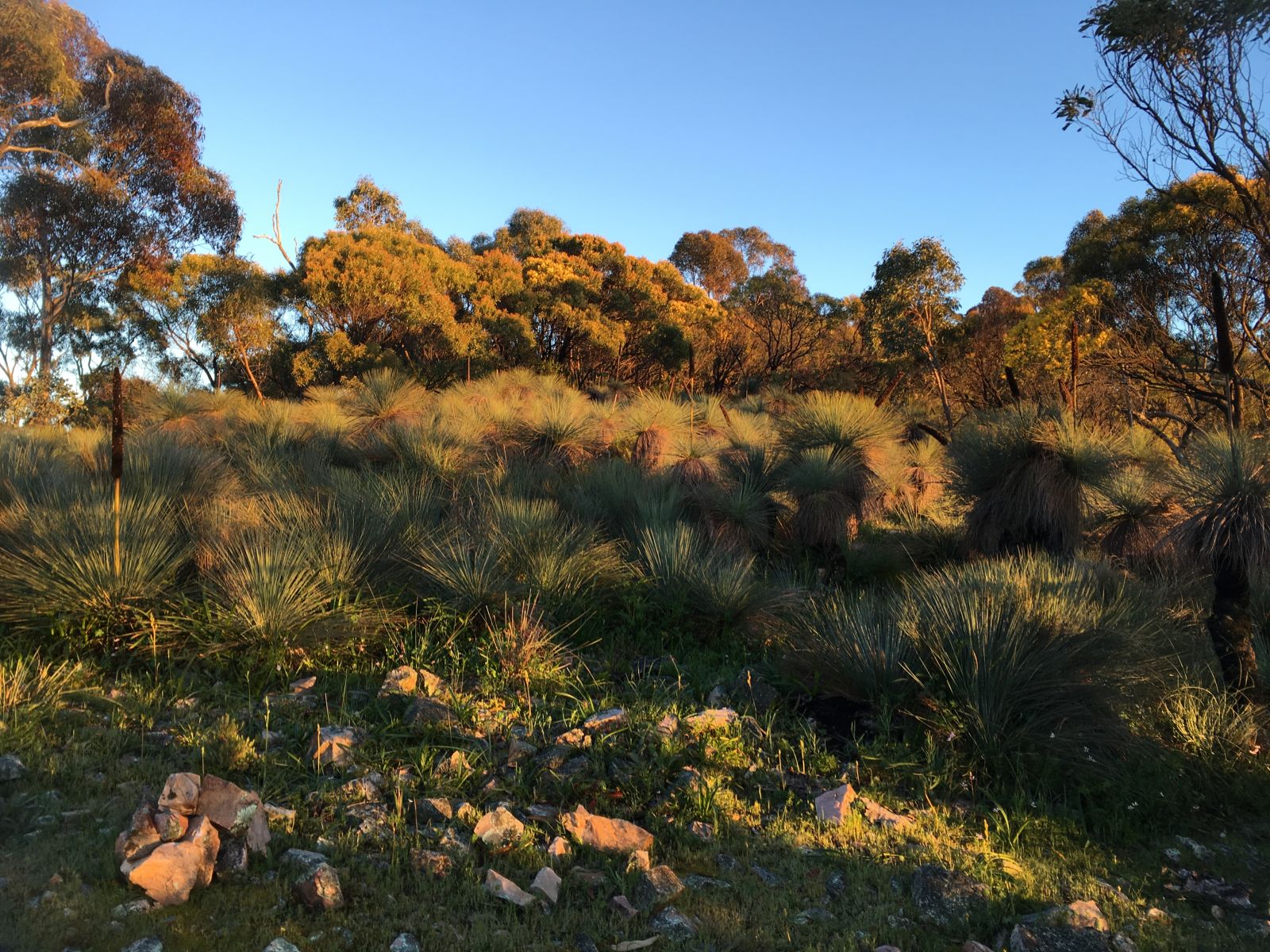 I rocketed back up to the first high point, yesterday's difficulties a distance memory, peeling off layers on the way as my body started to work again.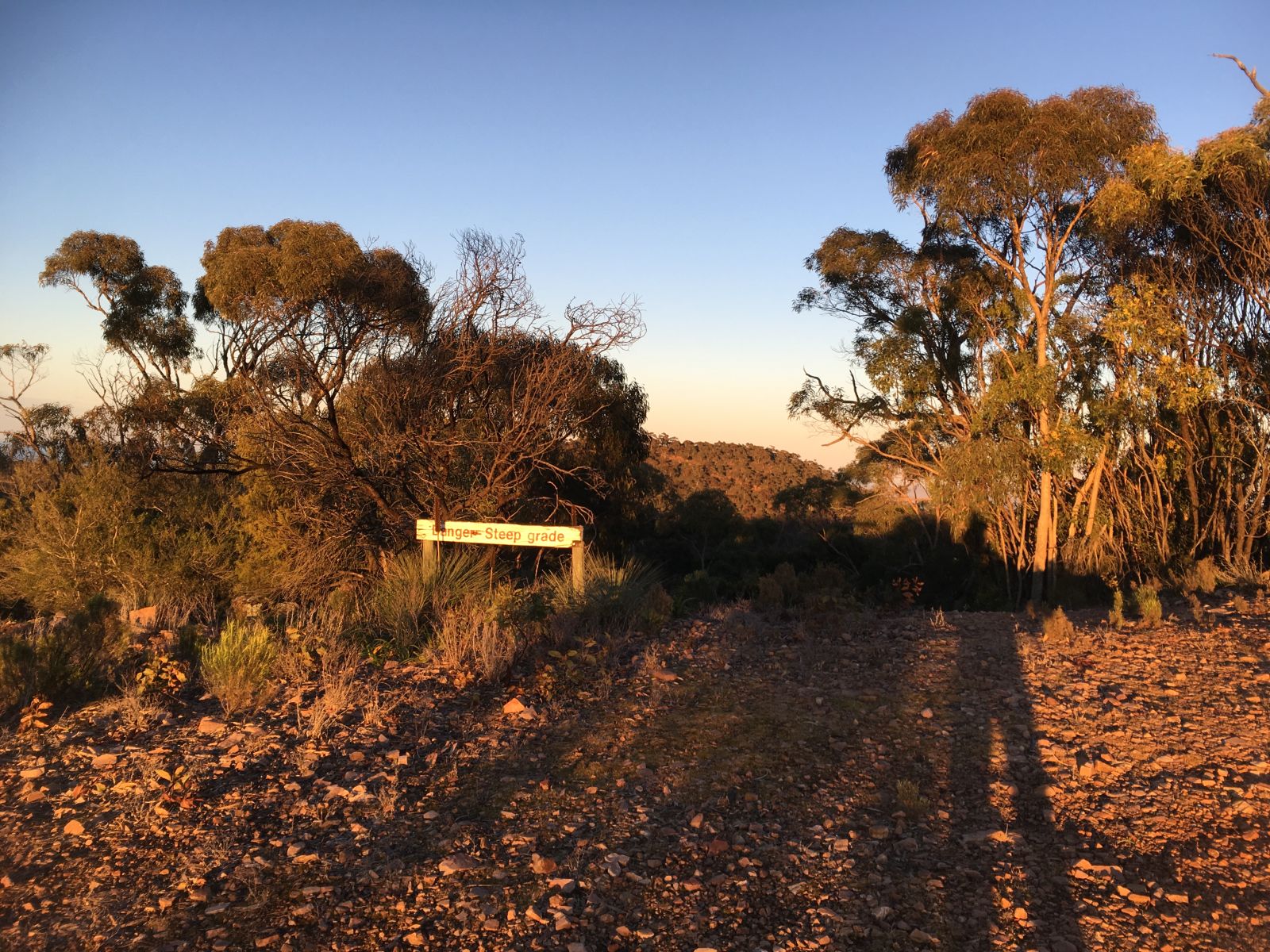 Careful on the steep and slippery down slopes, a twisted ankle was not what I needed. Soon I was facing the other side of the 'steep slopes' section. With the fight back in my system, I set to.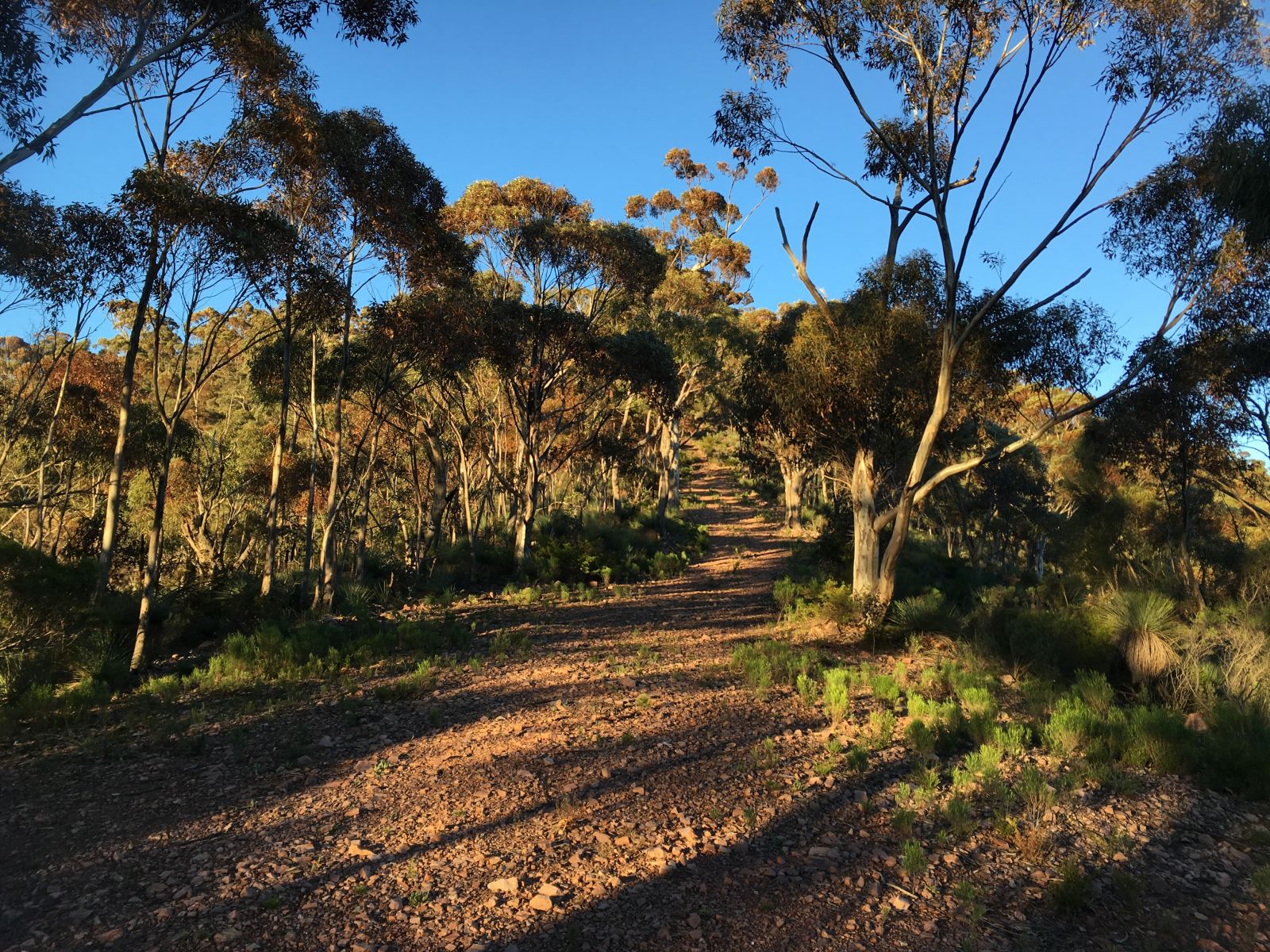 Steady, but never not going to conquer this one. Worth it too.
SA's signature azure blue skies were starting to make an appearance, after being overcast yesterday.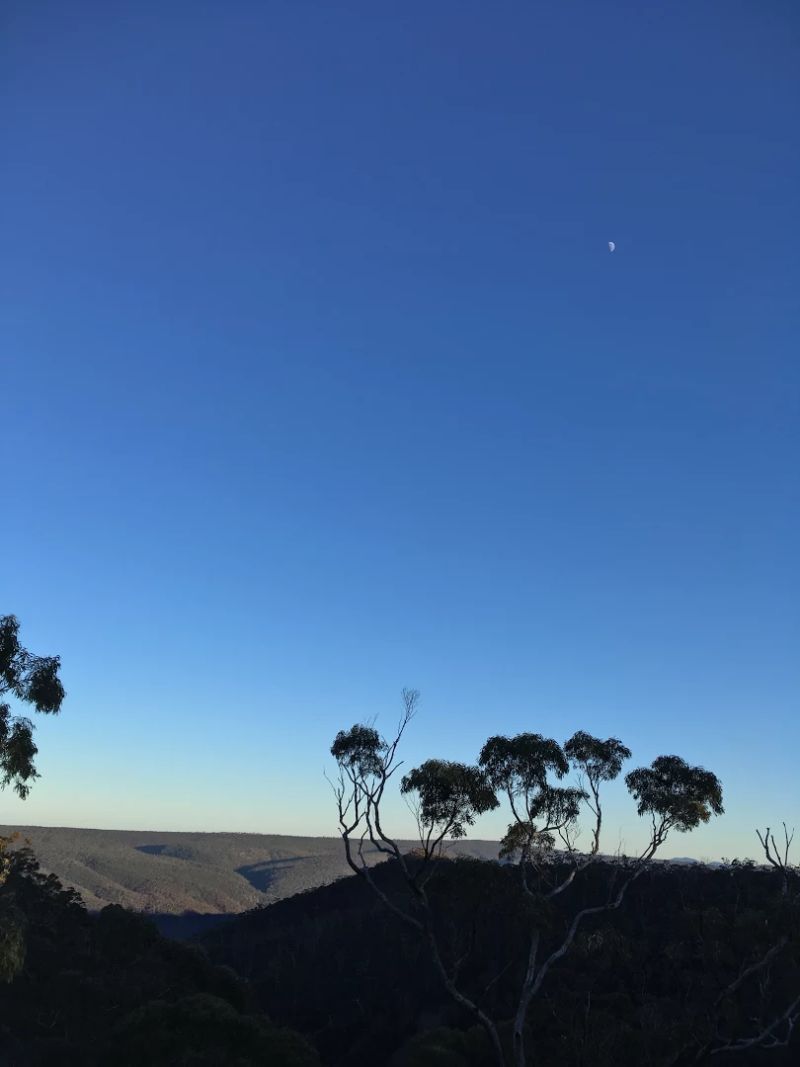 As was the tall man.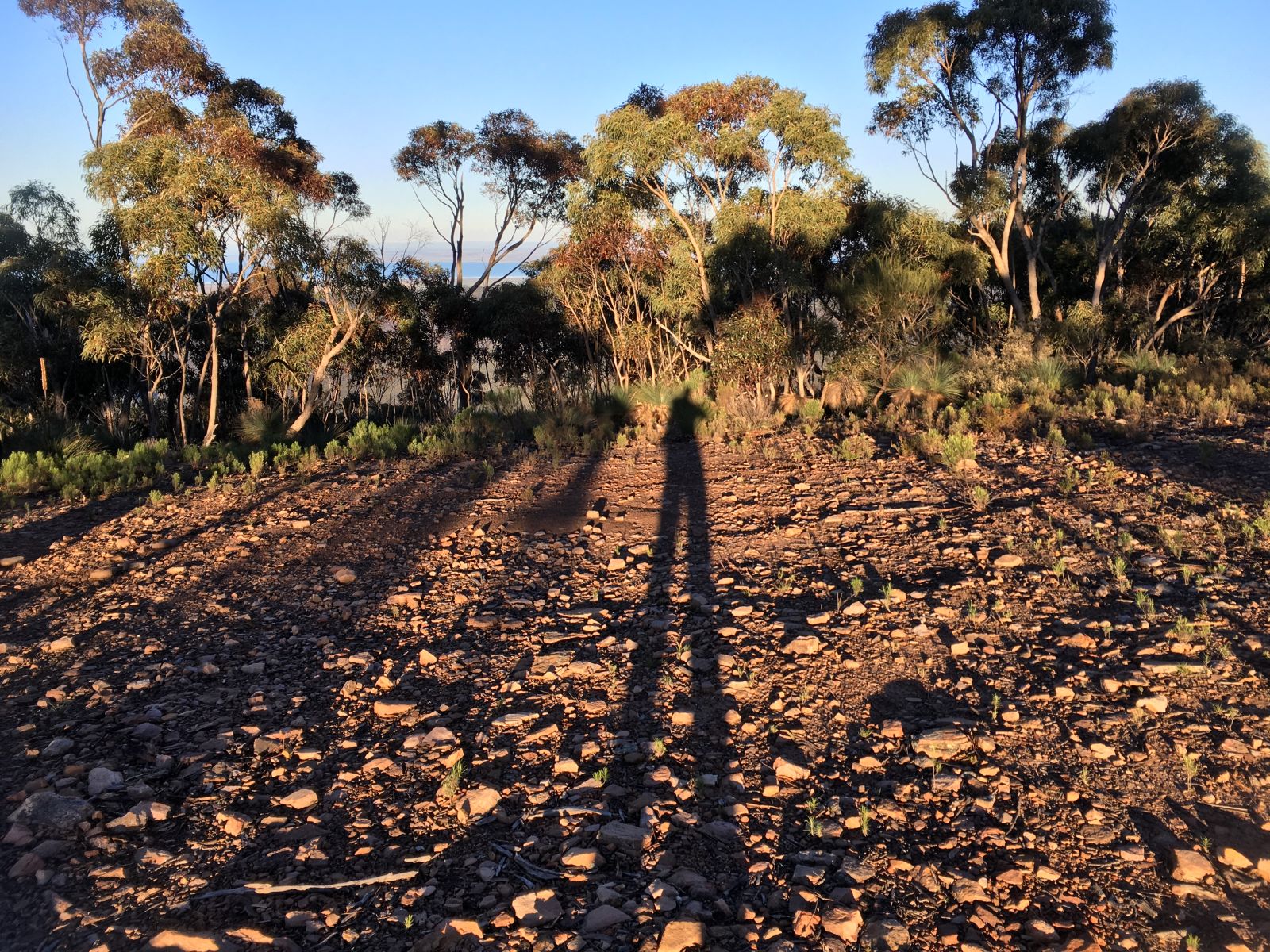 Back to here.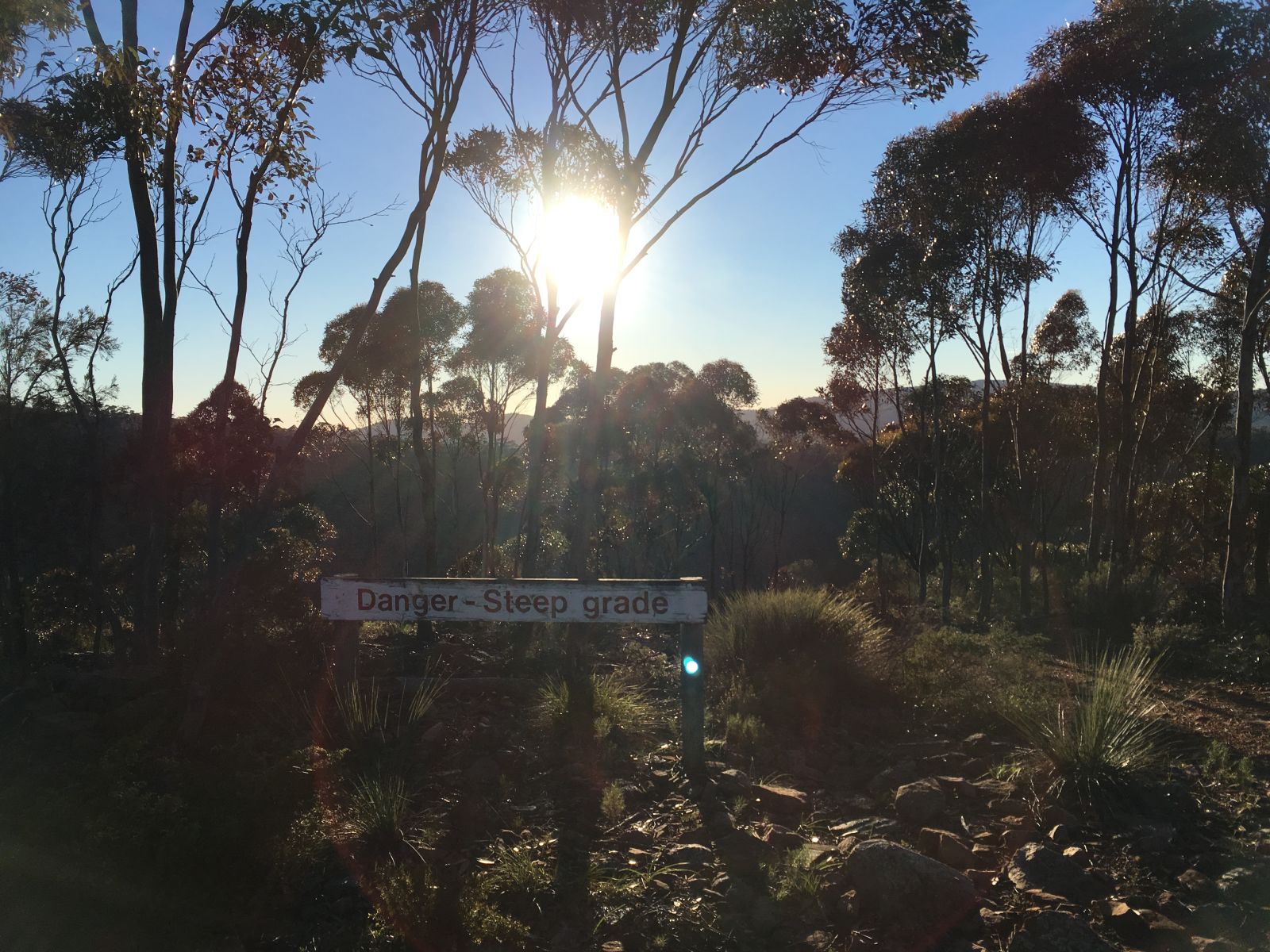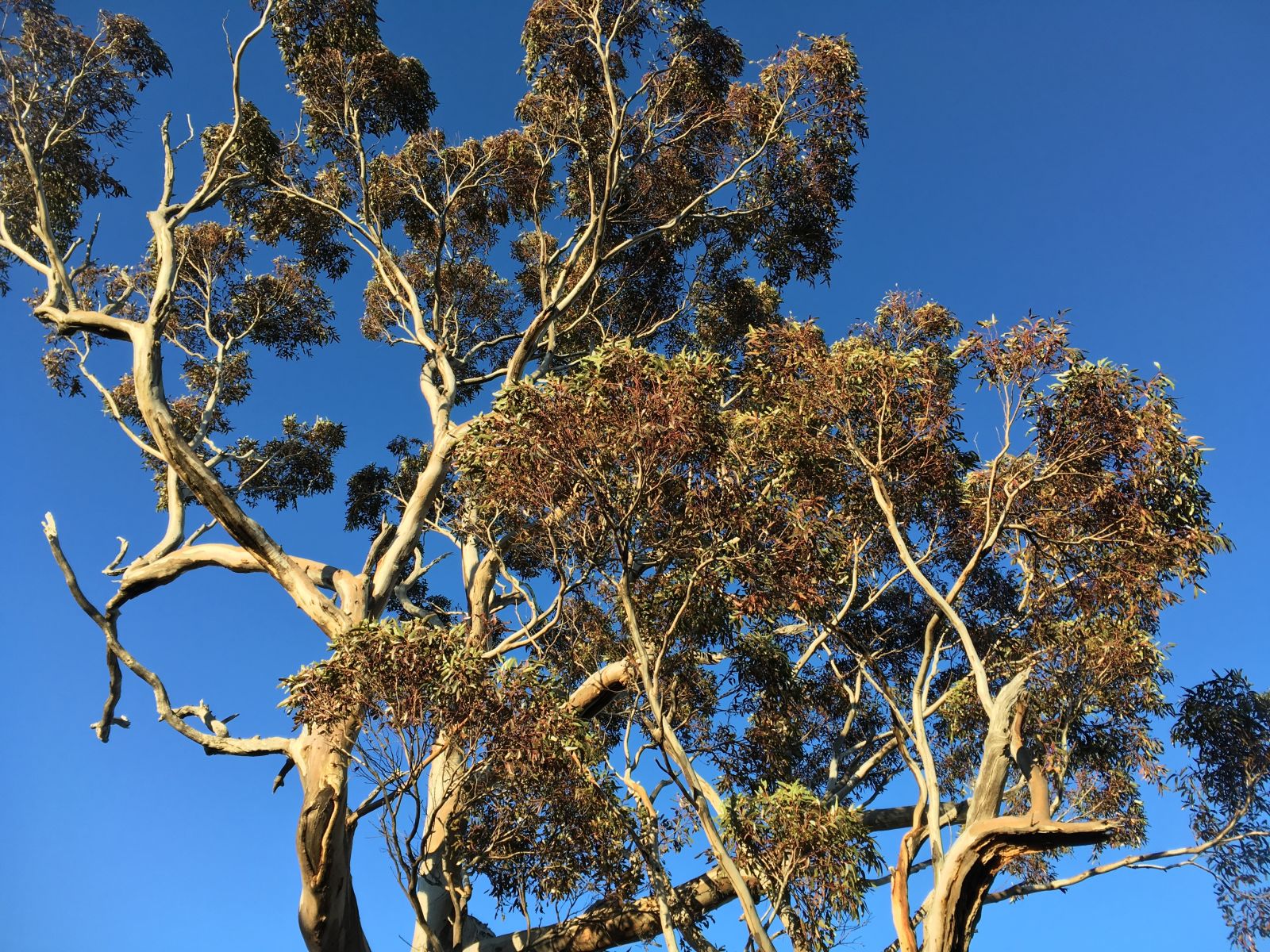 A few shots from the way down.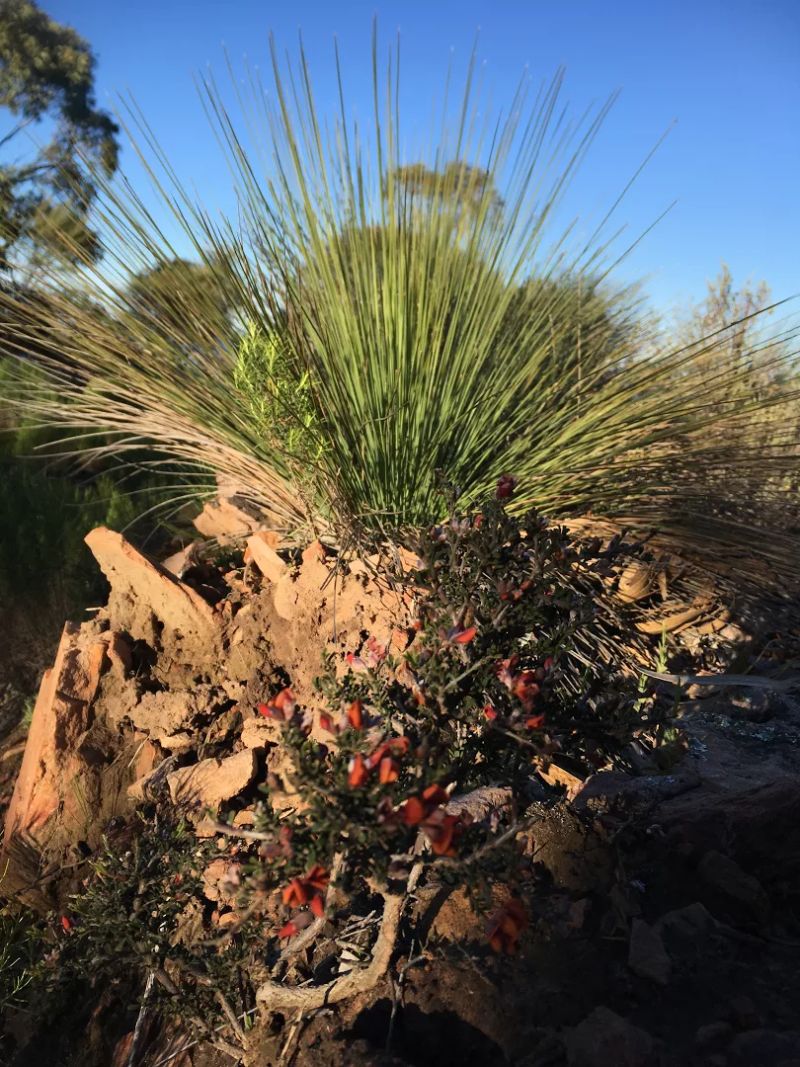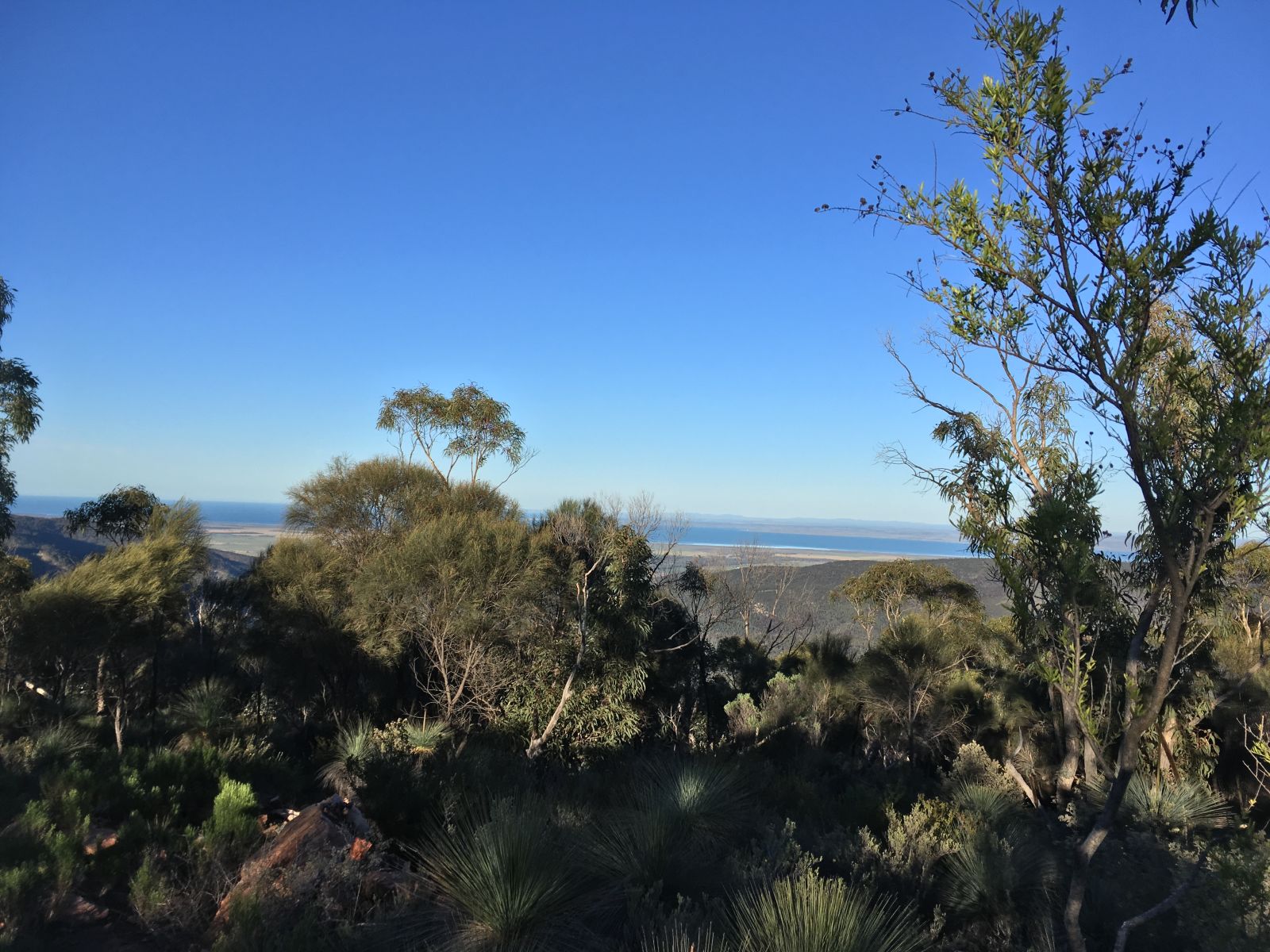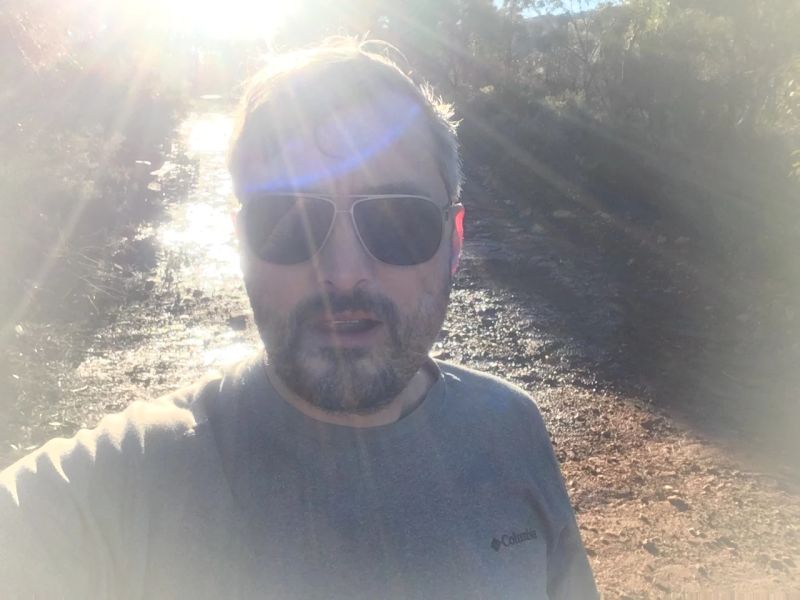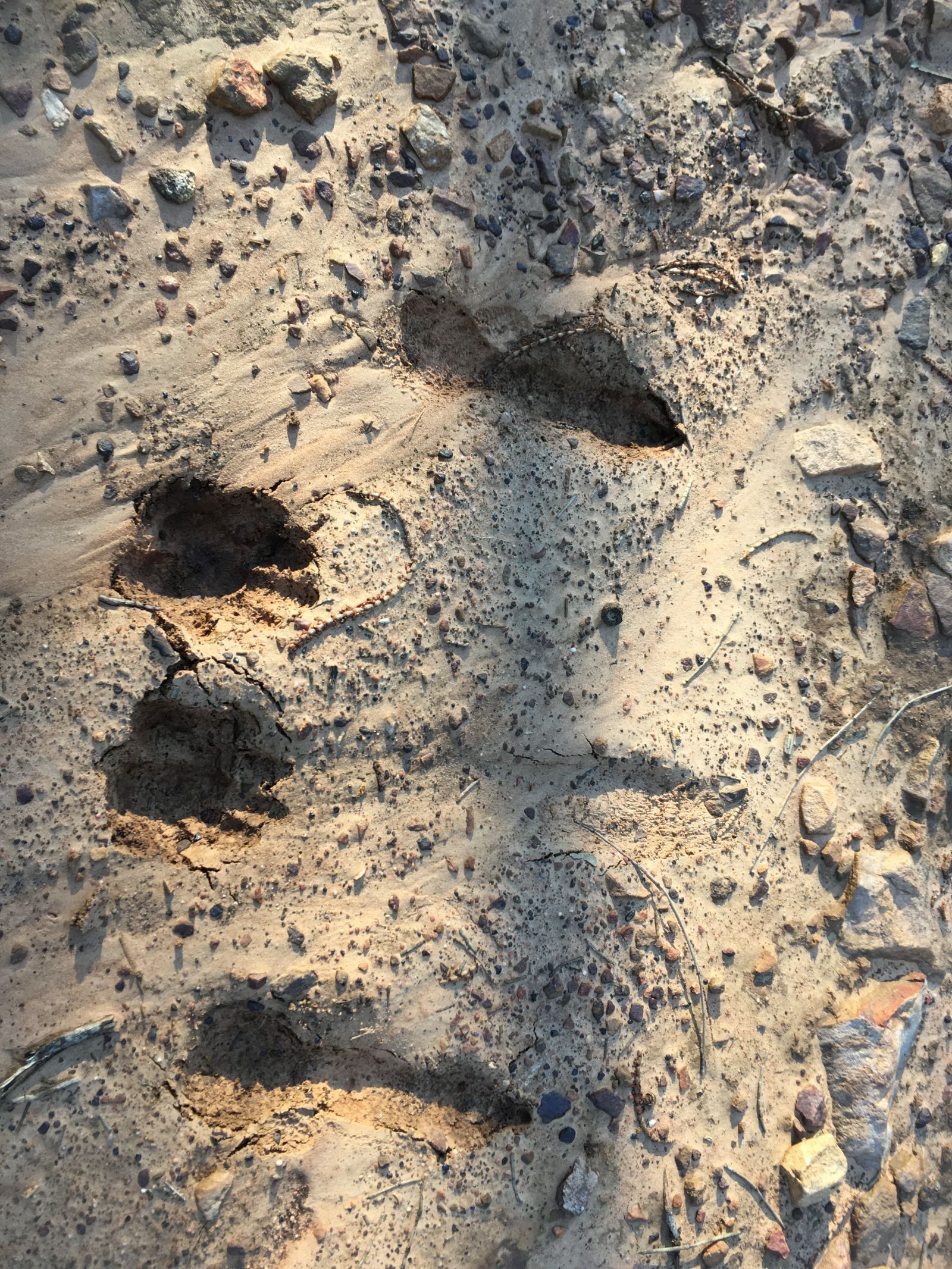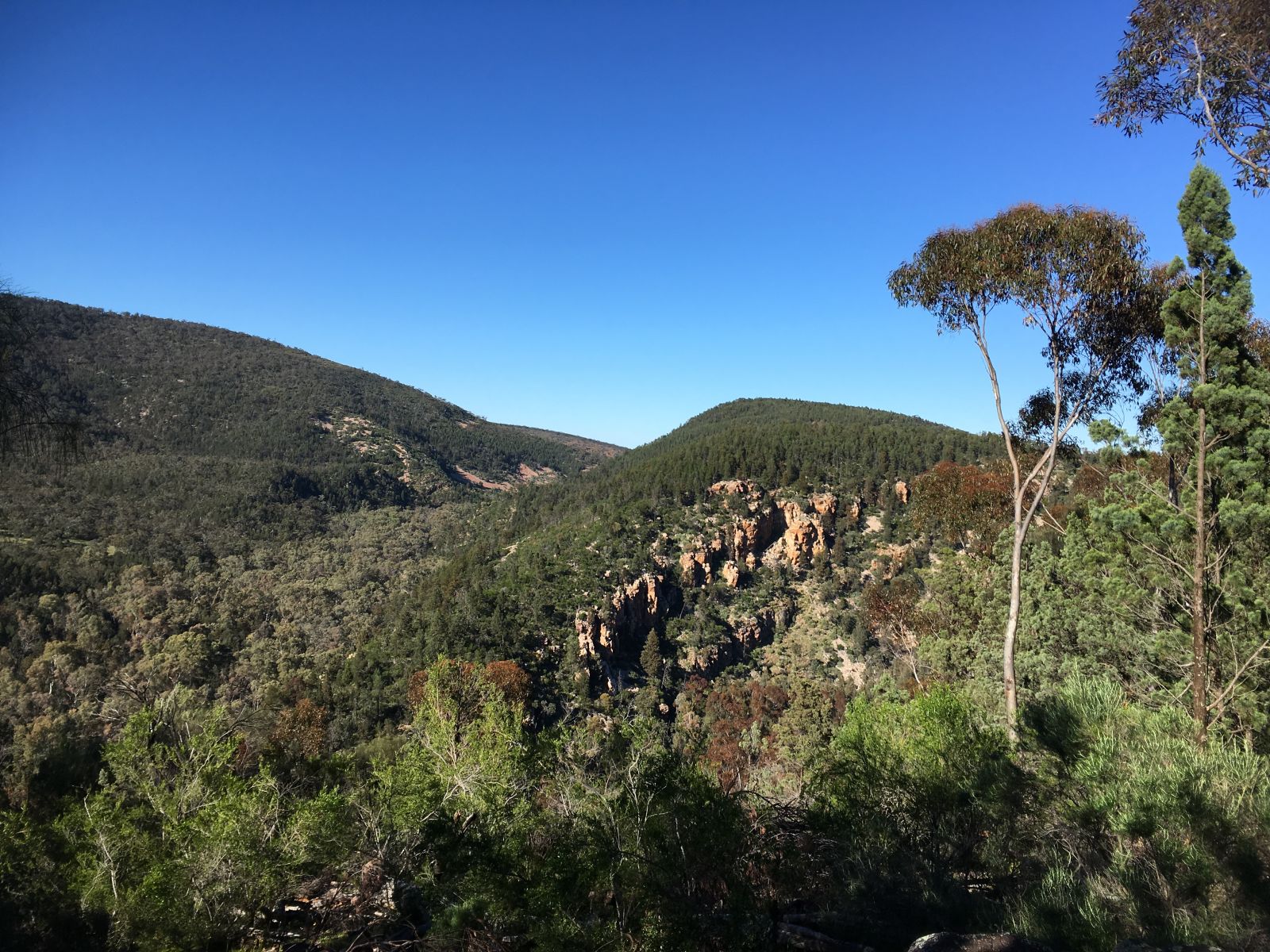 Back at water level.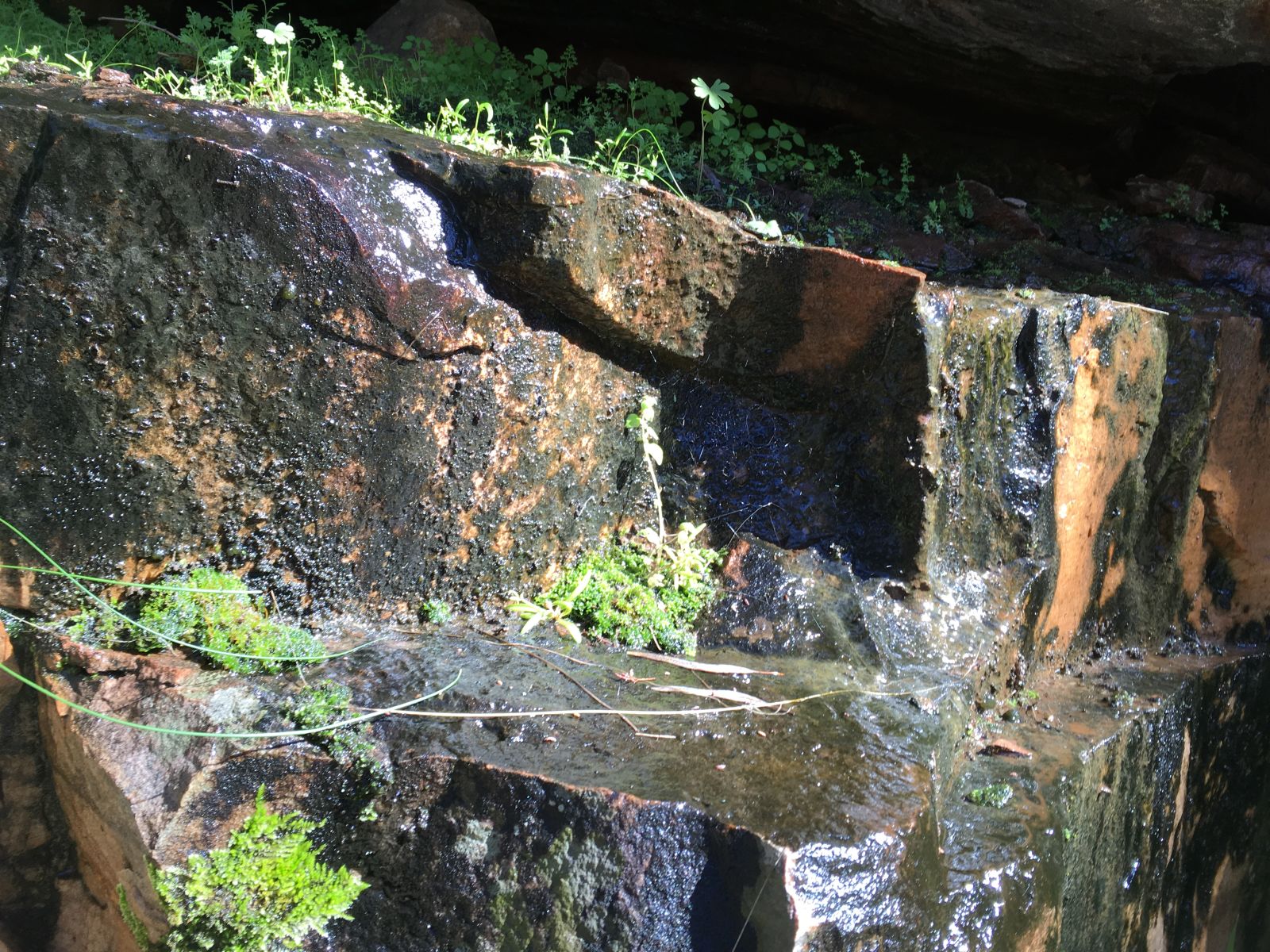 Knowing I only had a few kays between me and the truck I could smash through the water crossings, boots and all.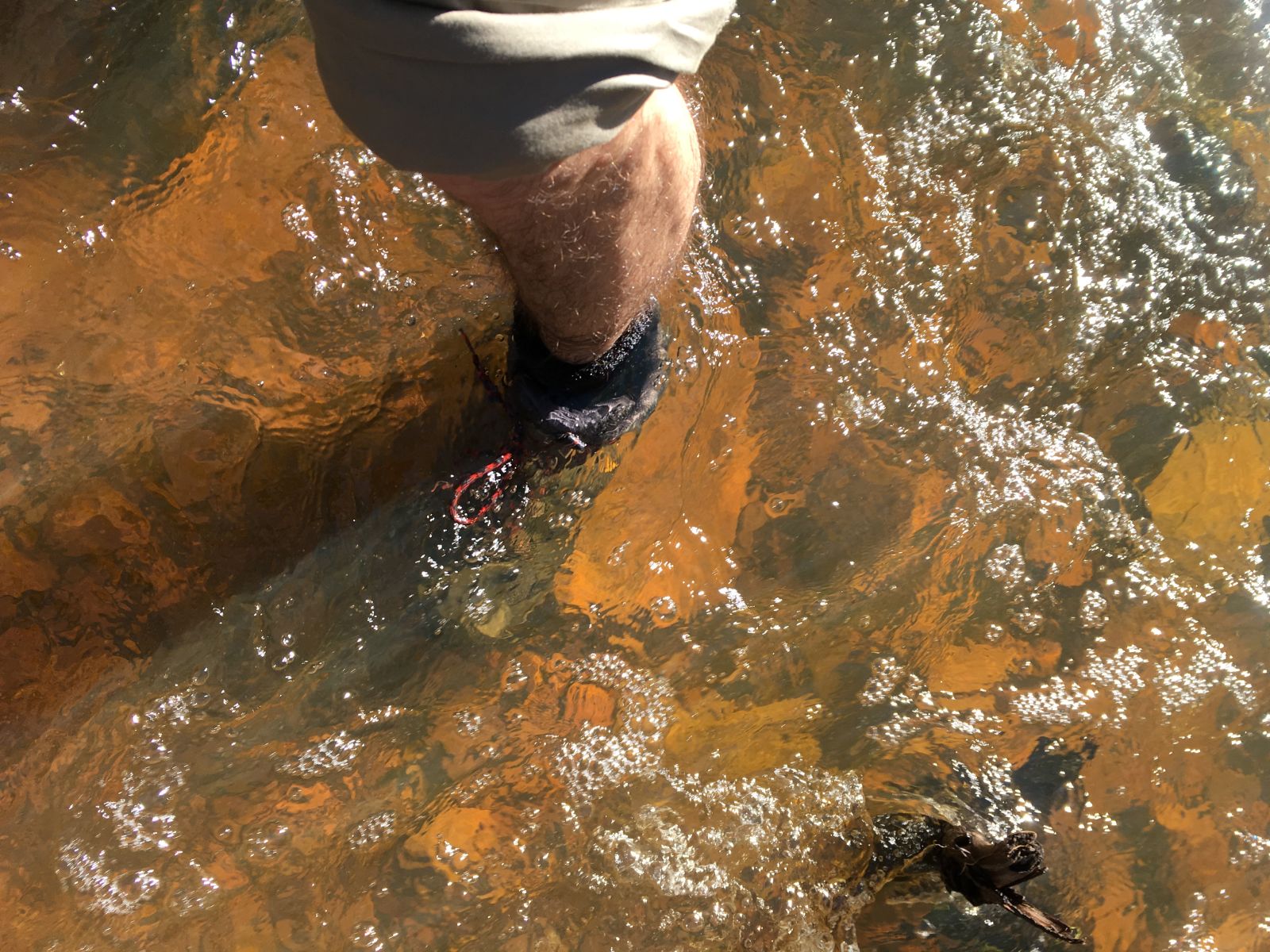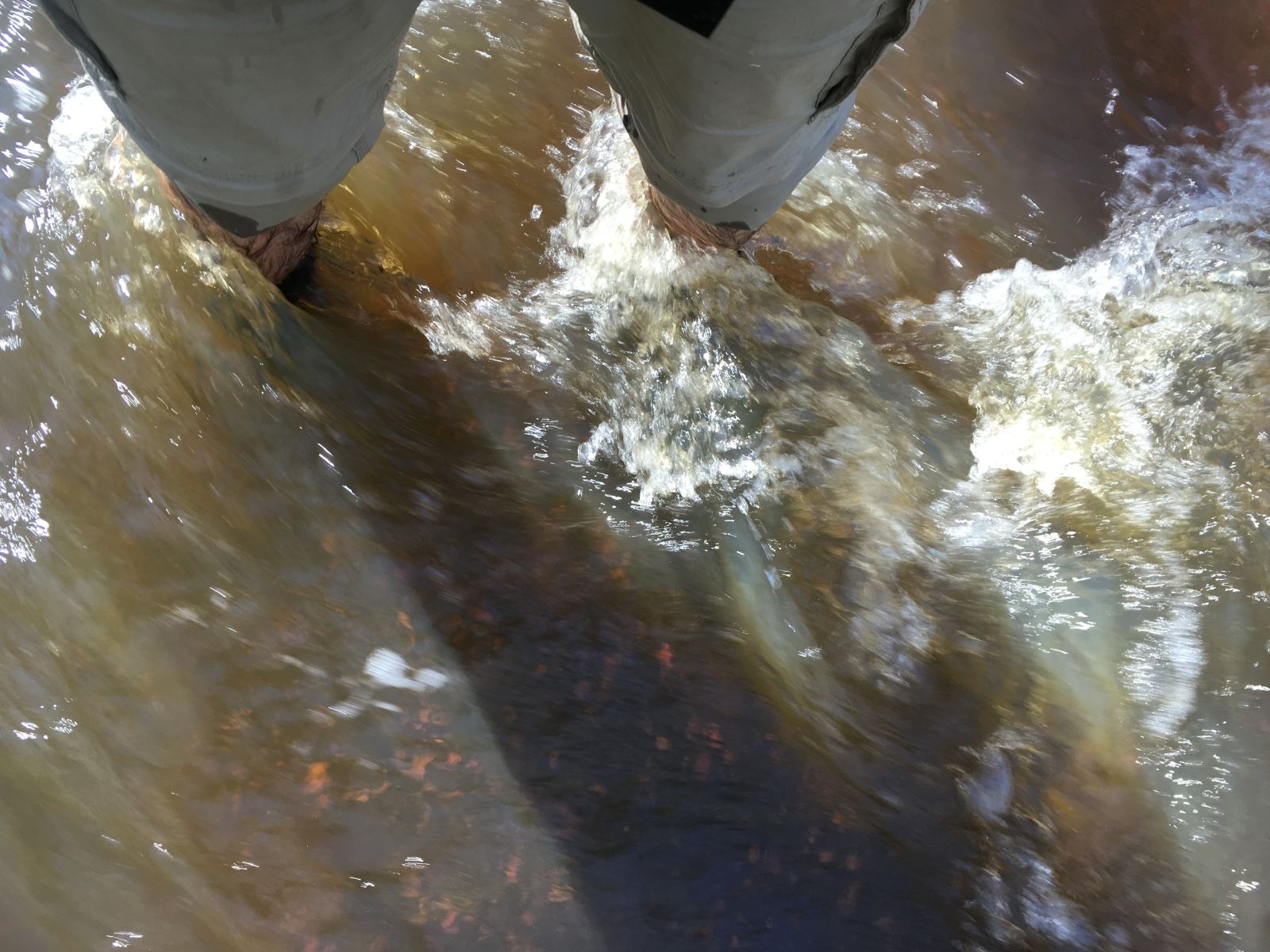 The burnt out gums providing a contrast to the water rushing beside the trail.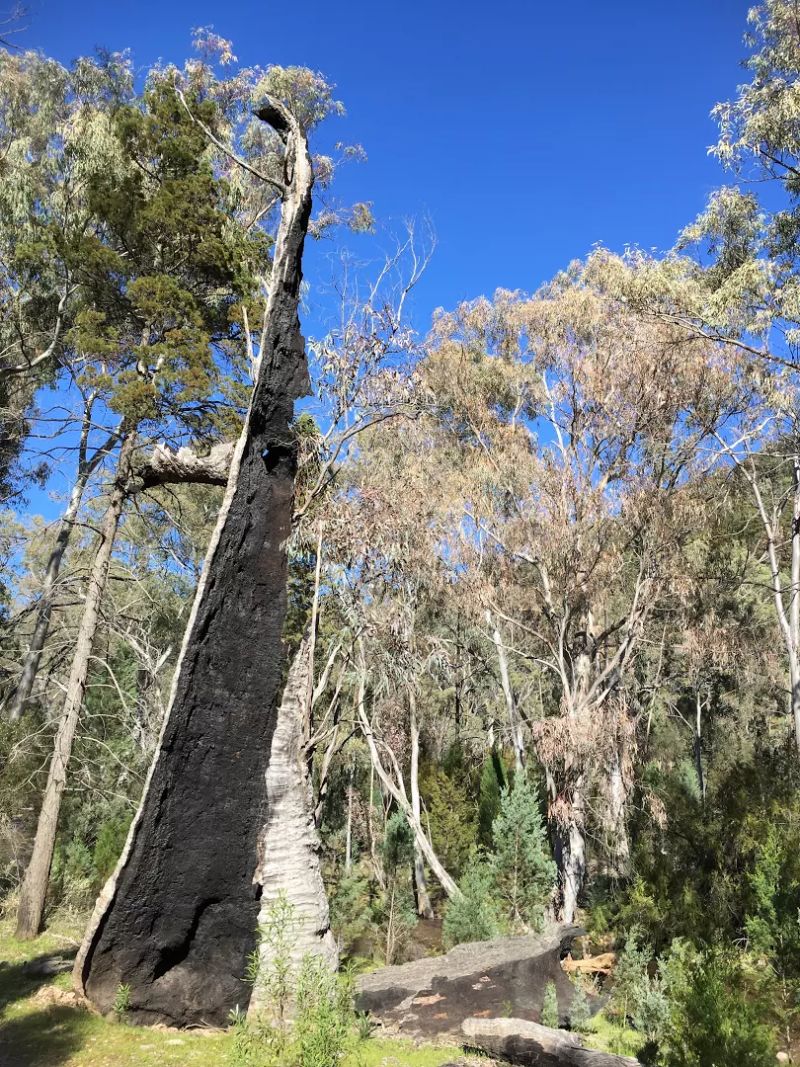 Australia. A place of extremes.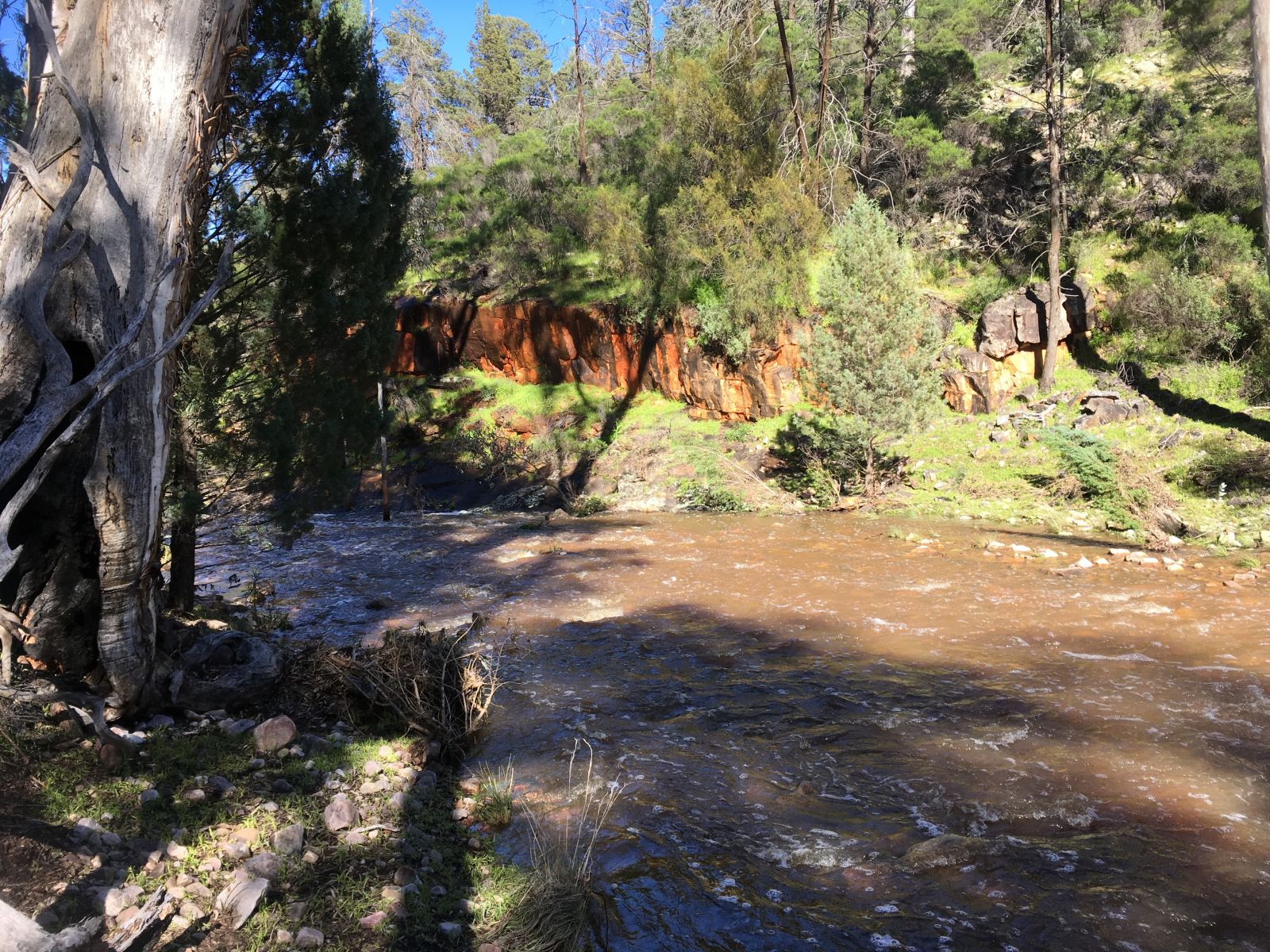 Back at the truck.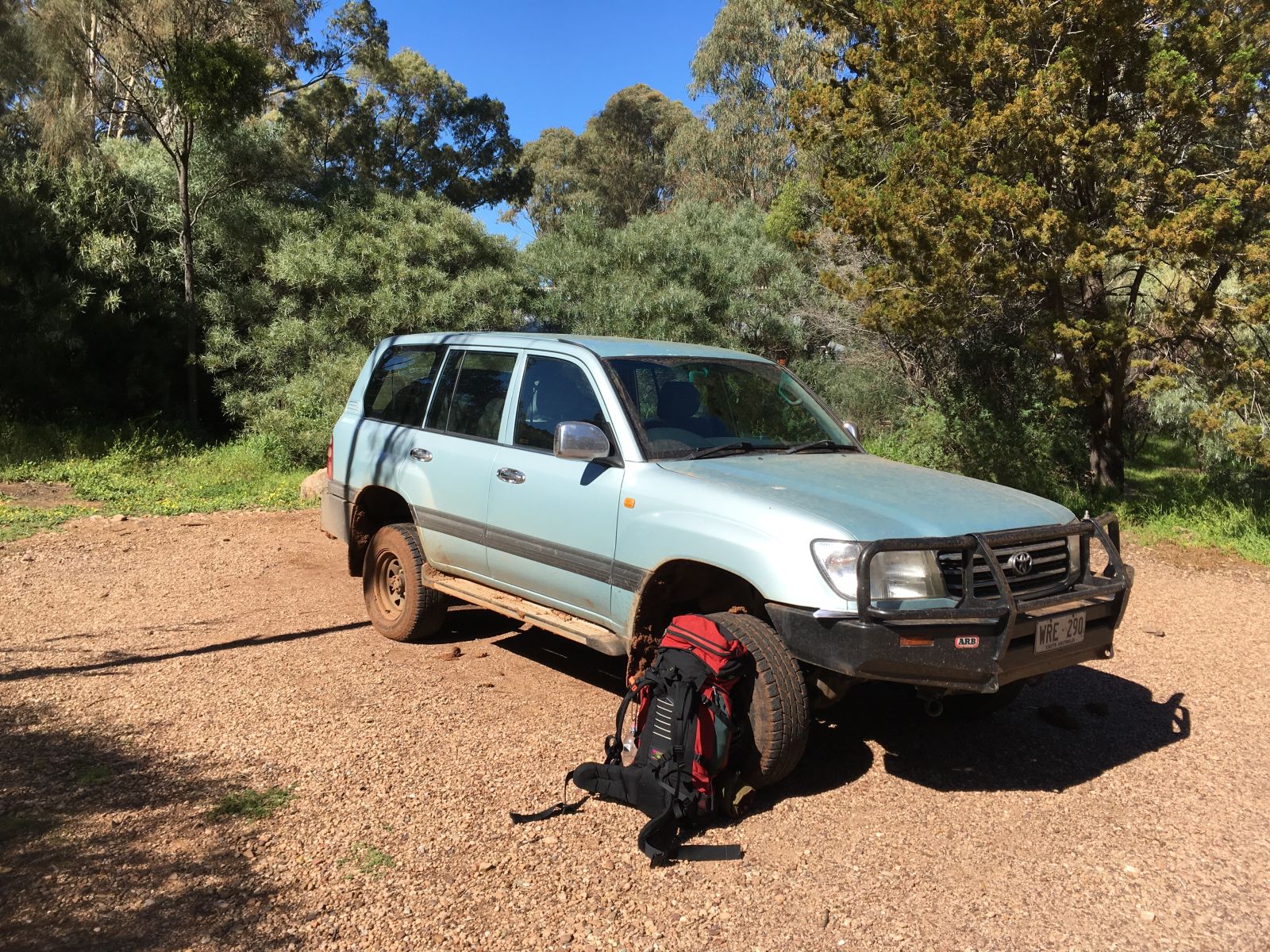 A quick shower and a change of clothes. That feels good. Now the day was still young. Time to hit some of the roads I had spotted on the topo map last night. First back out onto the highway, depositing clods of dirt as I went, sorry, sorry…
Back Roads Meandering.
Then onto Germein Gorge road again, in the light this time. Could I drive the three hours to here just to run the 6er on this road? Yep.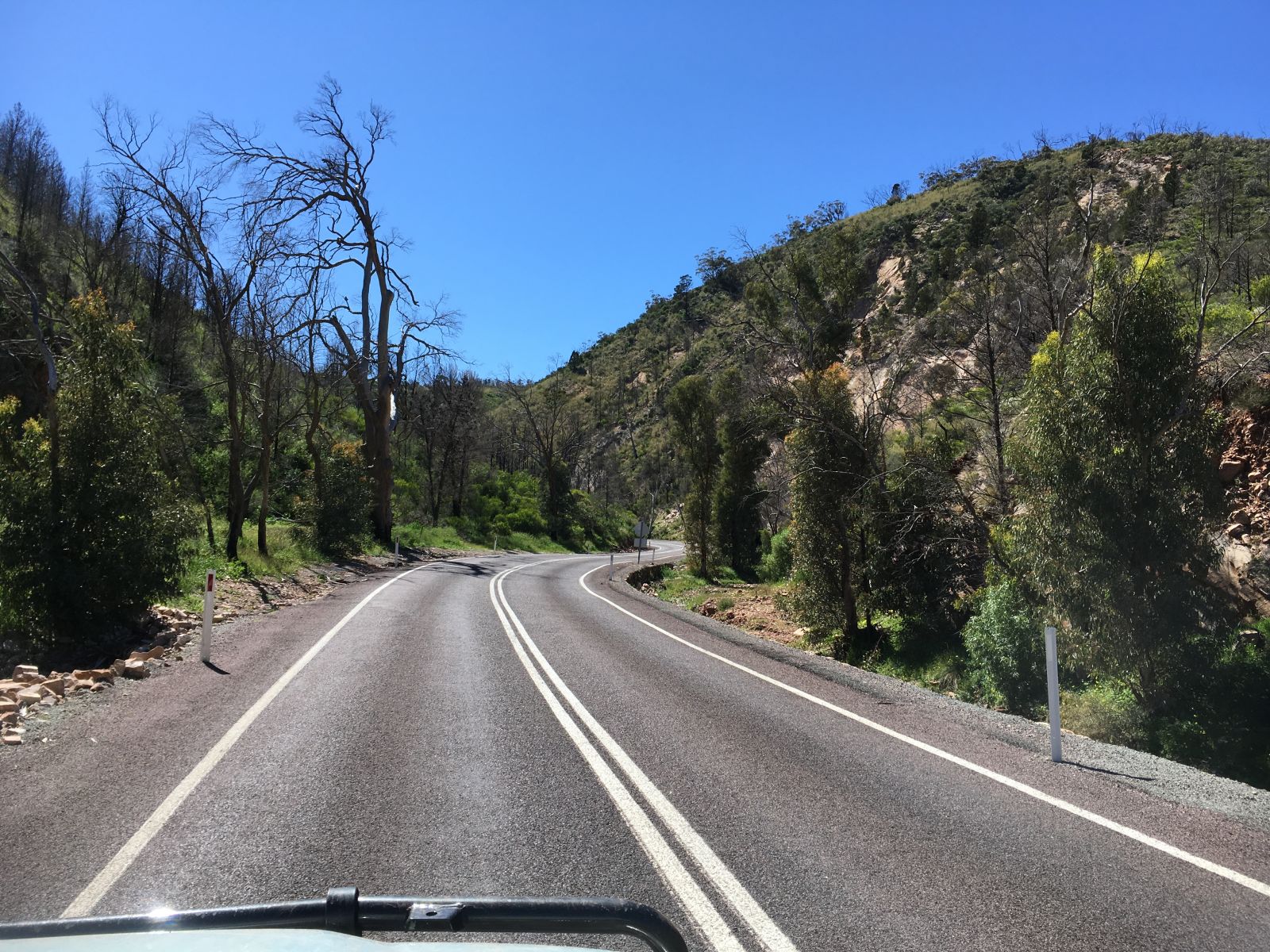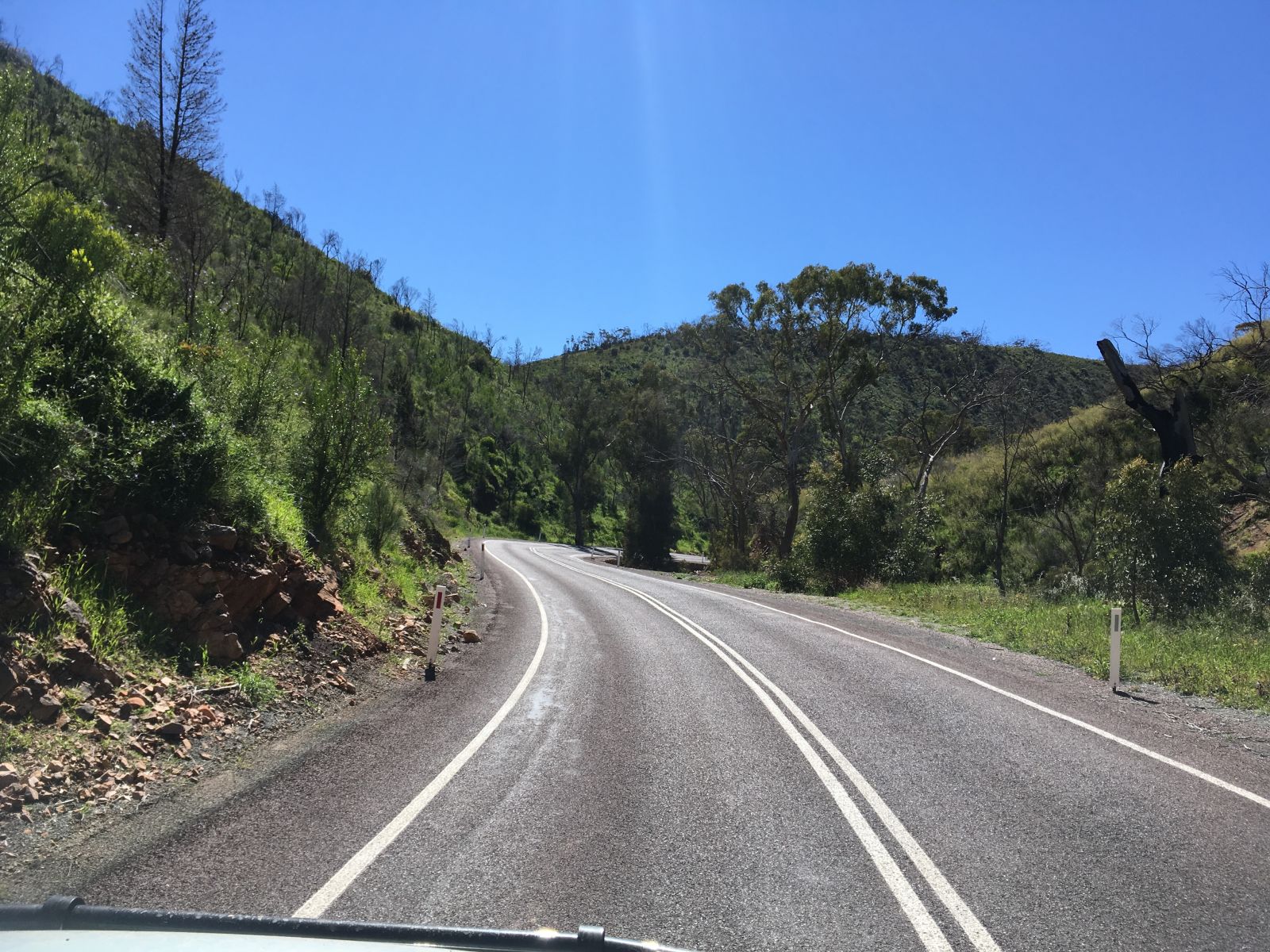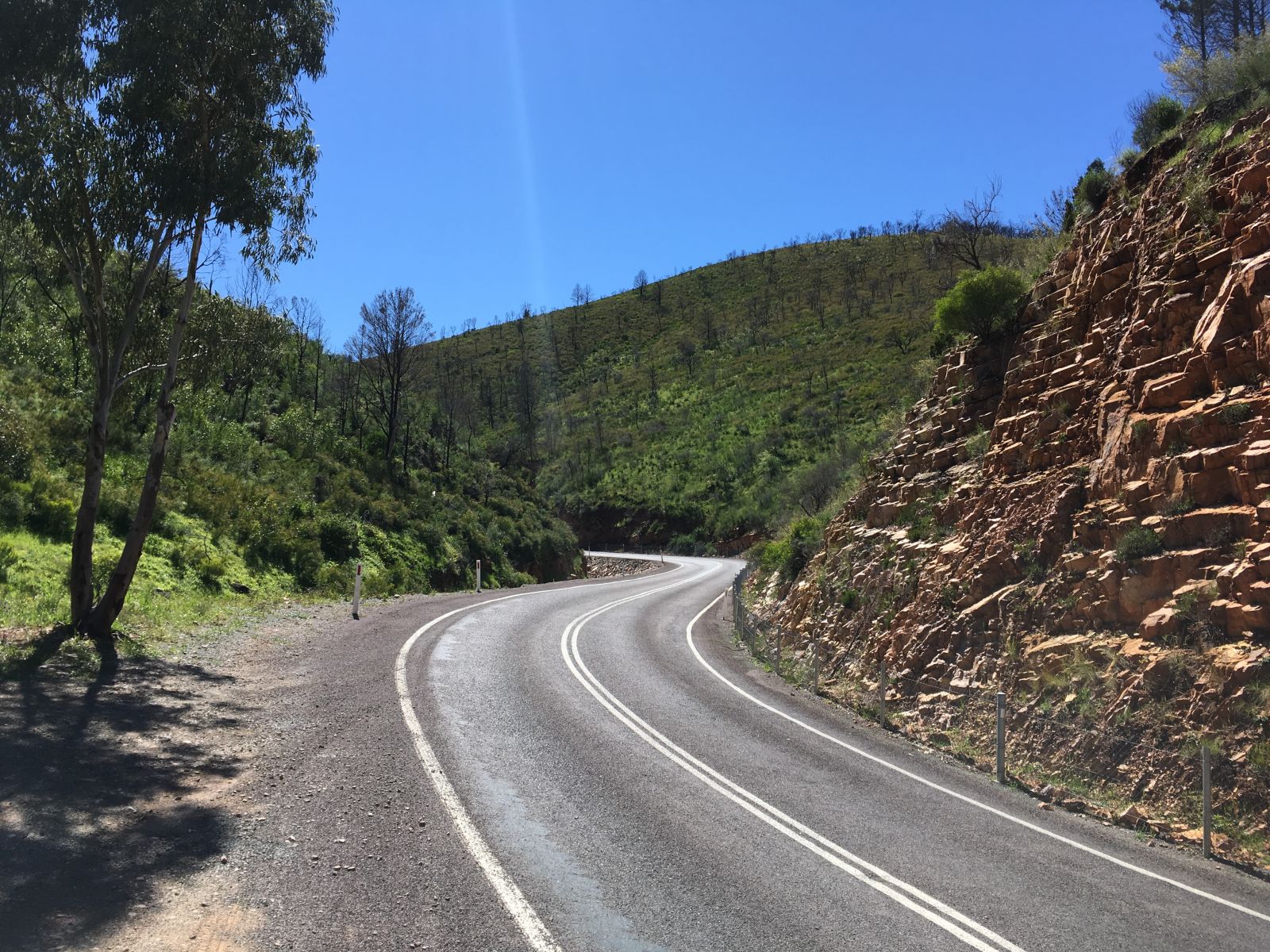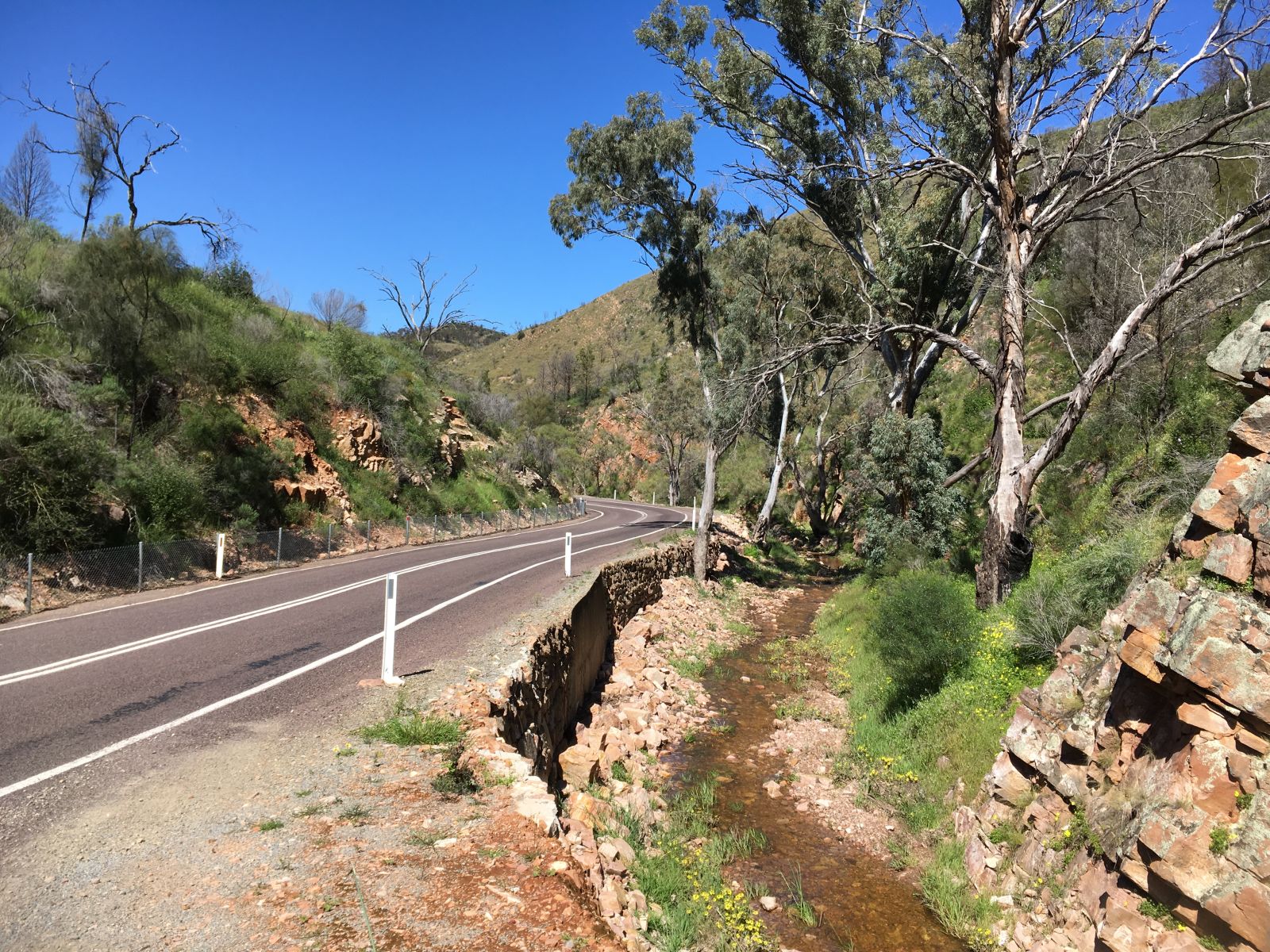 I speared off. Onto some more fast and flowing farm tracks.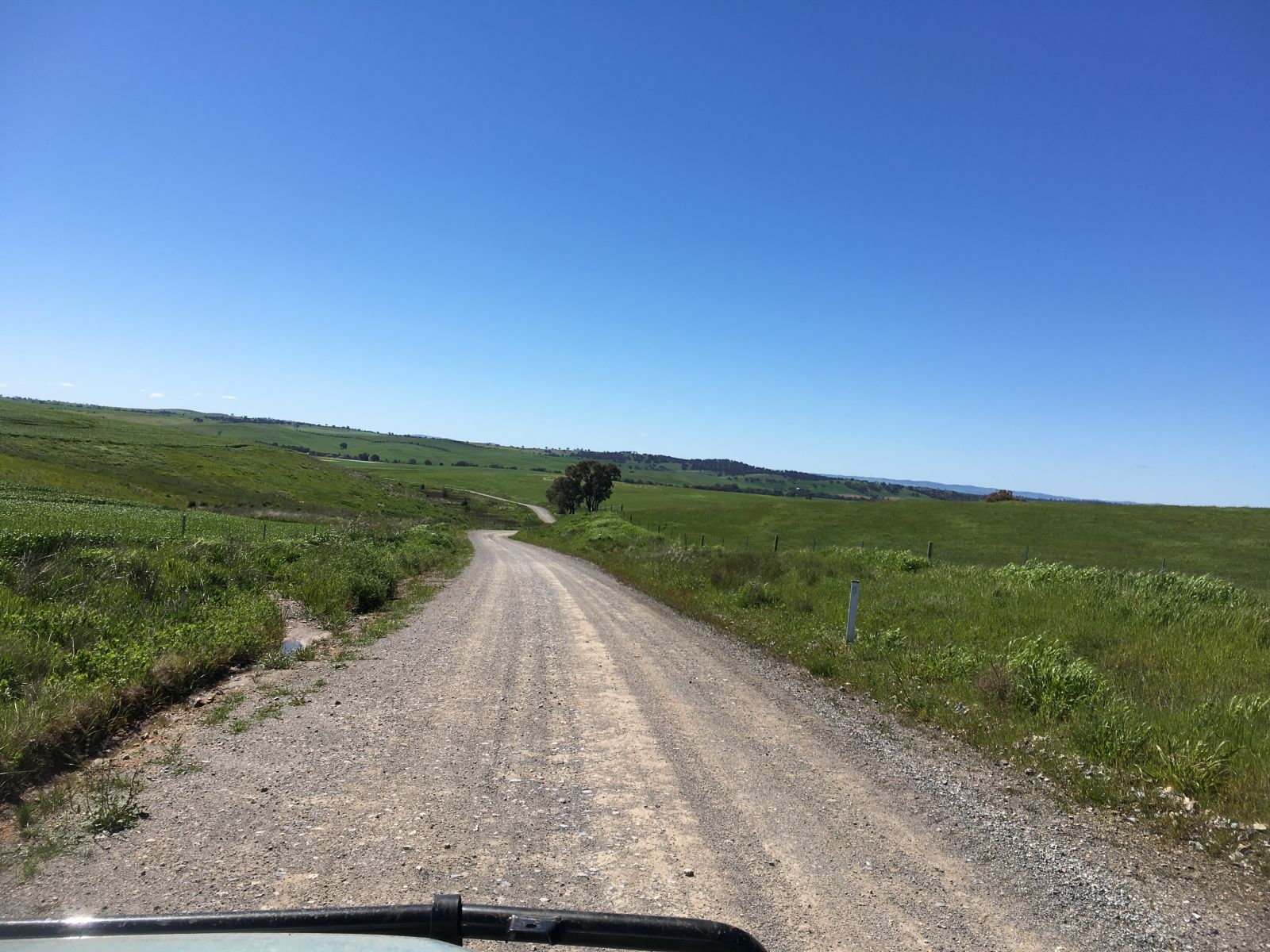 Onto the township of Wirrabara, ready for some food. Two days no coffee or alcohol, I felt purged, cleansed and pure right? Nope, I felt like a beer. Still driving to do though, coffee would have to do. I scored some local plonk for later.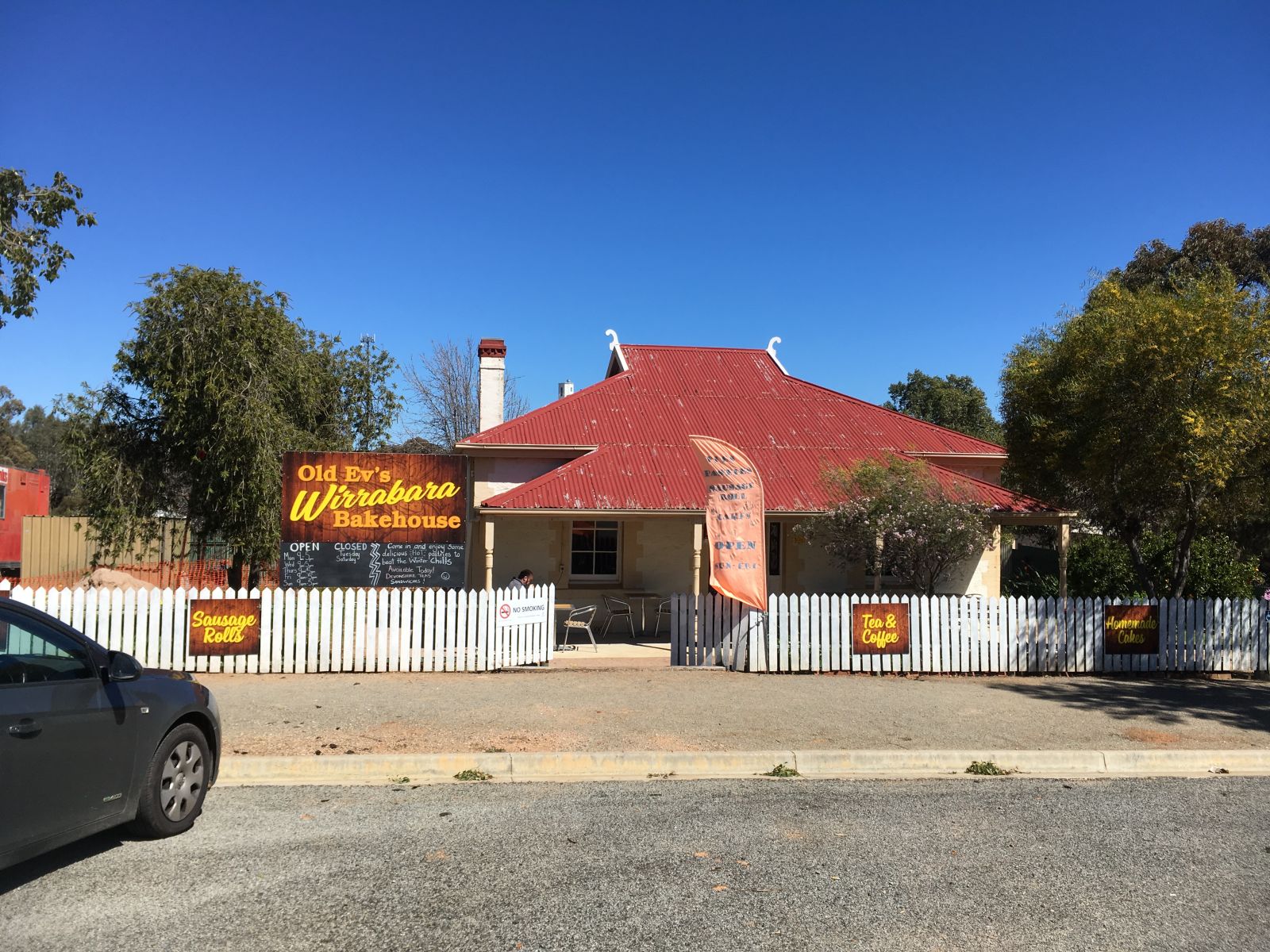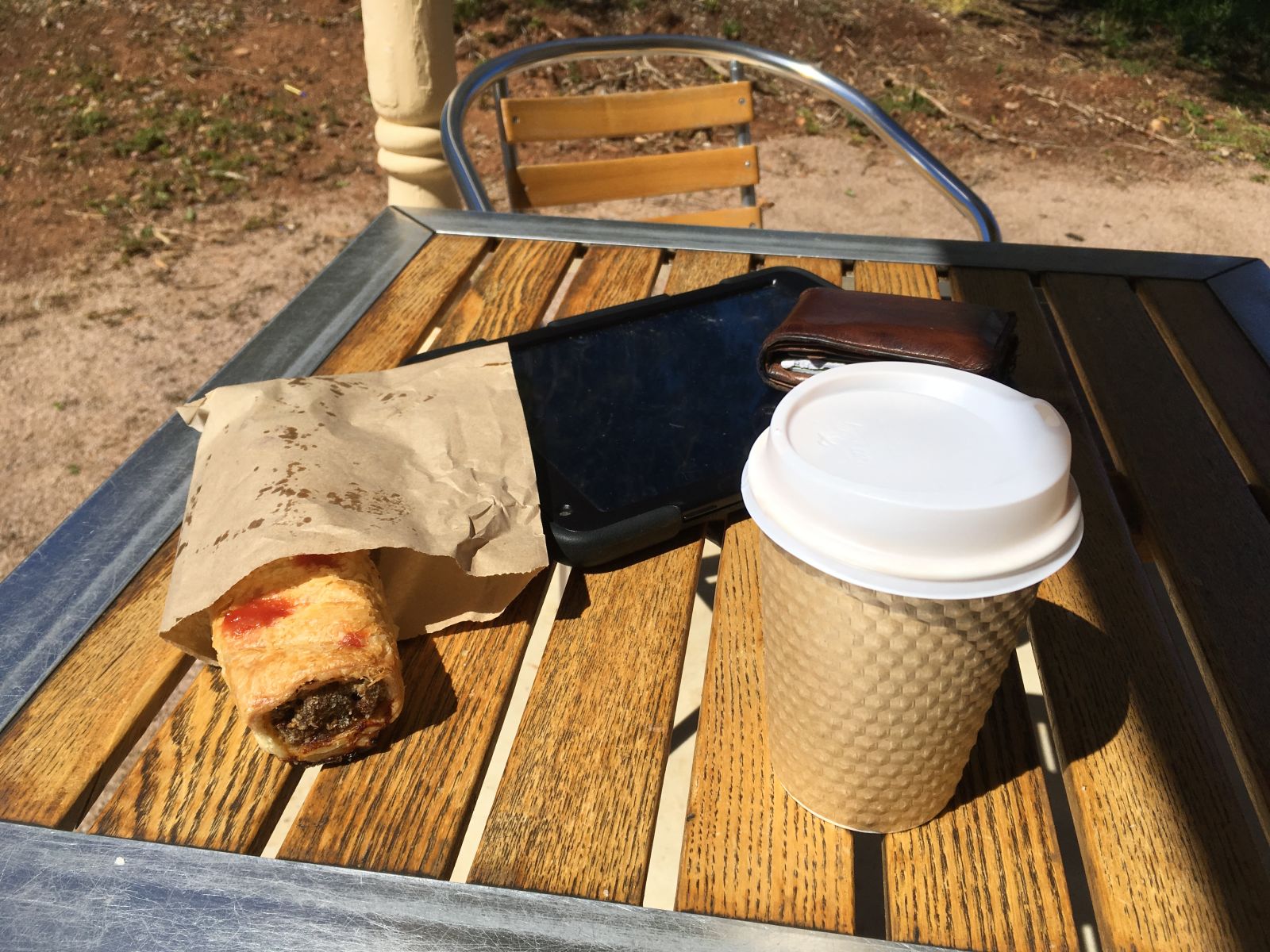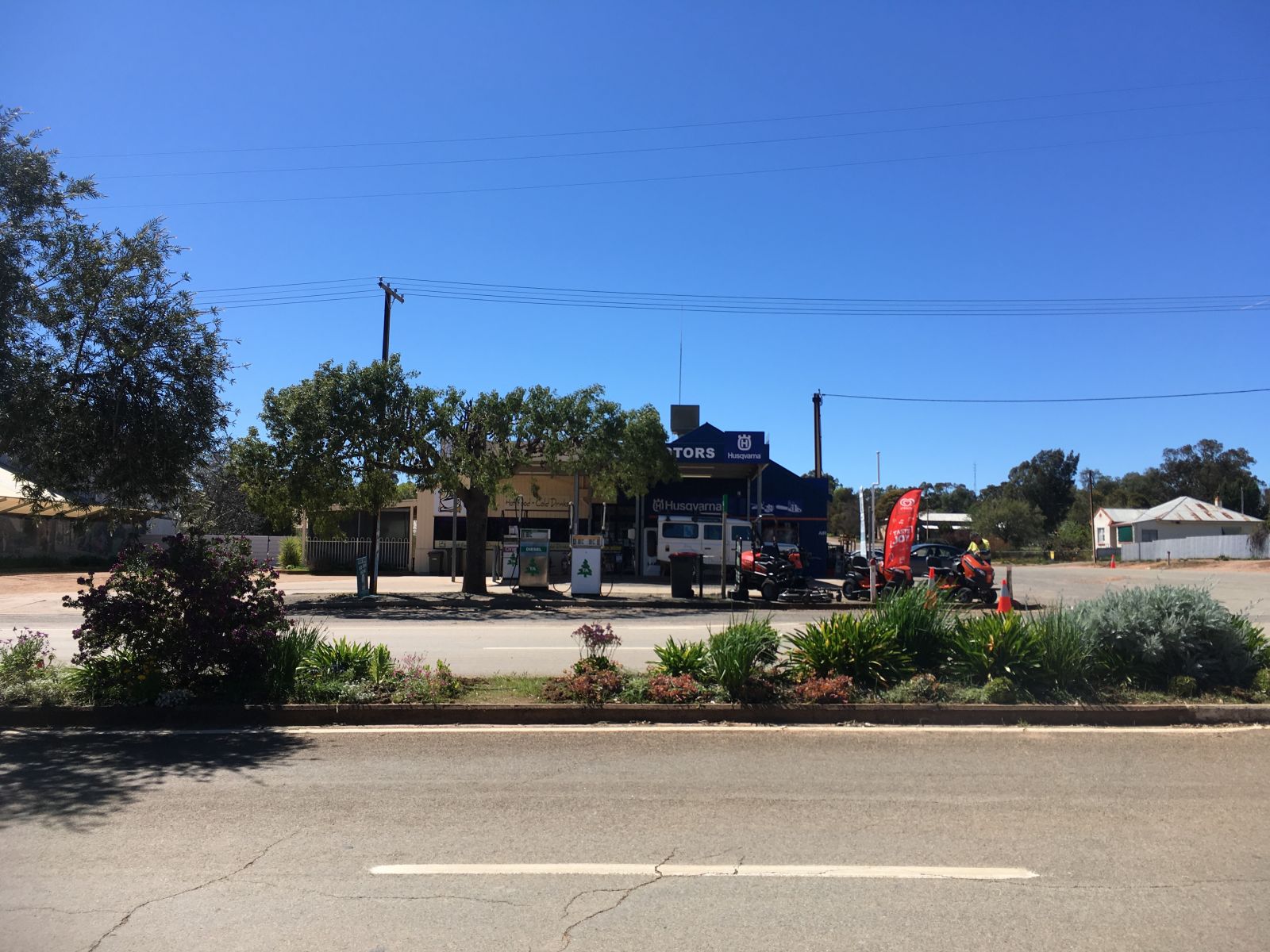 Fuelled up it was time for some more exploring. Nothing too mad, just some roads I hadn't run before. Off the bitumen, back to dirt.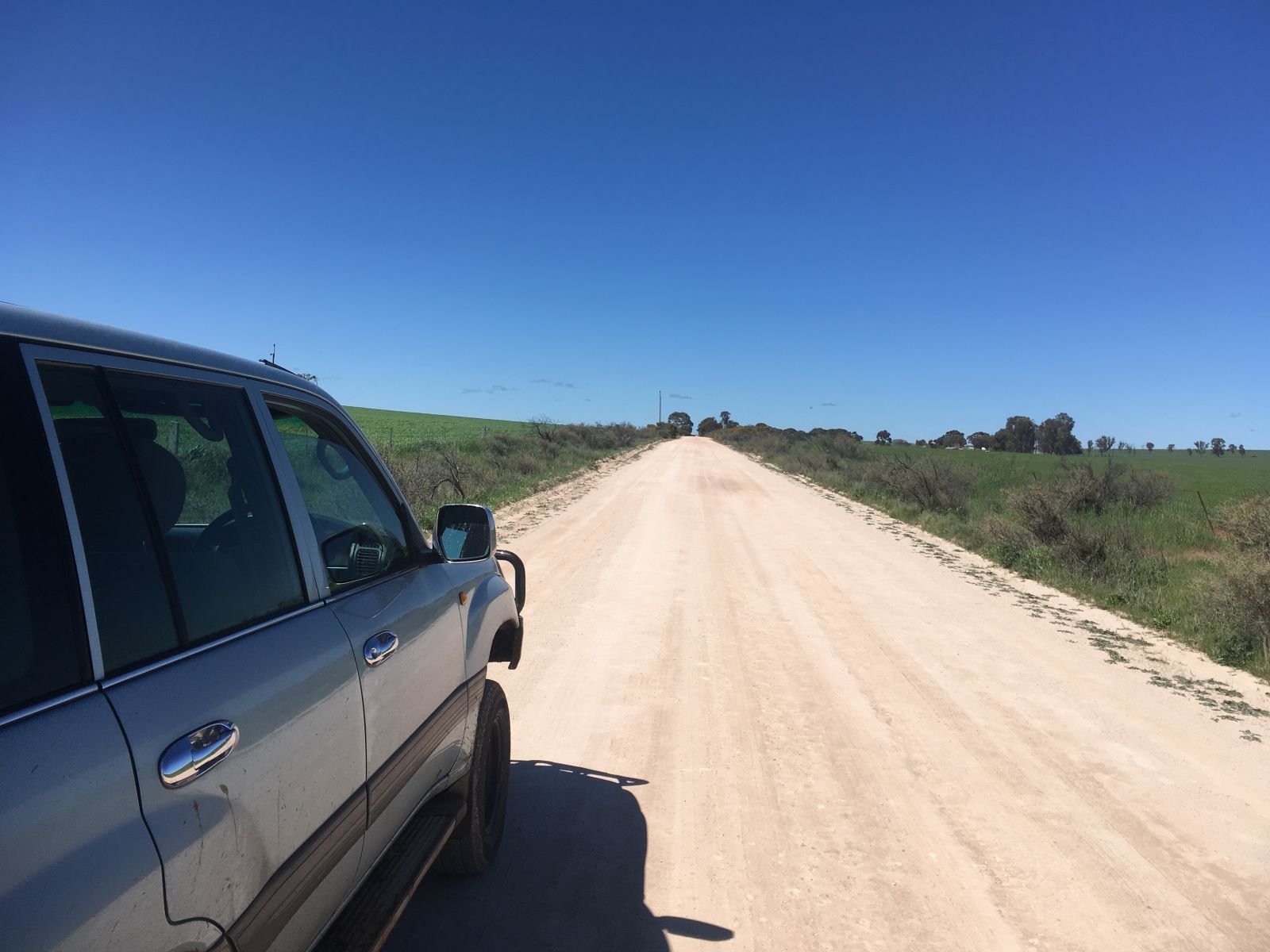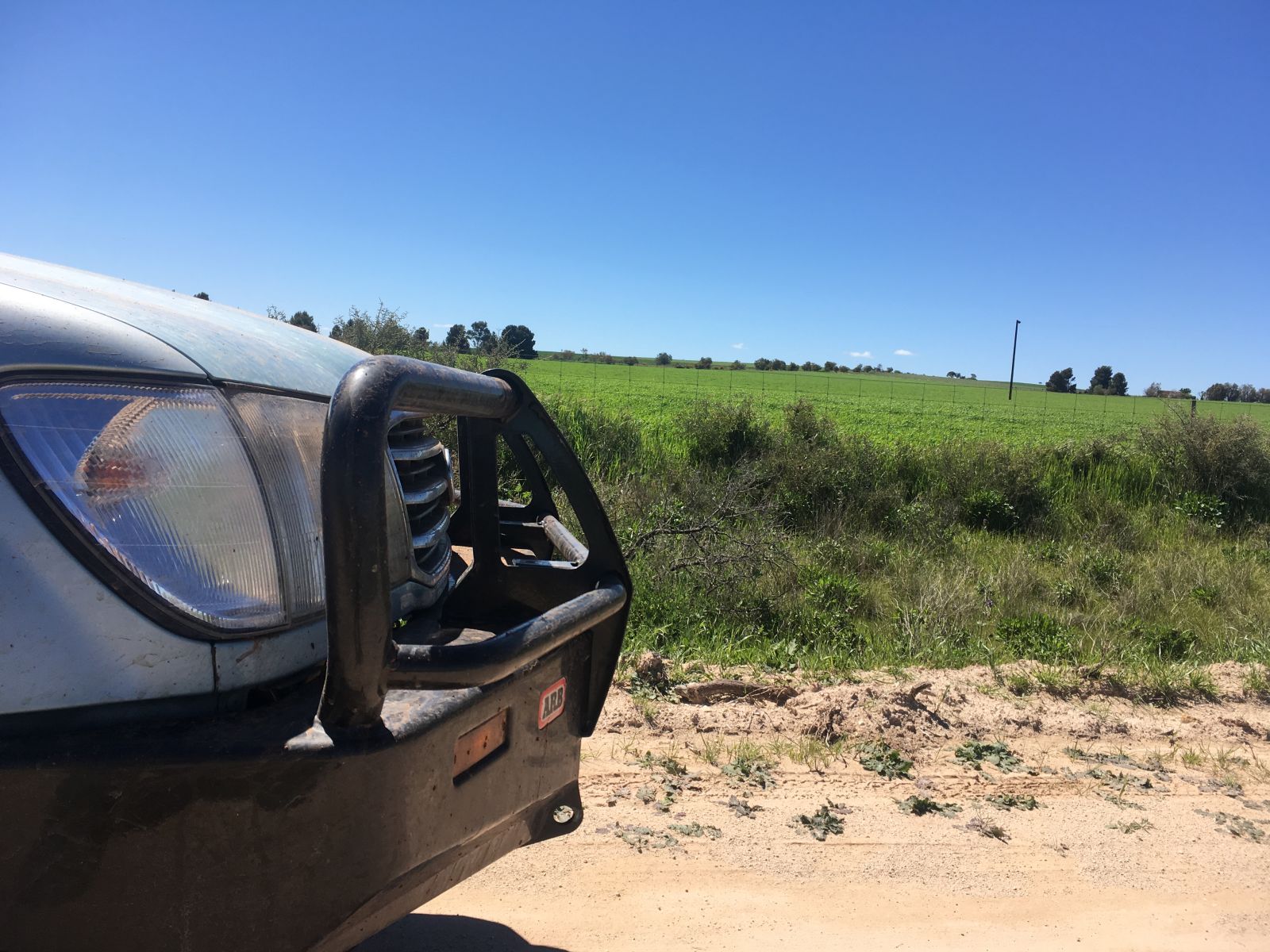 Let's take the road less travelled.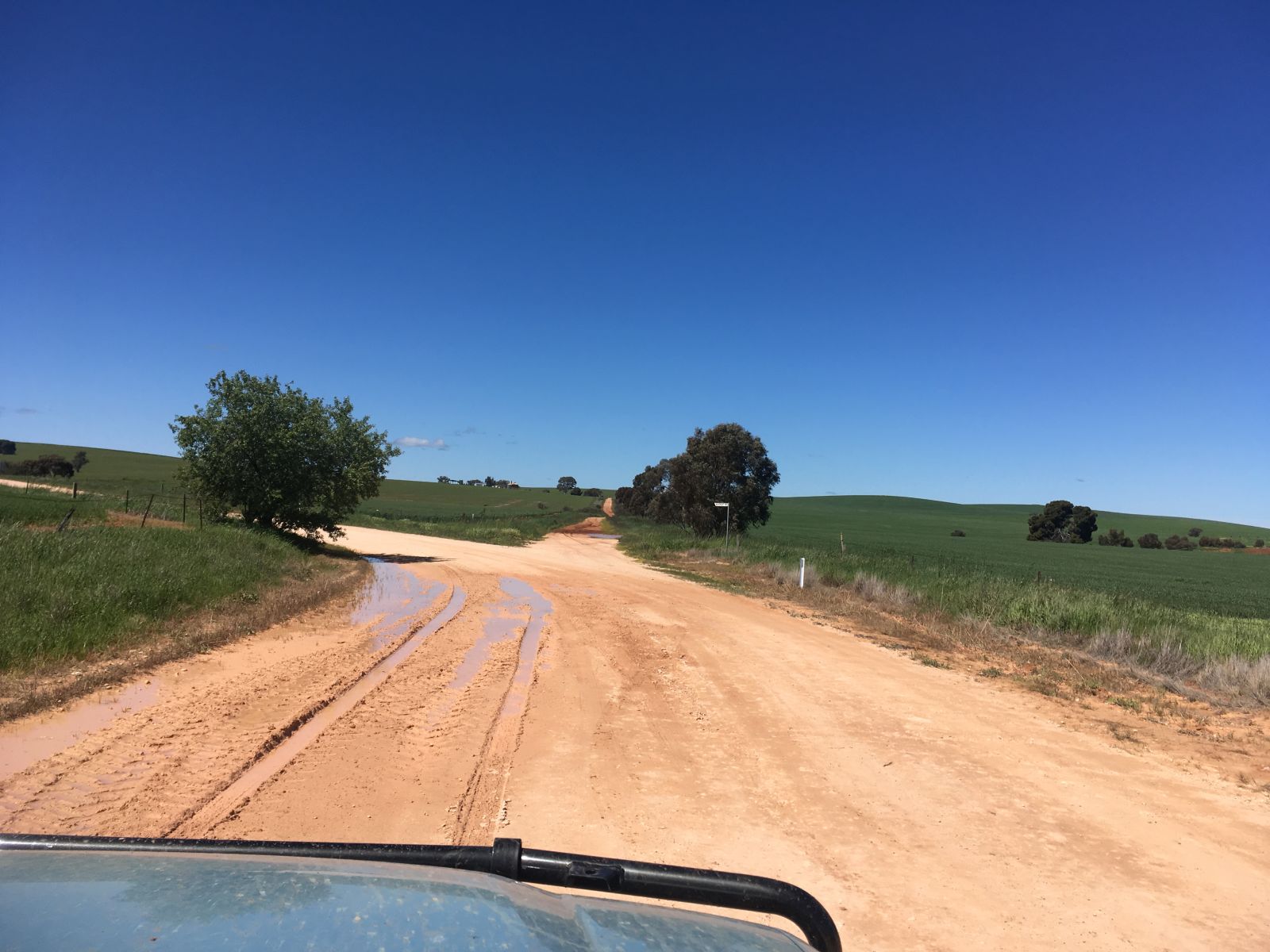 Ok, more Oppo coming up.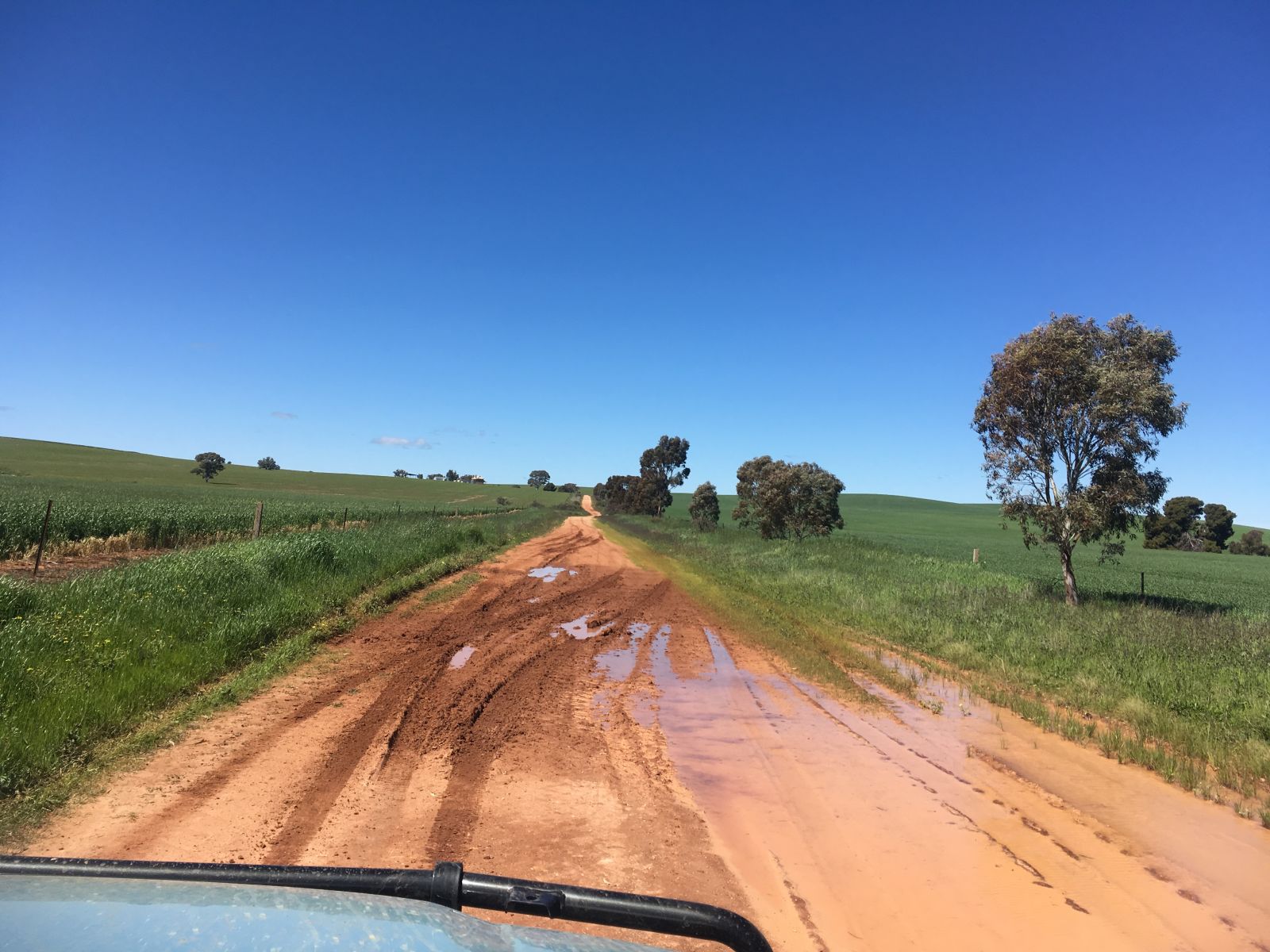 Good roads.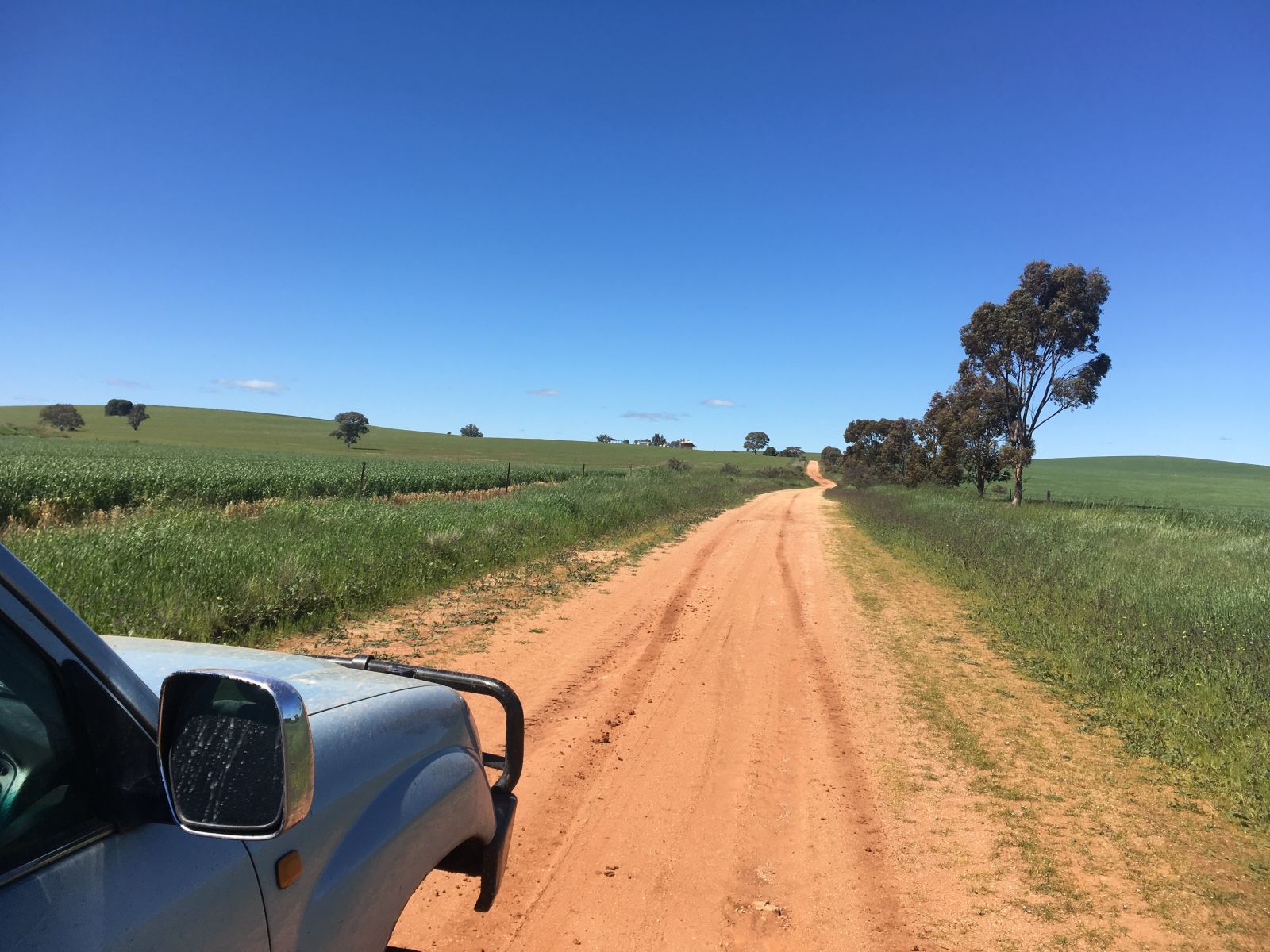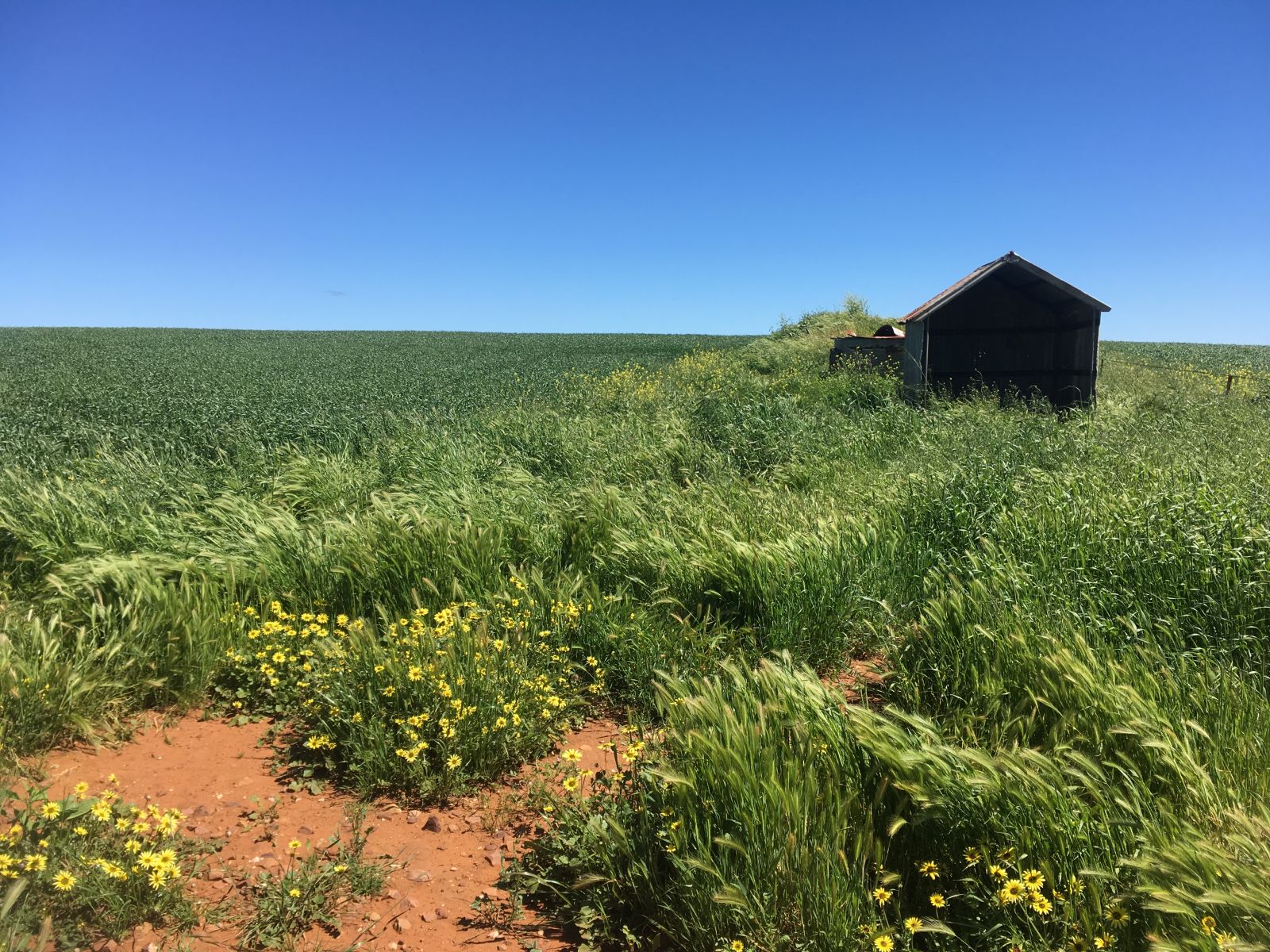 Where are we Dorothy, Kansas?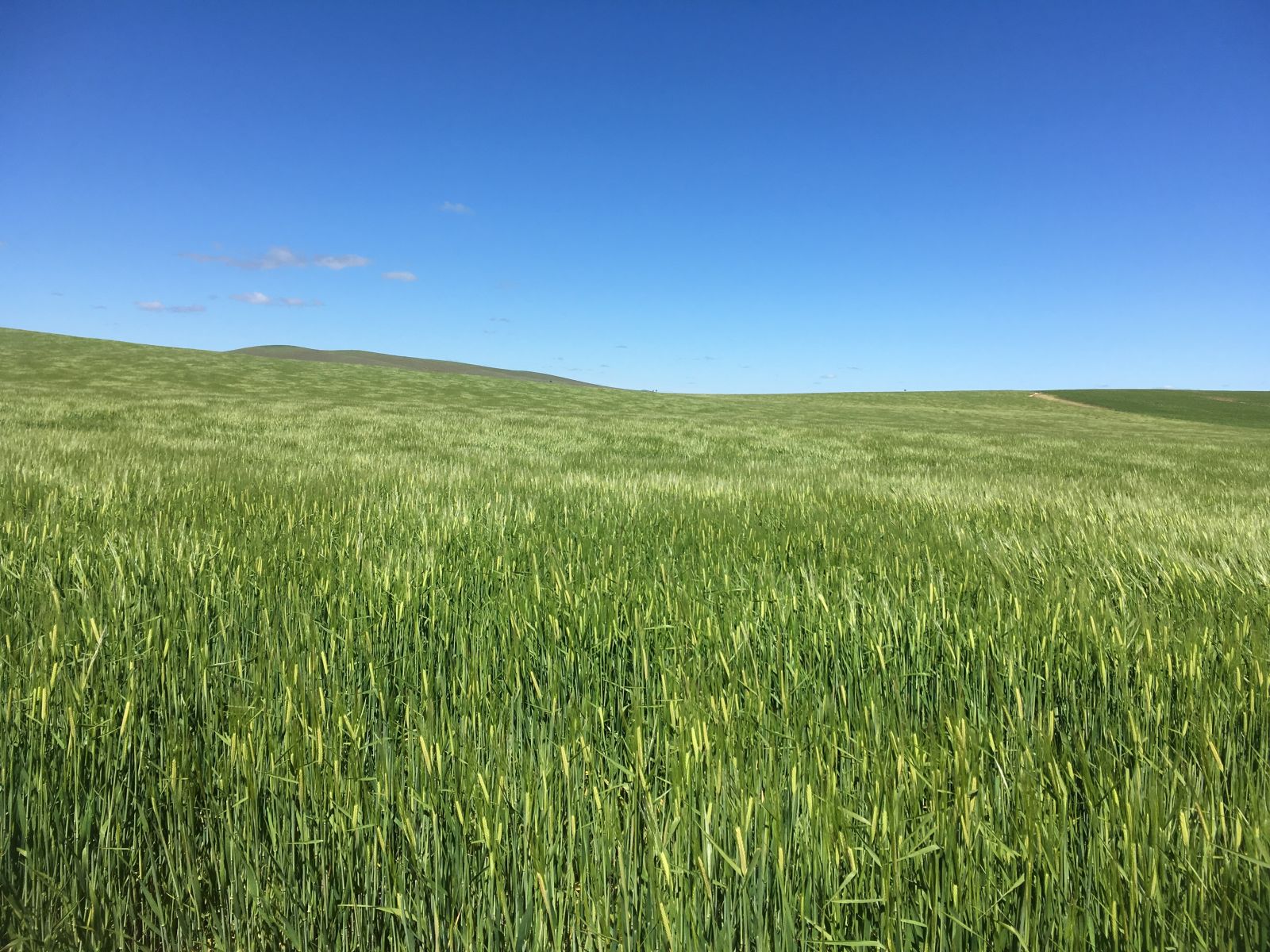 Incoming.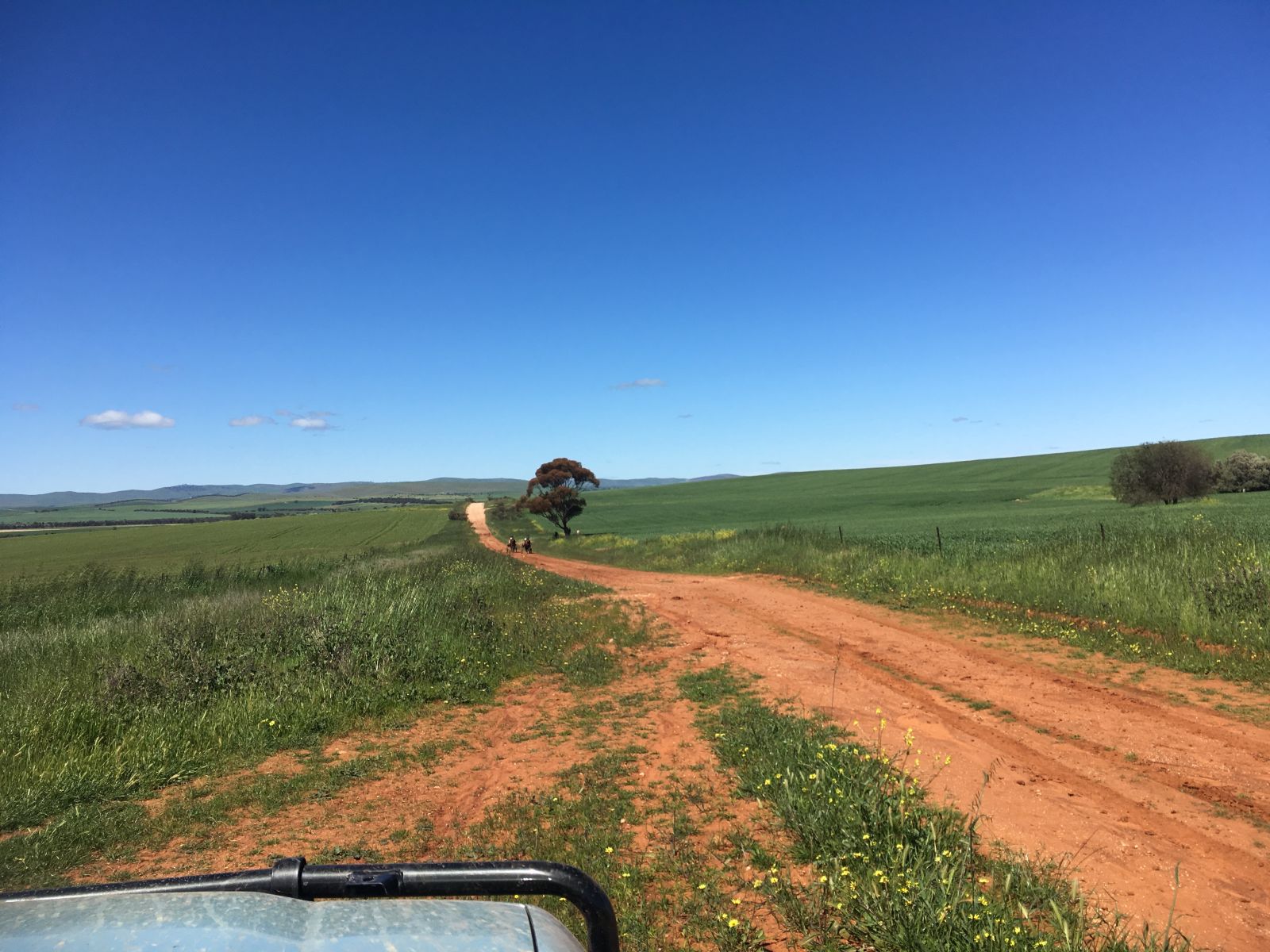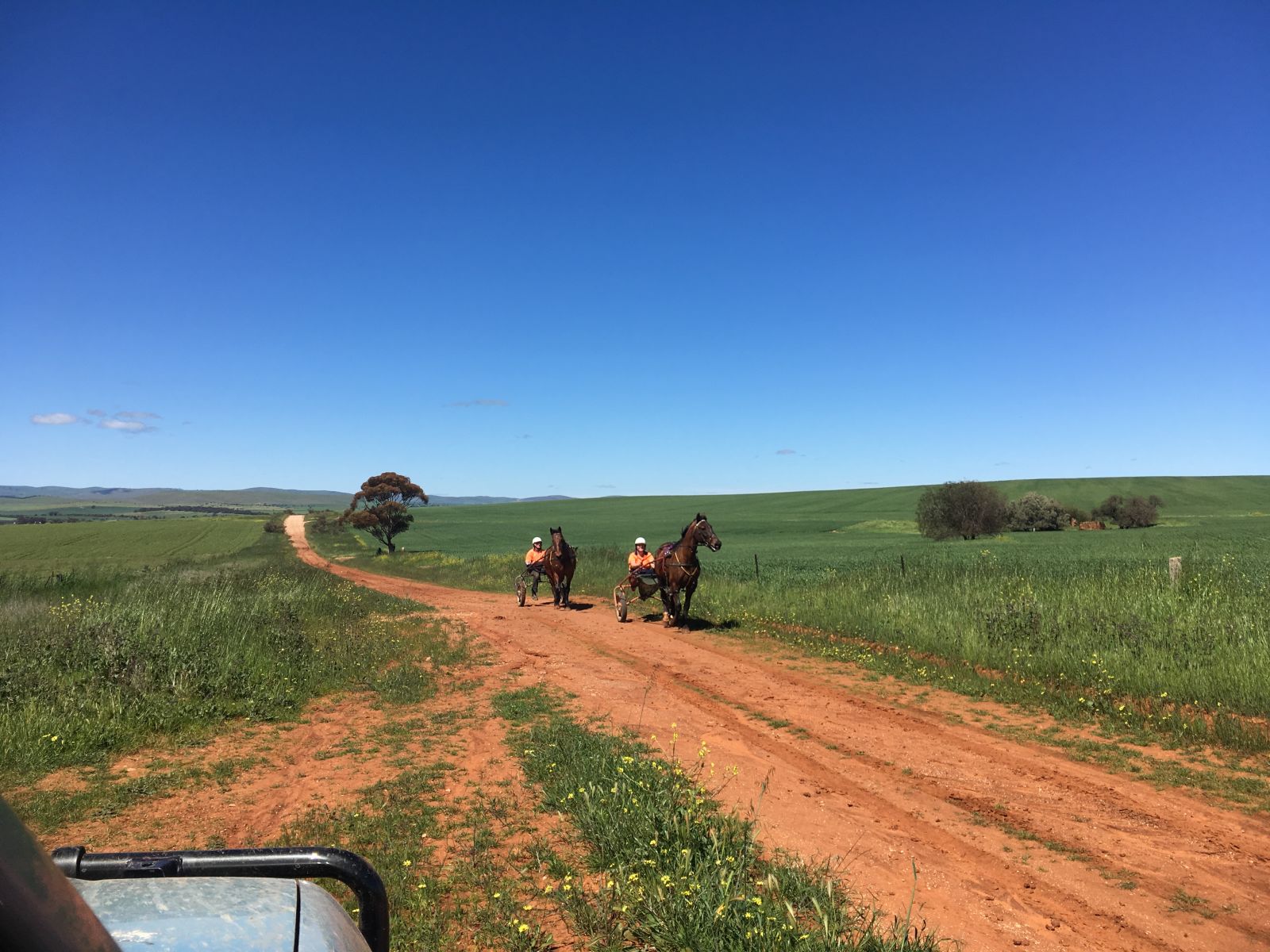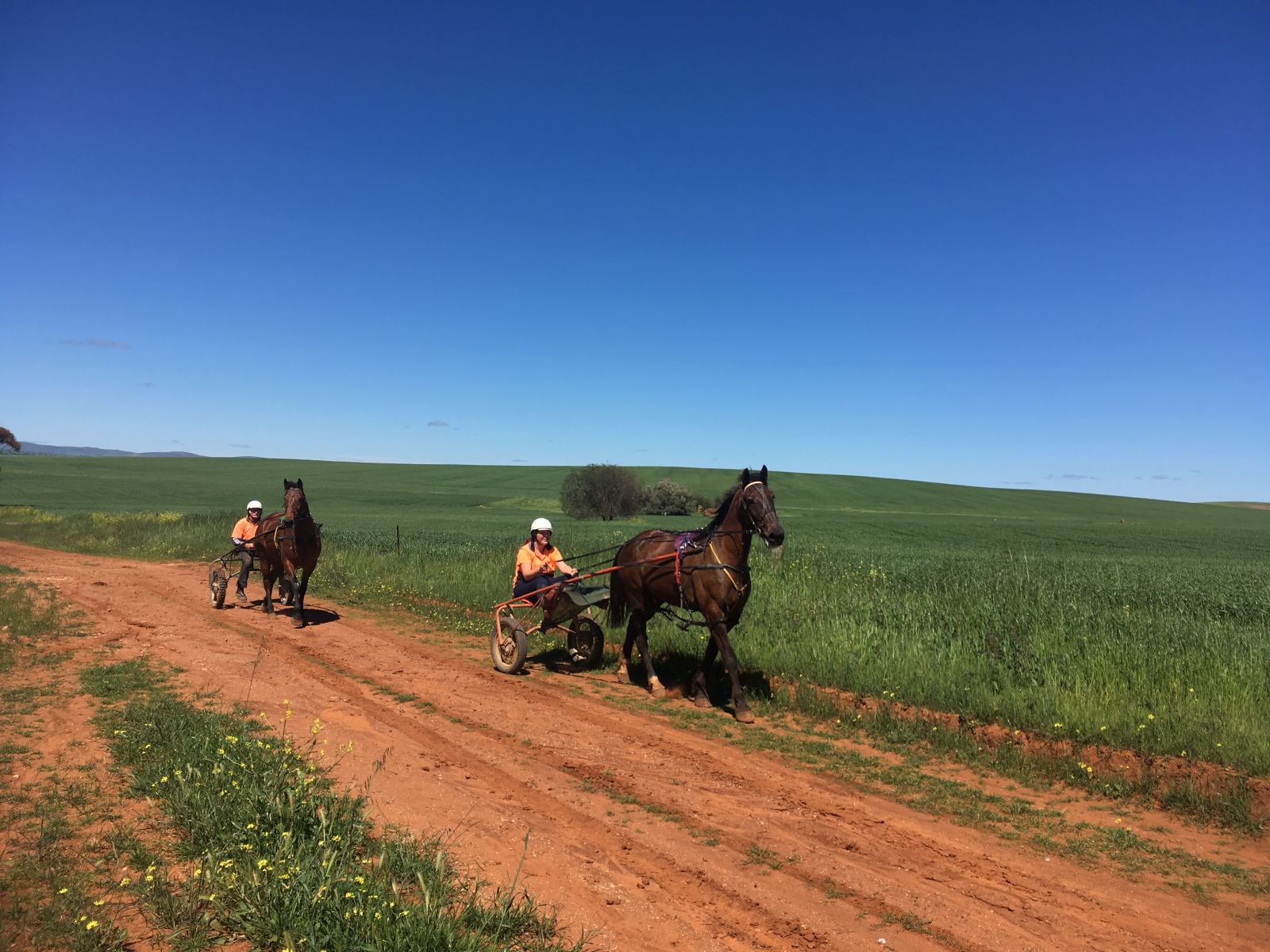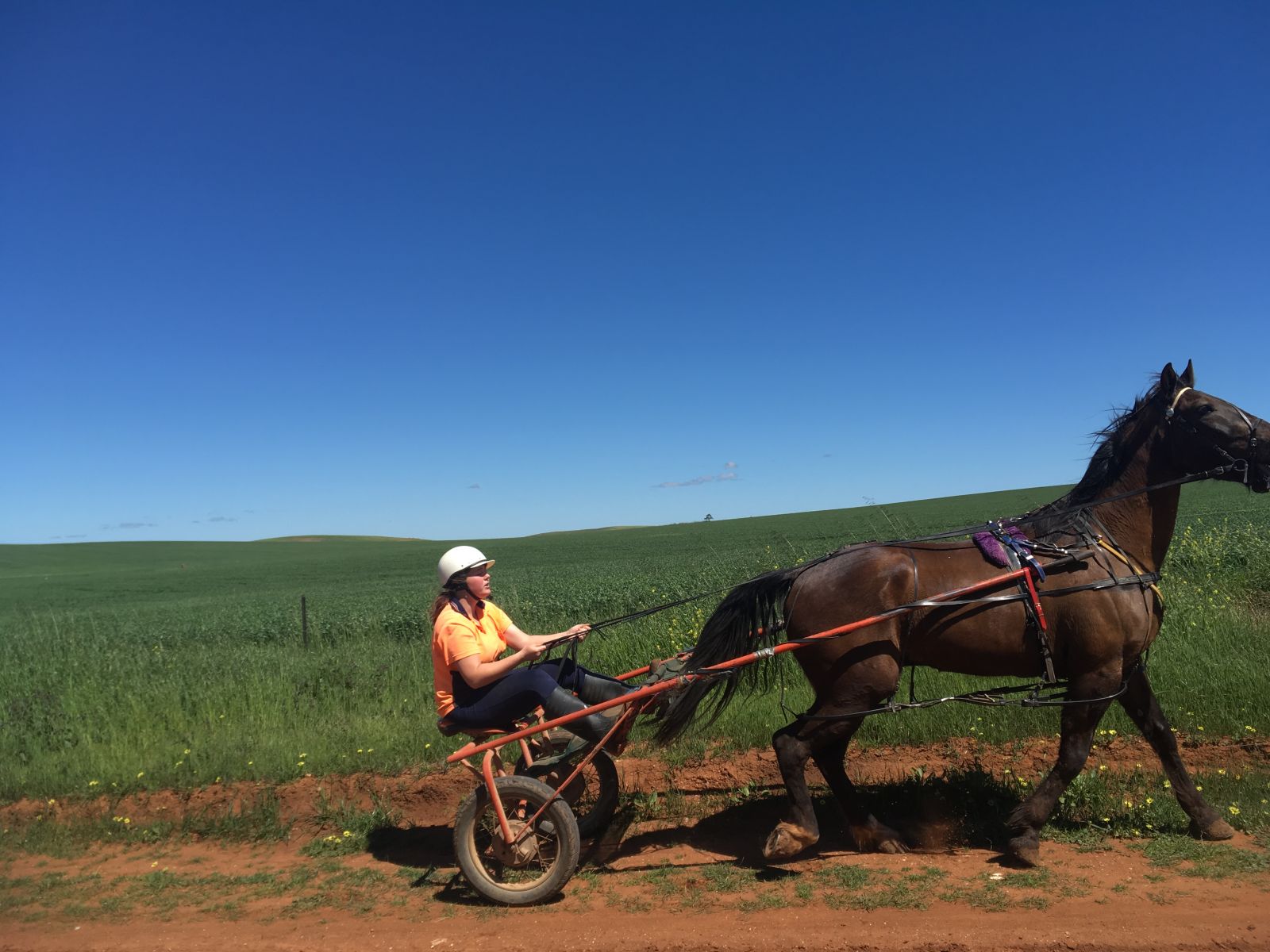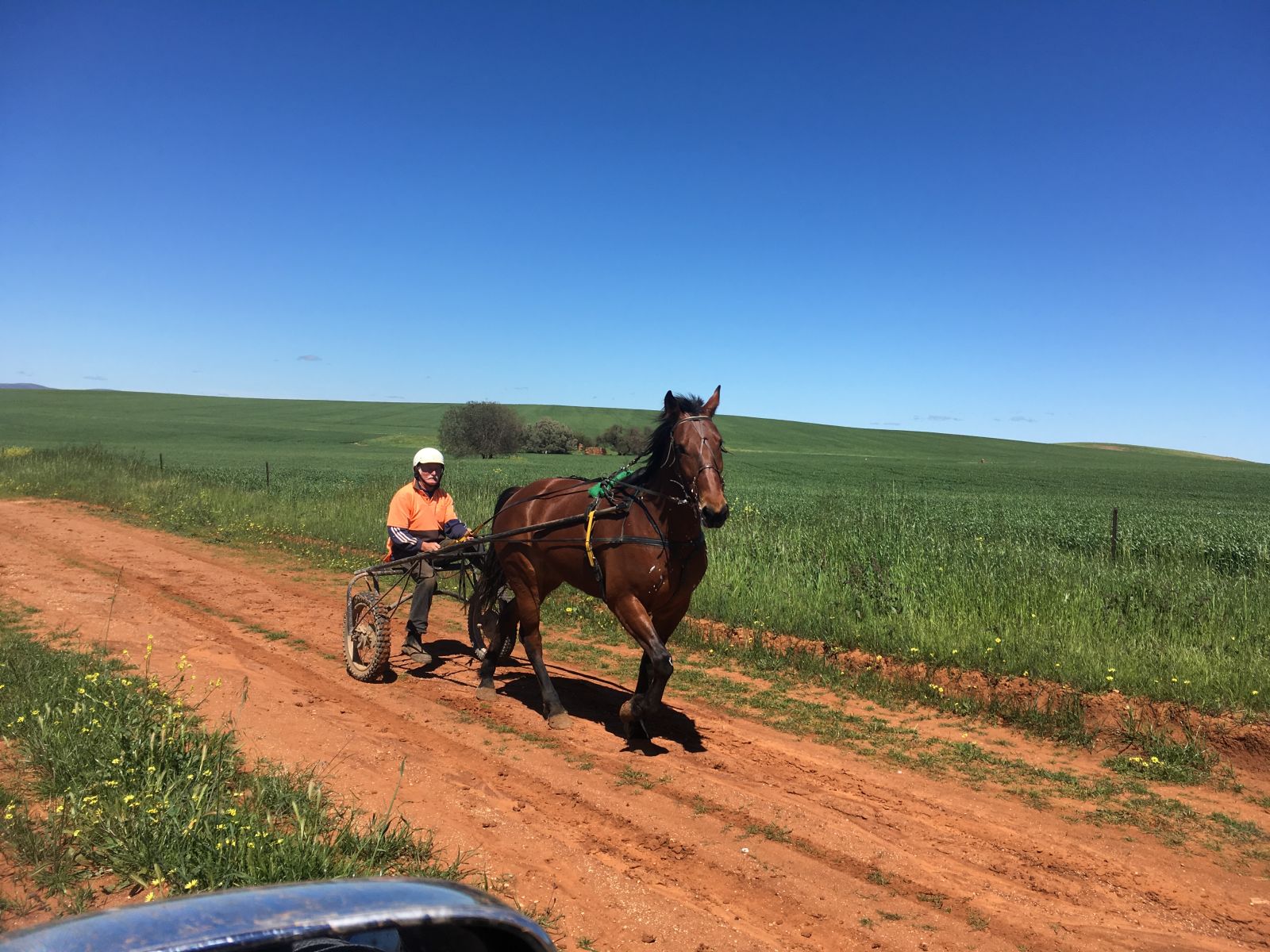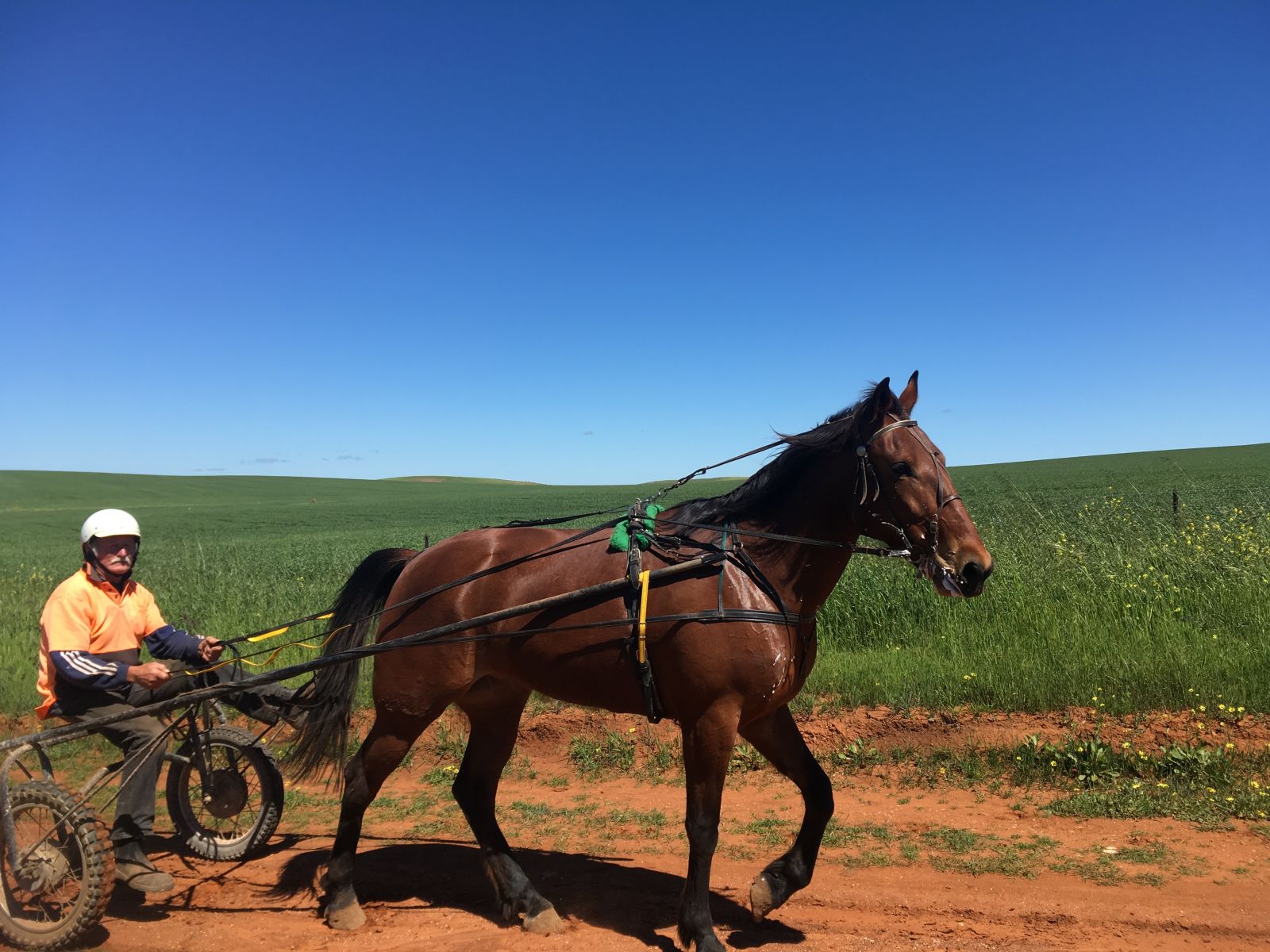 I was following part of the Mawson Trail which is the cycle version of the Heysen Trail (in the map above). There was the odd bit of navigation to stay on track.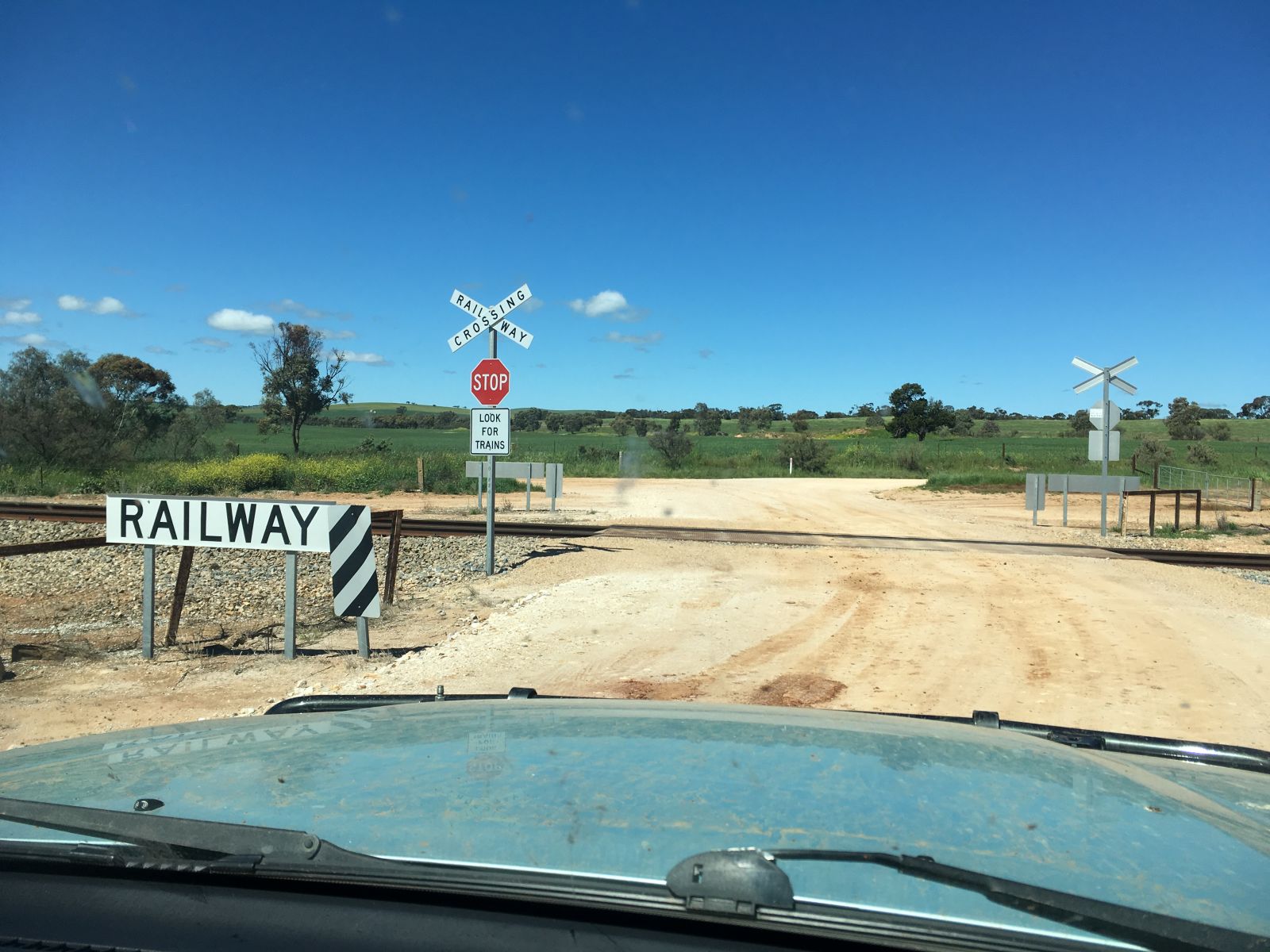 Can you see the derelict farm buildings behind the Toyota here?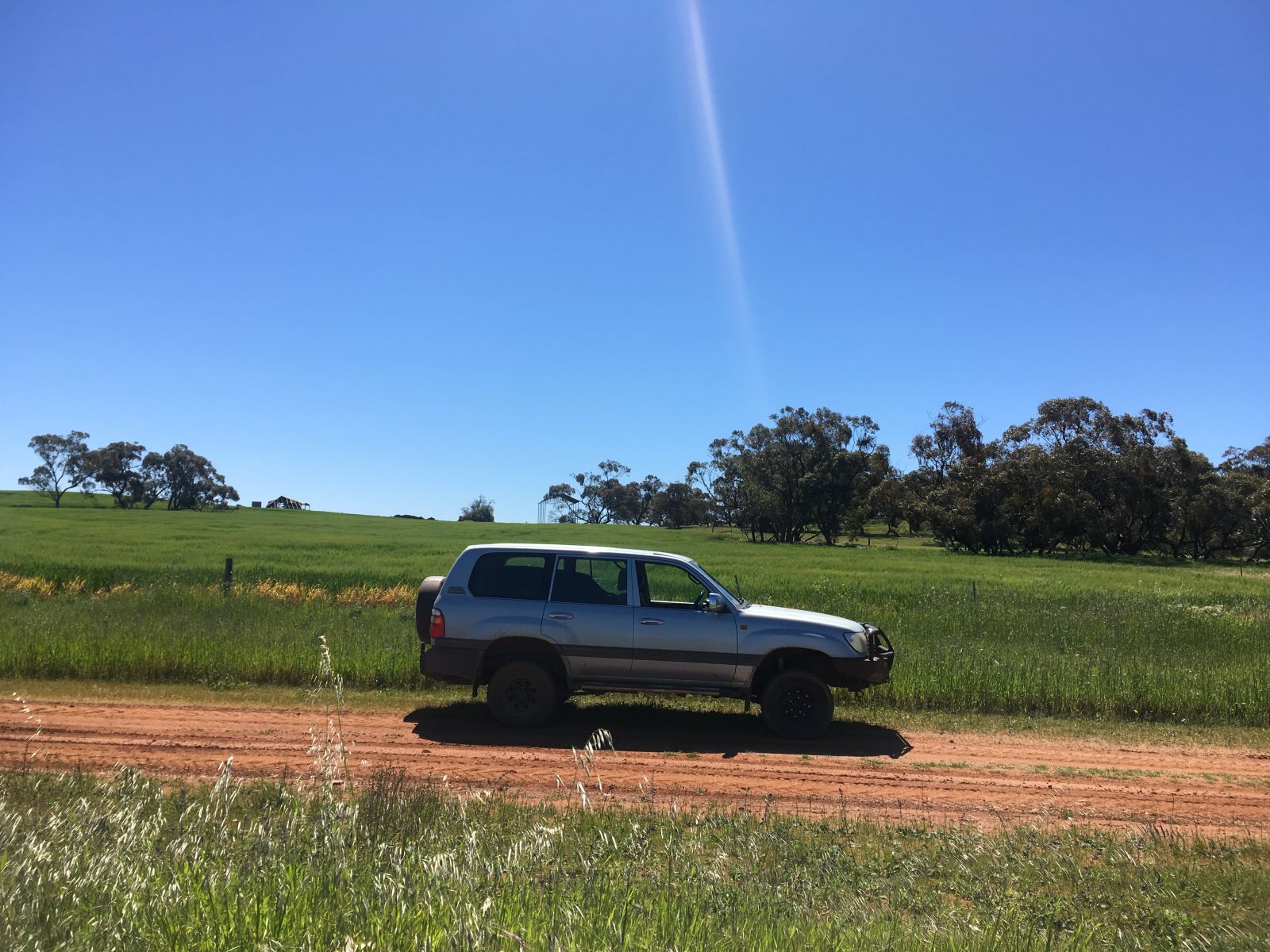 I often come across things like this. Sometime whole derelict farms, I would love to know the stories behind them. Did they fail or did the kids just not want to take it over?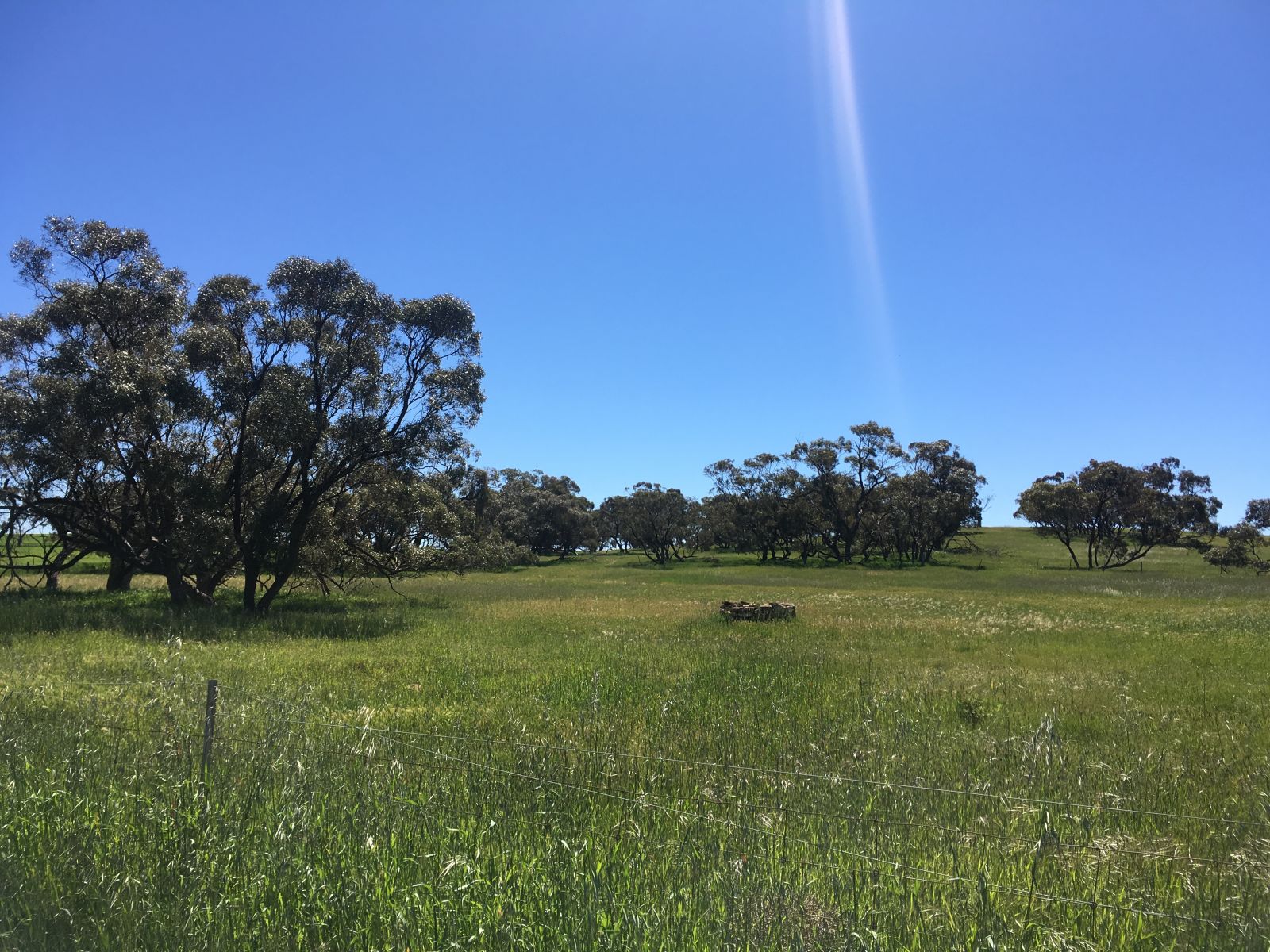 This is a nice parcel of land, just wild sown wheat from the neighbouring fields.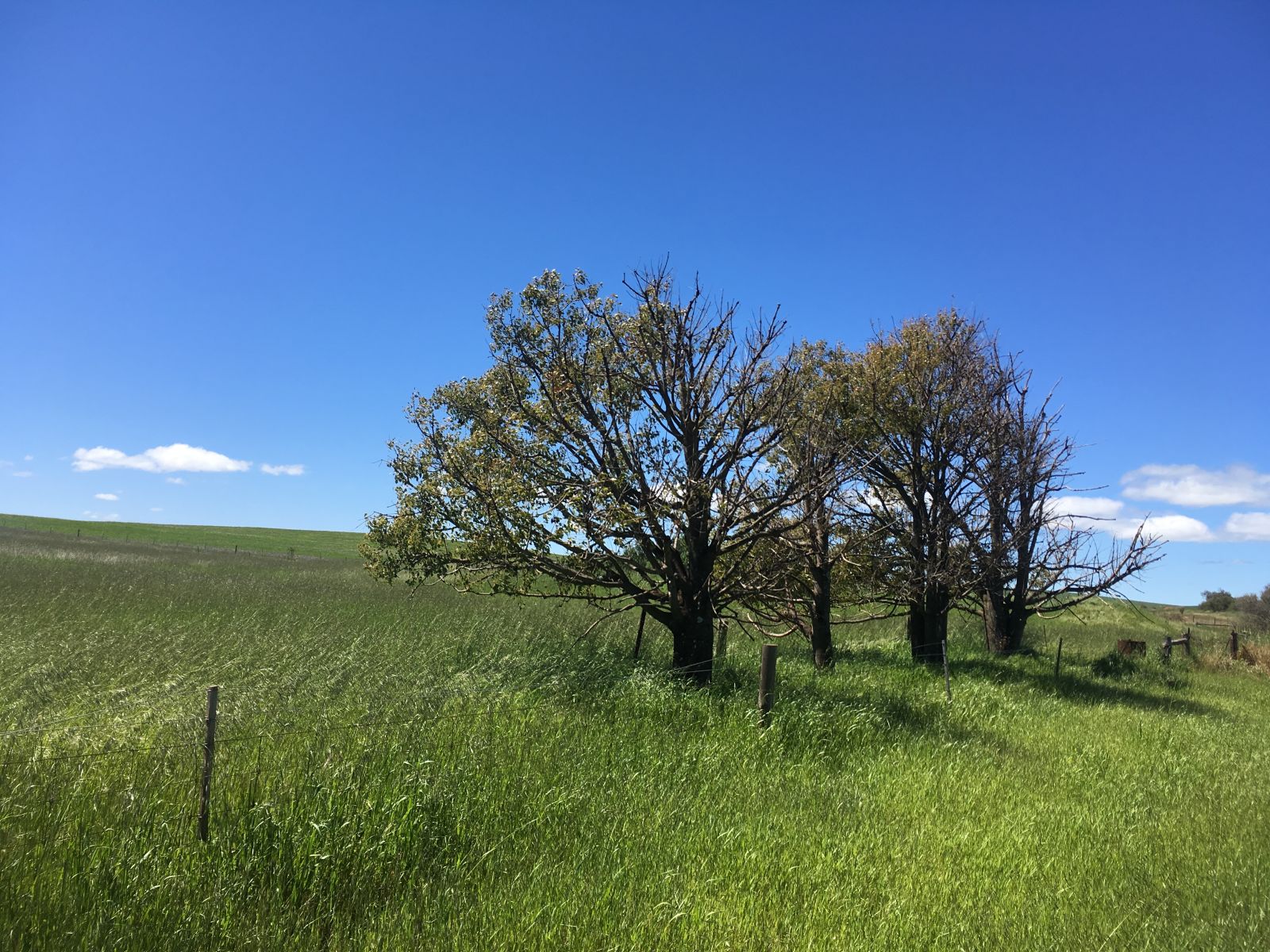 Fig trees? Someone tried to make a go of it here.
This patch looked worse than it was, it had dried out enough that we just crunched over the top.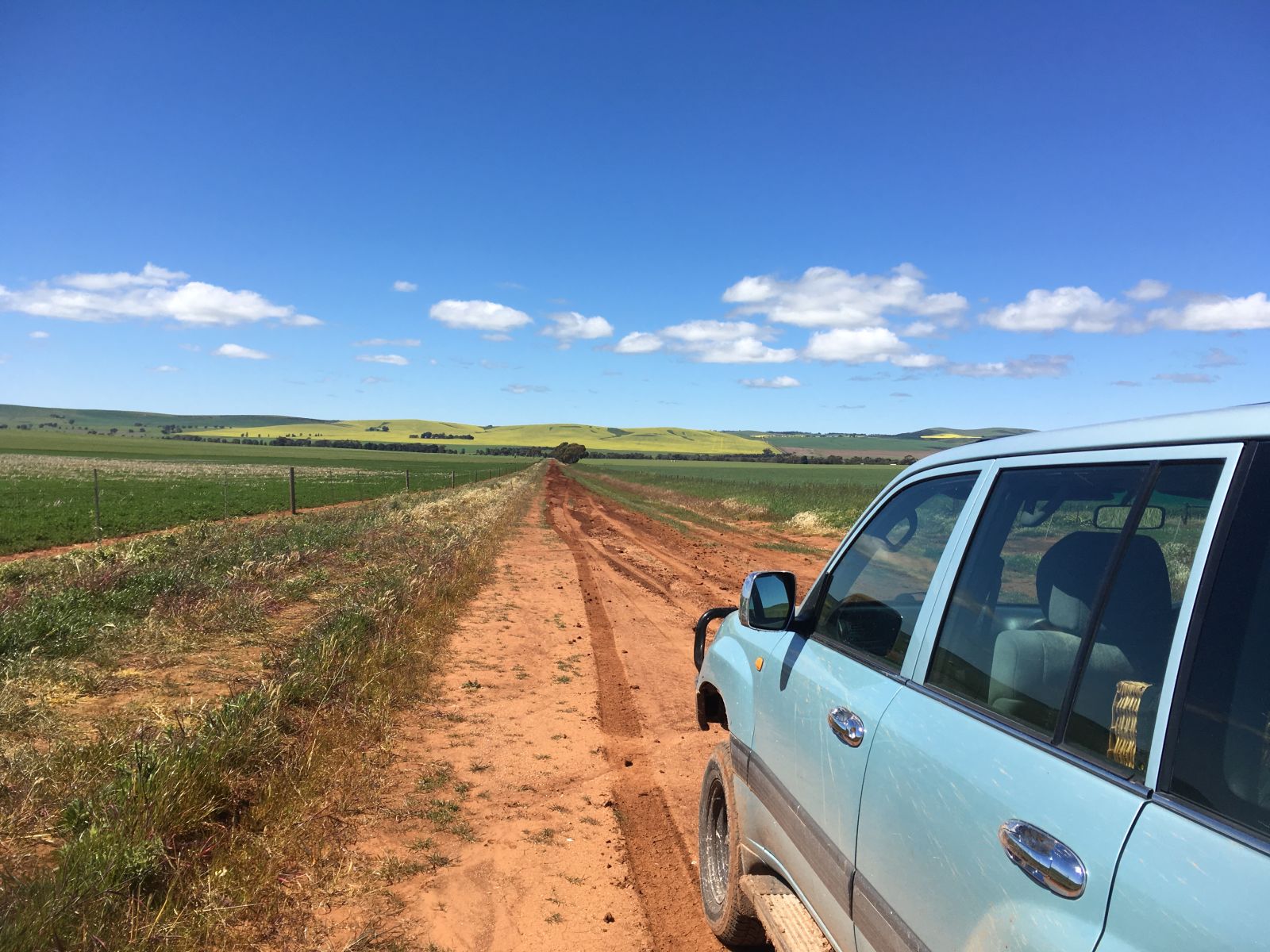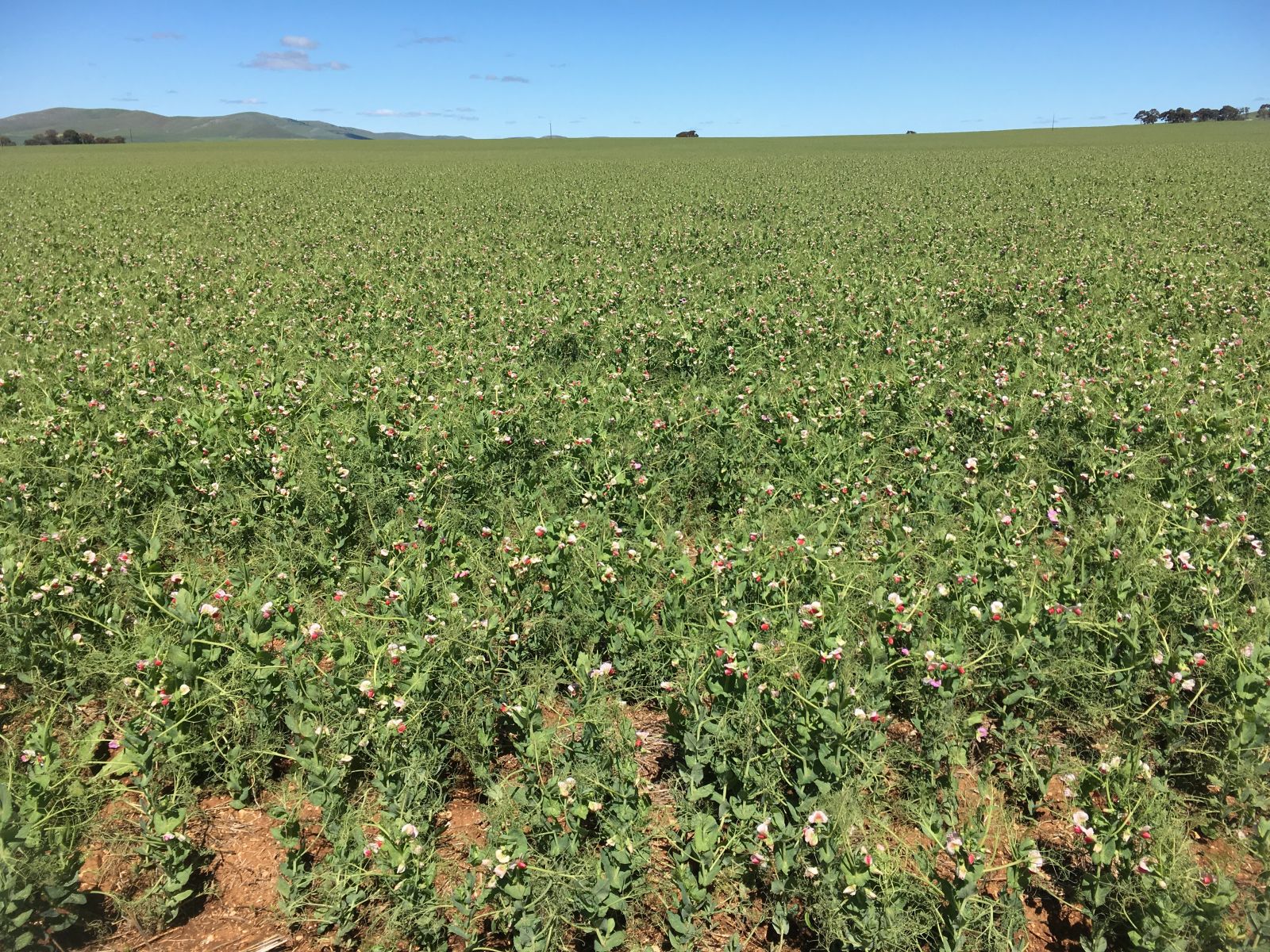 More water.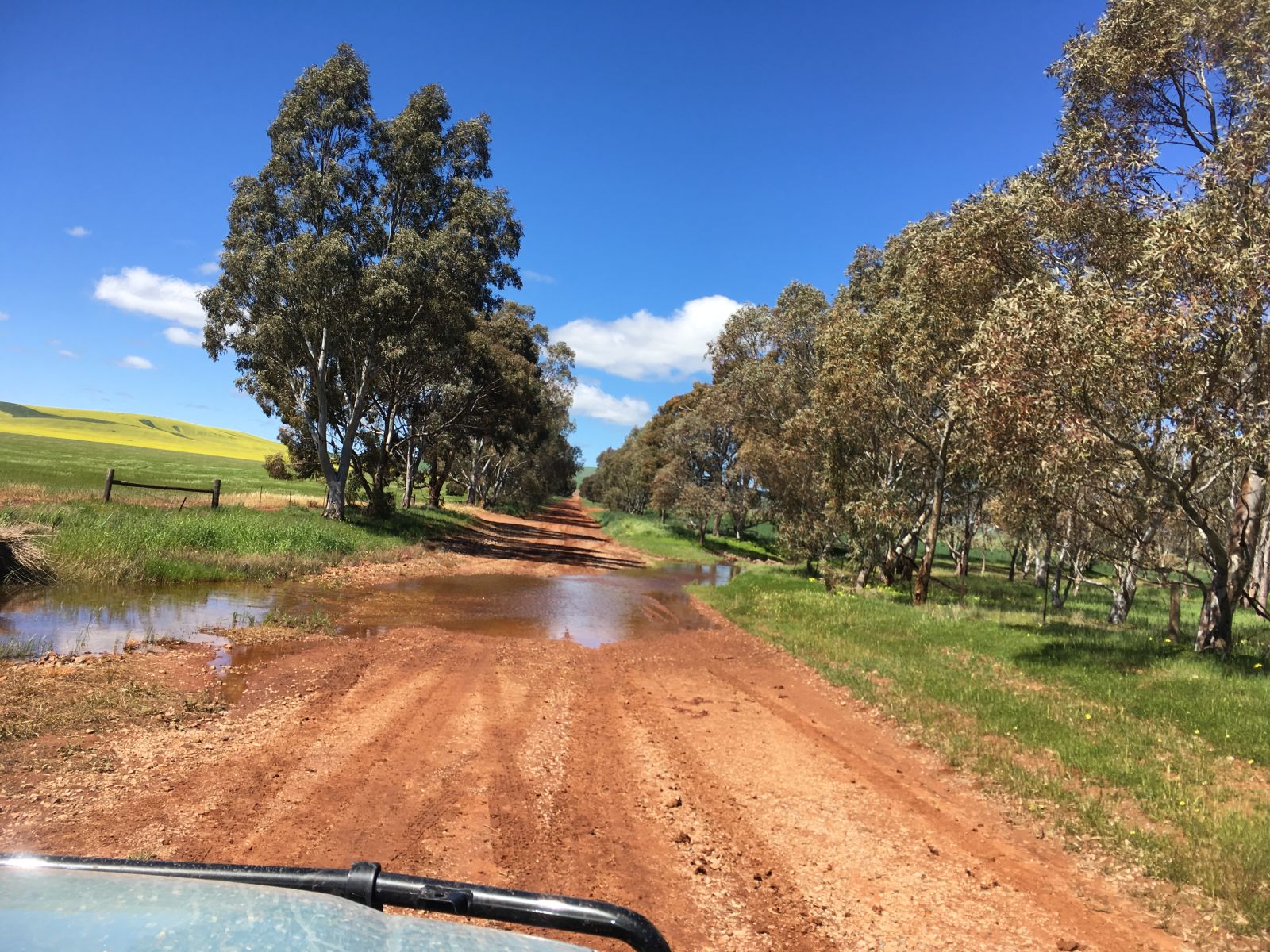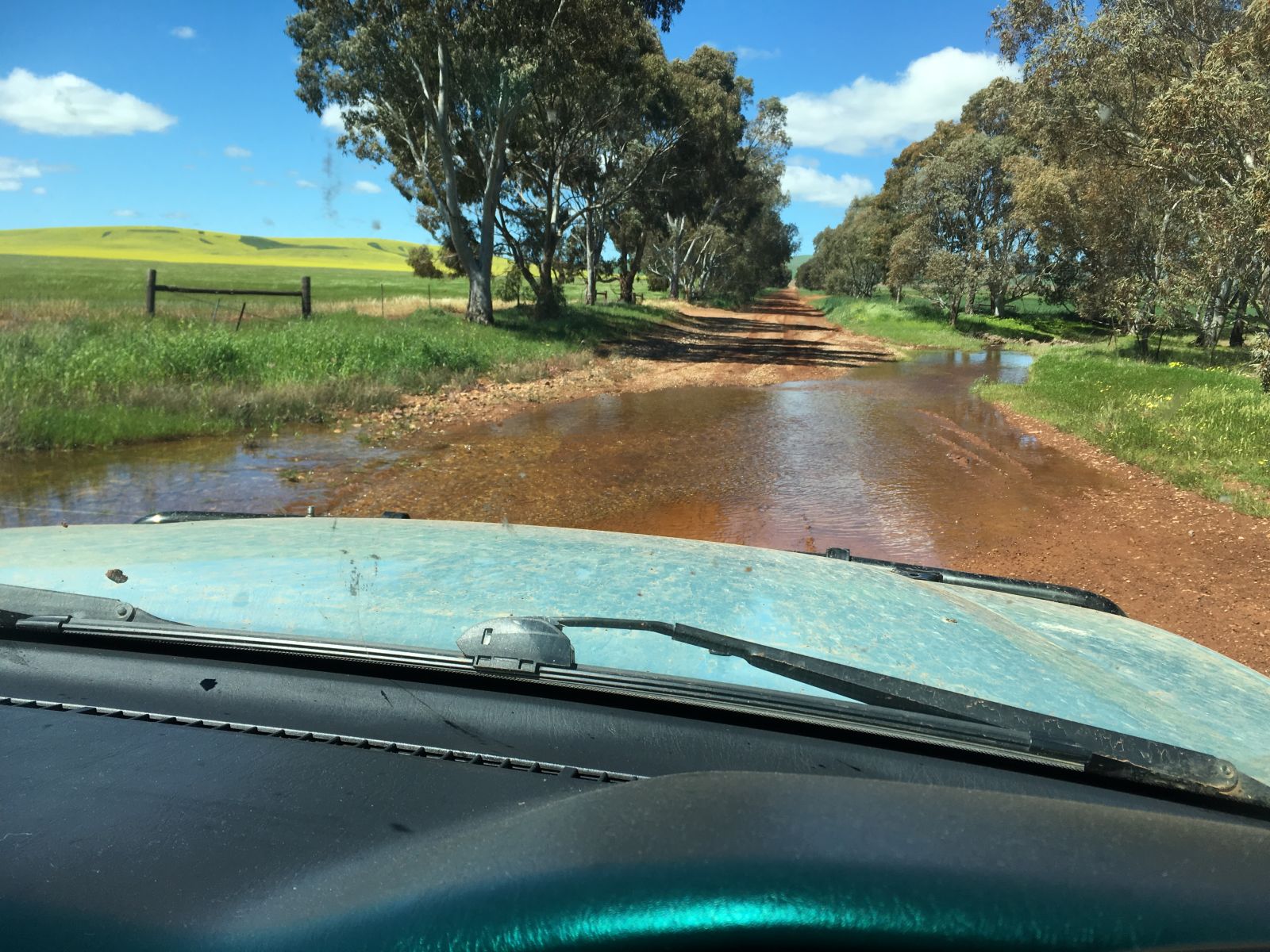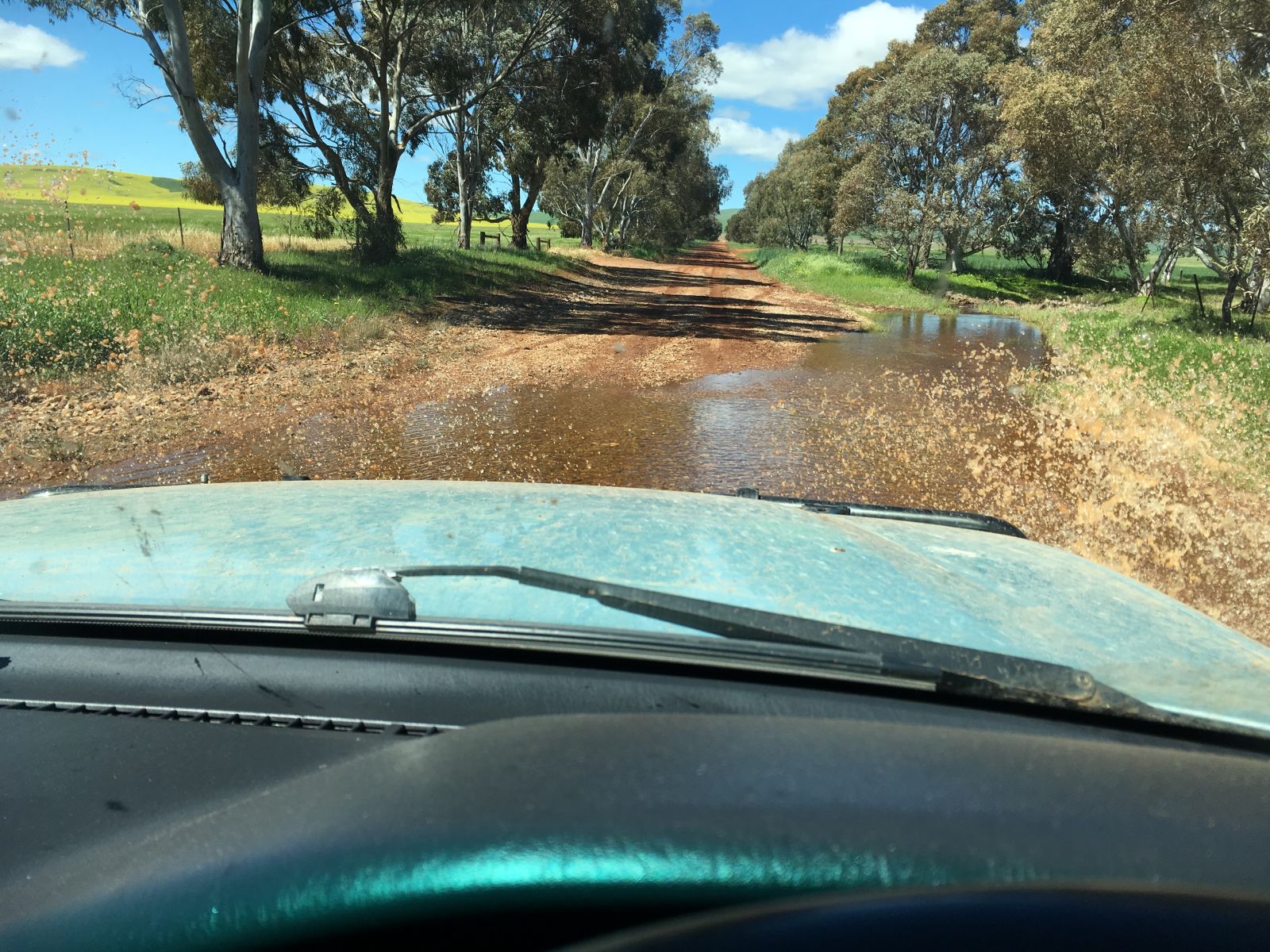 You also see plenty of ruins like this up here. As with this one the basic structure is normally very well made and still standing, with the roof slowly making it's way back to the earth.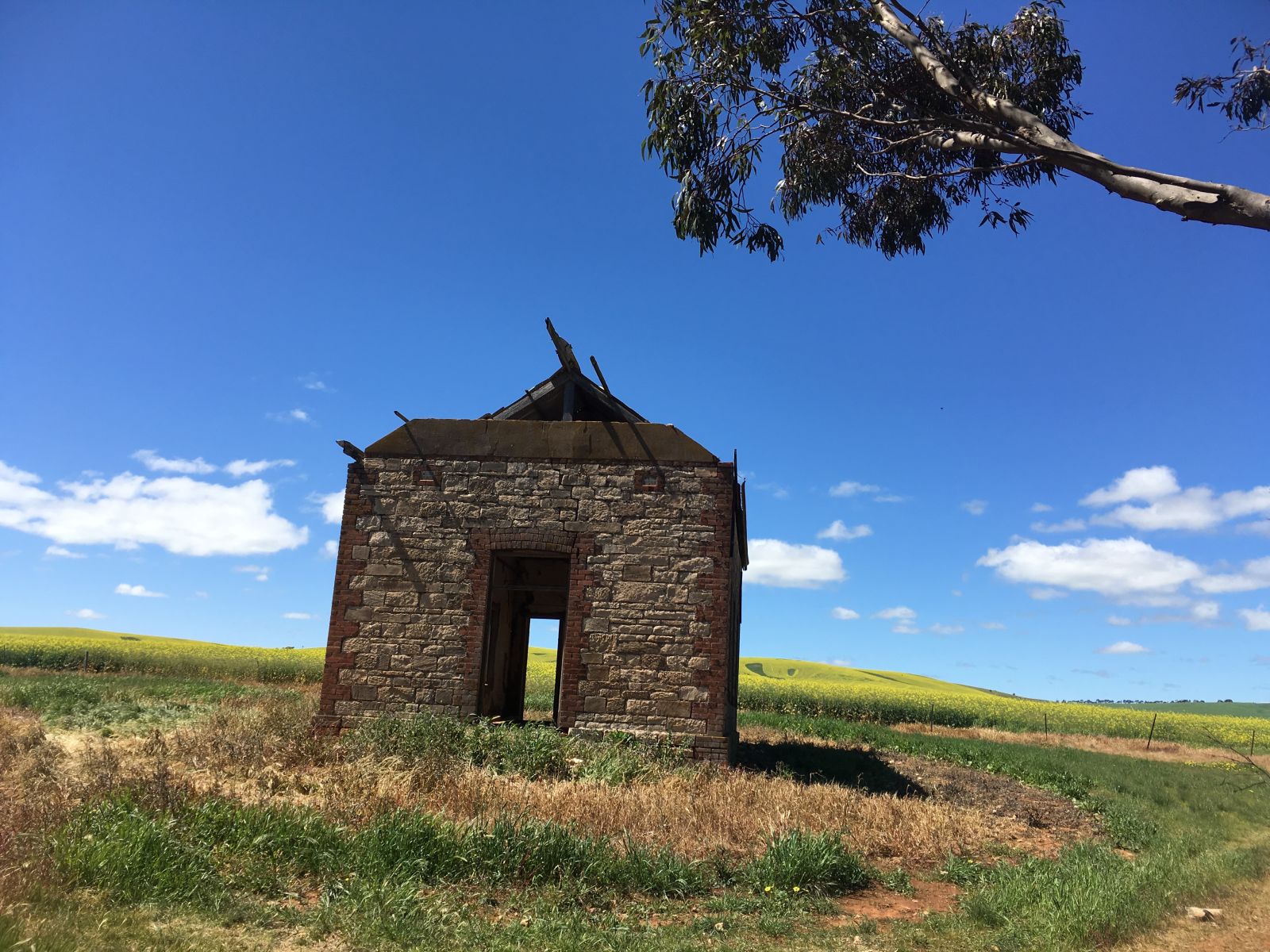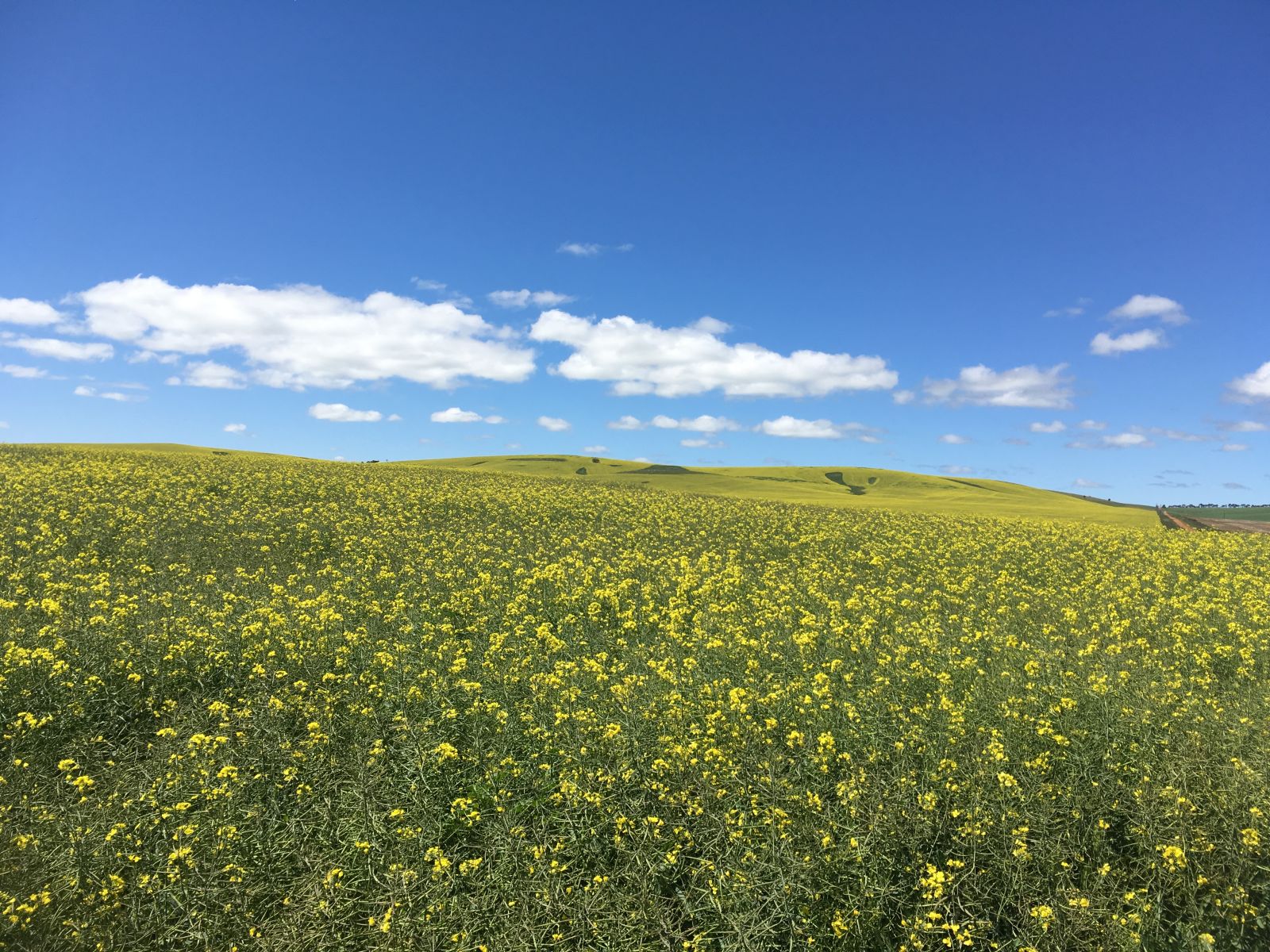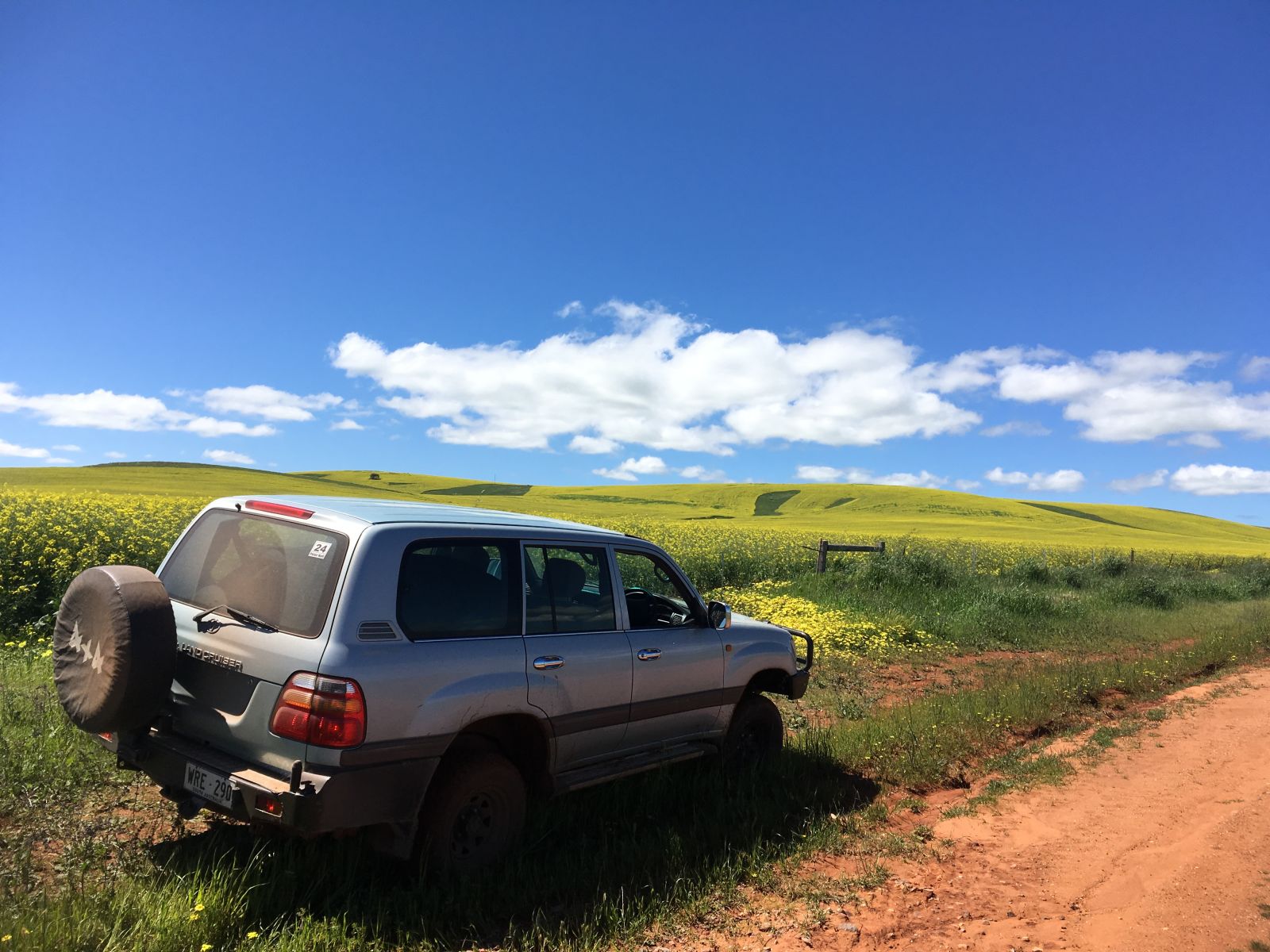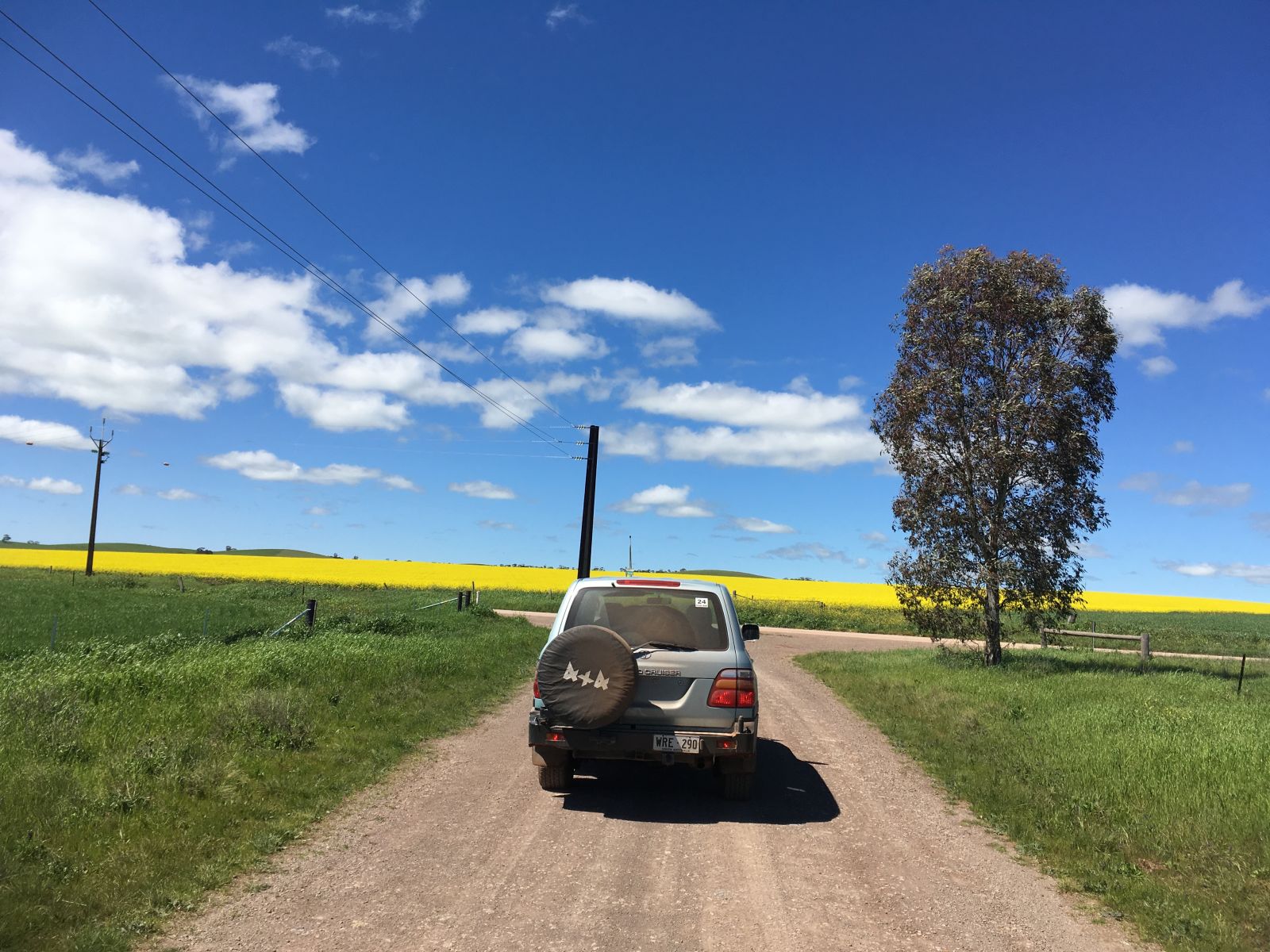 The Mawson Trail headed into Bundaleer Forest.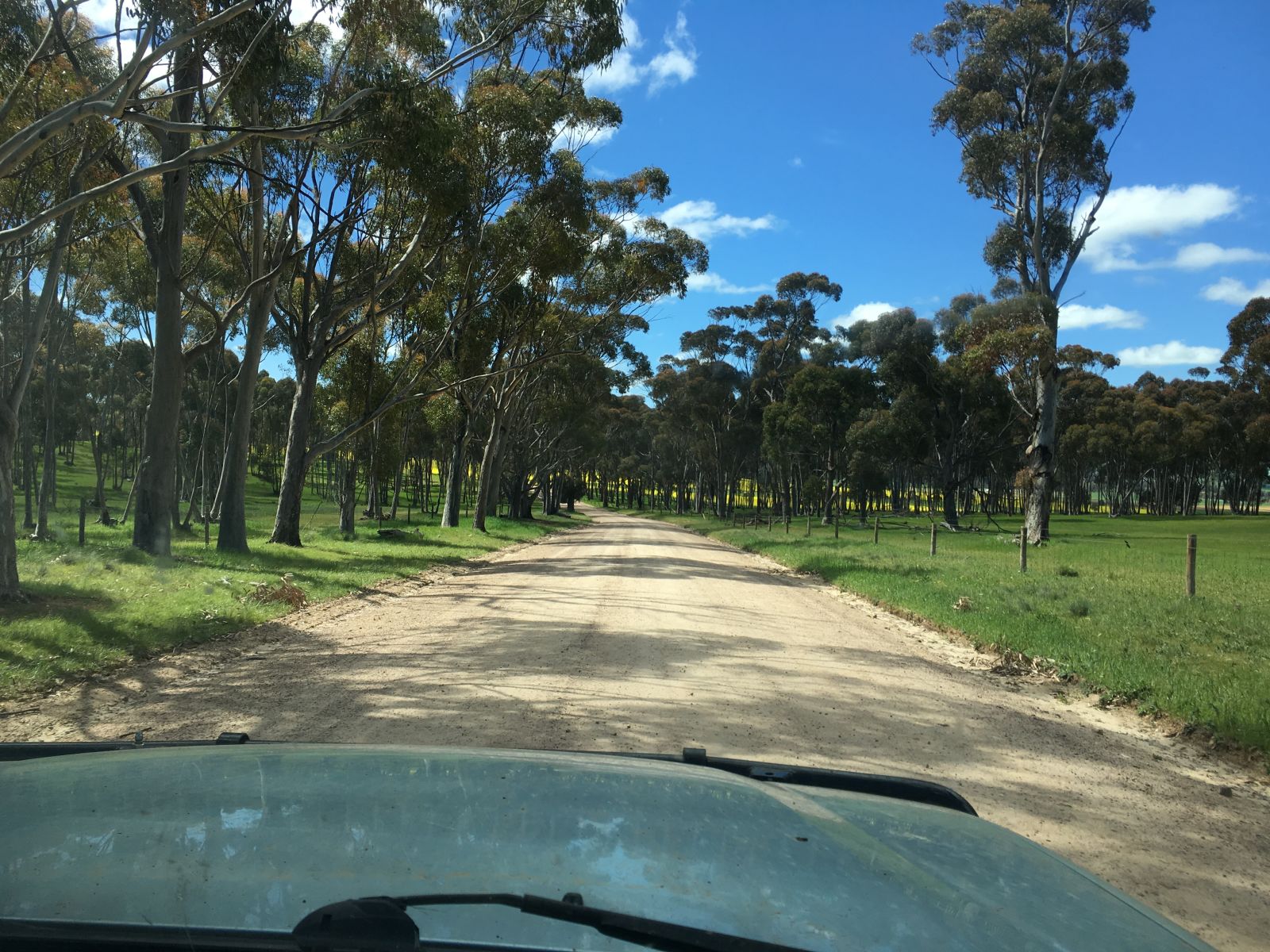 It was marked as a 4×4 track on the map but I didn't expect to be able to access it, and I was right.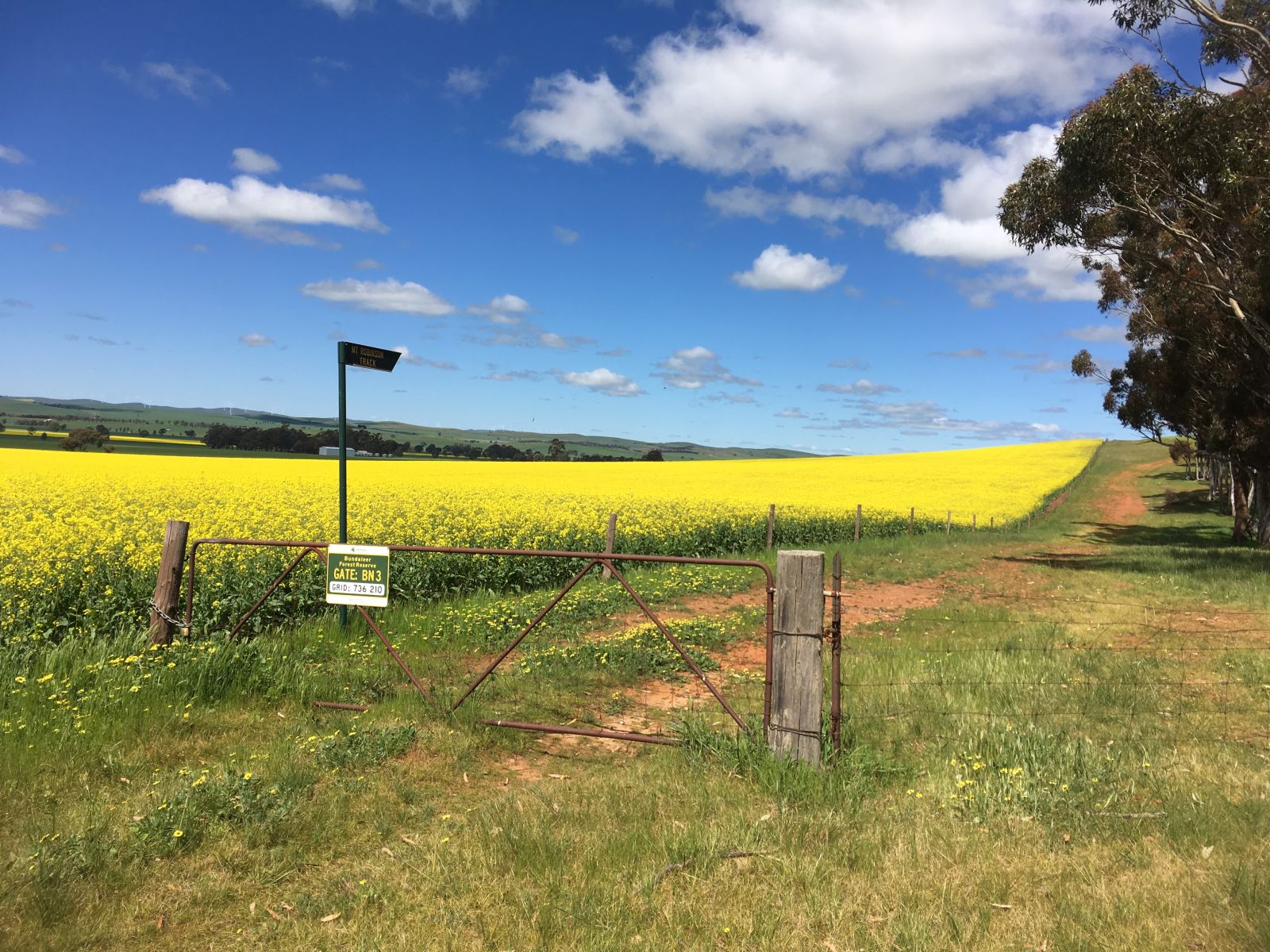 A bright shiny padlock on this gate. Another look at the map showed if I did a small backtrack there looked like another road into the forest.
First, more canola field photo oppotunities beckoned.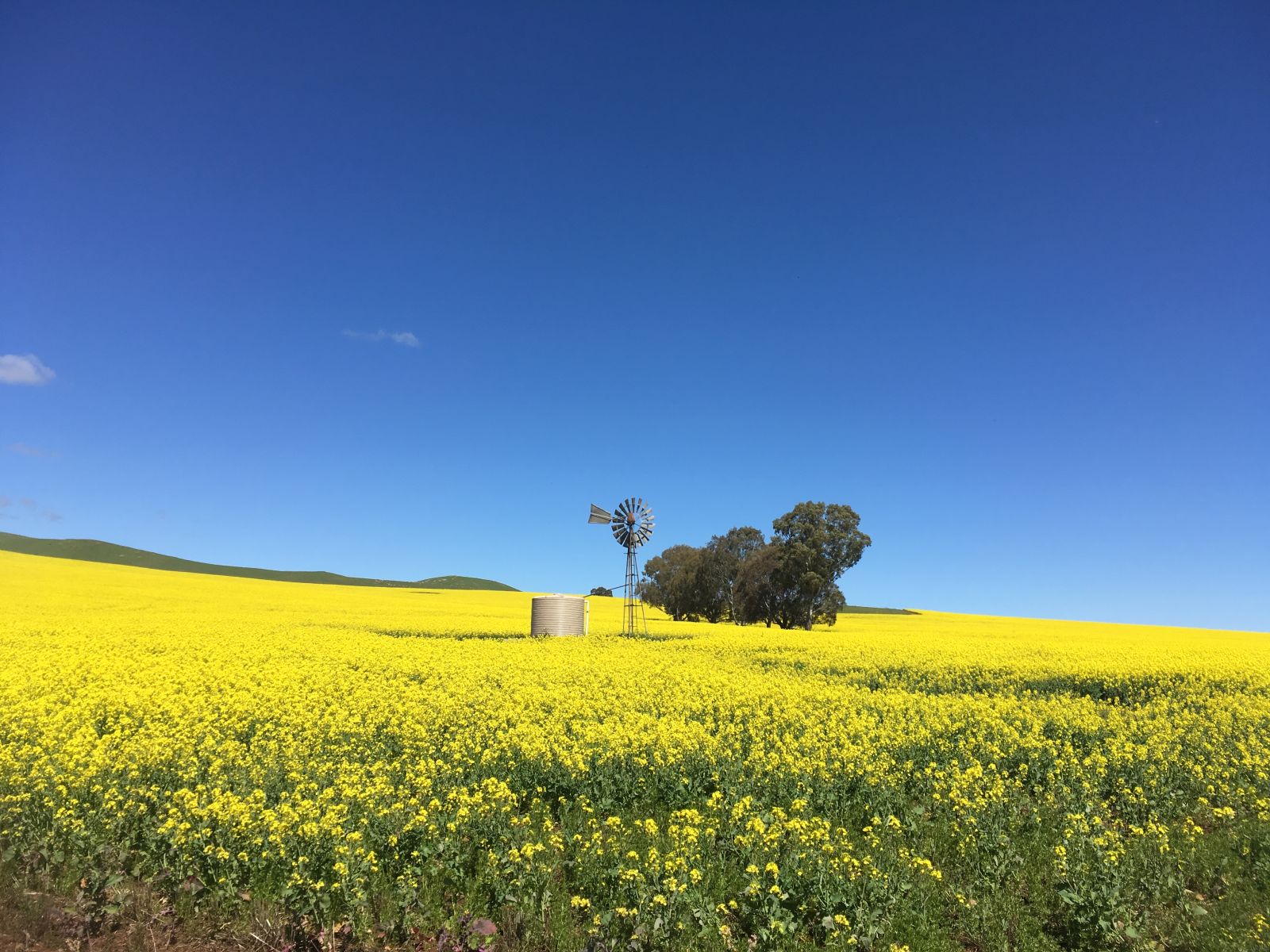 Incoming.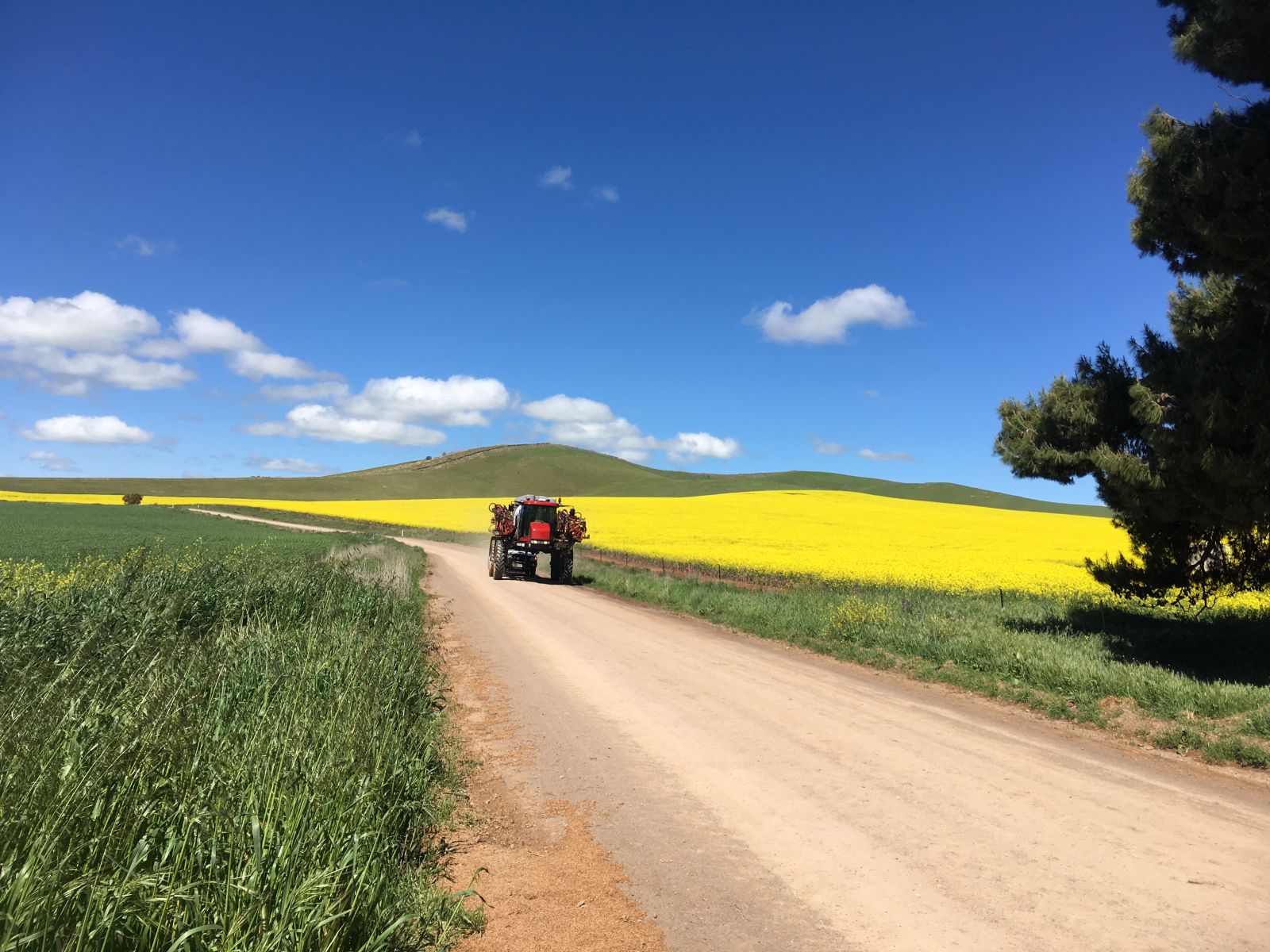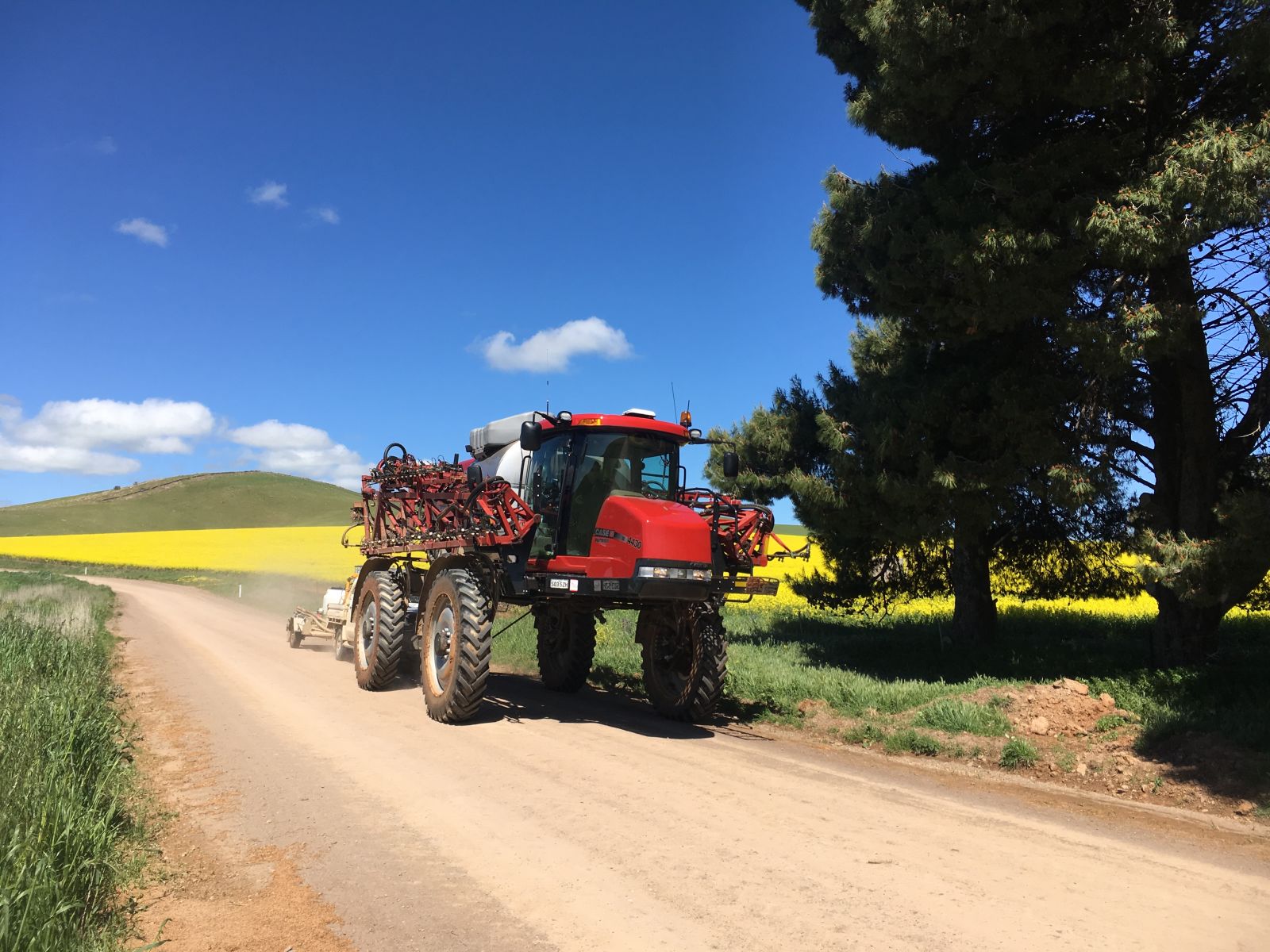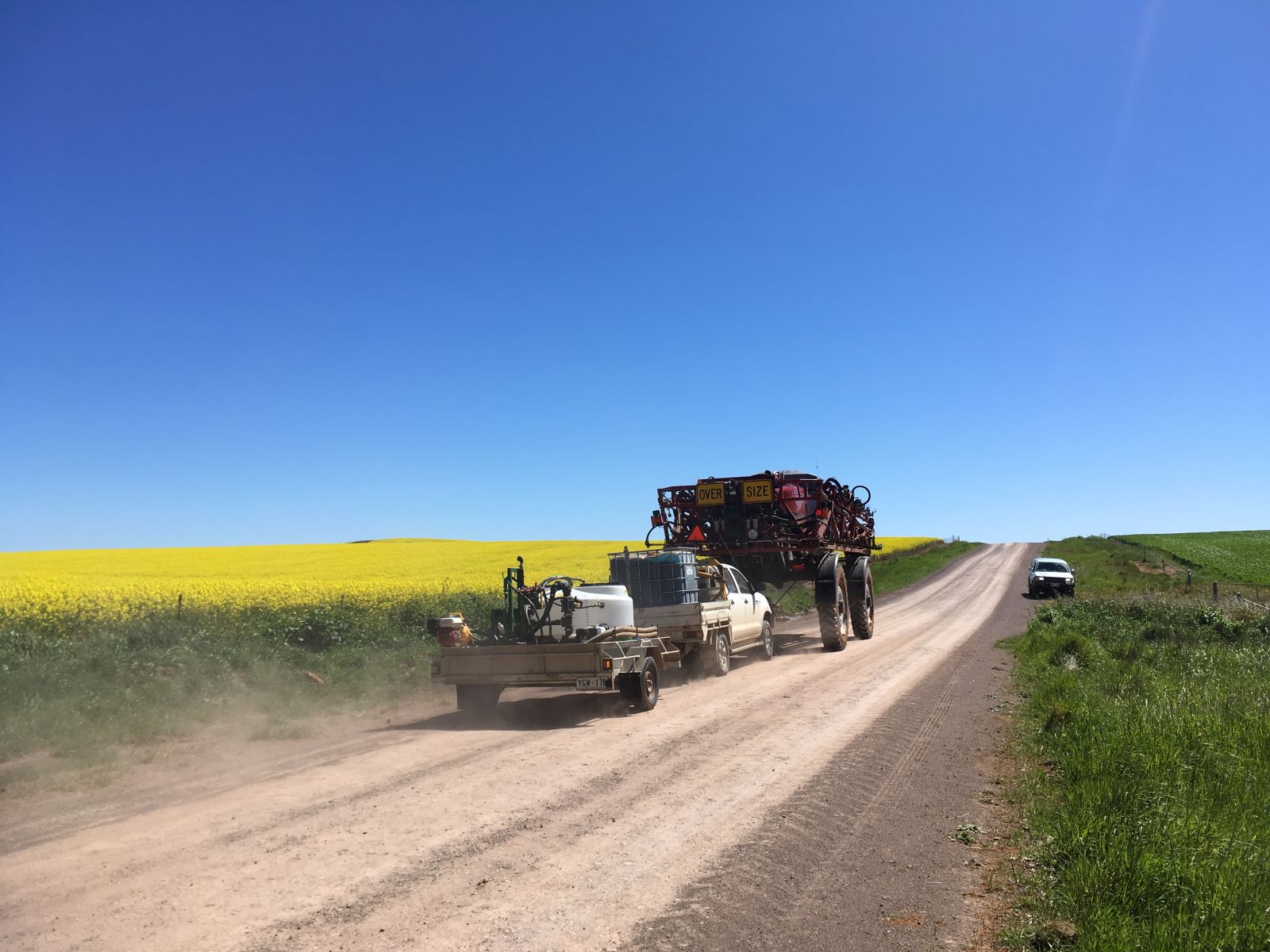 The Hilux was on a towing bar. Obviously he just leaves the big bus in whatever field he is working in and then just drives the Hiliux home, neat.
Into the forest.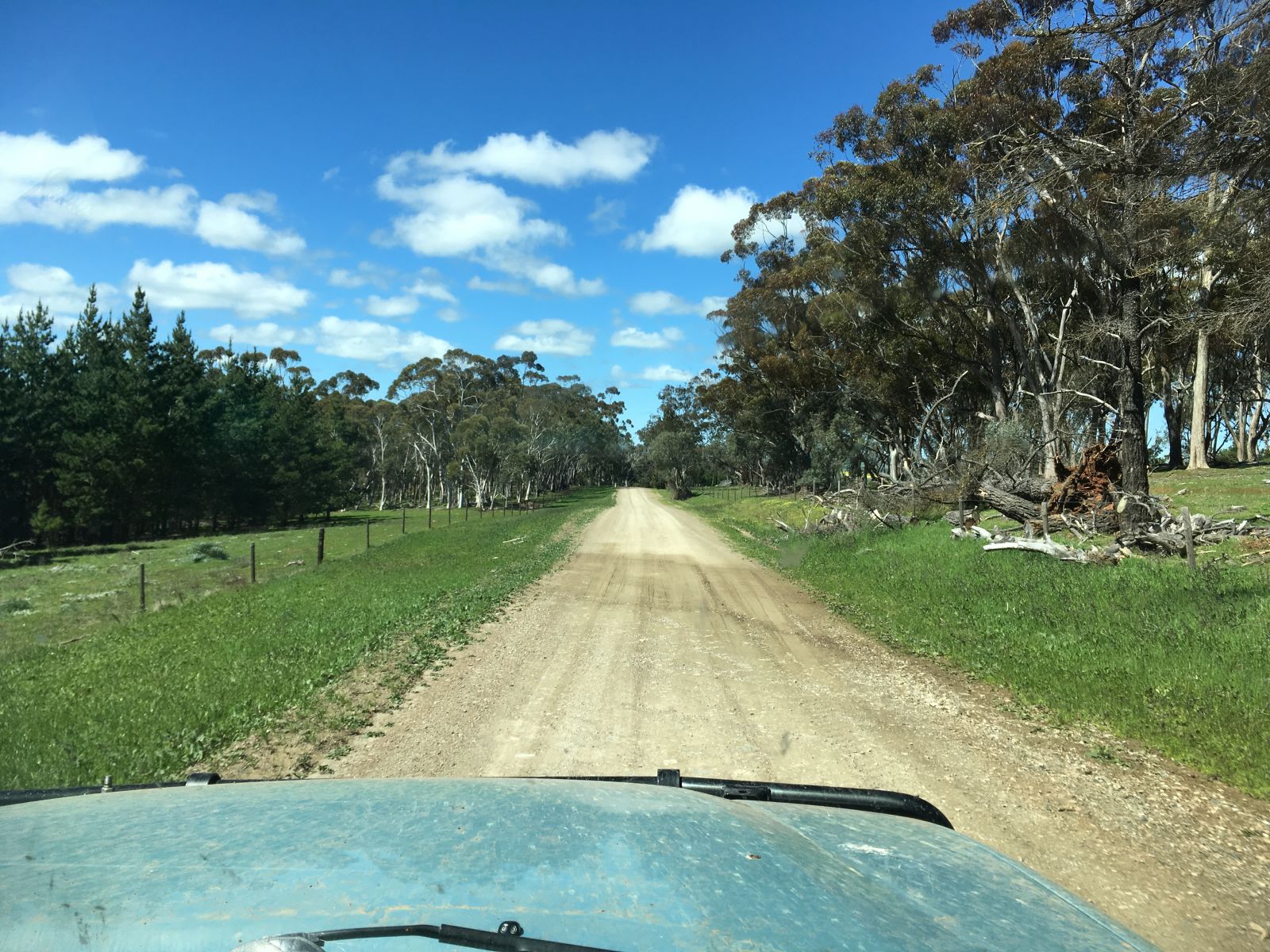 Bundaleer is a working forest, a mixture of native areas and plantation connifers. With sheep grazing between the trees too.
Decision.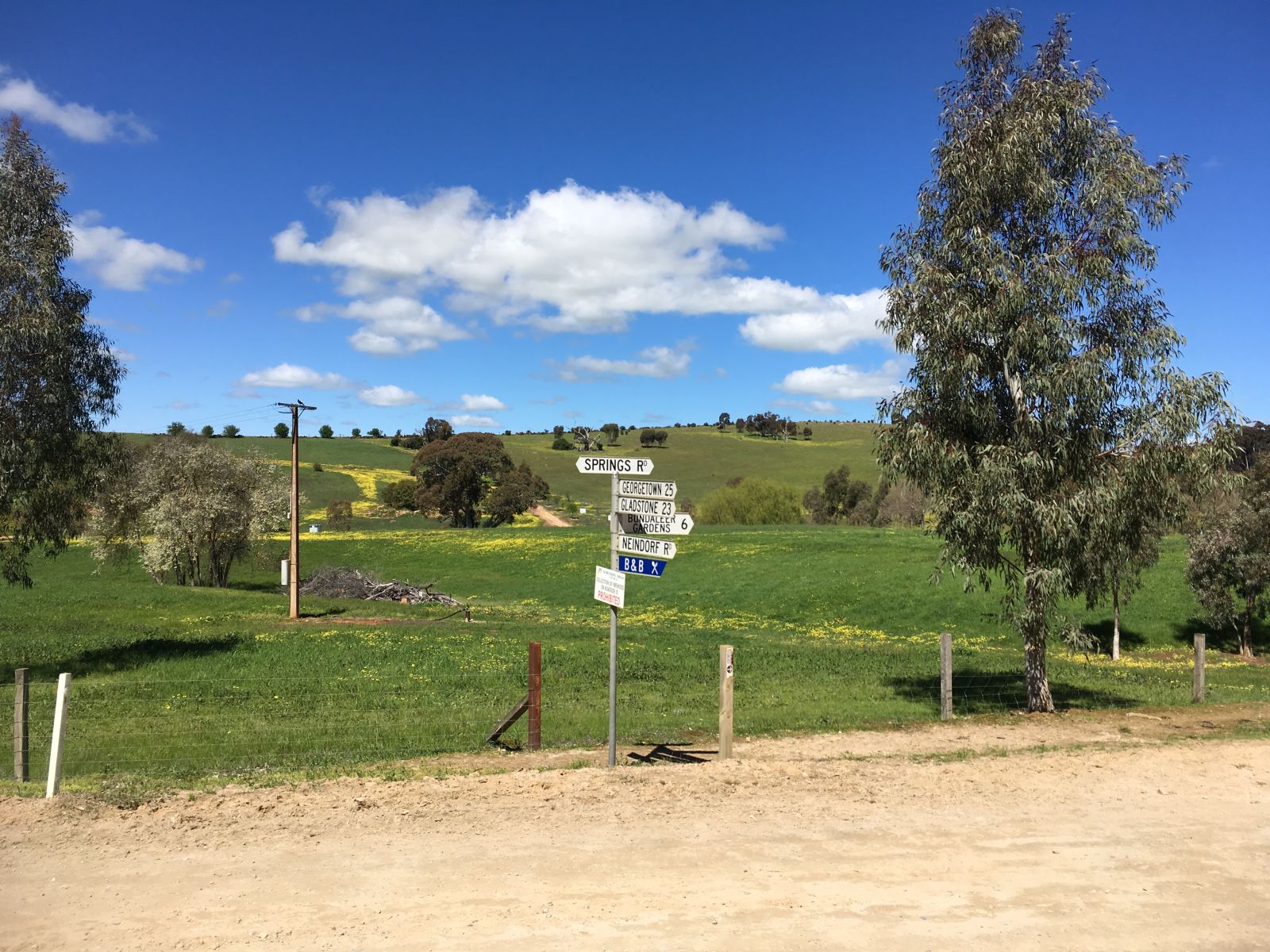 Made for me.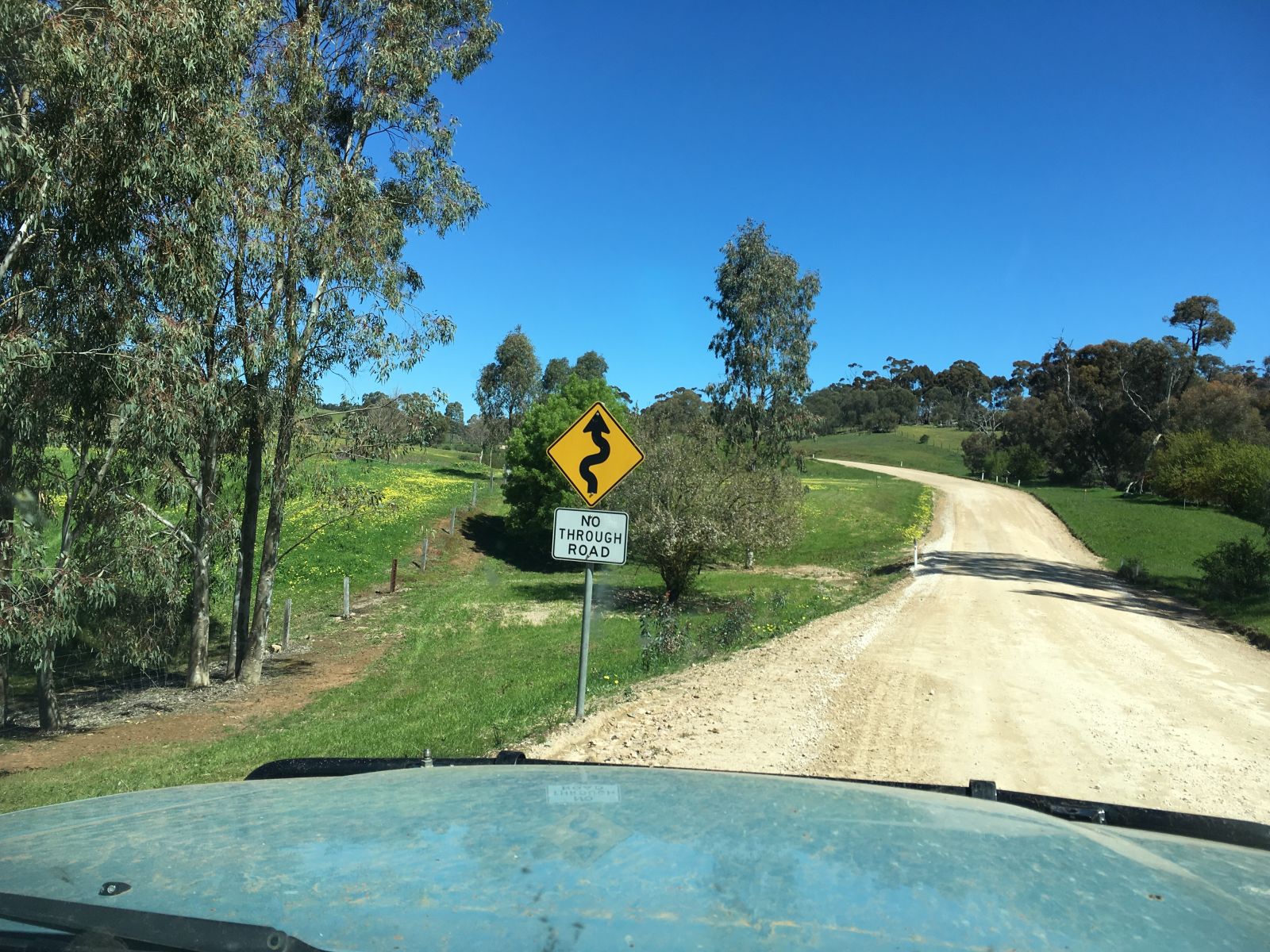 Nice pad.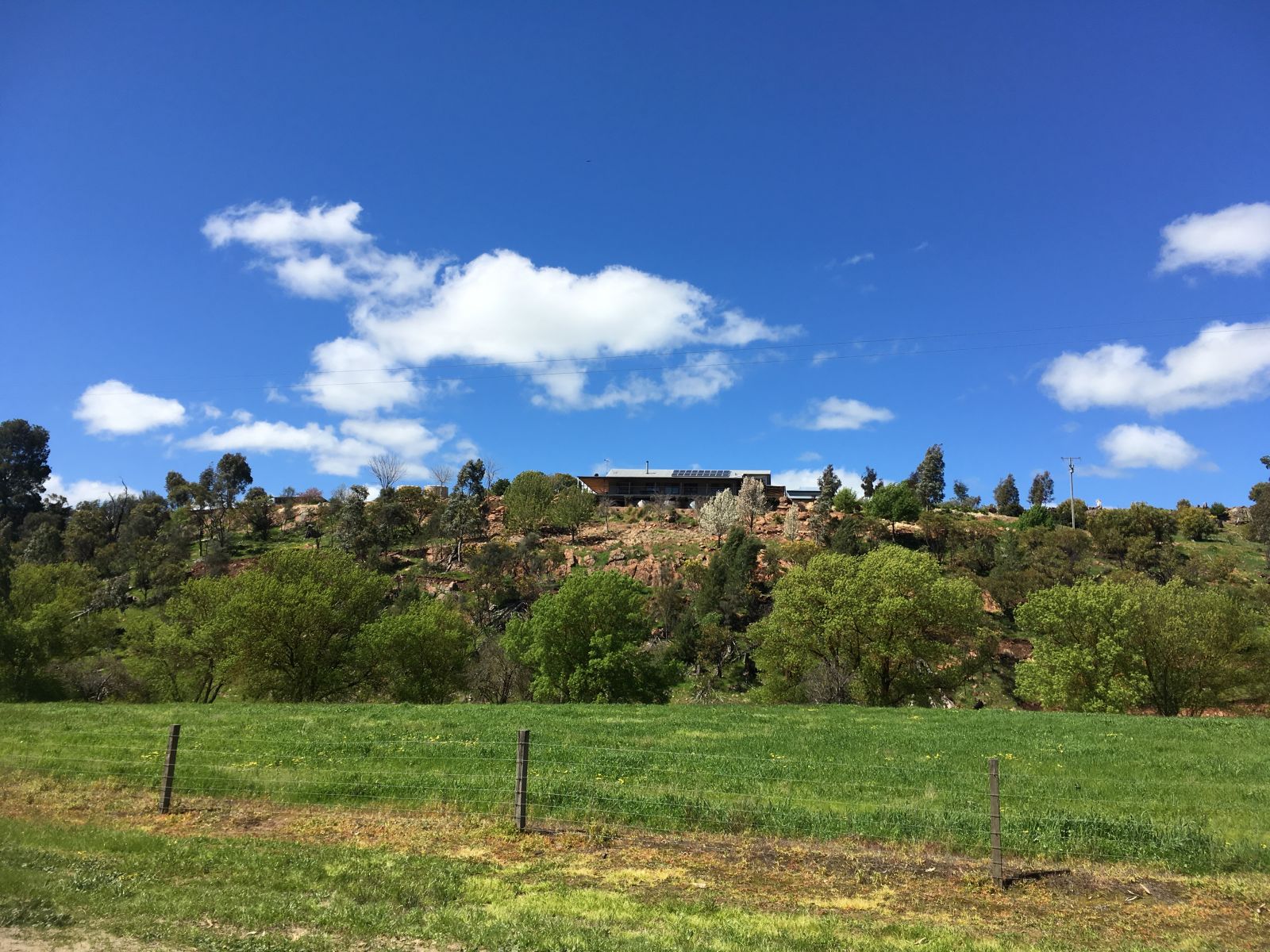 Back to the bitumen. Then one last dirt detour behind Bundaleer Resevoir.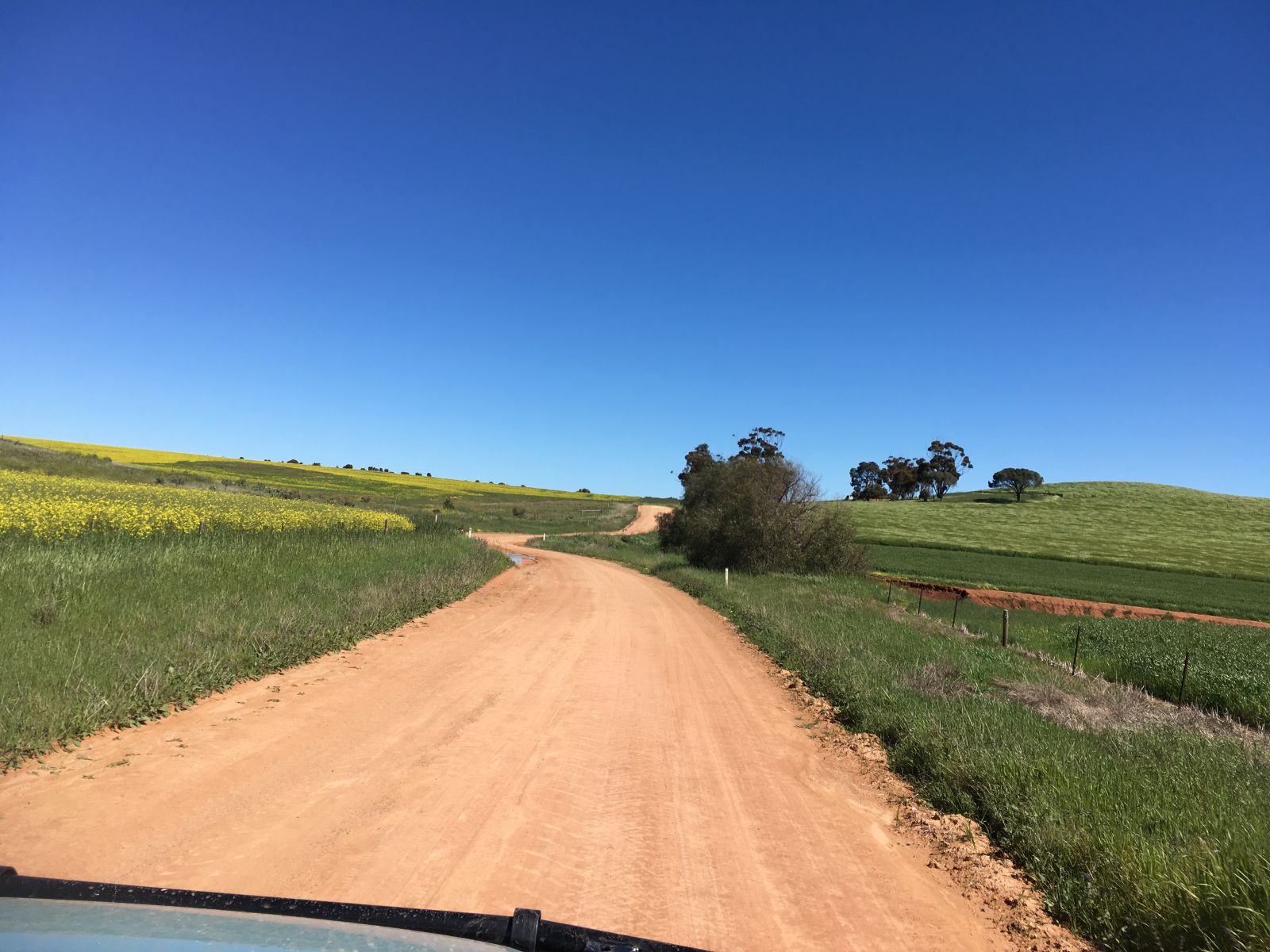 Looks good.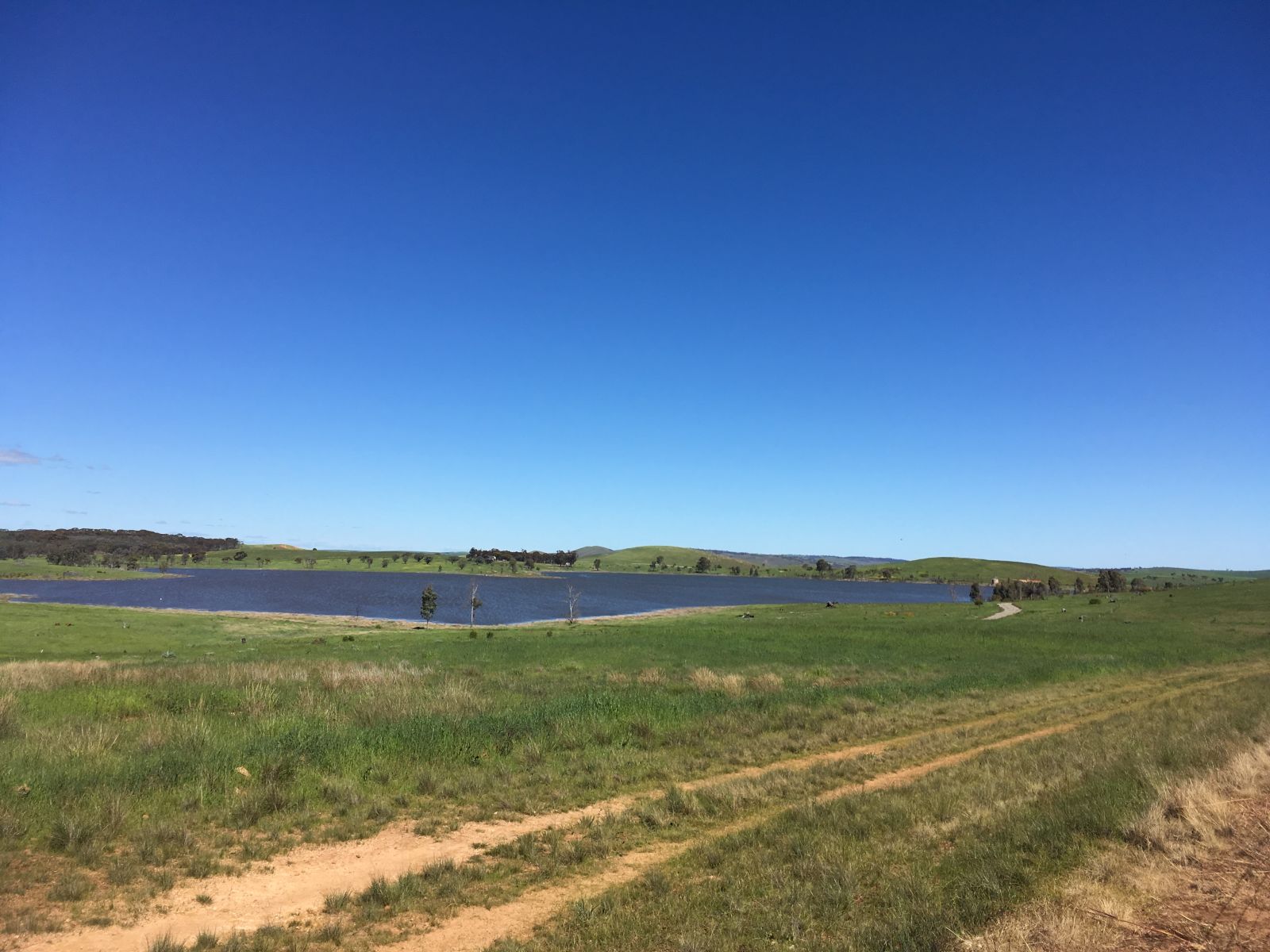 This is as close as you get.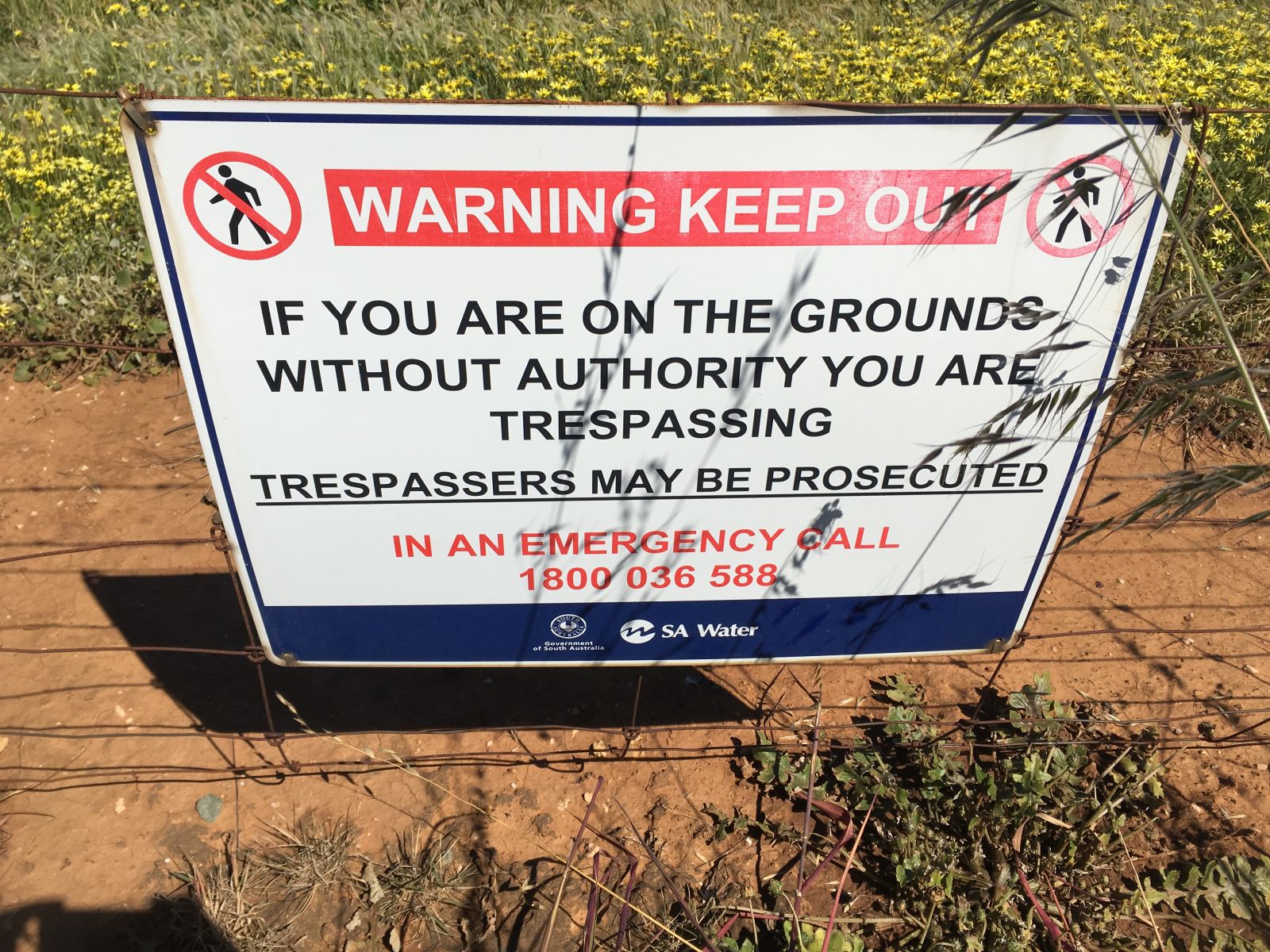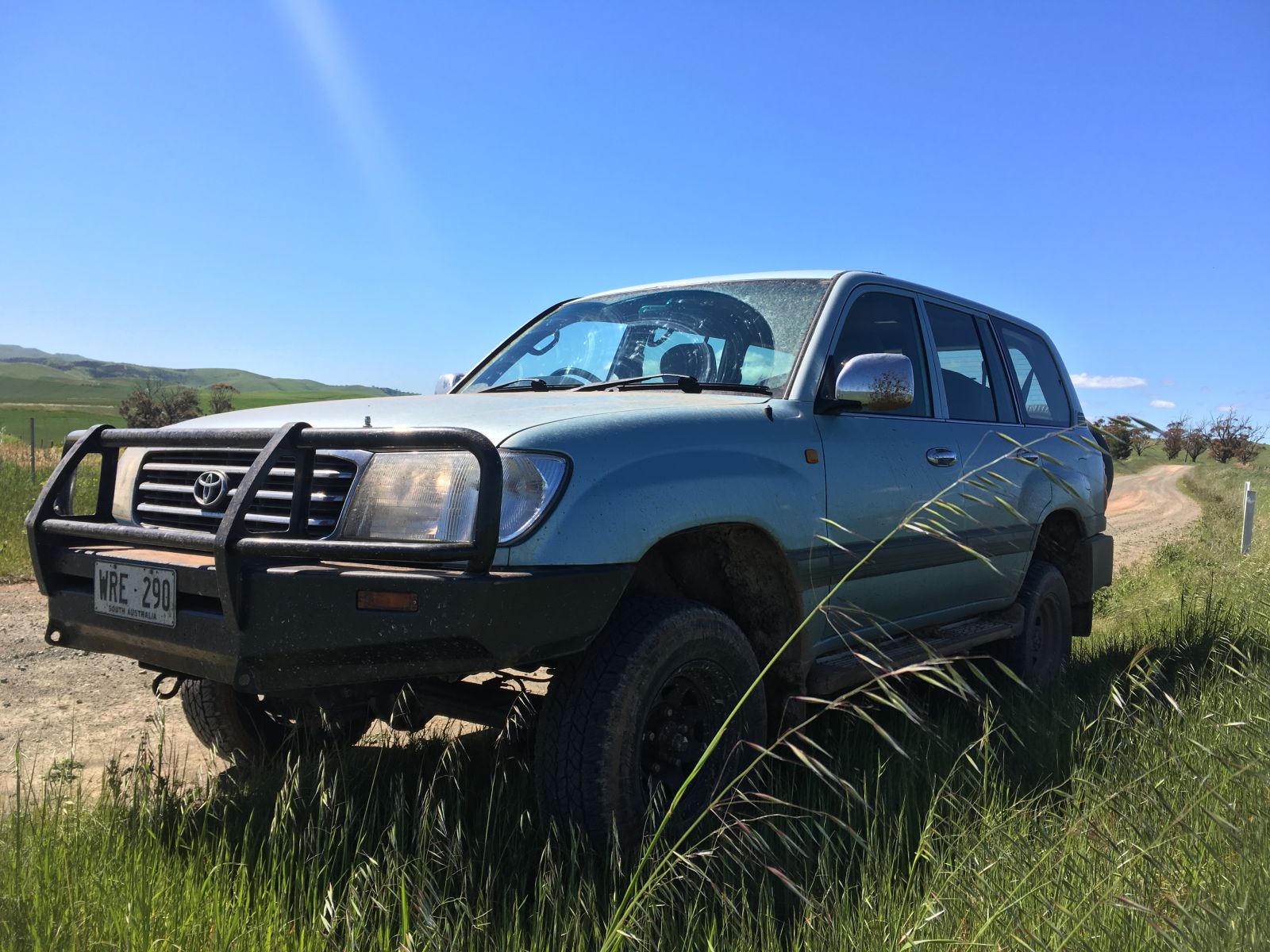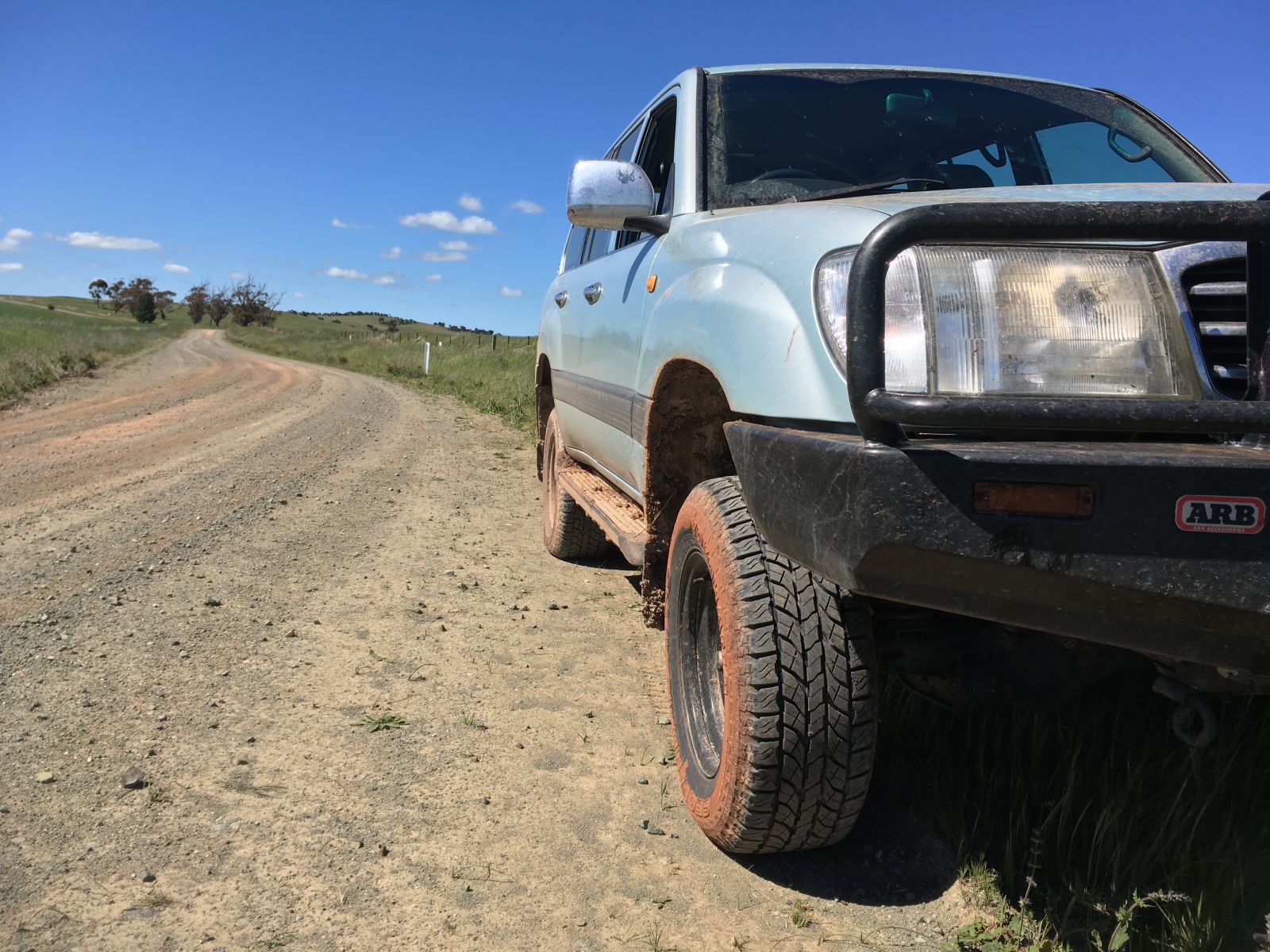 Back to the bitumen now. A quick stop in Snowtown (the is a town with a dark past) hit the highway then home.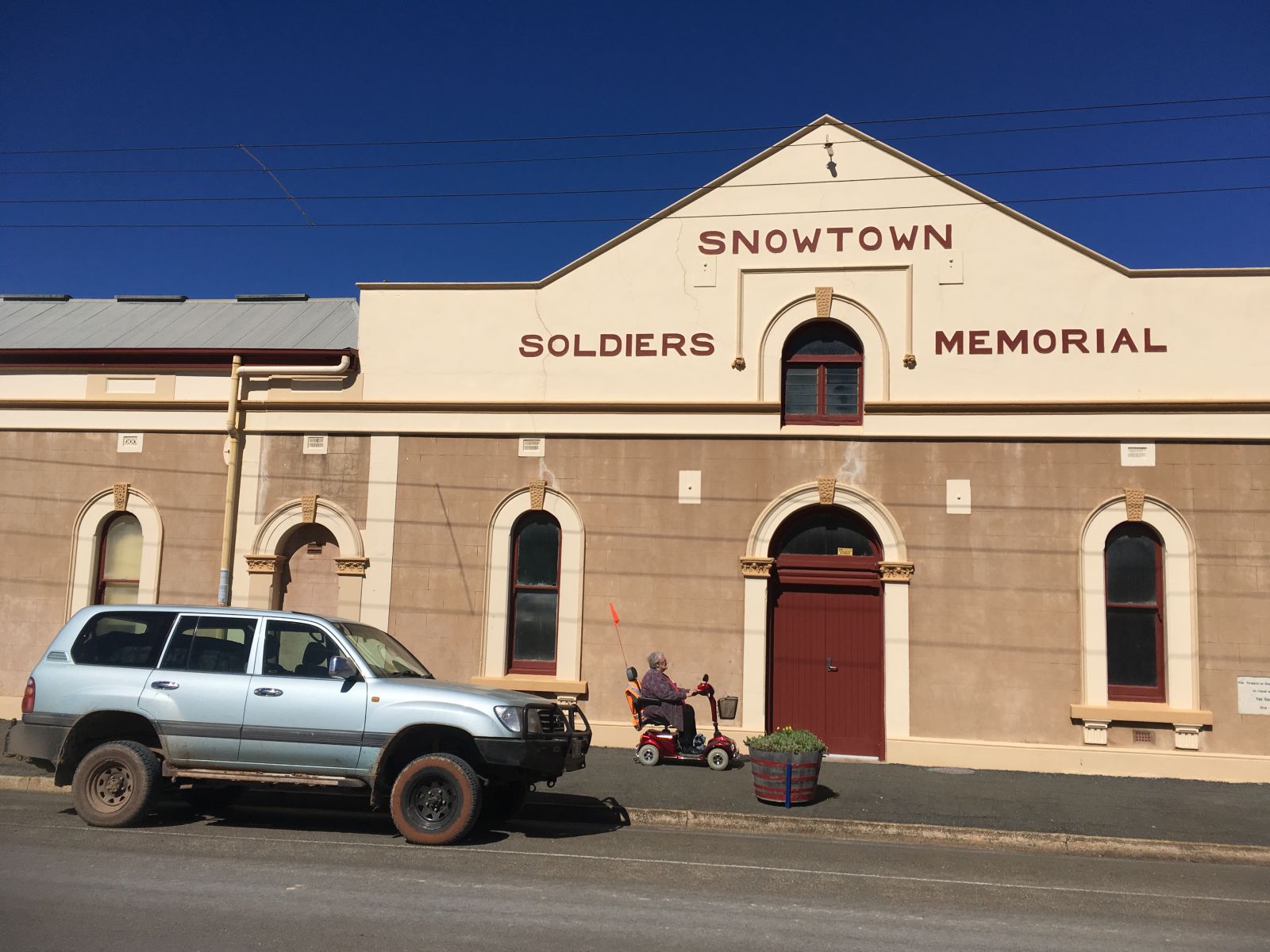 Thanks for reading along. I hope you have enjoyed this seasons autumn/winter/spring adventures. This will probably be my last one for a while. Summer is coming and there are a few jobs to do on the 105, plus some normal life stuff…
Cheers.