These are old posts from the now defunct www.overland.kinja.com. Rescued by a good person before the ship went down.
I'm just posting them here for my own record…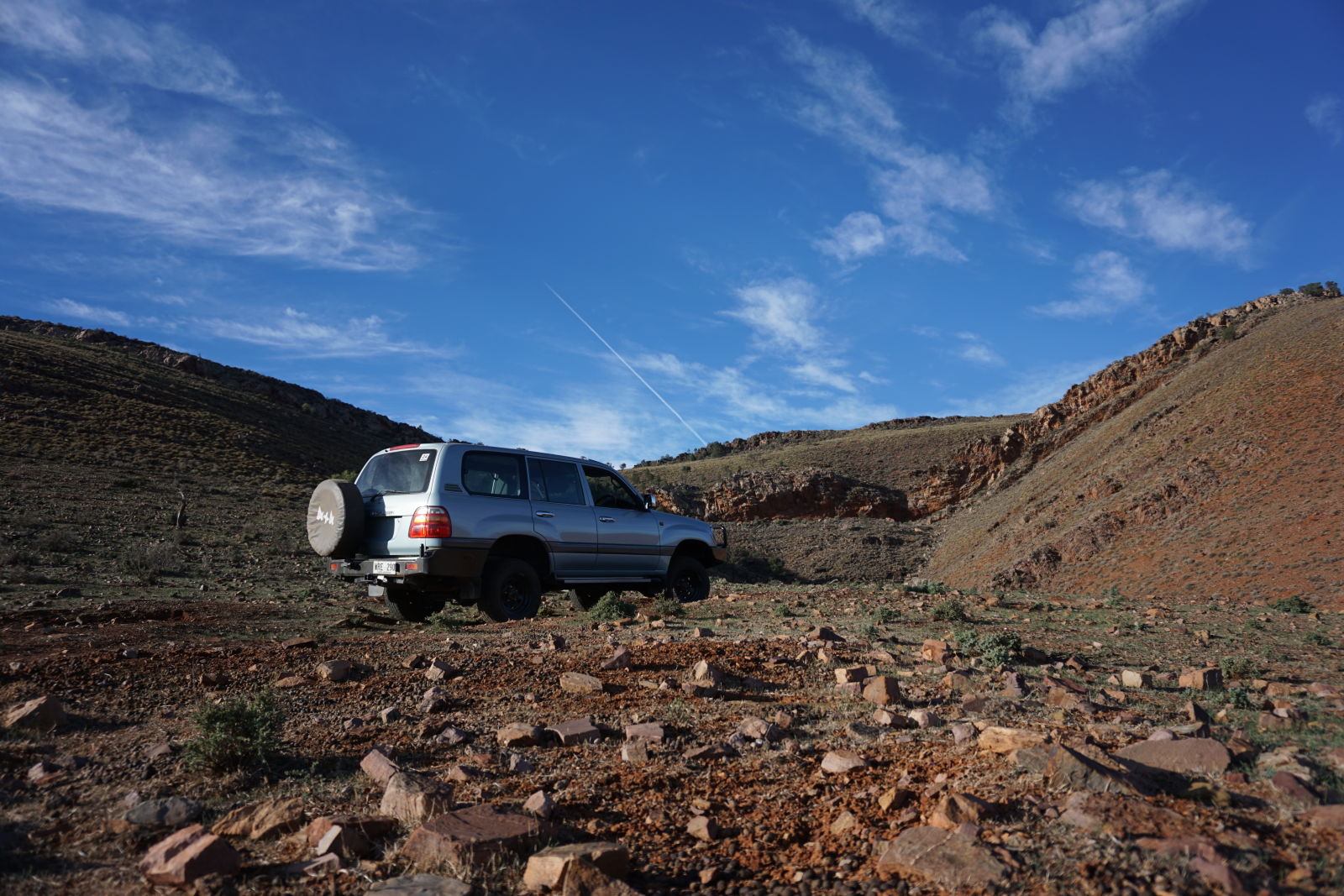 I like doing things on my own. I go to the movies on my own (I watched Prisoners on my own… Intense!). I go kayaking on my own. I go exploring on my own. I've got friends (honest!) and a loving girlfriend, and we do plenty together, but I am happy with my own company and sometimes it's nice to only have yourself to please, or disappoint, as it may be.
Life has been coming at me hard as of late, and not so much in a good way. What is the solution? Got. To. Get. Away.
Between damaging my back in a mountain bike fall, then the laying low while I recovered from that (don't get me wrong, I like a day on the couch watching movies as much as the next man, but enough is enough). Then an intense work schedule and a few other things to break my balls, meant, I just had to get away. Get some dirt under my feet and some stars over my head.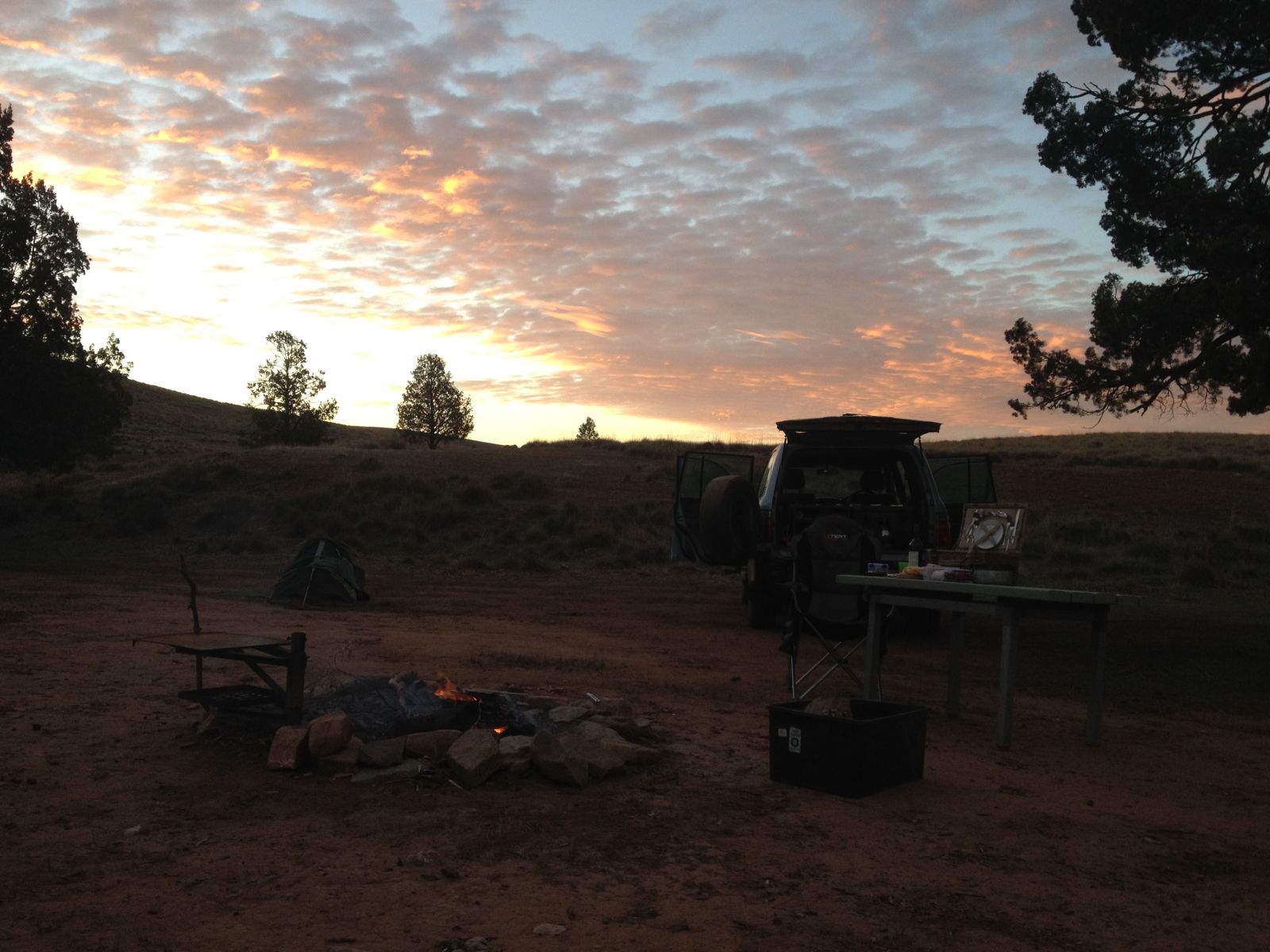 I was due to go away with a few mates on a trip to a 4wd park one of them had planned. That would have been cool, just turn up and drive. Then I stacked the bike and struggled to walk, let alone bump around in a fourby. So I focused my energies into devising a weekend away of my own.
Time to head somewhere new that can be done in a weekend. So while convalescing I hit the net and the maps and saw what was possible. So to my usual stomping ground it was, the Flinders Ranges. If I'm honest, the really good stuff here is further north.
But that takes the best part of a day to get to. So for a weekend jaunt I was looking at the Southern Flinders, I came across a property with some tracks on it in the Horseshoe Range and another drive on a property, sort of on the way there at Carinya Station.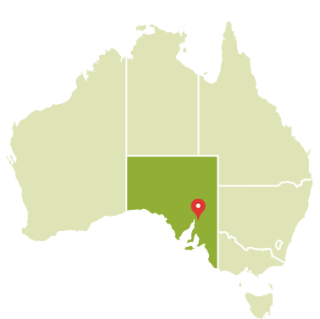 My punishing workload continued right up until the day before I left, all I managed to do the night before was drag some gear out of the shed. I am a habitually early riser so I thought I would just sort it out in the morning. Of course being a bit strung out I slept in a bit later than expected, nay mind, the sleep is good, just have to crack on.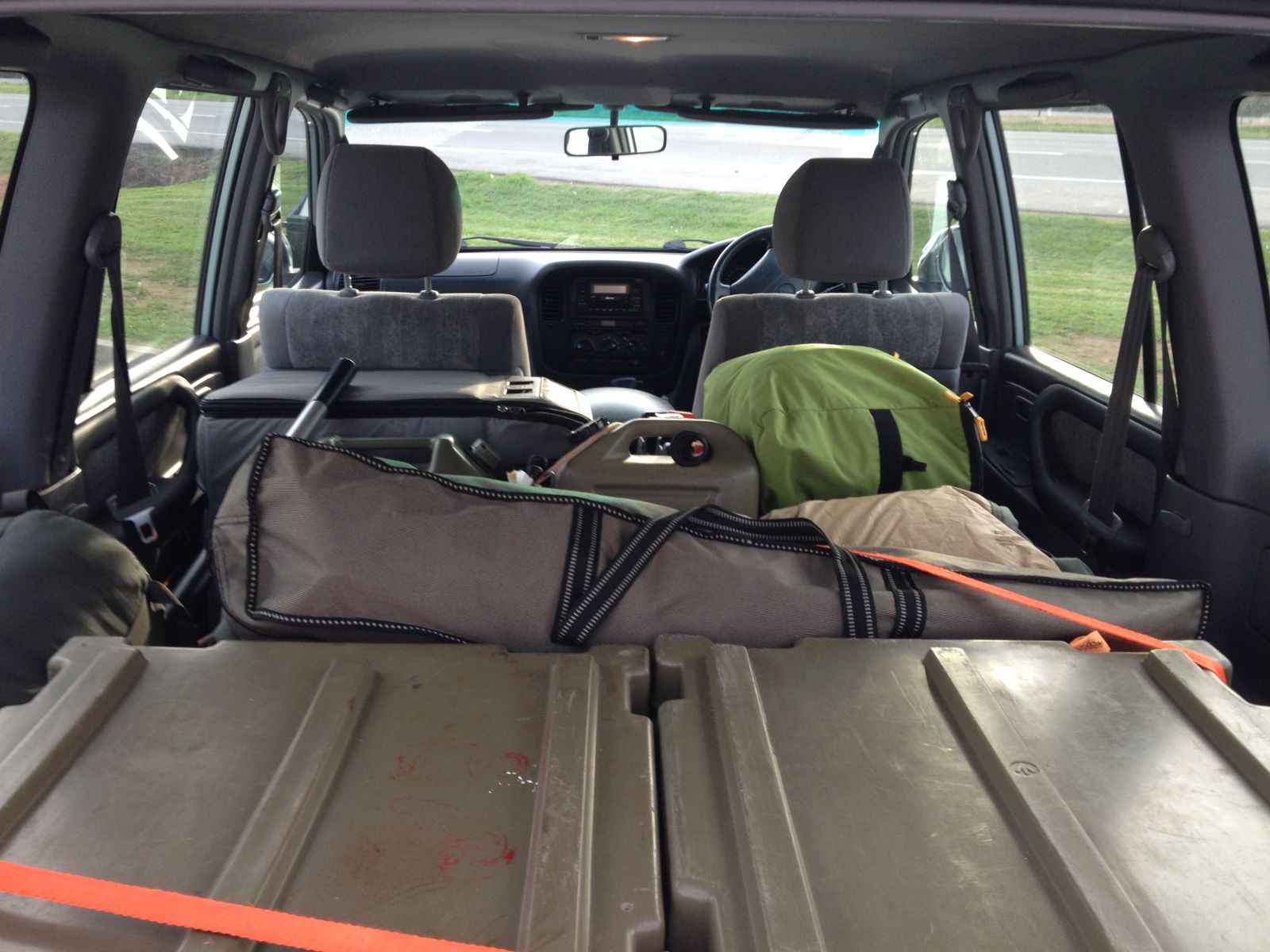 Not ideal but I've got the essentials yeah? What are the essentials, water? Yep. Food? Yep. Fuel? Both tanks full, no worries. Maps? Yep. Tools? Yep. Recovery gear? Won't need it, got it anyway. iPad? When did that become an essential? Anyway, whatevs, I got that too.
Over the years I've evolved a pretty modular set up, so it's just a matter of throwing boxes and containers in the truck, not perfect but easy done.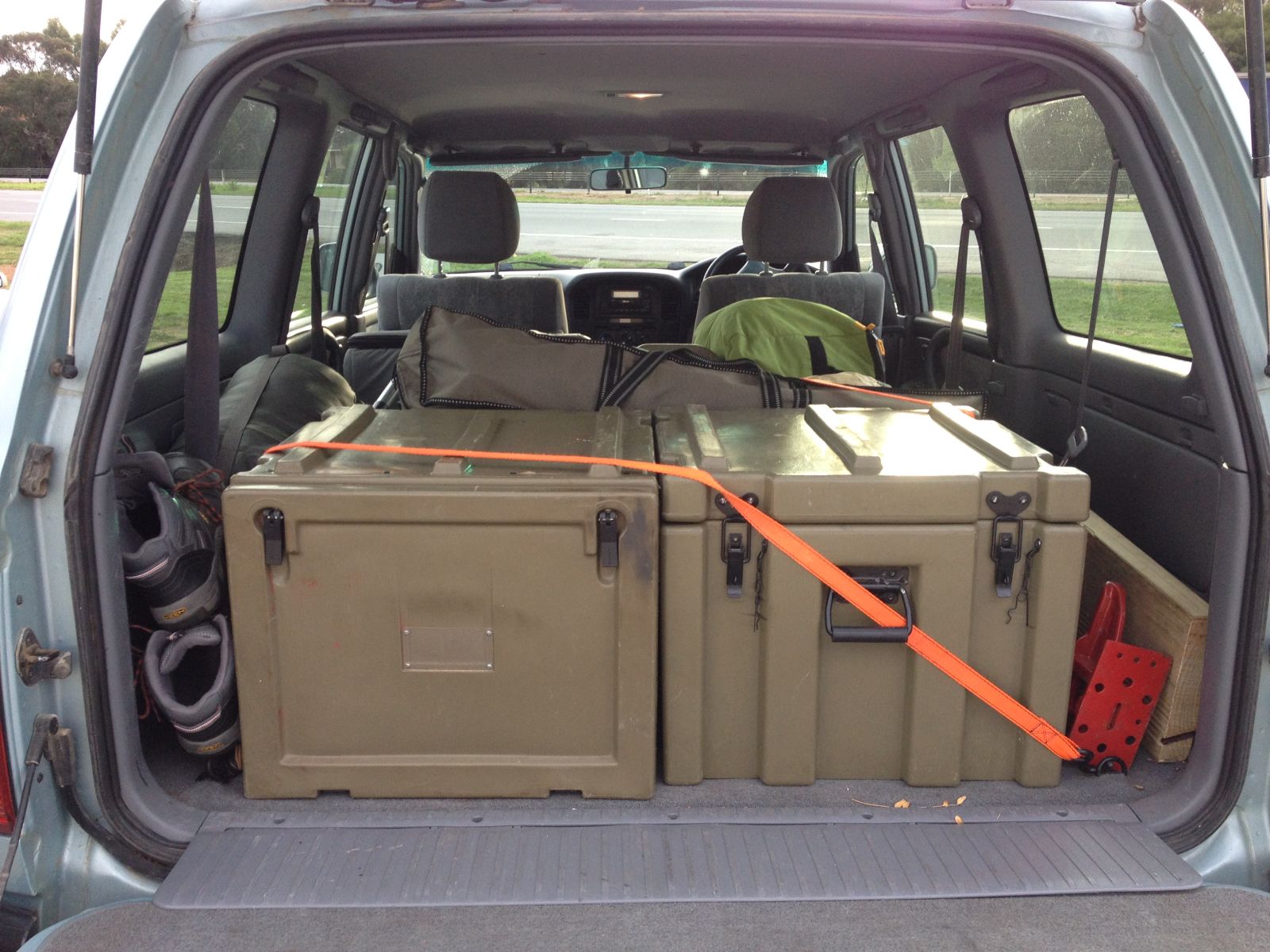 Time to hit the road. The first property owner had asked me to be there by 11.30 am, no massive drama but meant I was slightly more rushed than I would have liked, although others had worse things to deal with in the build up.
Usually I'll take it easy on the way out, give the fuel economy half a chance and relax myself into it. The tight schedule meant i had to get on with it, and the odd thing that slowed me down didn't help.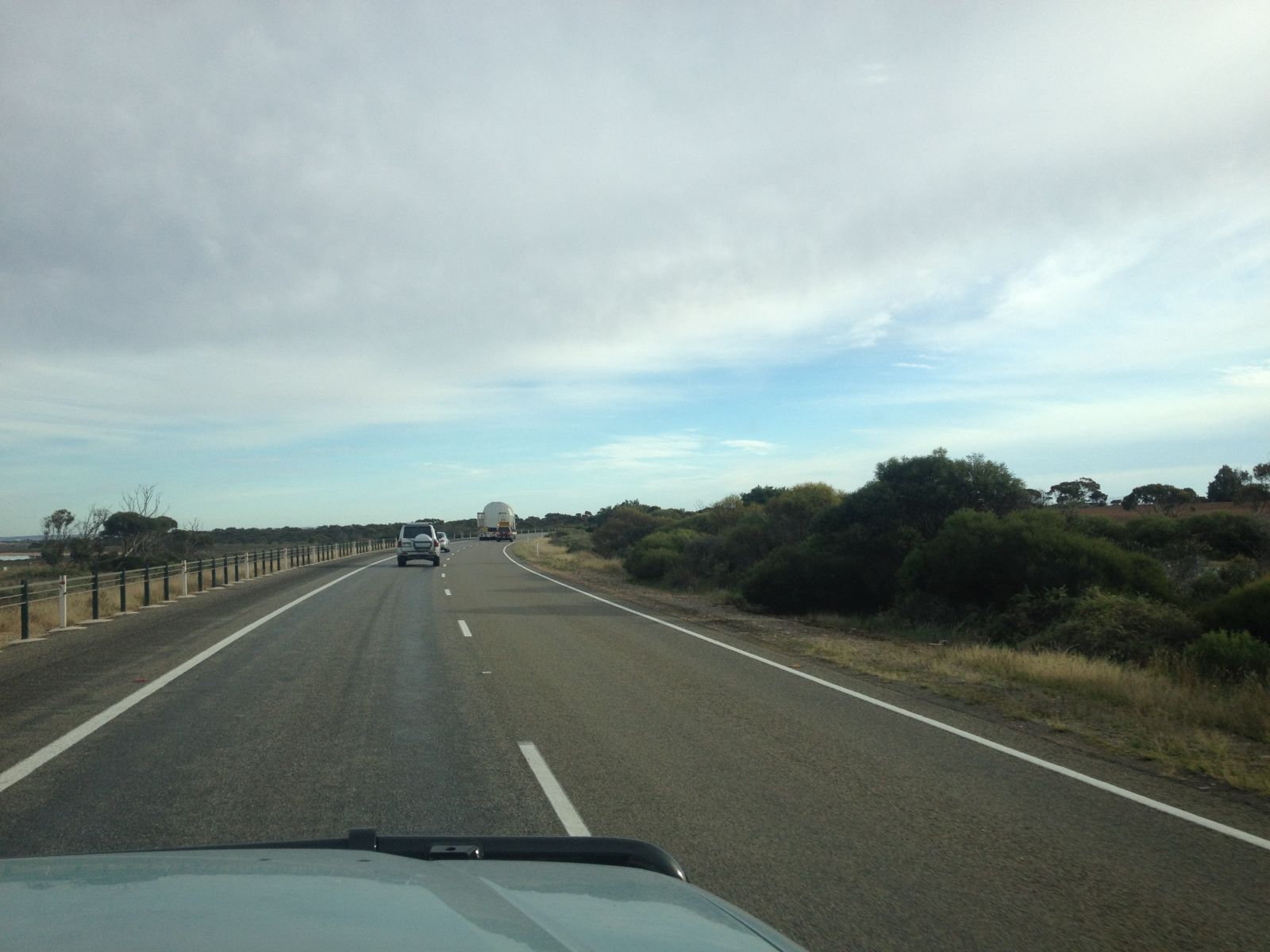 I was a bit stressy out of proportion to the situation, but it's like that sometimes. However the further you get out, the more the traffic thins, eventually you lose FM radio reception, nothing to do now but drive, start to unwind a bit. Do you switch to AM and country talk-back radio? Sometimes it's entertaining to listen to, but there is an election on. There probably are things I care less about, but I just can't think of them right now…
Time to fire up the period Toyota sound system with some CD action. The advances in technology have made music way more accessible, gone are the days when you had to buy an album because you liked one song (why do we even have albums still?), as is the B-side, shame. Unfortunately as is the concept of the mix CD, or it's forerunner the mixtape. Many an hour was sweated over these creations, trying to take the listener on a journey (or just 'impress' some girl maybe), or just share what you have with a like minded fellow. Anyway, I delved into the assortment of CD's all helpfully labeled 'Mix', 'Mix for Rufant', or such like. Anyway, still good listening, forgotten tunes from forgotten friends. No-one to hear my bad singing/rapping…
Despite a small misunderstanding in the directions from the first property owner I made it there with time to spare. A nice country couple Tony and Marilyn. Marilyn was asking about my surname, as she went to school with someone with the same surname. I told her my grandad on my fathers side (the Australian side) was adopted into that family, and they are both long dead now so there is no one to ask, there probably is a connection, just lost in the sands of time. Anyway she took me to the part of the property that the trail was on (on dirt roads in her Mazda 3, at quite some pace too!), luckily showed me how the 'farm gate' worked, otherwise a thicky like me would have been there for ages trying to figure it out…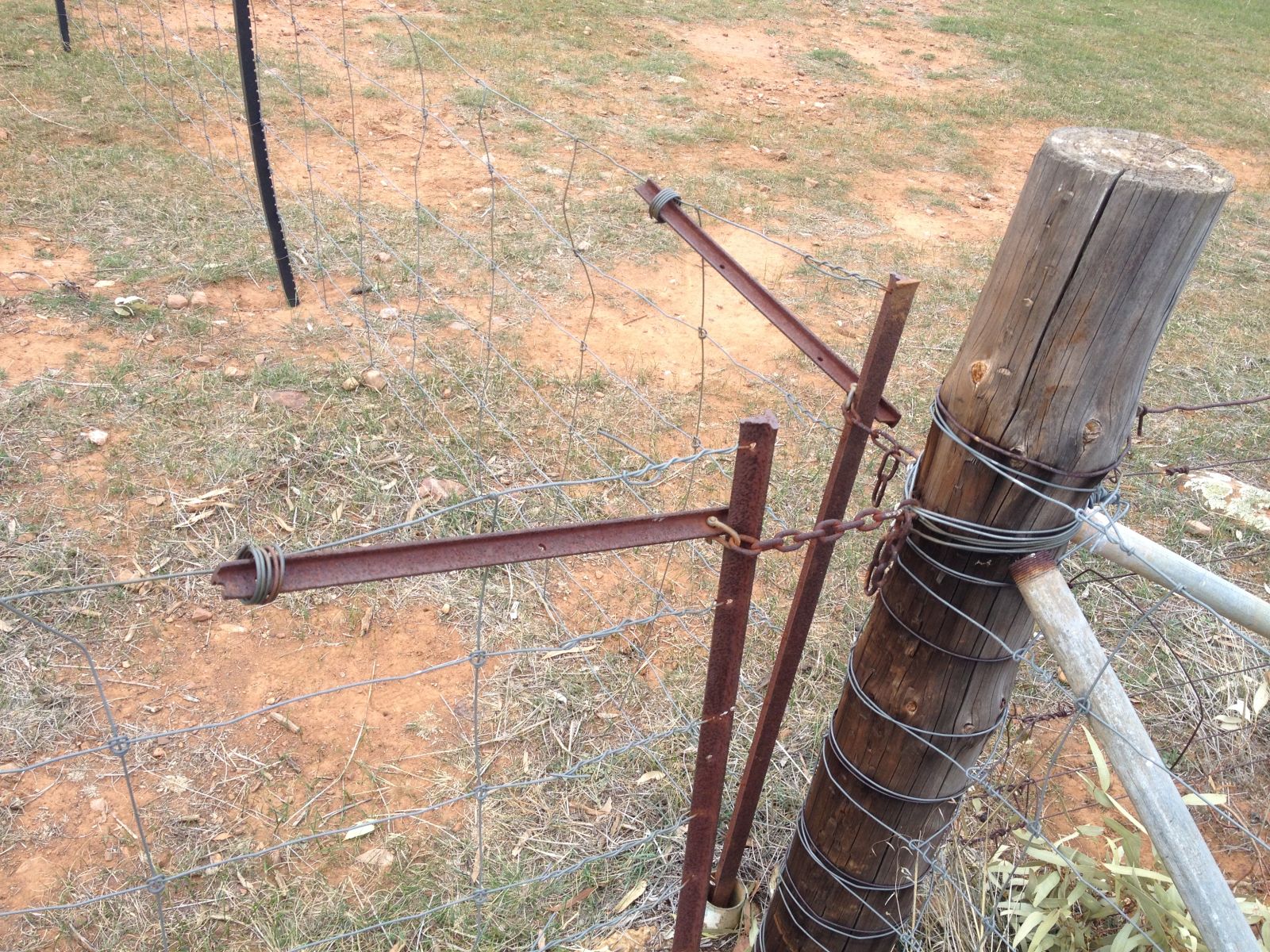 So, now onto dirt proper.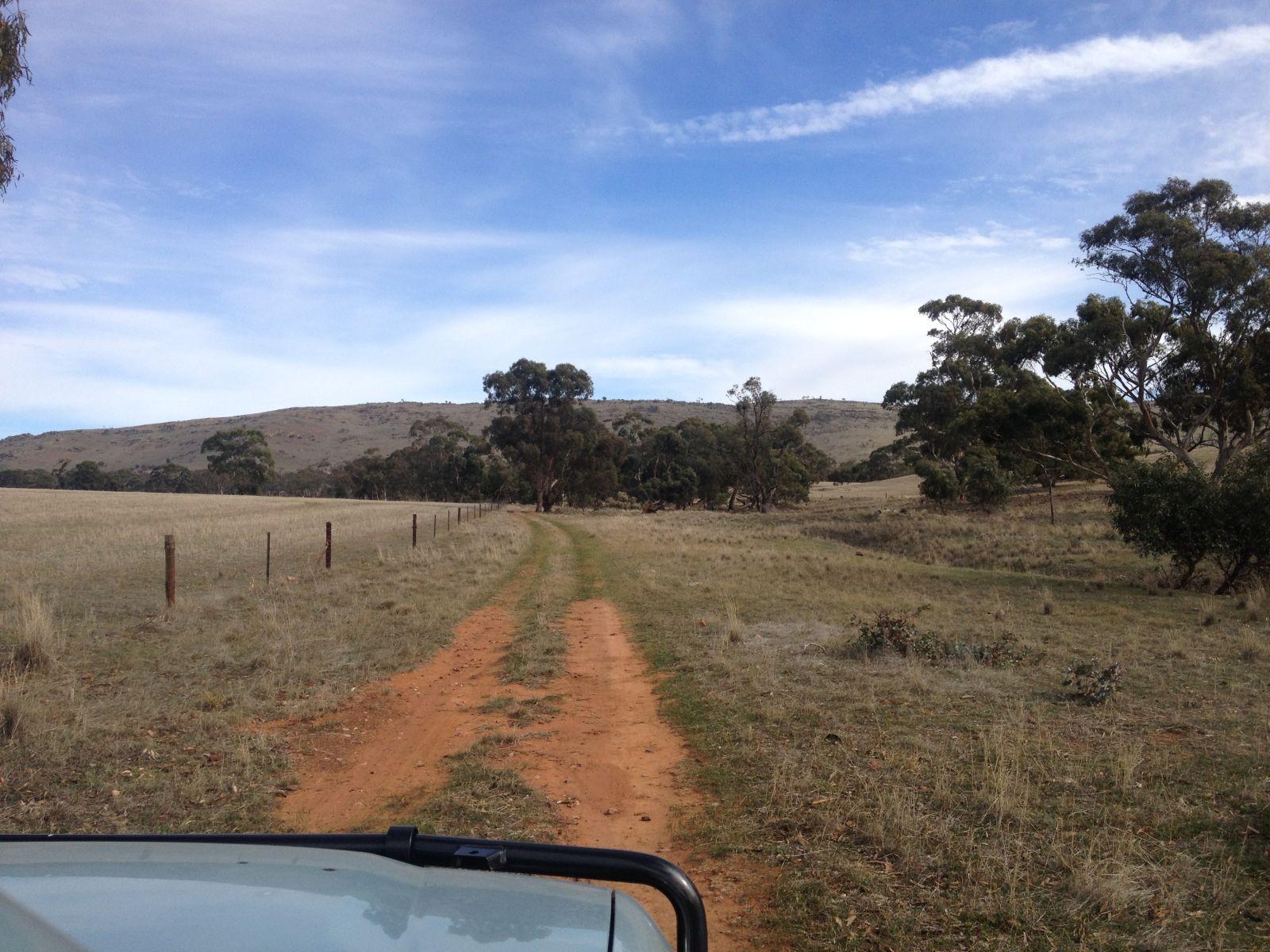 So this track is a PAR (Public Access Route) which is an initiative here in South Australia where property owners open up their land for 4×4 exploration on certain set trails, some are free, some (these ones I was doing) charge a small fee. As I've said many times before I'm cool with spending a bit of money in outback areas, I'm just glad these things exist for exploring and everything isn't locked up (like most of the UK). As with most properties up here, this is a sheep station, this one just happens to have a decent ridge of hillside running through the middle of it, which the track meandered up, along and over.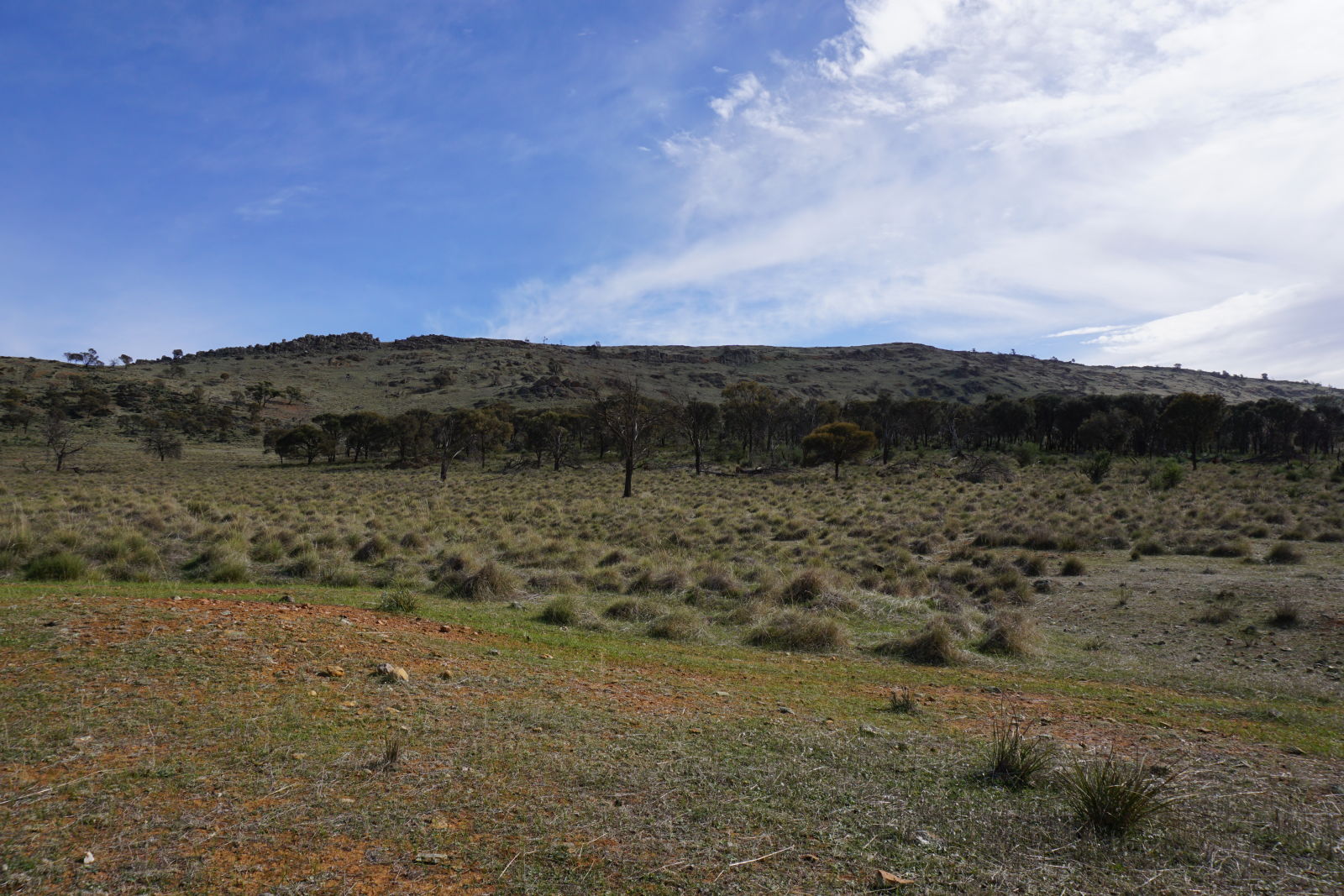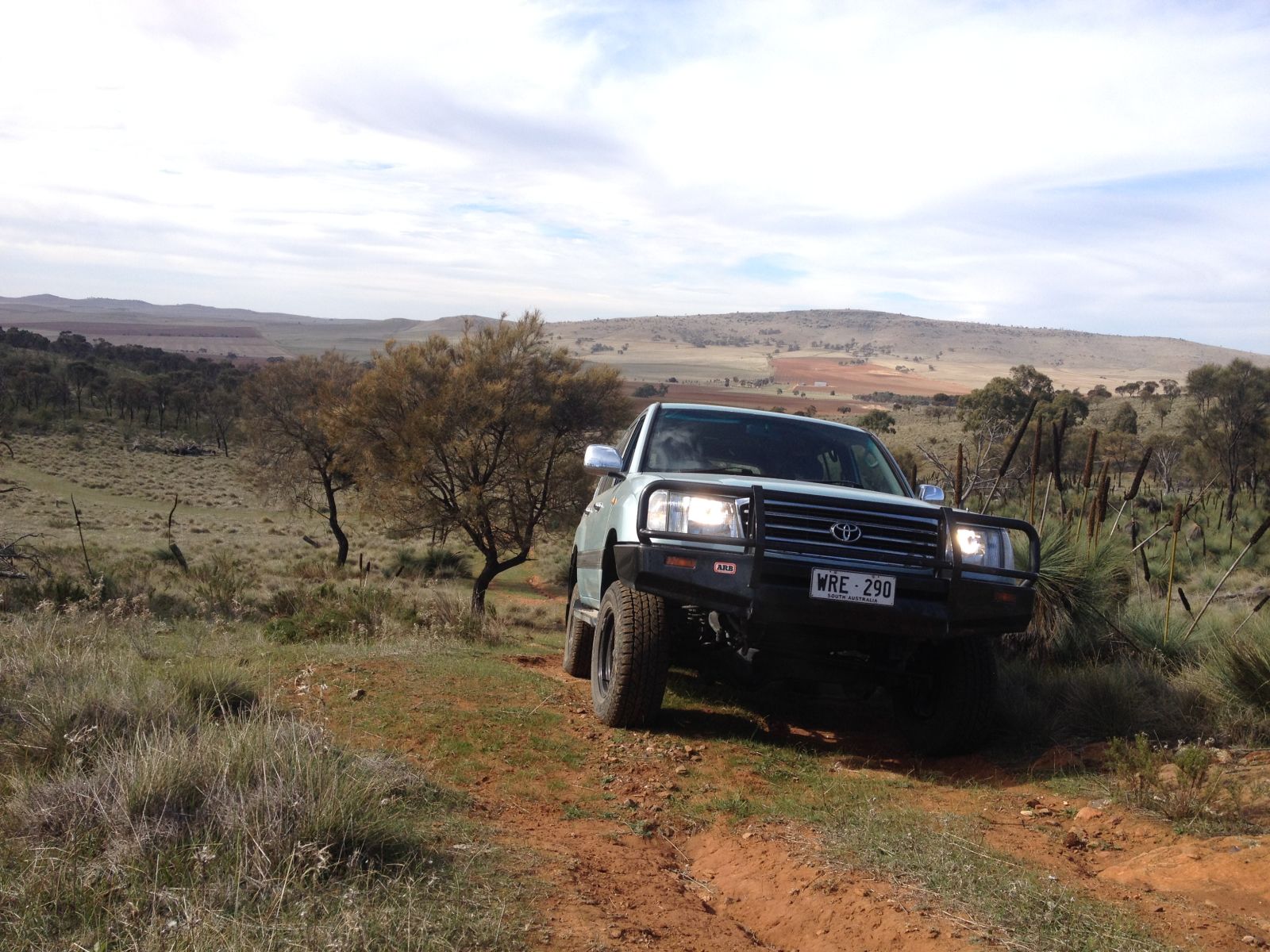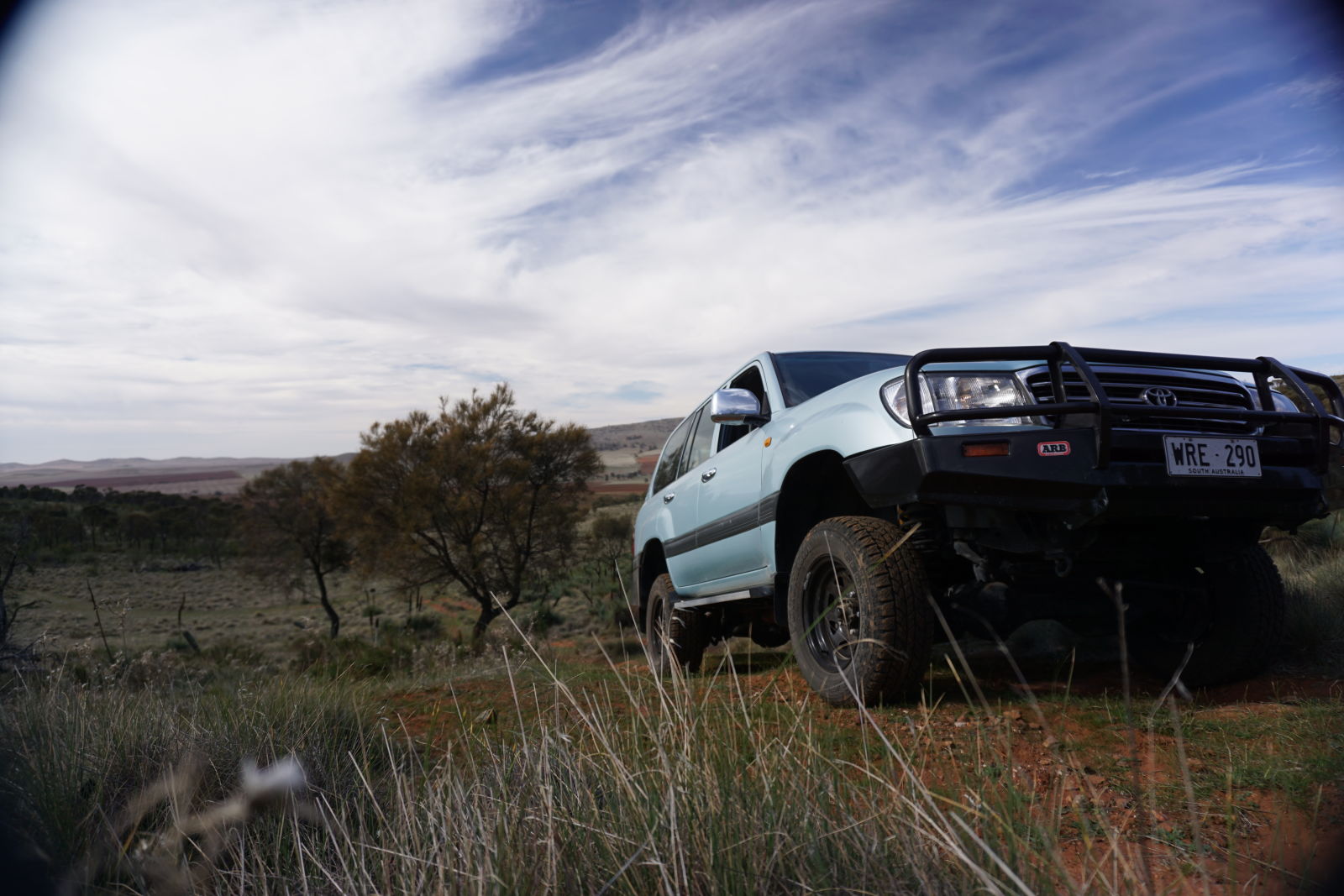 So they climb up featured a few interesting side angles. Of course when there is nothing but a flat soft surface if you roll over I think they are hilarious. When there is a couple of hundred feet drop on the downside, I'm sweating over every rock the upside wheel has to crawl over…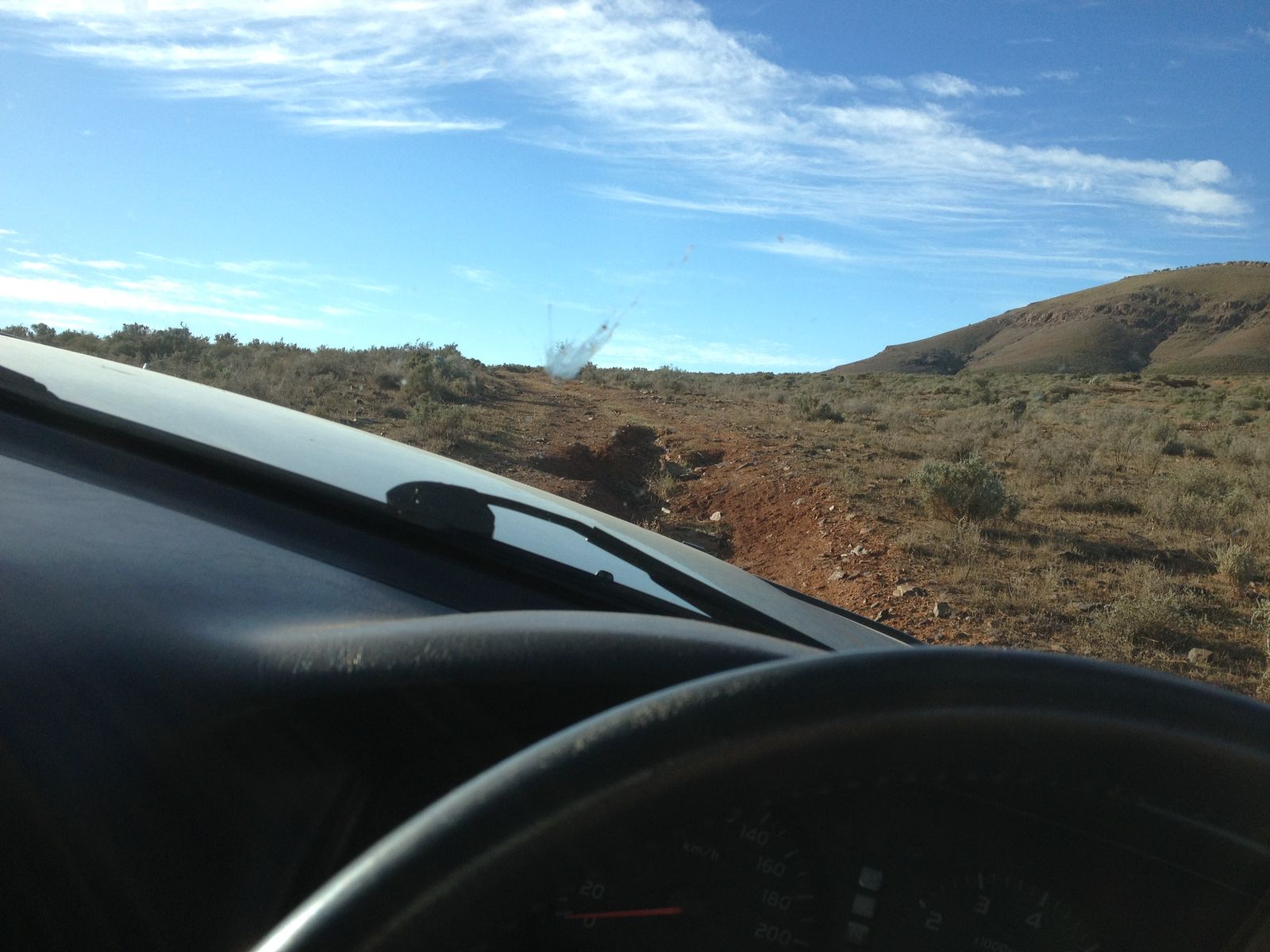 Soon I had breached the ridge, the markers are to guide you over this steep section.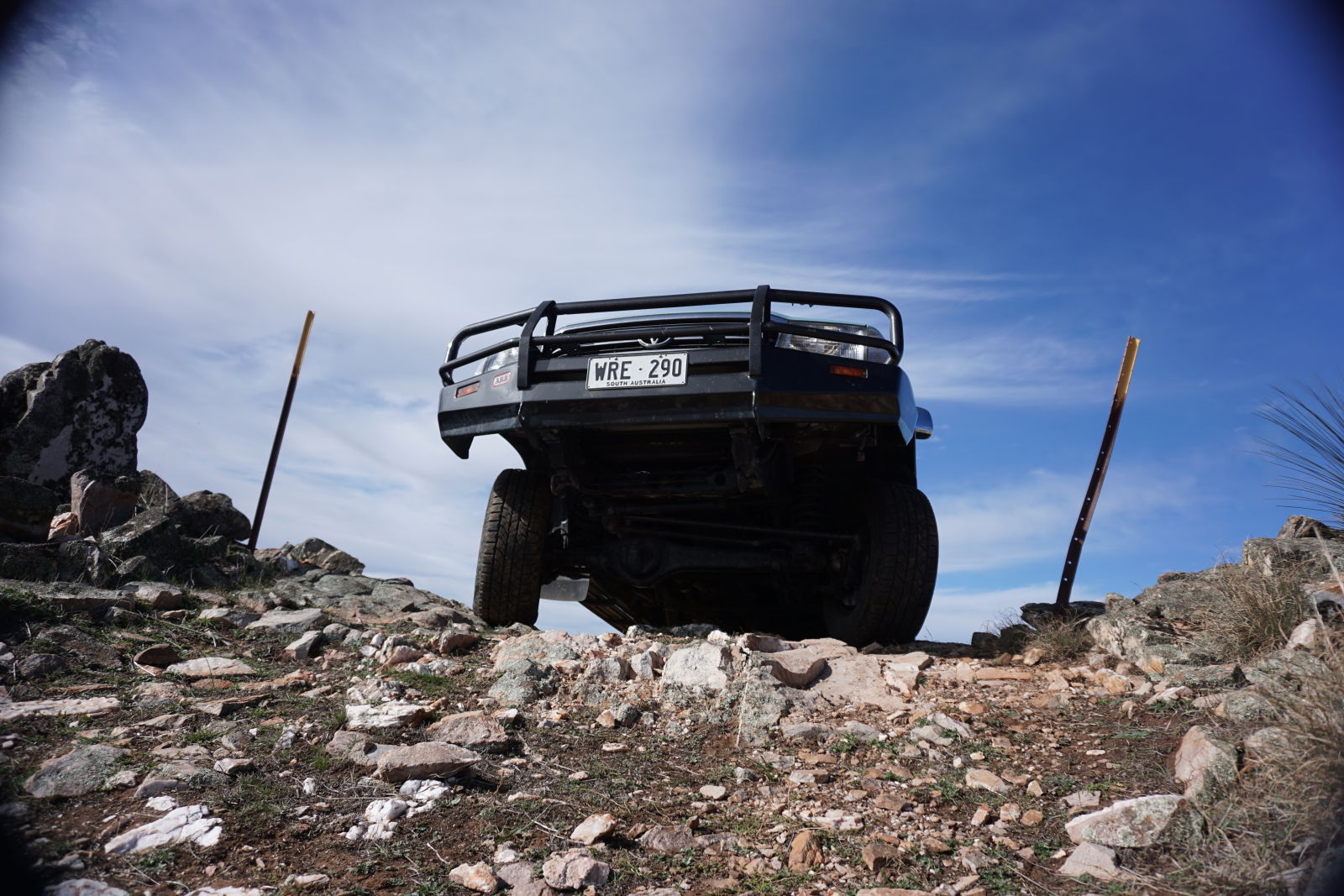 This shows the side angle better.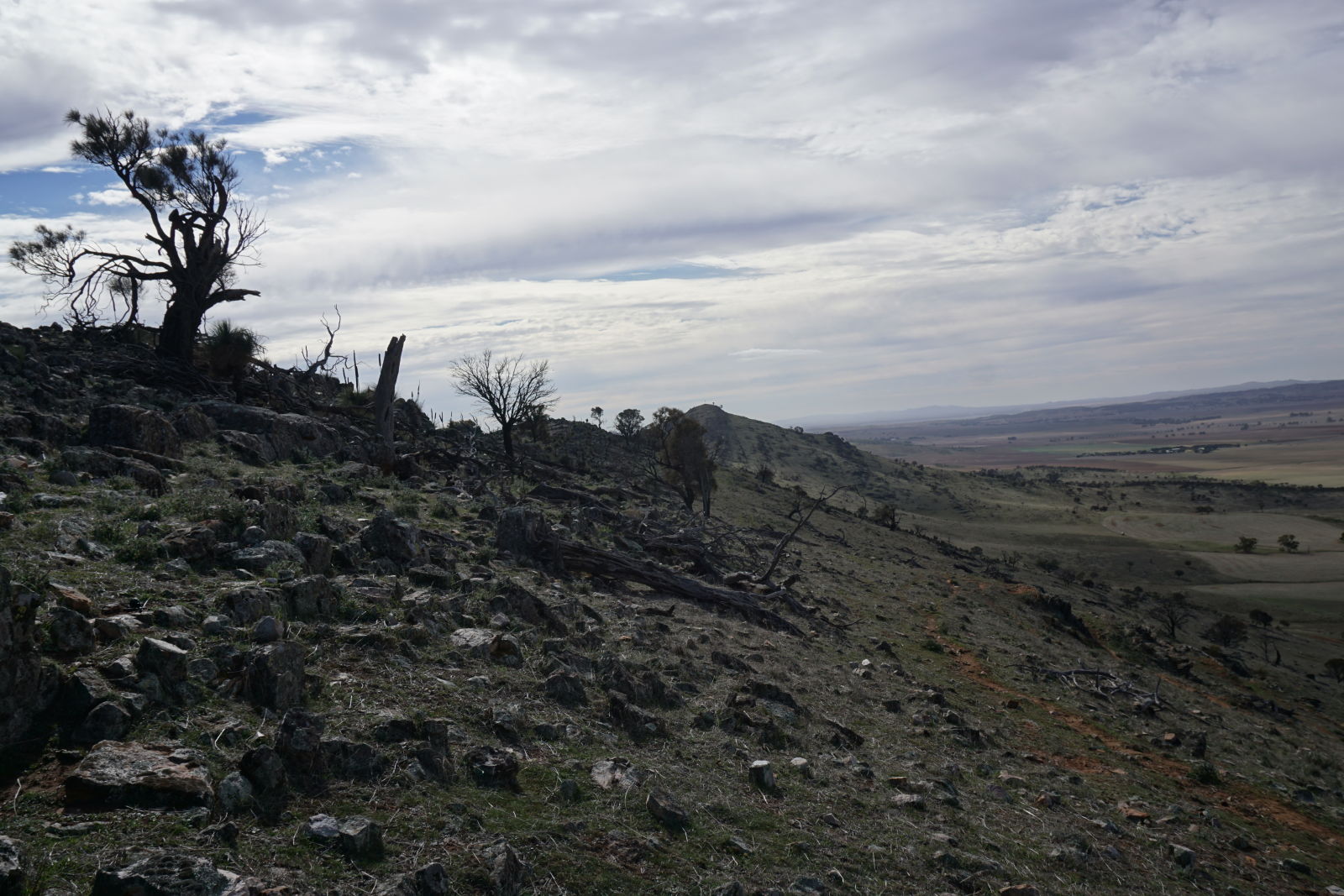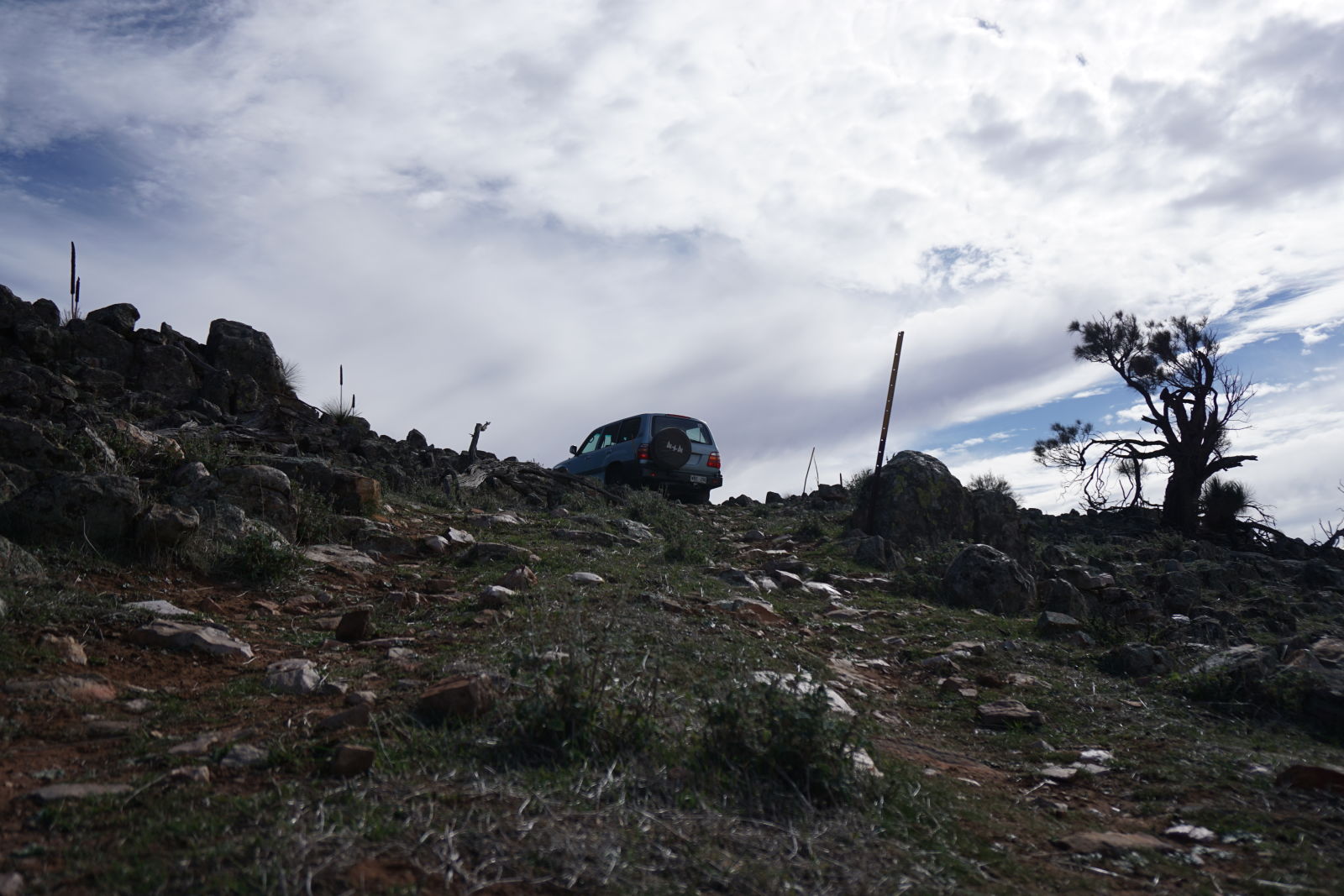 Farm land not far away.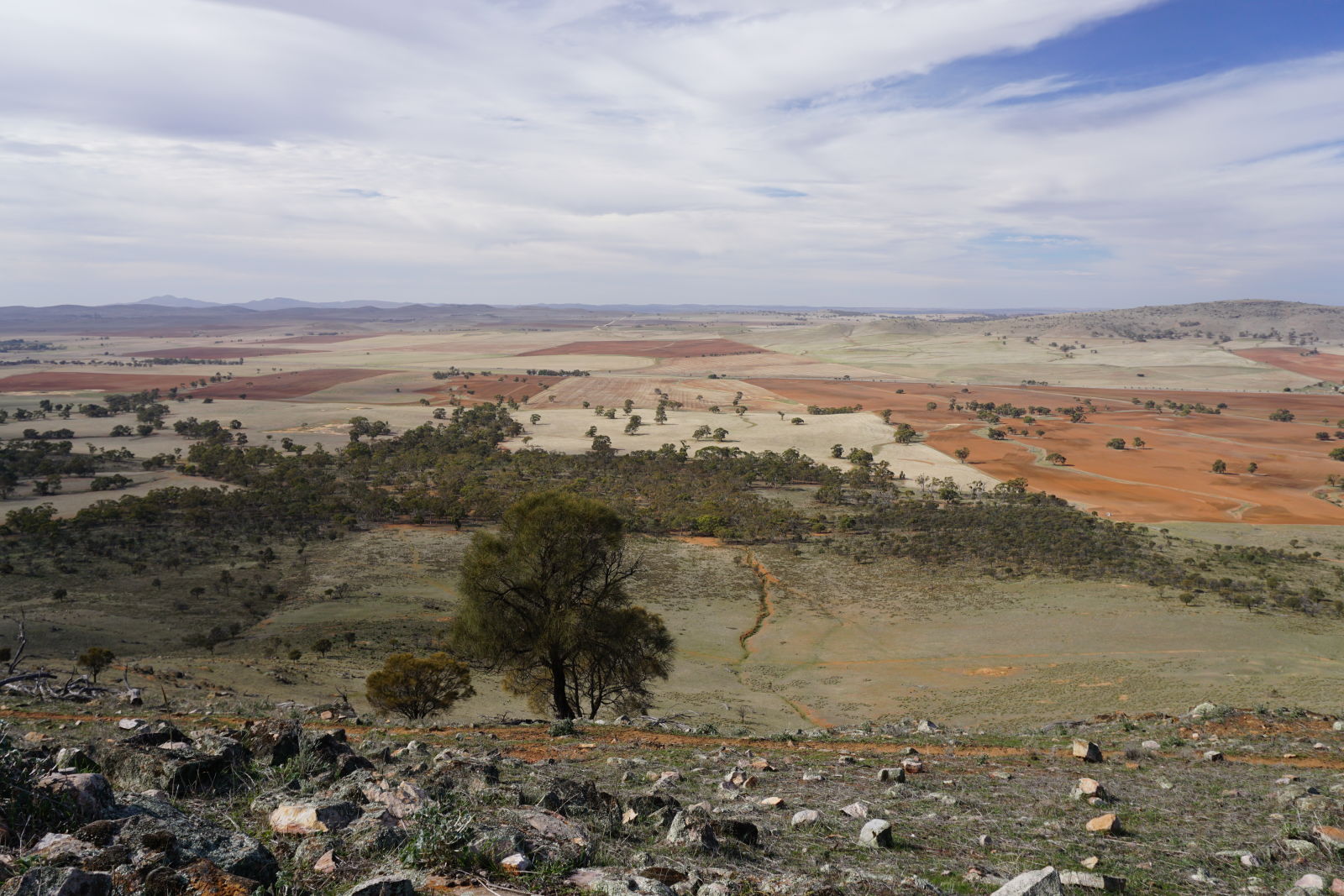 Now up on the ridge proper. Plants have a hard time up here, the wind is relentless.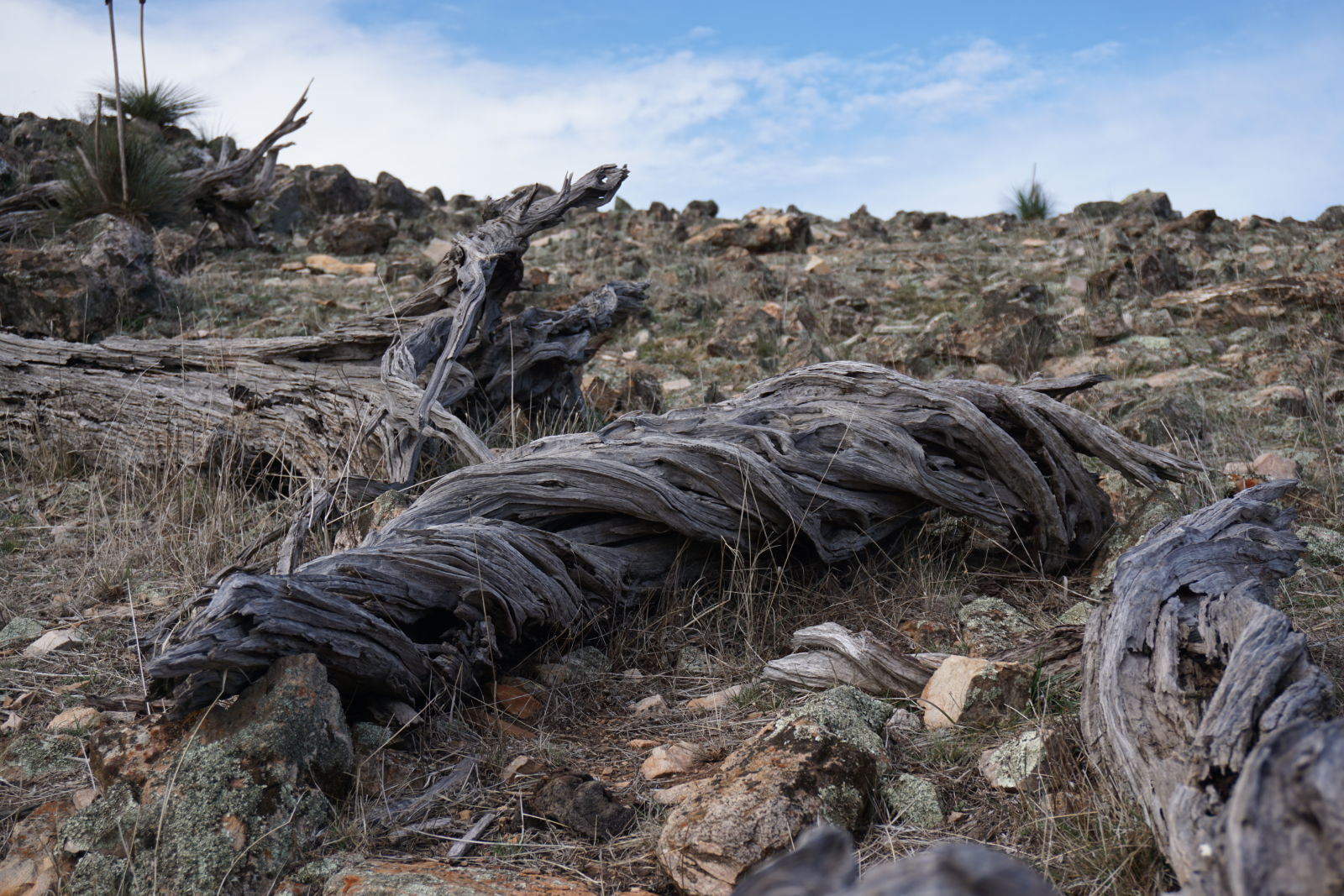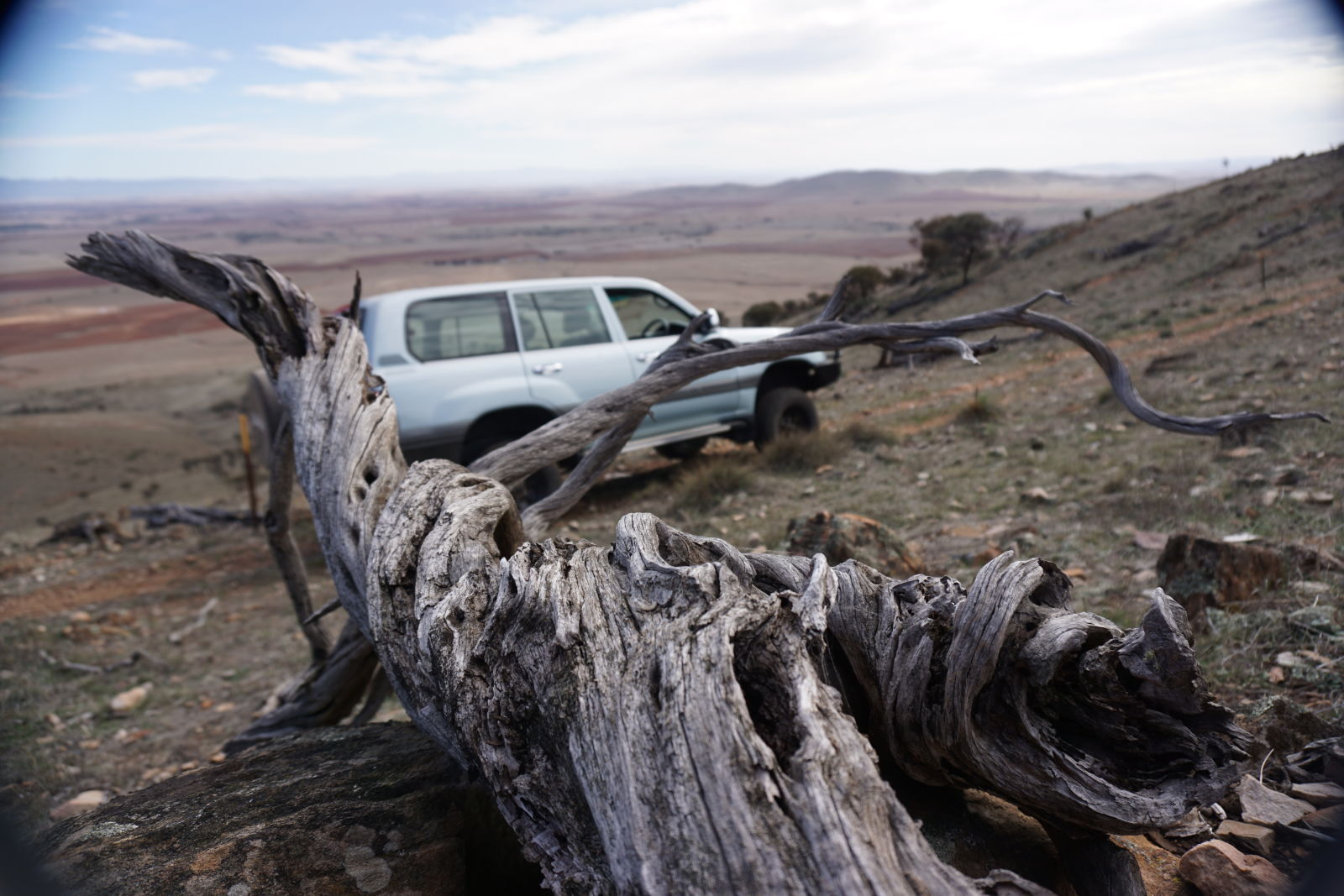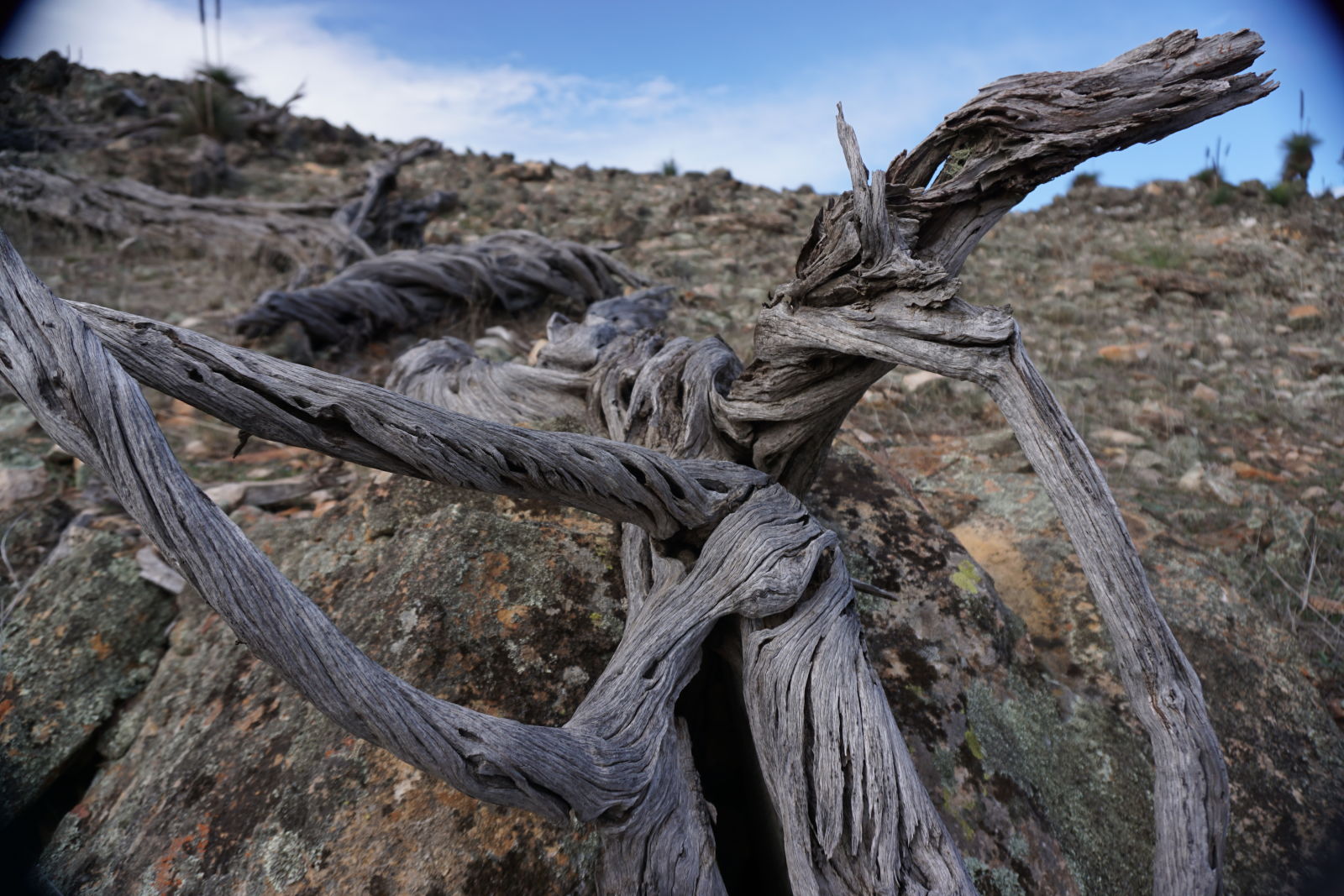 Hundo.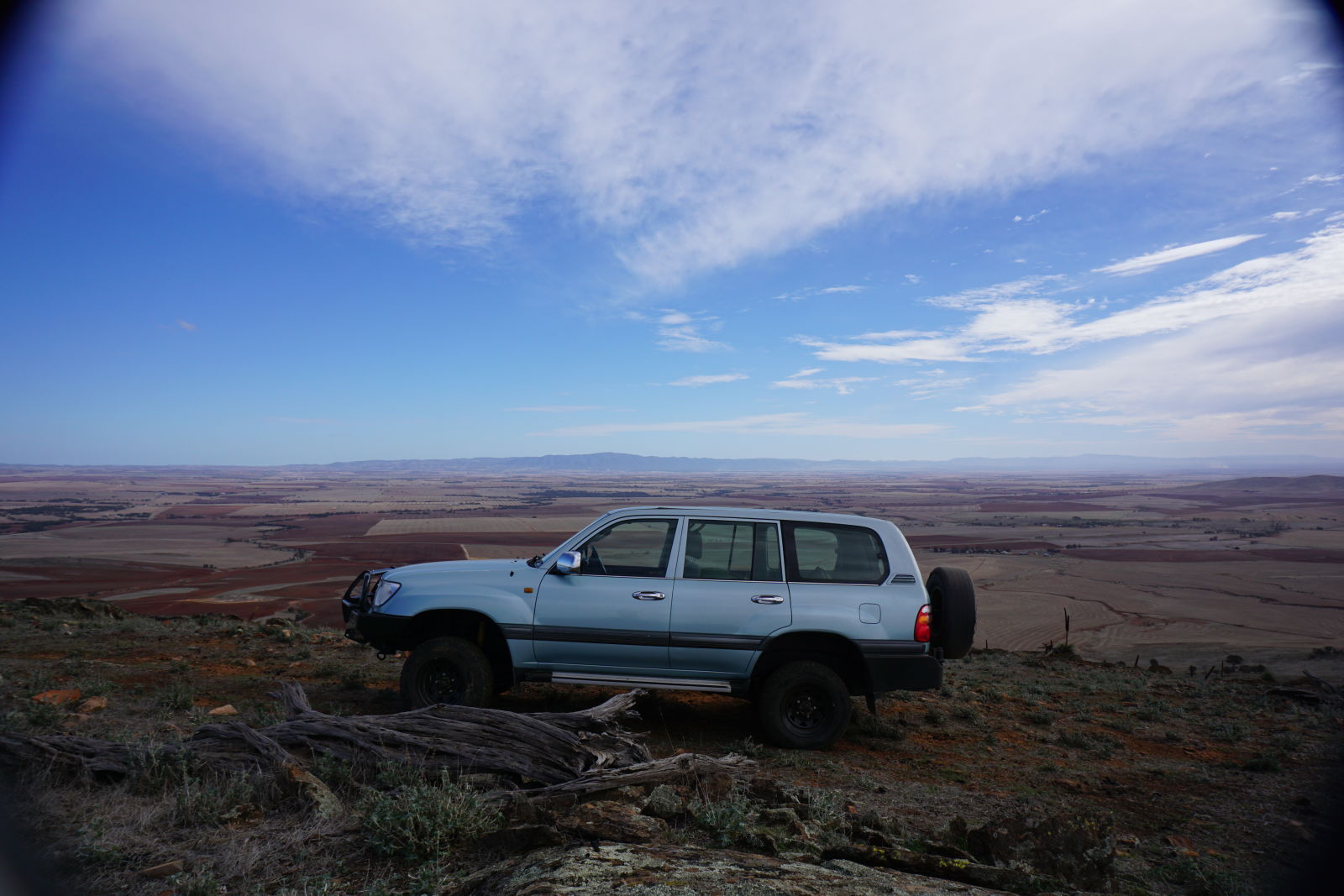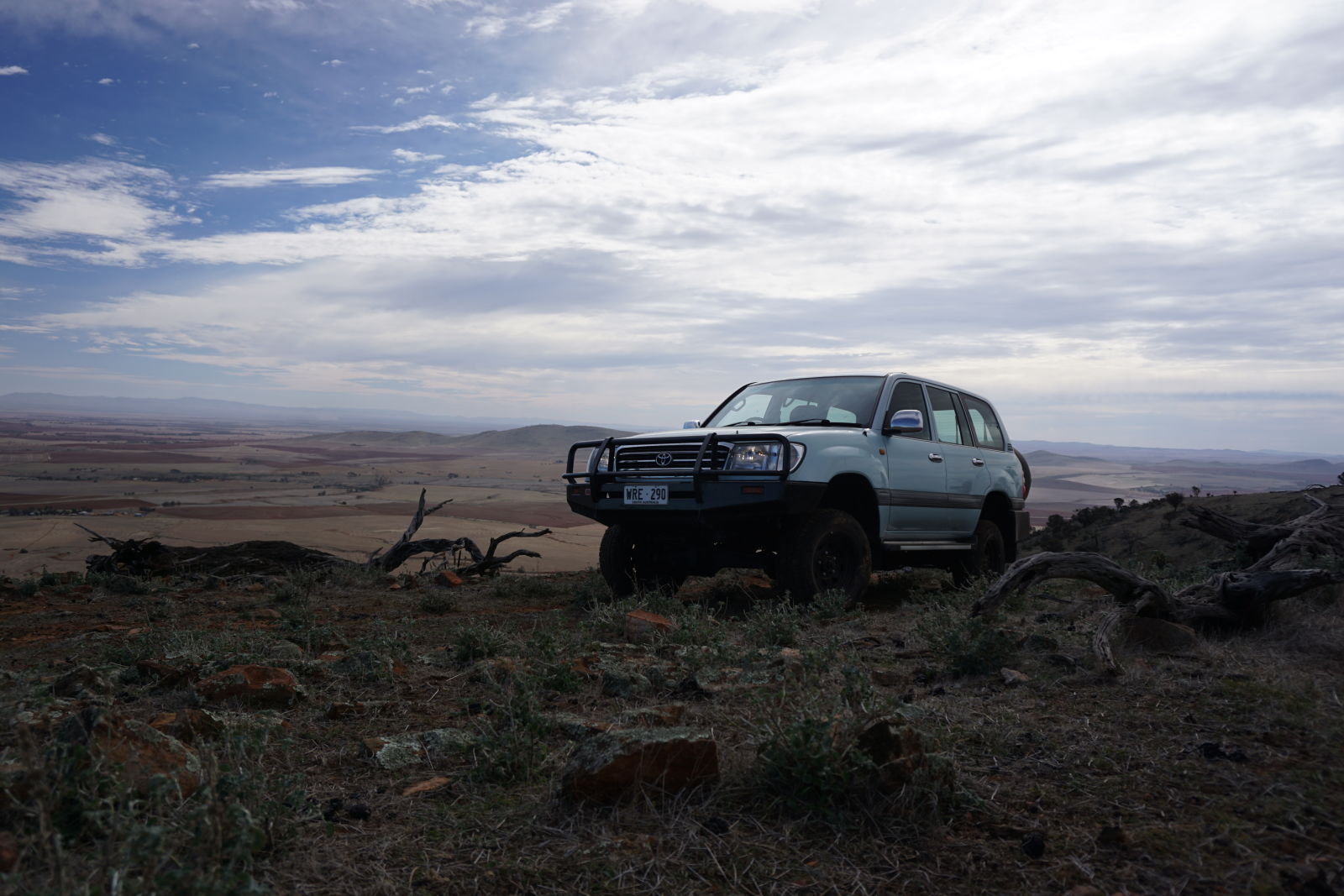 Saw one of many skippys on the way down, these things are masters at climbing the steep slopes.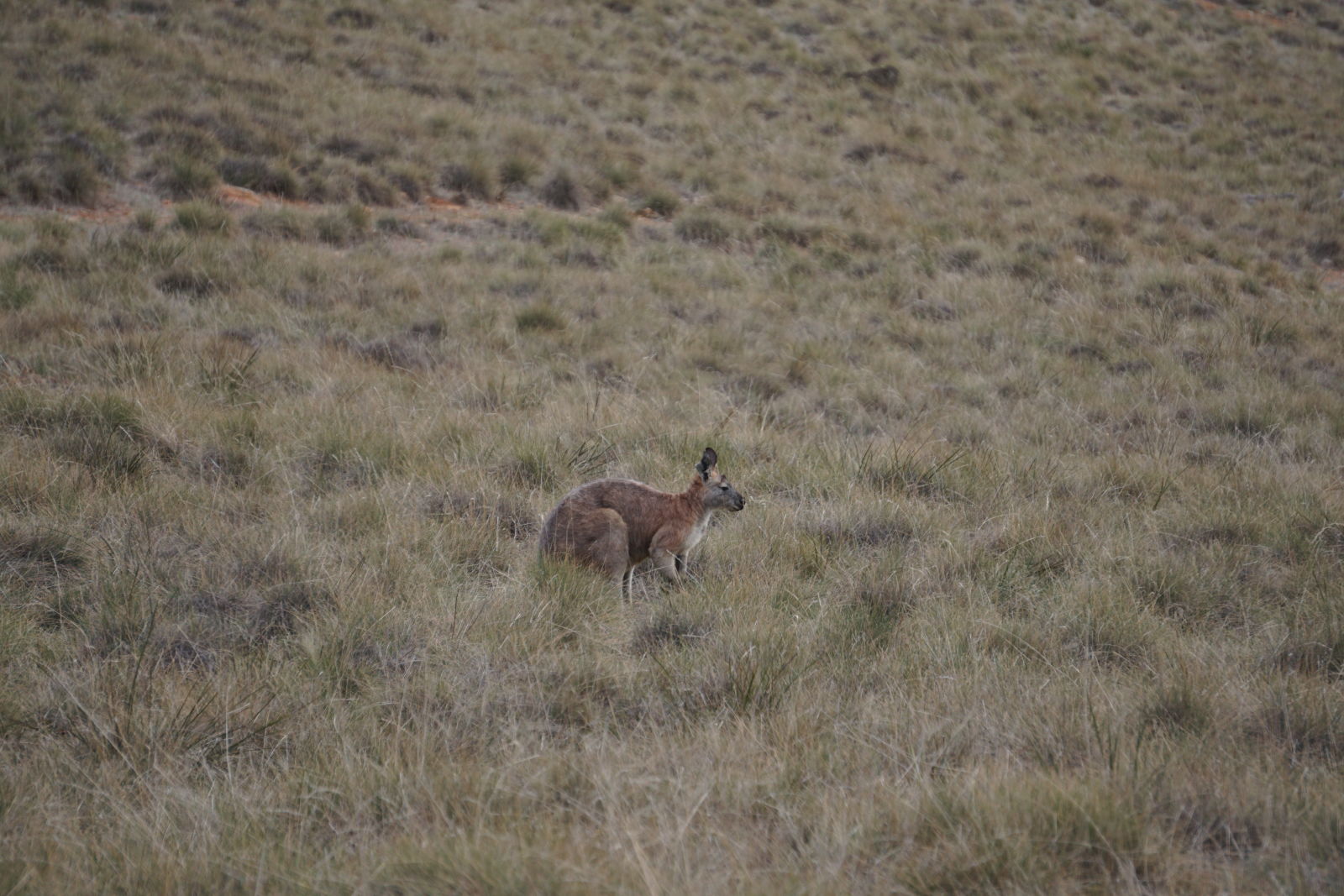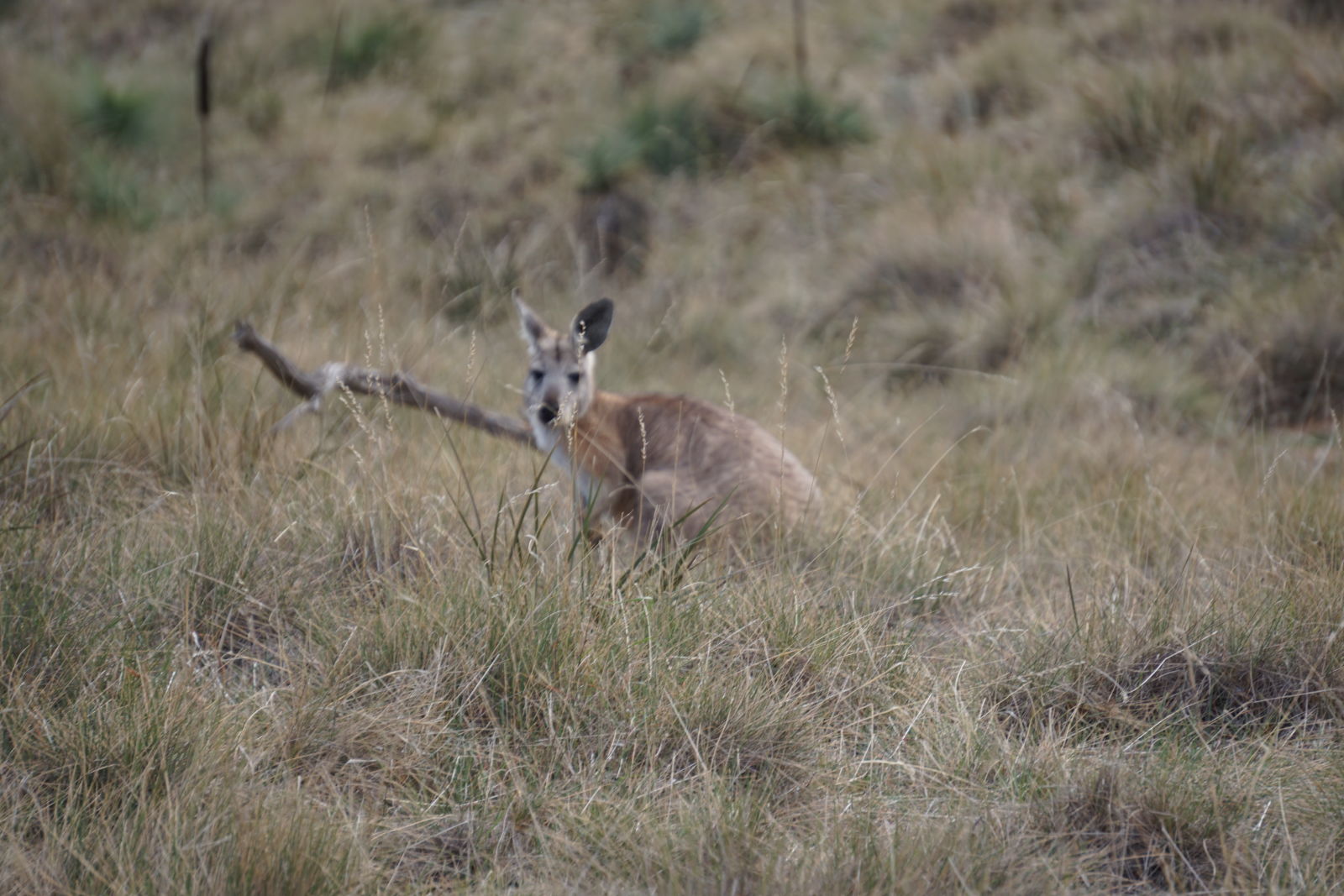 Descending into the 'hidden' valley, the ancient Yucca plants were everywhere, claimed to be up to 600 years old.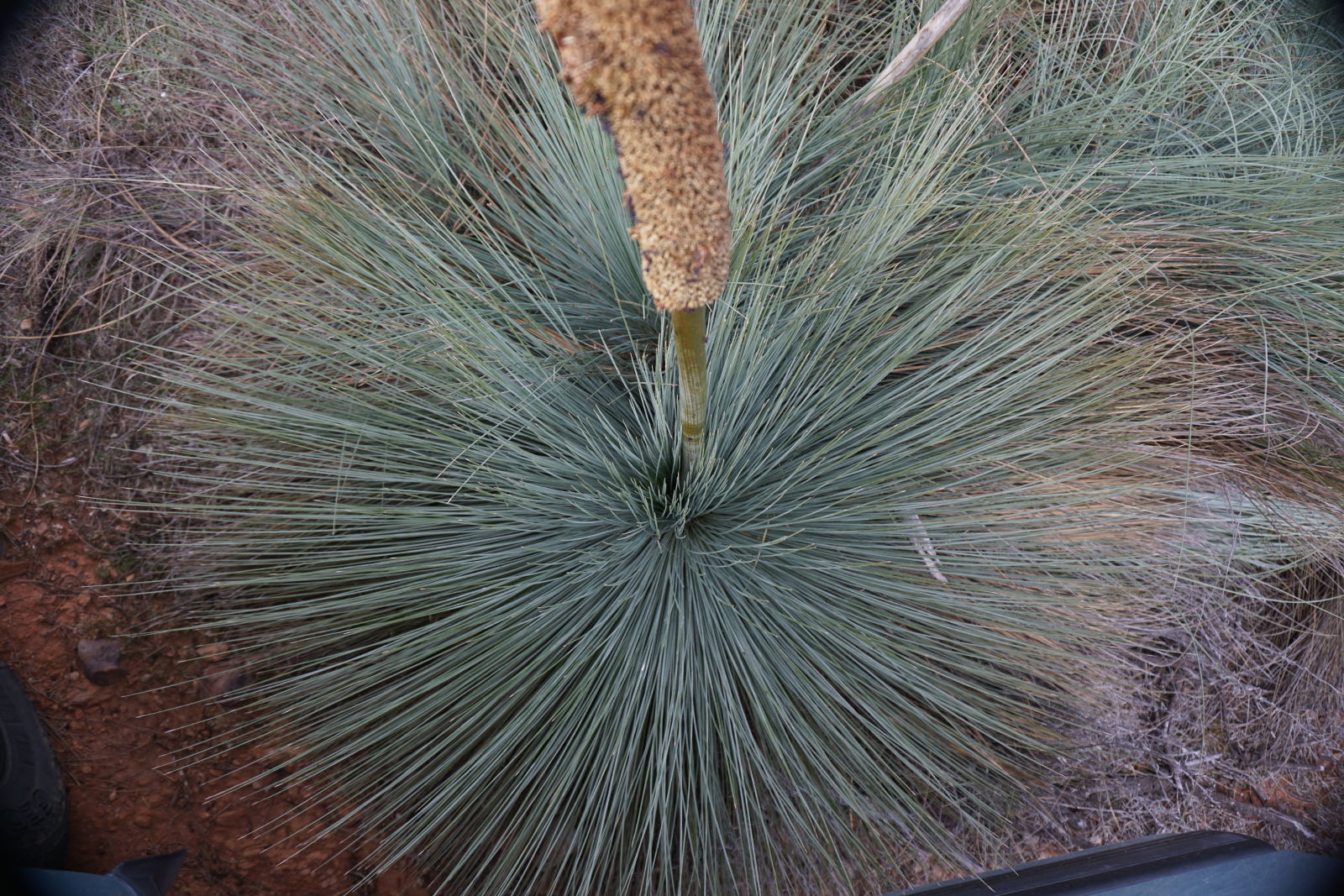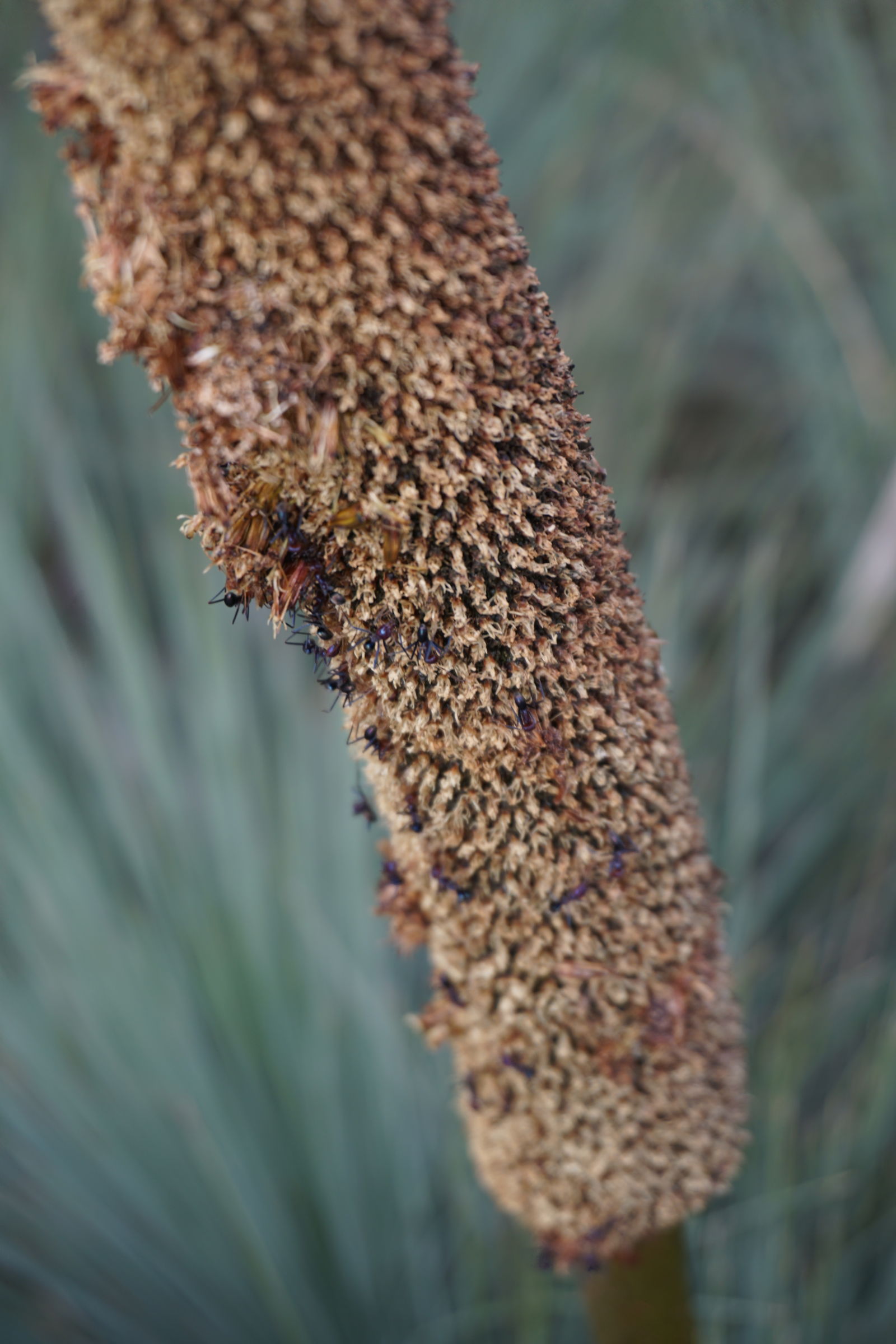 Trippy huh?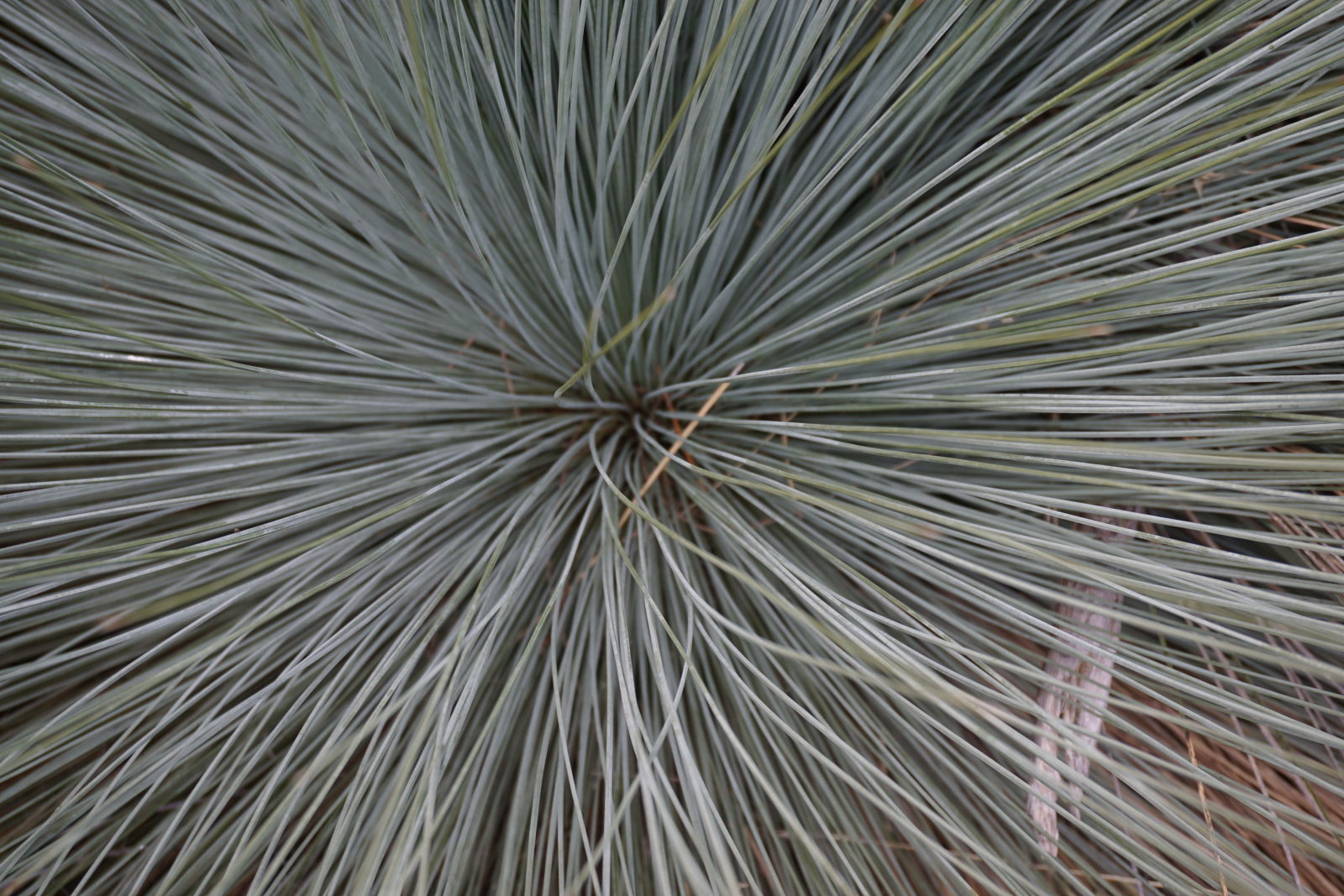 Not a bad track, easy, but I was the only one on it.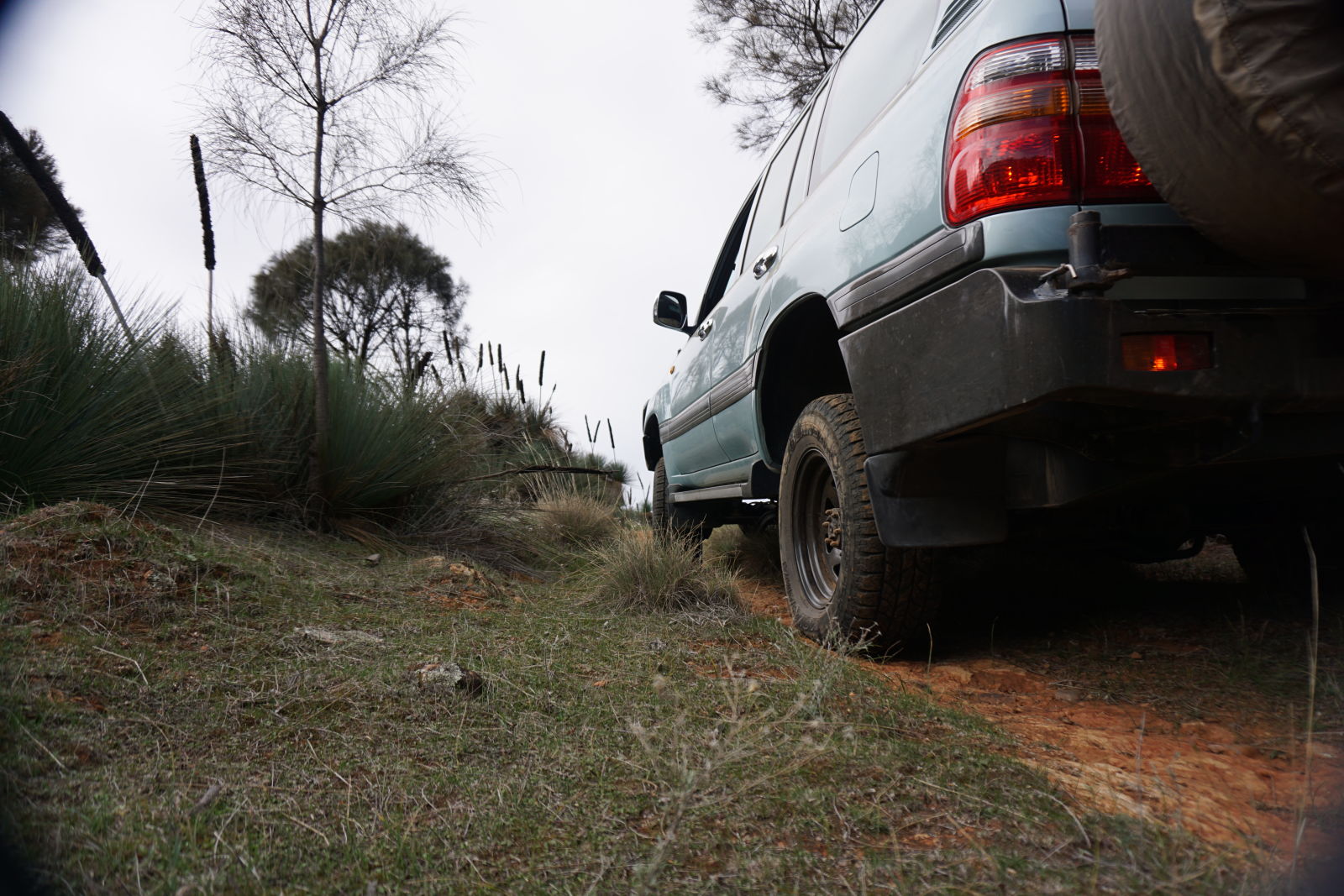 I often wonder how this landscape would have looked before (white) man came?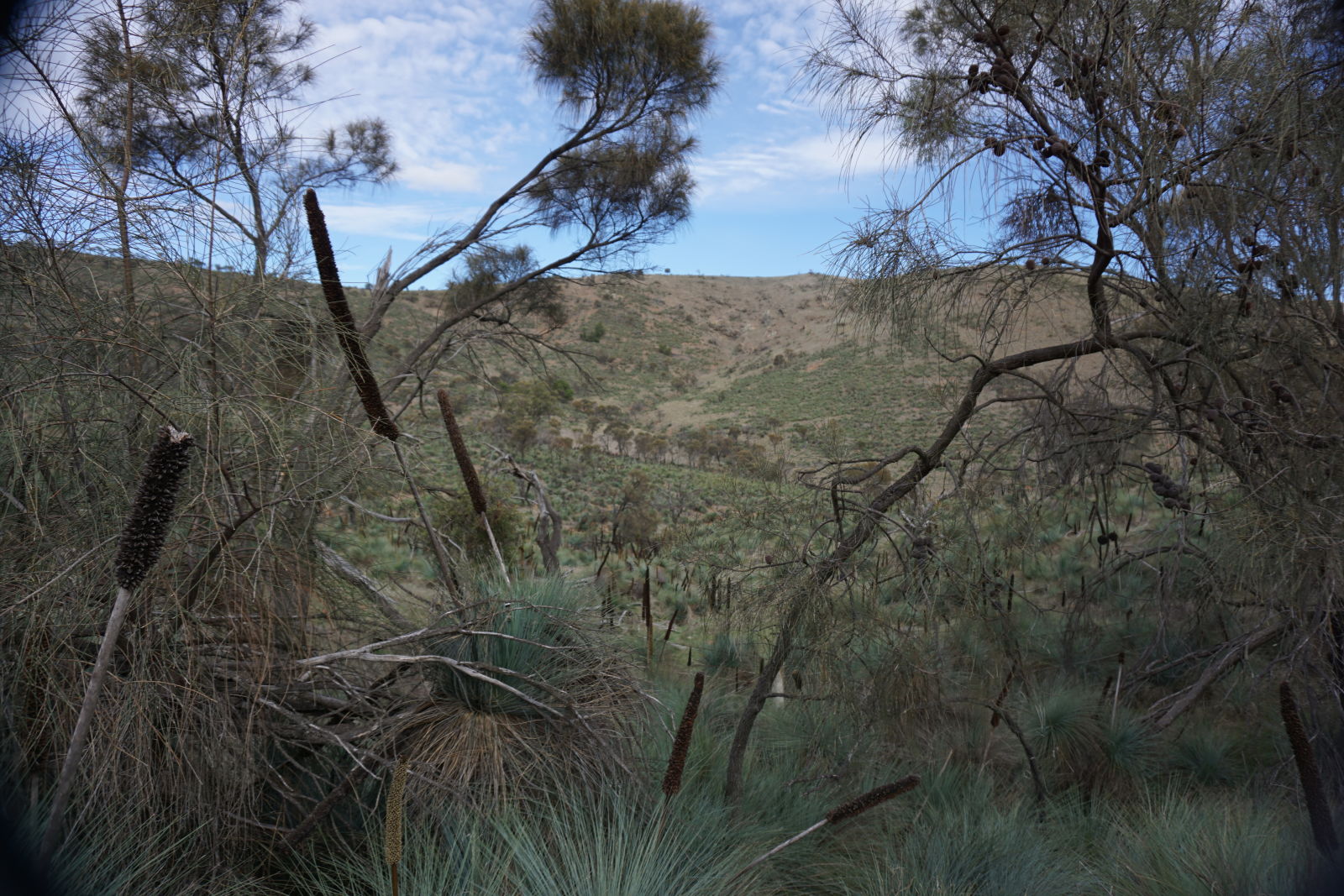 Interesting rock formations.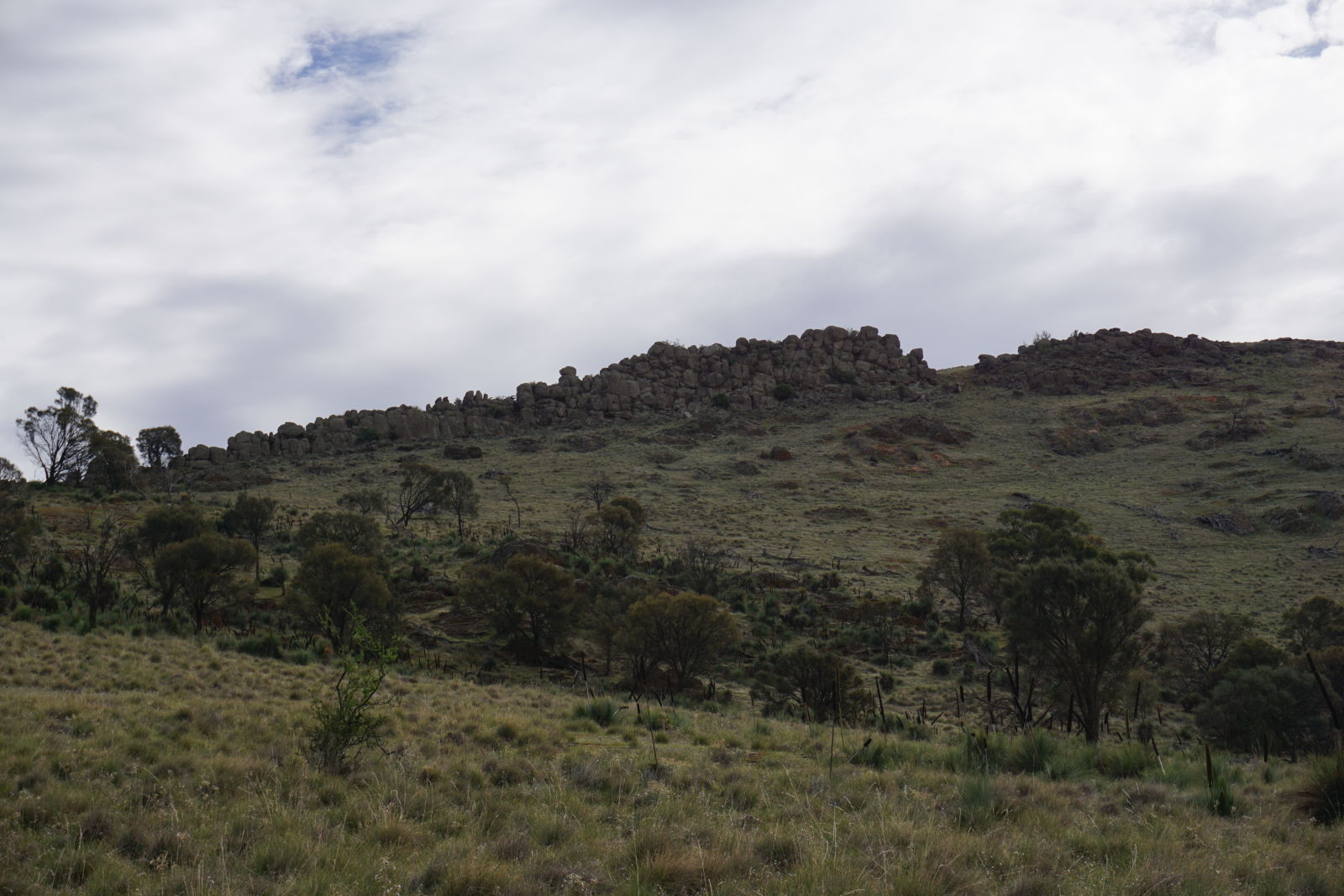 You can see the Yucca plants dotting the horizon.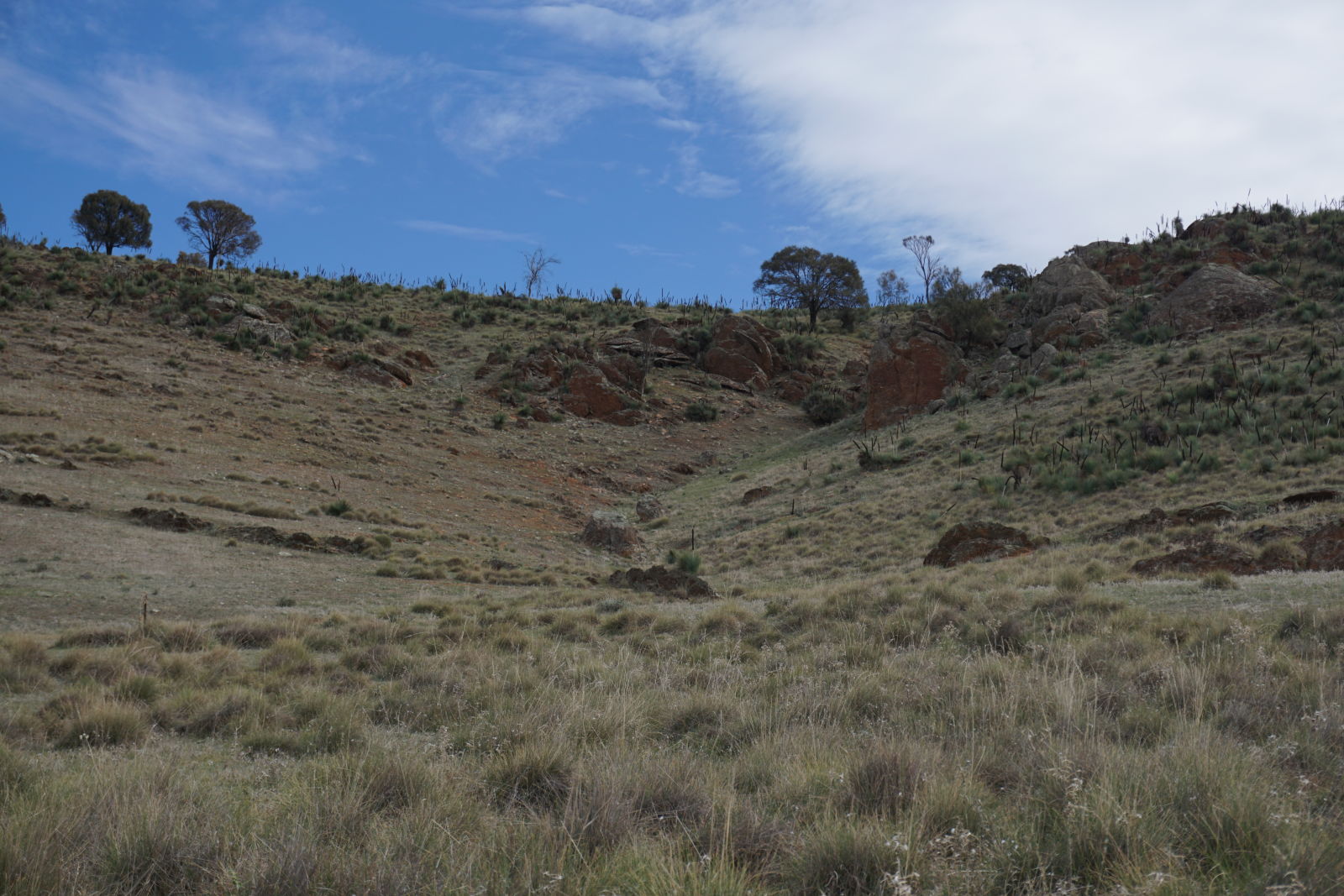 Then lower down.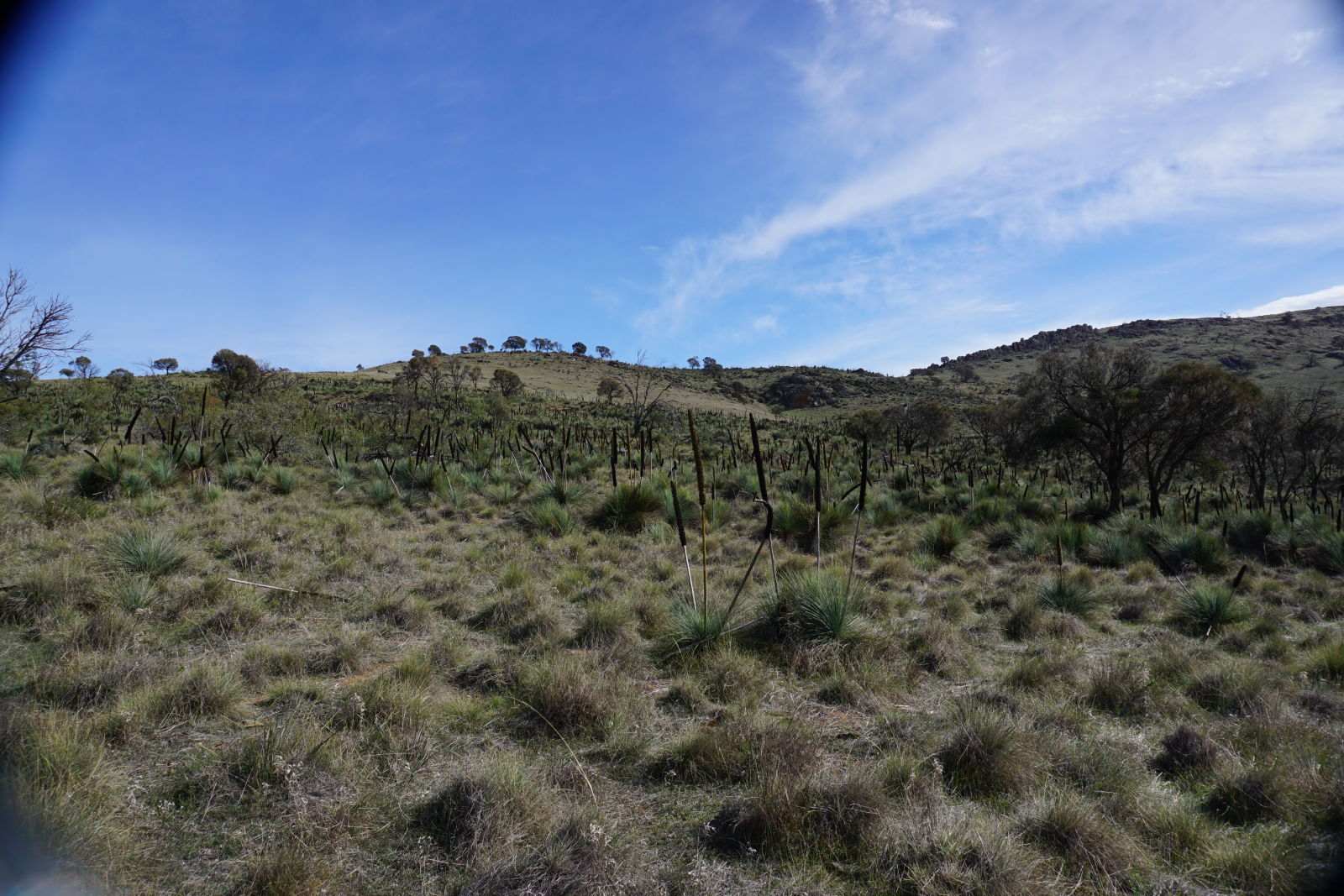 So this place has been here a while then…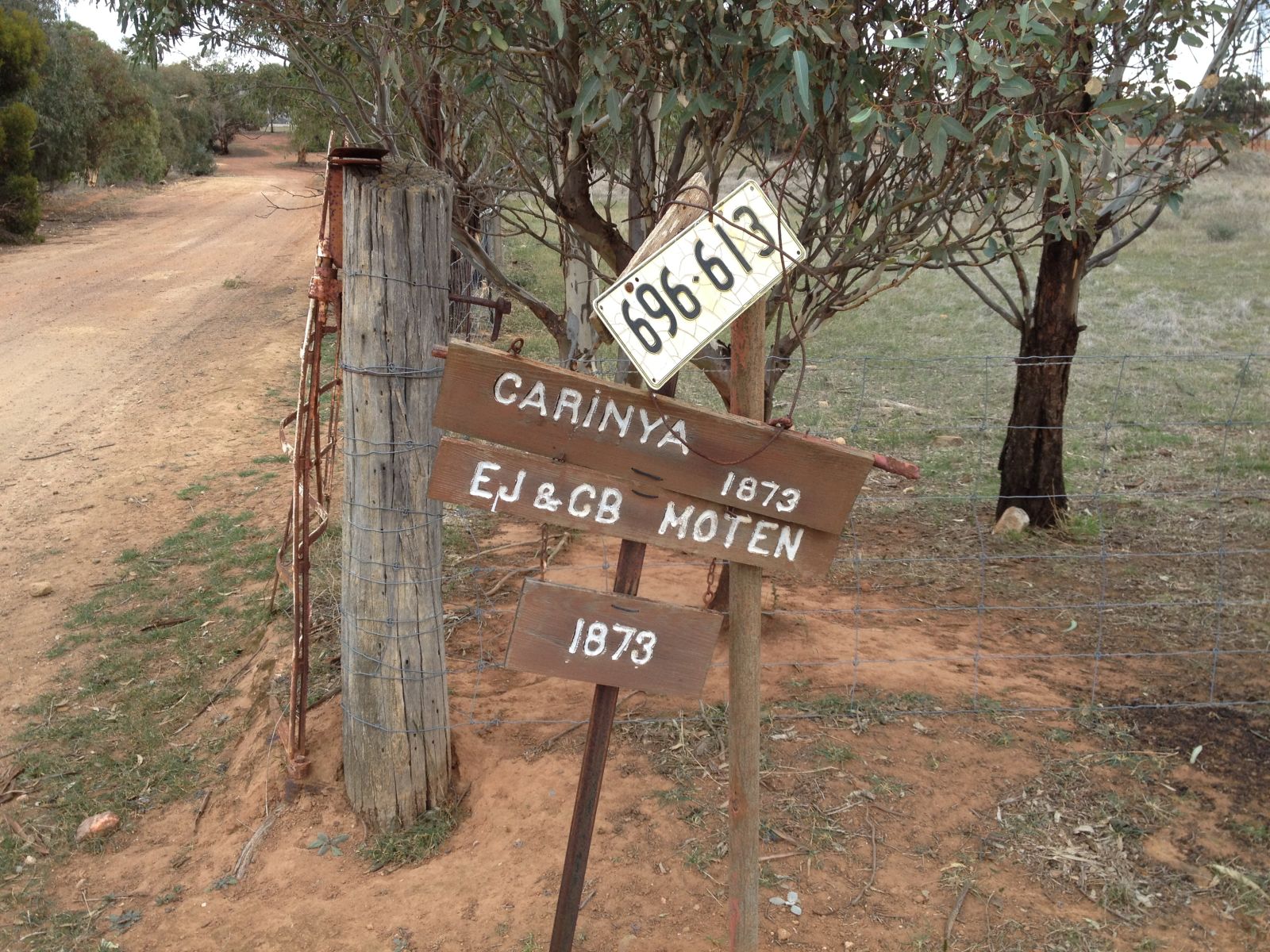 Despite Tony and Marilyn's insistence I should check out the 'famous' nearby magnetic hill. I decided it was time to push on, next time then.
Through the country town of Orroroo, for a quick bite and pick up some local wines.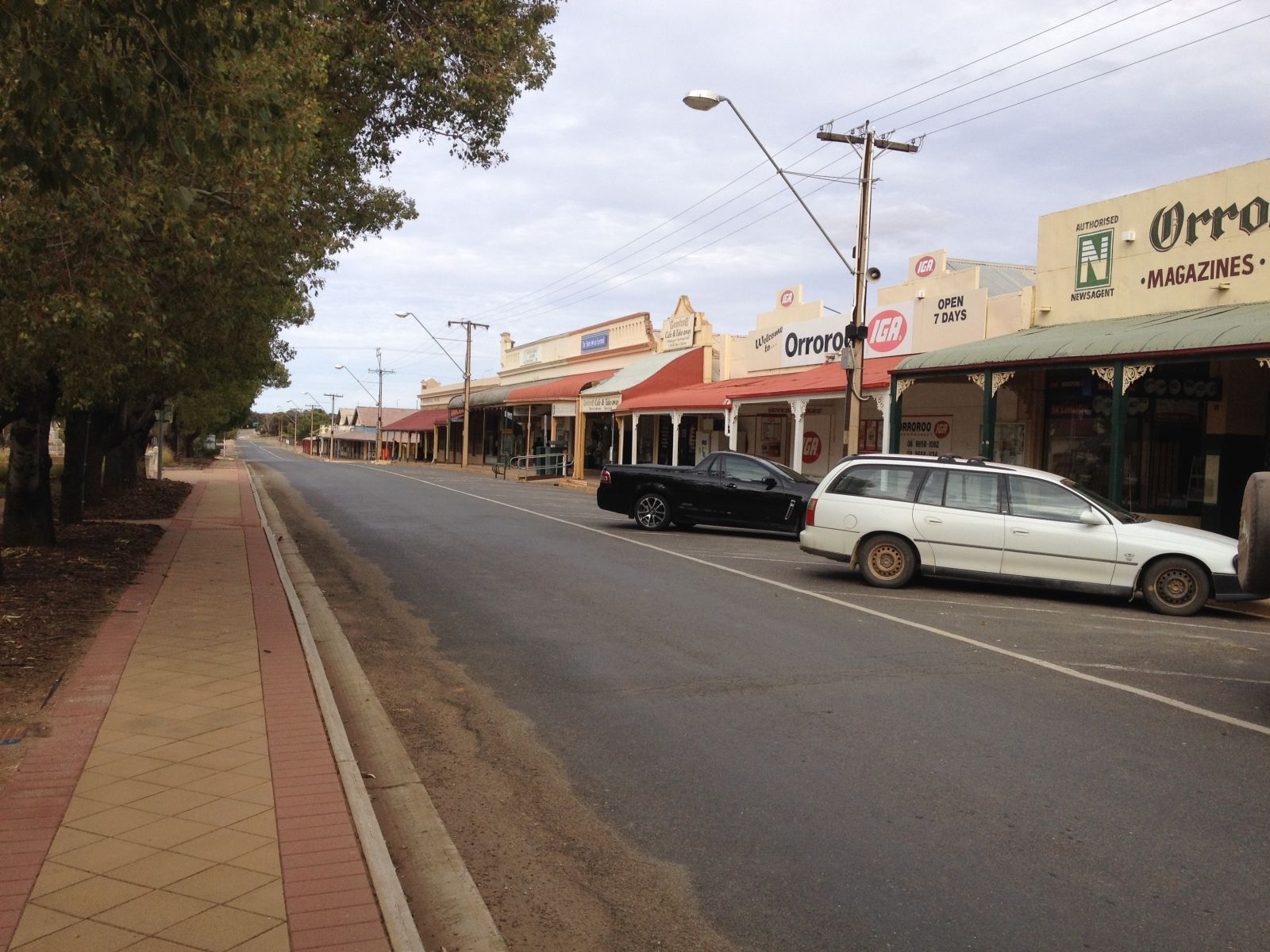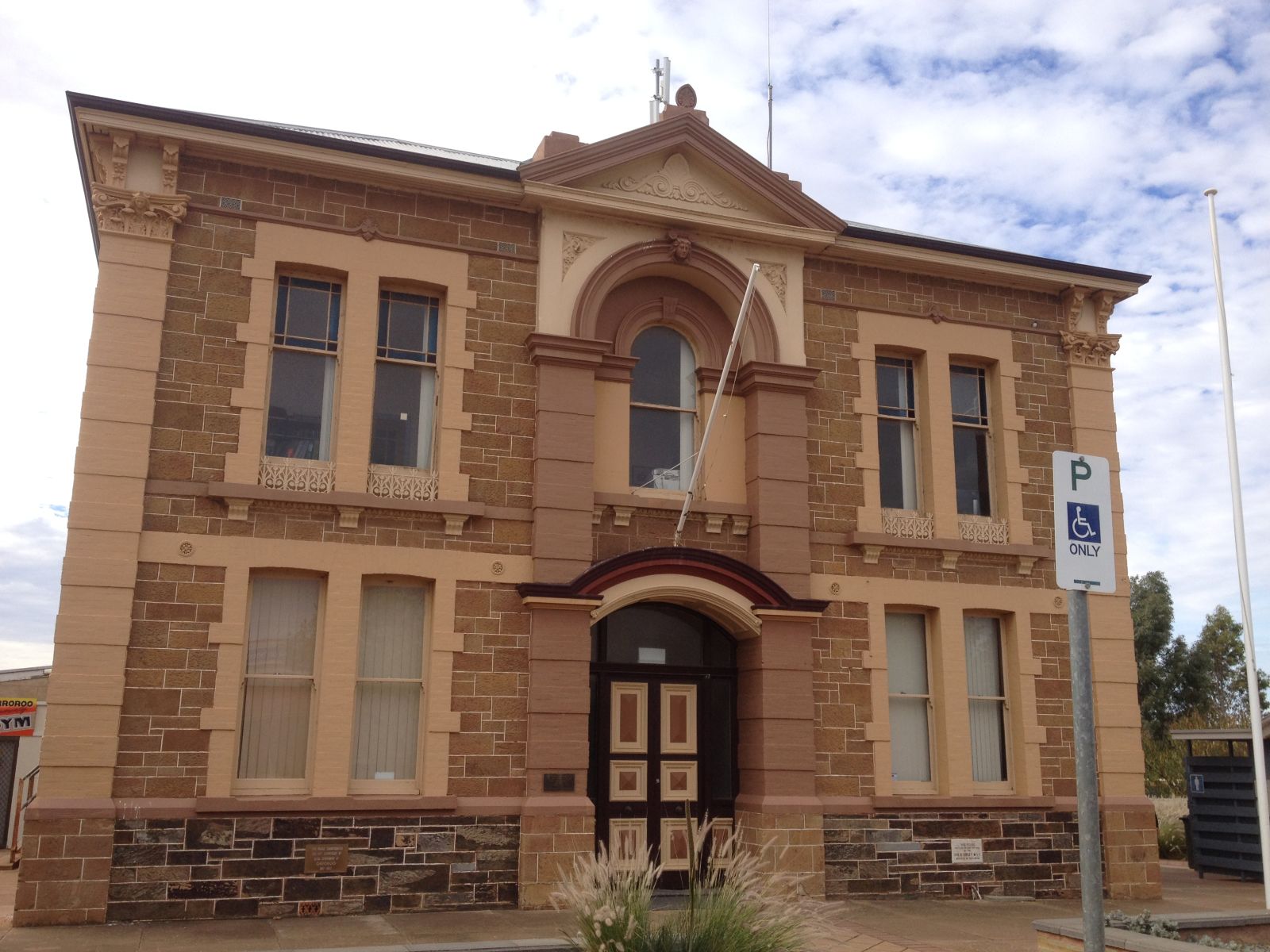 Not many vines are grown in the Flinders area, but there are a few small wineries dotted around.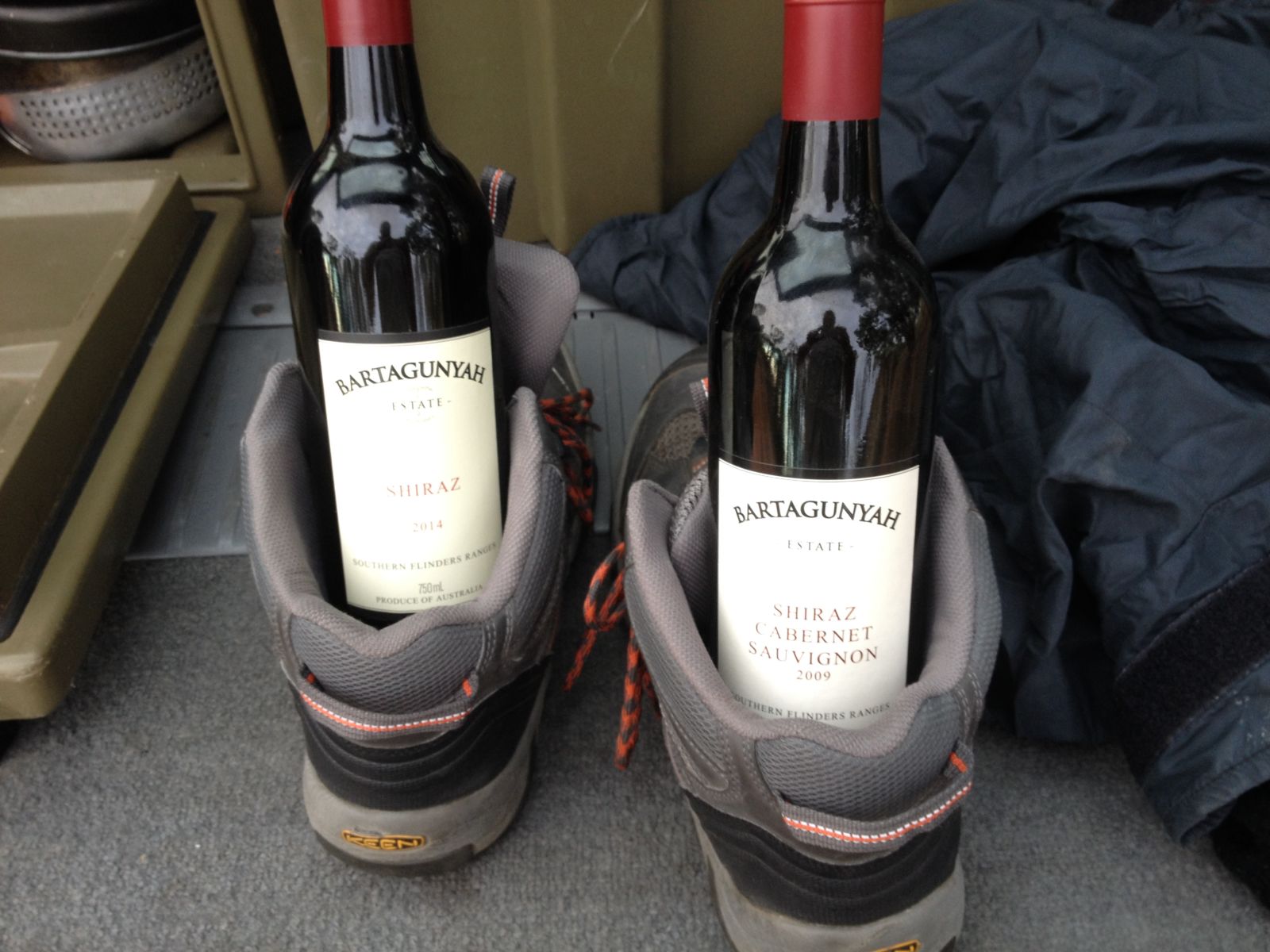 $15 each, this is cheap! For a 2009 Vintage, who knows how long they had been sat at the Orroroo pub…?
---
The Lamb Incident.
So I carried on, making good time. I stopped to take a photo of this derelict farm.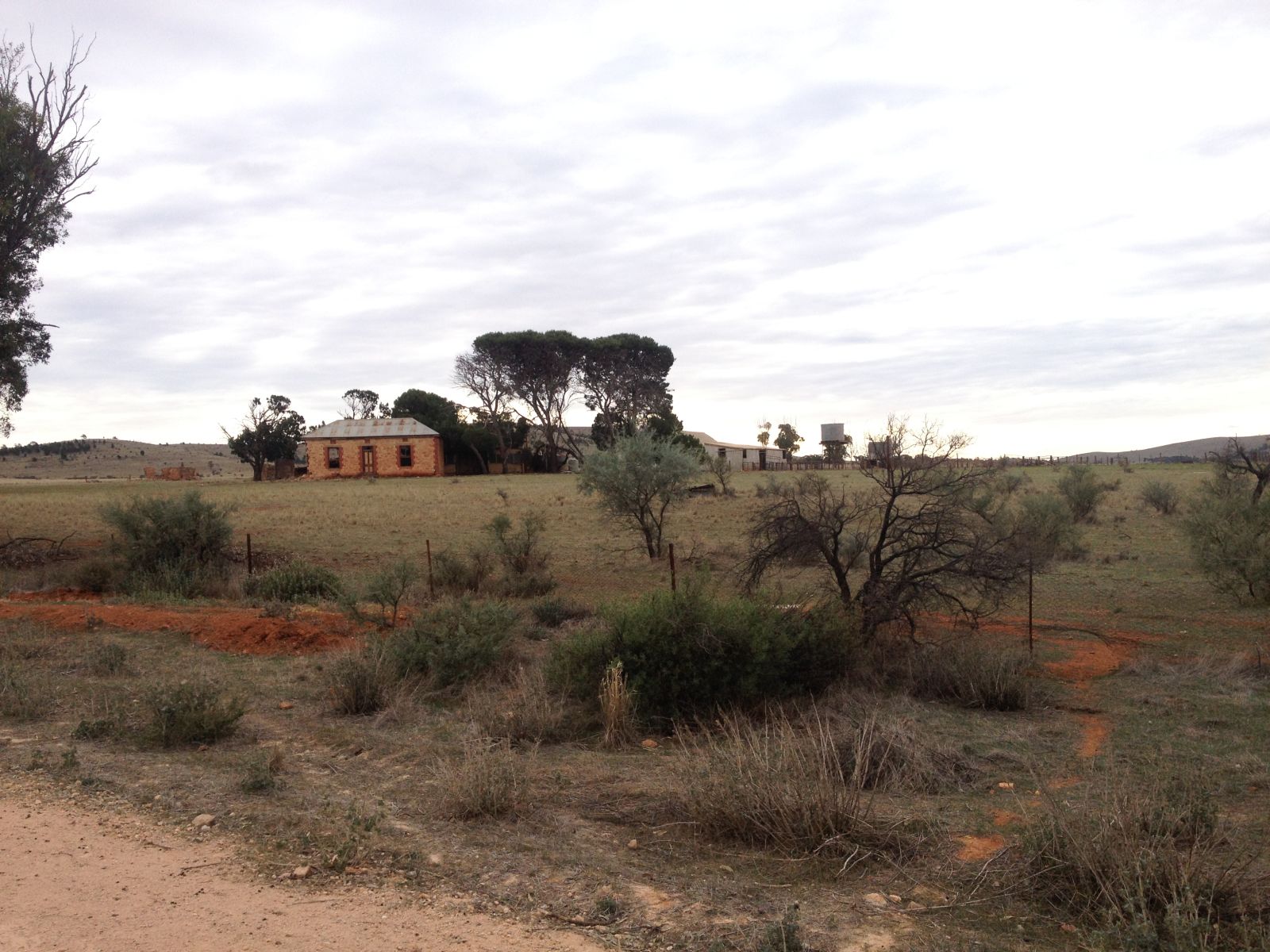 As soon as I pulled the truck up, this little creature came running up bleating his head off.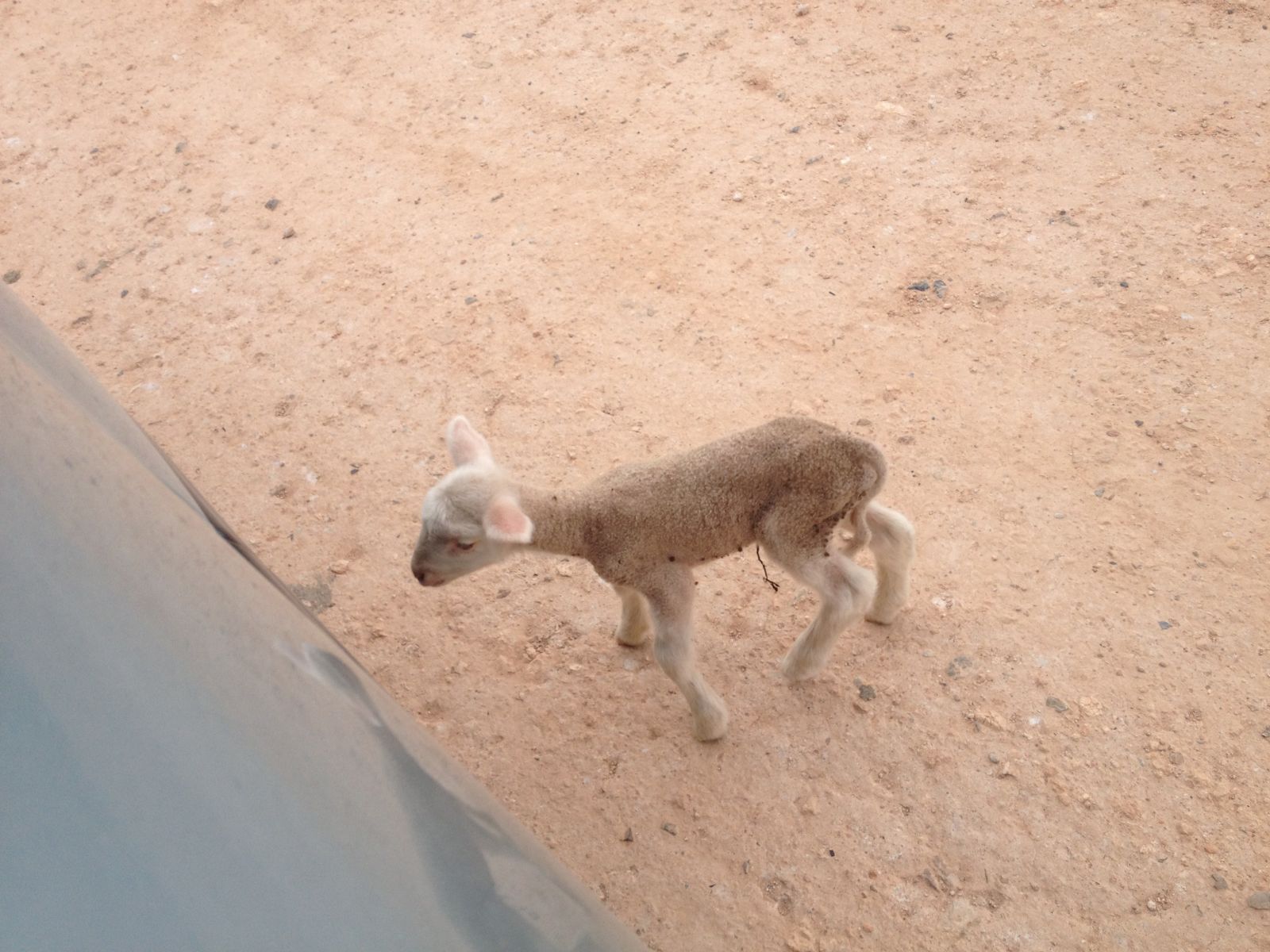 I got out, neither of us really knew what to do. I made a couple of half hearted grabs for him but he wasn't having any of it.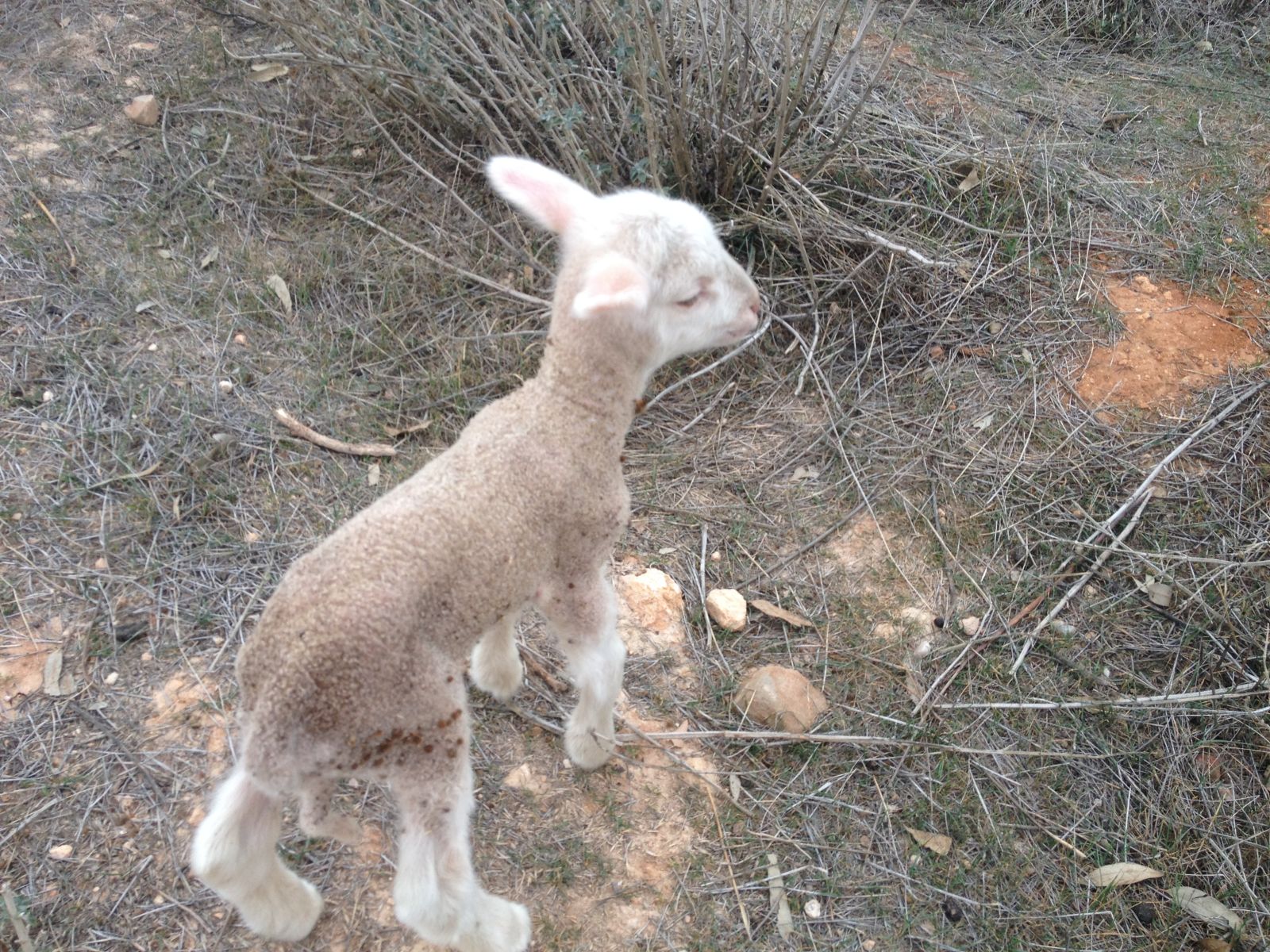 I shooed him back under the fence, thinking maybe he just got on the wrong side, but then he just stood there.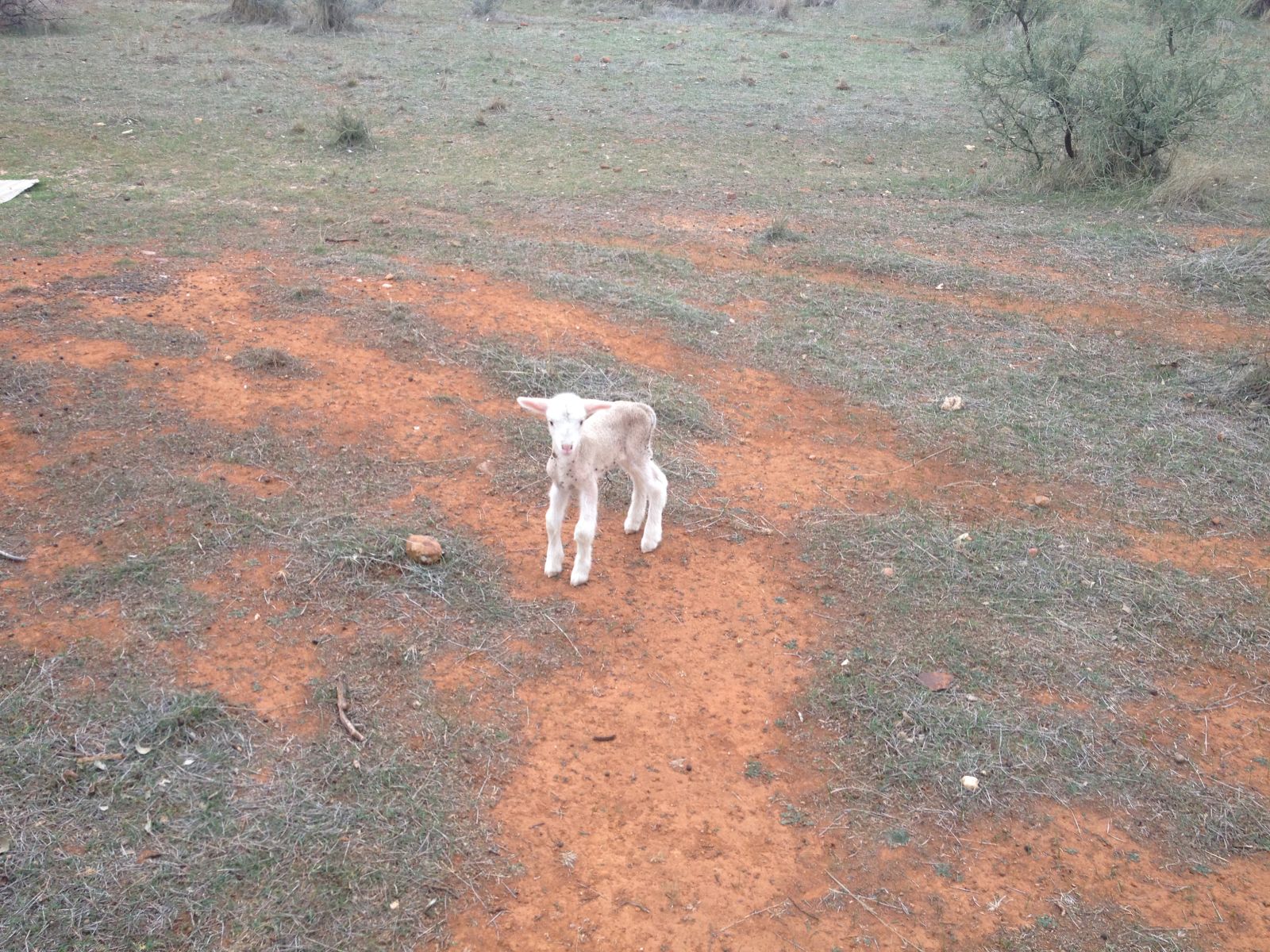 "Where's your Mum" said I, had a bit of a walk around.
Oh, there's your Mum…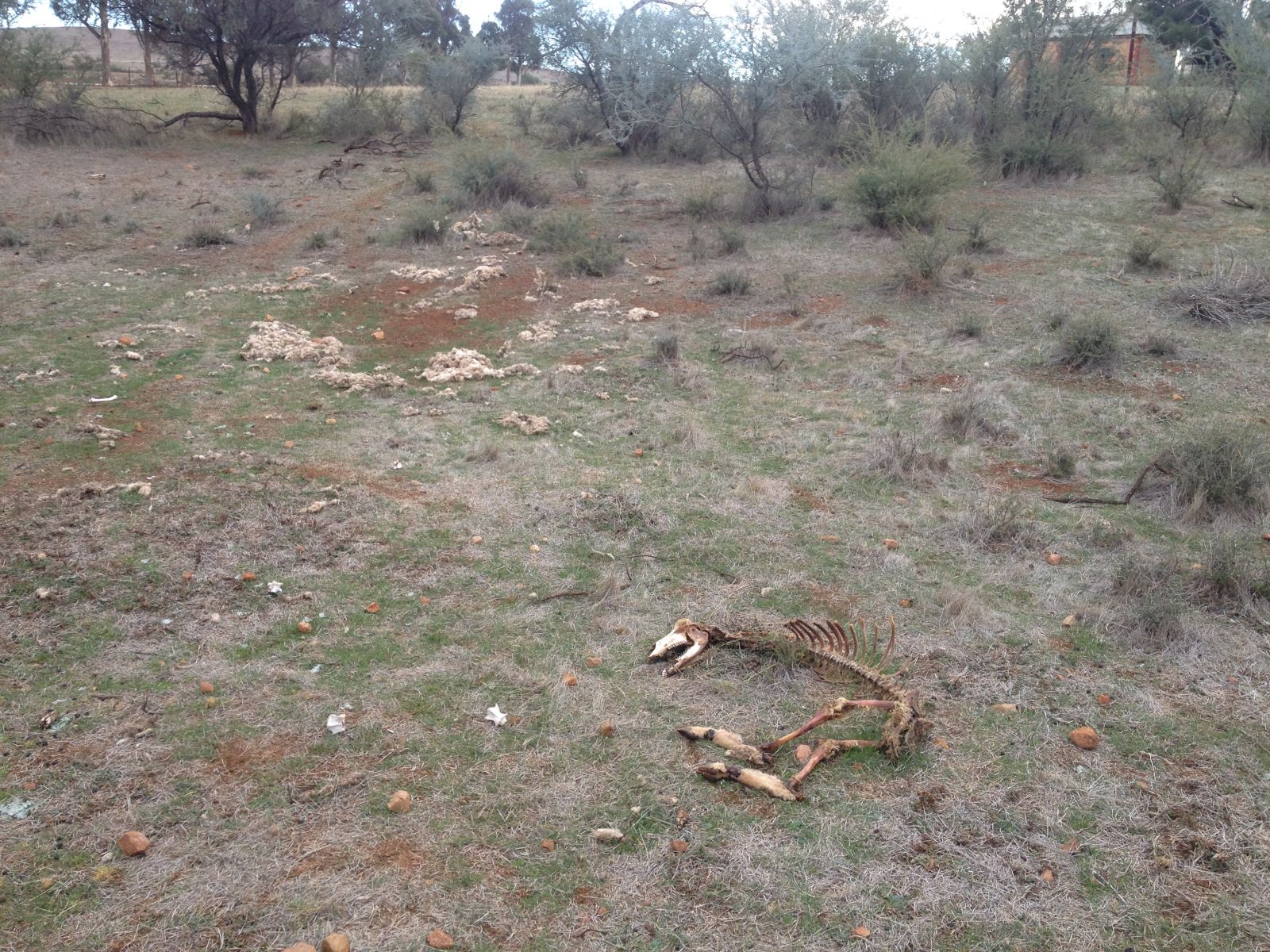 Poor little bugger was bleating his head off when we got here. We had a bit more of a walk around, but I couldn't see any other sheep. Despite the fact the farm was derelict I still had the feeling I was going to get a warning shot and 'get off my land' at any minute, it was all a bit creepy. I made a couple more unsuccessful grabs for Larry, and decided it was fruitless. Dejected I got back in the truck and pushed on.
Like 1 click up the road there were sheep everywhere. C'mon mate, I said to myself. Swung the Cruiser round and headed back. Hopped the (crotch height) barbed wire fence again and went back to where Larry had last legged it from me. He was nowhere to be seen, I walked on, climbed a small rise but still nothing, oh well, maybe he found some other sheep. I turned back and there he was, curled up in a little hole looking extremely sorry for himself. Perhaps me leaving and then coming back made him realise he was out of other options. I slowly approached him and then made a swift and strong two handed grab for him, he didn't even bother trying to get away now, as soon as I picked him up he just went all limp and lay against my chest, resigned to the fact that something at least was happening. I started pulling the seed pods out of his coat, and he wasn't bothered.
I said to him "you crap all over my car, and I'm not going to be very impressed", once in the Cruiser he totally chilled, I suppose it was out of the wind and the cold for the first time for him.
'Nice Cruiser, bahhh', "Thanks bro"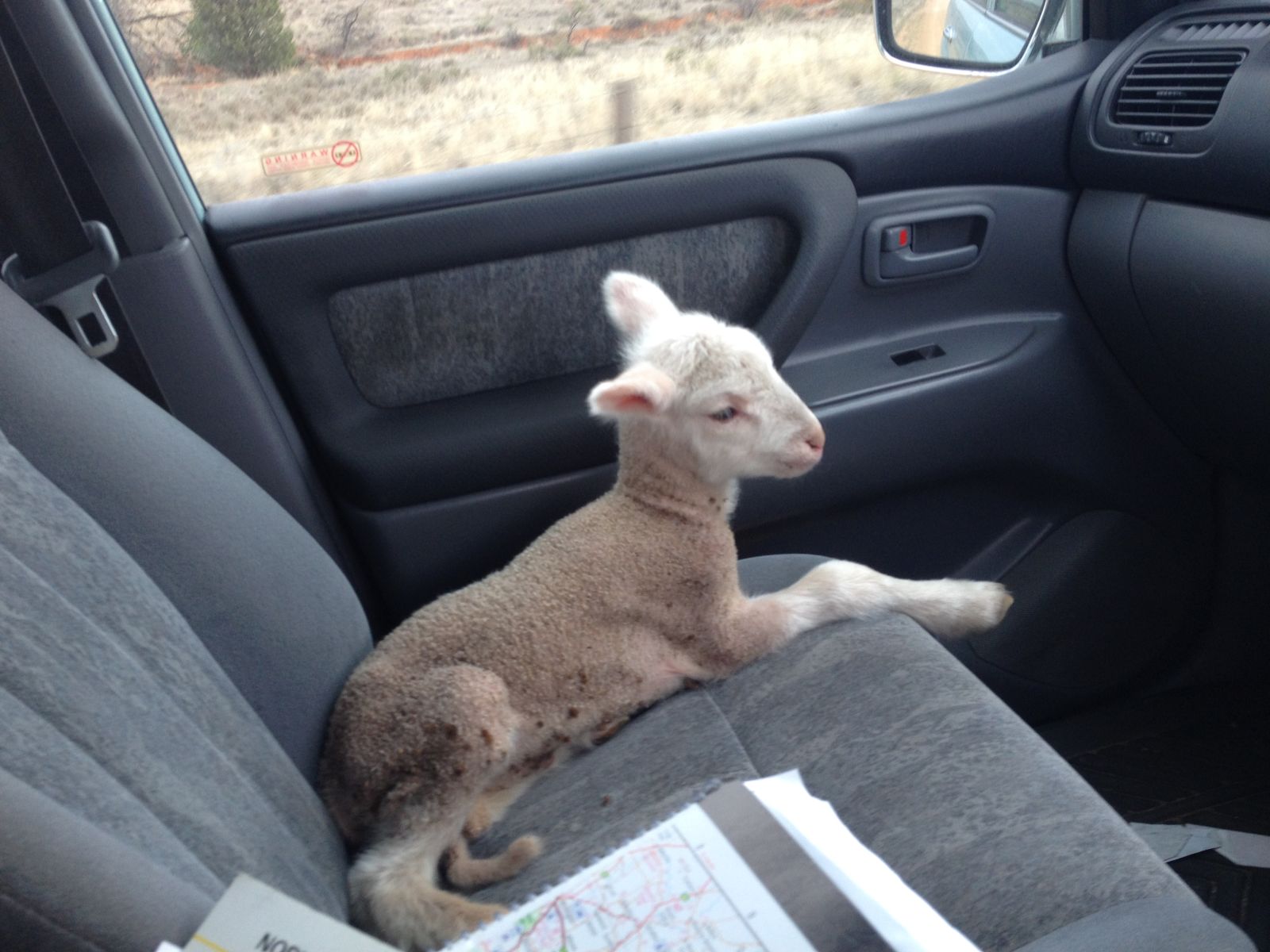 We drove on, I was looking for a farm to drop him off at. There was probably 15km of nothing, then a roadside mailbox.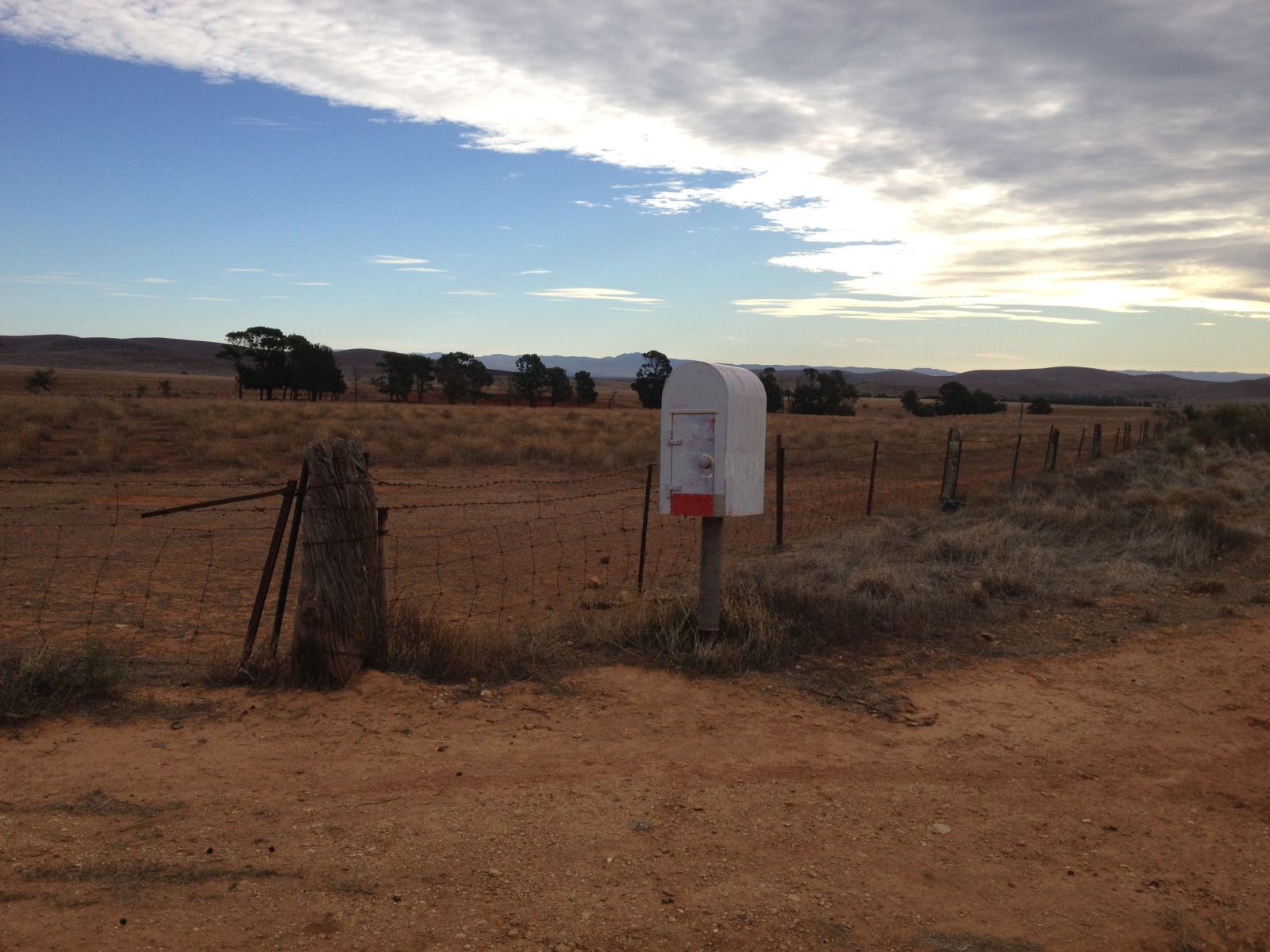 A couple of kays down this side road was a farm. The lady farmer came out to greet me (no actual country folk drive a metallic sky blue Land Cruiser), I showed her Larry, she asked where I had found him. She knew who owned that land and her husband was going there in a few days and would take him there, she would look after him till then.
I later discovered that the fox most likely got Larry's Mum while she was giving birth. Nature is harsh.
Also apparently there is a couple in a nearby town that every year go round collecting the orphaned lambs and nurse them for 6 weeks when they can be released back into the flock. One year they had 90! (that's my kind of crazy)
---
I cracked on to Horeshoe Top End, where I would be staying the night and driving their tracks the next day. On the way in, it was getting towards dusk, so the Roo's were out in force. My eye was caught by a pair on the hop with very distinctive golden feet and tail markings, it took a minute for my brain to process what I was looking at. Could these be the rare yellow footed rock wallaby? Their coat was definitely different to normal roos, and the markings were clear.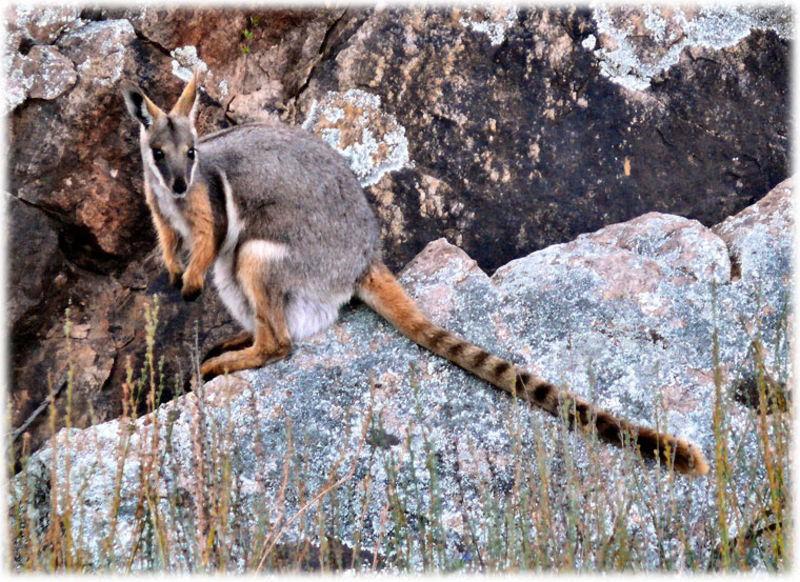 #Yeah, not my photo# Then they were gone. After looking at pictures and speaking the the property owner Jim, I'm not 100% sure, but I've seen 1000's of kangaroos in my time, these were definitely different.
I arrived at the property and after a small battle with the combination padlock, I made my way to my camp for the night. Perfect outback campsite, sheltered, fire pit, long drop loo and no neighbours.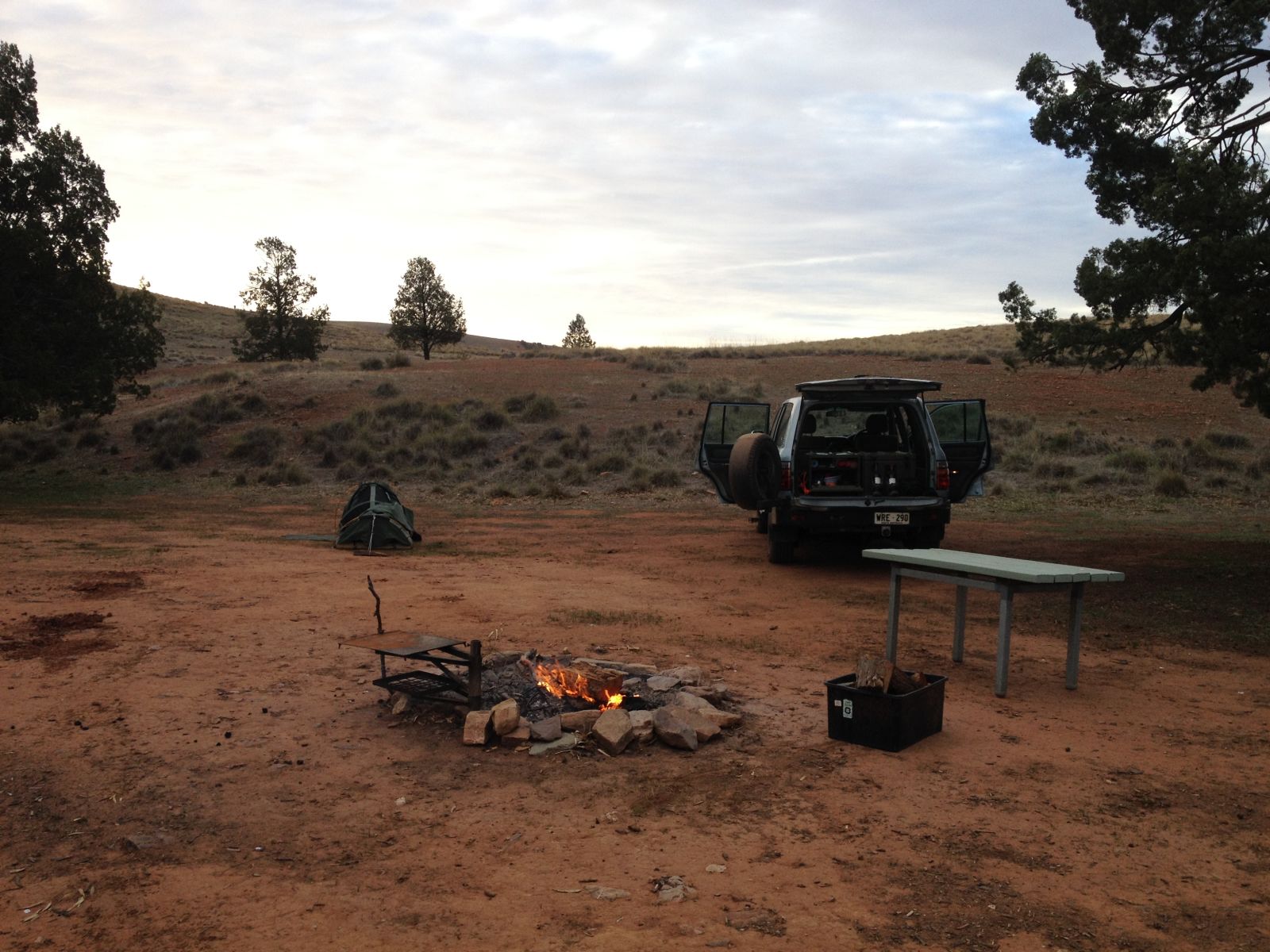 A tub of firewood is included in the cost, so I set about making fire using the traditional technique of two sticks metho and a cigarette lighter. Sorry Ray.
Jim, the property owner rolled up in his ute. We had a chat about all sorts, the yellow footed wallabies 'I'm not calling bullshit, but I have never seen them here, it would be great though. We are thinking of re-introducing them, though a University project'. America, where his daughter now lives. Ikea kitchens! Of course, 4×4 travelling, swags vs tents vs trailers vs caravans. All good stuff.
Jim left me to it and I settled in for the night. looking forward to the burgers I was going to cook on that fire. You know what is the one ingredient you don't want to forget when having burgers? Aye, the burger. That's what rushing does for you.
Anyway, my bacon, mushroom and taleggio melt didn't turn out too bad.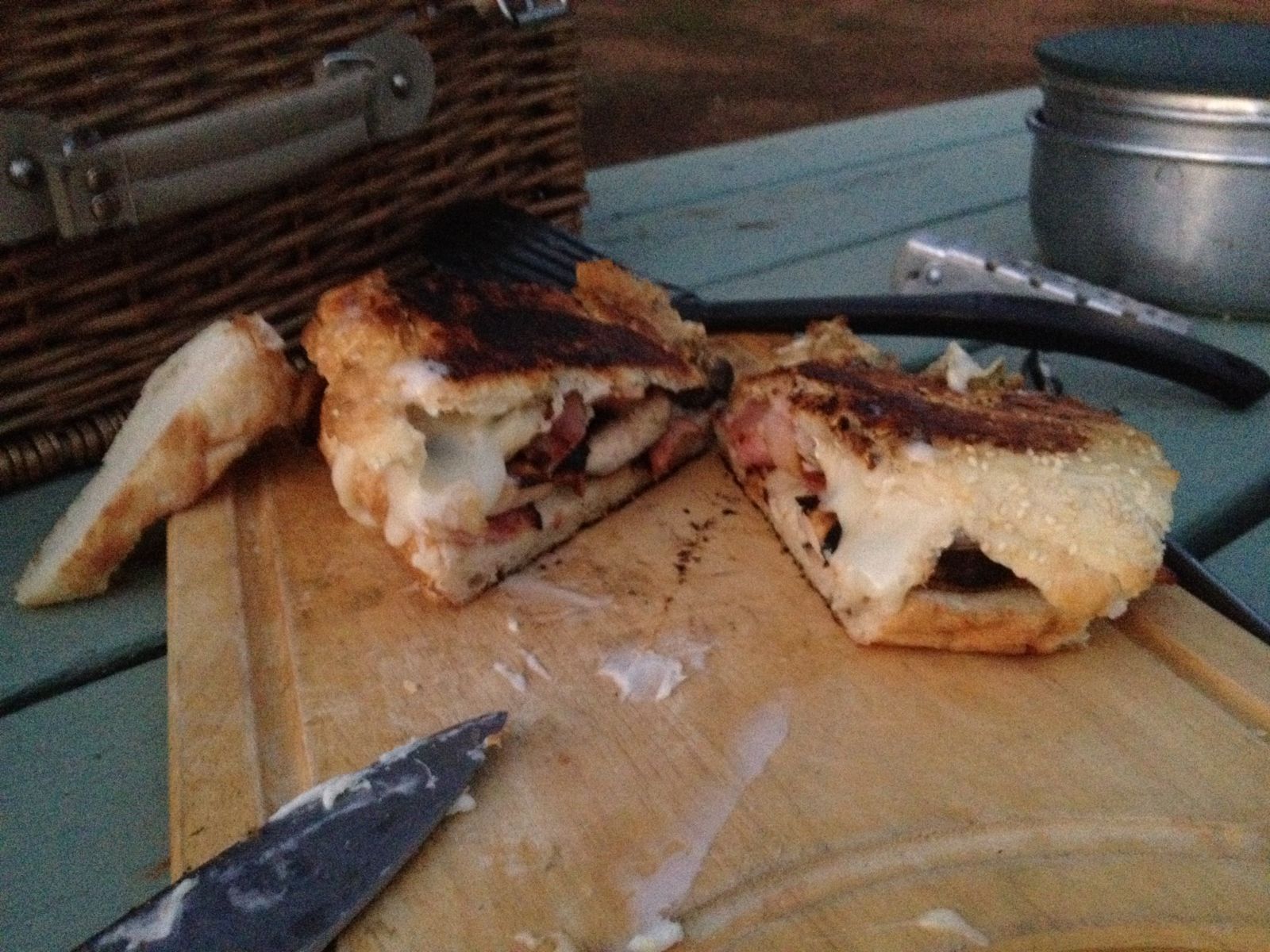 This was one of those rare outback spots that actually had a bit of coverage, so I posted up a quick snap, had a look how OVEX was going on the other side of the actual world. I generally like to leave the net behind on these trips and normally you have no choice, but this was a bit of a novelty.
---
Up early, before the sun. Get that fire going again, hot tea and food.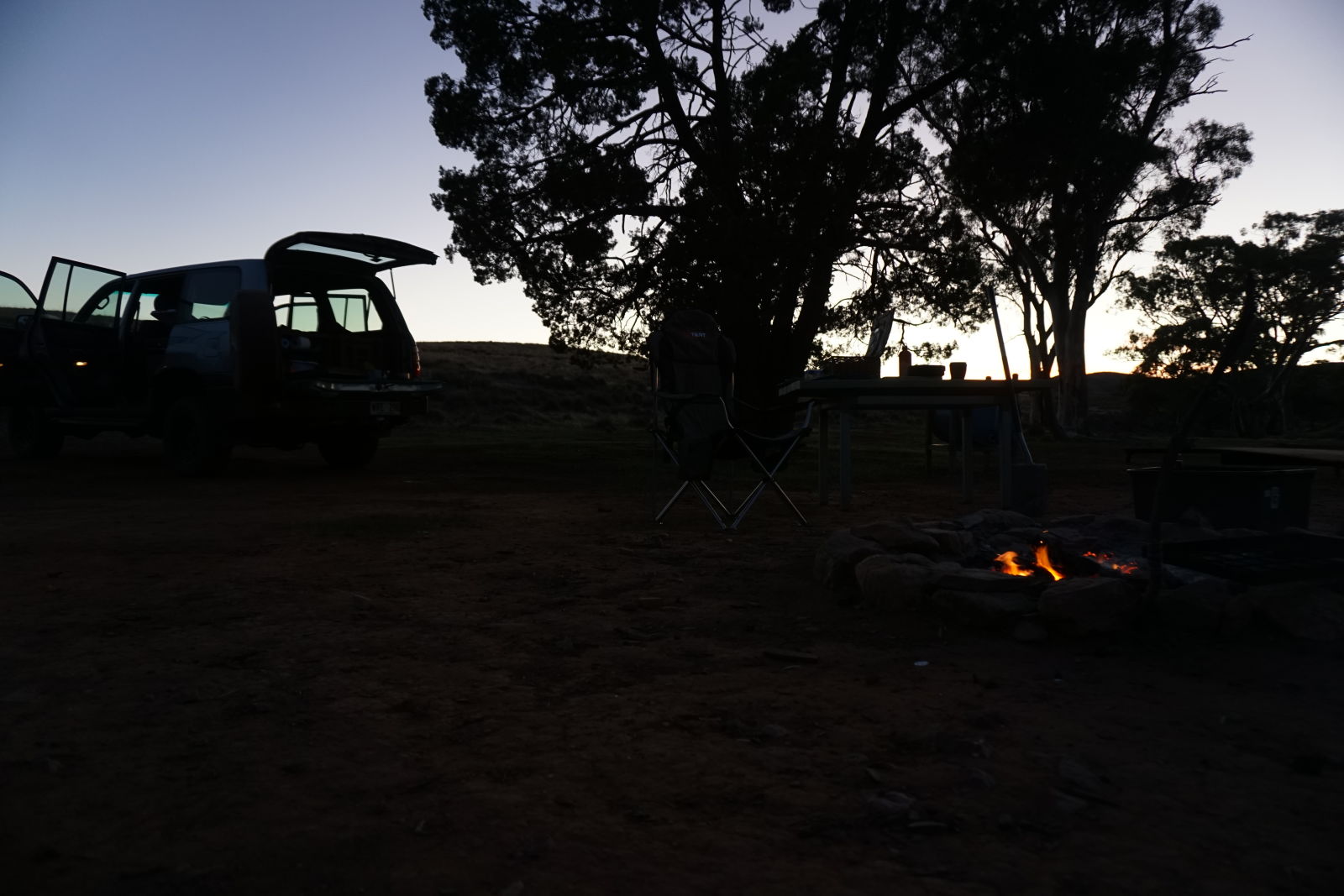 Pack up. Quick once over for the 105. Head out. Hit the trails early.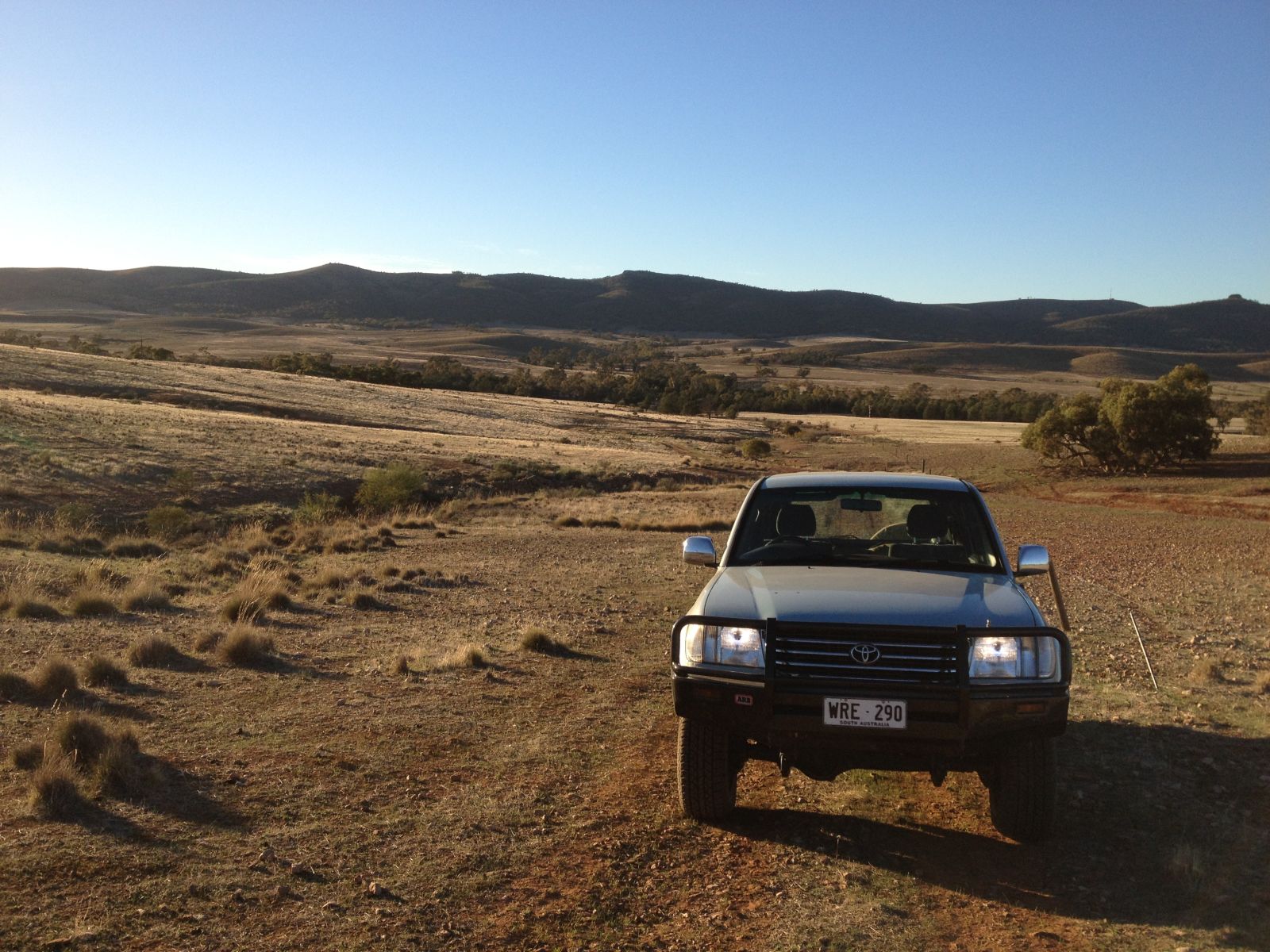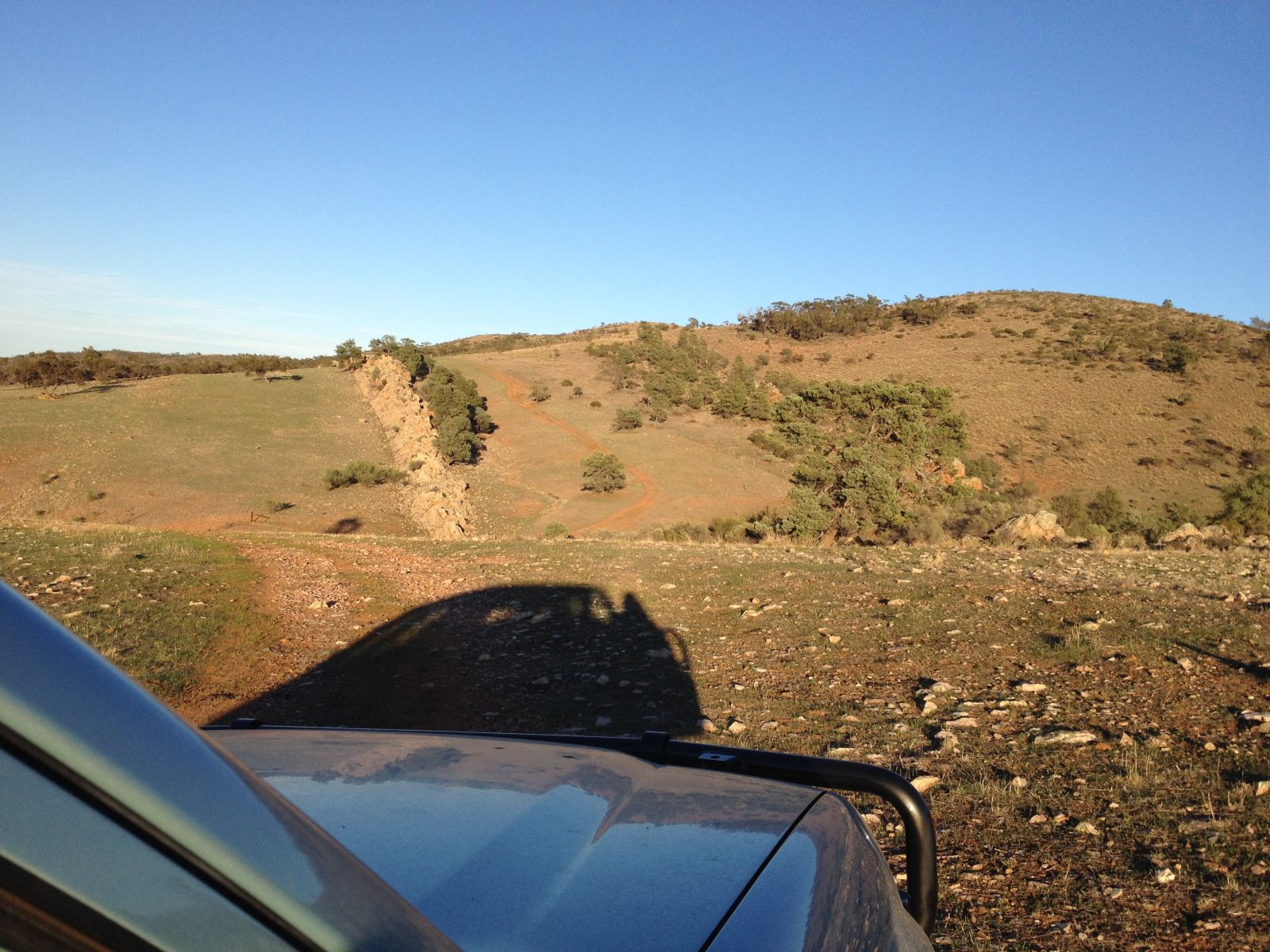 The light is good and 'soft' at this time of day.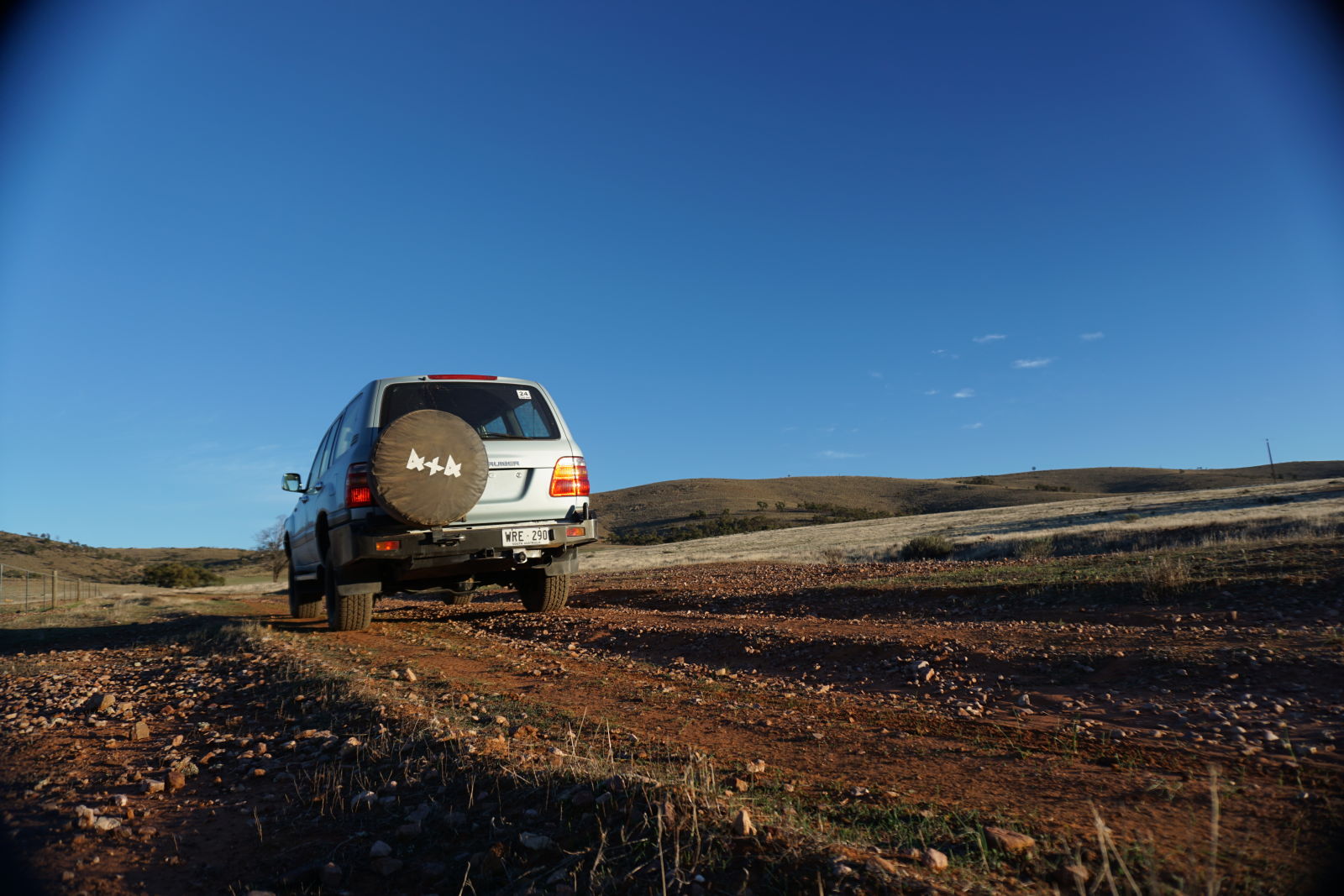 Again this is a sheep station that is opened up for people to explore. A short but rocky climb kicked things off.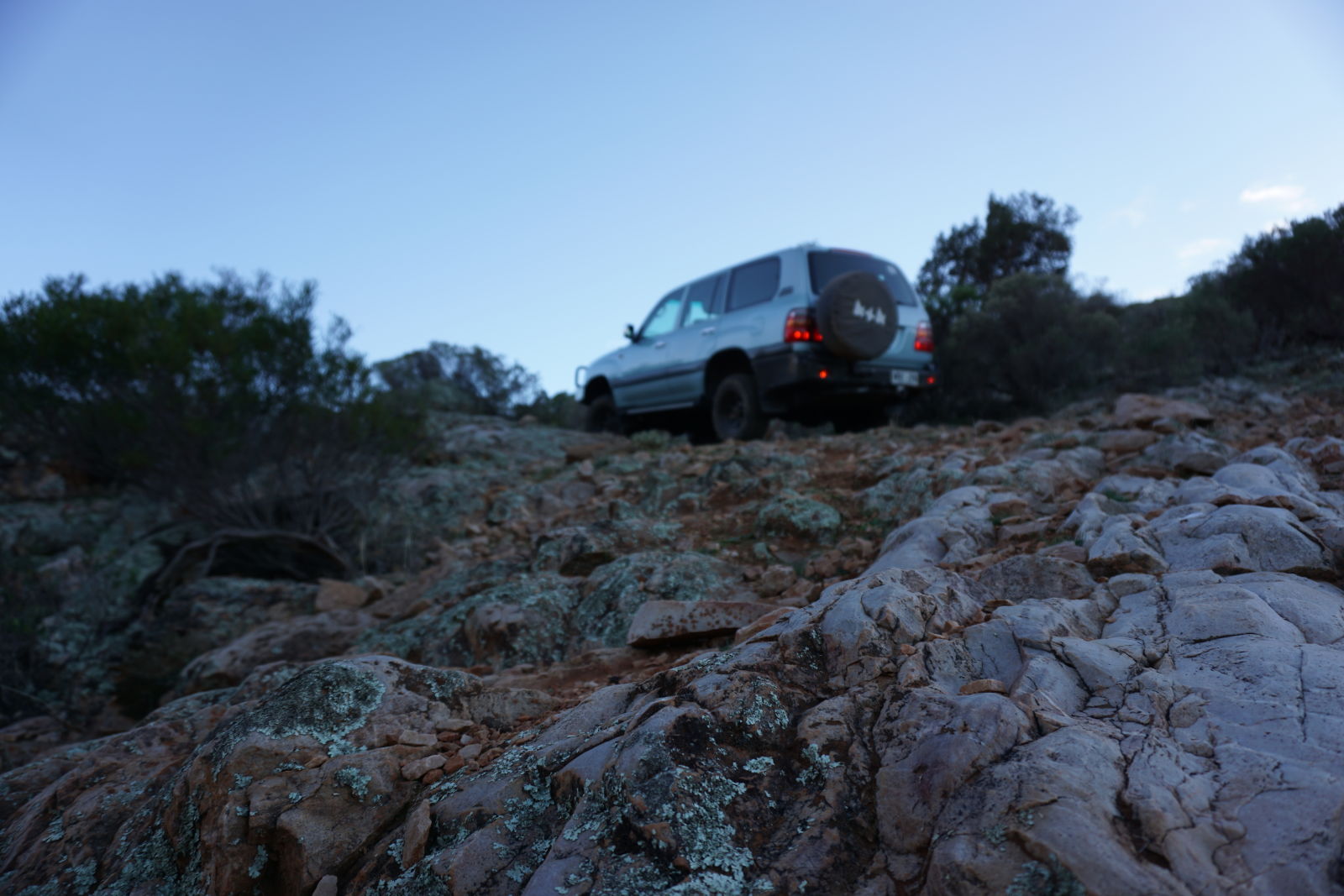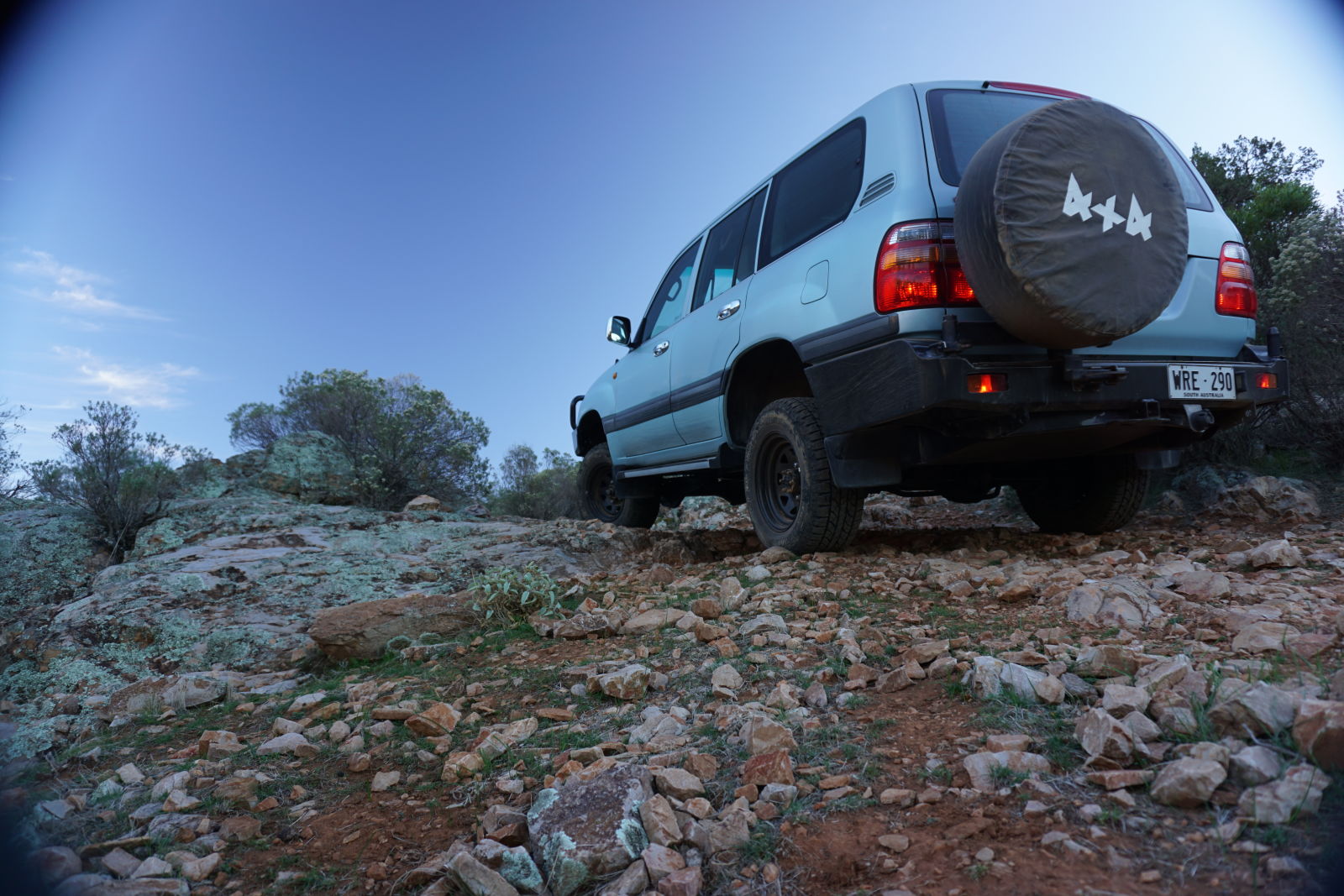 Back out into the sunshine, a flatter area beneath with other ranges in the distance.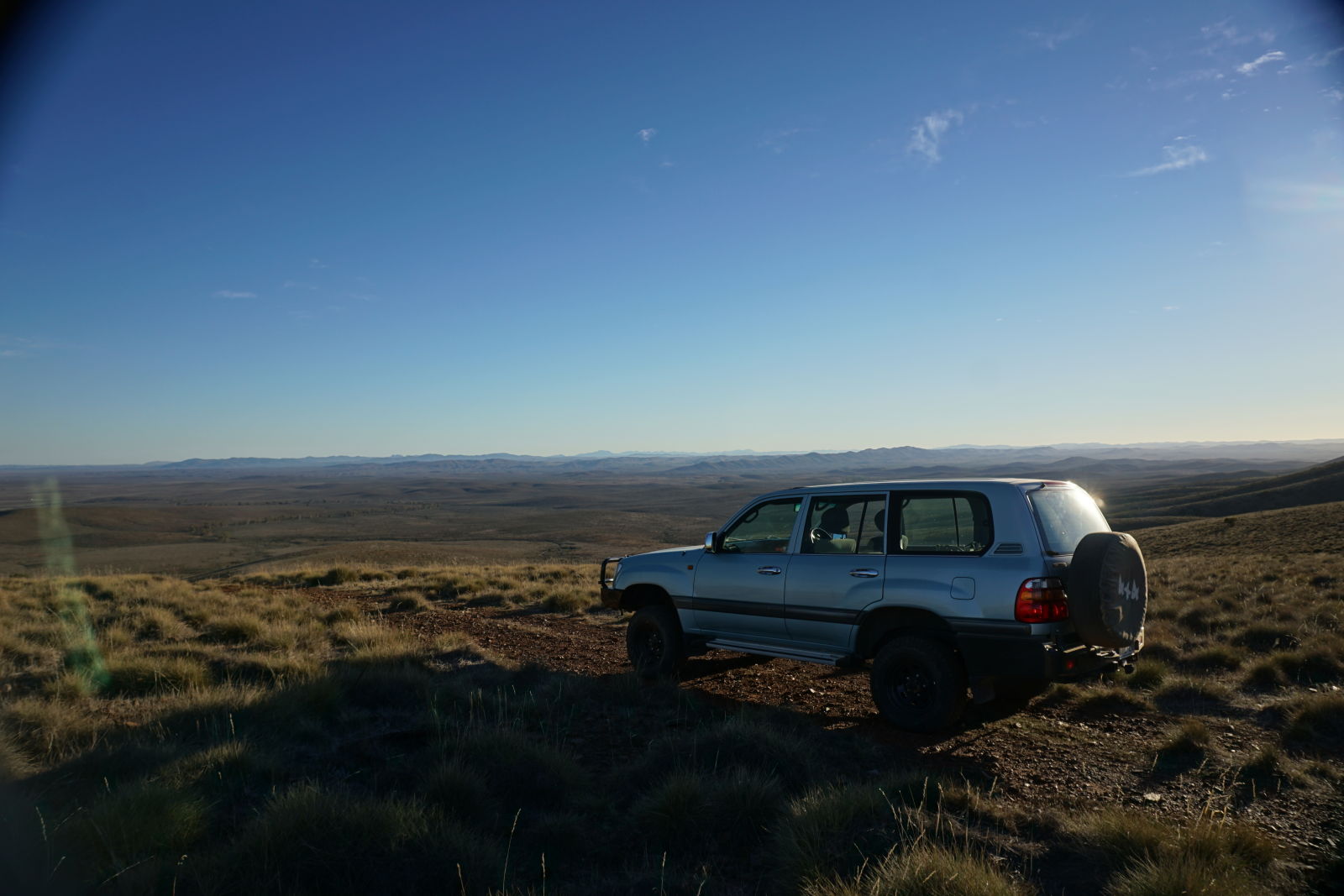 Down to the plain, and there was the odd washout from when the rains eventually come, this is where you find plant life most abundant.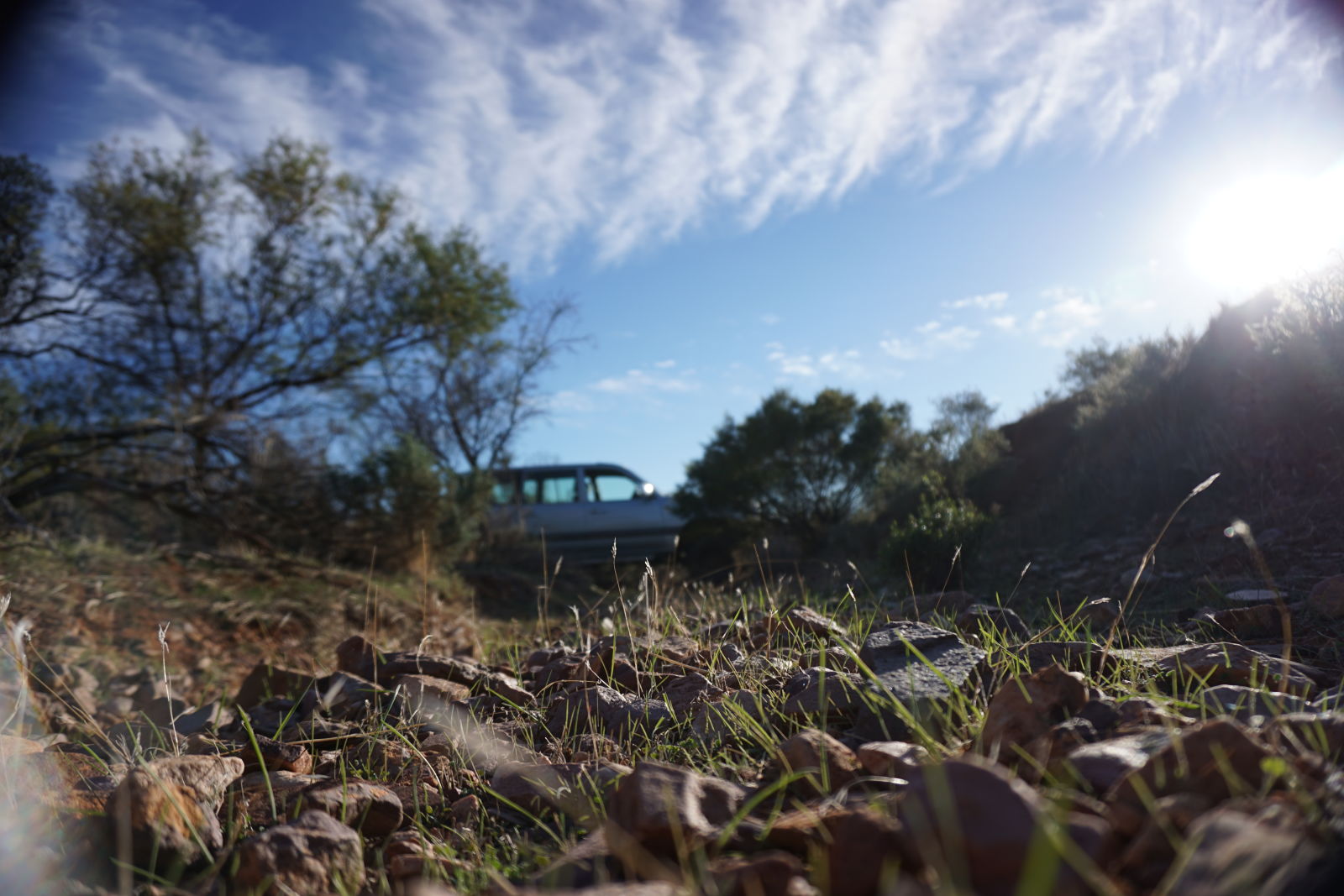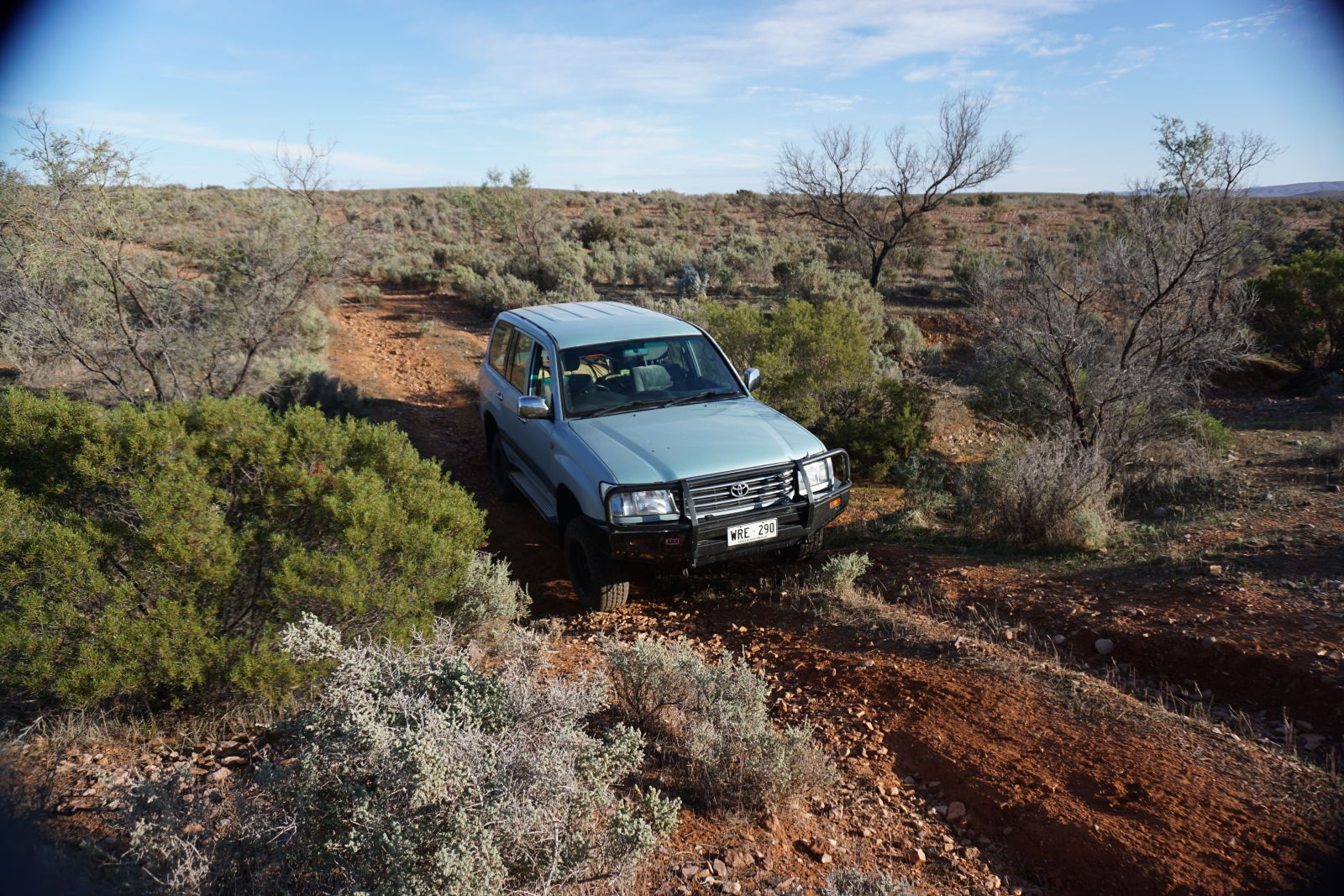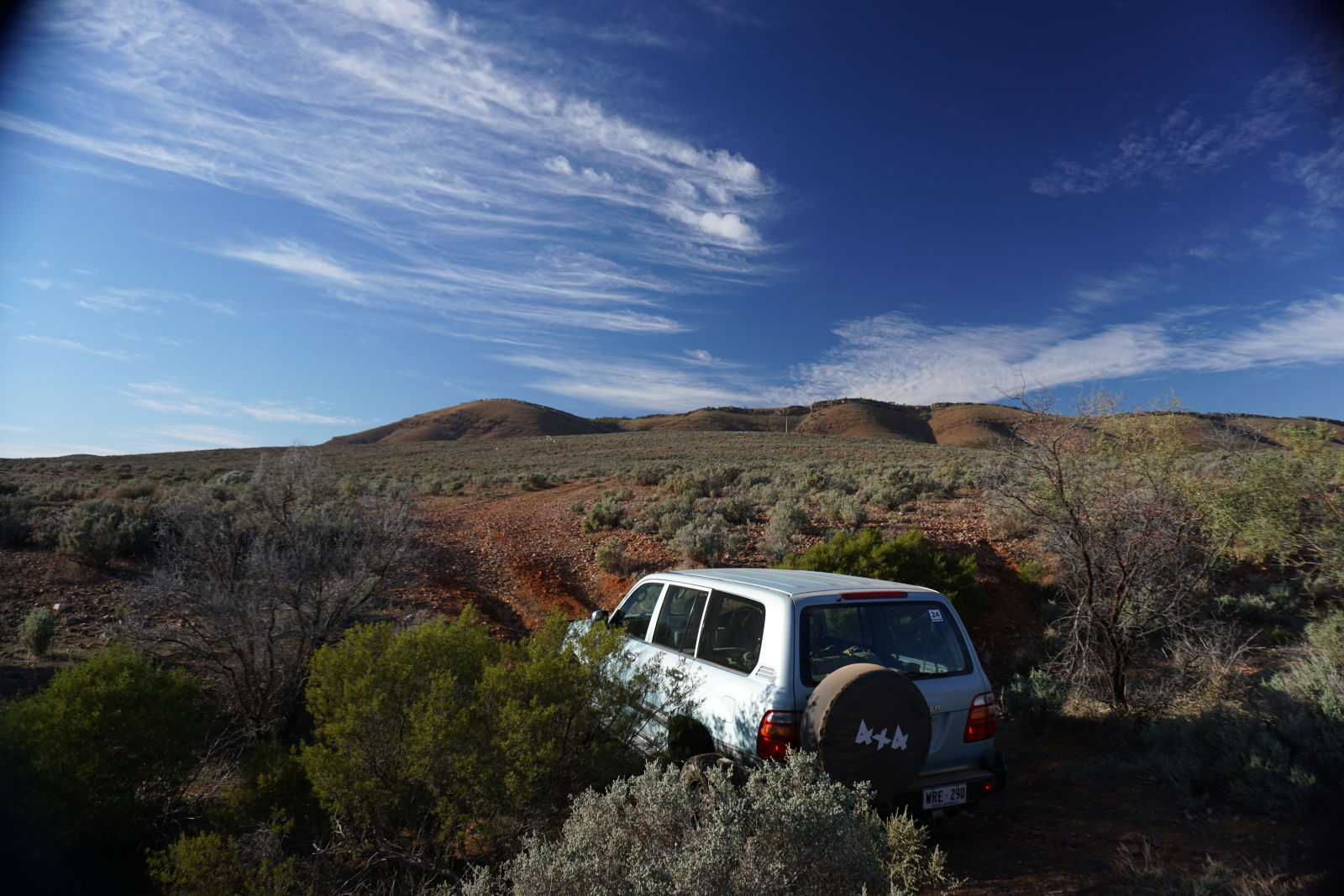 Larry's mates.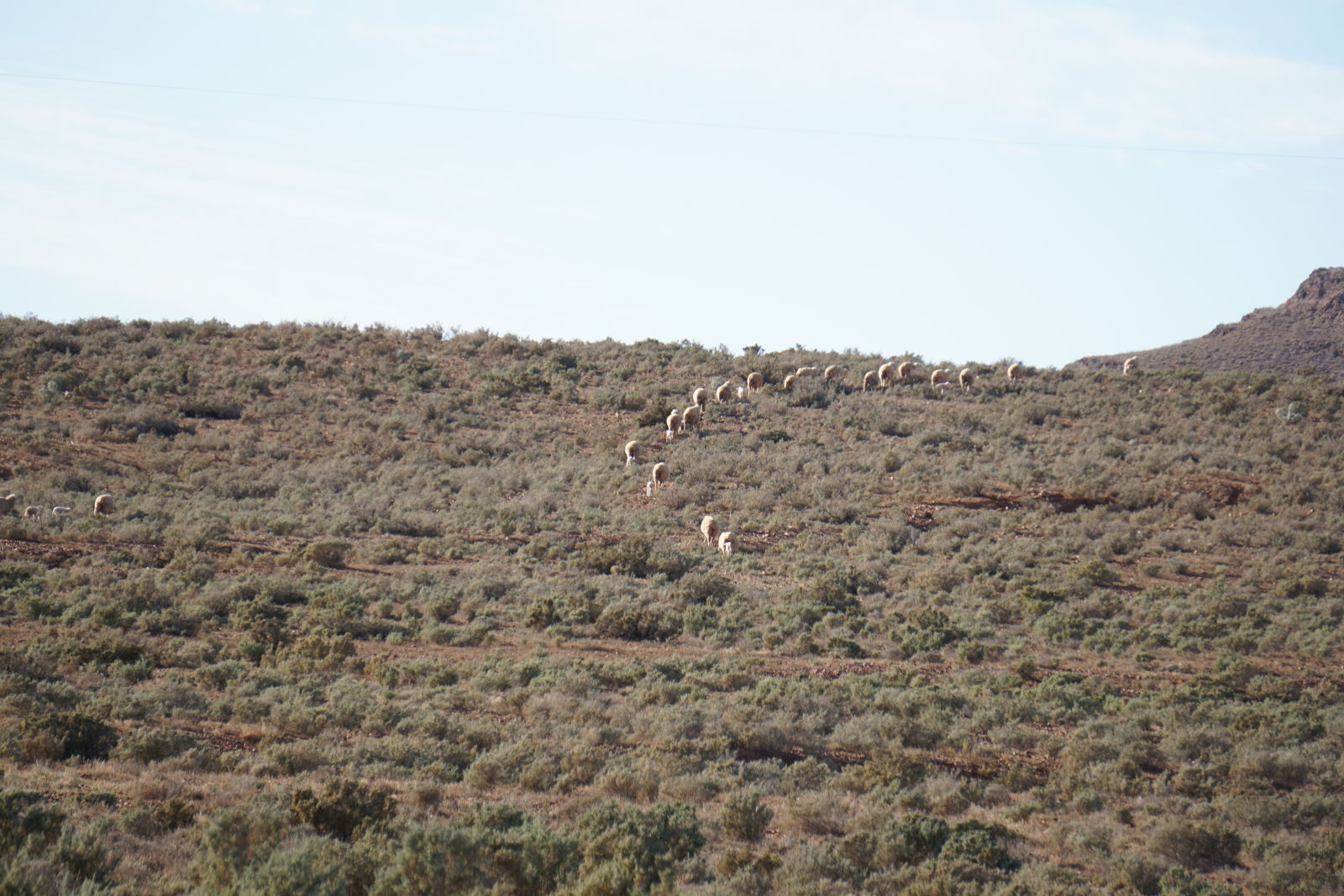 So the track headed up towards this ridge line, the colours were good now.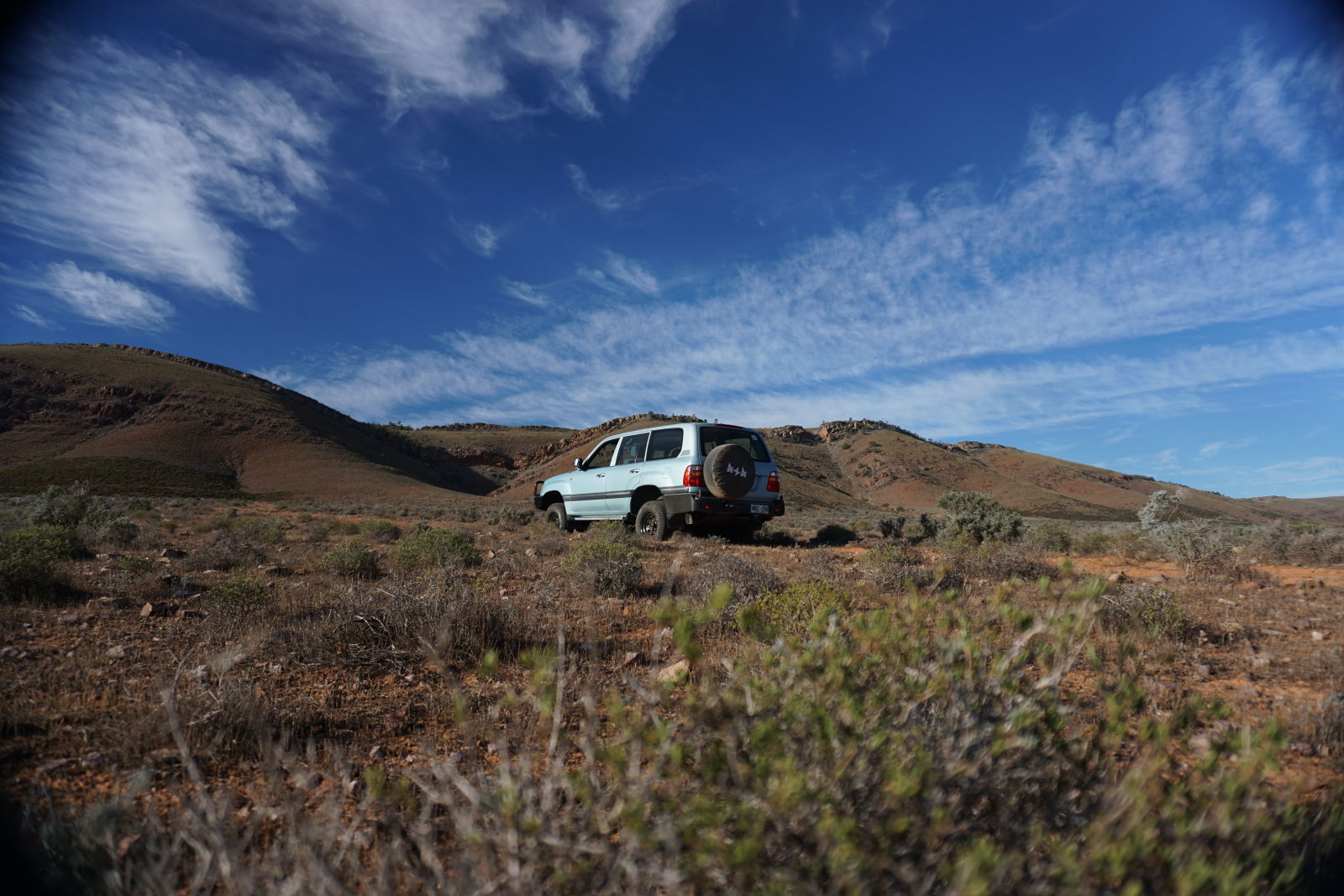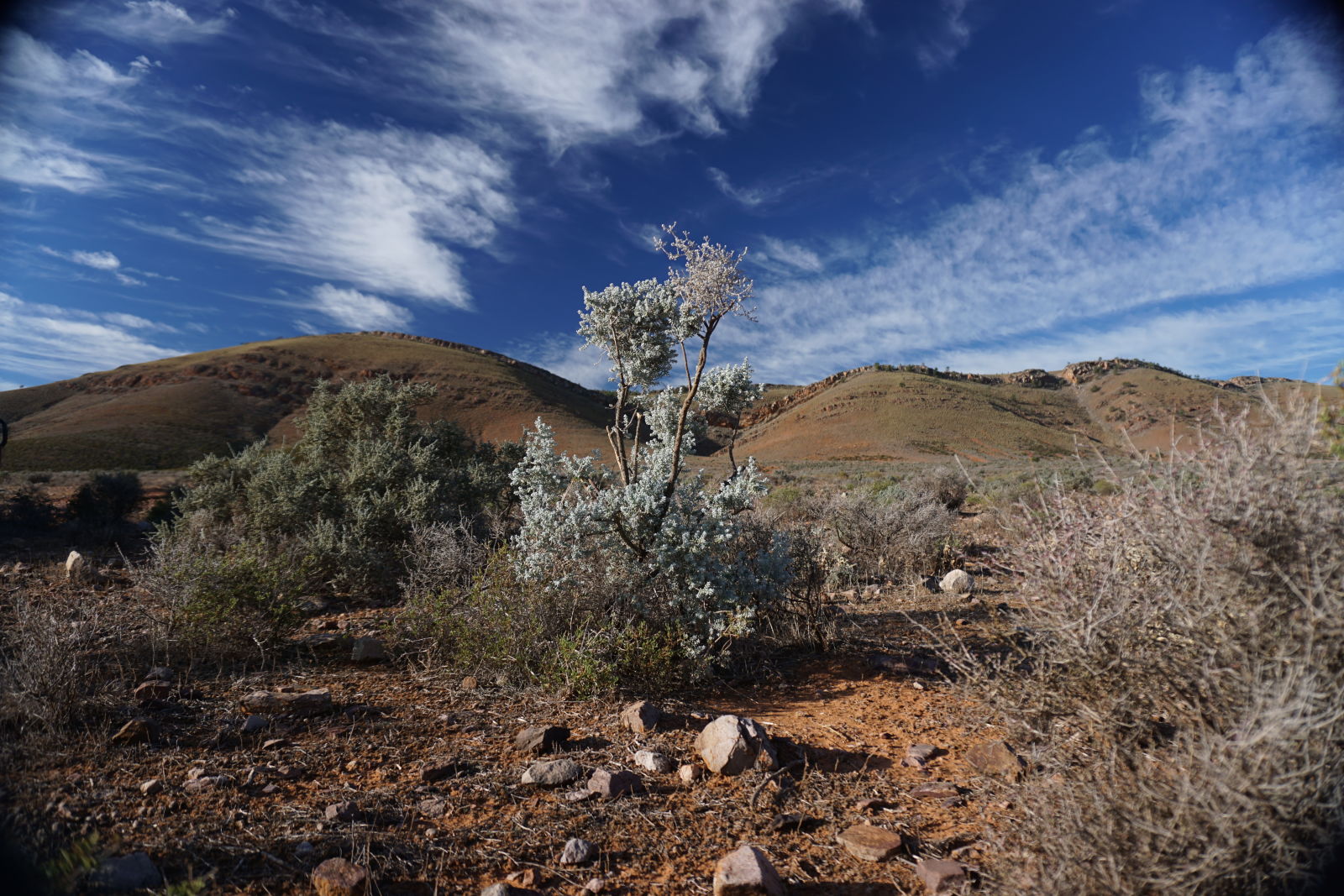 Big, barren land out here.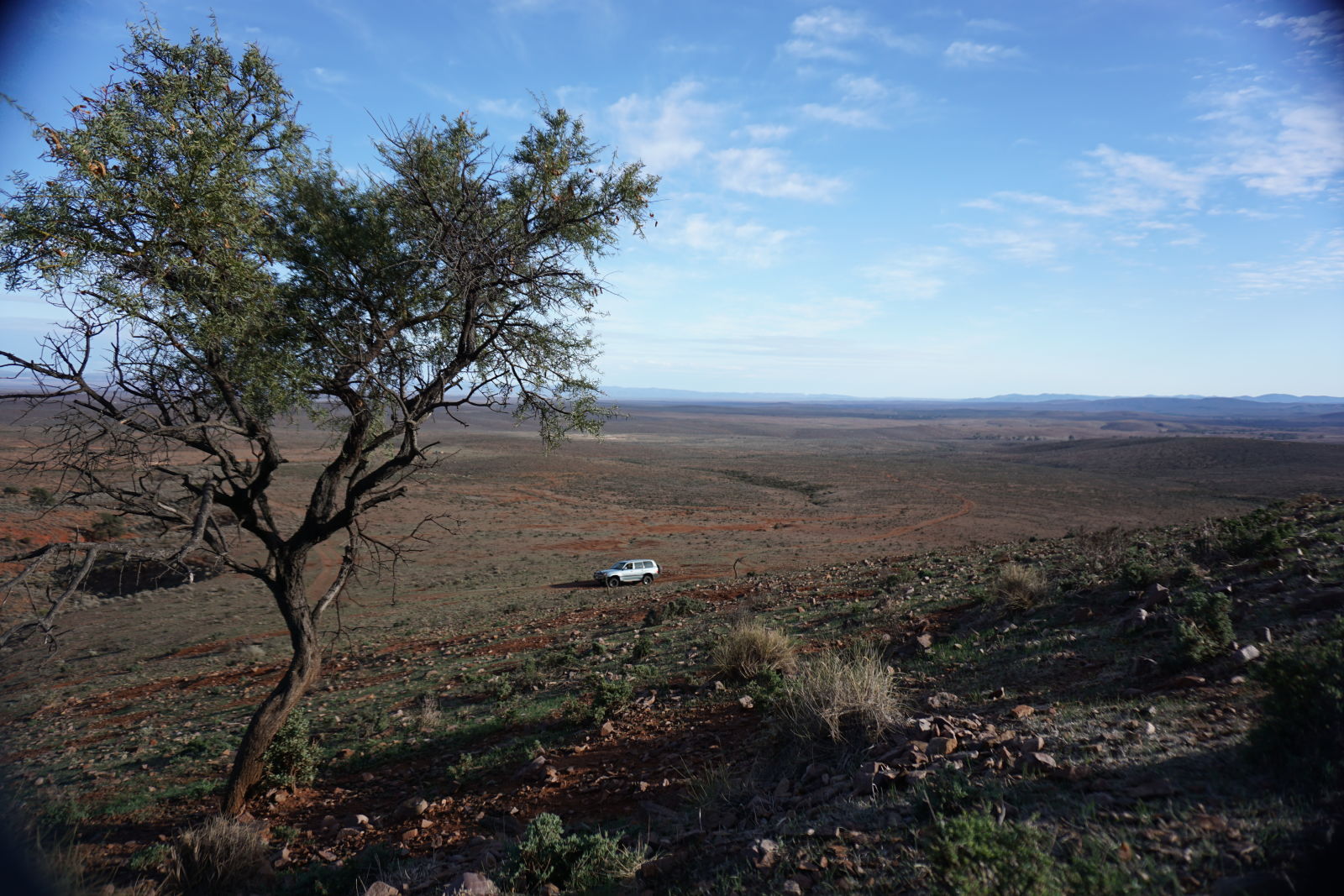 Any flash of colour grabs your attention.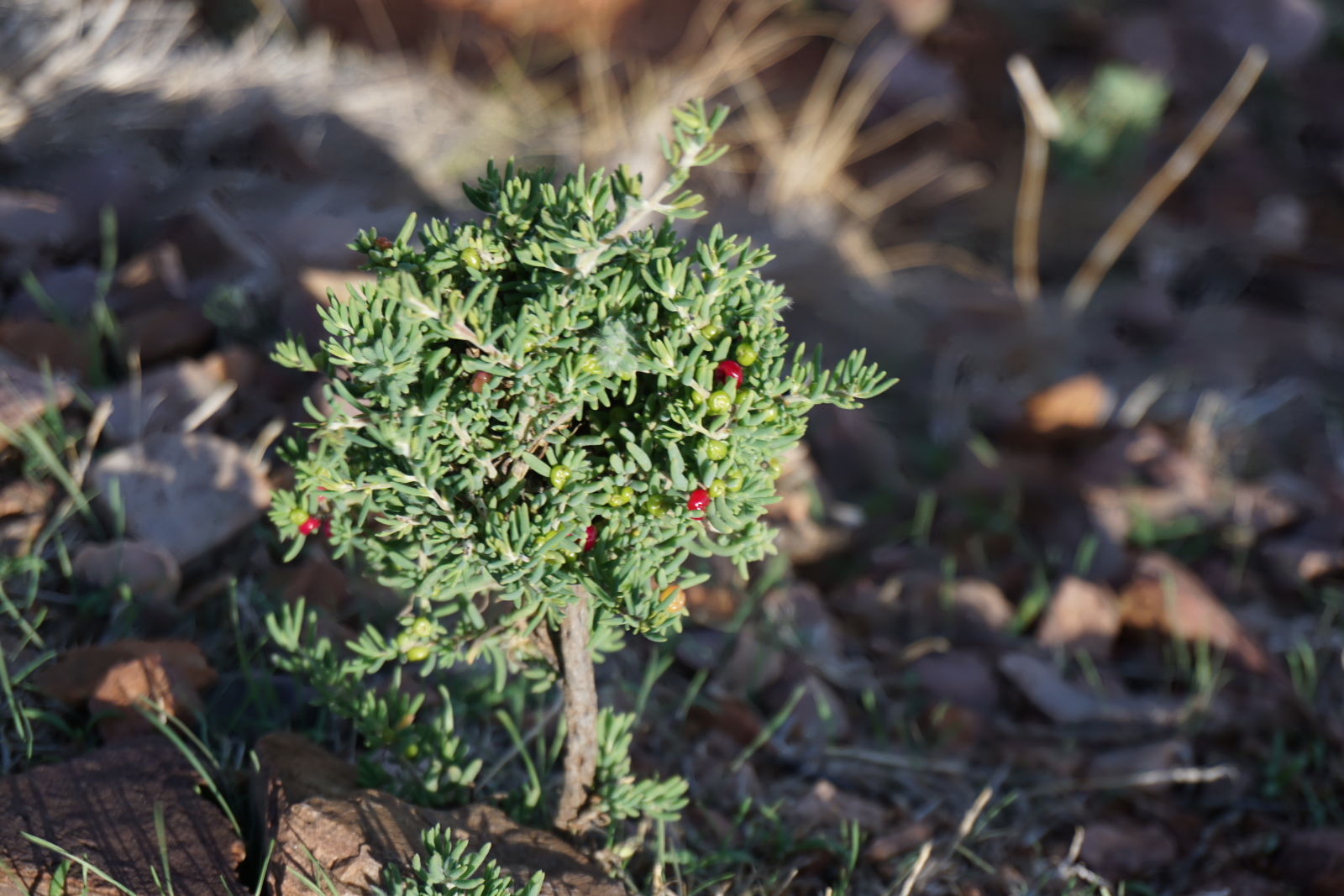 So, that ridge is where I am heading.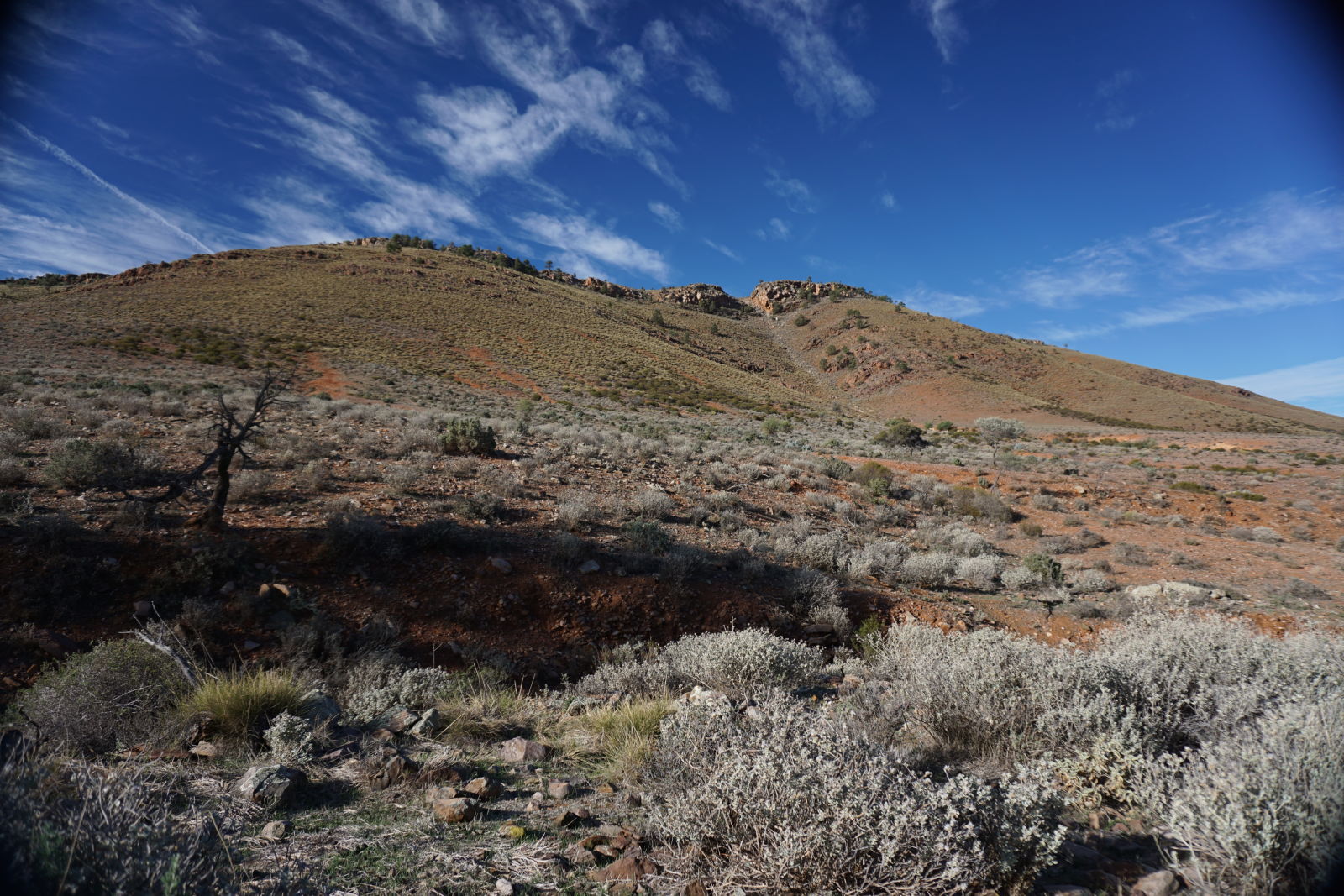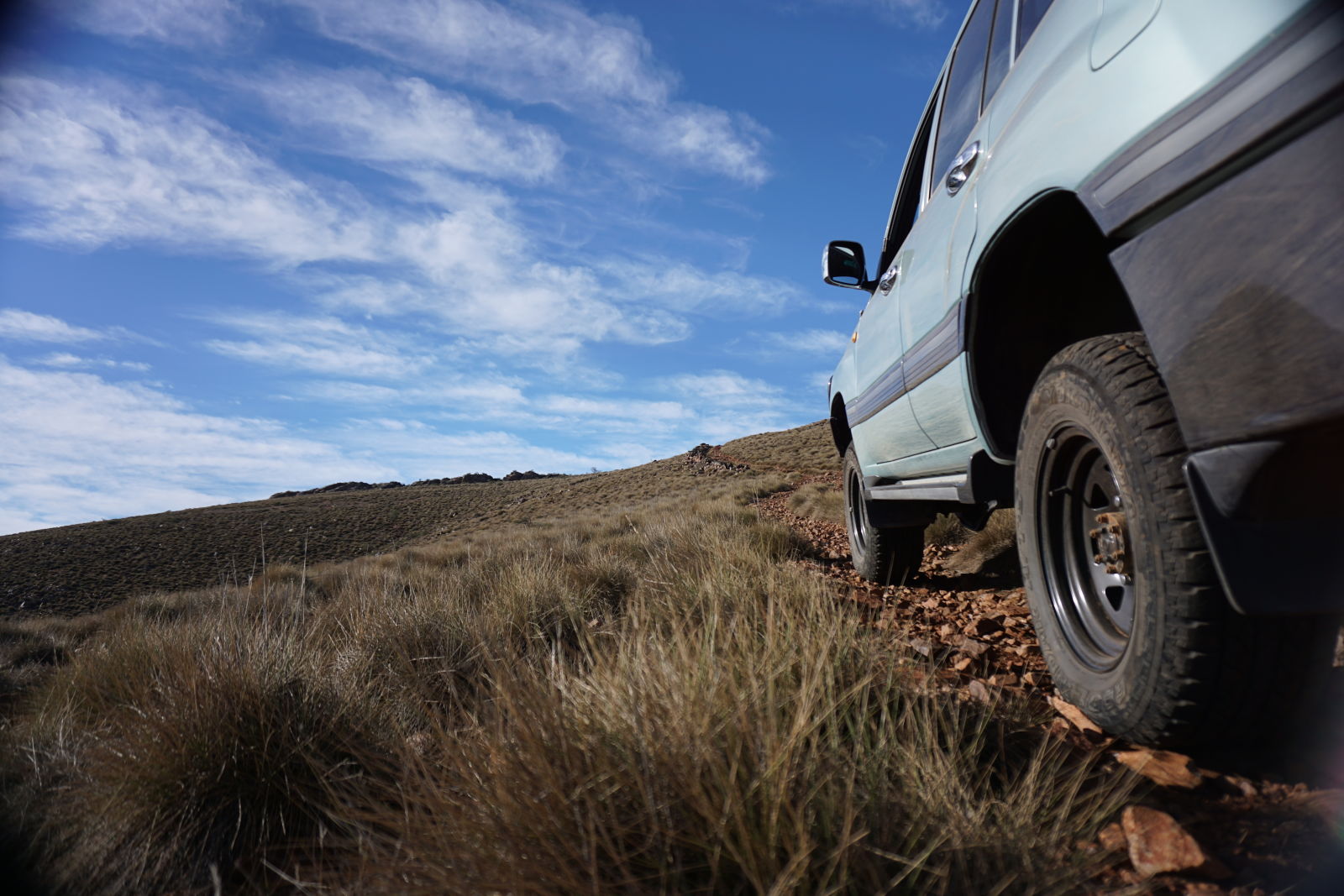 Up the top, old mate skippy hung around long enough to screw on the long lens (they normally hop away just as you get set…).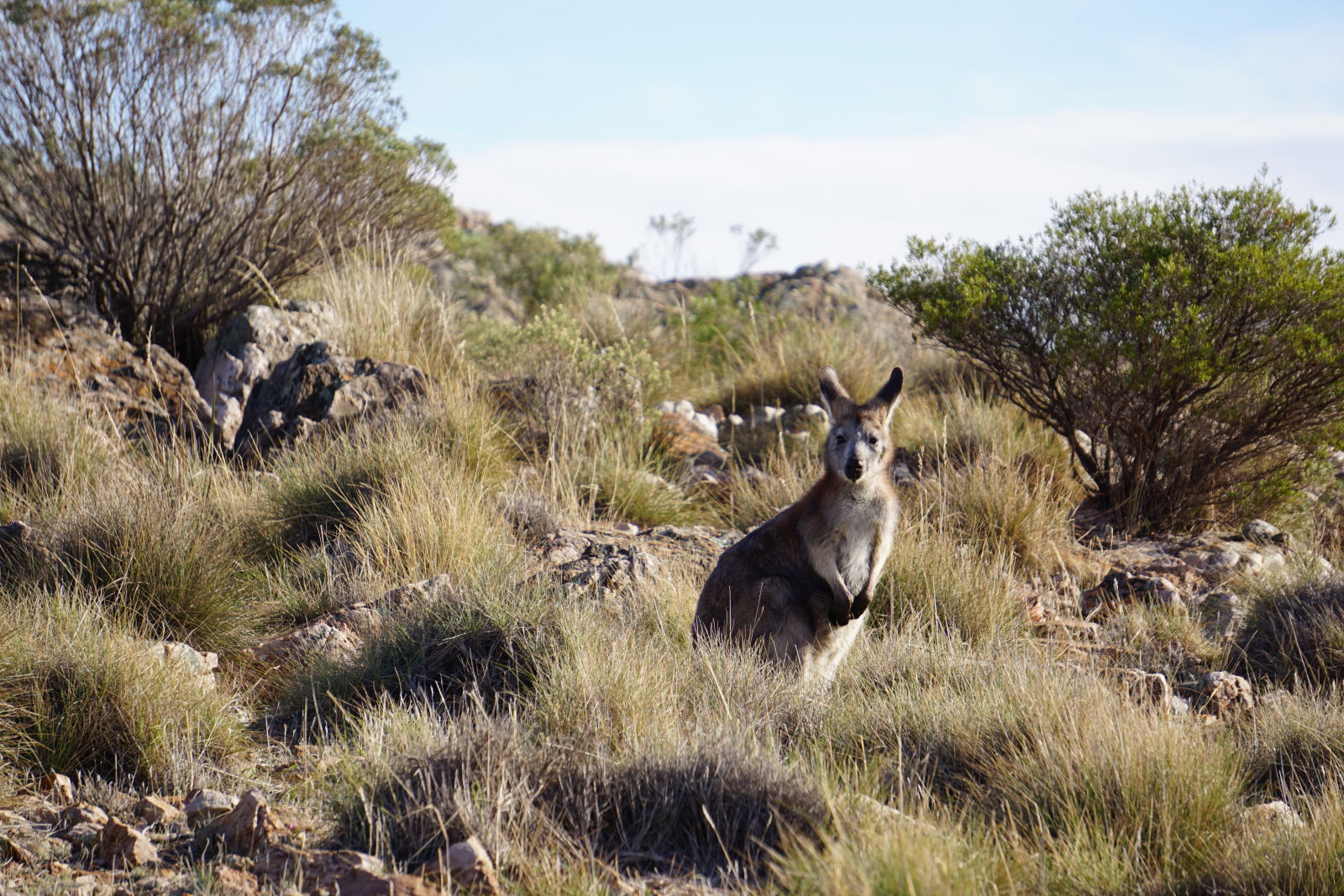 Some shots from the ridge line track.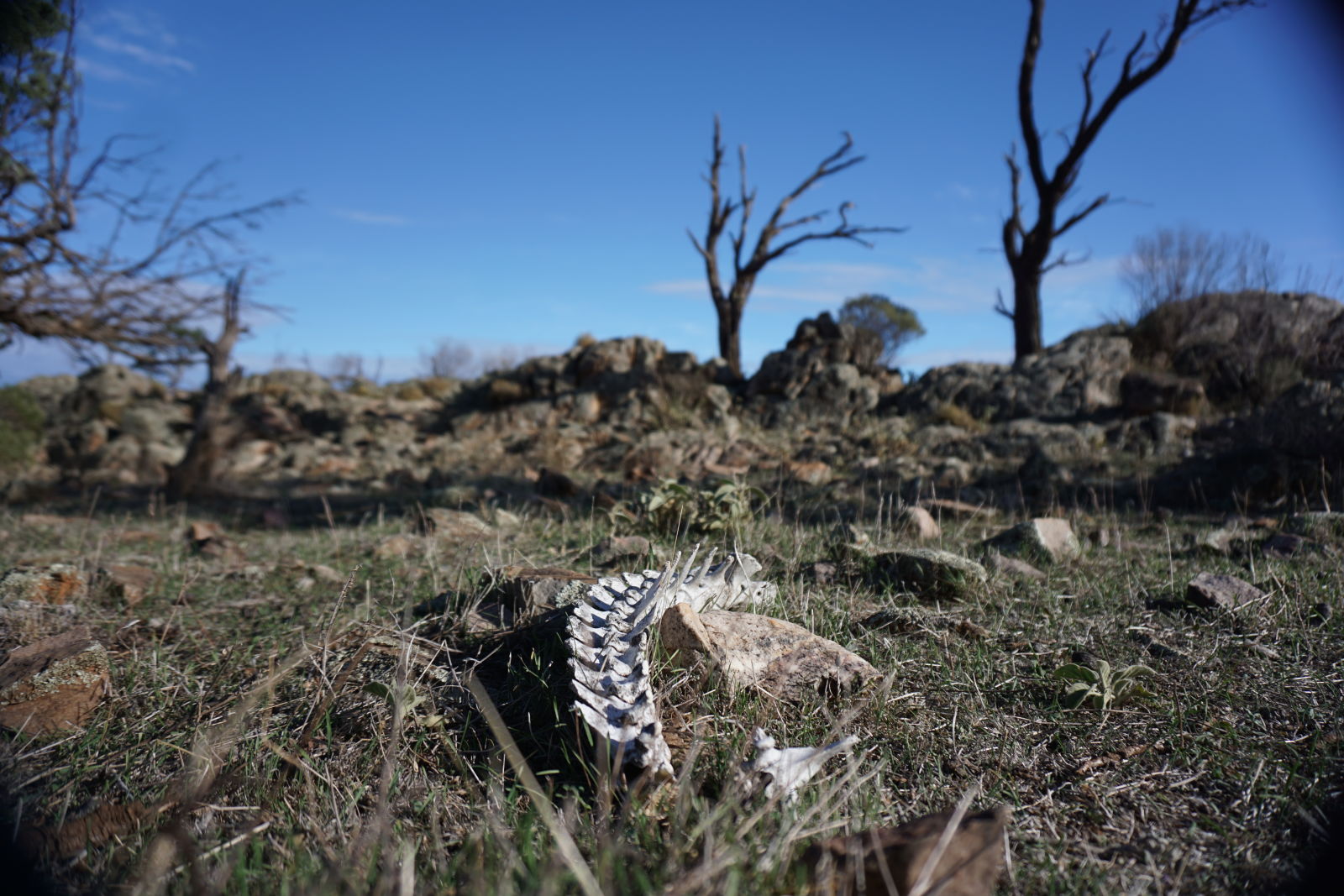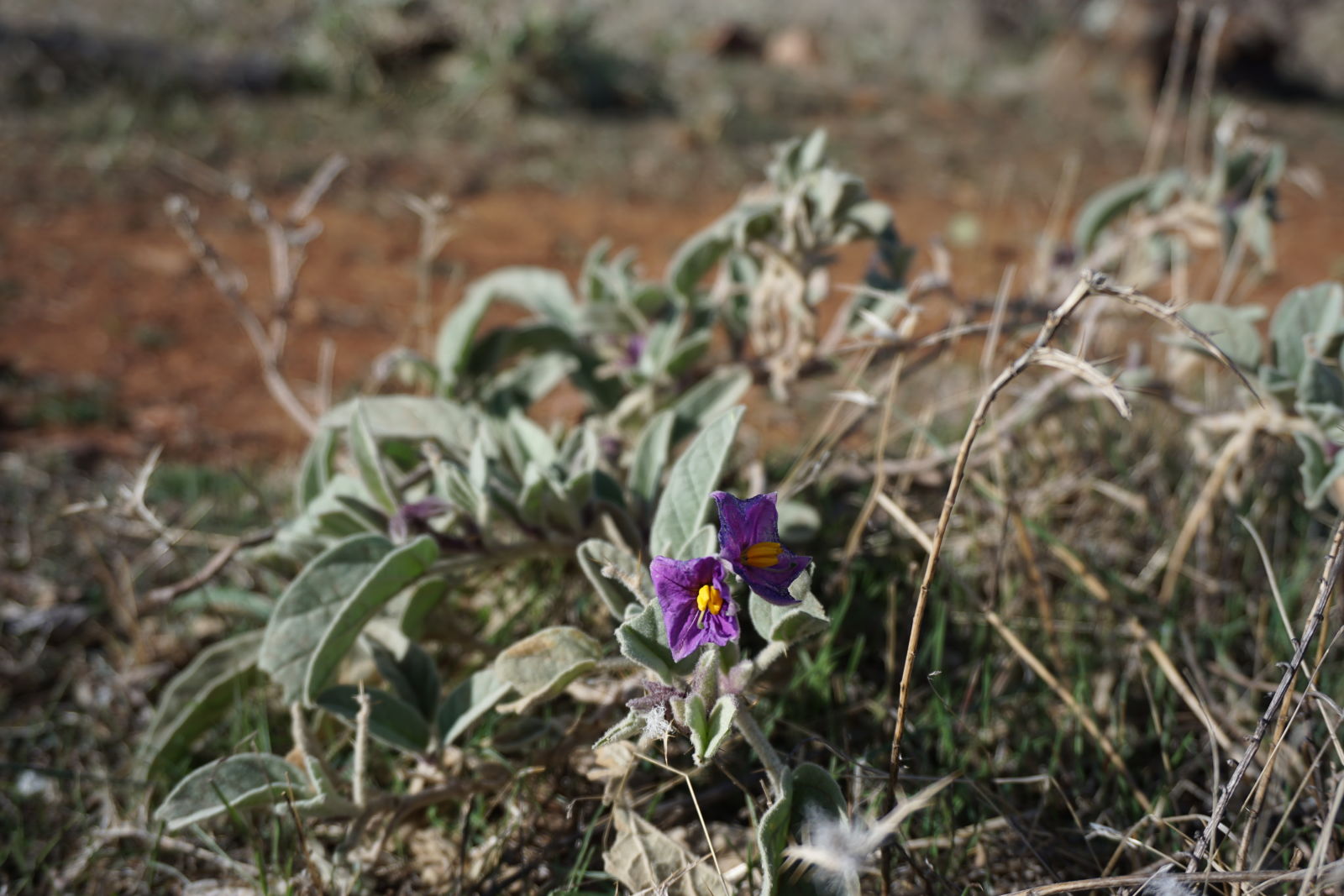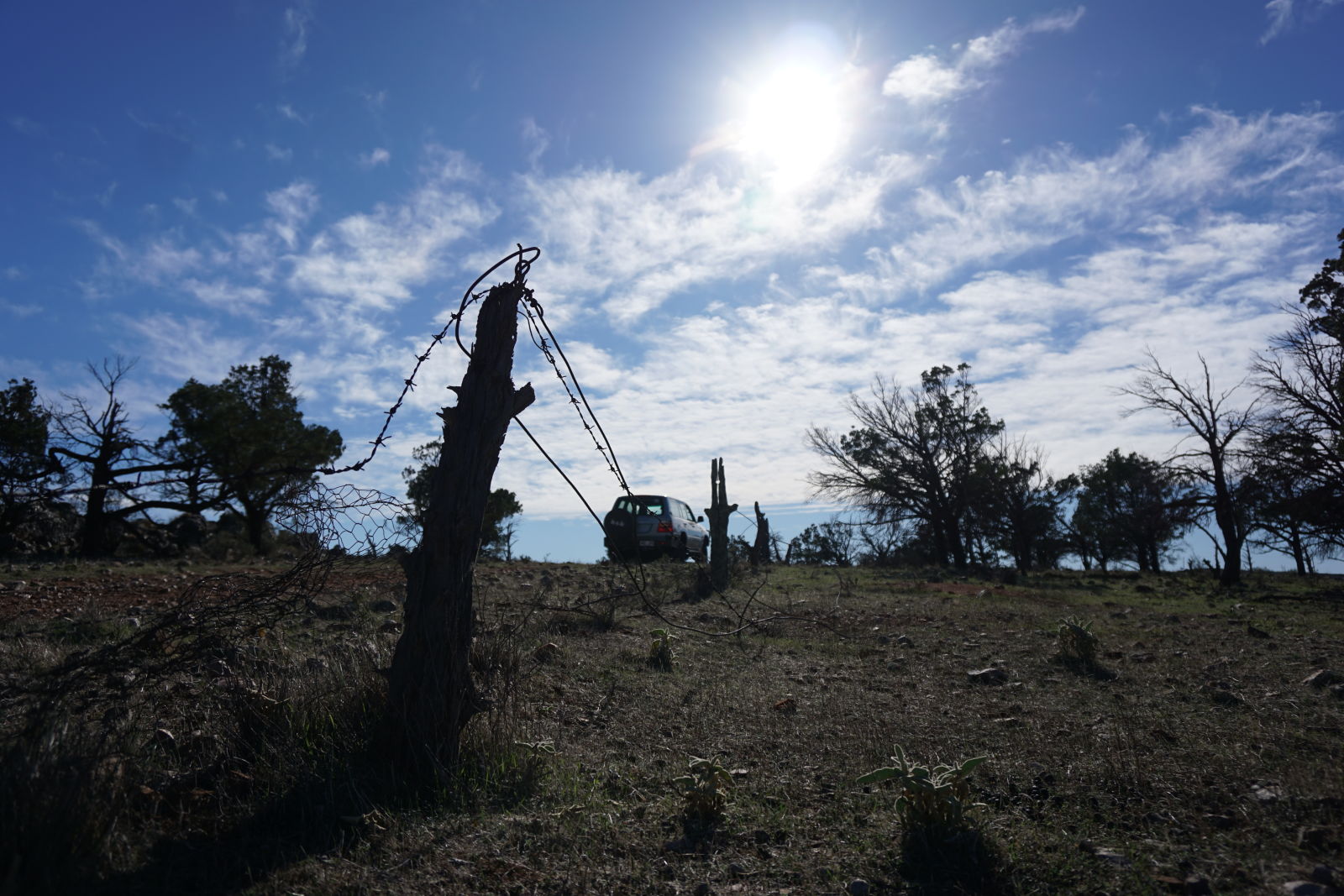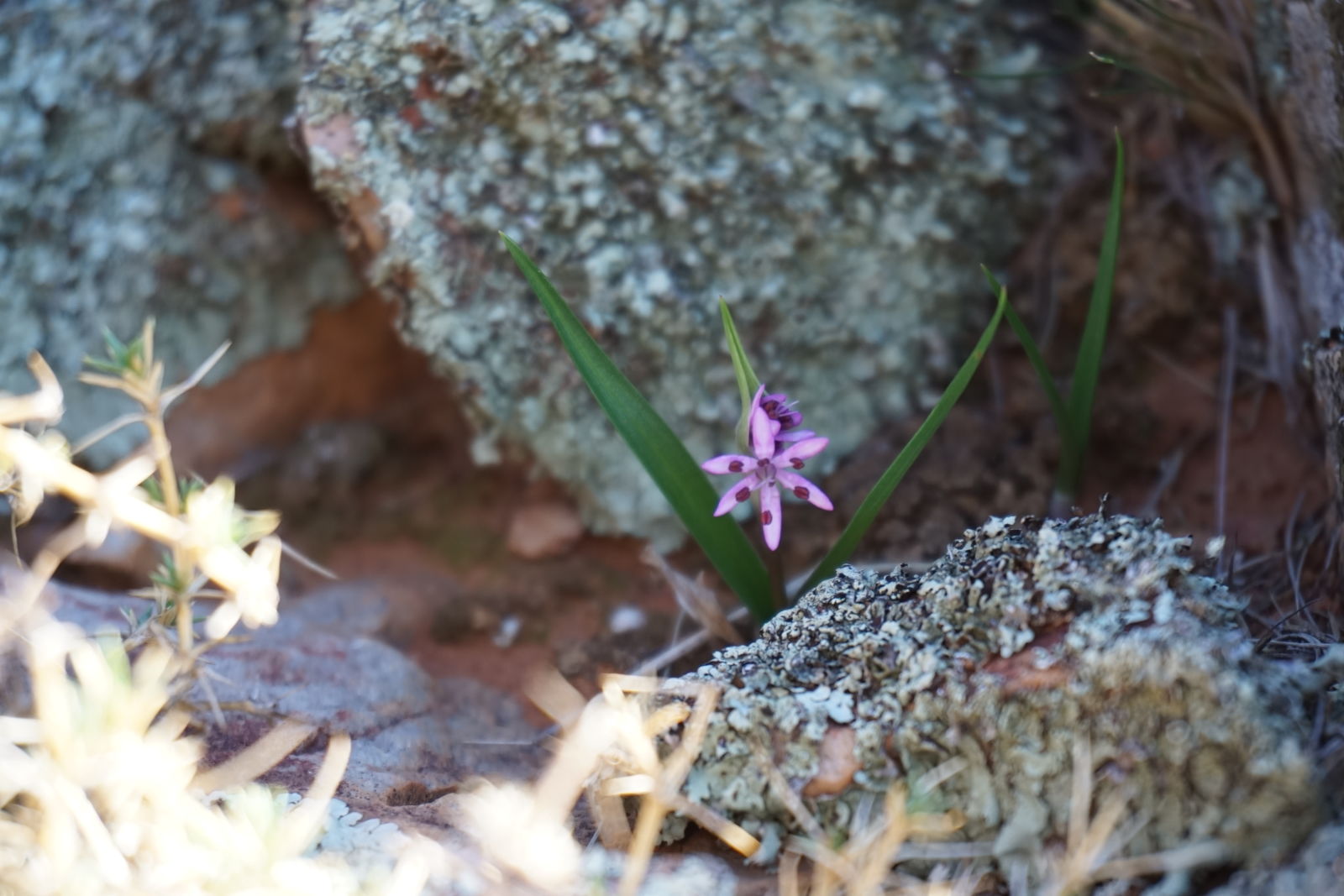 A view looking back, you can just see rain in the distance.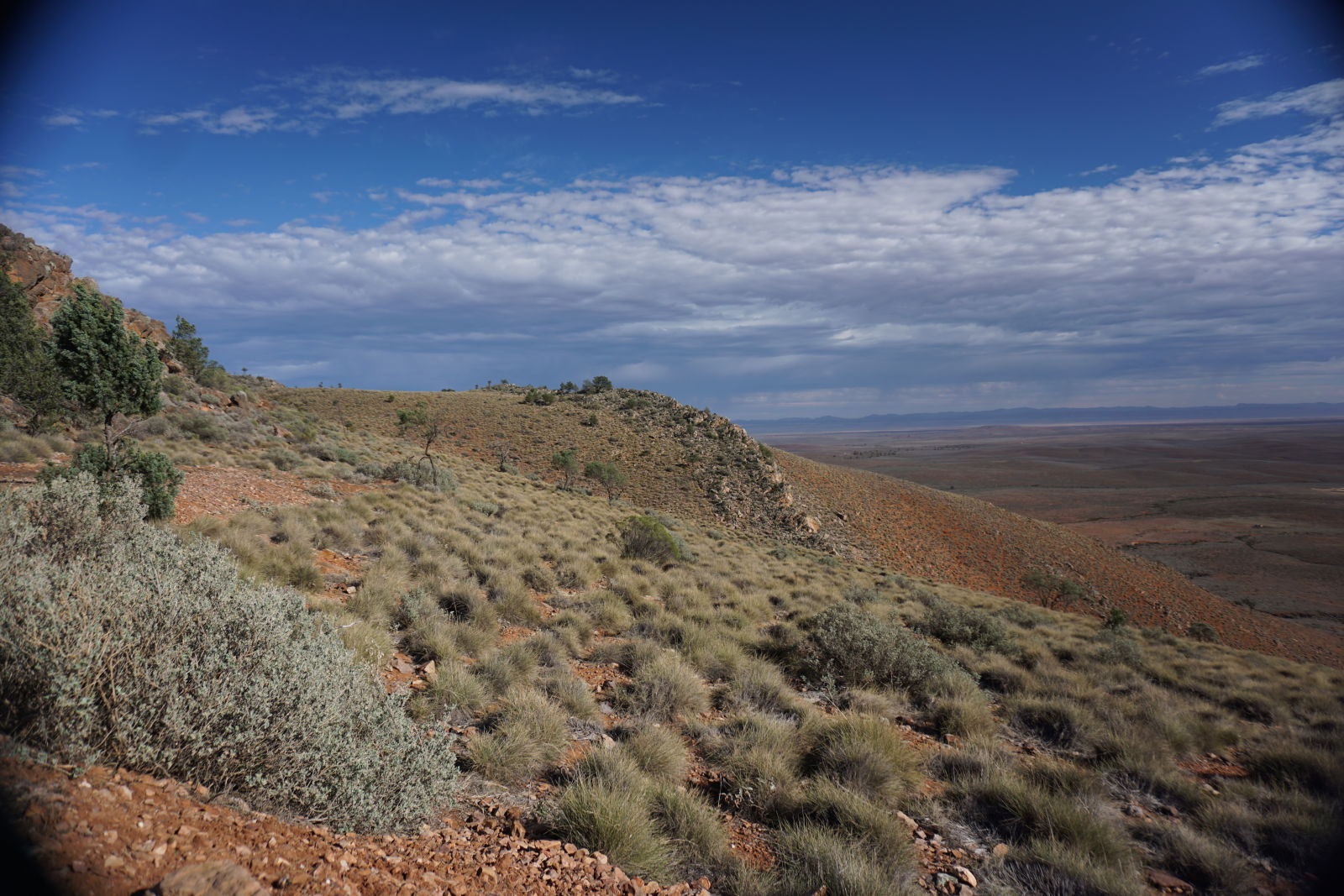 The track wound down off the ridge and skirted up another hill before descending again, now the rain was close.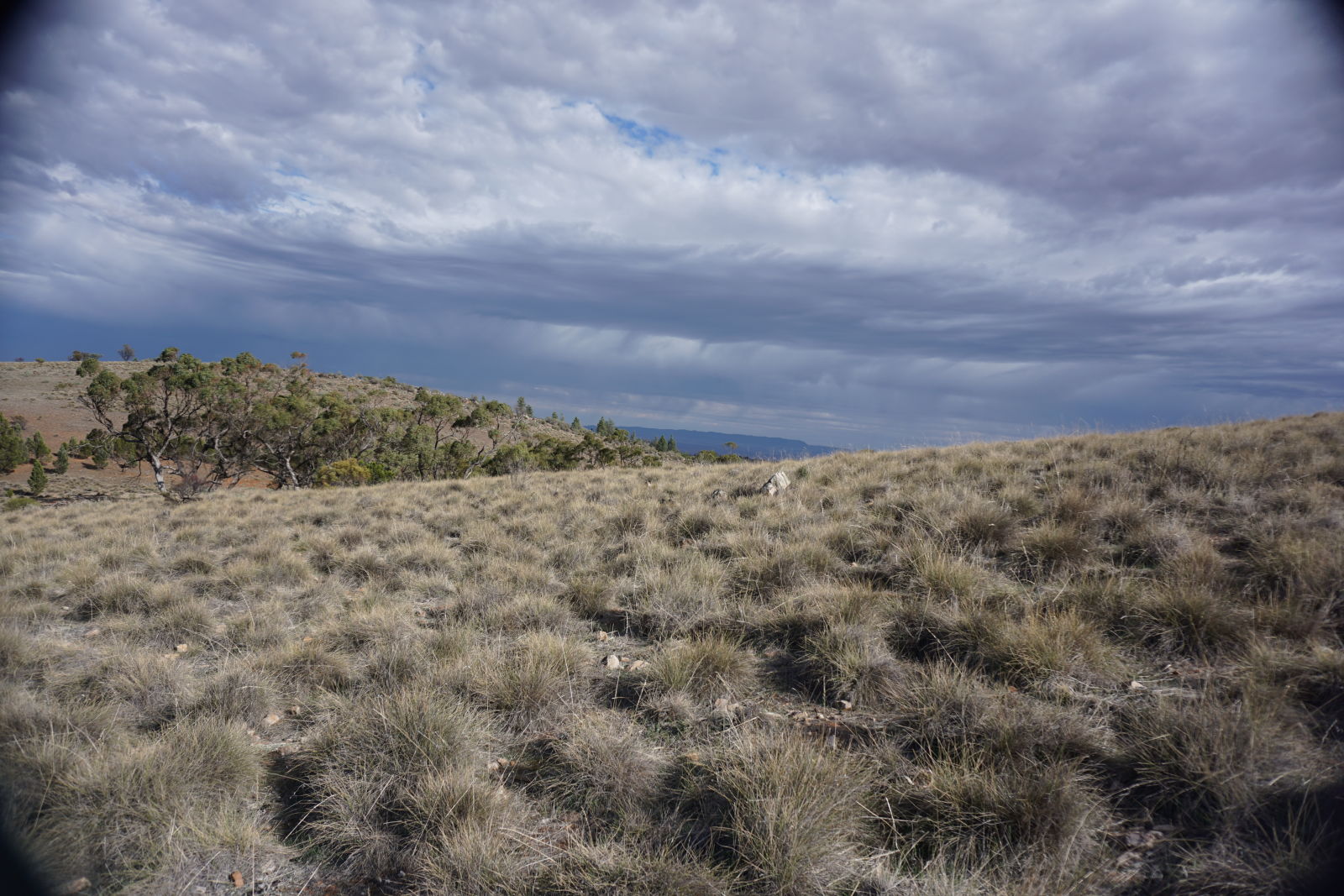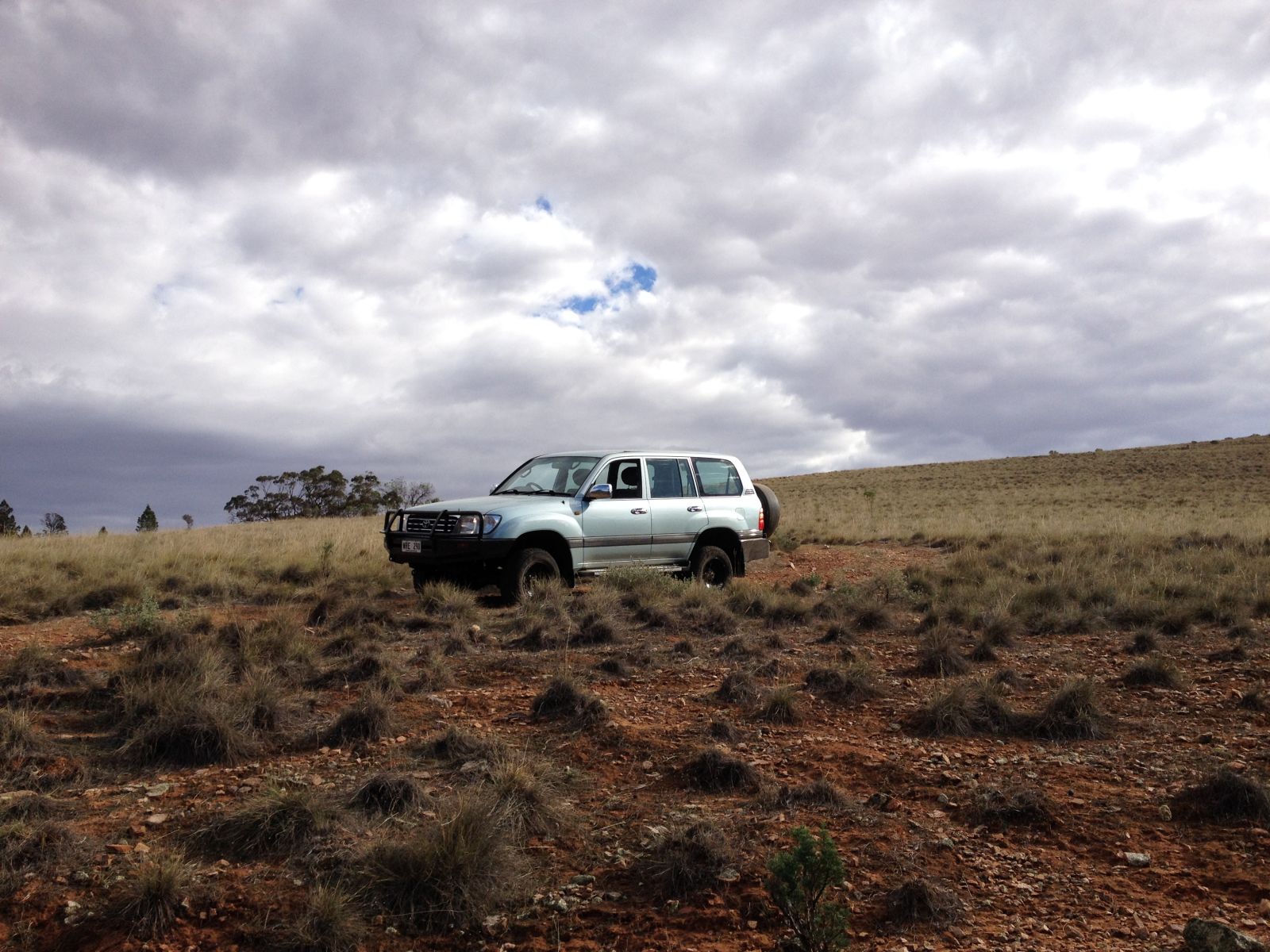 It was now around midday, time to start thinking about heading home if I wanted to be back at a reasonable hour. Trundled out of the property, then back to the main dirt road, aired up and pressed on. Eventually back to the main road (through some pretty good bitumen driving roads, might have to bring that 'fast' cars up here at some point). Just stopping at Harry's, I regularly stop here on the way out or the way back, it's stocked with everything you need and everything you didn't realise you need. Some pickled local seafood picked up for a nice easy dinner when I get home. The rain had caught me now, I followed another Hundo that wasn't shy of 'making progress' either.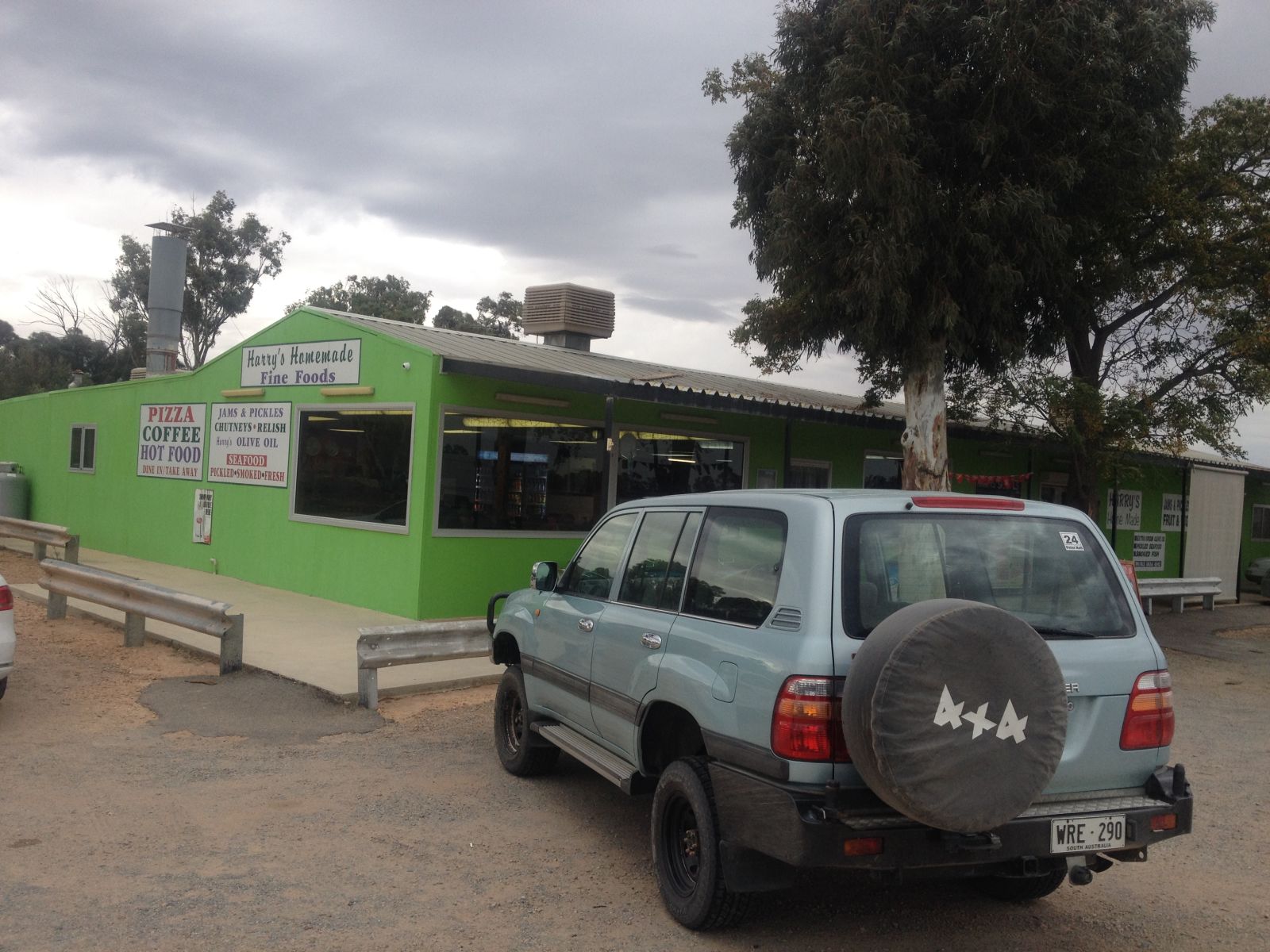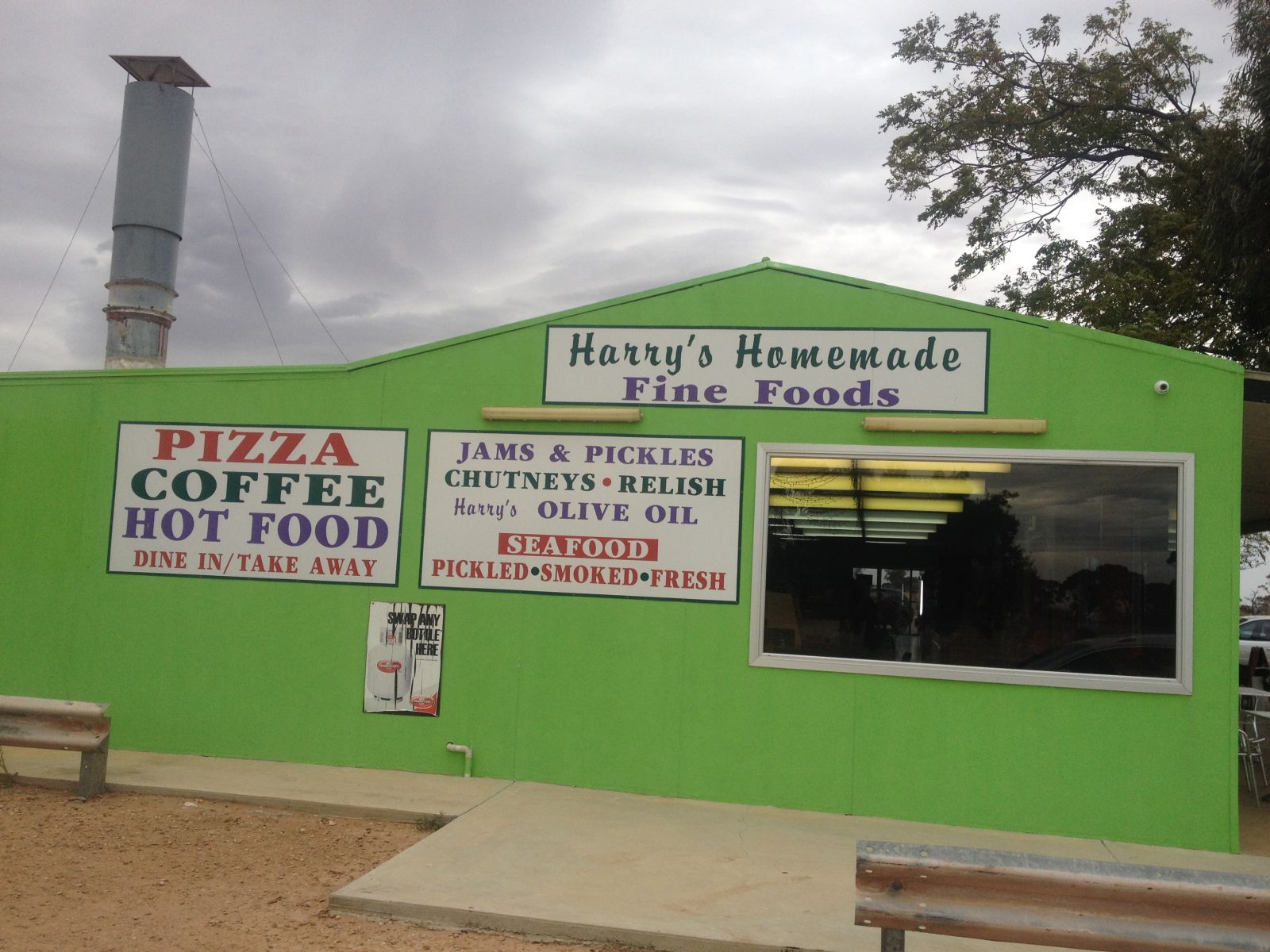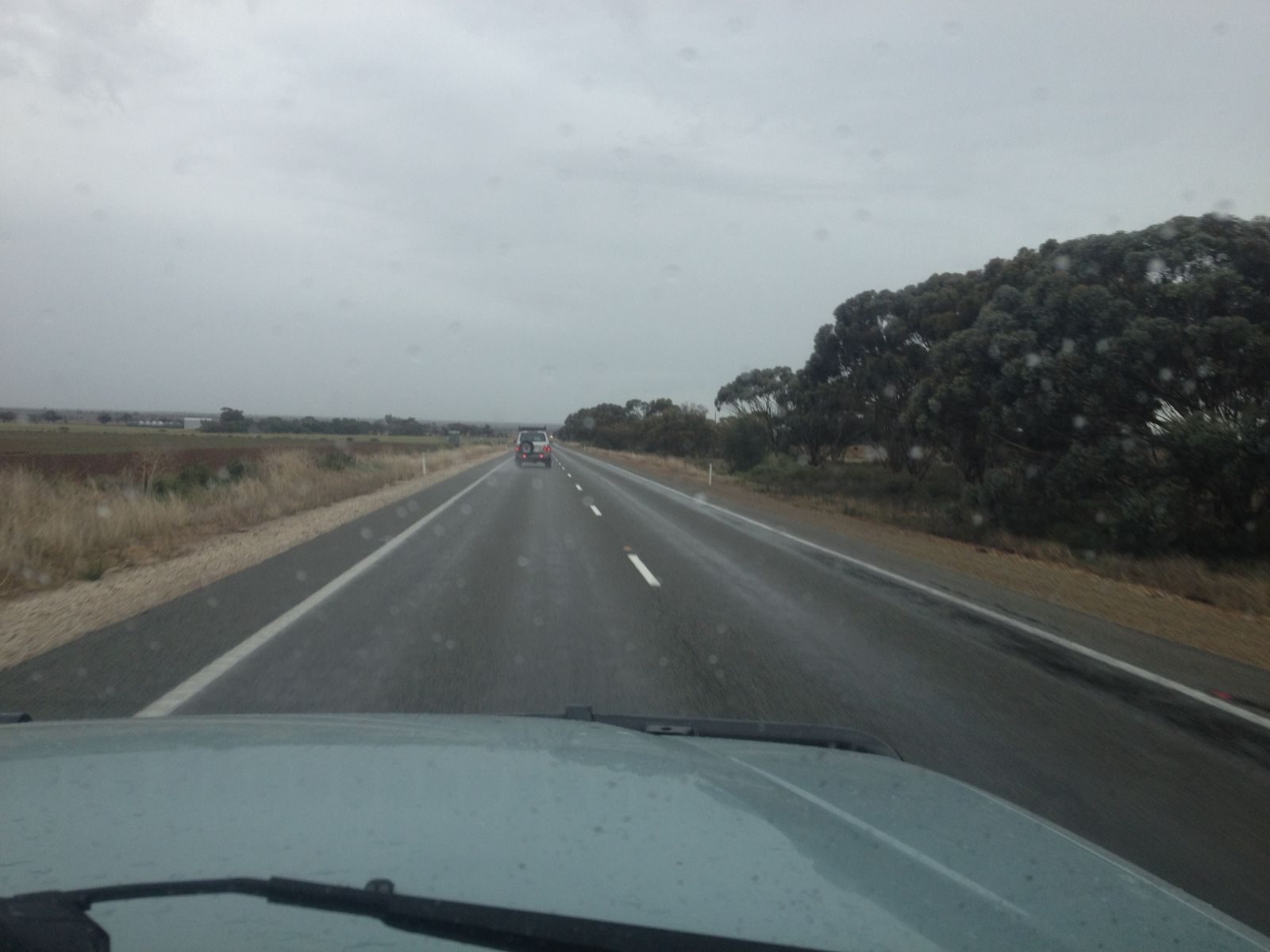 As I'm lazy, the truck stayed mostly packed till today (Thursday). I have been fighting the urge all week just to re-stock the fridge and head off again this weekend…
Well, that turned out to be a long account for a two day trip. Thanks for reading along.
Cheers.