These are old posts from the now defunct www.overland.kinja.com. Rescued by a good person before the ship went down.
I'm just posting them here for my own record…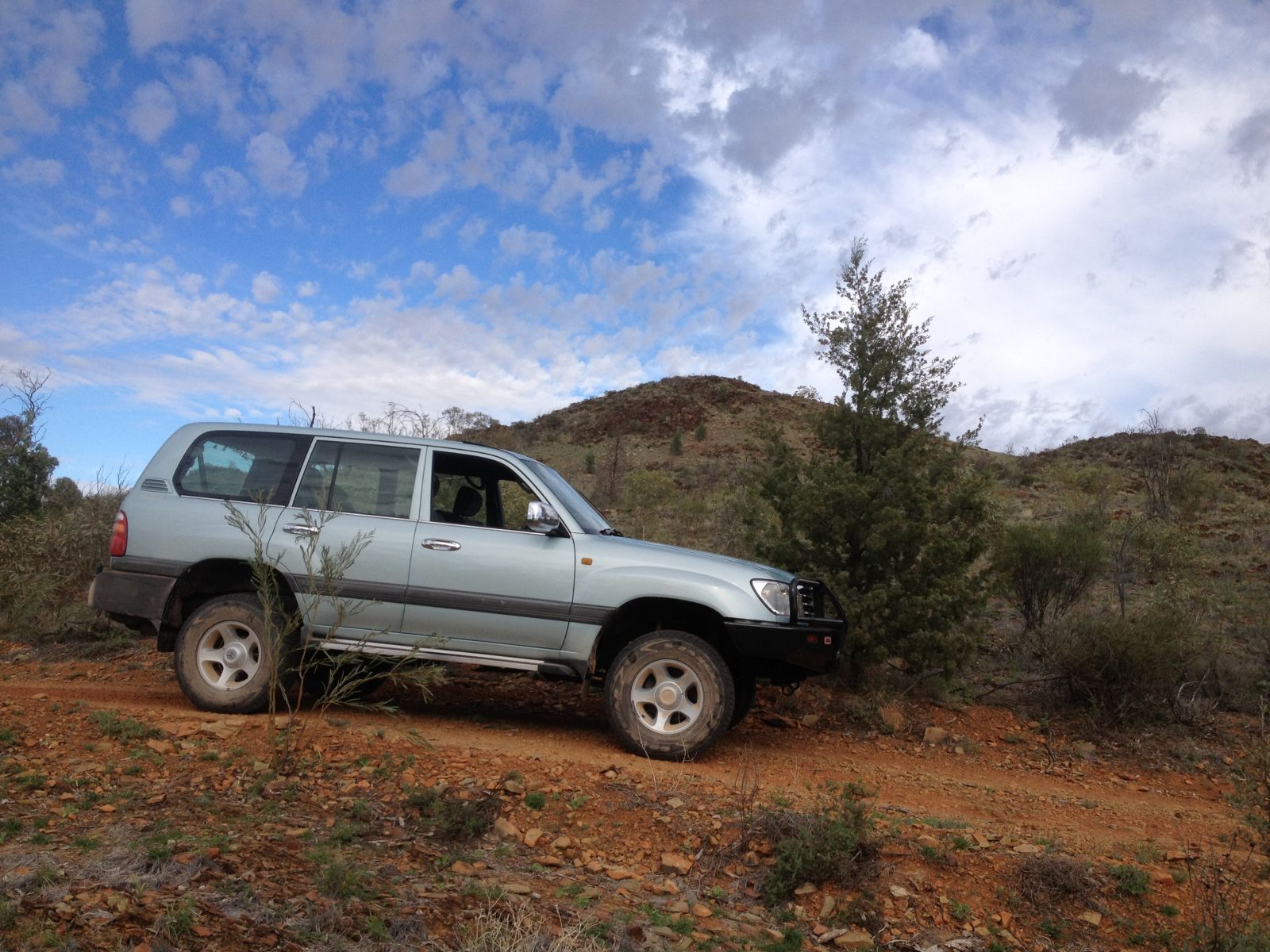 (on the way to) Arkaroola
Flinders Ranges. South Australia
Part 1. Land Cruiser bonding.
Arkaroola is a wilderness sanctuary in the far northern Flinders Ranges, here in South Australia. It is part of Vulkathunha/Gammon Ranges (indigenous name/English name) National Park and sits just below the Strzelecki Desert.
This was my first trip in my new (to me) Land Cruiser. I had a week off work up my sleeve and after the, err, less than completely successful Coorong trip. I was keen to get back out there, try out the new truck and restore my slightly battered confidence.
I was flying solo on this one, so after spending the Saturday at home I got going on Sunday morning. Knowing I had a relatively straightforward 500 odd km drive to my first stop that night in Blinman, just north of Wilpena Pound and Flinders Ranges NP.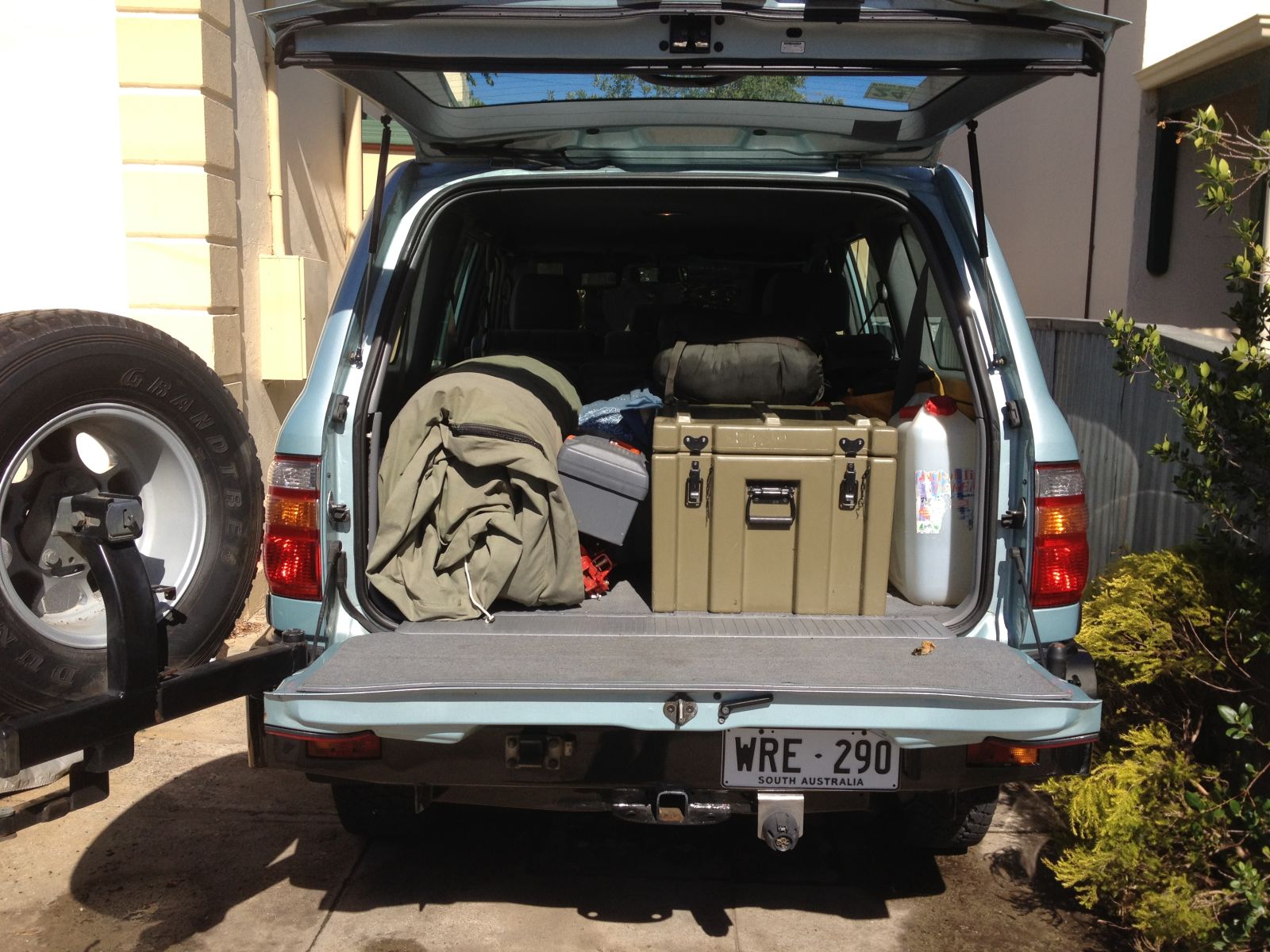 I was running fairly light. With just me to worry about I didn't bother with the fridge and just took the swag instead of the Oz Tent. I would just buy my food as I went along.
The drive to Blinman is nearly all bitumen, but it's a good drive and easy to make good time. As ever when heading to the Outback, fuel stops are something you must plan for, especially as you get further out. I've been caught out a few times and always carry a back up 20L jerry can nowadays.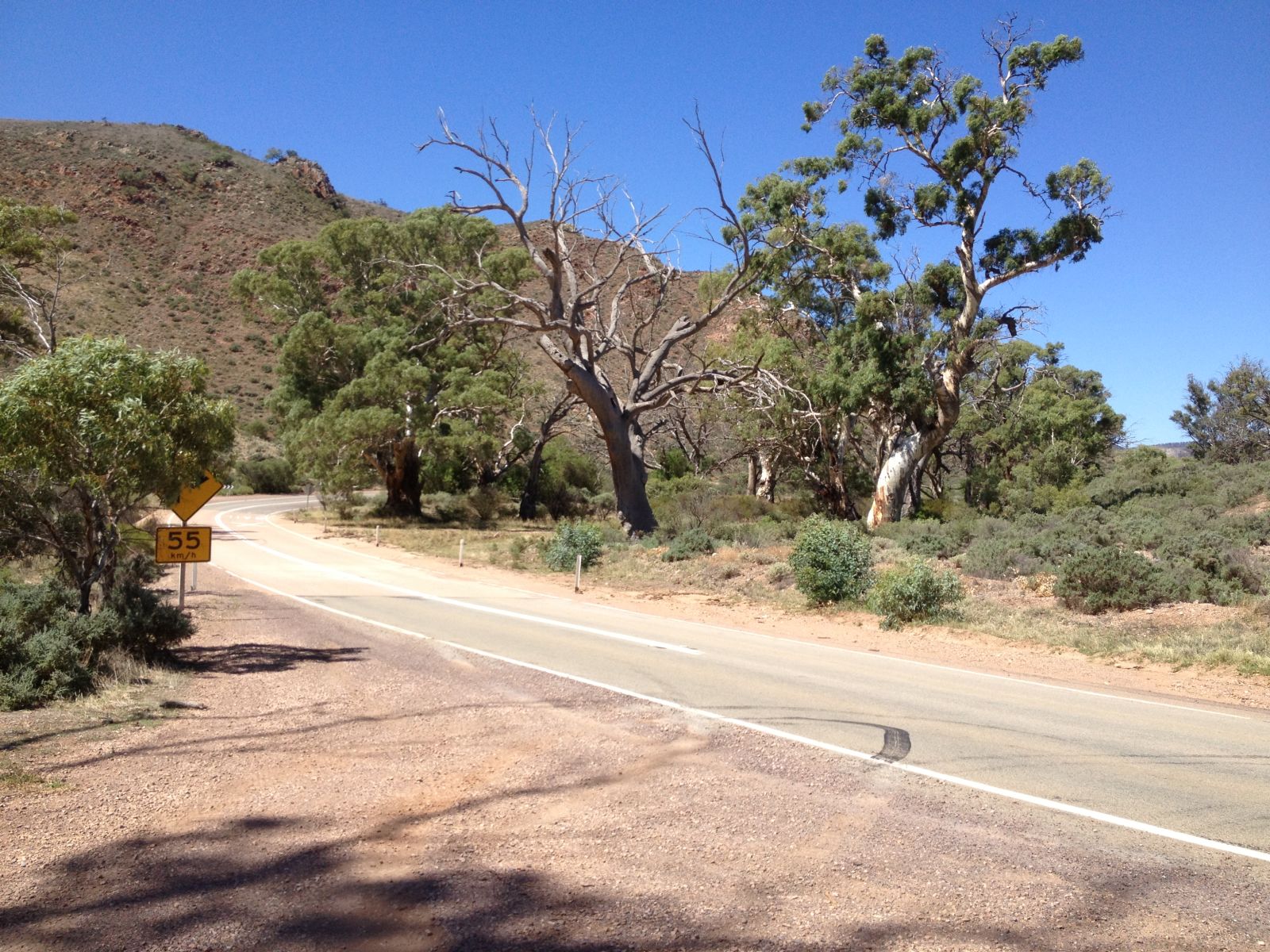 Some of the roads on the way up had me wishing I had brought this instead…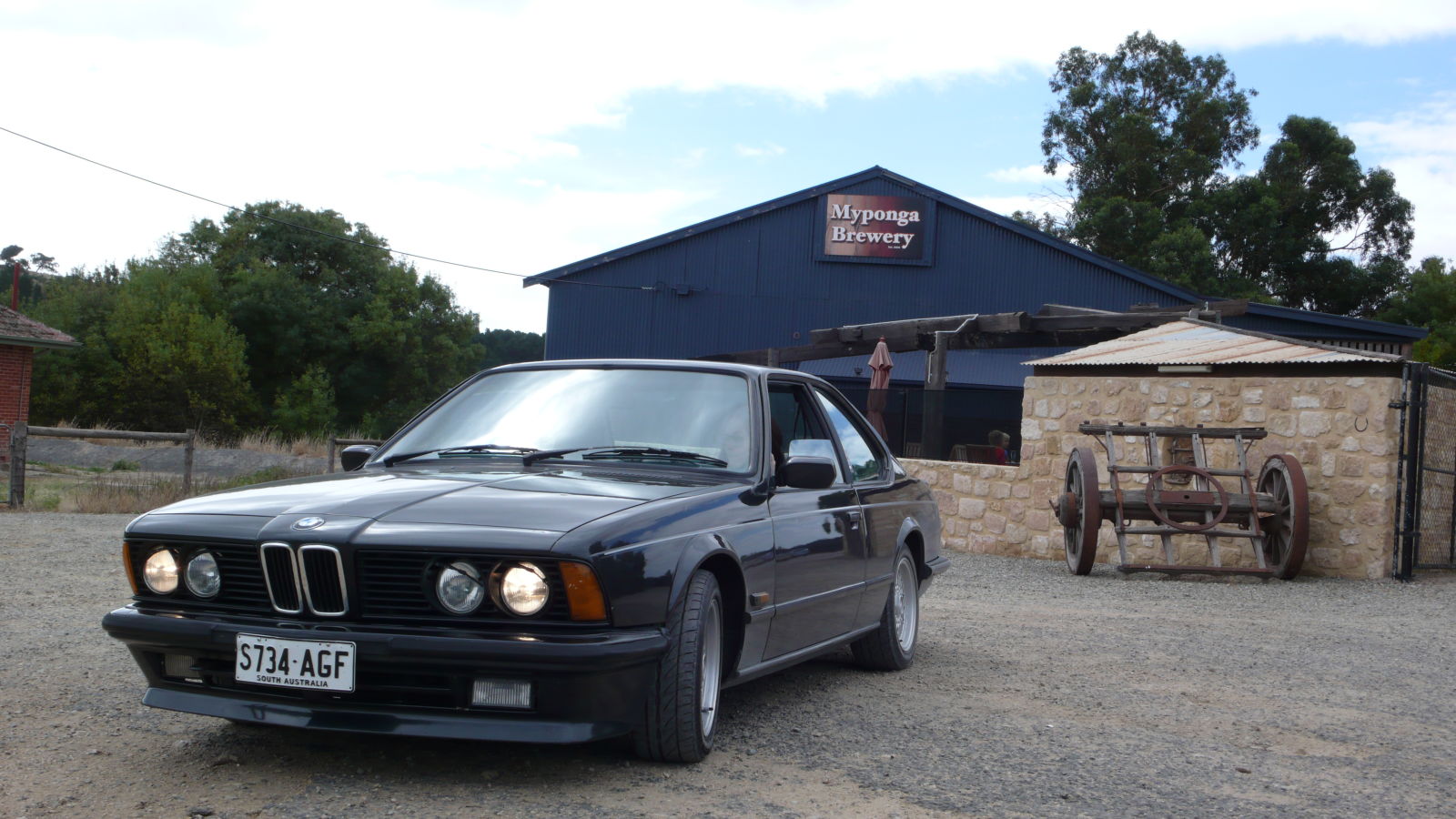 Soon normal outback roads resumed.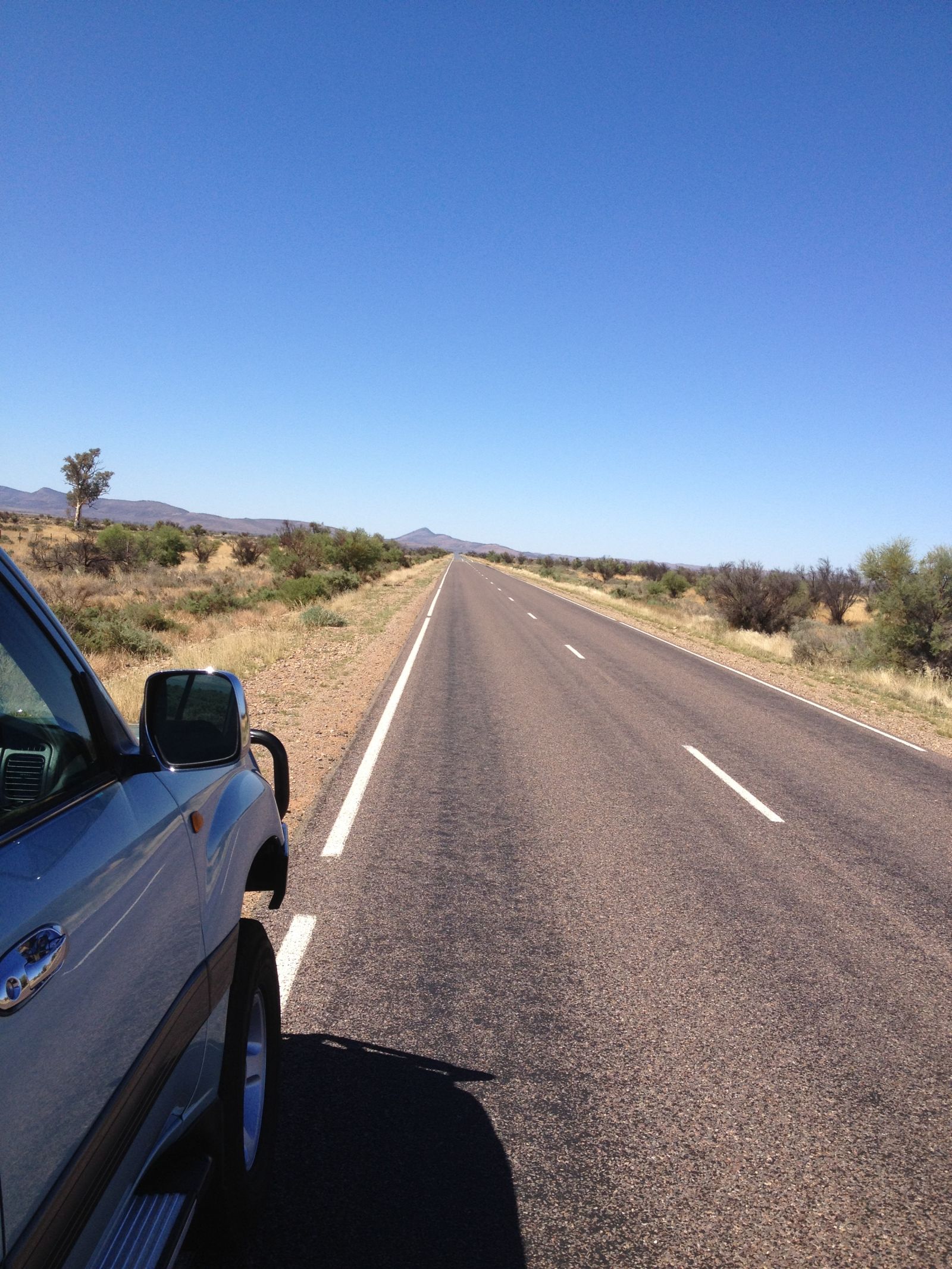 On arrival in Blinman, my plan was to get a feed at the pub and then find somewhere to pitch the swag for the night.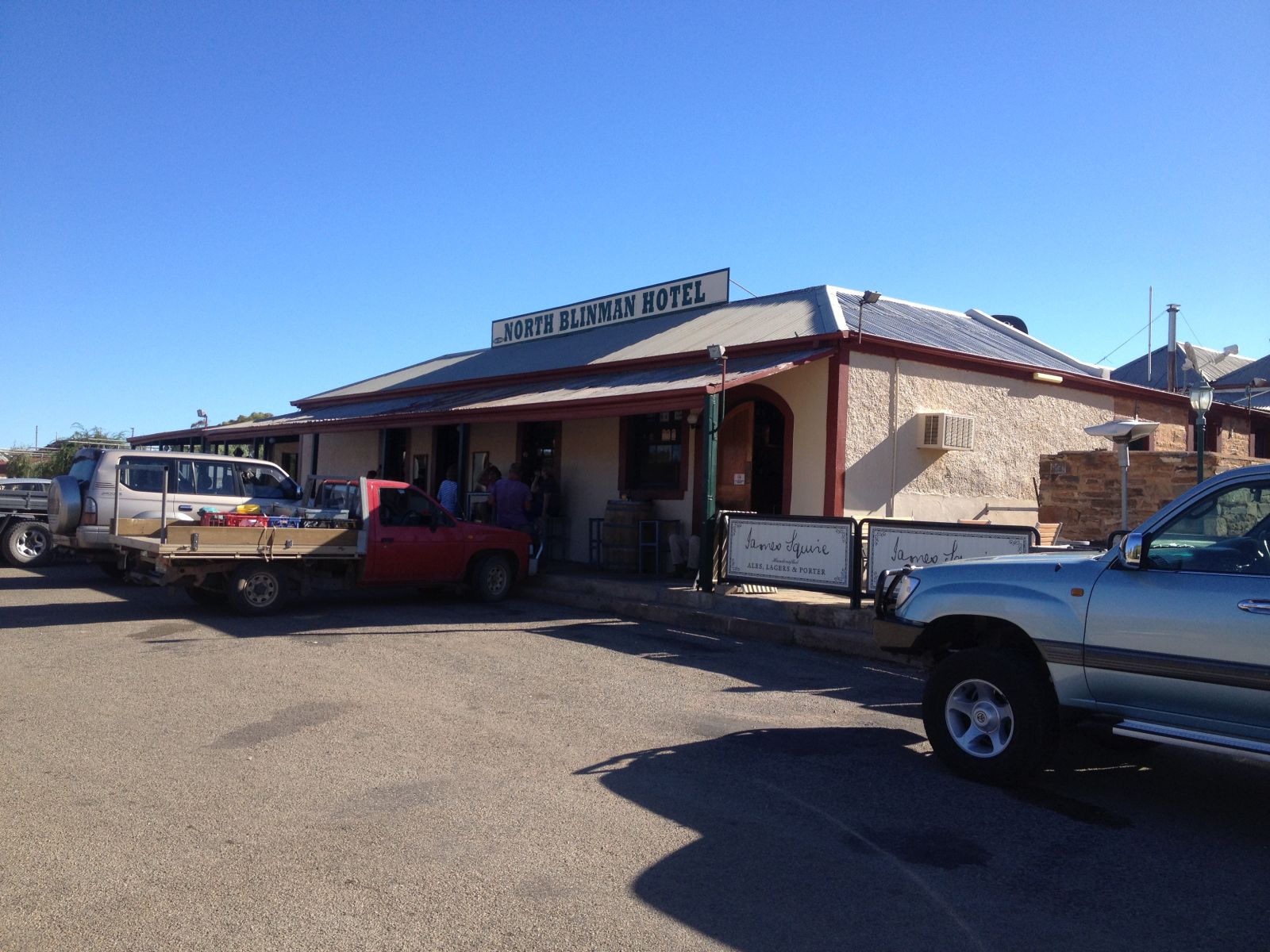 Across the road from the pub lives someone with a serious problem…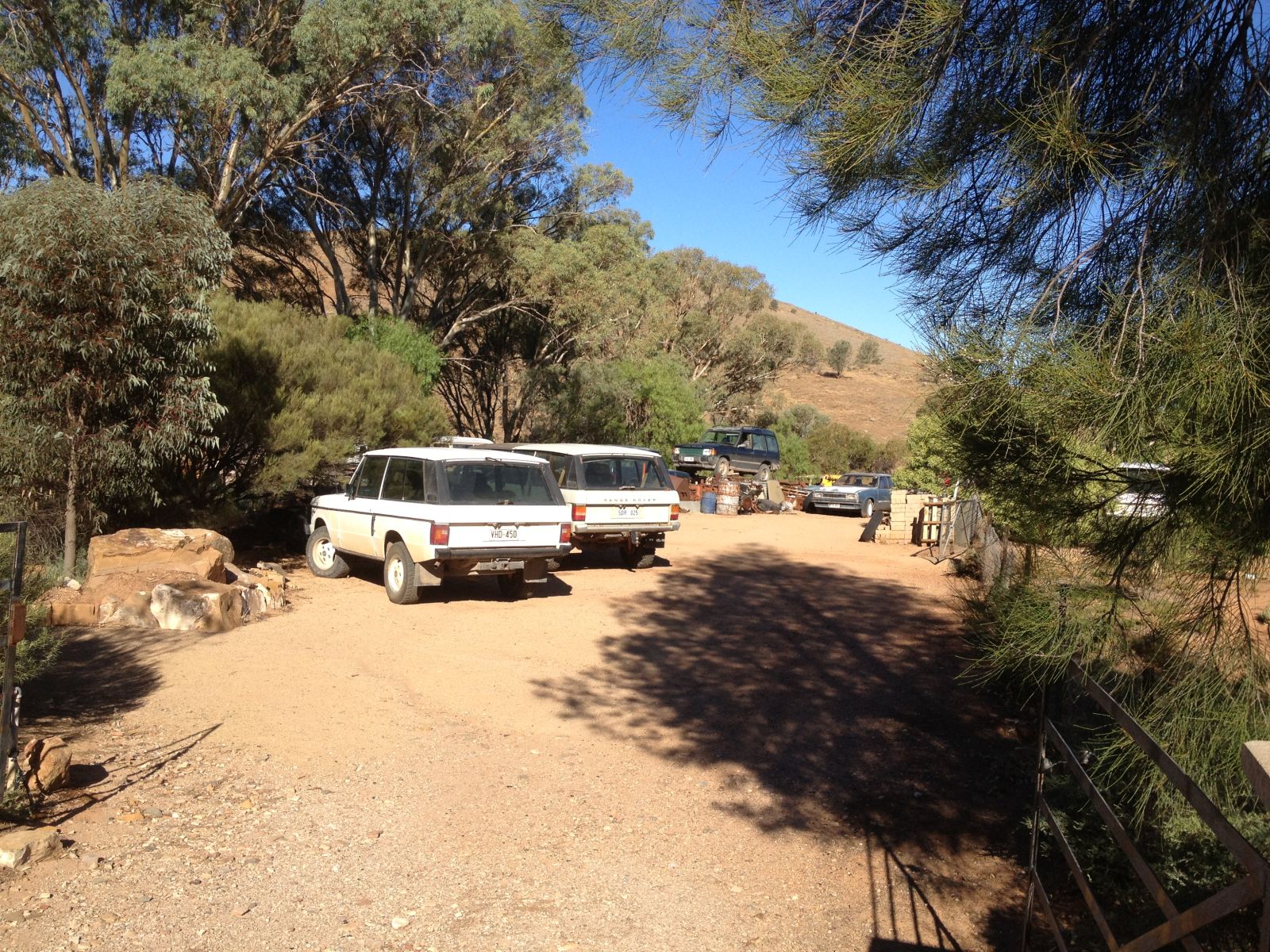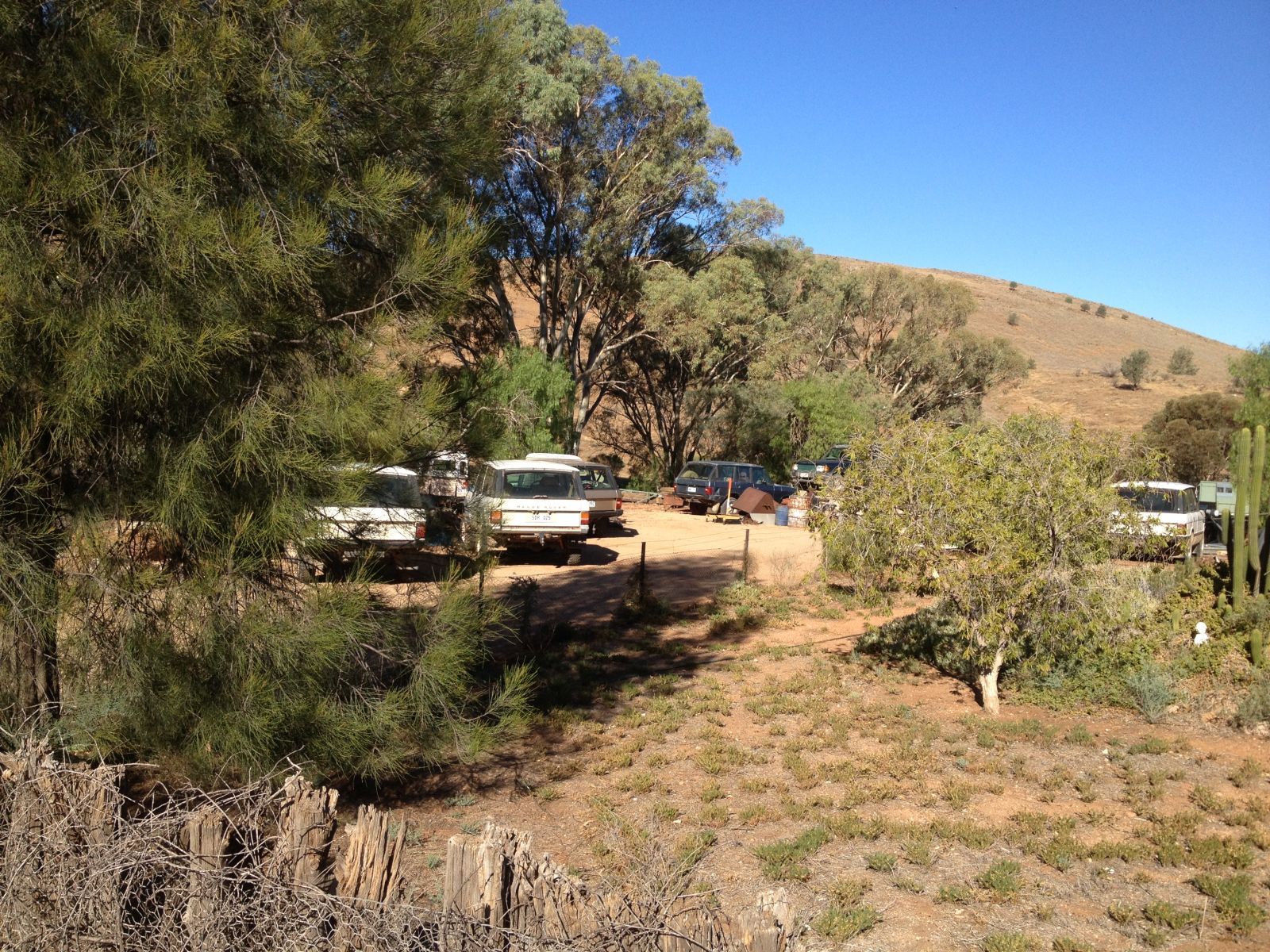 After steak, chips, salad and mushroom sauce (this seems to be pretty much what I order in the country, it's a safe bet!) and a beer I drove down the road and found a suitable place to spend the night.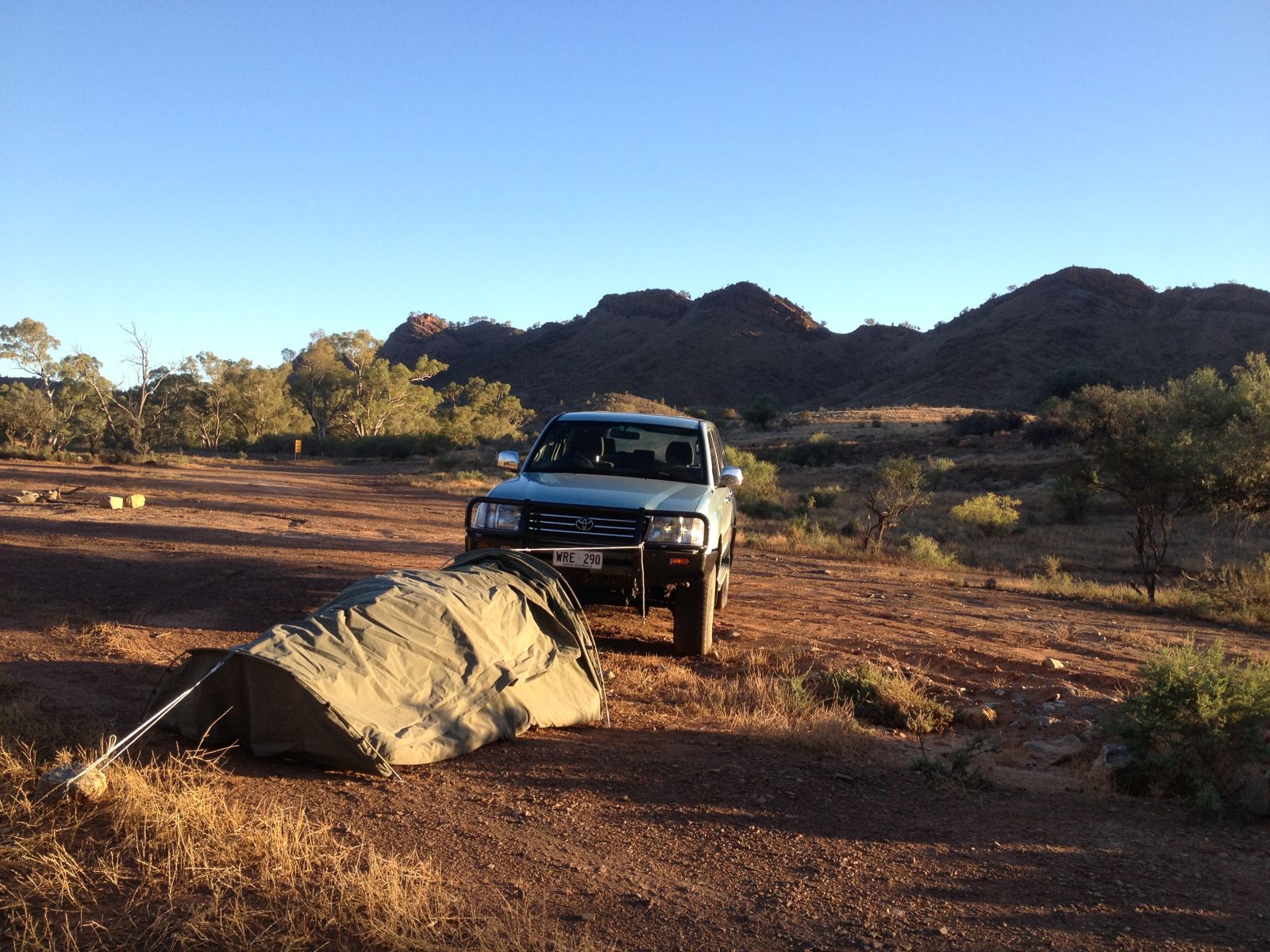 Making sure I wasn't in flood way and away from big trees, this was a good spot. Just enough time to have a couple of glasses of wine and have a bit of a read before the sun went down.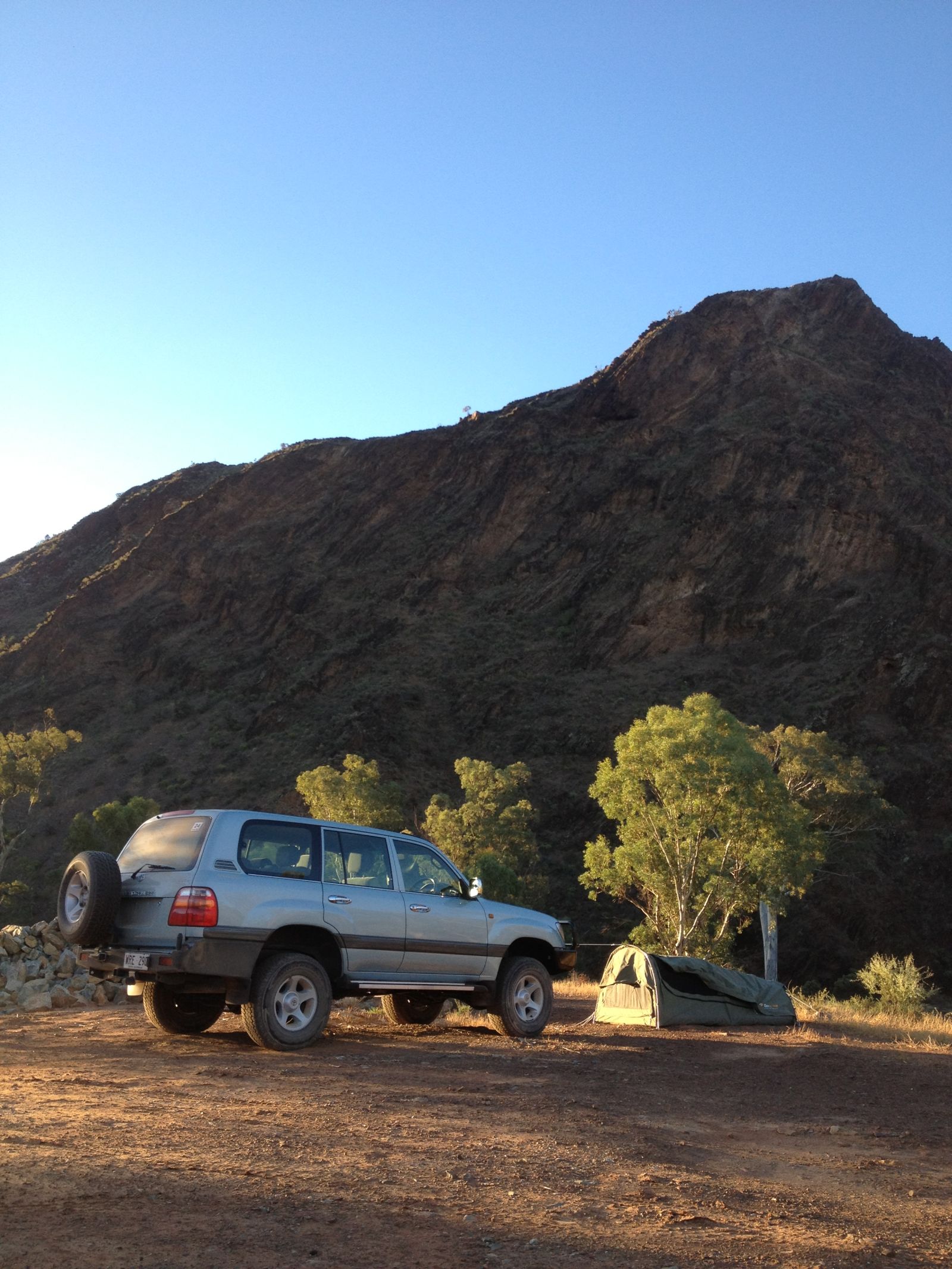 It's a good feeling the first night in the bush. The swag is great, as you can unzip the top and just have the mesh layer, so you can see the night sky.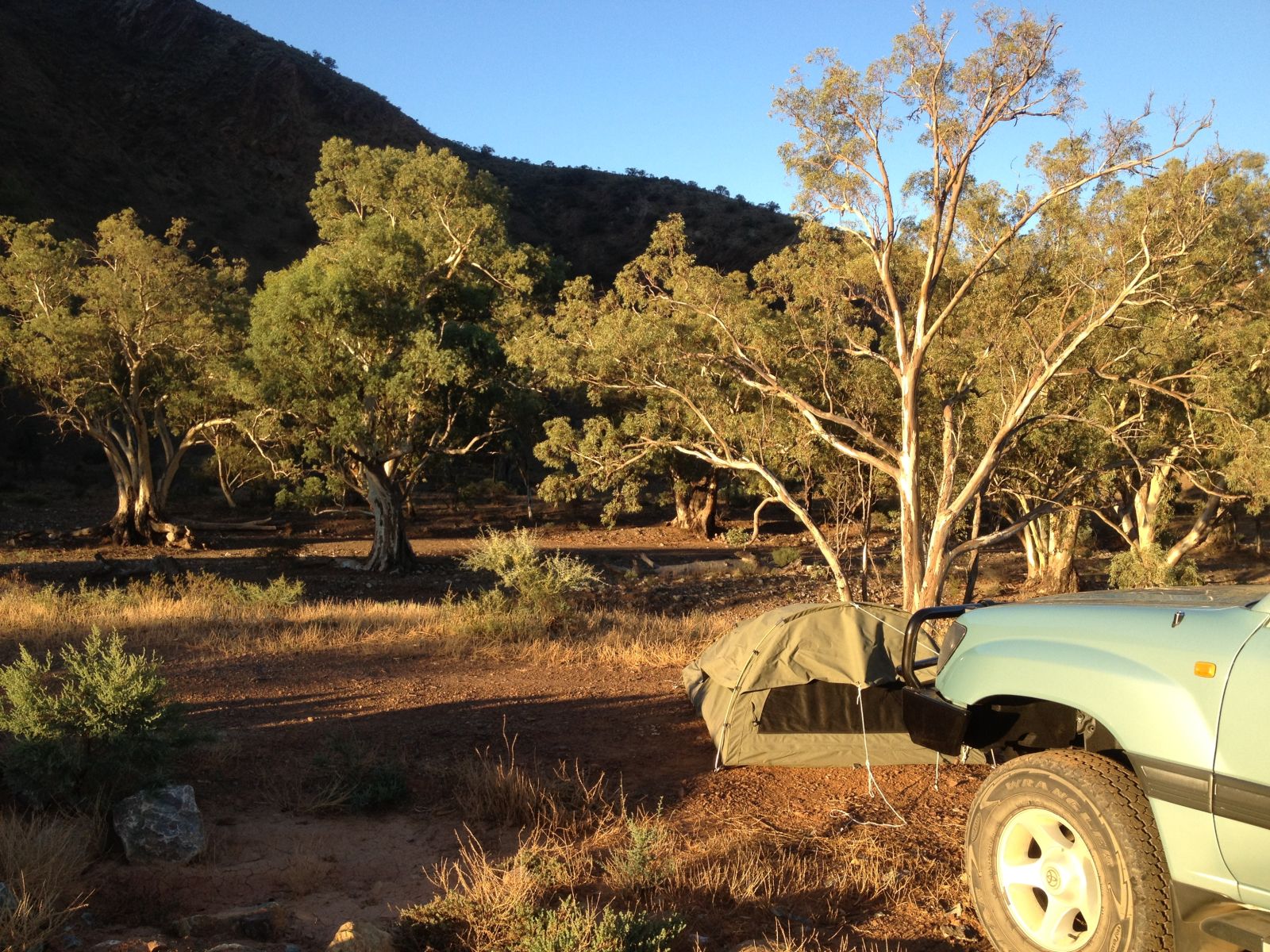 ---
The next day the plan was to do PAR 4/5 before heading onto Arkaroola. Public Access Routes are a series of tracks identified as having public access in agreement with the land owners the tracks pass through. I have found them a good introduction to an area, especially if there are other options for more trails in that area that might have fees attached to them.
I had done PAR 4 before and 5 was just a small off shoot. I remembered it was pretty easy going with just a few washed out sections to negotiate. However that was a few years ago, it may have changed since, but would be a good way to get a feel for the new truck.
On the way there I passed this. The start of the Heysen trail, a 1200 km walking trail though South Australia. Next time I've got a couple of months with nothing to do I might give this a crack…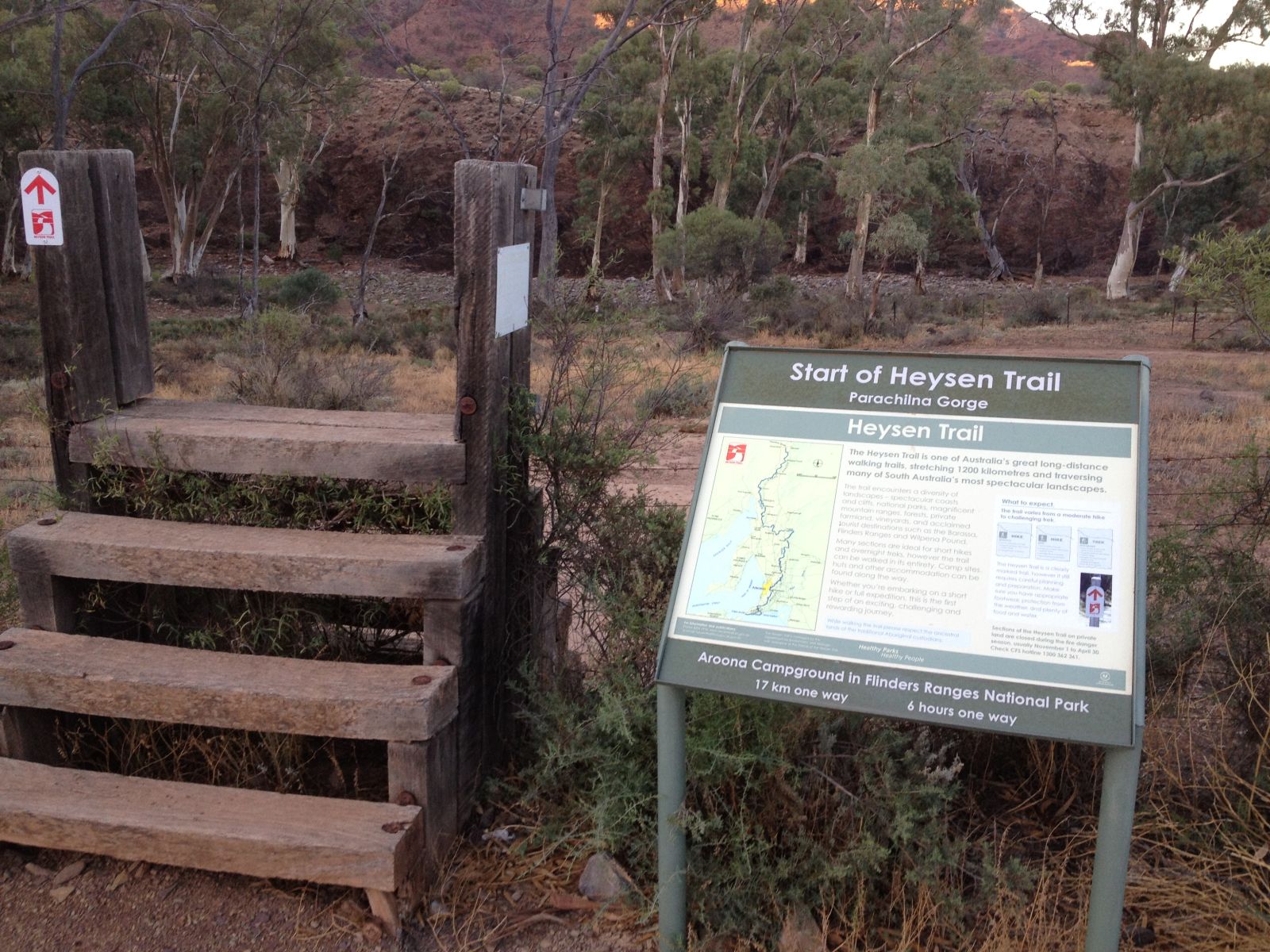 I was doing the PAR in the reverse direction to last time. Starting at the western end and heading east. Just after the start there is a short steep climb that is easy to miss as it goes off behind you, worth keeping an eye out for it as you are quickly rewarded with a great view.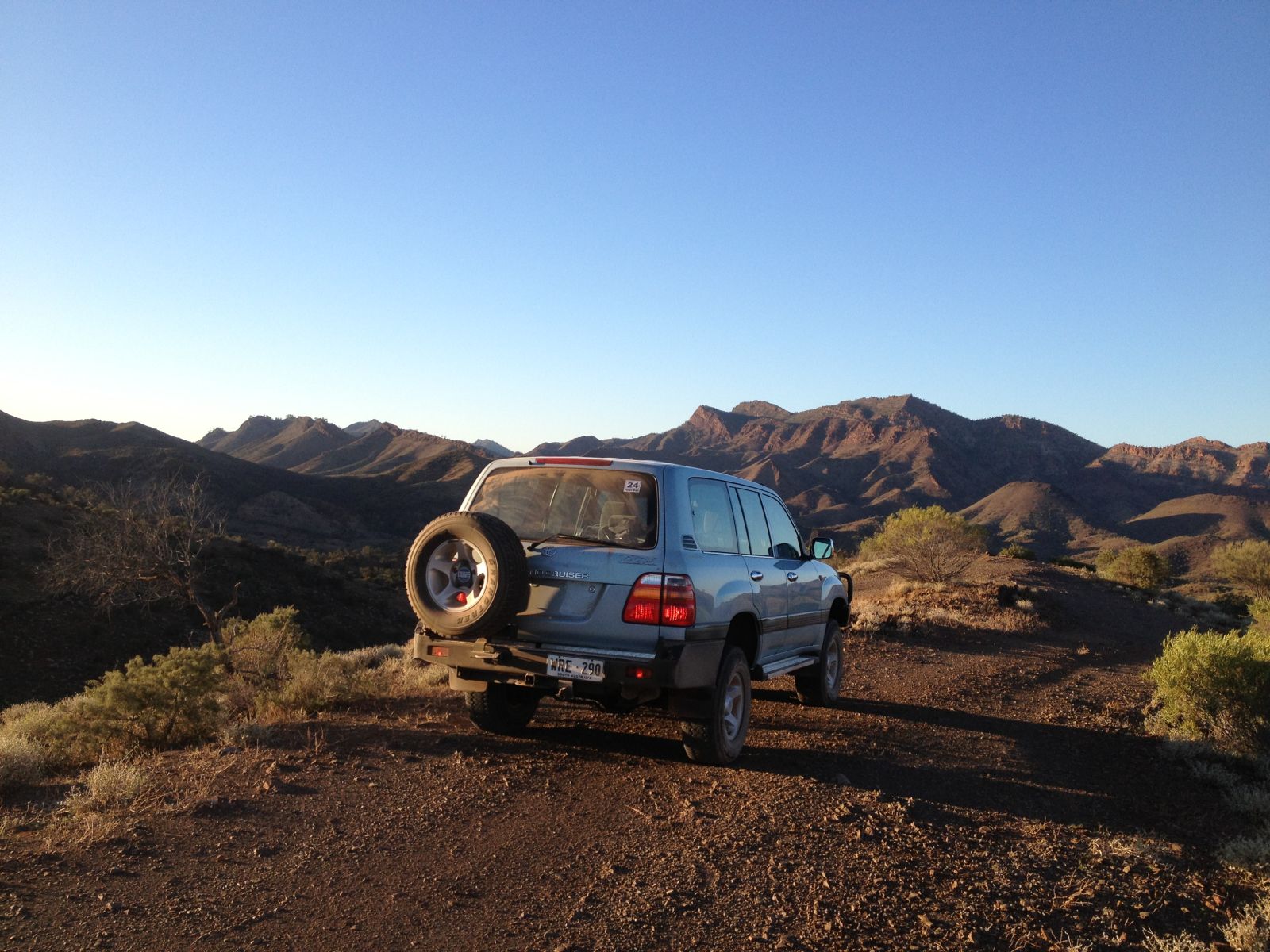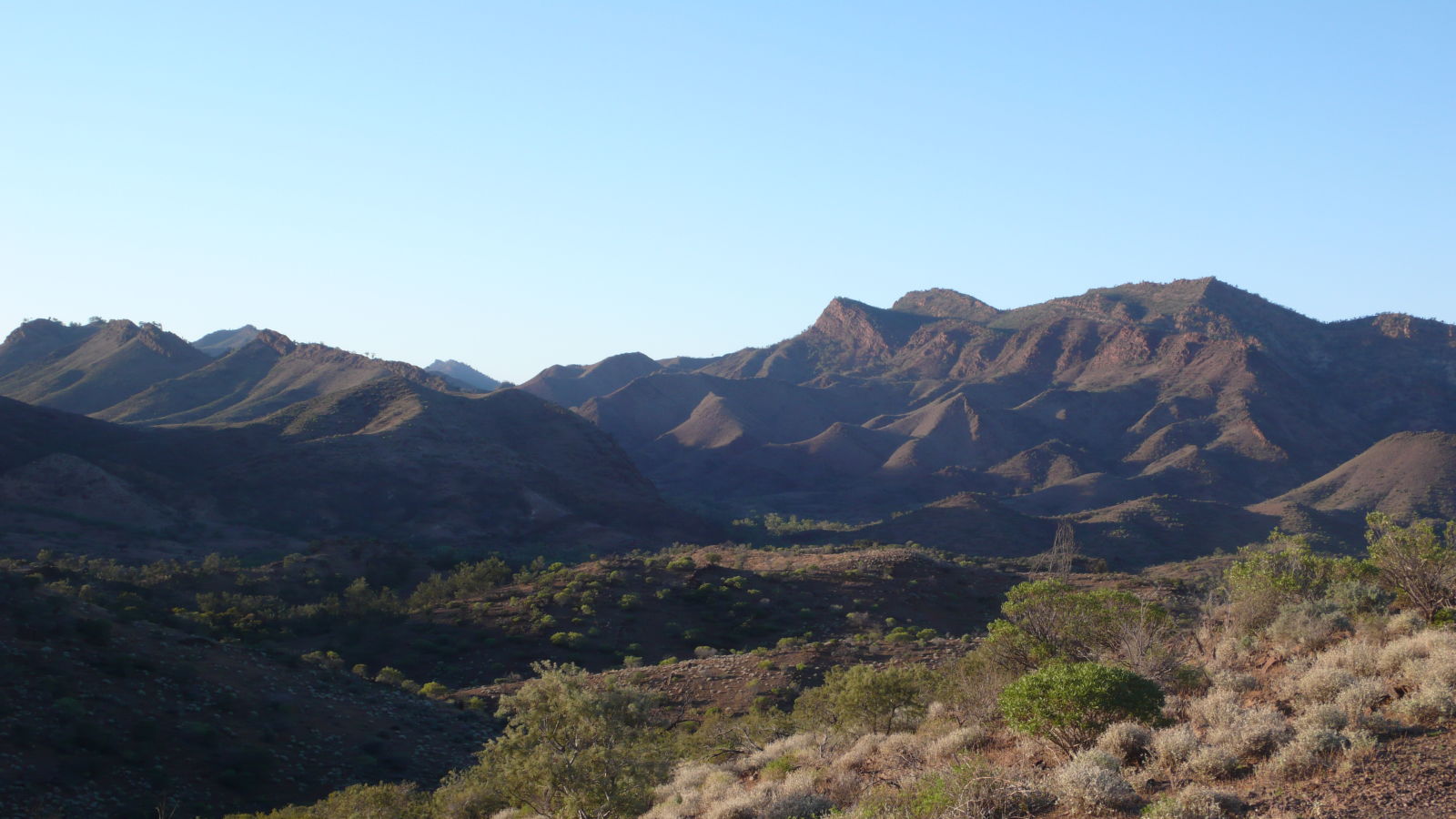 The sun was not long up and this is the best time to see wildlife, Skippy agrees.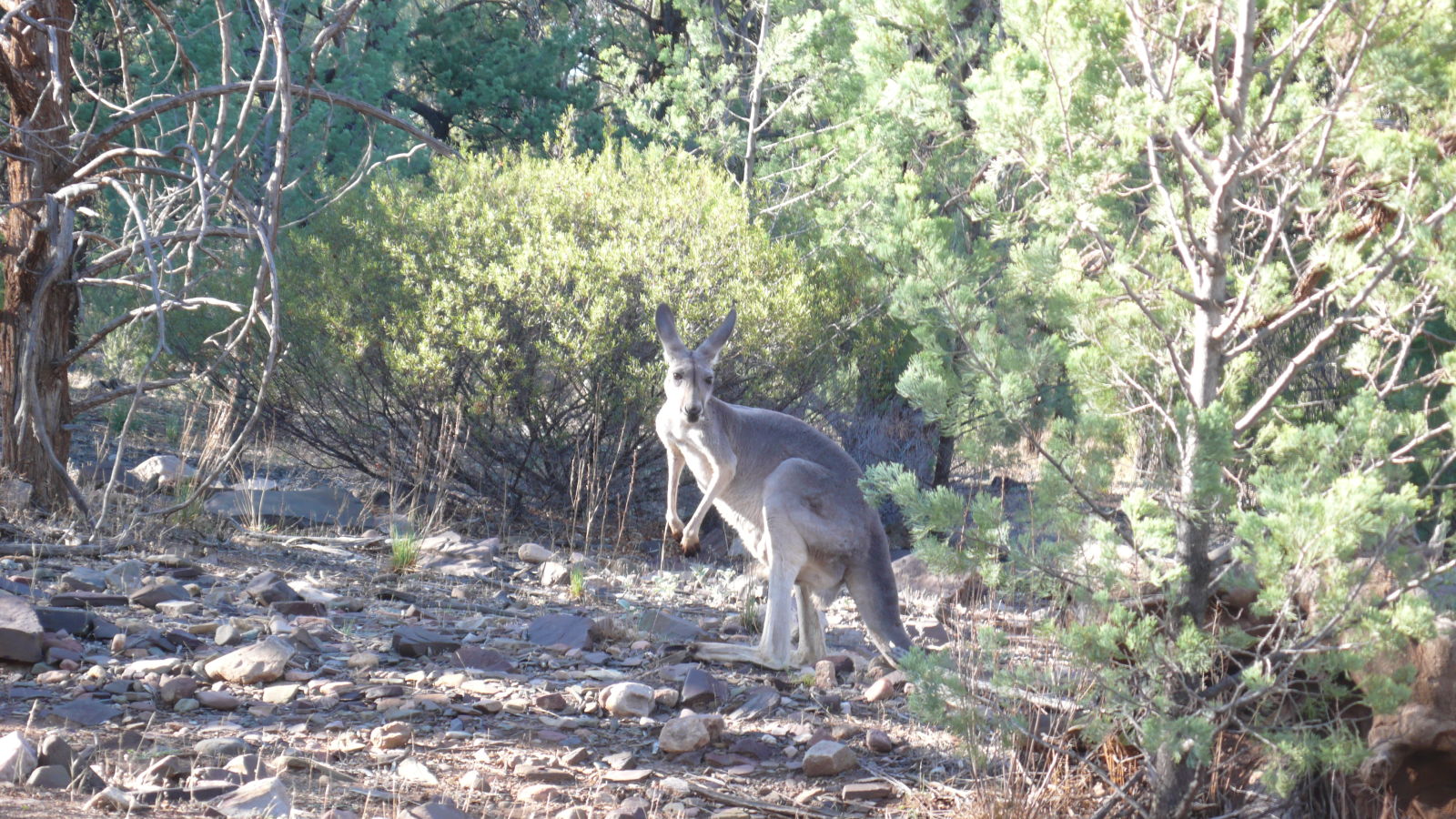 The track was easy going, just the odd wash out, but we weren't even scratching the surface of what the LC could do, this was a good thing.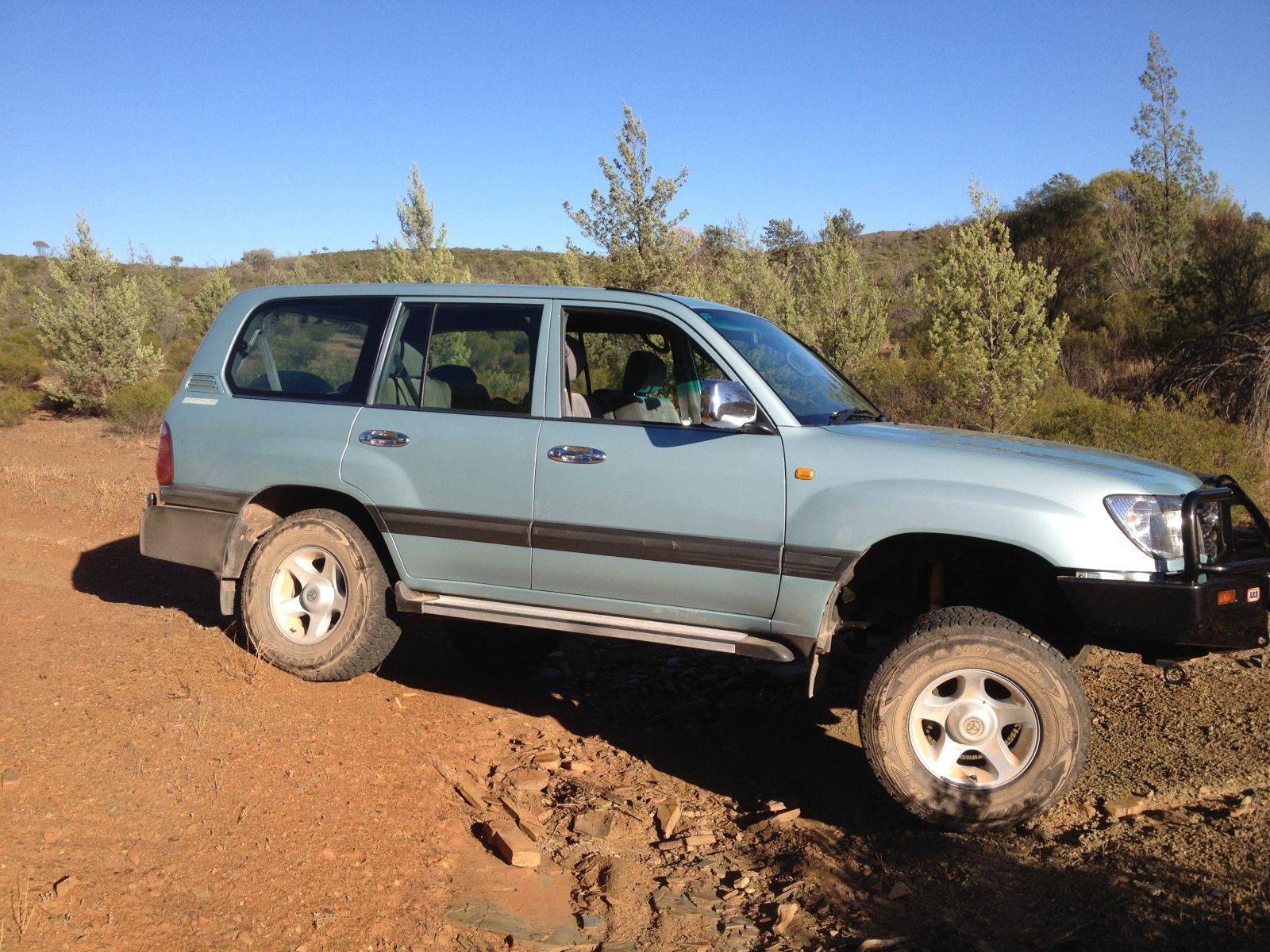 The track crosses some dry creek beds. These are a feature of the country up here and shows that when the rain comes it soon makes many trails impassable.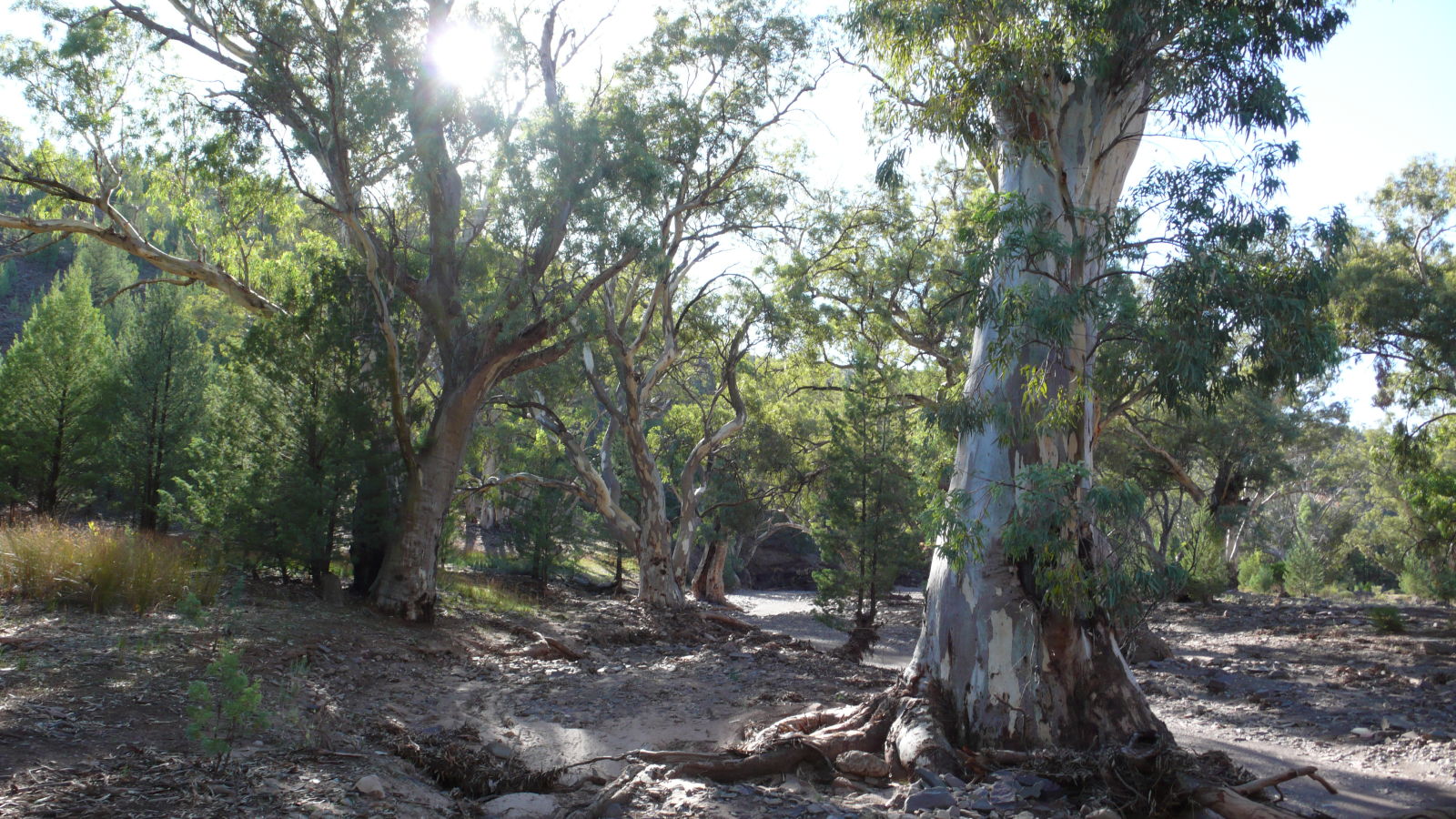 Coming out of one of the creek beds there is an interesting relic from times gone by.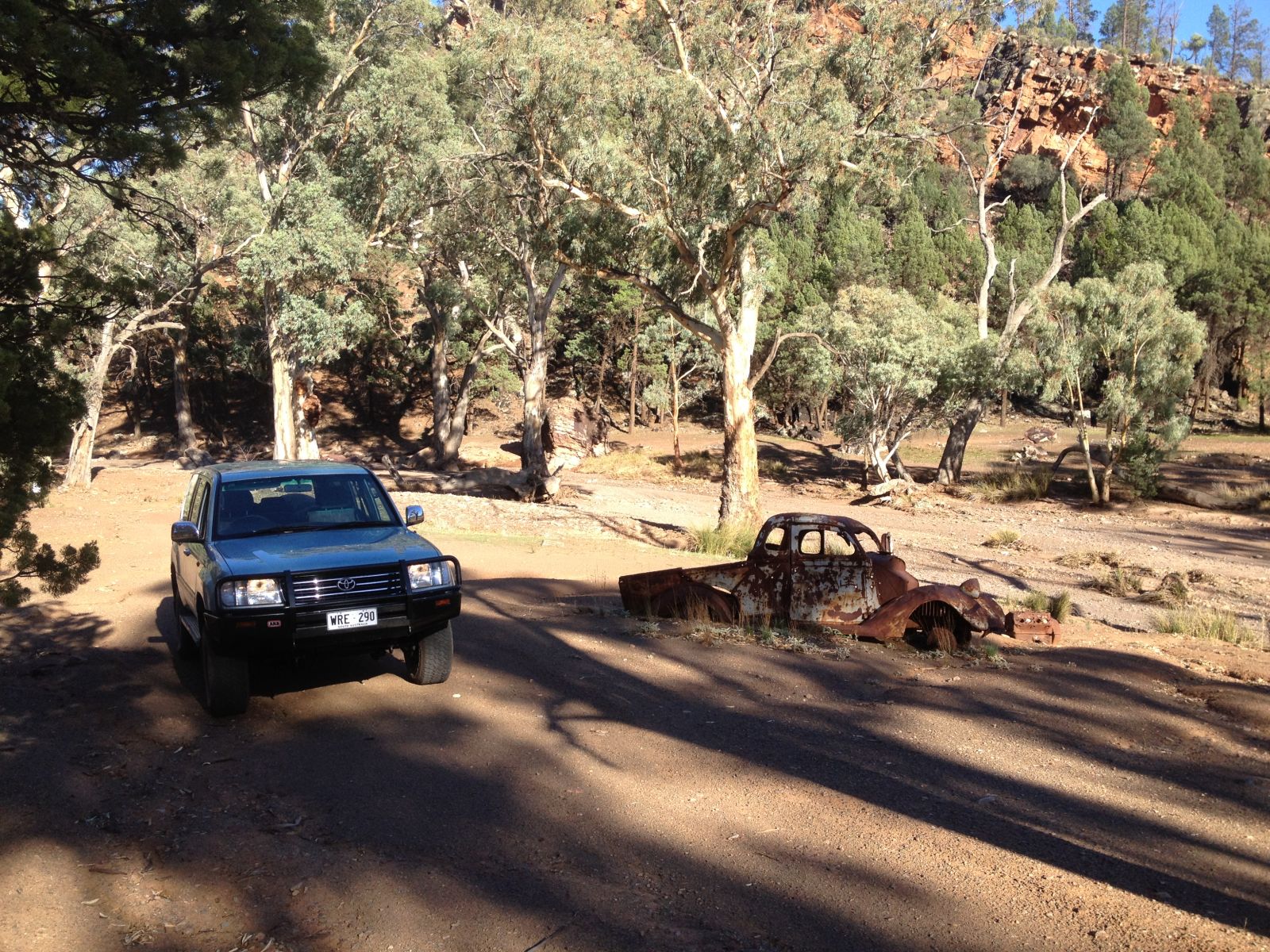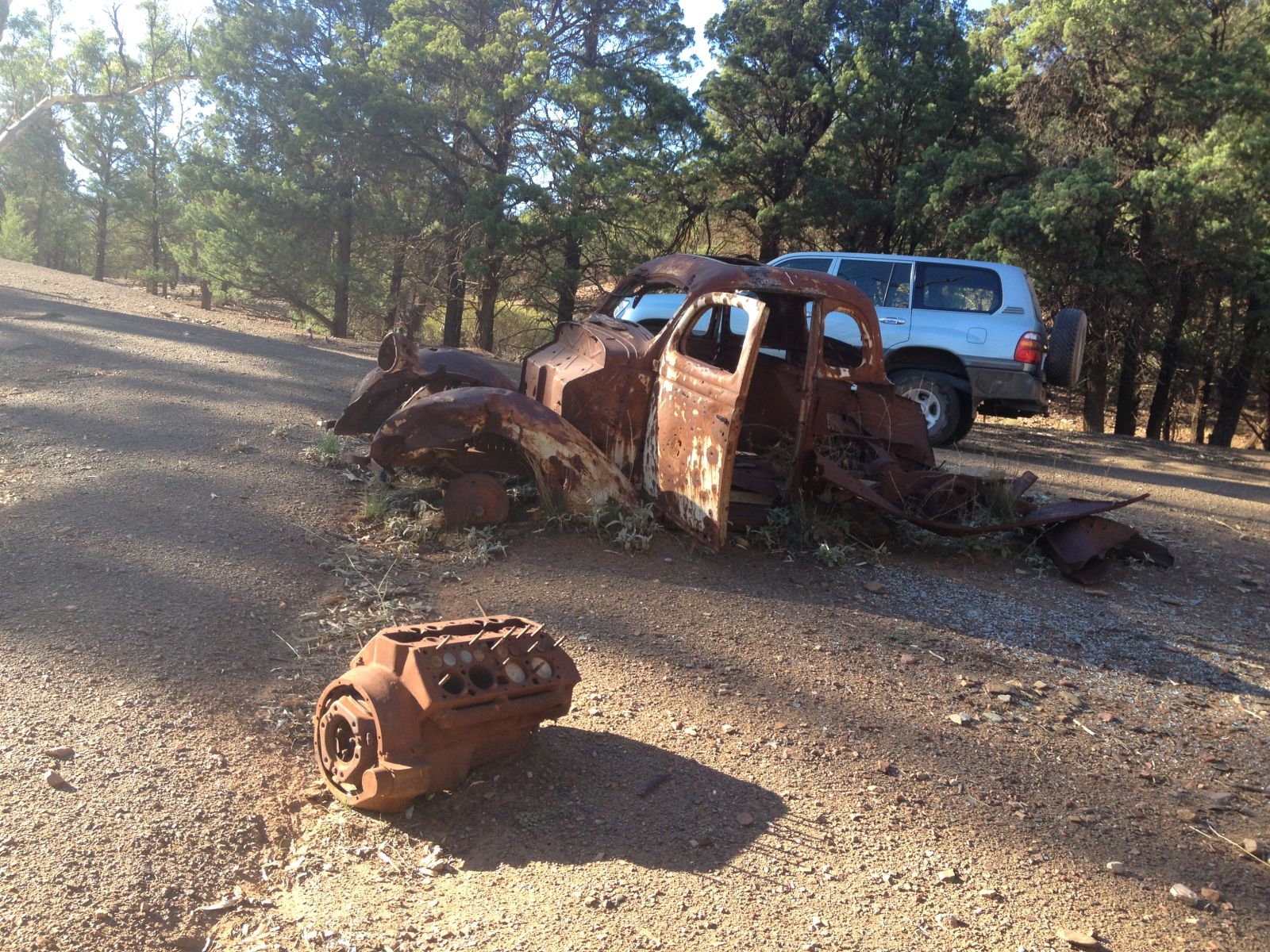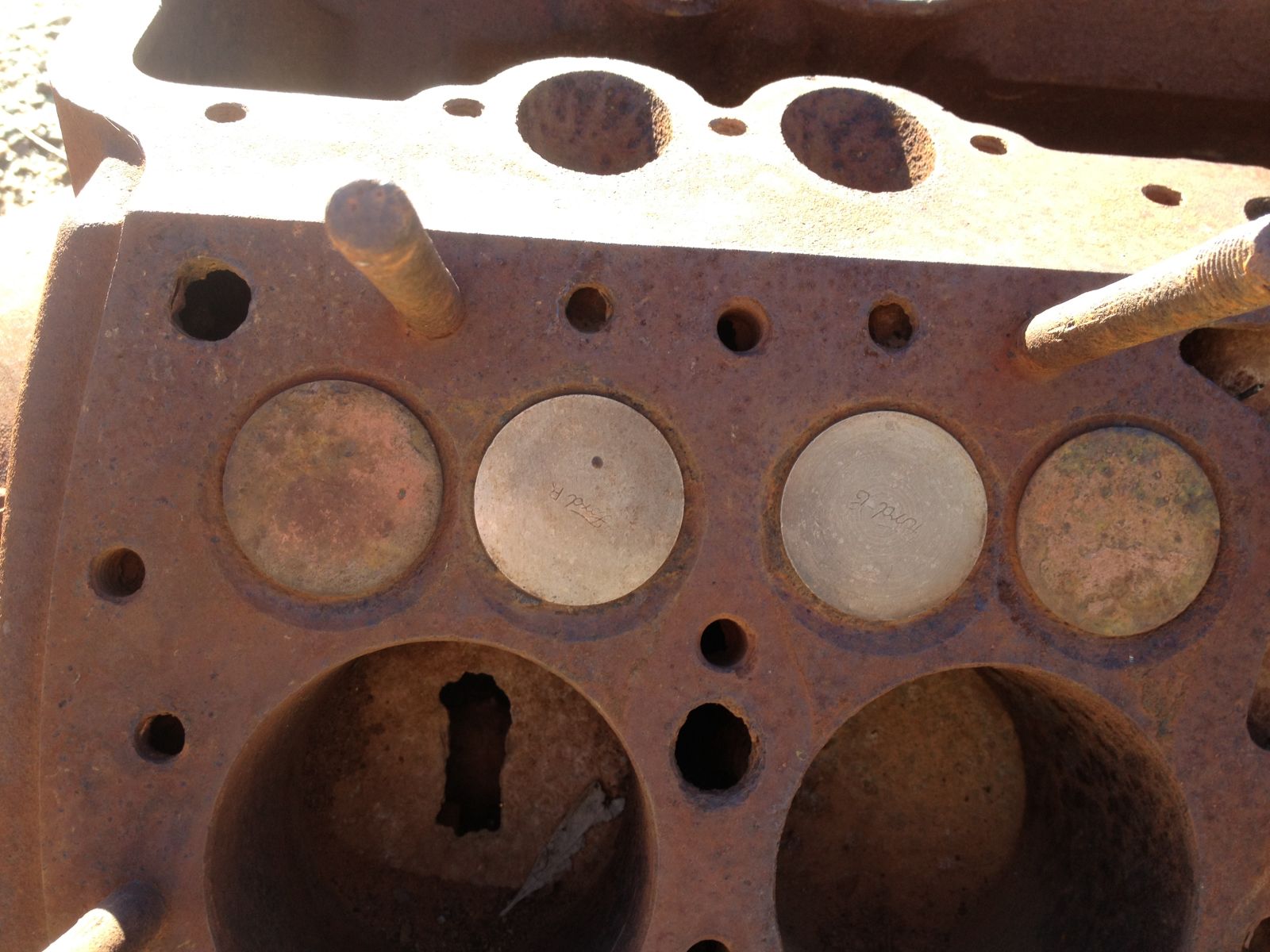 Obviously a Ford, and I presume that is a 'flathead' V8. I'm not sure on exactly what model it is but I am sure someone reading this will enlighten me!
When we had been up here before with the Range Rovers, there had been an extensive washed out section several hundred metres long, that section is now closed and bypassed, shame that bit was fun!
As usual this picture doesn't do it justice, but hiding in the shadows on the left there were some holes quite big enough to drag a Land Cruiser in, from which it would have required more that MaxTrax to get out again.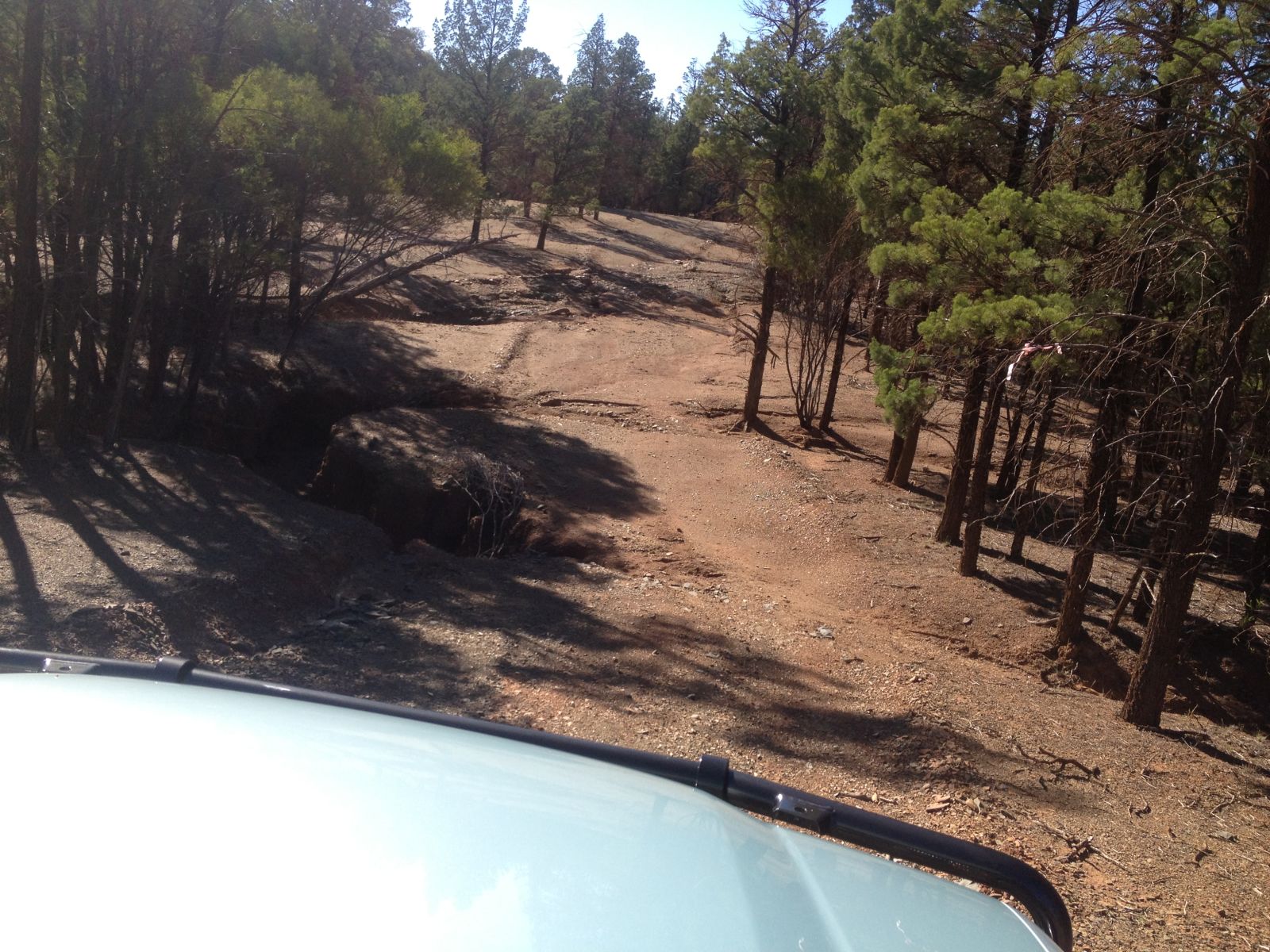 The 105 squeezed by with me putting it hard up against the tress on the right (RHD you see).
The same way that all you guys in the US look with envy at our large range of smaller trucks available here, we conversely are curious about your larger trucks that we don't really see here. Whether it be a Raptor or a top of the bling Silverado, it's just a concept we don't currently have (although apparently Ram is coming) despite obvious market demand and some similarities between the two markets (big countries/towing big toys) I would say making them RHD and getting through Australia Design Rules for a relatively small market isn't worth it, yet (you can buy privately imported and converted versions, but they ain't cheap).
However whenever I get on a decent trail it always strikes me that a lot of the time they just wouldn't fit down there. The 105 is just about at it's limit in some spots and I'm not someone who is bothered by the odd clear coat scratch on my fourby. With just the 1 lady friend and 2 of the worlds smallest dogs it would kinda be overkill for me anyway (I would still like a go in one though!).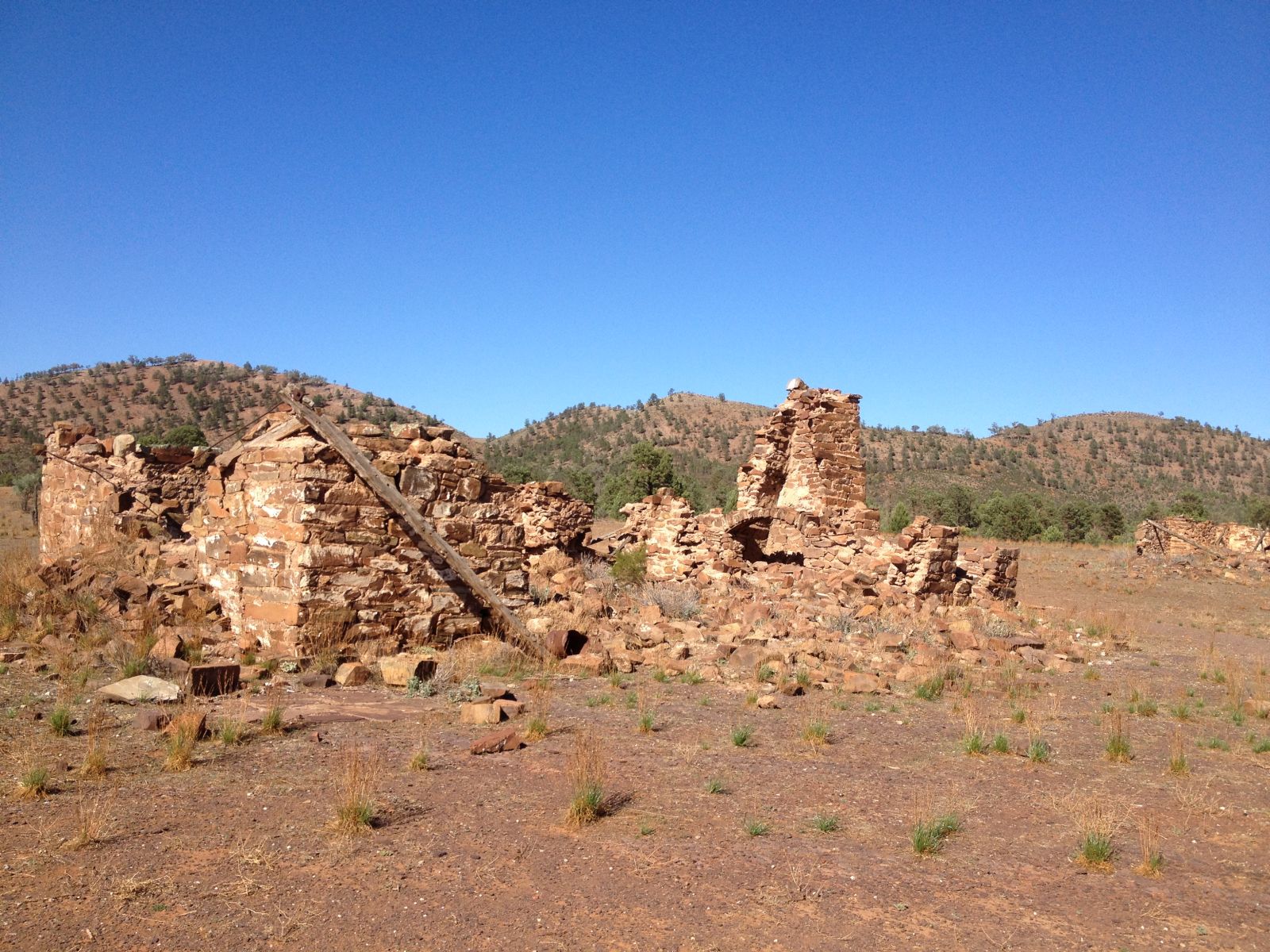 Plenty of ruins in this part of the world. It's an unforgiving landscape that did test the hardiest of settlers. Like many parts of Australia it tends to be either in flood or drought with not much in between.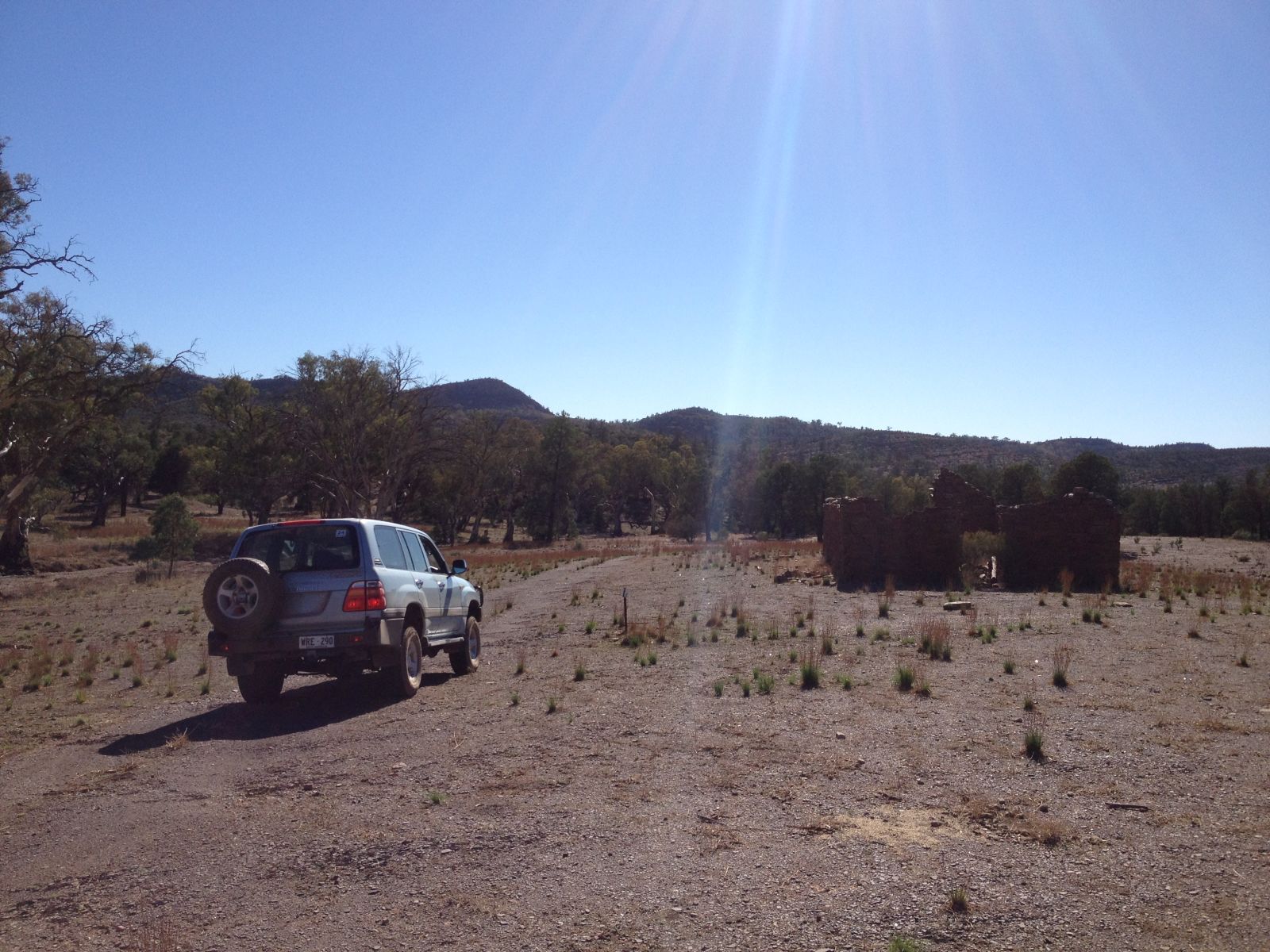 I knew around here was the turn off for PAR 5, a short detour to Patawarta Gap. Navigating in Australia can be a frustrating exercise, with little detail on most maps and always many more tracks on the ground than on the map. I've learnt just to go with the hit and miss nature of it, and one of the benefits of being on your own is you can spend as much or as little time as you please exploring these mystery trails.
Reasonably certain I was on the right route and having noted my odometer reading before turning off the main track.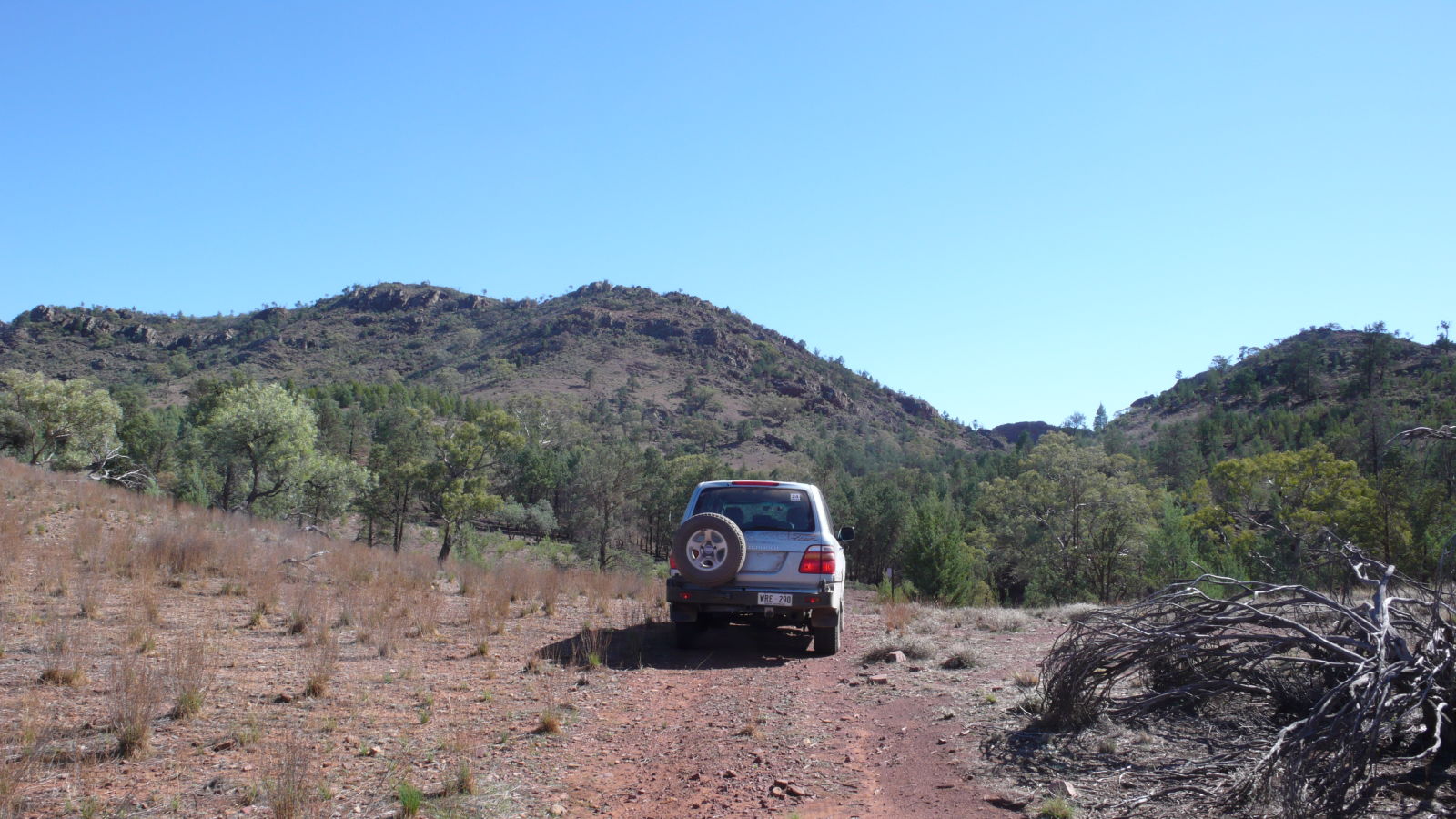 A short way down this track I came to a T-junction, wasn't expecting that. Left seemed to be the direction I wanted to go, knowing it wasn't far anyway, even if I got it wrong.
This track needed a bit more care, narrow through the tress and less used, the washouts were a bit steeper. Now the LC and I were starting to gel, just as I was expecting it to scrape as we got to the limit of the approach/departure angles in the washout she would sail on through. Props to the previous owner for splashing out on aftermaket bumpers front and rear.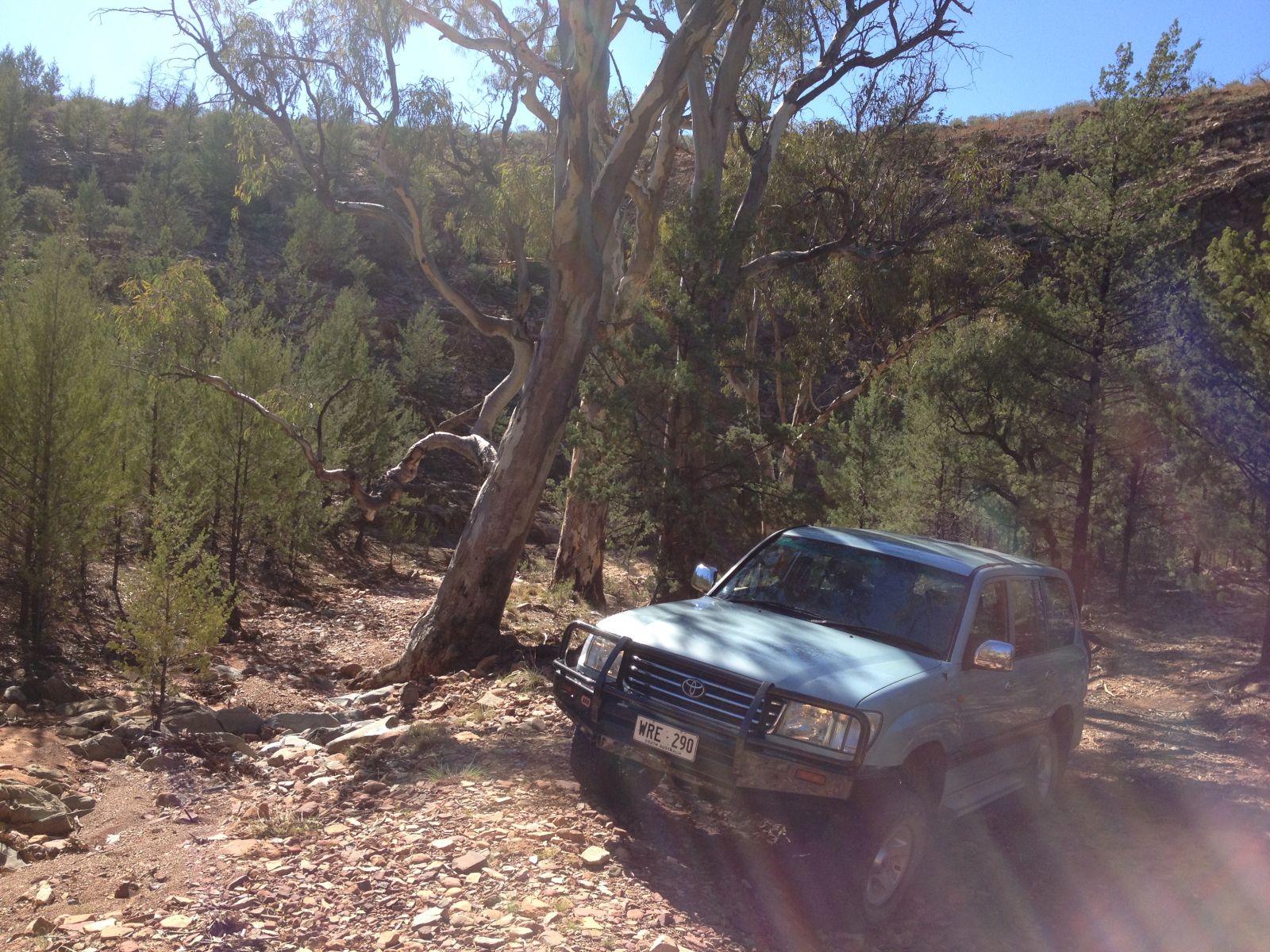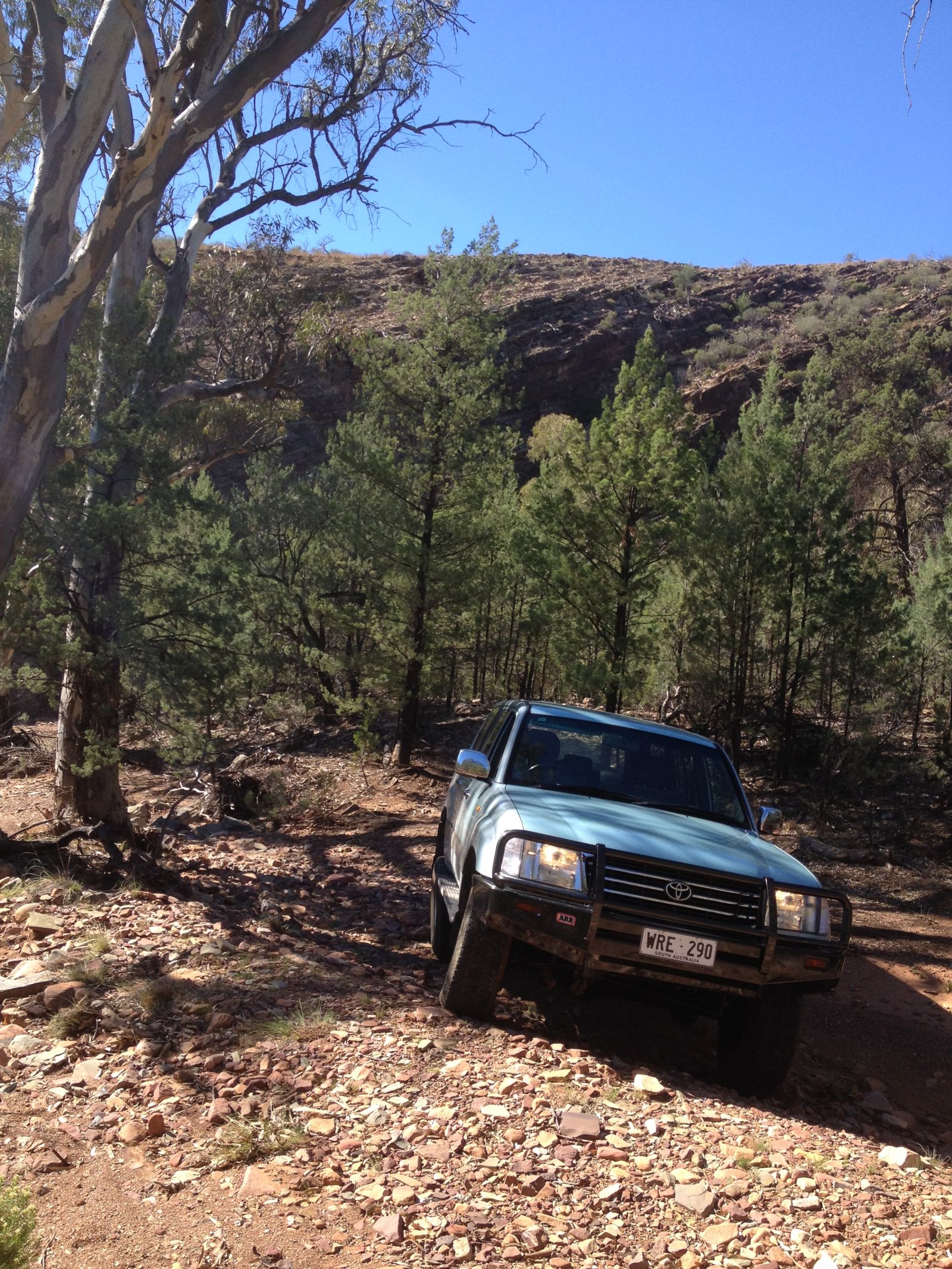 Then the track came out of the trees and opened up again, with a steep climb ahead.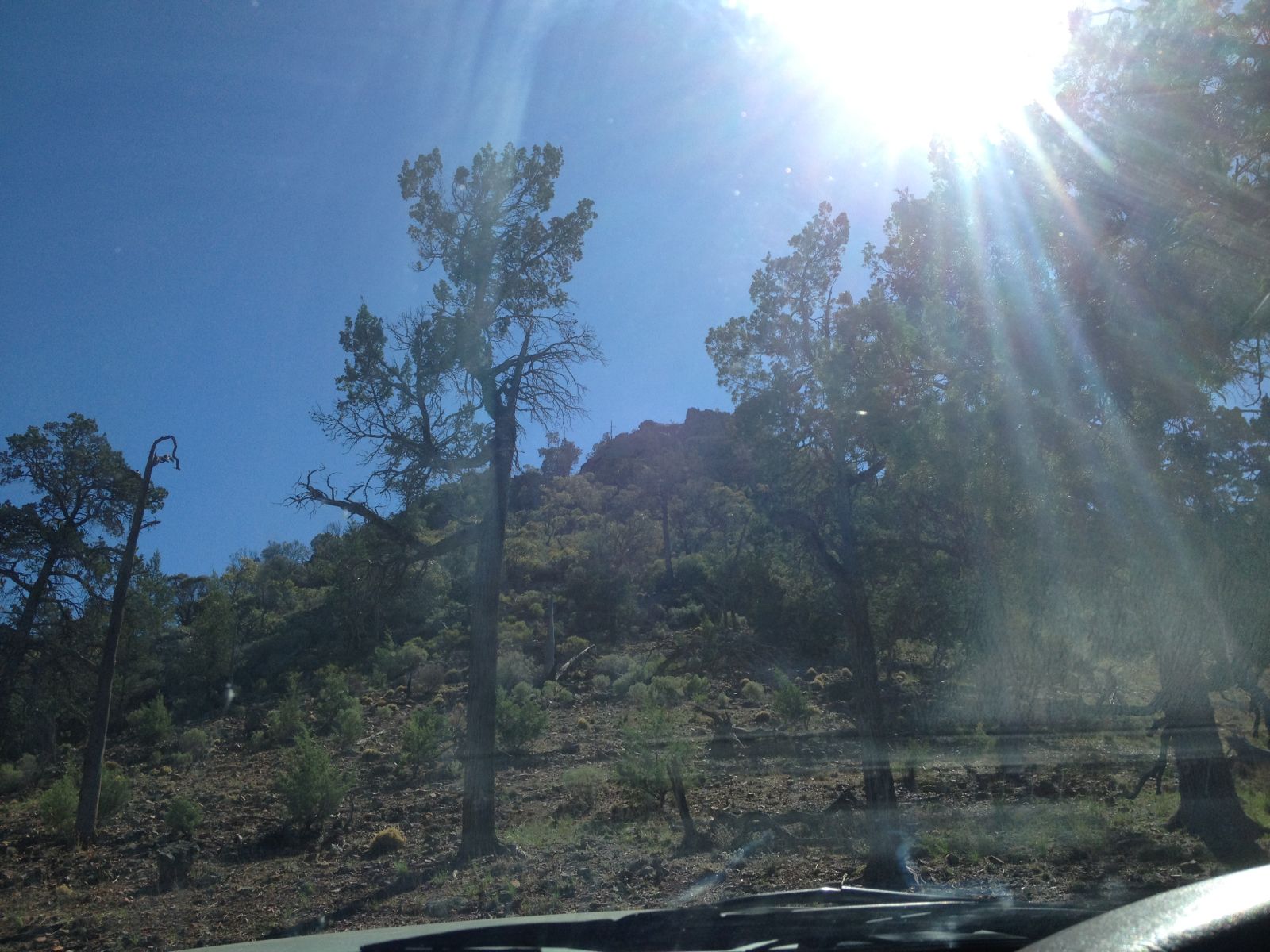 Then the track just sort of stopped. It was steep enough for me to be concerned about turning around so I thought I would get out and see if I had missed the track going somewhere else or if not if it was going to be possible to turn around.
I had a good look around but this definitely seemed to be as far as the track went. I wasn't sure if I was at Patawarta Gap, it was a enough nice spot but no real different to many others around here. Anyway, as I said you just have to roll with these things, it wouldn't be exploring if you knew exactly what you were going to get each time…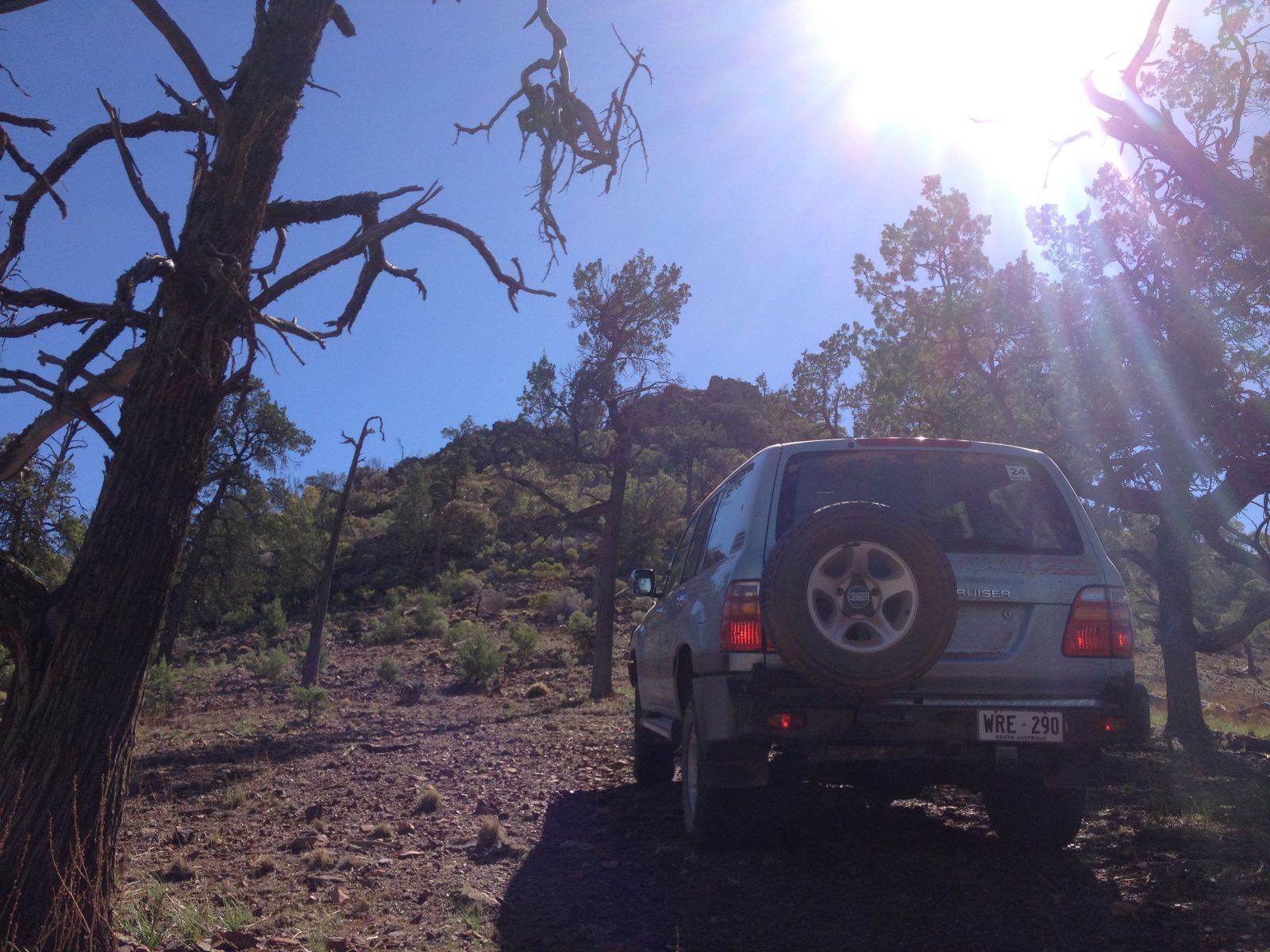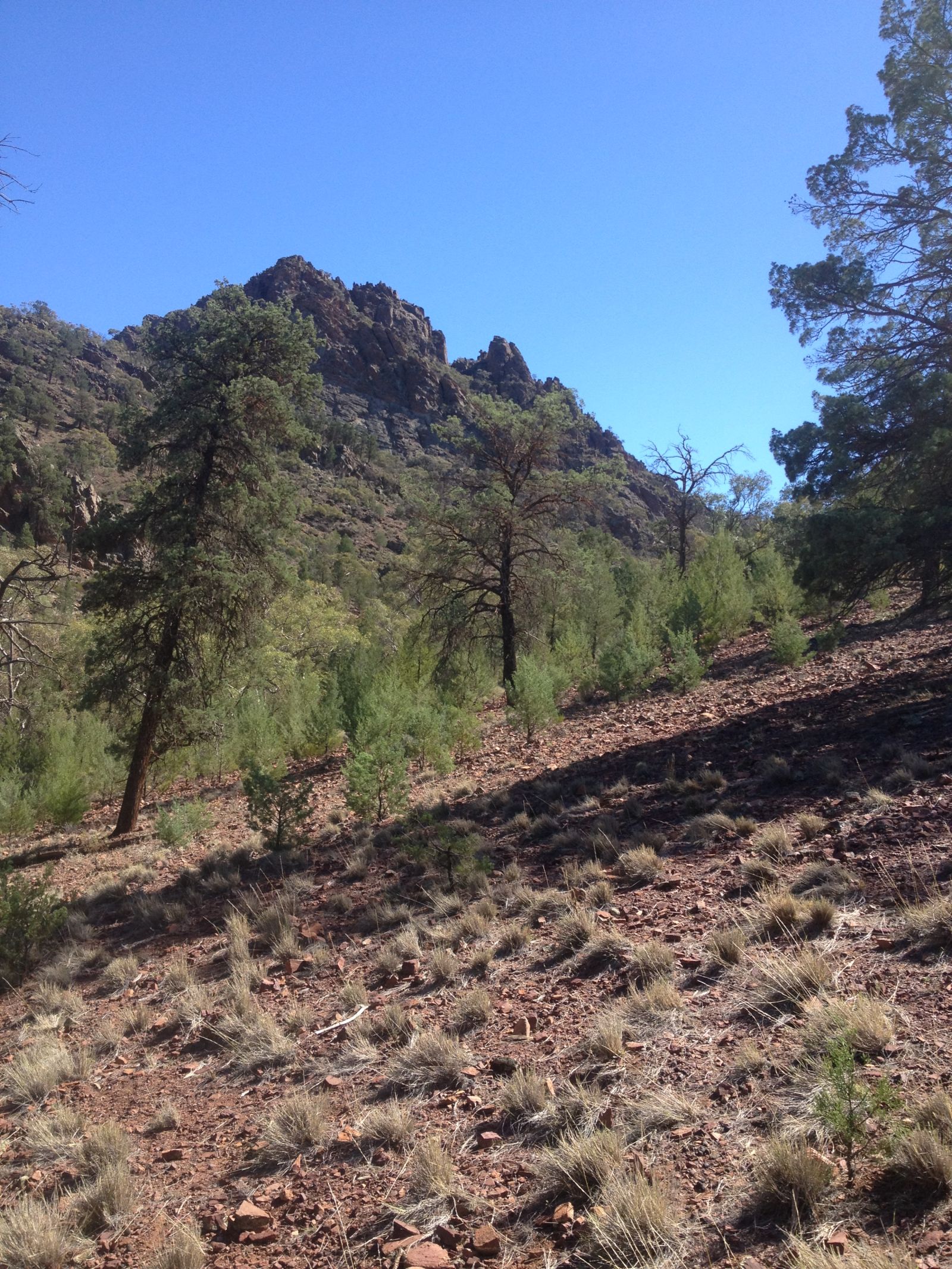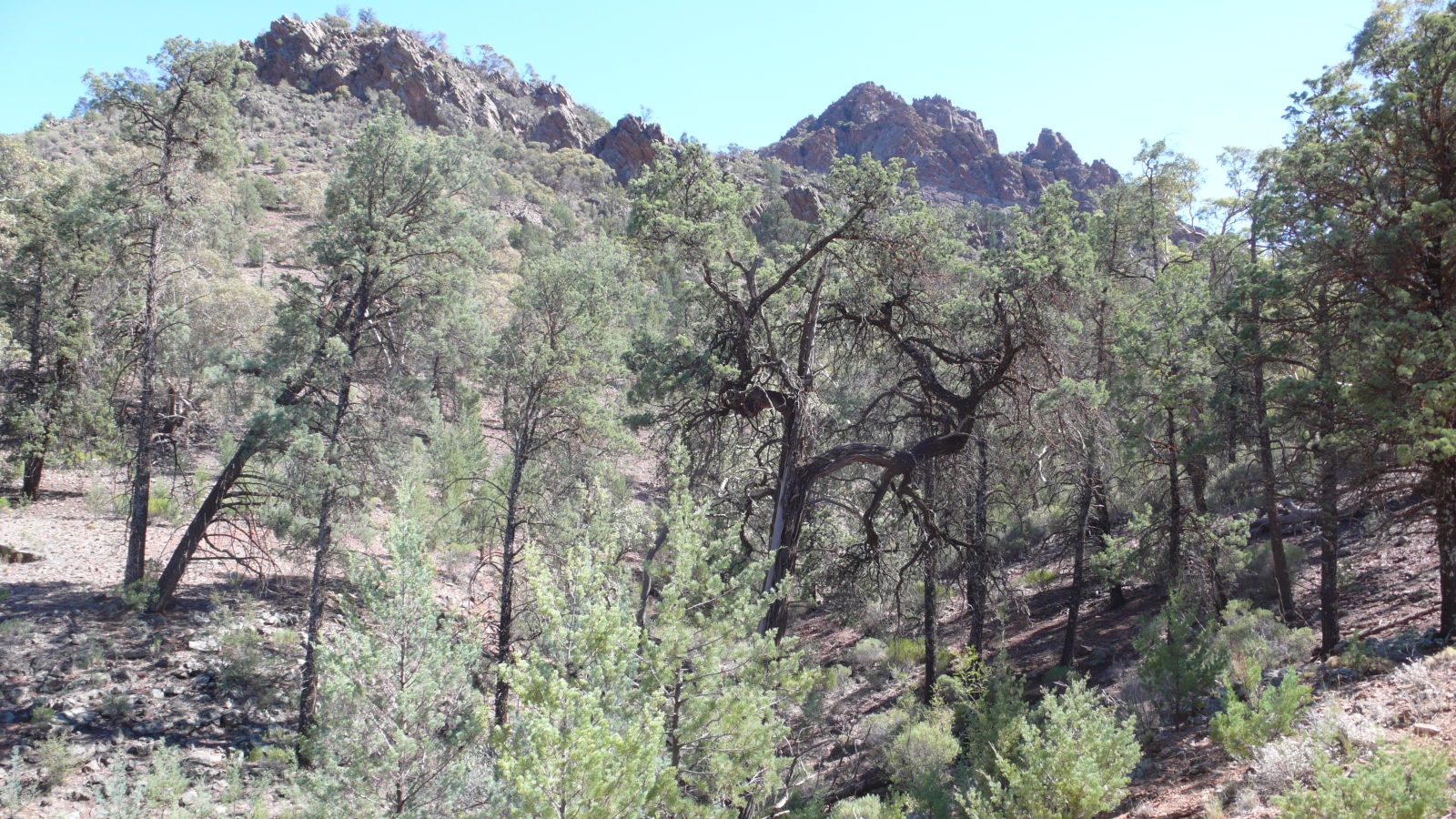 I did one of those slightly comical 100 point turns on the flattest part of the hill I could find and headed back to the T-junction. I wanted to to see if this led to the track that would lead you to Warraweena station, if it did and it was accessible then I would head out this way.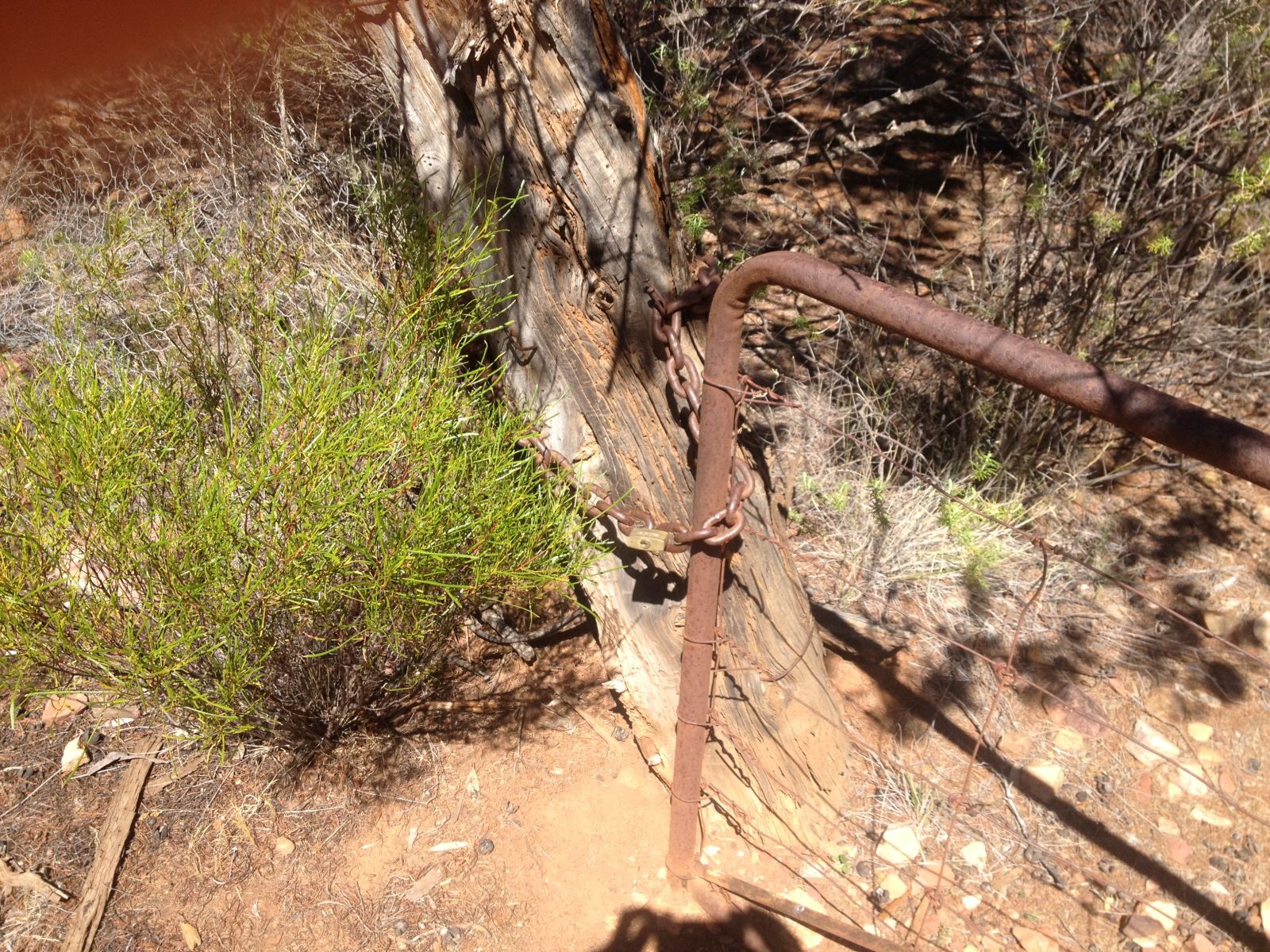 In the end as I suspected it was locked, but this probably meant it was the track I thought it was, I took a picture of the label on the gate just in case coming back this way was a possibility. [In reality I could have quite easily bypassed the gate with a little mild 'bush bashing' but this is what gives us a bad rep and I don't do it unless there is no alternative. Having later stayed with Stony at Warraweena and seen that they need every dollar they can get to keep these places going, it was the right moral decision to make]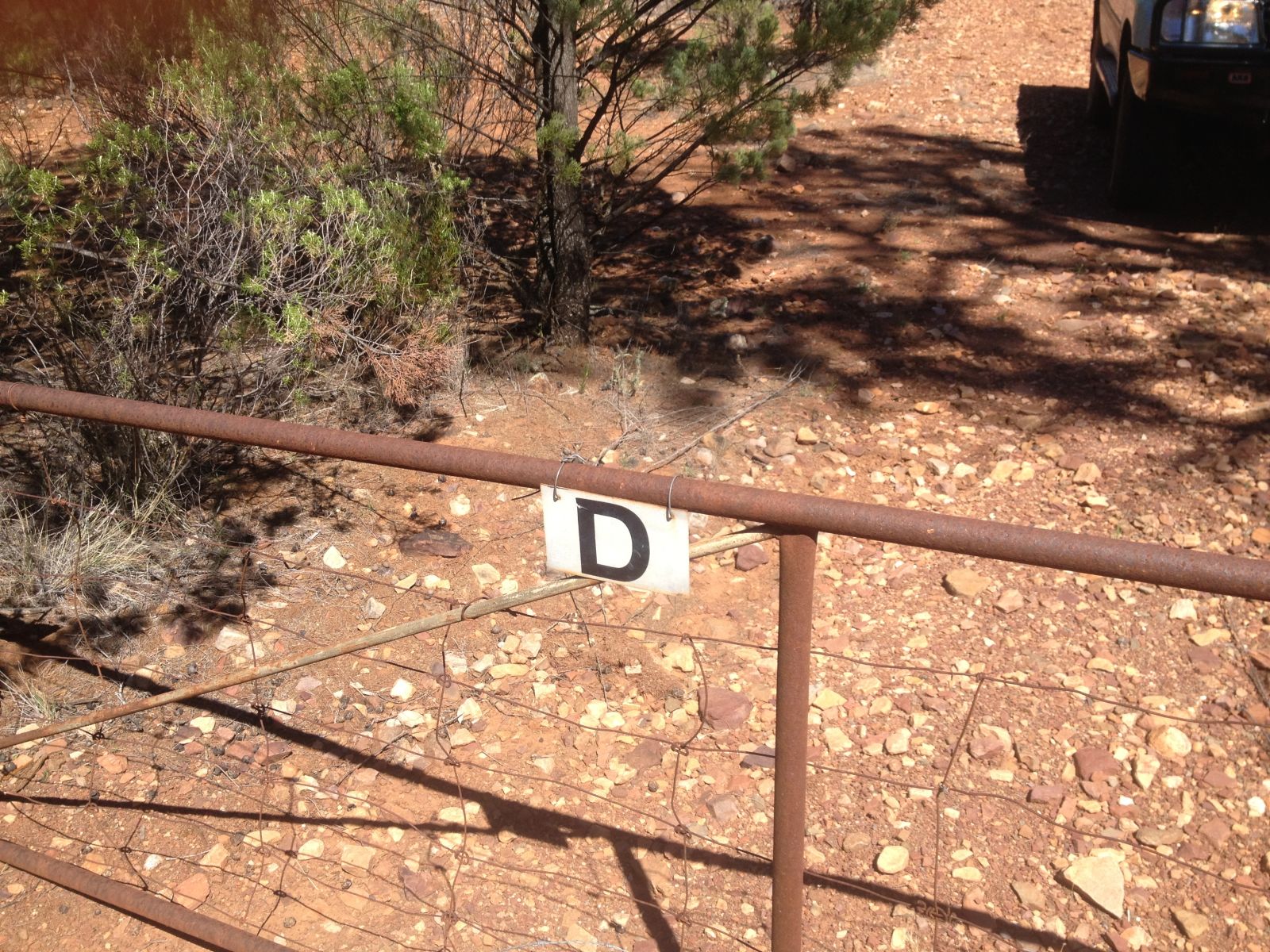 I headed back out to the main PAR and then made my way back to the main road. Just before the end of the PAR is this fun little climb, so I ran the Cruiser up there a few times, just for 'shits and giggles' (this is typical Aussie slang at it's finest).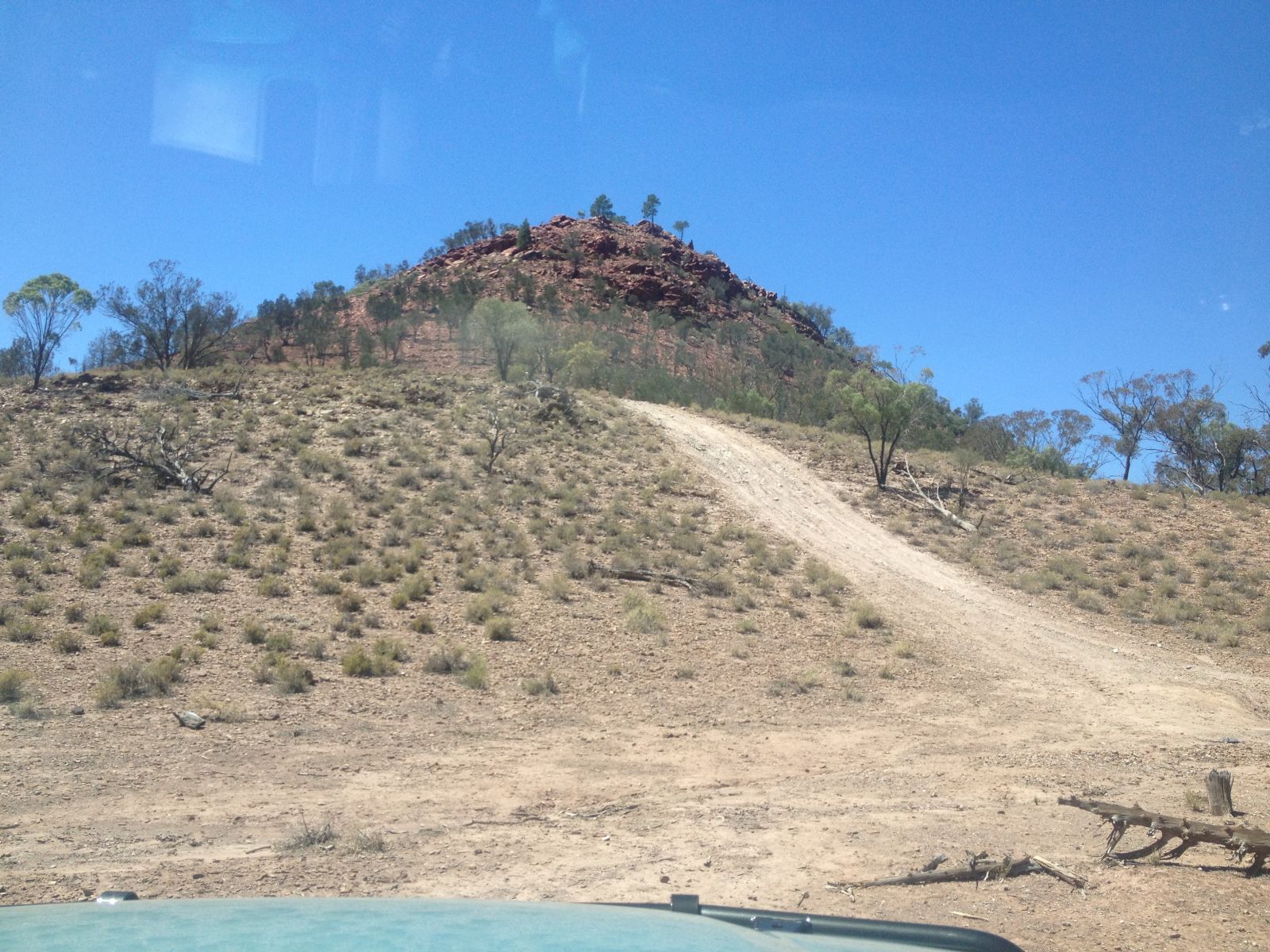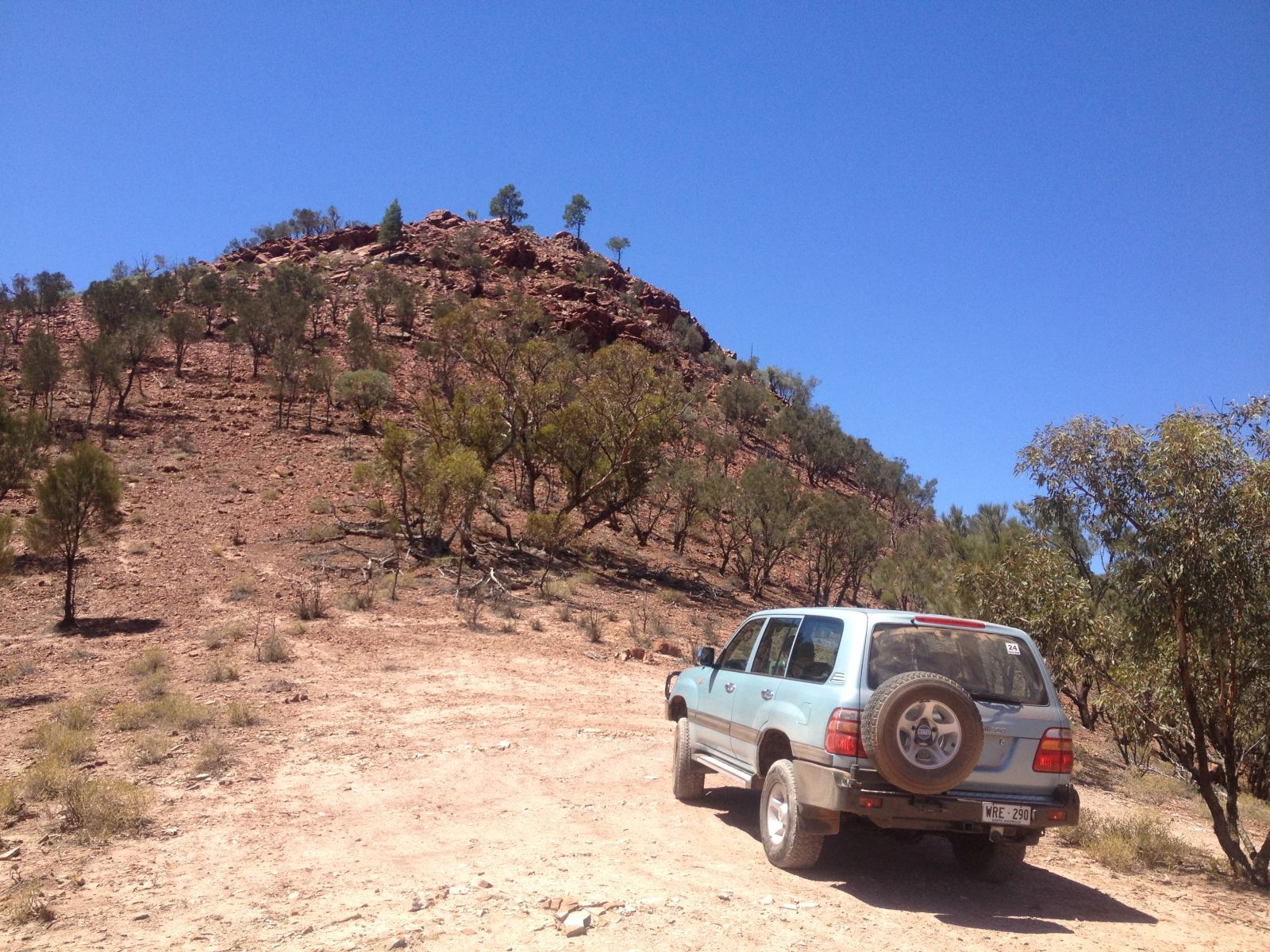 I popped back out on the main dirt road, hung a left, to knock over the 150km left to get to Arkaroola proper. There was nothing overly challenging from this mornings tracks, but the way the 105 took everything in it's stride with complete ease gave me the confidence that this was a truck I could rely on. It had proved comfortable and capable so far.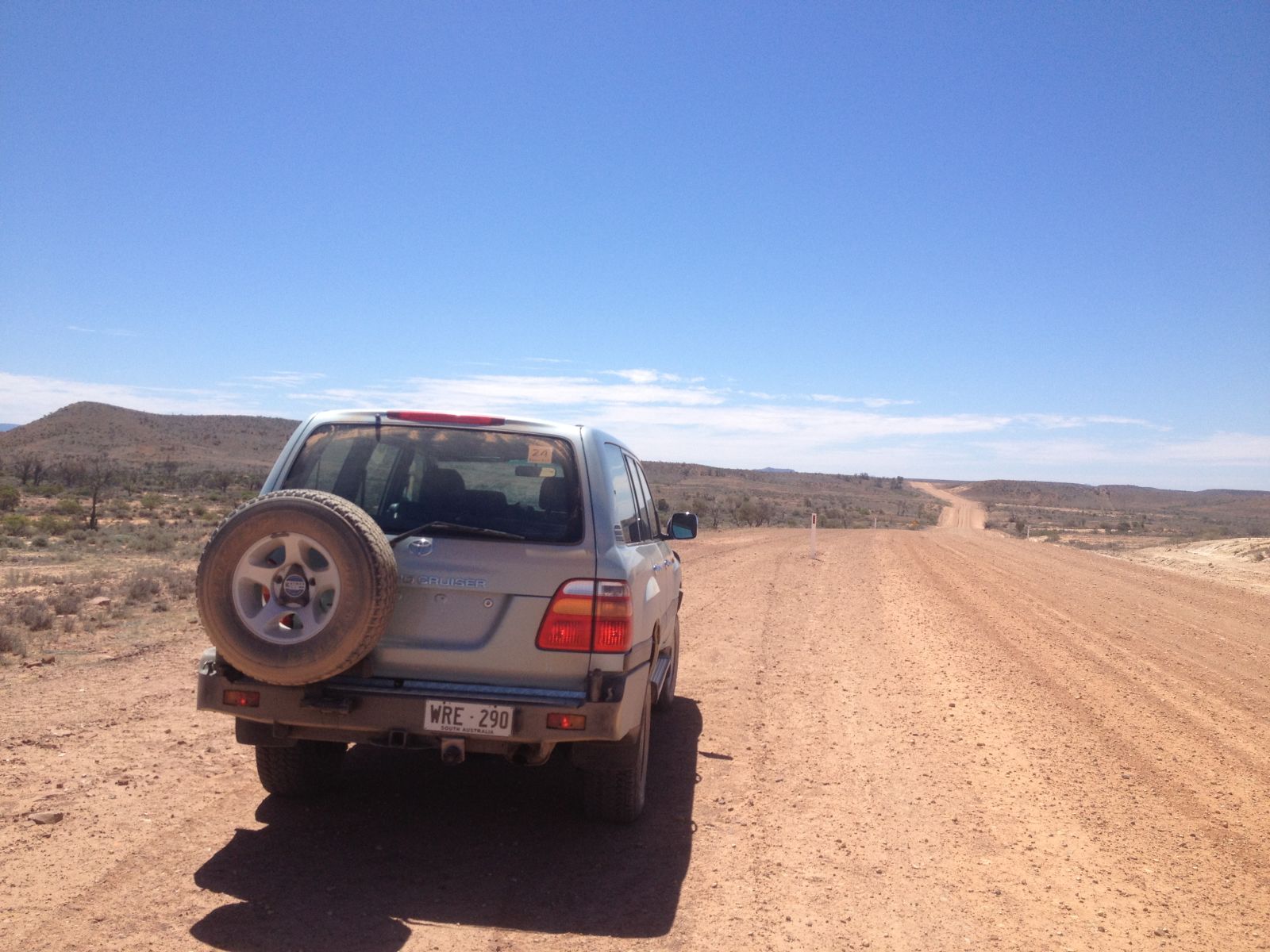 This feels long enough. Check back for Part 2 soon!